So, you've decided you want to start a new business, but rather than finding it plain sailing, you're struggling to formulate things into a workable plan. Probably all that's required is some inspiration and a spot of help choosing the best direction.
This article is for all you budding entrepreneurs out there. It's full of the best small business ideas and contains lots of tips to help you get started.
Without further ado, let's start with some of the best small business ideas for 2023.
Top Business Ideas to Start with Little or No Money 2023
High start-up costs often stop people from pursuing their dreams. However, there are still countless opportunities if your budget is tight, even if it's non-existent. All they require is dedication. But, of course, being prepared to put in a lot of work is also beneficial.
Low-cost small business ideas are an excellent way for beginners to start. They're also excellent options if you've got a busy schedule but are looking for a side business that doesn't mean you've got to drop everything.
Here are some business ideas you can start with minimal investment.
1. Content Creation
Thanks to the world wide web and social media networks, there are now a wealth of opportunities for people who are creative and enjoy writing. Put your talents to good use by creating top-quality, shareable content for various businesses and media organizations.
2. Personal or Virtual Assistant
If you've got good organizational skills and don't mind working from home, being a virtual assistant is a role that's in high demand. Virtual assistants perform a variety of tasks, including clerical or secretarial work, managing calendars, and making travel arrangements for entrepreneurs and other business owners.
3. Pet Sitting
If you love pets, why not put your love to work and start a pet-sitting service? The demand for such a business is increasing, so there's a huge market to tap into.
Startup Business Ideas 2023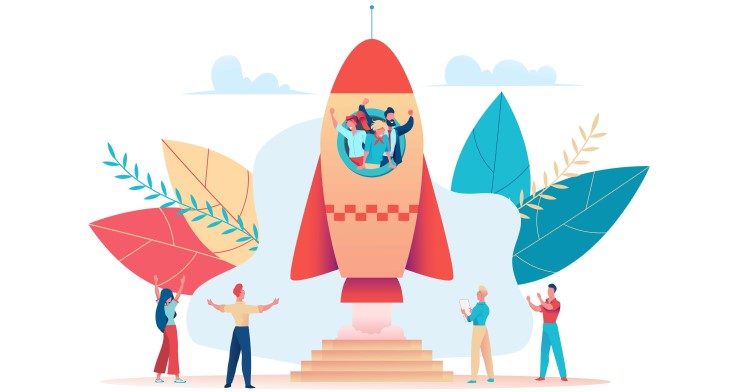 Are you an aspiring entrepreneur that's struggling to come up with a startup idea? You're probably thinking all the best ideas are already gone. But, even if that was the case, it's more than possible to put a new spin on an already established idea or make improvements to existing products or services.
Launching a startup is worth considering because you get the freedom that comes from working for yourself, it brings improved job satisfaction, and the potential for earning is much higher.
However, do not forget that you'll have to manage everything on your own at first, so make sure to properly register your business and start an LLC.
Here are a few ideas that might get your creative juices flowing.
4. Start a Dropshipping Business
Dropshipping is an attractive business idea because you don't have to buy or store a load of inventory. Do some thorough research, and the potential for a profitable business is enormous.
If you run a dropshipping business, it's a third party that fulfills the orders. These third parties tend to be wholesale retailers or producers with a shipping operation and warehouse.
5. Become a Personal Trainer
How do you feel about helping others achieve their fitness goals? Of course, you'll need some fitness knowledge and be a people person, but if you've got these skills, you could find this startup idea very fulfilling.
Start with your own YouTube channel, and once you've got a following, you could look for clients.
6. Create an Online Course
Is there something you're passionate about, such as baking, yoga, or languages? If there's something you know inside and out, you could help others by offering online classes that enrich their lives.
Self-Employment Business Ideas 2023
Self-employment is rapidly becoming one of the biggest trends, fuelled no doubt by the recent pandemic and all its restrictions. According to the latest statistics from the US Bureau of Labor Statistics, in 2016, there were around 9.6 million self-employed workers.
Projections are that by 2026, this figure will increase to about 10.3 million, which is a rise of 7.9%.
Advances in technology and platforms have helped make it easier than ever before, so now might be the right time to start. Here are some ideas:
7. Garden or Interior Designer
If you've got an eye for interior or garden design, why not help homeowners bring their dream gardens to life. You get to draw up the plans for people's outdoor spaces while they can get their hands dirty doing the digging.
8. Cleaning Service
Cleaning might not be everyone's cup of tea, but if you enjoy doing it, why not turn it into a business. All you need are a few staff members, an arsenal of cleaning supplies, and a way to get around and visit your clients.
9. Personal Chef
You don't necessarily need to cook in a person's home. You might also offer food that you've already prepared, which just needs reheating.
There is never a bad time to start a business ~ unless you want to start a mediocre one. – Gary Vaynerchuk
Business Ideas for Women 2023
Women may find it especially hard to decide on the best business idea. If you want to make a success of your business, finding the right idea is crucial. There are just as many business ideas for women as there are for men.
Small businesses are popping up all the time. A significant number of these businesses are started by women. For example, according to statistics, 40% of US businesses are owned by women, and in 2020, women began 1,821 net new businesses every day last year.
The options for any woman wanting to start a business are virtually endless, which of course, makes it tricky if you're not sure what you want to do.
But there are some questions you need to ask before you make your decision. For example:
What are you hoping to get out of the business?
What do you enjoy doing?
Is there something you're particularly good at?
Is there anything you'd like to learn?
Now you've answered those questions, here are a few ideas to whet your appetite.
10. Become an Uber Driver
For this to be a successful business idea, you need to enjoy driving and be a people person. If you can tick both these boxes, becoming an Uber driver can be a lucrative and flexible idea. Primarily, you'll find yourself working in the evenings and at weekends, but there are no contracts, so you get to choose when you work.
11. Bookkeeper
A bookkeeper records financial transactions, and this plays a vital role in the business accounting process. Transactions you'll record will include sales, purchases, payments, and receipts. As you take on more clients, you'll benefit from the automation of some of the more mundane jobs.
12. Photography
If you're passionate about photography, it's something you could turn into a business venture. You'll need to create a portfolio to get started, so get snapping at weddings, parties, celebrations, and other special occasions. A social media profile is beneficial for letting more people know about your new business.
13. Wedding Planning
This is a fascinating and popular field, but it will require some startup capital and experience. Once you've got a few contracts in your portfolio, you'll be able to attract more clients. A website will be essential if you want to make your services known to a larger audience.
Lucrative and Profitable Business Ideas 2023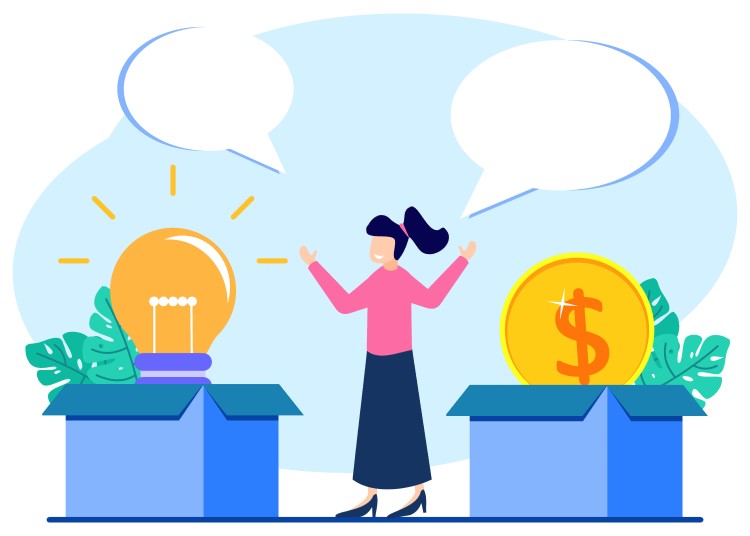 Most business owners aim to be successful and make a profit, but some businesses will turn a profit quicker than others.
It's often tough to know what kind of business will be the best choice, so we've made a shortlist of some of the most profitable new small business ideas.
14. Shared Attire and Accessories
We've become very much a sharing economy which means there are lots of business opportunities. For example, offering rented or borrowed accessories and clothing means you can generate revenue repeatedly.
15. Vacation Rentals
VRBO and Airbnb have made it extremely easy to make a profit from an extra bedroom or an unused vacation property. It's not too difficult to become a host, and demand is growing for this type of rental.
16. Language Courses
Whatever language you're most proficient at, there's likely more than one person out there who wants to learn that language. Even better than that is that they're usually willing to pay for the privilege. The most in-demand languages are Spanish, Mandarin, and Arabic.
Innovative Business Ideas 2023
Thanks to technology, starting a new business is now more accessible, more affordable, and possible than ever before. With a relatively small investment, you can soon have a business up and running. However, one of the most complex parts is coming up with a new idea.
If you'd like to start a business this year, here are a few ideas to get you started.
17. Social Media Consultant
This business idea allows for a range of business opportunities. For example, you could be a generalist or specialize in a specific media platform. To help make the role more manageable, there are lots of tools you can use.
18. Food Truck
Food trucks are becoming very popular. If you like cooking and enjoy creating new and exciting dishes, running a food truck might be for you. Even if you're not the best cook in the world, there's always the option of hiring other people to do the cooking while you take over the role of being the brains of the operation.
19. Mobile App Developer
It might seem like there's an app for almost anything nowadays, but there are still some unexplored areas or improvements that can be made to existing applications.
People are happy to pay money for an app that helps them manage their life better. If you've got an idea and know how to code, create an app and see where it takes you.
Creative Small Business Ideas 2023
A big part of being an entrepreneur is being creative, but some take it to another level. Many creative small business ideas can be started at home.
While starting a business at home is a popular choice for many people, not everyone has the space. If you want to be really innovative, why not change the location of your home to suit your new business idea? The world is massive and when you're starting a business, consider it your oyster.
If you're looking for a creative business idea that will turn your passion into a full or passive income source, look no further. Here are a few business ideas that might suit you.
20. Graphic Design Business
To be a successful graphic designer, you have to be artistically minded. You'd be responsible for creating or maintaining a visual look that businesses would use in letterheads, signage, ads, website and digital content, and sales collateral material.
The job involves designing logos, typography, fonts, imagery, color selection, and layout.
21. Etsy Entrepreneur Business
Whether you make your own handmade goods or are good at finding vintage items, running an Etsy online store might be something you'd enjoy. Etsy is an excellent platform for all kinds of artists who want to sell their works. Using Etsy, you can sell to customers or launch into wholesale selling.
22. Online Magazine
Starting your own online magazine could be beneficial if you've got a knack for creating niche content. Revenue is usually generated via advertising while the content is provided for free. The necessary skillset includes being an editor, writer, web designer, advertising salesperson, and of course, a business person.
Handmade Business Ideas 2023
People have been making a living by selling and trading things they've made from scratch or cultivated by hand for thousands of years. Today, millions of people worldwide produce handmade goods and sell them through online stores, craft shows, or pop-up shops.
Technology means you can sell your craft items around the world. It also allows you to run your business efficiently, letting you to focus on your craft rather than the administration and sales.
The best part of a handmade business is that you can start it from home, and it requires minimal investment upfront.
Here are a few things you could make and sell online from home:
23. Printed Merchandise and T-Shirts
With this business idea, you don't need to worry about printing the designs on the merchandise. This aspect can be done by a third party. What you'll need to concentrate on is the design. If, however, you want to increase the handmade element of your business, consider learning how to screen print and then purchase the right equipment.
24. Soaps and Bath Bombs
You'll find pages of tutorials on YouTube that show you how to make your own bath bombs and soaps. They include simple recipes or more complex ones that require preservatives and emulsions. Creativity requirements are relatively low, but branding and packaging play an essential role, so you might need to draft in some help.
25. Jewelry
This is another business idea that can range in complexity from simple, low-tech jewelry such as woven bracelets and beaded necklaces to more skilled items. The market is already quite saturated, so you'll need to work out how to make your designs stand out.
Handyman Type Business Ideas 2023
The handyman business is a surprisingly versatile one. People hire a handyperson to complete work they don't have the time or skill to do themselves. It can include repairing, maintenance, plumbing, remodeling, electrical fixing jobs, and refurbishing. Depending on your skill level, you could work alone or employ others to work with you.
Here are a few handyman/woman business ideas for you.
26. Do It All Handyman
A do it all handyman will pride themselves on being able to serve all their customer's home needs. It could be plumbing, remodeling, electrical, mowing the lawn, or fixing a leaky faucet. This business idea provides lots of variety, although contracting laws make it difficult to pull off.
27. CCTV Sales and Installation
An increasing number of homeowners and businesses have CCTV cameras installed, but they don't always have the knowledge, skills, or time to do the work. Here's where you can jump in and provide the solution. As well as installing the cameras and organizing the setup, you could also offer advice as to which type of camera and accessories are best for the client's needs and budget.
28. Gardener
If you enjoy working outside, don't mind getting muddy, and are looking for an idea that gives you a feeling of satisfaction, a gardening business could be the answer. You'll need some basic gardening equipment to get started, and marketing your business is vital. Start by doing some gardening jobs for friends and family and ask them to spread the word.
Online Business Ideas 2023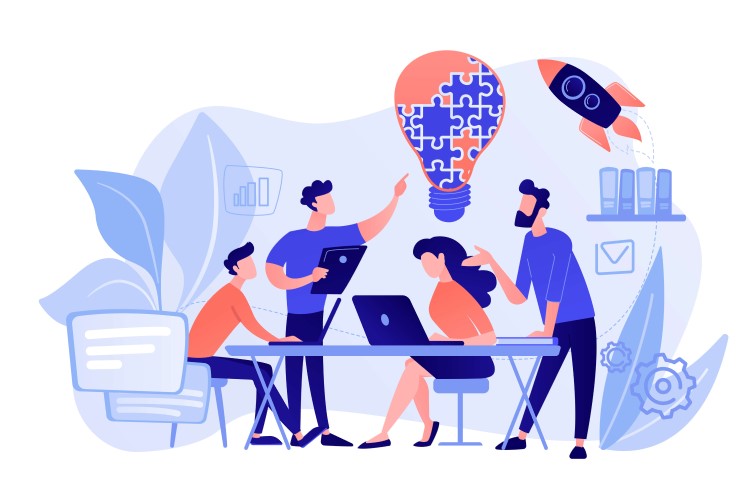 There's something very appealing about running an online business. Running a business online means you can connect with anyone from anywhere in the world. Online businesses can be launched easily and quickly and many require limited startup capital.
If you like the idea of a business that gives you the freedom to make money from anywhere in the world, here are a few ideas that you might find helpful.
29. Blogging
Becoming a blogger is a very suitable business idea for women at home. The hours are flexible, plus you can write about what you want. But you'll need a website. In addition, you'll need to build up a following because your income will depend on your visitors. To help get more followers, consider integrating your blog into an app.
30. Affiliate Marketing
With this business idea, you're compensated by third parties for generating leads or traffic to a company's products or services. Affiliate marketers search for products and then promote them, earning a commission from each sale the company makes. It's one of the most popular ways to make money online.
31. SEO Consultant
Do you know the ins and outs of search engines? Do you know your way around platforms such as Google Analytics and Google Ads? You've got what it takes to be an SEO consultant. Your role would be to educate business owners on the power of SEO. You'd then help them transform their websites, increase their traffic and conversion rates.
Small Business Ideas for Kids & Teens 2023
Business success has no age limitations. It can come at any age. Indeed, there are countless young people with an industrial and entrepreneurial spirit.
The best kids and teen business ideas are those that are home-based or easily accessible, have flexible hours, and require low financial investment.
Bearing in mind the above criteria, here are some business ideas for teens and kids.
32. Car Washing
We all love to have a clean and shiny car sitting outside our homes, but there aren't enough hours in the day to fit a car wash in. It is, however, a business that's easy to start. All you need is a soft sponge, bucket, cleaning agent, and lots of elbow grease to bring out the shine.
33. Child Care
This is a tried and tested idea because kids have been doing it for years. Start by offering your services on the weekends or during the week after school to family, friends, or neighbors. To help you stand out from the competition, you might find a local child care class is on offer at a local college. It always helps to provide qualifications.
34. Dog Walking
For any kids that love animals, dog walking is an excellent startup business idea. The hours are flexible, and no equipment is required because the owners will provide everything from collars and leashes to doggie treats.
Small Business Ideas for College Students 2023
With the price of a college education constantly on the increase, an increasing number of students are considering starting a business to help with the cost of continuing their education and reduce the risk of being crippled by educational loan payments.
If you're a student and wondering about your options, here are some ideas.
35. Web Design and Development
This is also a great way to get some hands-on industry experience if you're a computer science or design student. Start with some more straightforward projects such as logo design or a basic HTML website.
Then, as your skills improve, you'll be able to expand your horizons and offer mobile apps, and website revamps as well.
36. Writing E-Books
You've probably got a host of subjects you're interested in or passionate about, so why not make money writing ebooks about those subjects and selling them online?
The cost of such an online business idea is almost nothing. Of course, it requires a little bit of energy and time, but writing can easily be done alongside your studies.
37. Flipping Websites
Did you realize you can buy exciting websites for a low price? The aim of this business is to buy these low-priced websites, grow them over the next few months or a couple of years, and then sell them at a profit.
The key to making this a successful business is to buy high-quality websites at a meager price.
How to Come Up With a Unique Business Idea?
Wanting to start a business and knowing what type of business to start don't automatically come together simultaneously. However, there are things you can do that will help you have that "lightbulb moment." To help you out, here are some tips that might make a business idea pop into your head.
Focus on Your Interests
Most people have a hobby or passion, and these often make an excellent base for a business idea. How great would it feel if your business could be something you love doing?
If you're passionate about fitness and keeping healthy, you could consider becoming a personal trainer or starting a fitness franchise.
If you're a keen dog-lover, you could start a dog-sitting or walking service.
Do you love baking? Open a cafe or start a cake-making business.
Build on Your Skill-Set and Knowledge
You're far more likely to succeed if your business revolves around something you're good at. So, for example, if you're currently a web developer or work in IT, use your skills to start a consultancy business, coding club, or perhaps consider becoming a growth hacker.
There are numerous examples of successful entrepreneurs who built on the skills they'd gained in a previous job. The founders of Purplebricks are just one example. Kenny and Michael Bruce had worked in the property industry for many years before launching their 24/7 online estate agency.
Explore Business and Consumer Trends
To find out whether a business idea will get off the ground requires some careful research. If you haven't yet got an idea for your business, browse recent business analyses, consumer trends, and expert opinions.
Research the Current Market
Explore prospective markets to see if you can create a similar business in your own locality, on a regional, or perhaps even a national level. Craft beer services and clubs are just one example of how this industry has taken off around the UK.
Also, consider looking at overseas markets. There may be opportunities to bring popular services of products to your own country.
Kefir is a hugely popular fermented yogurt drink in Russia, but now it's starting to make waves in other countries.
Think About Ideas That Will Make a Difference
The best ideas are often those that make a difference, no matter whether that difference is big or small. So consider solutions that would impact a range of different people, not just you personally.
Hello Fresh and Gousto are two examples of companies that were created to offer an alternative for families and professionals who don't have the time to shop for and cook healthy meals.
Network, Network, Network
A fantastic way to get your entrepreneurial juices flowing is to hang out with other like-minded people. So check out your local businesses, workspaces, hubs, and business clubs.
Consider SWOT Analysis
SWOT analysis is something you should consider if you're thinking about a new business. It's a very effective way to evaluate a product, person, strategy, or campaign. It will also be a useful thing to have if you're going to approach potential investors with your business idea.
You can use your SWOT analysis to assess the strengths and weaknesses of your idea. It's a particularly useful tool early on in a project life cycle.
How to Brainstorm Business Ideas?
Another effective way to get your creative juices flowing is to brainstorm your business ideas.
What is brainstorming? It's a creative process during which you sit down alone or with a group of people and develop ideas to solve a problem. In this case, it's a way of coming up with some business ideas.
Take into account the tips already mentioned above, and bear the following in mind:
Aim for quantity: It's very tempting to focus on just a few ideas, but it's best to resist the urge, if possible. Instead, come up with as many ideas as you can, as this will help unlock new avenues and build off your old ideas.
Don't be judgemental: Inhibitions can severely dampen creativity, so try not to worry about the quality of your ideas in the beginning. Instead, let your mind be free and go wild.
Brainstorm in a group if possible: You'll find brainstorming in a group far more effective than if you do it on your own. This is because we all think and look at life from a different perspective.
A Step by Step Guide to Brainstorming
If you want to generate some great business ideas, brainstorming is one of the best ways to do it, whether you're a complete beginner or a business expert.
For those who want to start a new business, the following steps will help unlock your imagination and find the perfect business idea for you.
Step 1: Brainstorm Your Purpose
The first step is to define why you want to start your own business. What is it about running a business that's most important for you?
At the core of a business's purpose are the following three things:
What you enjoy. If you focus your business on something you enjoy, you're bound to enjoy running it. Consider the types of hobbies and activities that make you happy.
What you're good at. Ideally, if you've already got specific skills, you should choose a business that takes advantage of them. It could be something that's job-specific or something more universal such as listening to people.
Is there an unmet need you can fill?
During the brainstorming process, don't be afraid to keep asking yourself why.
Step 2: Let Your Mind Wander
Brainstorming is all about giving yourself room to dream and enabling a creative mindset. Find somewhere that's nice and quiet and clear your mind of all other worries and tasks.
If you're struggling to decide on the best location for your brainstorming, try this little exercise. For one week, spend twenty minutes brainstorming in a different place each day. Then, evaluate which location allowed you to be the most creative at the end of the week.
Once you've decided on a space, spend twenty minutes brainstorming there every day for one week. If you're struggling to find the time for this, consider changing your routine.
Step 3: Research
During your brainstorming sessions, make a list of good business ideas. Then it's time to research each one and hone your ideas. Google will be very helpful if you're starting out in an industry that's new to you.
Step 4: Filter Your Ideas
This is the time when you have to figure out which business idea is the best, so you can start on a business plan. You'll find it helpful to use three filters to hone in on which business ideas are the best. These filters are time, money, and resources.
Evaluate each of your business ideas based on these priorities, and you'll be able to determine which ideas are the most feasible.
Here are some examples of the kind of questions you can ask:
Is it going to be hard to make your product?
How much will the production costs be?
What will be the price of shipping?
Will you need a team to help create and sell the product?
How big will that team have to be?
Another way to analyze your business ideas is with SWOT analysis. SWOT stands for strengths, weaknesses, opportunities, and threats.
Step 5: Give Your Business a Name
Naming your business this early in the process helps make things feel more real. It will also give energy and life to your ideas.
An excellent way to decide on possible business names is to play a little word association game. Don't think too hard about it, but instead, focus on your business idea and quickly make a note of the first words that come into your head.
With a list of ten or so words, you'll be able to play around with them, combining them, changing some of the letters, and seeing what appears.
Step 6: Develop Your Idea Before You Share It
It's only natural to want to share your ideas, especially with those closest to you. However, it's always best to really develop and work on your idea before you share it.
Do your market research, ask yourself lots of questions, think about potential pitfalls and successes. That way, you'll have all the answers when people come at you with their skepticism, which they invariably will.
There are, however, some people you'll need to share your business idea with as soon as you can. These include manufacturers if you're making a product and lawyers.
How to Start a Small Online Business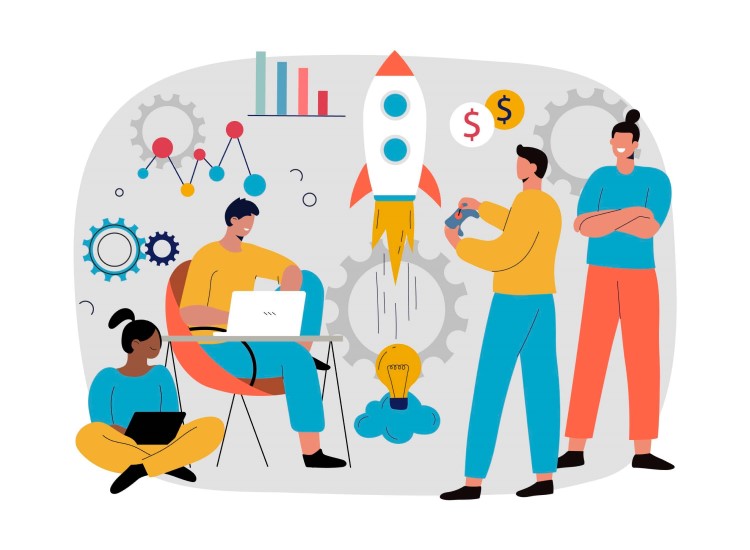 Starting a business, whatever its size, requires careful planning, making financial decisions, and completing legal activities. Running a small business could have far-reaching consequences, so it's vital that you get things right.
It might seem like a daunting thing to do, especially if you've never done it before. However, there are some time-tested steps you can make.
1. Refine Your Business Idea
I've you've already got a solid idea, you can probably skip this step. But if you're still in the thinking stage, you'll need to research the competition, find out what industry leaders are doing, and work out whether you can do it better.
Steps in the refining process include:
Define your "why."
Consider your options, for example, franchising.
Brainstorm your business name.
Clarify your target audience: This is a crucial step. All too often, people launch a business without thinking about who the customer will be and why they'd want to hire them or buy from them.
2. Write Your Business Plan
Once you've got a solid business idea in place, there are some questions you need to ask. You'll find the answers by writing a well-drafted business plan.
The questions include:
What is the business's purpose?
Who will you be selling to?
What are your end goals?
How will you finance your business in the beginning?
These questions are fundamental, and there's little point in carrying on if you can't define your target customer base.
Conducting market research will help you craft your business plan. Conduct surveys, hold focus groups, and research public data and SEO. In addition, market research enables you to gain an understanding of your target customers, such as their preferences, needs, and behaviors, along with your competitors and industry.
Also, consider an exit strategy when compiling your business plan. Generate ideas of how you'll exit the business should it be necessary for the future. Ideally, you should have three or four predetermined exit routes.
Writing your business plan will help you figure out the direction of your company, how it's going to overcome any difficulties, and what is needed to sustain it.
3. Assess Your Finances
There's generally a price that comes with starting a business. It's down to you to determine that price and whether you have the means or need to borrow the money.
One of the reasons businesses fail is because they run out of money before they turn a profit. So it's better to over rather than under-estimate the level of your startup cost. After all, it could be a while before you start earning a sustainable income.
One way to determine how much money you need is with a break-even analysis. You use the following formula:
Fixed costs + (Average Price – Variable Costs) = Break-Even Point
This formula lets you know the minimum level of performance your business must achieve if you want to avoid losing money. It also pinpoints where your profits come from and allows you to set production goals.
There are three reasons why you should perform a break-even analysis:
To determine profitability
Price your service or product
Analyze data and determine what volumes are needed for your business to be profitable
Try not to overspend in the beginning and only make purchases that make sense for your business. For example, you don't need to buy lots of fancy equipment or rent vast amounts of space if they will not help you achieve your business goals.
There are plenty of options if you need startup capital. What is best for your business depends on several factors, such as the amount you need, your creditworthiness, and what options are available.
Financing options for extra money include:
Business loans
Business grants
Investors
Crowdfunding
Finding the right business bank is another essential consideration. For the small business owner, a small community bank will be more in tune with local conditions and work with you based on your character and overall business profile. Small banks also like to build a more personal relationships with their customers.
On the other hand, big banks tend to be more concerned with credit scores and be more selective about loaning money to small businesses.
4. Decide on Your Business Structure
Before registering your business, you have to decide your business structure. Your business model has a bearing on many things, such as your personal liability and how you finance your taxes.
Your options include:
Sole Proprietorship: You own the business by yourself and are responsible for all obligations and debts.
Partnership: Two or more people are jointly responsible as business owners.
Corporation: You separate your company and personal liability. There are several types of corporations, each of which has to follow different guidelines.
Limited Liability Company: An LLC or Limited Liability Company is one of the most common business structures. It allows for the tax benefits of a partnership and the legal protections of a corporation. There is a cost attached to the formation of an LLC, such as LLC filing fees and LLC annual fees which you must be aware of.
If you're unsure which structure is best, discuss your needs with a legal or business advisor.
5. Register Your Business
Before you can legally operate your business, you have to acquire various business licenses. For example, you'll need to register your business with local, state, and federal governments. In the US, you have to prepare several documents:
Articles of incorporation and operating agreements
DBA (Doing business as)
Employer identification number (EIN)
Income tax forms
Local, state, and federal permits and licenses
Registered agents can be helpful resources for obtaining LLC information and assistance with filing the necessary documents. They can also act as a point of contact between your business and the government, helping you stay on top of compliance requirements and deadlines.
6. Buy an Insurance Policy
Before you launch your business officially, you need to purchase the right insurance. You must be adequately protected in case of theft, property damage, and a customer lawsuit, all of which could be very costly.
There are many types of business insurance, but for a small business, you'll benefit from general liability insurance or a business owner's policy and workers' compensation and unemployment insurance if your business is going to have employees.
Also, consider professional liability insurance if your business provides a service. This type of insurance covers you if you neglect to do something or do something wrong.
7. Build a Team
If you're going to be working alone, this won't be an issue. Otherwise, you're going to need a great team to help get your business up and running. The people element of your business is, in fact, just as important as the service or product you're selling.
Defining responsibilities and roles, division of labor, how to provide feedback, or how your team will work together at the start will save a lot of headaches further down the line.
8. Select Your Vendors
You and your team might not be able to run your business without the help of third-party vendors. There are many companies out there that only exist to help you run your business effectively, from business phone systems to HR.
Choose your B2B partners very carefully. It's essential you find someone you trust, as they'll have access to potentially sensitive and vital business data. Always check industry experience, track records, and growth they've helped companies achieve.
The vendor type will vary, depending on your business, but there are some common ones that almost every business needs. Common functions include taking payments and managing finances.
9. Decide on Your Branding
Before you start selling your service or product, you'll need to build your brand and audience. There are many ways you can do this:
Company website: For every modern business, an online presence is essential. So many consumers turn to the internet when they want to learn about a business or make a purchasing decision. Build your company website, and it'll be proof that your business exists. It's also a way to interact with potential clients and current customers.
Social media: Social media is a great way to spread the word and let people know you're open for business. There are several social media platforms to choose from, for example, Facebook, Twitter, TikTok, and Instagram. The best one for your business depends on your target audience.
Logo: A well-designed logo helps people identify with your brand. Make sure you use it consistently across all platforms.
10. Grow Your Business
When you launch your business and make your first sale, this is just the beginning of your journey as an entrepreneur. If you want to make a profit and stay afloat, you need to think about growing your business. To get the most out of your business requires time and effort.
Think about collaborating with other established brands, reaching out to other companies, partnering with charities, or volunteering some of your products or time. To run a successful business, you also need to be prepared to adapt and adjust to changing situations.
FAQ
This final section concentrates on some of the common questions new business owners might ask.
What is the best business for beginners?
The best opportunities for a beginner tend to be those that require low investment.
Here are some suggestions for a business you can start on the cheap:
Online seller
Dropshipper
Freelance writer/editor/proofreader
DIY crafts and treats
Repair service
Lawn care
Pet sitter/walker
Virtual assistant
Tutor
Delivery/errand runner
Consultant
Translator
Professional organizer
What business can I start with $500?
Thanks to the internet, there are countless opportunities for anyone looking to start a business with $500 or less.
Here are some of the best low-budget business ideas:
Baker
Travel agent
Landscaping/yard work
Cleaning service
Start a YouTube channel
Laundry service
Tour guide
What kind of shops make the most money?
If you want to start a retail business, you're probably thinking about choosing the best and most profitable.
Here's a quick list to help you decide:
Computers, electronics, and smartphones
Jewelry
Sports apparel
Boutique selling good quality clothes
Organic food
Video games and consoles
Household goods and home appliances
Female handbags
Men's clothing
Liquor
Makeup and cosmetics
Body care and beauty products
Kids accessories
Gift shop
Shoe shop
Which industry is growing the fastest?
For many people, finding a business idea in a stable and thriving industry is important. It could provide higher profits, increased stability, and more opportunities.
The fastest-growing industries include:
Information technology
Construction
Drinks manufacturing
Personal services
Direct retail
Trucking
Healthcare
Financial services
Transportation
What business will make me a millionaire?
Not everyone is lucky enough to win the lottery, so if you want to become a millionaire, it will take hard work and patience.
However, if you're starting your own business, some business ideas could make you a million in just a few years.
Financial services
Éldercare
Business consultancy
Investment firm
Education and training service
Insurtech
Cleaning business
Healthcare consultancy
Employee recruitment
Real estate brokerage
Eco-friendly business
Can I start a business with 10k?
Yes, you can start a business with 10k. Heavy investment is no longer essential if you want to start a business.
Invest your 10k in one of the following:
Online freelancing
Food business
Outdoor activities organizer
Pet grooming
Become a blogger
Stocks and trading
Viral video maker
Making chatbots
Digital product marketing consultant
How can I start a business with $100?
Some of the most successful companies started out on the smallest of budgets. It's definitely not impossible to turn your $100 into a life-changing business.
To launch your new business, you'll need:
A business plan
A name for your business
Web hosting and a domain name
An email address
Social media accounts
How do most businesses start?
Starting a business requires planning, making decisions about finances, and completing specific legal requirements.
There are ten steps people commonly follow:
Conduct market research
Write a business plan
Fund your business
Pick the location of your business
Choose your business structure
Choose a business name
Register your business
Get your business federal and state tax IDs
Apply for permits and licenses
Open a bank account for your business
What are business ideas for students?
Whether you want a business you can do in the summer or in between classes, there are lots of options for students looking for business ideas.
Here are some top ideas:
Teach, tutor, or mentor
Sell handmade goods
Dropshipping
Start a non-profit or community-focused business
Start a service-based business such as pet-sitting, delivery, personal shipping, landscaping, or childcare
Sell print-on-demand goods
Become a reseller
Run a summer camp program
What are business ideas for nurses?
There are lots of ways a nurse can leverage their medical expertise into a business of their own.
Play to your strengths and consider one of the following:
Nurse health coach
Specialized care provider
Legal nurse consultant
Nurse blogger
Wellness coach
Hospice caregiver
Freelance writer or editor
Fitness nurse
Childbirth education or doula
Telehealth consulting
Medical product sales
What if I want to start a business but have no ideas?
If you want to start a business but have no idea where to start, it's best to follow some basic guidelines.
Here are some tips:
Start with something you're passionate about
Research your market
Set some financial goals
Build a following
Launch something you can sell
Start with the "Why" (Why you're selling what you're selling)
Business ideas for couples
If you're the kind of couple that loves to do things together, why not start a business. It might not always be plain sailing, but there's possibly no one better to share the ups and downs with.
Here are some business ideas for couples:
Wellness brand
Subscription model business
Online educational resources
Meal delivery services
Travel services and products
Food truck
Wedding services and products
Home rentals
What is a business idea for a small town?
If you can find a way to fill your local community's needs, it can be an excellent basis for a new business.
Here are some ideas for you to consider:
Restaurants
Hybrid bar/coffee shop
Contractor or handyman
Liquor store
Home cleaning
Automotive repairs
Pet store, boarding, and grooming
IT and computer services
Grocery store
Barbershop or salon
What are the best business ideas near colleges?
When the number of students in an area is high, certain businesses are more likely to flourish.
They include:
Customized T-shirt printing
3D selfie printing
Dorm room cleaning
Fast food corner
App-based laundry service
Fitness center
Tea/coffee store
Mobile phone accessory store
Hair and beauty salon
School and college supplies
What are the best business ideas near the highway?
Some of the best ideas located near the highway will be those that serve travelers.
They might include:
Restaurant or fast food stall
Gas station
Auto repair business
Roadside attraction such as a themed restaurant, miniature golf, or farm stand
Business ideas with a van
There are a wealth of business ideas to pursue if you're the owner of a van. You'll need the right van insurance and possibly a commercial license.
If you've got these, one of the following might be worth considering:
Local removal service
Speedy delivery service
Catering
Hauling waste for disposal
Transporting equipment for events
Mobile car washing service
Cleaning services
Business ideas for veterinarians
If you've got experience working with animals, there is a wide range of business ideas to choose from.
Why not consider one of the following:
Mobile veterinarian clinic
Organic treat maker
Obedience expert
Animal blogger
Pet travel service provider
Cat cafe operator
Dog manicurist
Dog whisperer
YouTube training expert
What are the most successful small businesses?
Some of the most successful small businesses include:
Social media manager
Senior care services
Smart product development
Organic beauty products
Healthy fast food
Healthcare consulting
Crowdfunding consulting
Ghostwriting
Green consulting
What are the best startup ideas?
Coming up with a startup idea can be tricky. While it might seem like all the good ideas have been taken, it's still possible to improve existing ones or put a unique spin on an old one.
Here are a few ideas to get your creative juices flowing:
Make local guides
Organize specialty travel tours
Create a local grocery delivery service
Open a coworking space
Create a food waste solution
Sell zero-waste products
Make products for pets
Create custom clothing
Become a resume writer
What business can I start with no money?
It's a common misconception that you can't start a business with no money. It's actually not true, and there are some great business ideas that require no upfront investment.
Here are just a few of them:
Dog walker
House painting
Lawn service
House cleaning
Party planning
Walking tours
Gutter cleaning
Plant watering service
Grocery delivery
Junk removal
Mobile car detailing
Senior companion
What business can I do from home?
Recent world events have led many people to consider a business that allows them to work from home.
If you're looking for a great idea, here are some to choose from:
Book publishing/eBooks
Amazon store
Dog walking business
Craft business
Start a blog
Home bakery
Landscaping business
Subscription box business
How can I be my own boss?
To be your own boss, you need to run and own your own business.
Follow these steps if you're ready to do this and be responsible for all the decisions:
Decide what you want to do
Check whether your idea is viable and research your market
Analyze your strengths and weaknesses
Work out how you're going to make the transition
Assess your financial needs
Pick your business name
Register your business and take the final step
What business can I start with $5000?
You can start just about any business if you've got $5,000 to invest.
Here are some ideas if you're unsure which way to go:
Consulting
Selling an invention
Selling a handmade product
Vending machine
App development
Web design
Online travel
Party planning
Selling second-hand goods
Tutoring
What is the cheapest franchise to open?
Franchises are one way to own and run a business. They don't require any legwork regarding finding out what to sell or how to market your business. It seems an easy option, but some franchises cost more than others.
If your budget is limited, here are some of the cheapest franchises to open:
Cruise Planners
Jazzercise
Help-U-Sell Real Estate
United Country Real Estate
Stratus Building Solutions
Anago Cleaning Systems
JAN_PRO
Dream Vacations
Which business is best for a housewife?
Just because you stay at home, it doesn't mean you can't have your own income. Thanks to the internet, there are now plenty of opportunities for the stay-at-home housewife.
Here are some of the best business ideas for housewives:
Bakery and cake making business
Home-cooked food
Start a daycare center
Sell handmade stuff from your home
Fitness and yoga business
Selling eBooks, online consulting, and courses
Freelance writing and starting an online blog
Starting a YouTube channel
Remote work service provider
Online tutoring
What crafts sell best?
If you've got a flair for all things crafty, you might have thought about selling your crafts. It might seem like it's something that's out of your reach, but it's easier than you think.
Many people make money by selling crafts, so why not turn yours into a profitable hobby?360-degree There are, however, some crafts that sell better than others.
There's a list of the top best sellers:
Personalized pet tags
Bath bombs
Bookmarks
Keychains
Magnets
Jewelry
Coasters
Headbands
Candles
Lip balm
You might be interested to check those related posts as well:
Which business will grow in the future?
If you're looking for a business idea that will take you into the future, here are some of the top options:
Lead generation for small businesses
Selling Personal Protection Equipment
Space tourism
Boat and helicopter tourism
Robotics
IoT
Fitness tech
Online therapy
360-degree photography
Car sharing business
Drones
Electric cars
Business coach
If you're thinking about opening a small business, there are many things to consider before you get started. First, make sure you do your research and think about the idea of running a business more personally.
One of the best ways to decide what business is right for you is to understand what is currently available, investigate demand, and possibly even talk to other more experienced business owners to see if they've got any tips.