Things to Consider When Choosing Streaming Software 2023
These are the questions to ask yourself when choosing the right streaming software:
Does the service offer video-on-demand (VOD)?
Is HTML-5 used rather than the outgoing Adobe Flash?
Do stream settings include viewer numbers, engagement, and impressions?
Is there some form of live chat and viewer interaction?
Are streams from third-party encoders, e.g. RTMP URL + stream key accepted?
Is monetization enabled?
Can you add your own branding to the player window and customize the design?
Can you embed a video into a homepage?
Can you multi-stream directly to one or more social media platforms?
Is there privacy control?
Is digital rights management included to prevent infringement of copyright?
Are an application programming interface and a software development kit included?
Best Streaming Software Programs 2023
Here is a list of the best live-streaming software programs on the market.
1. OBS Studio – Best Open Source Streaming Software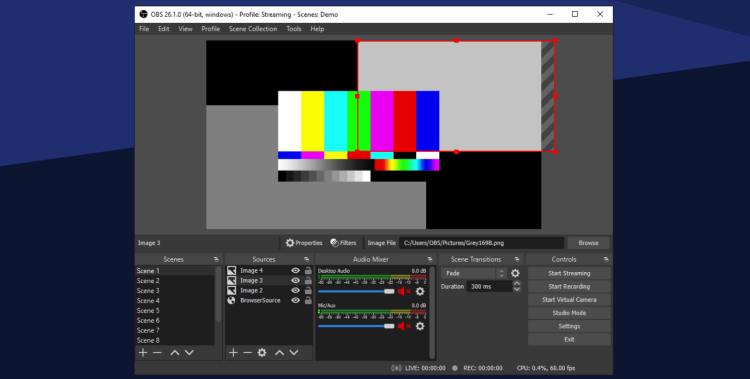 Open Broadcaster Software (OBS Studio) is a free streaming software program suitable for video recording and live streaming. Its latest release is v27.1.3 and is fully compatible with Windows, iOS 10.13+, and Linux.
The main components include HP video and audio capture and mixing in real-time, which enable mash-ups of sources such as screenshots, images, webcams, and much more. Create multiple scenes and switch between them quickly and easily using custom transitions.
Deal with issues such as noise suppression with the per-source filters in the smart audio mixer and VST plugin support.
Pros:
Versatile, flexible, and easy to use
A vast number of scene changes
Wide choice of resolution settings
Cons:
No user manual
No 'undo' button in case of unintended deletion
The system can lag and crash
Rating:
OBS Studio scored 9.0 out of 10 on TrustRadius in June 2021.
2. Twitch Studio – Best Live Streaming Software for Beginners

Free live stream software intended for new Twitch streamers who want to create content and share it with a community. Twitch Studio can help you install and manage your video stream using a guided setup for your mic, screen, and webcam.
Customizable templates of layouts and overlays enable you to personalize the appearance of your stream. Additional plug-ins are not required as alerts, activity feed, and Twitch Chat are all built-in.
Good reviews were posted by novice streamers who found Twitch streaming easy to use but would like more functions, and bad reviews were from more experienced streamers who dislike the basic functionality and lack of versatility.
Pros:
Easy to use, clear, fast, and efficient
Works well with Streamlabs embeds
Low CPU usage
Cons:
Low functionality/versatility
Alignment of components can be challenging
Settings do not stay fixed
Rating:
Twitch Studio scored 3 out of 5 on Twitch Strike in 2021.
3. vMix – Best Live Streaming Software for Churches


vMix is a video production and live streaming program, suitable for streaming and recording videos, images, and PowerPoint productions in large gatherings such as schools, universities, churches, and corporate functions.
The program enables you to design a professional live video stream, customize content and live-stream them across multiple platforms, such as YouTube and Facebook. Choose from AVI or MP4. MPEG-2 or WMV to record live in full HD.
Free version and free trial available. The full package costs US$60 or $13.50/month.
Compatible with iOS and Windows (desktop).
Pros:
Quality software easy to use on multiple platforms
Ability to record live and mix at the same time
Great animation tools
Cons:
Need high-spec computer otherwise prone to hanging and dragging
The Preset does not fully load the bottom sets or turns grey
Direct RTMP is available only using third-party software.
Rating:
vMax scored 5 out of 5 on capterra.co.uk in 2021.
4. XSplit Broadcaster – Best Live Streaming Software for Gaming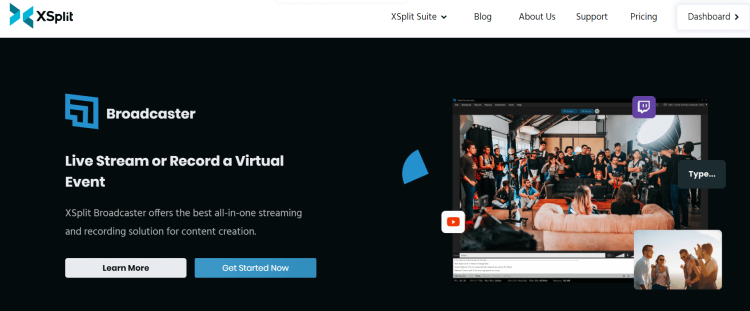 Designed as a game development program to enable content creators and online streamers to create broadcasts by adding transitions to the preloaded scenes. A preview facility lets professionals edit the scenes before broadcasting them to streaming services. The program also supplies commentators with images of a live event.
Free version and free trial available. The basic package costs US$5/month and the more advanced $13.50/month.
Is compatible with Windows (desktop).
Pros:
Easy and intuitive for a beginner to set up even with a basic computer
Many apps compatible with the software
Has built-in hooks for any streaming service
Cons:
Insufficient add-ons in the app store
Lack of ability to customize
Can cause a slowdown during gaming
Rating:
XSplit Broadcaster scored 4 out of 5 in GetApp in 2021.
5. Wirecast Pro – Best Live Streaming Software for Team Sports


With unlimited inputs and destinations, and simultaneous video conferencing, Wirecast Pro is made for live-streaming video. The platform enables streaming to any RTMP destination, while also supporting recording streams locally.
The award-winning video production software can be used to communicate simply using only your webcam or multiple cameras, scoreboards, graphics, and remote guests to stream your content to YouTube and Facebook Live.
The software is compatible with a wide range of camera inputs, capture cards, and devices. The encoding option includes audio delay, live switching, picture-in-picture composition, and titles.
The software is compatible with iOS and Windows. The latest version of Wirecast, 14.3.3 was released in October 2021.
Wirecast Studio costs $599, and Wirecast Pro $799. Both come with a free trial.
Pros:
User-friendly platform
Fully loaded with valuable tools
Instant replay
Cons:
Expensive
Many components are locked in the "Studio" version
Consumes a lot of computer memory
Rating:
Wirecast scored 4.5 out of 5 on g2.com in 2021.
6. OWN3D Pro – Best Live Streaming Software for Overlays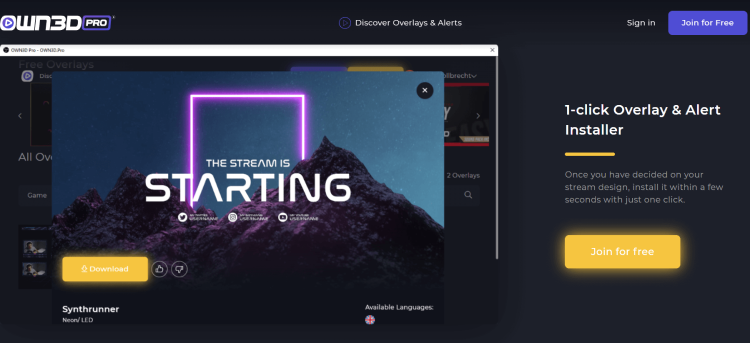 This OBS Studio plugin aims to be a one-stop shop for adding visuals, sounds, and animation to content. Its shop offers the greatest choice of overlays, graphics, panels, and emojis. Notifications and chatbot features help you interact with your audience and manage your streams. The music and sounds are copyright-free.
There are more than 380 overlays, with themes such as gaming, animated overlays for casino streamers, and images for Christmas, Easter, and Halloween, which are easy to install.
The free version contains a modest 5 overlays, but to access all the features, you'll need to pay a monthly fee, starting from €6.83.
Pros:
Good live customer service support
Huge range of designs that are easy to install and change
No problems with copyright.
Cons:
Users are able to follow & unfollow, allowing trolls to abuse the following alert and ruin your stream.
Rating:
OWN3D Pro scored 4.5 out of 5 on obsproject.com in 2021.
7. Lightstream – Best Live Streaming Software for Podcasts and Talk Shows


Handy if you're traveling and need to access your suite of streams while on the road,
Lightstream uses cloud-based technology to process a large amount of stream encoding. No need to download any software as everything happens in your browser.
Featuring a guided setup, Lightstream integrates with external streaming tools such as Streamlabs to show your alerts.
Lightstream is perfect for podcasts or talk shows by enabling you to showcase a guest instantly using a link that will pull their video feed and audio directly into your stream.
Limited free version (Freemium) and super-expensive premium version without limitations, from $89 per month.
Pros:
Stream from your browser
Quick and easy to set up via through-tour
One-click guest mode for a podcast or talk show
Cons:
Very limited free version & expensive premium version
Limited features for game streaming
Restricted to 720p/30 FPS or 720p/60 FPS with premium.
Rating:
OWN3D scored 4.8 out of 5 on TrustPilot in 2021.
8. Gamecaster – Best Live Streaming Software for Beginner Gamers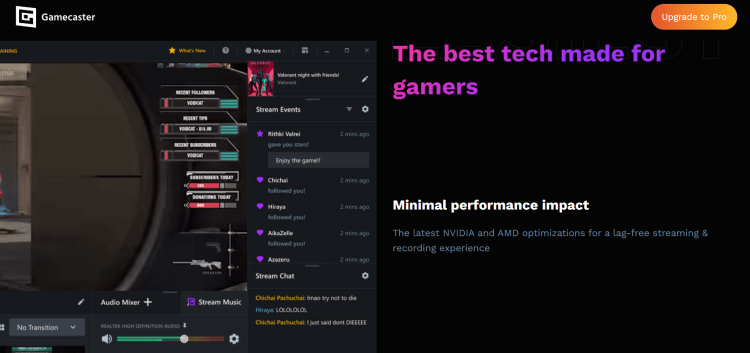 Good for beginner gamers who are put off by the complexity of some streaming apps. Gamecaster is a user-friendly program offering more advanced customization as you become better acquainted with streaming. New and totally free streaming and recording software that offers hundreds of free overlays and alerts for Twitch Youtube and Facebook.
Gamecaster happens to be the pioneer of the game streaming overlay, meaning you can see chat messages, oversee your stream events and control your live stream all from inside your game.
Pros:
The easiest way to get started and go live to social media
Wide range of attractive, free pre-built themes and integrated alerts
Game streaming overlay suits single monitor streamers to observe chat and alerts
Cons:
Windows only
No chatbots
Lacks precision control over selective recording and audio
Rating:
Gamecaster scored 4 out of 5 on cuspera.com in 2021.
9. NVIDIA ShadowPlay – Best Streaming Software for Recording and Capturing Greatest Gaming Moments

Good for capturing highlights and short clips of gameplay and sharing them directly with your social channels instead of live streaming. NVIDIA ShadowPlay, part of the GeForce Experience, is free streaming software that comes with all the latest NVIDIA graphics cards.
The built-in software lets gamers record and stream their gameplay directly from the GPU. Obviously, ShadowPlay will only suit gaming, not any other types of streaming.
Using ShadowPlay, NVIDIA estimates you will notice a drop in-game performance of about 5%, although this varies according to the intensity of the game.
Pros:
Low-impact game recording and streaming
Instant Replay and NVIDIA Highlights
Cons:
Lack of extensive customization
Requires higher bitrate to compare to CPU encoding (but newer versions of NVENC are more powerful)
Compatible only with NVIDIA GPUs
Rating:
Nvidia ShadowPlay scored 4.3 out of 5 on g2.com in 2021.
10. Dacast – Best All-Round Live Streaming Software


Ideal for a wide range of occupations and activities including business, sport, education, entertainment, and media. Dacast offers a centralized dashboard designed to facilitate SMEs to broadcast live and on-demand videos and events.
The video management tool enables administrators to transcode, publish, record, and share live streaming in the library, permitting unlimited viewing.
Dacast is compatible with the cloud, SaaS, iOS, Windows and Linux (desktop), Android, iPhone mobile devices, and iPad.
Dacast costs US$39/ for the standard program, with a free trial, and $399/ for the premium version, with a free version and trial.
Pros:
A solid program with an excellent support team
Highly customizable and integrates well into OBS Studio and HTML pages
High-quality, reliable, and easy-to-use
Cons:
Analytics could be improved to enable tracking of specific users
Recorded live streams may have missing content
LiveStreams require the browser to be refreshed every 6 minutes
Rating:
Dacast scored 4.5 out of 5 on Capterra.co.uk in 2021.
11. Restream – Best Streaming Software for Going Live on Multiple Platforms


Suitable for anyone who wishes to increase their presence online with live streaming. Restream is a professional web-based live-streaming program that enables you to go live on more than 30 social platforms, including Facebook.
The Restream community consists of more than two million streamers who go live on many platforms simultaneously. Compatible with the cloud and SaaS.
The standard program costs US$19/month with a free version and trial. The premium version costs $999/month.
Pros:
Live studio system allows the streaming of pre-recorded videos as part of live stream
Excellent technical support
Fairly easy to set up through OBS Studio and Twitch
Customize live streams to enhance your profile
Cons:
An unstable internet connection to servers can cause dropped frames and lost packets
No Facebook public page stream with the free version
Very difficult to configure with Facebook public pages and YouTube Gaming
Rating:
Restream scored 4.5 out of 5 on Capterra.co.uk.
12. OneStream Live – Best Streaming Software for Managing Pre-Recorded and Live Streaming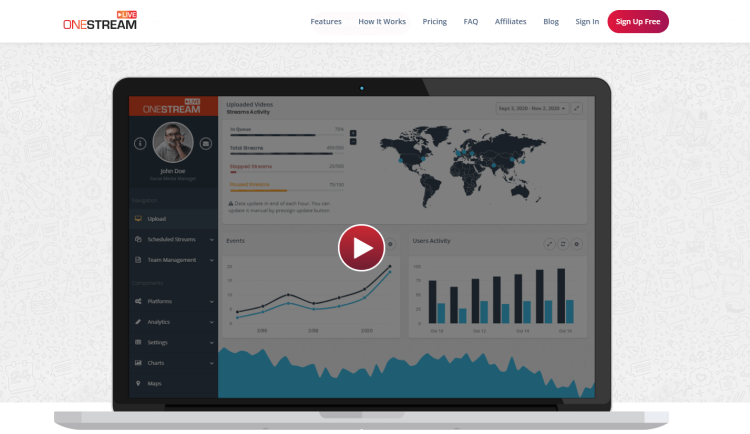 A pre-recorded and live-streaming program that helps you to upload and launch streaming events on social media. Supporting all major video formats and resolutions, OneStream Live transcodes your videos to meet the required specs of the chosen platforms. You can schedule pre-recorded streams or use the multicasting features to reach a wider audience.
Custom RTMP streaming is supported through server URL and Stream Key.
OneStream Live supports web-based, iOS, and Android devices and suits SMEs. It offers integrations with Google Drive, Dropbox, and OneDrive, and online customer support.
Free version and trial available. The basic plan costs US$10/month, the Standard $39/month, and Professional $89/month.
Pros:
Flexible streaming options
Option to upload and import tools
Helpful team and viewer management
Rating:
OneStream Live scored 84% on comparecamp.com in 2021.
13. VidBlasterX – Best Live Streaming Software for Customisation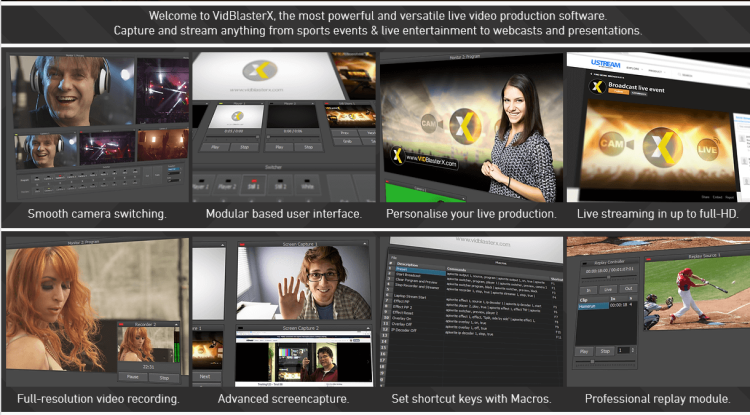 A versatile and powerful program for capturing, streaming, and broadcasting a whole range of events from presentations and webcasts to live sports. Content producers can use the infinite flexibility and consistency of performance of VidBlasterX to achieve a wholly customized experience.
VidBlasterX combines the power of a multi-camera switcher with keying, high-quality recording, video playback, and frame synchronizers.
The program can expand from an all-around vision mixer for driving video boards to a state-of-the-art broadcast and streaming facility with slow motion and instant replay. Compatible with Windows OS.
Components include ultra-low latency, chroma-key, a modular audio mixer, and multiple-resolution support.
The Home version, costing US$9/year, supports 7 modules. The Studio version, at $99/year, supports 25 modules, and the Broadcast version, at $999/year supports 100 modules and multiple recorders and streamer modules in one profile.
Pros:
Plans available to suit most budgets
Rich in components
Easy to customize
Cons:
Incompatible with iOS
Not appropriate for inexperienced live streamers
Can be complex
14. FFmpeg – Best Open-Source Live Streaming Software for Portability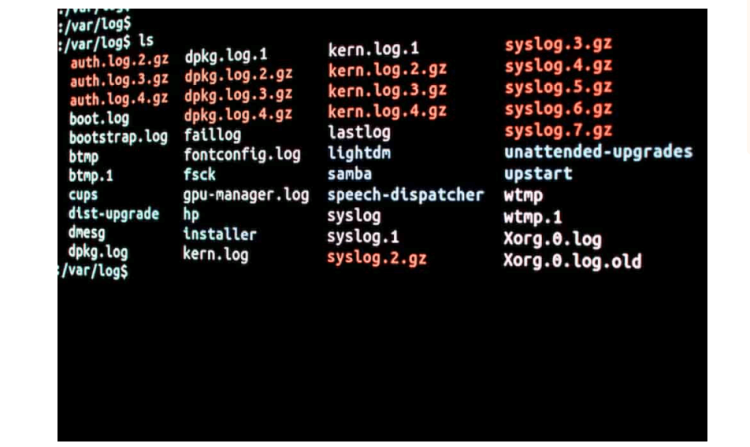 A basic, open-source streaming software that can be customized using the extensive library of programs that are focused on the production and multimedia management. Although basic, its open-source nature lends itself readily to customization. The program is compatible with Linux, Windows, and iOS.
The software can be used as a multi-functional tool for media files, including media compression and file type conversion. It can also transcode and package AV data in almost any format and its portability makes it a good choice for writing mobile applications.
FFmpeg is free to download and use.
Pros:
Open-source program is easy to customize
Includes many useful tools
Offers multiple encoding configurations
Cons:
Lack of educational materials for using the platform
No support for HTTP Live Streaming
Can be difficult for novice broadcasters
Rating:
FFmpeg scored 98% on slant.co.uk in 2021.
15. SplitCam – Best Live Streaming Software for Splitting P2P Video Streams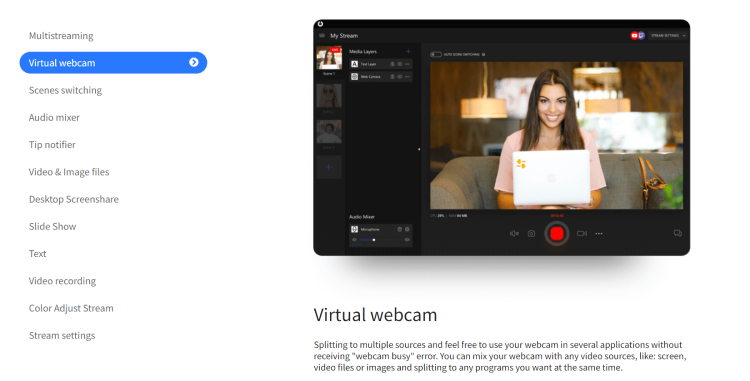 Multifunctional broadcasting software is primarily used for webcam splitting in a virtual event involving audience interaction, such as live training sessions and webinars where peer-to-peer streaming is necessary.
However, this program is used for simulcasting audio mixing and webcam splitting and does not encode.
SplitCam is compatible with many streaming solutions and peer-to-peer services, making it useful to broadcasters with multiple streaming requirements.
The platform also has a dedicated community forum where users can ask questions, problem-solve issues, and share ideas. Compatible with Windows and iOS.
Free to download and use.
Pros:
Enables split streaming from one webcam
Mixes audio and video
Supports HD streaming
Cons:
Does not offer encoding tools
No support for mobile streaming
Rating:
Splitcam scored 4.5 on g2.com in 2021
16. Switchboard Live – Best Live Streaming Software for Simulcasting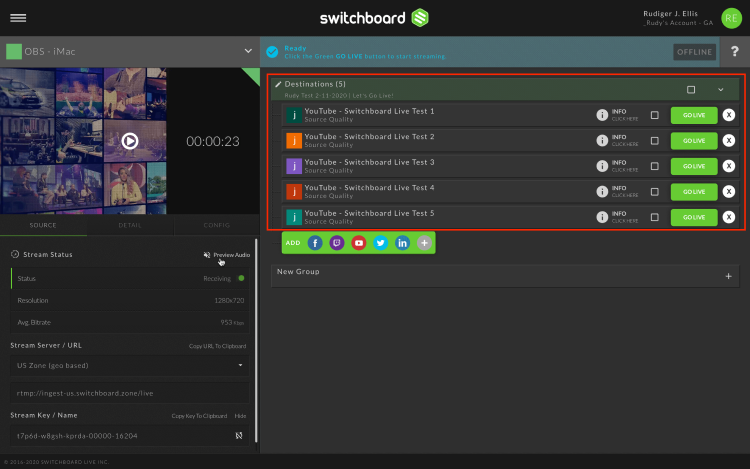 A piece of simulcasting software that enables streaming to several destinations at one time. The platform also provides tools to embed videos. As the program does not offer a wide range of add-ons, it is a good option for those who require only a dedicated simulcasting device.
The Switchboard Live website does not mention OS compatibility or limitations.
The website offers three pricing plans with unlimited streaming destinations. The Indie, at US$29/month provides 1,500 streaming minutes/month; the Pro, at $59/month allows 4,000 streaming minutes/month; and the Business, at $99/month, lets you have 10,000 streaming minutes/month.
Pros:
Integrates smoothly with most online video platforms
Dedicated simulcasting support
Offers solutions for different uses
Cons:
Technical issues can occur in the setup
Several settings require manual configuration which is automatic on other platforms
Rating:
Switchboard Live scored 4.8 on capterra.co.uk.
17. FFsplit – Best Streaming Software for Creating Smooth Multi-Source Live Streams


A live streaming program aimed at production that enables you to integrate multiple inputs to create a running stream of content, which can be saved locally or broadcast in real-time.
A basic program, but a useful choice for broadcasters who specialize in multi-source streaming.
It should be noted that although FFsplit is still available for downloading in several versions on the website, it is no longer being developed or updated.
The FFsplit website does not present any information on compatibility but is rumored not to work on iOS.
Pros:
Focused on live streaming
Allows multiple inputs to be merged
Reliable and easy to use
Support for local recording
Cons:
Basic program
Unavailable for iOS
No longer being developed
Rating:
FFsplit scored 4 out of 5 on alternativeto.net in 2021.
18. Prism Live Studio – Best for Basic Simulcasting Streaming Software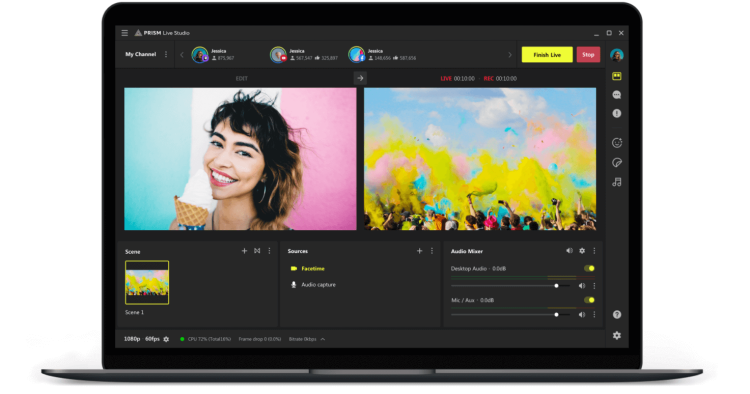 Live streaming software focuses mainly on live video streaming and editing and supports simulcasting as a secondary function. The app for the program is available in mobile and desktop versions. Prism Live Studio will work on Windows and iOS and supports simulcasting to Facebook, YouTube, and Twitch.
Feedback from consumers says the app is darker than a standard phone camera, in which case streaming a video in a dimly lit room or at night is not viable.
The website does not mention pricing, but the free app can be downloaded on Google Play Store and the App Store.
Pros:
Special camera effects
In-stream widget placement
Live chat features
Dedicated simulcasting device
Cons:
A very basic production tool
A limited number of streaming destinations
Rating:
Prism Live Studio scored 3.8 out of 5 on play.google.com in 2021.
19. FXhome – Best Software for Post-Production Editing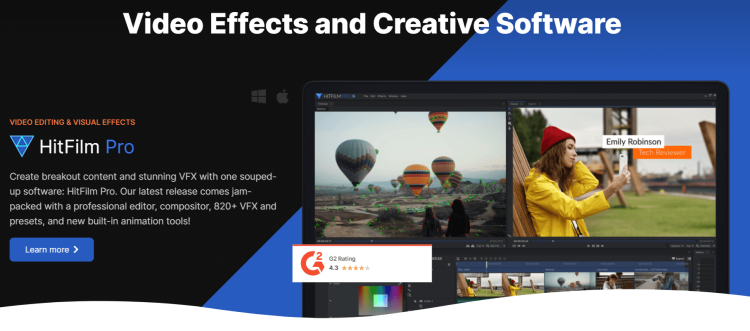 This post-production software can be used by broadcasters at every level from beginners to professionals to create high-quality AV projects, although its relative expense makes it more acceptable to highly experienced practitioners.
The unique selling point of FXhome is that it offers support to animators, so is particularly suitable for teams that wish to include animated graphics in their productions.
The software is rich in tools and offers components for slow motion, title transitions, and camera movements. It also supports multiple formats optimized for various uses such as social media.
Compatible with Windows and iOS.
Packages include: Imerge Pro 2021 at US$199, Ignite Pro 5 at $299, HitFilm Pro 2021 at $349, Pro Creator bundle at $493.20, Pro Video bundle at $583.20, and Pro Suite at $677.60
Pros:
Video and photo editing tools aimed at production
Animation tools
Access to training and support
Cons:
No free trial is available
Can develop bugs
No shortcuts offered
Rating:
FXhome scored 3.9 out of 5 on TrustPilot.com in 2021.
20. StreamYard – Best Live Software for Multi-Streaming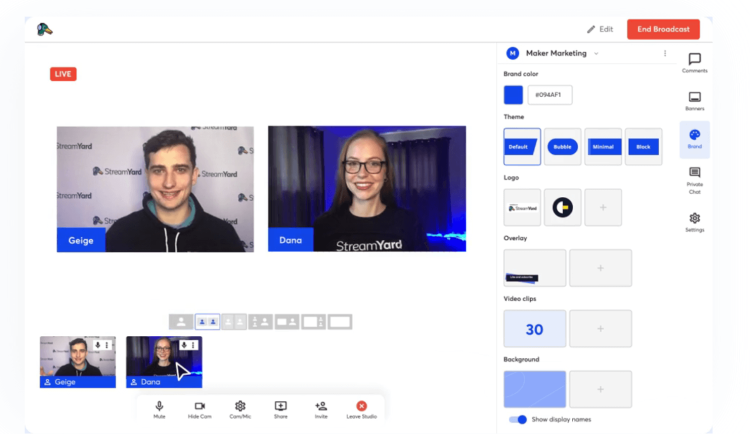 A live streaming service that allows you to multi-stream directly to social media. As well as recording and downloading HD video and audio, you can provide your audience with commentary.
StreamYard enables you to customize your stream with logos, colors, and overlays, and upload images and videos.
Only a web-based application is supported, but there is an email/Help Desk and Knowledge Base support and training documentation.
Pricing involves a subscription for a monthly plan or annual billing, although there is a free trial available and a free version for life.
Pros:
Flexibility in terms of styling and color options
Simple and straightforward to use
Multi-streaming is seamless
Cons:
Switching overlays during live stream could be made easier
Maximum of 10 guests on a live stream
Live streams can only be scheduled 7 days in advance
Rating:
StreamYard scored 4.6 out of 5 on capterra.co.uk.
21. VideoLink – Best Software for Safeguarding Children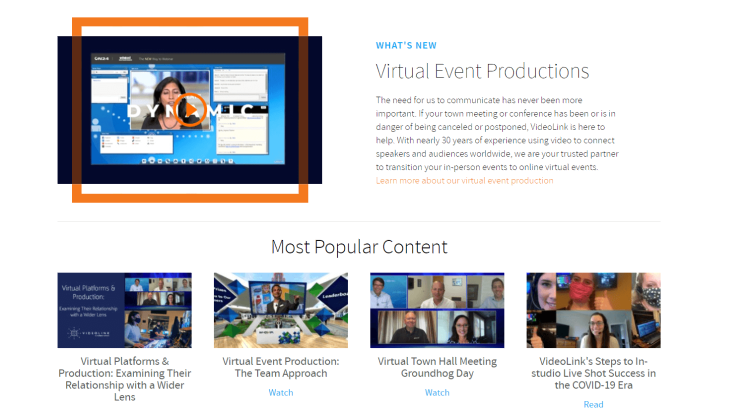 VideoLink could suit you if you are a teacher looking for free technology tools that enable you to watch and share YouTube videos with students in a classroom in a safe and sociable way without interruptions or unpleasant comments.
Or you may be a parent who is concerned about your children watching inappropriate adult content on YouTube. Either way, you will experience a much better service than the YouTube safety mode. Whatever your occupation or hobbies, you can access the free service and no registration is required.
VideoLink features closed captions, safe URLs, HTML codes, and BBCode and can be shared through social media and by QR. The service is web-based, doesn't require installation, and is compatible with most modern browsers and OS.
Also compatible with Viddly for MP4 downloads and video-to-MP3 conversion.
VideoLink scored 4.0 out of 5 on glassdoor.co.uk.
22. Vimeo – Best Live Streaming Software for Artistic Productions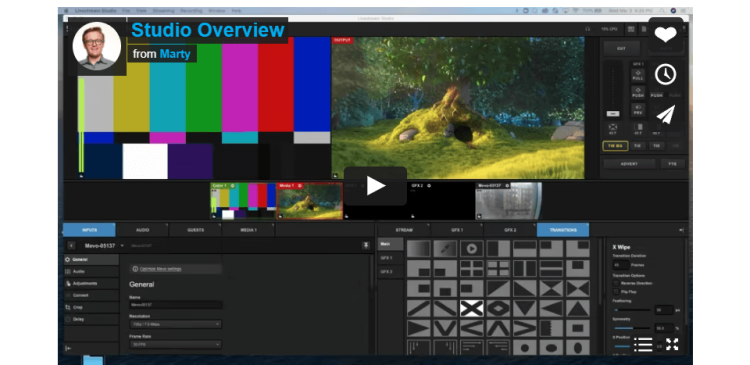 A video-sharing platform that promotes art in music, film, and animation. Vimeo provides tools such as a storage facility, advice on marketing and monetization, post-production and collaboration techniques, as well as high-quality live streaming.
Features include an absence of ads, the option to make uncompressed versions of videos, and the ability to add up to 10 team members to work on your projects.
Vimeo will host your videos using a player interface that looks clean, modern, and professional. Video files such as MOV, FLV, MP4, WMV, and AVI are supported and you can even stream your content fluently in 4K Ultra-HD.
Vimeo offers you the ability to upload content from anywhere, full 360 video support, integration with popular video editing software, plenty of customization, advanced stats monitoring, and native social media publishing. Compatible with web-based, Android, and iOS platforms.
Training options include documentation, Live Online, videos, webinars, and, in-person sessions.
Free trial and free basic plan with 500MB/week upload space and 5GB storage. Paid plans include the Plus plan at US$12/month or $7/month billed annually, the Pro at $20/month, Business at $50/month, and Premium at $70/month.
Pros:
Cons:
High cost of maintaining an online presence
Basic fonts and color choices limited
Configuring Video on Demand can be challenging
Rating:
Vimeo scored 4.6 out of 5 on GetApp in 2021.
Best Live Streaming Software according to Reddit:
OBS is a fantastic choice for streaming as it's free, user-friendly, and widely used with strong community support.
You might be interested to check those related posts as well:
FAQ
Can I edit a Facebook Live video?
You can use video trimming to edit unwanted footage at the beginning and end of your live videos. Occasionally, live broadcasts include a waiting room at the start or end of the video.
You can trim the video and remove these sections once your live broadcast ends. But video trimming is only available on Pages.
What is needed for live streaming?
To begin live streaming, you will need video and audio hardware such as cameras and computer screens, as well as microphones, mixer feeds and the sound sources to be played in the stream.
Types of cameras include webcams, digital single-lens reflex (DSLR) cameras, camcorders, and action cameras.
Is a software encoder necessary for live streaming?
As most video sources don't come ready for live streaming, an encoder is essential for converting the raw video files from your camera to streamable digital files.
Your video encoder converts the desired format into codecs through a compression/decompression process and "translates" the video signal for the internet.
Can you stream with emulators?
You can stream with an emulator but they are useless without game files—known as ROMs—and a ROM is almost always an unauthorized copy of a video game that's protected by copyright.
Although in the UK copyright protects works for 70 years, no company there has ever gone to court over emulators or ROMs and their use.
Which streaming software uses the least CPU?
As OBS Studio has a simple interface, ordinarily it consumes less CPU usage when streaming than SLOBS. This is because OBS Studio offers only the critical data for getting acquainted with streaming.
So the software allows for good performance even when you stream with a computer that is adequately powerful.
Is 32GB RAM sufficient for streaming?
16GB RAM is sufficient for Windows and iOS systems and good for gaming, especially if it is fast RAM. However, 32GB RAM is the desired capacity for professionals, although gamers can also achieve a small improvement in performance in some complex games by switching to 32 GB RAM.
How much RAM does OBS Studio use?
It depends on whether you are streaming or playing complex games. While you would not be able to achieve the best streaming quality with only 8GB RAM, it should be enough to stream some fewer complex games adequately.
Matching the power of your setup to the complexity of your games would make it run more smoothly.
Can you record with Streamlabs OBS without streaming?
Yes, using OBS you can record your content without live streaming, which is a good way to prepare pre-recorded presentations. As you can also use a video as a source, you are free to pre-record your stream and then use the recorded video (edited if necessary) as a source for a live stream.
Which streaming software uses the least amount of resources?
OBS Studio, which combines endlessly customizable software with low CPU usage, is one of the best free streaming software available today.
Although SLOBS's game-specific encoding system, which allows users to optimize SLOB for each specific game they stream, reduces the CPU usage necessary to run SLOB in the background.
Which streaming software has the best noise suppression?
Noise suppression is the process of removing audio interference such as mic noises from a recording in order to generate crystal-clear sound. If you don't use the highest-quality microphone, the audio will collect a lot of background noise.
The three most highly rated pieces of software are Adobe Audition, Krisp, and Noisegator.
Now you have a good idea of the features of the best most common streaming services available, try them out for yourself!