Every brand needs an eye-catching design that speaks to its audience.
The right graphic design software can help you create a strong brand identity, whether you're creating a blog or editing pictures for your eCommerce business.
An excellent graphic design tool will not only enhance efficiency but will also help put stunning creativity into every design you create.
As a graphic designer or an artist, you need software that is compatible with your specific niche.
Whether you are an illustrator or designing a logo, you need the right tools and features for your profession.
So, we compiled a detailed list of the top graphic design software, their features, pricing, and benefits for you to go through and choose the one that you believe suits you.
What Are The Benefits Of Graphic Design Software in 2023?
Your company's personality can be best developed with the help of graphic design software
It is possible to create visually striking and eye-catching designs and images without shooting them with good graphic design software
Graphic design software makes it easy to use different photography retouching techniques and edit photos
Having a logo designed by graphic design software can make your company look great, represent your brand well, and make a lasting impression
In a digital marketing campaign, graphic design software is used to create high-quality visuals that increase customer engagement
Several graphic design software users save templates to keep images organized and consistent in size and design
Using professional graphic design software to create your business's logo and graphics will help you build a reliable reputation that will attract more customers
You get great images with good graphic design software, and your workers have more time for their jobs when a professional is hired instead of getting everything done in-house
What To Look For Before Choosing Graphic Design Software?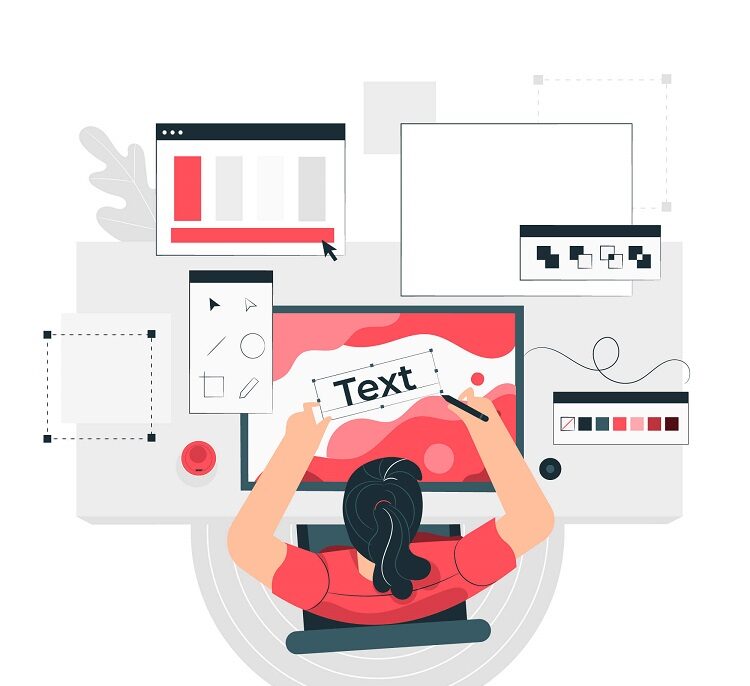 You should begin by asking yourself what you need your graphic design software to accomplish.
It's important whether you're searching for the best graphic design software for a Mac or one for beginners.
Is your primary objective to manage a few basic manipulations or are you more interested in advanced editing options?
Will you be producing small or larger images that require more detail, such as menus, banners, or posters?
The software you choose must meet your specific requirements.
Professional graphic designers had few choices for graphic design tools in the past.
Due to this, Adobe Photoshop had become the software of choice, especially for editors.
However, the advent of alternative design software has provided designers with more options to meet their varying needs.
Additionally, graphic design software no longer relies exclusively on PC or Mac operating systems.
In addition to supporting iOS and Android, many have mobile apps for Linux and Chrome OS, too.
The sheer number of graphic design programs makes it difficult to pick the most appropriate one.
Yet, you can consider some elements to help in choosing graphic design software.
These include its editing ability, high degree of precision, intuitive design and features, no preprogrammed watermarks, and specific templates.
Be sure to consider your skill level and needs when looking for graphic design software.
For example, graphic design software for beginners might be slightly different from professional software for experienced designers.
What Are The Best Graphic Design Software And Tools in 2023?
Marketers predicted that over 70% of businesses will employ visual content heavily in 2021.
This indicates that brands will invest more in professional graphic design services to promote their marketing efforts through quality visuals.
This article examines the best of free and premium graphic design software for different levels of expertise.
Autodesk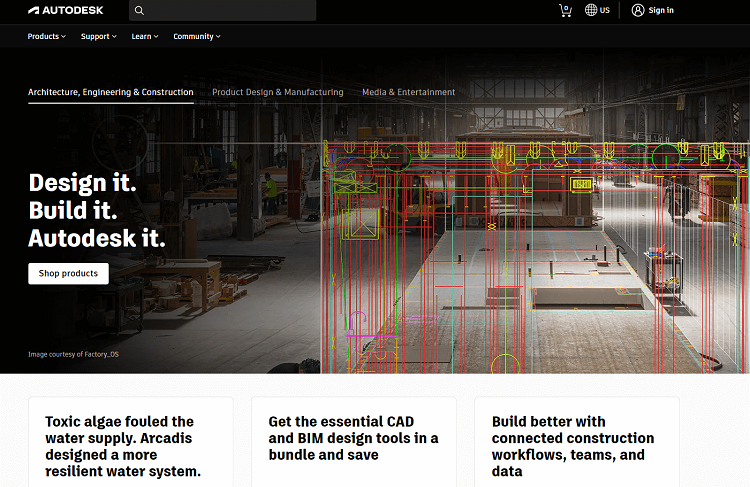 Autodesk Inc. is a multinational software company based in the United States.
The company provides an array of software products and services for media, education, construction, and architecture.
As the company produced the first AutoCAD 2D CAD software in 1982, Autodesk has grown into a world leader in 2D and 3D modeling software, 3D design, and visualization software, and further develops its technologies to help businesses harness the power of the digital revolution.
Features
3D modeling, navigation, and visualization
Photorealistic rendering
2D drafting and annotation
Object selection and isolation
Geographical location and online maps
Solid, surface, and mesh modeling
AutoCAD mobile app
Base, projected, and section views
3D scanning and point clouds
Pros
Access to advanced modeling tools adaptable to the various design requirements
Ability to make section planes that create cross-sectional views of the 3D models
Can alter text settings in 2D drawings
Ability to alter dimension settings and styles
Can manifest Microsoft Excel spreadsheet and table data to drawings through a 2D drawing tool
Permits users to transfer information from PDFs to their drawings
The SHF recognition function makes the editing of PDF-imported files easier
Cons
Startup costs are expensive
Takes time to fully grasp the use of this software
The software requires a strong computer processing power
Training courses of the software are costly
Limited file formats
Pricing
AutoCAD subscriptions are priced annually at $1775
It costs $220 per month to subscribe to AutoCAD
A three-year subscription to AutoCAD costs $4,795
Adobe Photoshop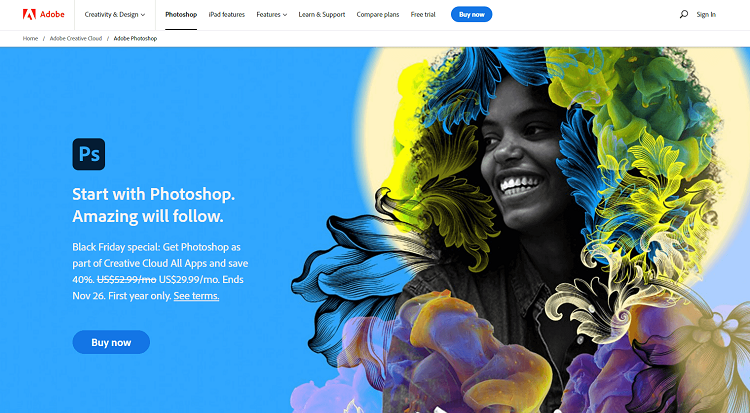 Almost all creative professionals in the world use Adobe Photoshop, as it is one of the most popular graphic design tools in the world.
It offers features a wide range in complexity and is meant for photo editing.
It allows designers of every skill level to make artwork, including image cropping, logo design, and animations.
Features
You can create slideshows, collages, and effects automatically
Editing incorporates motion, facial adjustments, interesting filters, and effects
A guided editing system that allows you to move, resize, and duplicate objects as well as replace backgrounds and create multi-photo texts
Photos can be shared on social media and other platforms
Automatically tag your photos for easier organization
Pros
Capable of generating 3D designs
Built-in stock library
Color grading capabilities
Convenient file sharing between multiple programs
Edit images in a variety of formats with ease
Access to Cloud storage
Customized social media images
Free mobile app
Cons
Costly
Takes up a large amount of space
Incapable of creating vector filesIncomplete updates or untested beta releases
Pricing
The monthly fee is $20.99
A 7-day free trial is available
Inkscape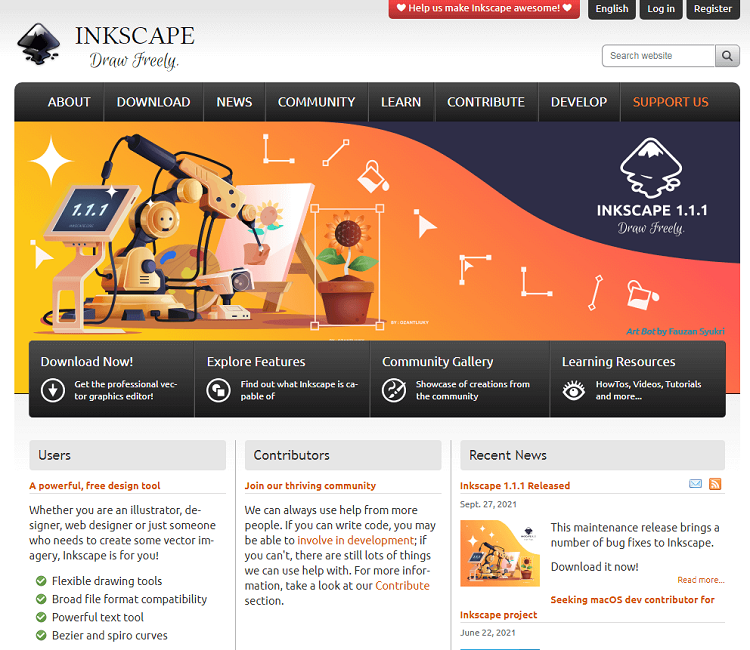 The easiest way for beginners to learn vector drawing is to use Inkscape, a free cross-platform and open-source graphic design software.
The application is easy to use with flexible drawing tools, which allows graphic designers, illustrators, and web designers to create high-quality designs quickly and efficiently.
Among the many features of the tool, it focuses on the SVG file format primarily and offers many filters and a helpful online community for beginners.
Features
Drawing, shape, and text tools are used to create objects
A series of operations like transformations, Z-order operations, grouping objects, alignment, and distribution commands are available to manipulate objects
There are several filling and stroking tools such as color selector, gradient editor, pattern fills, and marker paths
Support for text and rendering
A variety of file formats
Pros
User-friendly
Updated frequently
Code can be customized easily
Multiple filter options
Multi-gradient support
Bezier handles included
Cons
It may take a while if you have to render complex processes
There is some incompatibility with Illustrator
The Mac version isn't error-free
Pricing
Inkscape is free graphic design software.
Sketch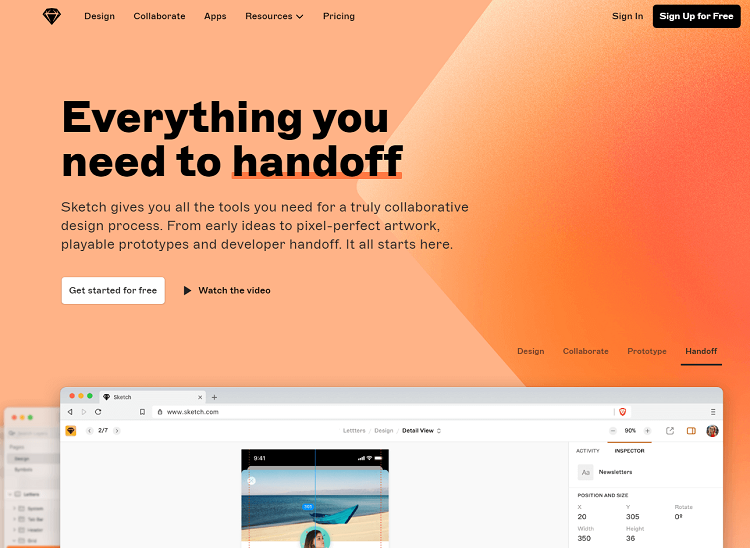 Originally developed for the Macintosh platform, Sketch is a vector-based application.
Since it is suitable for building interactive prototypes for UI/UX purposes, it is most useful for developers working with iPhone, iPad, and macOS applications.
Despite not being developed as a photo editing program, this graphics design software is superb for creating interfaces.
Features
Editing vectors
Precise to the pixel level
Exporting is easy
Cloud sharing is available
Design prototyping
Shortcuts are customizable
Pros
Learning and using it is easy
Cost-effective
Includes a huge library of templates for responsive websites
Single workspace for designing and collaborating
Community plugins
Export layers or groups in PNG format
Cons
Only available for Mac users
Incompatible with print design or illustrations
Slow updates
Lacks automatic layout flow
Pricing
An individual plan is a one-time payment of $99
The team plan is $9 monthly per user and $99 yearly
A 30-day free trial is available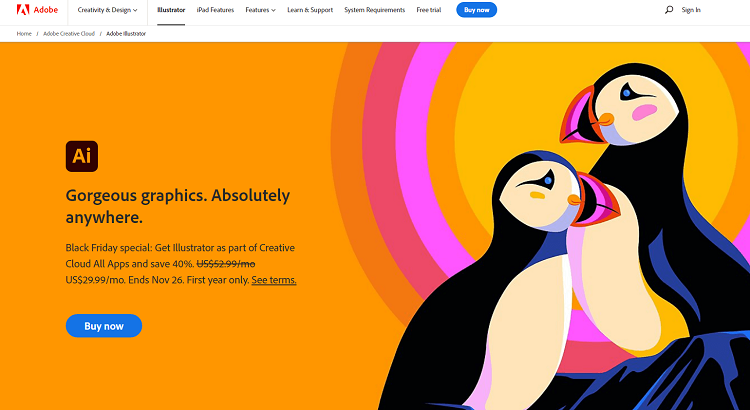 Adobe Illustrator is quite similar to Adobe Photoshop.
It is, however, a vector-based design program, unlike Adobe Photoshop.
This software offers graphic designers the ability to create many different types of artwork, such as logos, mockups of websites, and page layouts.
Illustrator's wide range of tools allows the quick creation of designs, which makes it ideal for professional designers.
Features
Drawing and editing in collaboration
The capability of snap to pixel
Color synchronization
Sync the import and export of settings between devices
Option to customize design
Pros
User-friendly interface
Helpful tips
Compatibility with other products of Adobe
A wide range of tools
Precision editing
Cons
It occupies a lot of space
Requires a lot of training
Pricing
Single app for $20.99 per month
As a part of the Creative Cloud for $52.99 per month
A 7-day free trial is available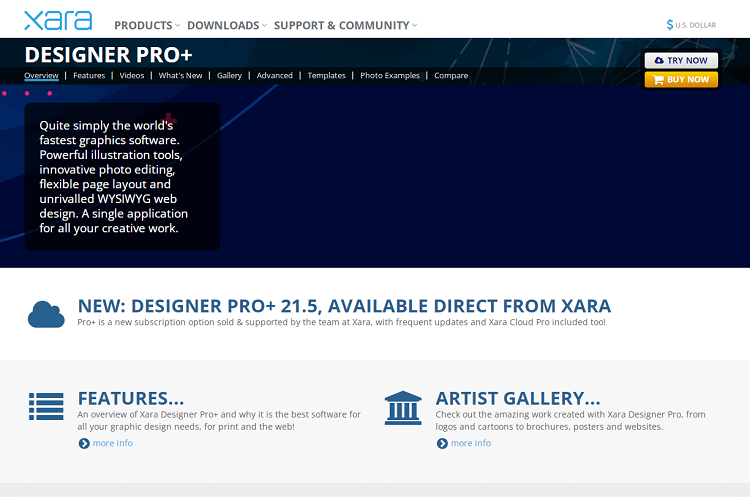 Graphic design software Xara Designer Pro X lets you create illustrations, edit photos, create websites, and design desktop publications.
Designers can easily and quickly create custom work with simple drag-and-drop functionality and hundreds of templates and design elements.
Features
Instruments for direct action
Publishing desktop
Website design
Image and graphic design
Importing from InDesign
Search engine optimization
Customized layouts
Innovative effects
HTML website design
Design tools
Real-time effects
Support PSDs and PDFs
Enhanced photo manipulation
Pros
User-friendly and fast
Easy drag-and-drop functionality
With unlimited undo and redo
Zooming up to 25000%
High-resolution displays
Ability to edit solid objects
Collaborative online editing
Cons
Has a steep learning curve
Poor product support
Prone to multiple and unpredictable glitches
Pricing
A yearly subscription of $299
Free trial is available for 14 days
Brand Studio by Crowdspring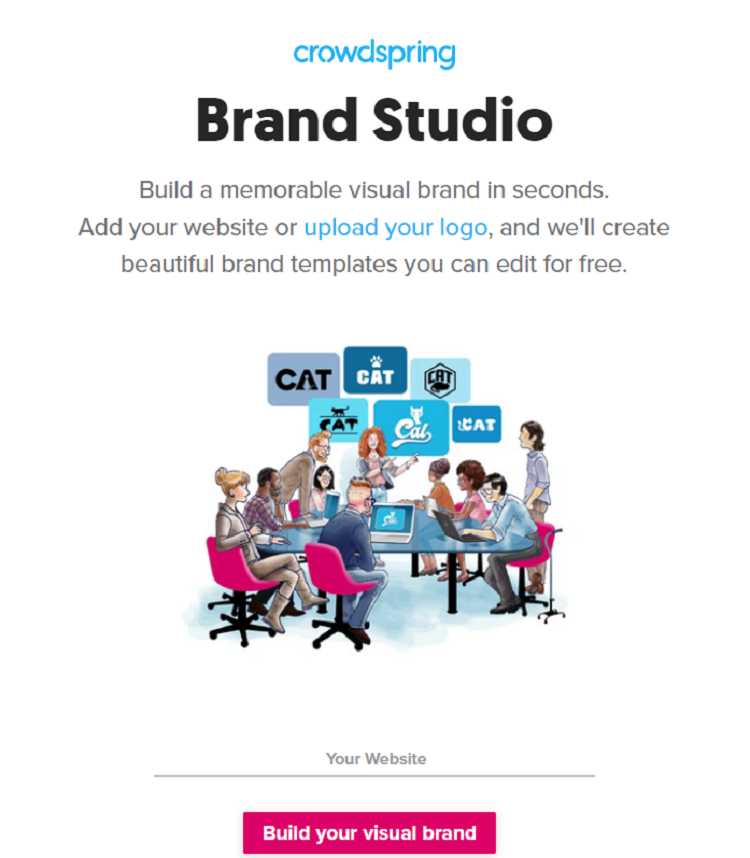 Brand Studio by Crowdspring is a completely free tool to create marketing assets like business cards, brochures, signs, invoices, and more all in your brand style within seconds.
You simply enter your website or upload your logo and Brand Studio builds all the marketing assets in your brand colors, fonts, and creative style.
This product is positioned between Canva and Crowdspring's custom design services. It works like Canva, but instead of forcing businesses to create their own designs, it automatically creates the most needed designs using its branding.
Features
Over a dozen custom templates for your marketing designed in your brand style
Edit and save designs
Education on building a strong brand identity
Pros
A free way to generate templates with a consistent brand style
Takes just seconds to generate all your marketing template
Easily customize the final templates
Cons
This is not a replacement for a custom design
Must have either a logo or website in order to use the tool
Pricing
Free. No credit card is required
Affinity Designer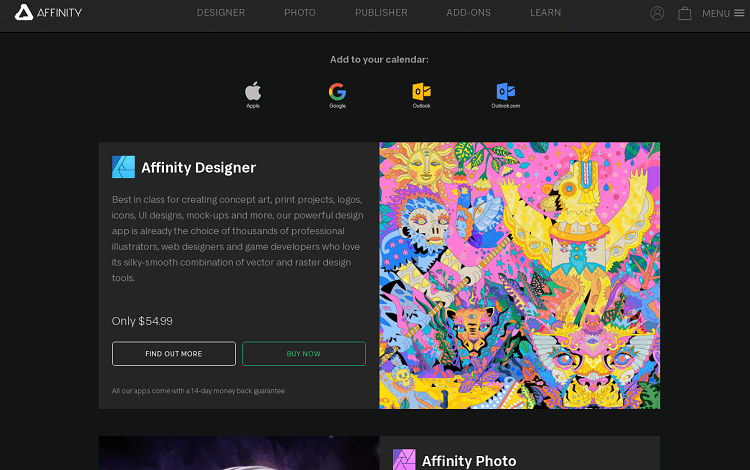 In the early stages of their design careers, professionals who are using Affinity Designer are more likely to find it useful than Adobe Illustrator, since it is an economical alternative.
This tool can create vector graphics, UX/UI designs, and concept art, and combines vector and raster design tools.
Features
Zoom and pan at 60 frames per second
Adjustments, gradients, and effects are live
Preview the blend mode in real-time
Curve editing and transformations are visible in real-time
Capable of handling large files
Option of snapping functionality
Advanced typography
Pros
Easy to use for beginners
Powerful and affordable software for professional use
Variety of colors to choose from
A grid system, alignment, and snapping capabilities
Interactive guide
An unlimited number of artboards
Cons
Gridlines are not natural
Files cannot be exported to Adobe Illustrator
Designer Persona lacks vector-erasing capabilities
Pricing
For Windows and macOS it is $49.99
For iPad, it is $19.99
A 90-day free trial is available
GIMP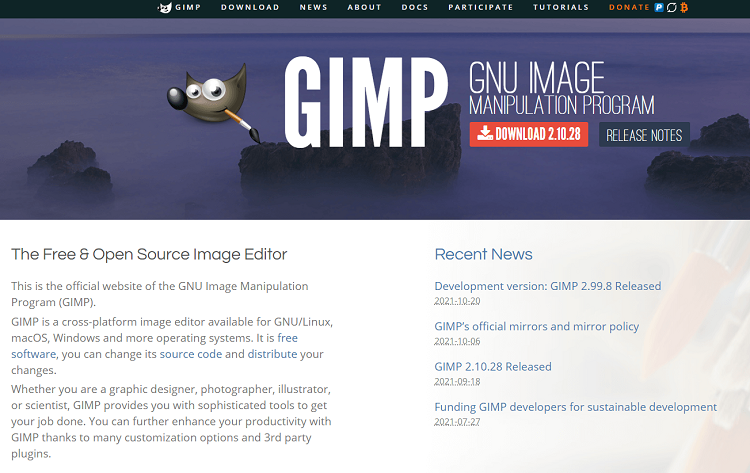 Open-source image editor GIMP (GNU Image Manipulation Program) offers a wide range of sophisticated tools, customization options, and plugins; making it one of the most popular options for creating images.
As with many expensive and widely known programs, this tool can retouch, draw, and crop photos for graphic designers, photographers, and illustrators.
Features
Easily customizable interface
Image manipulation of the highest quality
Allows creating original art
Original graphic design
Artwork for mockups and UI components
Algorithm development in C, C++, Python, and other programming languages
Management of colors
Pros
User-friendly interface
The free program offers a wide range of tools
Step-by-step instruction
Frequently updated
Single window and modular interface
Cons
Some programs are not updated as quickly as others
For macOS users, it is less intuitive
Pricing
GIMP is free graphic design software.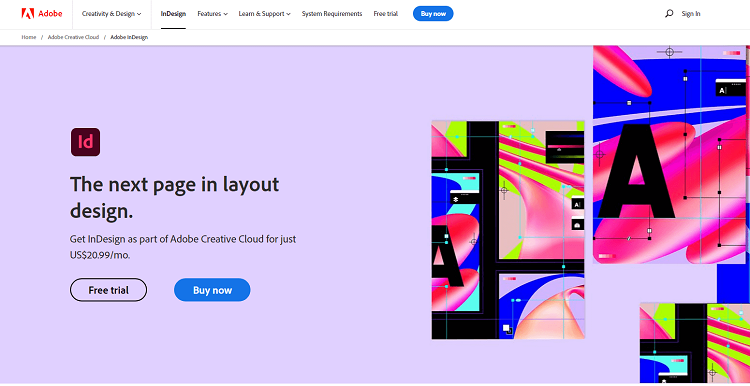 Among the best graphic design software products from Adobe is InDesign, which provides users with the ability to create professional artwork for the publishing industry as well as collaborate with writers and editors.
Print and digital media companies use this tool for many purposes, including laying out magazines and newspapers, posters, brochures, reports, eBooks, interactive PDFs, and more.
Features
Accessibility improvements to PDF
Text alternatives
Page items tagging
Managing text in Creative Cloud libraries
Styles for objects
The Endnotes application is supported
Bordered paragraphs
Layout adjustments
Adjusting image sizes and positions automatically
Exporting to HTML
Pros
The learning curve is relatively low
Lots of fonts to choose from
Multiple object resizing capability
Easily crop and resize images
Optimizing images with text and graphics
Cons
The PDF format is not perfect
It is intended for enterprise use only
Not beginner-friendly
Pricing
Single app plan for $20.99 per month
Creative Cloud plan for $52.99 per month
Free trial is available for 7 days
Photoscape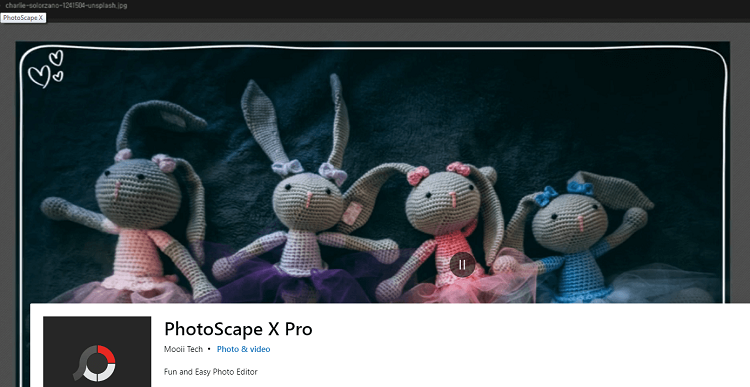 In addition to drawing tools, PhotoScape offers a full set of free image editing features.
The interface is easy to use with its drag-and-drop features.
It'll get the job done quickly and easily if you just need simple tasks completed, such as cropping or resizing.
Furthermore, batch functions, including file renaming and minor editing, are available for streamlining your work.
As an upgrade, the developers have developed PhotoScape X, and a paid version, PhotoScape Pro X, that can be used with Macs.
With PhotoScape, you'll get animation effects, more filters, macros, frames, and the ability to merge photos into HDR.
Getting the software online at the Microsoft Store or Apple Store is a one-time purchase.
Features
Offers a large variety of image editors
Downloadable modules give access to more than thirty languages
The interface is easy and beginner-friendly
Various features are present in the design module and image editing capabilities
Many designs, text, and drawing tools are offered
Pros
Allows easy editing and resizing for images, conversion, or renaming more than one picture at a time with the batch editor feature
The converter tool allows the conversion of RAW images to JPEG images very easily
This design app being cross-platform is compatible with Windows and Mac machines
The PhotoScapeX edition made for Windows 10 is free
It comes with integrated graphic and editing solutions
Computer hardware is leveraged smartly because this software is lightweight and highly responsive
Cons
Doesn't feature advanced image editing capabilities
It is not available on Linux
Pricing
Photoscape is free of cost.
CorelDRAW Graphics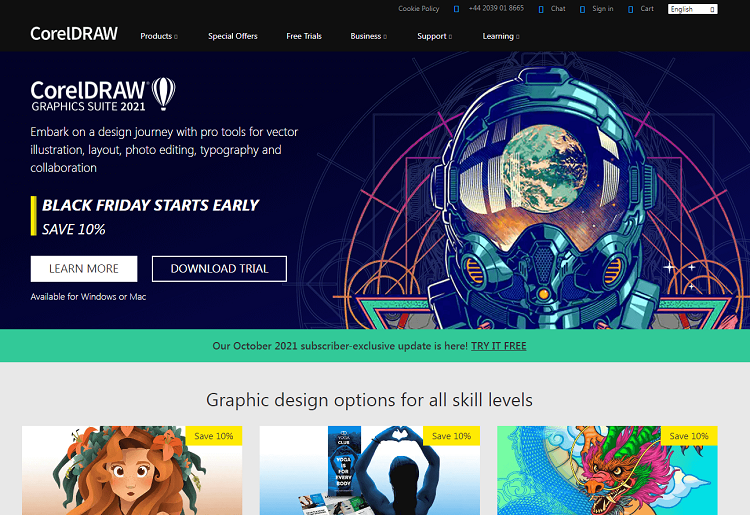 Professional graphic designers can create vector illustrations, use various layouts, edit photos, use typography tools and deliver exceptional design results using CorelDraw Graphics Suite, a full package bundle with pro-level features.
The best graphic design software always has the latest updates and offers powerful features, such as customizations that help designers work efficiently and smartly.
Features
Page layout and vector illustration
Allows you to edit images and create designs using pixels
Tool for exploring and managing fonts
Bitmap-to-vector conversion using artificial intelligence
The web browser supports online vector illustration
Tool for capturing screens
Photo editor (RAW)
Development of creative content for the web
Direct WordPress publishing
Latest typographic techniques
Pros
Payment flexibility
Methods and export capabilities for up to forty-eight types of files
Customizable user interface
Exchange of content
Transition smoothly between desktop and tablet mode
Capable of handling a lot of data without lagging
Cons
Difficult for beginners
No documentation covers all the features
Inconsistent updates
Pricing
Annual plan for $35 per month and $420 per year
One-time purchase plan for $875 that gives users access to the current version only
A 15-day free trial is available
Both plans offer a money-back guarantee of 30 days
SVG-Edit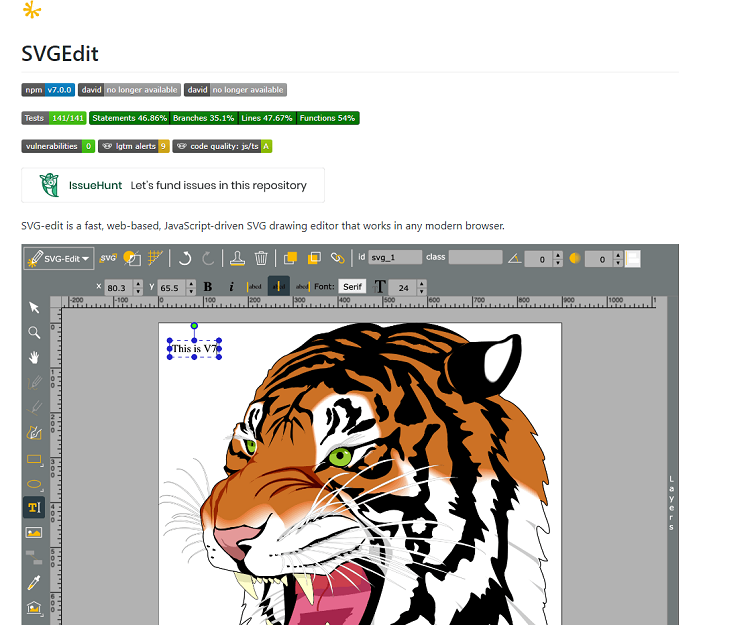 SVG-Edit is a free, web-based, vector graphics editor.
Scalable Vector Graphics (SVG) are created and edited within a web browser and the software is commonly used for the creation and editing of icons, logos, and illustrations.
This software consists of two main components.
These are SVG-editor.js and svgcanvas.js and they work cooperatively.
However, svgcanvas.js can be utilized separately from SVG-Edit.
Svgcanvas.js allows the creation of alternative interfaces to the canvas by developers.
As the design trend moves towards vector-based art, SVG use has become widespread.
It has become easier for developers to follow the trend because modern browsers support the format, which was not the case in the past.
Features
Freehand drawing
Wireframe mode
Conversion of shapes to a path
Raster images
Text can be stylized
Pros
Alternative to adobe illustrator
Open-source
Simple and easy-to-use interface and operation
The development of the interface can be customized
Conversion tool can easily convert SVG files to other formats
SVGs can be fully scaled without sacrificing image quality
Loading time and performance become fast and efficient as SVGs are rendered in XML (extensible markup language), resulting in small file sizes
Cons
Photographs do not work as the software only works with 2D images
The learning curve is a bit steep
A complicated SVG can result in the production of a code that would be difficult to get through
Pricing
This software is free of cost.
Gravit Designer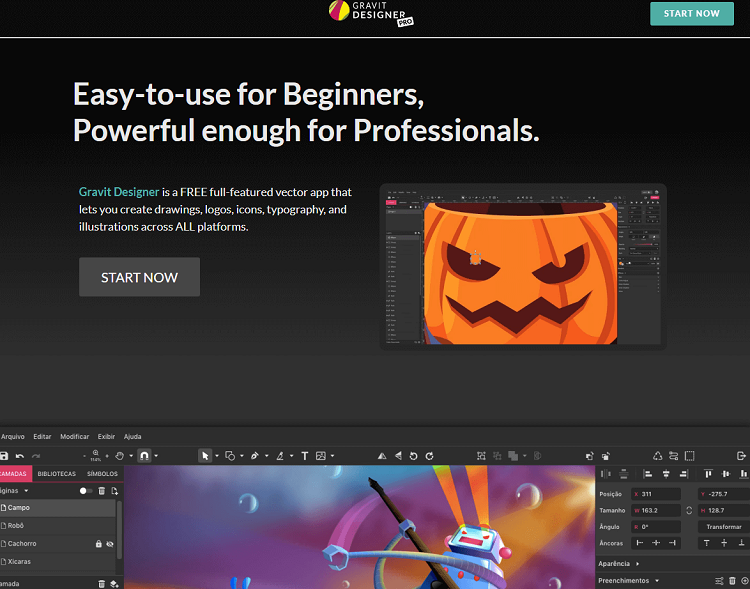 A tool for creating vector graphics in high quality, Gravit Designer is suitable for graphic designers, product designers, and Web designers.
In addition to being perfect for creating illustrations, logos, animations, marketing materials, and other types of artwork, this HTML-based software can be used to edit photos as well.
Features
The latest vector editing technology
Tools for transforming and distributing objects
Editing images
Organization of design projects
Typography and text editing
Applying adjustments and effects in real-time
Five-minute automatic Cloud backup
Integration with the Cloud
Designing social media posts
Pros
User-friendly and easy-to-navigate dashboard
The interface can be completely customized
Works on all major platforms including Windows, Mac, Linux, and Chrome
Shortcuts on all platforms
File export and import support for a variety of formats
Cons
It is slow because of the complex designs
There are no options for collaborating in real-time
Prototypes cannot be run on mobile devices
Pricing
$65 yearly with a 30-day money-back guarantee
A free trial is not available
Procreate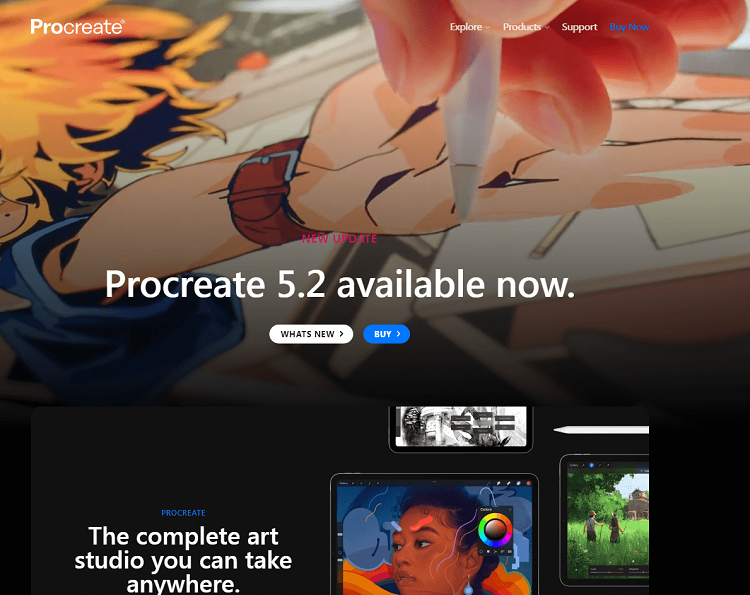 According to the product description, Procreate is a complete art studio, made exclusively for iPads and Apple Pencils.
In the program, you can choose from a wide range of templates, fonts, and brushes.
If you prefer, you can use your favorite Photoshop graphics in the app.
And with the Valkyrie engine, they will perform better, as it has been made user-friendly by the developers.
An advantage of the app is that it allows real-time previews in AR and can work in 3D.
Procreate is an excellent place to start if you've wanted to experiment with animation.
The app may seem overwhelming if you are a beginner since it offers so many functions and tools.
However, it will get simpler the more you use it, especially if you follow tutorials available online.
In terms of tools, whenever you select a brush type, you will find several options to choose from.
With each use, you'll gain new knowledge and a better grasp of the application, too.
Features
There are two hundred brushes available for editing and can be customized
Intuitive color management and pairing
A powerful image management tool, finishing filters, help simplify the project
Since it is a one-time purchase, there are no in-app purchases available
Pros
A wide range of tutorials
Intuitive and easy-to-use interface
Compatible with Apple Pencil
Brushes imported from Photoshop
Cons
Version no longer available for free
Challenging to learn
Pricing
A free trial or version is not available with this one-time purchase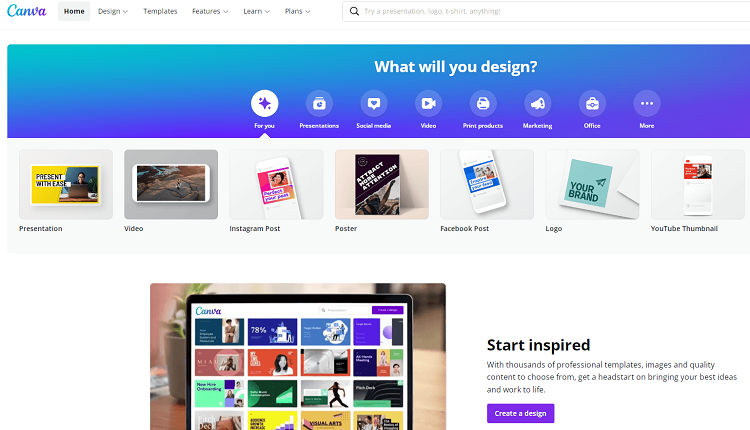 Canva is one of the best graphic design software tools for beginners because it features a drag-and-drop online editor that makes designing easy and fast.
Users have access to an extensive library of templates on this Cloud-based platform that they can use to create invitations, book covers, presentations, marketing materials, and more.
Features
Collaboration among team members
Drag-and-drop function
Accurate cropping
Effects for photos
Images with transparency
Grid designs
Stickers and frames
Cloud Storage
Pros
No prior experience required
Simple to use
Templates of the highest quality
Easily accessible from any device and computer
Share and collaborate on projects
Cons
There are some limitations to the free plan
Requires high-speed Internet
Pricing
The pro plan is $119.99 yearly
The enterprise plan is $30 monthly per user
30-day free trial available
A free version features are not advanced
RawTherapee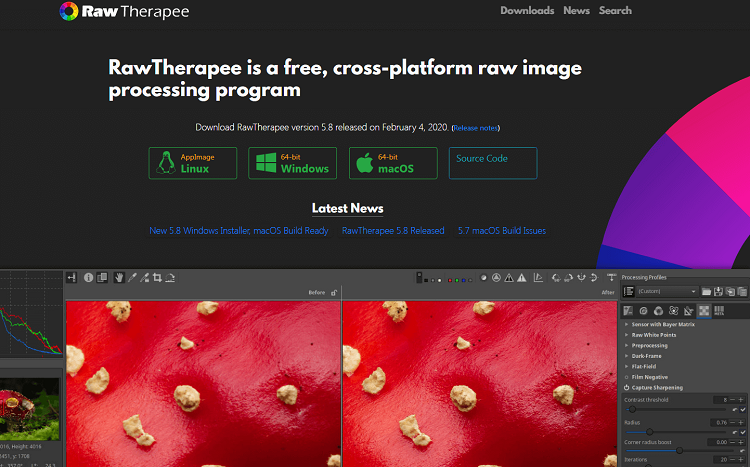 RawTherapee is an application software to process photographs and images in raw format.
Specifically, it consists of functions for image editing aimed at minimizing damage after producing large numbers of raw photos and improving the workflow of photographers.
Among its advantages are the advanced controls it provides during the development process.
This cross-platform software provides versions for macOS, Microsoft Windows, and Linux.
Features
It is an open-source, cross-platform software
Raw photos can be exported as it is or changed
SSE optimizations are used for better performance on modern CPUs
Uses LittleCMS color management system
DCP and ICP color profiles are supported by the software
The software supports JPEG, TIFF, PNG, and HDR images in the DNG format
Ability to rate, tag, and filter photos
Support available for monochrome cameras and film negatives
Software is localized in over fifteen languages
Pros
Free software
Simple download
Endless color correction possibilities and adjustments
In-depth choices for RAW file corrections
The batch editing tool saves time and is great for fast and minimal adjustment
Variety of settings in the export tab
Cons
The interface is not very user-friendly
Information and support is lacking
Steep learning curve
Not many resources when troubleshooting
The downloadable manual is difficult
Results are not instant when making adjustments with sliders
Organizational capabilities are lacking
Pricing
This software is free of cost.
Krita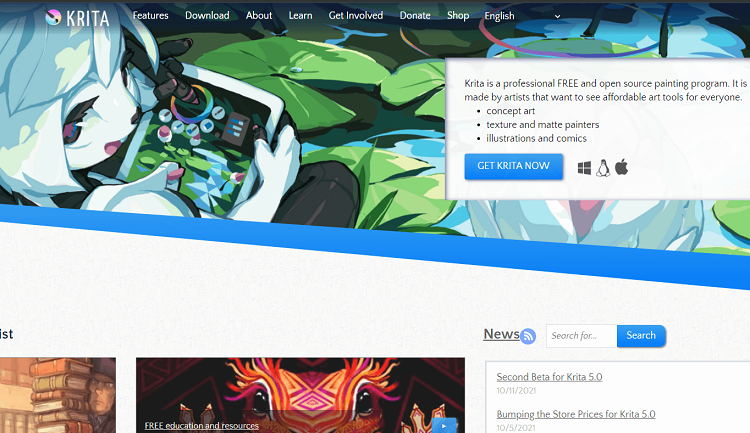 In addition to supporting animation, BMP files, and 2D drawing, Krita is an open-source digital art software.
The free version is incredibly powerful.
Even with an outdated UI that isn't always intuitive, it pretty much handles the basics of photo editing well.
Krita is the ideal application for someone who is new to illustration and wants to try it out without having to subscribe.
Since the project has been initiated by digital artists, the platform is appealing.
Besides brushes and vector tools, Krita provides brush stabilizers as well.
Updates are frequent, which can be a good and a bad thing.
Even though there isn't extensive documentation explaining all the new features, it is still an educational tool.
Features
Compatible with multiple devices, including touch-enabled ones
Built from the ground up for artists, and with an interface that isn't like Photoshop
Pros
Designed to be used for drawing
Free of charge
Workspace that can be customized
Support for audio import
Cons
The user interface is outdated
Insufficient technical support
Pricing
This software is available free of cost.
Pixlr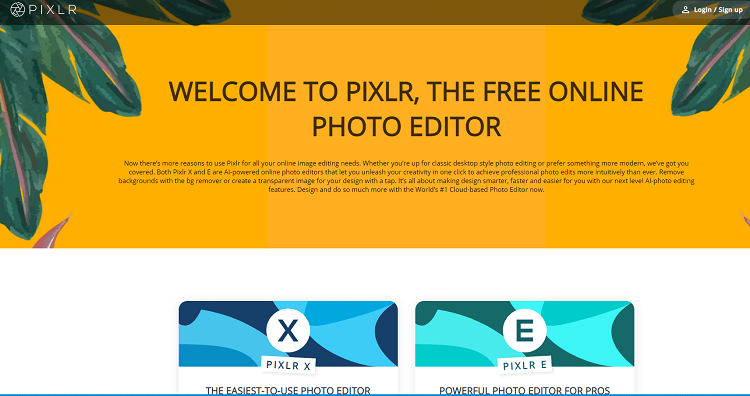 A web application for editing photos, Pixlr can be used in your browser or on a mobile device with apps for iOS and Android.
You'll get all the essential editing tools you need without any of the added costs and learning curves that come with more sophisticated options.
Pixlr, formerly a part of Autodesk, is now independent.
This app has some of the benefits of many similar programs, including a growing system of complementary apps.
SVG and PSD are a couple of the file formats supported by this software.
This web-based design software is reasonably priced as well.
Its free version is rather cluttered with advertisements, however.
Features
Pros
Available at a reasonable price
Integrated social media services
Options to suit different skill levels and requirements
Cons
It is not intuitive
TIFF and BMP are not supported
Few template options
Pricing
Free trial and free versions are available.
Suggested Graphic Design Tools according to Reddit:
For large-format printing, primarily use Illustrator (70%) for its vector capabilities that maintain quality at larger sizes. Use Photoshop (20%) and InDesign (10%) for other design tasks.
You might be interested to check those related posts as well:
Conclusion
It can be tough to choose the right graphic design software for your needs.
It is up to you to determine what software suits you best in terms of your style, requirements, and design, and the medium you prefer.
Additionally, you need to consider your employer's requirements and your skills before making a purchase, especially for a professional and, consequently expensive application.
However, no matter which one you choose, your expertise and experience will ensure that you discover the right software.