There's no denying that Amazon is a leader in the e-commerce industry.
It's the largest e-commerce platform in the world, with millions of sellers and buyers across the globe, and billions of dollars in profit each year.
If you're here, you're probably wondering how you can get started in the Amazon FBA business, and in this guide, we'll answer all your questions!
What is an Amazon FBA Business?
Amazon FBA, or Amazon "Fulfilled By Amazon" is an e-commerce business model where sellers can outsource their inventory management, shipping processes, and customer relations to Amazon.
With Amazon FBA, sellers don't need to have their own warehouse to keep inventory. Amazon will store, manage, and ship a seller's inventory when a customer places an order.
Amazon will also address any returns, refund requests, and customer interactions.
How Does Amazon FBA Work?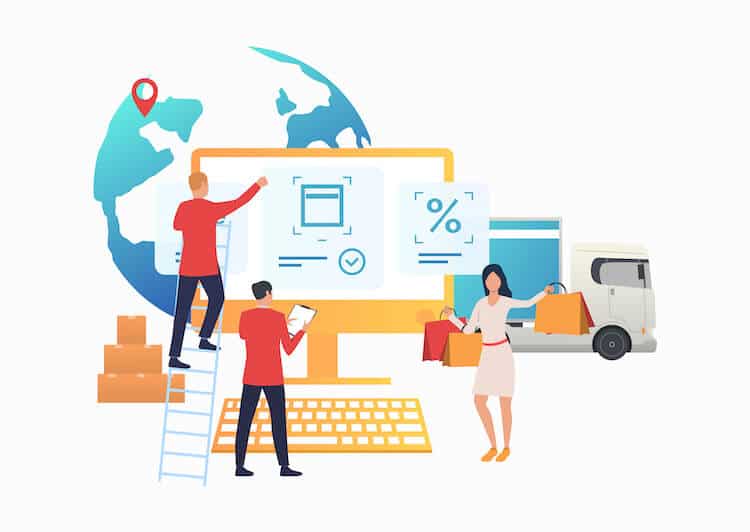 At this point, you're probably thinking, "This Amazon FBA thing sounds like a good idea."
So, how do you get started selling with an Amazon FBA account? Let's take a look.
Set-up your Amazon FBA Account
The first step in getting started with Amazon FBA is to set up your account.
To set up your account, simply:
Visit

sell.Amazon.com

Create your account using an email and password.

Choose an Individual or Professional plan.
Find A Product
To find a top product to sell on Amazon, browse Amazon's Best Sellers.
Focus on items that are sold within niches such as Home and Kitchen, Clothing, Shoes, & Jewelry, and Sports and Outdoors.
Source Your Product
To source your products, you'll need to find third-party manufacturers that produce your product in bulk.
Visit this Amazon article on how to find wholesalers for more information.
Create a Product Listing
When listing your products on Amazon, you'll want to include high-quality images and videos (if applicable), a detailed, professional description of the product, and categorize your product in the sub-categories that best suit what you're selling.
To create a product listing on Amazon, follow the steps below:
Visit Amazon's Seller Central.

Click "Inventory" > "Add a Product."

Choose a category for your product.

Fill in the vital information for your product.

Add variations of the product you're selling, if applicable (e.g. various rug sizes and shapes).

List your price.

Upload images of your product.

Add a description and keywords.
And start selling!
Ship Your Products To Amazon
Once you've found a manufacturer you like, you can purchase your inventory, and have it shipped to Amazon.
Amazon will handle the rest from there!
What are the Benefits of Amazon FBA?
If you're thinking of becoming an Amazon seller, there are many benefits to option for Amazon FBA.
The key benefits of using Amazon FBA are as follows:
Your products cost less to ship.

Amazon partners with the world's largest carriers and have discounted shipping costs, which benefit your customers.

You won't have to worry about a warehouse.

Amazon houses all of your inventory and manages it from day 1.

Amazon FBA offers 24/7 customer service

…

so you don't have to handle customer questions, complaints, and concerns by yourself.

Amazon FBA handles returns and refunds

for all of your products.

Customers receive their orders quicker

than if you were to ship products from your own warehouse.
Overall, using Amazon FBA is a surefire way to get your business off the ground, improve customer relations, and leave the heavy lifting to Amazon so you can focus on marketing your store and growing your e-commerce company.
FAQs
Is Amazon FBA Business Profitable?
An Amazon FBA business can be profitable for sellers. That said, your profitability will largely depend on your market research, the quality and price of your products, marketing strategies, and customer service.
How To Start An Amazon FBA Business With Little Money?
You can start an Individual seller account at no upfront cost to you, though you will be charged $0.99 cents per item you sell. Start by selling products that are in high demand at budget-friendly prices.
How To Sell On Amazon Without Inventory?
To sell on Amazon without inventory, you can either opt for dropshipping services or use Amazon FBA, which allows you to outsource the inventory and order-fulfillment process to Amazon.
What Can I Sell On Amazon As A New Seller?
New sellers should sell items that are always in high demand on Amazon, such as pet supplies, baby and kids' toys, beauty and self-care products, and products for the home and kitchen.
Conclusion
After all is said and done, starting an Amazon FBA business is a popular option for e-commerce sellers thinking of working with Amazon.
It's easy to get started with Amazon FBA and the rewards you could potentially reap are far greater than the setbacks you'll experience when you opt for Amazon FBA services.