Being broke doesn't have to be just another part of the college experience.
If you're not interested in the broke life, it's time to start finding out how to make money as a college student.
The challenge is your schedule and existing college commitments. You can work around all of these if you know about all the easy ways for college students to make money.
Just to prove it's not an impossible goal, take a look at some of the notable people who worked their way through college.
Mark Cuban
You may know him as one of the billionaire "shark" investors from Shark Tank. He wasn't always this rich. In college, Mark hustled doing all kinds of small jobs for money.
At one point, he was giving disco lessons for $25 per hour, and in his last year of college, he actually had enough tucked away from the hustling that he opened up a bar.
Taraji P. Henson
Henson is a well-known actress with a net worth estimated to be above $25 million, but that's only been the case in recent years. While she attended college, she worked two jobs and did her hair on the side to pay her own way.
She even ended up buying her own salon equipment to up her game and get more from her side hustle, keeping herself afloat all throughout college and setting herself up for the future.
While both Mark Cuban and Taraji P. Henson are household names now, they started out in average situations and worked their way up.
If you know what to do, you can also get yourself into a better financial situation, even during college.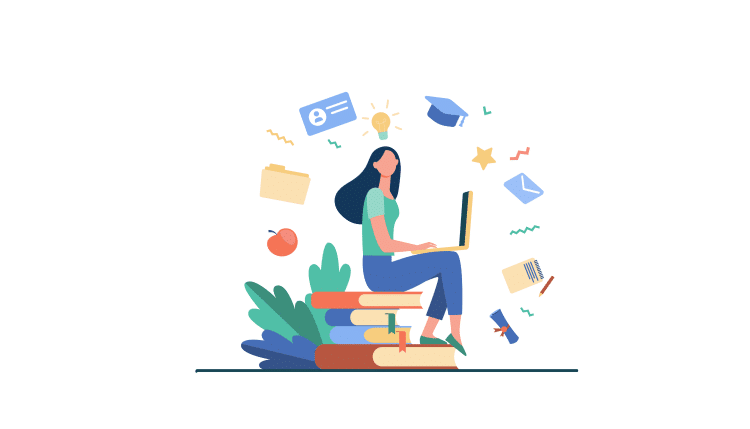 The Best Ways to Make Money in College 2023
You may not have time for a full-time job or the resources to start your own full business. You need a job that works with your unpredictable schedule but still pays well enough to cover your bills.
I see a lot of people recommending getting a job in retail or being a server at a restaurant. While these are fine suggestions for some people, you probably won't get the kind of consistent income you want to pay for college and your living expenses.
Instead, why not try working for yourself? There are so many things you can start doing right now without jumping through a bunch of hoops, going through long hours of training, or investing a ton of money.
Take advantage of the opportunities you have and learn how to make money in college without having to work 3 different jobs. Here's my take on what you can do.
Start a blog
A blog can be a fun side project to bring in a little extra cash if you are willing to put the time in. Starting takes the most time, then you just need to keep writing and doing a little maintenance here and there.
You can start a blog in a few steps:
Choose a topic you're passionate about
Blogging can be fun, but there are times when it gets difficult to keep it up. Those difficult times are even tougher if the topic you're writing about is boring or uninteresting to you. Choose something you're interested in so you feel more inspired to keep writing!
Find an available domain name for your blog
Domain names are the actual website address people type to reach your site. Once you know your blog topic, search for a domain name that's related to that topic. You can check for available domain names with Name.com.
Domain names cost an average of $15 per year.
Purchase a basic hosting plan
Hosting is where your website lives online. Without a hosting plan, no one would be able to visit your website. When you're just starting out, you'll need to pay for a simple hosting plan subscription for at least one year. Basic plans cost on average $8 per month or around $110 per year.
Set up your website
Congratulations, you've got all the pieces you need for your website! Now it's time to put them all together. Log into your website and install a content management system (CMS). The most popular one is WordPress.
WordPress allows you to use pre-made website themes that you can customize to fit your favorite color scheme. There are tons of free and paid themes to choose from. If you're a bit more tech-savvy and you have the time, you can even make your own website exactly how you want it.
Just keep writing!
When your website is ready to go, you're ready to get to writing. The least exciting parts to write will be the basic web pages. That's your home page, a short snippet about you, and any other official pages you want up there. From then on, it's just choosing good topics and writing away to your heart's content.
How does a blog actually make money? If you want to stop being a broke college student, you're going to have to make that blog work for you at some point. Once you get a little readership, you can work on monetizing your blog through affiliate marketing, sponsorships, advertising, or otherwise.
[Check this guide on affiliate marketing by LemonHook. It's really in-depth]
Do Micro-Jobs on Amazon Mechanical Turk
When you sign up to be a worker with Amazon Mechanical Turk (MTurk), you can pick up little tasks submitted by thousands of companies and businesses, known as requesters. Tasks take anywhere from a few seconds to a few minutes, and you can get paid anywhere from $.01 to a few dollars for each task you complete and submit.
MTurk isn't going to make you rich. Most people who do it regularly make less than $5 per hour. It takes a lot of tasks to get any significant amount of money saved up for withdrawal.
That being said, it can be a good addition to your routine if you want to make a little extra by doing simple, repetitive tasks in your downtime. You can do these tasks while you're watching Netflix, between classes, and at any other time you don't need to focus too much.
Become a Freelance Writer
"Freelance" is a cool way of saying you work on your own.
You're not employed as a writer, nor do you have an agent. Instead, you work for clients on your own terms. You negotiate with them, and when you've agreed on the work you will do it yourself.
Freelance writers come in all shapes and sizes.
Here's just a small sample of everything you can write for payment:
eBooks
Blog posts
Advertisements
Fliers
Website text
Articles
And much more!
When you're a freelance writer, you'll usually work as a ghostwriter. This means that your customers will purchase the work you write and use it under their own name.
The good news about being a ghostwriter is you can get money quickly. You don't have to deal with publishing or monetization of any kind. All you do is write what you're asked to write and get paid for it.
There's a bit of a learning curve to being a freelance writer, but once you get the hang of it you can make great money even just doing it part-time.
The best place to start is usually with a freelance marketplace. Create a free account, list your skills, and start applying to jobs posted by clients from around the world.
These are the most well-known freelance marketplaces:
Upwork
Freelancer
Guru
FlexJobs
If you want to try a more writing-focused marketplace, there are also more niche marketplaces:
BloggingPro
The Writer Finder
Writer Access
Contenta
Write Resumes
In the same vein as freelance writing, writing resumes is a good way to earn some extra money in college.
The average cost for resume writing services is anywhere from $100+.
The benefit of resume writing is that you don't actually need to make an online account or negotiate with unknown clients from around the world. Instead, you'll probably be able to find enough work with your fellow students.
Students need resumes to apply for internships and jobs. Some students also need resumes for certain class assignments. While many universities offer assistance in resume writing, not all students are going to take advantage of this because it's still a time commitment on their part.
Your market is students who want a good resume but don't know how to do it themselves or don't WANT to do it themselves. In most universities, this is going to be a big market!
Become a Virtual Assistant
Instead of having personal assistants with an office and a full-time salary, many small businesses and independent contractors are opting to hire virtual assistants instead.
What is a virtual assistant?
Virtual assistants do administrative jobs for others. They are fully remote workers.
As a remote worker, your duties might include:
Answering emails
Making phone calls
Scheduling appointments & sending reminders
Setting up travel itineraries
Responding to social media inquiries or posts
The average beginner VA makes around $3-$6 per hour, but you can work up to $15+ within a short time if you get good at the basics.
One of the best things about being a VA is that it's not a full-time job. You have flexible hours and you're not tied to any specific employers. Work for as many different clients as you can handle, and you'll have enough work to make some extra cash without interfering with your class schedule.
If you want to try out VA work yourself, there's a great guide by Work from Home Happiness.
Become a Designer
Are you artistic at all? You may be able to get some work as a designer.
Graphic design is a huge field right now. Designers work on everything from:
Websites
Marketing materials
Logos
Social media posts
Blog post images
Any time you see a business post something visual, they probably had a designer work on it. That designer could be you.
Graphic design isn't just about being a good artist. If you've never done any actual graphic design work yet or haven't taken any classes dealing with the concepts of good design, you should do some research first.
Learn about the concepts of design and what goes into choosing the right font, color matching, and making a design that fits a certain use. For example, designing a logo is very different from designing a marketing flyer or social media post. You need to know how to make them feel different and how to do that on your own.
According to Upwork's annual report in 2020, freelance graphic designers on the site make between $15-$35 per hour, depending mostly on their experience.
Start with some simple jobs and build your skills over time.
Do On-Campus Jobs
As a student, you have the unique opportunity to work in your university itself. Students are usually given priority in on-campus jobs, and the jobs are generally flexible to work around your class schedule.
There are so many different campus jobs you can apply for, including:
Administrative assistant
Resident assistant/advisor (RA)
Library attendant
Teaching assistant
Research assistant
Campus ambassador
Mail room attendant
Gym instructor
Tutor
Social media assistant
Lifeguard
Videographer (especially for college who stream sports games)
Production assistant for student programs
Campus tour guide
Caterer
Server/cook
Barista
Security
Depending on the size of your college, you may have even more opportunities on campus than this. Everything that needs to be done at the school means someone has a job to do. You could be the one who does that job if you keep your eyes open for opportunities.
Applying for On-Campus Jobs
How do you actually get a job on campus?
Some on-campus jobs are more competitive, like being an RA or a lifeguard, but others have very little competition because people may not even know they're available.
There are a few things you can do to get a job on campus.
Polish up your resume
Even if you're applying for a part-time position, you'll probably need a resume. Make sure yours is up to date and looks good. You don't want a bad resume to put your application in jeopardy.
Talk to your professors
If you want a research position, the best way to find out what's available is to speak to your professors directly. Ask about research opportunities in your major and see if you can get involved in ongoing projects or future projects.
These positions are more likely to go to upper-level students starting from the 3rd year on, but you may still be able to get an opportunity earlier than that.
Check notice boards
Many notice boards around the school and online will mention job openings for positions around the school. Check these boards regularly for any new opportunities.
Ask other students in those jobs
If you see a student working on campus, ask them how they got the job. This is probably the easiest way to get a straight answer and find a path you might be able to use to apply as well.
Go to the career center
Your college likely has a career center that helps students find potential careers in the future. In addition to this, the career center may be able to help you seek out openings on campus that you can apply for right now.
Check your school website
How often do you actually visit your school website to do something besides check your email? There's actually a lot of information there that could help you find an on-campus job. Job openings may even be announced online. Skim through the news section on your college website every once in a while to keep up to date.
Think ahead
For jobs that are more competitive, you may need to start thinking about applying much earlier than you imagine. For example, if you want to be an RA, you should check the requirements months before the semester starts. Make sure you meet the requirements and apply as soon as you're able to because this is a highly coveted on-campus position.
Other positions, like working in the library or being a barista, may not be as competitive. It still helps to look for work early on and apply as soon as you can.
Make Money Writing College Essays
Did you know that college students around the world regularly pay others to write their papers for them? Since you already spend time writing papers of your own, why not get paid to do it for others as well?
College essay writing is an easy way for college students to make money.
You're already familiar with how academic papers are written. You're well-practiced. And if you're picky about the work you do, you can write in fields of study that you already understand.
If you want to give it a try, make an account on an essay writing site and get started:
99 Papers
Essay Box
Grade Miners
Writing undergraduate degree papers can give you anywhere from $50-$500, depending on the length, complexity, and deadline.
For Masters's or Ph.D. paper writing, try these sites:
Masters Papers
Dissertation Guru
Essays, dissertations, and papers for Master's and Ph.D. students are significantly more difficult to write, but you can also make a lot more money doing it.
For Masters's and Ph.D. essay writing, expect anywhere from $5-$10 per page. If it's a dissertation you're writing, bump that up to $15-$25 per page.
Take Caution
Essay writing and hiring an essay writer are perfectly legal. However, it may be against your university's code of conduct.
If you're discovered to have written an essay for someone else, there could be repercussions for you at your own school. As a student, this could be a risky source of income even though there are no laws against it.
Proofreading
If you're good with language and you want to use that skill to make some extra money, proofreading could be a fantastic opportunity.
Proofreaders check documents, articles, books, and other written materials for errors. These could be grammatical errors, typos, awkward use of language, etc.
Lots of different people hire proofreaders on a regular basis. You could work with businesses, journals, authors, bloggers, and even your fellow students.
As a beginner proofreader, you could start making around $15 per hour with no experience. Once you've been doing it a little longer, you can make up to $25-$50 per hour for more complex projects.
The good thing about proofreading is that the work is highly flexible and you're likely to find a huge market for the service.
Check these sites for opportunities:
Proofreading Pal
Domainite
ProofreadingServices.com
Lionbridge
Polished Paper
Scribbr
Cactus Communications
EditFast
Gramlee
Become a Tutor
Something that most students don't realize is that there are a bunch of opportunities for college students to work as tutors.
If you want to work with agents and get more legit tutoring jobs, you'll likely need some sort of tutoring certification.
There are a lot of official organizations that certify tutors in the US.
Certification opens a lot more doors, but you don't necessarily need it for every opportunity.
You can tutor students in a few different ways.
In-Person Tutoring
Tutoring in person is probably the easiest way to get started. Talk to other students in your course of study (especially those in lower levels than you) and see if any of them need some extra help in a subject you did well in.
You can also ask around at your church or other religious gathering places, talk to family, and ask your friends to see if anyone knows someone who may want to tutor. Your best bet to start out might be tutoring high school students.
Another option you have is to go to local schools in the area and ask about tutoring programs for their students. If you did well in school and you have good grades to show for your work or certification as a tutor, you can find work tutoring students in a wide range of subjects.
What you can expect to earn varies widely depending on how you find your students. You should expect at least $10 per hour, but you may earn as much as $25+ per hour, especially as you gain more experience.
Online Tutoring
There are many online marketplaces that match tutors with students. Most of them take some form of commission or charge a fee to the students using the service.
Despite the costs involved in using these marketplaces, it's often easier to find a lot of work to keep you busy. Plus, tutoring online gives you a better chance of finding students who need help in your particular areas of expertise.
As a beginner online tutor, you can get as much as $10+ per hour. When you get more experienced, you can charge $25-$50+ per hour for most subjects.
Try these sites for online tutoring:
Tutors.com
Chegg
StudyRoom
Student-Tutor
StudyPool
Language Tutoring
I've put this into a separate category because although it can be done either online or in-person, language tutoring tends to be completely different from normal academic tutoring.
When learning a language, people often just need to speak with people who are fluent in that language. If you are fluent in English or any other language, you can be paid just to talk with people who are learning your language. The biggest market is for English tutors, though other languages are also available on many sites.
Some companies will require TEFL certification in order to tutor in English, especially those that target Chinese learners. However, even without any certifications, you can get started.
Try these sites for online English tutoring:
Cambly
Preply
PalFish (App only)
SkimaTalk
Lingoda
Verbling
iTalki
Tutlo
Create an Online Course
Have you ever considered being on the other side of the classroom?
Online courses are a great way to learn a new skill. You can turn it into a way to make money by teaching other people a skill you already have.
Choose a Niche Topic
So, what are you going to teach people to do?
List out the things you're good at or know a lot about. Think broadly.
Are you a skilled fisherman? Cool. Do you know how to juggle super well? Awesome. Can you grow a TikTok account from zero to 1000+ followers in a month? Great.
There are a lot of people in the world. If you have a skill that others might find valuable in some way, that should be on your list.
Remember that whatever niche you choose should be something people might be interested in. You can't predict this 100%, but if you put in a little time to research the desirability of learning the topic you can teach, you'll have a better chance of selling your course.
Do the research and narrow down your broad list into something very specific.
Example course titles:
"How to raise chickens at home: a step-by-step guide for beginners"
"Writing, recording, and mixing your first song"
"The ultimate guide for LinkedIn cold outreach"
"Diagnosing and repairing laptops: software edition"
Plan Your Course Progression
Once you've got a good course topic that's both specific and in demand (at least a little bit), it's time to plan out how you're going to teach people. By this I mean the actual methods you're going to use to teach them.
You have a few tools available that you can mix and match:
Video is easily the most popular tool for courses because it's easy for people to engage with. A series of well-made videos are a great foundation for any course.
If you don't have the resources to do a video and your course topic doesn't require a lot of visuals, audio is a good second choice. You can always do a voiceover with a slideshow of images as a solid alternative to a video series.
Every course should have some kind of text accompaniment. People don't always want to have to watch the entire video again to be reminded of the main teaching points. Outline the topic and points discussed in each video or audio segment to help people skim through, review, and retain information more easily.
Some courses are great candidates for workbook exercises. If it makes sense for your topic, you can create quizzes and problems for the learner to work through as they progress in your course. Having someone actively participate at the end of each session can promote true learning while also giving you some insight into how well people are getting what you're teaching.
Create a mix of different learning mediums to develop a good course. If your course is one-dimensional with online videos or only audio it can still be successful, but you have a better chance if you mix it up and combine different teaching methods together.
Come up with an outline for the progression of the course, then decide which elements make the most sense for each point. Only then can you actually build your course from scratch!
Choose a Platform
Where is your course going to live?
You could put it on your own website behind a pay gate or send it out to people when they reach out, but that's not going to be very convenient for you.
Instead, let your course live on an online learning platform. You'll pay a cut of the profits as a commission to the website you choose, but you'll still get a fair share of it and you'll have little to no maintenance or active management of the course to worry about.
Learning platforms also manage payments for you, making it a far more passive experience once the course is created.
These are the most popular online learning platforms for courses:
Udemy
Skillshare
Thinkific
Kajabi
Pathwright
Market & Release!
You now have a course and it's located somewhere online where people can access it. From now on, your job just becomes promotion and marketing.
How will anyone know to use your course if they've never heard of it?
Point people to your course however you can. Be creative.
Sell Gigs on Fiverr or PPH
You can do almost literally anything for money these days.
Through services like Fiverr and People Per Hour (PPH), people locally, nationally, and even internationally can pay you for an enormous range of services. Fiverr and a minimum gig price of $5, meaning you can count on at least that much per job you're hired for.
These gigs are done on your terms. You can post ads for the service you're offering and where you offer it.
When I say anything, I mean basically anything. Pull weeds from the garden, shovel snow, sweep the driveway, wash cars, pick up dry-cleaning, run an errand, scoop dog poop, change a lightbulb… These are all things you can do locally.
If you want a more digital approach, you can post simple gigs for online services like finding the best-rated products in a certain category, testing website features, etc.
There's so much you can do that you may not even know people are willing to pay for. Creating an account and posting gigs is free, so why not give it a try and see what kind of response you get?
Sell Stock Photos to Make Money Online
Stock photos are those generic pictures you see everywhere online. Most of the time when you see a picture of two businessmen shaking hands, people sitting around a boardroom table, a lady smiling at her laptop, or other generic pictures, you're looking at a stock image.
Someone has to stage and take those pictures. As it turns out, it's a decent way to make some passive income.
What Makes a Good Stock Photo?
If you have no experience with photography, it might be a bit difficult to jump in, but you can still make it work! Stock photos have a specific look to them that's unique to other types of photography.
For the best stock images, you need:
Bright lighting
Low lighting usually leads to grainy pictures. You need bright lighting and minimal shadows for the best stock photos. Just don't overdo it and wash out your subjects!
High quality without graininess
Stock images should be able to zoom in without looking grainy. Use a tripod or other stabilizing device and take the highest quality images possible, so you can edit, crop, and zoom in while maintaining the HD look.
A distinct image subject in focus
Stock photos need to have an obvious focus. The easiest way to do this is by following the rule of three. You can learn more about that from Nature TTL's helpful guide.
Multiple options
Stock images should always be taken in sets. Take as many photos as you can from different angles. Having multiple images gives people the choice to select the best fit for their needs. They may also buy your photos in sets to keep some visual harmony in their blog posts or websites.
Natural movement
Sometimes subjects will be looking right at the camera, but most of the time stock photos should feature the subject doing something. You want the action they're doing to look natural.
Real Situations
With stock photos, you need to think about your buyers. Most people use stock images and pictures that represent real situations. Common buyers are business owners looking for website images, writers who need feature images, and news organizations who need pictures for articles.
Practice makes perfect. Keep taking pictures as often as you can so you can improve your skills and increase your portfolio.
Where to Sell Stock Photos Online
There are many different repositories that accept stock photos and resell them for you. When you're starting out, this is the easiest way to jump into the market.
Try these sites:
Shutterstock
Depositphotos
Fotolia (Adobe Stock)
Dreamstime
Getty Images
iStock
Stocksy
BigStock
123RF
Alamy
Be careful to avoid posting to free stock image sites. It may be a good way to practice and get feedback on the quality of your images and desire for a particular type of subject, but you won't get any payment in return.
Note: You can often sell the same photos to multiple different companies, so don't be shy! Feel free to submit images to as many sites as you want. Just check the terms and conditions of those sites to ensure they don't have a specific policy against that practice. If an image isn't accepted by one site, try it on another.
How Do You Make Money from Stock Photos?
You don't make money just from posting photos online. You make money when someone downloads your photo. That person pays a small fee for using the photo, part of which is given to you while the other part is paid as a fee to the stock photo website.
Your commission could be anywhere from 15-60% of the total cost of the photo depending on the site it sells from.
Make Money with Apps
We are lucky to live in a world where there are a ton of different apps that help match people who need something with someone willing to provide the service they need. If you've got some spare time, a smartphone, and relatively stable access to data or the internet, there are so many apps you can try out to get some cash.
Here are a few different categories of money-making apps and how you can make money using them.
Task Apps
I've already mentioned websites where you can list jobs or gigs you can do for others. These apps are along those same lines, but with a bit more flexibility and mobile-focused interfaces.
Try posting gigs or looking for ads on these apps:
Airtasker
Taskrabbit
Agent Anything (app only)
Rideshare Apps
Rideshares are quickly replacing taxis as the simplest way to get around in a private car. If you have a car, a valid driver's license, and a good driving record, you can sign up to drive on a rideshare app.
These are the most well-known and trusted apps:
Despite the popularity of both Uber and Lyft, they're not your only options and may not pay as well as other local services. Here are a few underdogs that operate in select areas of the US:
If you want to try a carpooling service where you drive a more defined route instead of operating as an independent taxi, there are also apps for that! Here are a few options:
Delivery Apps
If you have a way to get around reliably, you can also do deliveries for people in your area. The best part is that you don't necessarily need a car for this! Depending on the app, you can have a lot of flexibility to deliver stuff as best you can, even if that means on a bike or on foot.
Here are some of the biggest delivery-based apps:
Uber Eats
Doordash
Postmates (no vehicle required)
Instacart (no vehicle required for in-store roles)
uShip
Amazon Flex
GrubHub
Delivery.com
Seamless
Datashare Apps
These are apps that collect data and pay you for just having them installed. You're not going to get rich just by installing these apps, but it's not a bad place to start getting a small passive income.
Here are a few apps that are known and trusted:
Nielsen Mobile
Embee Meter CX
SavvyConnect
There are some data collection apps that pay in cash equivalents rather than true cash. If you're willing to accept something other than cash, such as gift cards or other non-cash rewards, you can also try these apps:
MobileXpression
Panel App
Before you install any of these apps, make sure you look into them first. Personally, I would never install any data collection apps unless they were operated by a well-known and trustworthy company and fully transparent about what data they collect and how they use it.
If you're okay with selling your data to a third party for some passive income, these apps allow you to do just that. Considering how many services take your data for free, it's nice to have the option to get paid for it.
Cashback Apps
While these apps don't let you directly earn money, you can get some money back on your normal shopping by using them. Some of these apps rely on scanning receipts while others can be connected directly to your debit/credit card and can operate automatically.
Either way, the result is the same. When there are rebates and cashback offers, you'll automatically get the reward.
These are the top cashback apps in the US:
Ibotta
Rakuten
Checkout 51
The biggest difference between these services is how many brands they are affiliated with and what those brands are.
Browser Trackers/Search Engines
Certain browsers and search engines will pay you just to use their services. They are basically paying to collect data about your online shopping, searching, and browsing experience. Sometimes you might be asked to do a survey or watch targeted videos, but the main thing you do is just carry on with your normal activities using different services.
You can try these:
Swagbucks (pays in gift cards)
Smart Panel (cash)
Microsoft Rewards (gift cards only)
Qmee (cash)
Test Websites
With just a computer and a solid internet connection, you can be a paid website tester and look for bugs, errors, and problems on websites and apps. Make sure your camera and mix are also working because some of the tests will require you to use them.
Sometimes you're not just looking for errors but just testing the usability of a website and seeing how easy it is to navigate.
Most of the legit sites will pay you between $10-$50 per test, so you can make a decent amount of money if you're willing to put in the work.
Try it out with:
UserTesting
Whatusersdo
Enroll
UTest
UserFeel
Analysia
TryMyUI
Testing Time
Userlytics
Look After Other People's Pets
Are you good with animals? Turns out, there are a lot of work opportunities for you!
Your two main options are going to be petsitting and dog walking.
Petsitting
Traveling without your pets is always a problem.
The best kennels are notoriously expensive. Cheap kennels are not always the best environment for pets. Some pets aren't suitable for kennels either way.
People often pay for pet sitters to care for animals while they're away. You can get paid to feed, water, clean, and watch after people's dogs, cats, lizards, snakes, birds, or whatever!
One of the best ways to find these kinds of jobs is just to tell people you know that you're available to help them with their pets. Word of mouth and personal recommendations mean a lot for pet-sitting jobs because of how much people care for their pets. They just want the best for their animals, so they need to be able to trust you.
In the US, the average rate for petsitting varies from $10-$25 per hour. $15 is usually a good starting point.
You can also source petsitting jobs online. There are many different platforms to connect travelers with petsitters.
Here are a few:
Petsitter
Rover (dogs only)
Sittercity.com
PetBacker
Dog Walking
If you're not into the idea of watching people's pets while they're away, dog walking could be a better gig for you. Many of the above-mentioned sites also have postings looking for dog walkers around certain areas.
In the US, the average pay for walking a dog is between $20-$30 for a 30-minute walk. If you have multiple dogs you walk a few times a week, it really adds up!
As an added benefit, you'll get in better shape as well from all the walking.
Beyond the platforms I already mentioned, there are a few places that are specifically for dog walking. The most notable is Wag.
Babysit
More than petsitters, people are always looking for babysitters. Babysitting is usually a better gig because you probably won't have to be there as long, and rarely overnight. If you're good with children and you're a trustworthy person, babysitting can be a wonderful way to make extra money.
In the US, the average pay for babysitters is a little more than $17 per hour. It's not uncommon to charge $15 per hour for one child and add $1 or $2 per additional child. If you live in a larger city, you can probably charge a higher rate.
Babysitting is one of the best ways for college students to make money because you can fit your jobs around your class schedule really easily. A lot of people need babysitters in the evenings or weekends, meaning you can fill up your spare time with as many or as few gigs as you want.
As with petsitting, word of mouth is one of the best ways to get reliable babysitting jobs.
However, there are also a lot of online platforms for finding babysitting work. Here are a few of the most used platforms:
Care.com
UrbanSitter
Bambino Sitters
Sitter Pro
Sittercity
Keep in mind that online babysitting platforms usually need a lot more information for you to sign up and look for jobs. They might need to do a background check and other security steps just to make sure you're a trustworthy person.
You might also need to get first aid or CPR certification before you can register as a babysitter.
Go Dumpster Diving
The perk of living around a university is there are many people moving in and out of their apartments all the time. College students who are moving back home and don't want to carry their larger items with them will often just throw them out.
One man's trash is another man's treasure.
You can find electronics, furniture, appliances, dishes, and a ton of other home items that have nothing wrong with them just sitting on the side of the road. Especially around larger or more expensive universities, the quality of stuff you can find increases.
During common move-in and move-out times, move around the various college housing areas and apartment complexes to see what you can find. You can also check Goodwill and other thrift shops for cheap items that were donated when people moved away.
Clean up whatever you find and place it up for sale online. Post ads on sites like Craigslist or eBay, join Facebook marketplace groups, and utilize local-focused apps like LetGo to find buyers.
Check out this guide from Frugal for Less to get a better idea of how to start dumpster diving yourself.
Resell Fashion (Clothing & Accessories)
Many different clothing and accessory brands have great resale value. If you have some time and a little extra money, go out hunting discount brand name clothes that you can then resell for a higher price.
Thrift shops are a great place to start. You can often find brand-name items for really low prices or at least lower than what you can sell them for elsewhere.
Check out local yard sales over the weekend also. People doing yard sales usually price clothes at throwaway prices just to get rid of them quickly. You can find some gems from someone else's closet that will get you a fantastic return on your investment!
You can resell clothes, shoes, bags, and other accessories. In general, you want to look for items that are:
Made by a popular, trendy brand or a designer
In good or great condition
Still in style today (even if it's "vintage")
You'll probably have an easier time reselling if you already have an eye for fashion, but even if you're completely clueless about brands and current fashion trends, you can still make a good profit from reselling.
It's a flexible job that's easy to manage no matter what your daily schedule looks like.
Once you've got some items to sell, take great pictures and post them on platforms like:
Poshmark
Depop
ThredUP (they will take the pictures for you)
eBay
ASOS Marketplace
Tradesy
The RealReal
Many marketplaces take a commission from your sale, but you can still make a healthy profit if you get items cheap enough and sell them for a high enough price.
Buy & Resell Textbooks
Along the same lines as reselling fashion items, you can do something a little more relevant to the college experience by reselling textbooks.
At the end of every term, many students are just trying to get rid of their old books for the best price they can. Bookstores offer ridiculously low prices to buy back textbooks, so if you offer a little more, you're likely to get a lot of buyers.
You can then take those used books and resell them next term for a lot more than you bought them for. Do your research before you buy books. Don't buy old editions or books that are already very cheap.
If you want to get your money's worth, you need to buy books that can actually be resold for a good price.
This isn't going to be a consistent source of income throughout the semester, but it's a nice little boost to your bank account every few months. Considering that classes are almost always in session (even over the summer), you'll probably have a lot of windows to buy and sell books.
The College Investor has a great guide to reselling textbooks that will get you to a better starting point.
Help a Business Do Social Media
Being a social media manager is a real job, and it's not for the average tech-savvy beginning. However, most small local businesses don't really need a full-time social media manager to develop and implement an entire brand strategy.
If you're good with social media, offer to run social media accounts for some of the local businesses in your area.
This would probably mean making a post or two every day and engaging with people who comment or DM.
It's a simple enough job for anyone that's already familiar with the ins and outs of social media. The biggest difference is that you'll want to set goals and meet engagement targets to help the business accomplish its larger company goals.
You can choose to charge hourly, per post, or per month, depending on what works best for you. As a beginner without much experience, you can likely expect $15-$20 per hour or around $200+ per month for posting 30-45 times a month on multiple platforms.
Be careful not to overcommit yourself. Remember that being a social media manager for enough clients can be a full-time job!
Mystery Shopping
Although it's not going to add up to much, mystery shopping is a fun way to make some extra money while doing things you enjoy. You can get paid to go to restaurants, retail stores, tourist hotspots, and more and test the service.
It's a legitimate job posted by market research companies. Basically, you're helping the company learn how their services are actually begin delivered and rate your overall experience with the company.
There will usually be specific questions you're asked to answer or tasks you're supposed to do while you're mystery shopping.
The Balance SMB has a helpful page giving you a little more information about being a mystery shopper.
Vlogging
Remember way up at the beginning of this list how I talked about starting a blog? Well, if you're not into that idea, you could always do a vlog instead!
Vlogs are just video blogs. You can start a YouTube channel and post a series of vlogs about something interesting you're doing, crazy things in your life, or talking about specific topics of interest.
Just like with a blog, you want to find a topic that's interesting to you, has plenty of material to cover, and is able to attract an audience. After that, all you need is a camera, a basic video editing program, and a little bit of time.
It's going to take a while to get a vlog channel monetized. If you keep putting in the work, you can easily make a few hundred dollars monthly from ads playing before, during, and after your videos.
ConvertKit has a great guide on how to start vlogging for yourself.
Do Translation Work
Are you fluent in more than one language? If you are, there's a whole world of work waiting for you!
Translators are in high demand, especially if you happen to speak some of the most common languages in the world.
Becoming a certified translator takes a lot of experience, skill, and specific language training, but you can get simple gigs just by knowing how to write well in each language you speak fluently.
Individuals and small businesses sometimes need translators to help out with translating blogs, social media posts, flyers, website content, advertisements, and simple marketing materials.
If you're looking for simple translation work, you can find small gigs on most online freelance marketplaces where you find writing jobs, like Upwork, Freelancer, and Fiverr.
Rent Out Your Things
You might have a few things sitting around that could be put to work for you. Once ridesharing grew in popularity, it was followed by a wave of other services that help you share your other stuff as well.
What can you rent out? Pretty much anything, really.
The things you probably know about are homes and cars but aren't always practical for college students. Try renting out other things instead to get a bit more semi-passive income.
Parking Spaces
If you have a parking spot from your off-campus housing and no car to park in it, you might be able to rent it out. Even if you can't get someone on a regular basis, you can likely rent out a space close to campus if there's a big event going on. Try out SpotHero or ParkWhiz.
Clothes/Accessories/Shoes
If you've got nice shoes, clothes, or accessories you can rent some of them out to others when you don't need them. Especially if you've got nice dresses or formal clothes, you can get a good rate for even just a few evenings a month. Look at Style Lend and Tulerie.
Storage Space
Students often need a place to store things in between semesters. Others who live around the area may need some extra space during a move or if they've just got too much stuff lying around. If you've got a little extra room, like an extra closet or empty bedroom, offer it up for rent.
You can offer that service up in person to people you know, or post your space on Neighbor or Store At My House.
Advertising Space
If you do have a car and you don't want to rent it out, you can actually rent out advertising space on your car for a monthly fee instead. Check out StickerRide, Wrapify, and Carvertise.
Bicycle
Do you have a bike? If you're not using it all the time to get to and from class, you can actually rent your bike out for a recent return.
Spinlister is one of the most popular peer-to-peer bicycle rental services, plus it has insurance for all the bikes rented out on the site.
Specialty Hobby Accessories & Equipment
If you play sports or do any kind of hobby that takes equipment, you may be able to rent that equipment out when you're not using it. Tennis rackets, camera gear, tents, surfboards, the options are basically endless.
Tools
If you have a good set of tools, you can rent them out to others who need them for their own projects. Use a site like SpareToolz to get started.
Rent Out Your Apartment
If you're lucky enough to own your apartment, you might want to consider renting it out while you're away at college. You'll find countless online sites where you can advertise apartments for rent in El Paso, TX, and countless other locations across the United States. Then simply sit back and wait for the money to roll in.
Etc?
Got something you want to rent out that doesn't fit into one of these categories? No problem! Try renting it out on Fat Llama. This is a site where you can place almost anything up for rent.
Surveys, Videos, and Ads
Many companies want feedback and are willing to pay for it. So, if you find yourself with a lot of downtime, make an account on a site that pays you to take surveys, watch videos, view ads, and otherwise give your feedback.
There's a lot you can weigh in on and many sites that are willing to connect you with companies who want opinions. Don't expect a big payday. But, it's better to get something for your time than nothing!
Start here and see what you can get:
Inbox Dollars
User Testing
Opinion Outpost
Survey Junkie
FusionCash
Sell College Class Notes/Papers
Are you a meticulous notetaker? You could get paid for that.
Some services will pay you for notes in specific types of classes, either as a semester-long assignment where you upload notes from every class on a one-off basis.
You can sell your handwritten notes if they're legible or you can digitize them for a better chance at making a sale.
Try these sites for selling notes:
StudySoup
Gradebuddy
Nexus Notes
Create an Etsy Store
Anyone with a talent for making things can make extra money for college through Etsy.
Etsy is a place where you can sell handmade things. They can be artistic, practical, customized, or just unique. Starting a shop is free, but there are a few small fees for listing items, transactions, and payment processing. The fees are minimal.
You don't have to be a pro to start selling something. Crafts & crafting supplies, handmade items (of all types!), jewelry, wedding items, and accessories are the top 5 categories that sell best on Etsy.
Sell at Events & Holidays
There's a good chance your university hosts a lot of events, from college sports to festivals and student outreach events. Any events that happen at your campus may be an opportunity to make a little money as a vendor.
Ask the appropriate authorities at your college for permission to set up a booth and sell. Buy things from a large wholesaler like Costco or Sam's Club and resell them for a higher price at college events.
Or, during the holidays like Valentine's or Mother's Day, buy themed items to sell around campus. A lot of people need last-minute gifts, which could work in your favor.
Fixing Up Computers & Electronic Devices
Electronics break all the time. If you're good at fixing small or large electronics, you can charge to fix them. The market for simple software or hardware fixes is pretty big. Some people may even pay you to do things like reinstalling Windows or replacing keys on their laptop keyboard.
Make sure you let people know you're doing it on your own and not with a company. You may even want to print a few waivers to have people sign that say you aren't responsible if something breaks while you're fixing their device.
Model for Art Students
Many art classes need human models. If your school offers art classes, they probably need models to help the students learn to draw human figures.
While you might have heard of nude models in art classes, that's not a requirement. Art students draw fully clothed people too, so don't worry about it!
Art models make an average of $25 per hour just posing for artists to draw. The main thing you have to be able to do is stay totally still for 15-20 minute stretches. Most art classes are around an hour long.
Once you get some experience modeling for art classes at your college, you can also branch out to other art groups around town.
Being a model is a great part-time job with flexible hours and very little time commitment. Go to your college art department and ask if they need additional models.
Run a Student Laundry Service
What's one thing most students can agree on? The laundry is the worst.
That's especially true when you live in a dorm room or apartment with shared laundry facilities. But, you can make that easier for your fellow students by offering to do their laundry for a small fee.
All it takes is a little organization and coordination on your part. You have to keep track of whose laundry is whose so you can wash it separately and return it back to its rightful owner. At the end of the day, it's just a few extra loads of laundry when you're heading to the laundromat for yourself.
Make sure you charge enough to cover the cost of washing and drying each load plus a little extra as your service fee.
Washing & Detailing Cars
If you're a car person, you can make money working with cars even without knowing how to do any of the mechanical stuff.
Washing and detailing cars means helping make them look brand new as if the owner is going to drive them straight to the showroom floor. It's a step beyond just the regular deep cleaning and people are willing to pay for it.
Do some reading so you get the full picture of what detailing looks like. Then, practice on your friends and family's cars to make sure you've got a good handle on how to do it. Once you're able to do it well, you can start offering your service for hire.
Post your services on Craigslist, Facebook Marketplace, Instagram, or anywhere else that you can get the message in front of locals.
The average price for washing and detailing sedans and other smaller vehicles is between $50-$120 while the average for SUVs and vans is between $75-$150. Each thorough detailing job may take you around 3-5 hours, depending on the size of the car and what state it's in when you get to it.
Perform on the Street
Knowing how to play a musical instrument is a great way to earn a little extra over the weekends. If there are heavily trafficked walking areas in your city or town, get outside with your instrument and start busking.
Being a street performer can be exciting. You're likely to get some tips from people passing by, especially if you're playing near an event where people come in from out of town.
If you happen to play in front of the right people, you may be asked to do paid gigs for other events. Even if you don't get that opportunity, the tips alone can usually help you pay some bills. Busking is one of the best side hustles for college students because it's 100% flexible.
Check with your local government office to see if you need to register ahead of time or apply for a street performance license before hitting the pavement.
Help Manage Airbnbs & Rentals
Airbnb may not be practical for you as a source of rental income, but you can still make money by managing other people's listings for them. Managing just means helping the homeowner do the actual groundwork for some cut of the profit.
As a listing manager, you would help out with meeting the guests to give them the keys, taking the keys back when they're leaving, and cleaning the property for the next guests. You may also be asked to help out with maintaining the online listing pages and doing things like responding to guest reviews and comments.
If you live in a busy enough area, there will be plenty of this kind of work to keep you busy and help you earn some decent money.
Connect with property owners looking to find managers on platforms like Co-Host Market.
Every action you take is a vote for the person you wish to become. – James Clear
You might be interested to check those related posts as well:
FAQs
How to make money as a college student in India?
Freelancing opportunities are a great way to make money as a college student in India. Make an account on Upwork, Freelancer, or iWriter and start doing freelance writing, editing, proofreading, or social media management.
How to make money as a college student in NYC?
NYC has a lot of simple opportunities for college students to get money. Spend time working on task apps, look for babysitting jobs, become a dogwalker, or join focus groups.
How to make money as a college student in Kenya?
If you're studying around Nairobi, take advantage of the better internet access and look into freelancing and working online as much as possible.
Also, try buying wholesale and reselling door to door to other students or tutoring other students. If you're good with social media and telling stories, you can write a blog or start a vlog to talk about your life as a student.
How to make money as a college student during Covid?
College students who need money during lockdowns or Covid restrictions should look at as many online opportunities as possible.
Rideshare, deliveries, task apps, freelancing, vlogging, blogging, dropshipping, and other online opportunities are great ways to make money without breaking any of the set regulations.
How would you manage to make some money as a college student with limited time?
Focus on work you can do in short intervals with 100% flexibility, such as doing online surveys, running a laundry service, selling your class notes, dumpster diving on the weekends, or renting out your things.
How can I make good money as a CS student?
Search for work related to your major. Look at user testing work, simple web design projects, development projects, and tech support for other students or teachers.
How can college students make money without working?
You don't need an official job to make money. Look for opportunities for passive income so you can work on your own terms when you have the time and energy.
How to make money online as a college student?
Start freelancing, blogging, vlogging, testing websites, doing online surveys, or tutoring online. If you want a more passive method, try making an authoritative course and taking some time to market it once in a while.
What are some passive income ideas for college students?
The best way to make passive income is to put the time into creating something now that you can put on autopilot. Make your own course, set up a blog with a few evergreen pillar articles, or list stock photos for sale.
How to make money fast as a college student?
If you're in a pinch and you need quick money, turn to tasks apps, delivery apps, tutoring other students, selling college notes, or renting out your parking space.
How to make money as a student-athlete in college?
Offer to train others, teach sports, create personal training routines, become a fitness instructor, or launch a fitness influencer.