It is essential to be aware of different types of dress codes in the workplace.
Once a company imposes a dress code standard, employees are obligated to follow it.
But in order to adhere to these rules, one must also fully understand what they mean.
Since there are different dress code types that sound very similar to each other, it may sometimes be confusing, and you may end up dressing in a way that does not meet the required standard inappropriately to the required standard.
So, when your boss tells you to wear "business casual," what do they really mean?
In this article, we will explain in detail what business casual attire is.
We will also give you some examples of what to wear and what not to wear, whether you are a man or a woman.
What is a Business Casual Dress Code in 2023?
The business casual dress code is a professional, yet slightly casual, dress code that is appropriate for the office environment.
However, the definitions can vary based on each company's climate and culture.
This can lead to frustration as more and more companies embrace a business casual dress code.
The Oxford dictionary defines the term "business casual" as "a style of clothing that is less formal than traditional business wear, but is still intended to give a professional and businesslike impression."
But what does that really mean? It is crucial to find the middle ground between "business" and "casual."
If you lean too much toward the "business" side, you might be too overdressed for your office.
And, on the other hand, if you focus too hard on the "casual" aspect, you might find yourself looking unprofessional.

Business Casual Outfits for Women
Business casual outfits for women can vary depending on the office, style, location, or time of the year.
However, the standard business casual attire for women includes these staples:
Blouses
Sweaters, cardigans
Twinsets
Polo or knit shirts
Corduroy, khaki, twill, or cotton pants
To-the-knee skirts and dresses
Heels, loafers, ballet shoes, brogues, boots
Optional: hosiery
Optional: jacket
Optional: simple jewelry or watch
Additionally, remember that solid colors are preferable to bright patterns.
Skirts and Dresses
Dresses and skirts add diversity to your wardrobe.
But make sure that the length and fit are ideal for your office.
You can never go wrong with skirts and dresses with to-the-knee or below length.
Advisable styles are wrap, pencil, or A-line designs.
Dresses and skirts are also very suitable for warmer days, and they add a sense of femininity to your office attire.
Pants
Pants are an excellent choice for business casual attire in the workplace.
You can choose between a wide variety of pants – cropped, straight, slim, wide-leg, chinos, or suit pants – all of them are always appropriate.
Select a pair of smart pants in a neutral shade or a simple print.
Jeans are also an option, but pay attention to their style and color.
If you pick a neat, skinny, or slim-style dark wash pair of jeans, you will still look professional enough to comply with the business casual dress code.
Shirts and Tops
Another part of a business casual outfit could be classic cotton, silk, or lightweight synthetic shirt.
It is better to stick with neutral and soft colors.
On the other hand, if you decide to go for a blouse, a subtle print is also acceptable.
It is also common to wear keyhole blouses, smart tanks, or long-sleeve styles.
But don't forget to wear a camisole underneath your shirt if it is sheer!
Sweaters
Sweaters are mostly ideal for the winter season since they provide extra warmth.
It is also possible to layer them over dresses and shirts.
Another option is cardigans of various styles and lengths.
Business Casual Shoes for Women
Women have a lot of options for business casual shoes.
No matter which one you pick, make sure that they feel comfortable and that the heel is an appropriate height.
Try not to overdo it with buckles and studs.
It's better to keep it plain and simple!
Business Casual Outfits for Men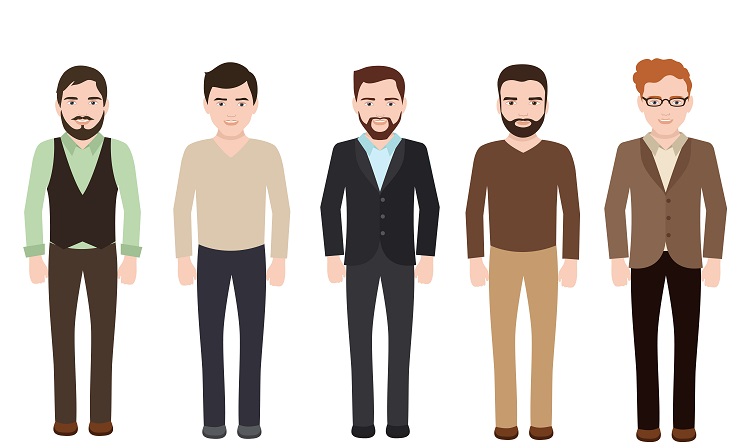 The appropriate business casual outfits for men are chinos or slacks, button-down shirts, polos, sweaters, dark socks, and dress shoes.
With men, the border between business professional and business casual attire usually depends on whether one is wearing a tie or not.
Here are some examples of business casual attire for men:
Khaki, gabardine, wool, or cotton pants, neatly pressed
Cotton long-sleeve, button-down shirts, pressed
Polo shirts
Sweaters, cardigans
Vests
Leather shoes and belt
Optional: tie
Optional: blazer, jacket
Optional: watch
Shirts
It is always wise to stick to button-downs and polo shirts.
Even better if you opt for collared and long-sleeved shirts.
Although, during warm days, it is also appropriate to wear short-sleeved polos or button-downs.
It is optional to wear a tie, but you will have a more formal look if you decide to do so.
Blazers and Jackets
It is optional to wear a jacket or a blazer, but you'll add a professional touch to your office image if you go for it.
It is safe to rely on plain colors such as black, grey, and blue.
Sweaters
One of the staple business casual looks for men is wearing a fine-knit sweater over a button-down shirt, leaving the collar visible.
Sweaters can be convenient in general, especially during the winter.
Pants or Slacks
While sticking to a business casual dress code, you can never go wrong with dress slacks and chino pants (khakis).
Chino pants are very versatile, and they go well with more formal and casual shirts.
Choose plain, neutral, or dark-toned colors.
Don't forget to add a belt in a similar color.
Business Casual Shoes for Men
When dressing according to business casual, one must not forget about appropriate shoes.
You can opt for loafers or dress shoes.
Regarding the color of your shoes, you should always try to keep them professional.
Opting for plain dark colors, such as black, brown, or blue, will never go wrong.
Plus Size Business Casual Outfits
The business casual dress code is suitable for all types of bodies.
With the growth of plus-size clothing options, curvy women shouldn't have any trouble finding business casual clothes that are appropriate for the office environment and suit them perfectly.
Make sure to choose garments that fit plus-size shapes.
The plus-size business casual outfit comprises the same items as the "non-plus size" outfits.
This means that you can wear blazers, button-ups, dresses, skirts, or pants as long as they fit your body type and are appropriate to the standards of the business casual dress code.
Business Casual – What Not To Wear
When it comes down to business casual outfits, they should be clean, pressed, and fit properly.
It is not appropriate to wear ripped or washed-out jeans, t-shirts, hoodies, crop tops, shorts, or flip-flops.
You should also avoid clothes with logos or graphics.
Complying with a business casual dress code can be pretty tough if you are used to being dressed in athleisure.
But, unless you work in a really informal office environment, you should learn to live and work by the business casual dress code.
So, keep in mind the "business" part of business casual and leave your comfortable casual clothes at home for another occasion.
But business casual is not only about the clothes you wear.
It is also about the whole look and presentation.
Women should avoid anything too tight or short.
And don't forget to hide your bra straps.
Your make-up should be natural and low-key, not anything too extravagant.
Simple is smart.
Men shouldn't go to the office without a belt.
You should avoid baggy, ripped, or loose clothes at all costs.
Athletic socks and shorts are a strict no-no!
Also, shaving regularly, or keeping your facial hair neatly trimmed is essential.
Some Dress Code Tips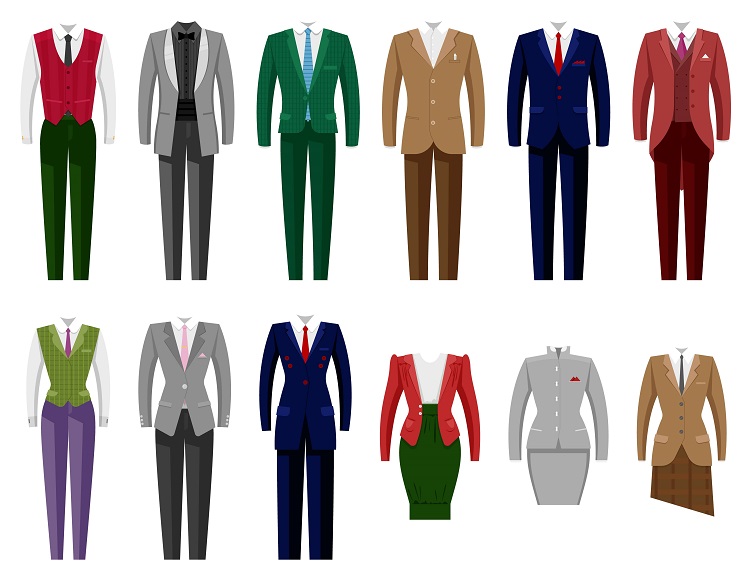 Dress for Success
During job interviews, you always want to make the best impression.
So, knowing what the right clothes to wear are is as important as knowing what not to wear.
Among other things, it is essential that you dress professionally.
Therefore, the smartest choice for an interview is a more formal business casual outfit.
This way, you won't find yourself being too "overdressed" or "underdressed."
Avoid bright colors, piles of makeup, excessive accessories, and heavy perfume or cologne.
Do your Research
When you are a newcomer in your office, it is always wise to check with the company HR department or your new colleagues to learn the dress code rules for your company.
Ask what the business casual dress code means for your organization.
Maintain Consistency
Remember to always stick to your professional business casual style.
Some offices allow "casual Fridays" when employees can dress down a little bit.
But this does not mean that you can completely step down from your dressing game.
Your outfit should always be formal enough for your workplace.
Don't show up to work in ripped or baggy clothes and a t-shirt of your favorite band.
This may lead to you losing your trust and credibility in the eyes of your boss and colleagues.
By maintaining consistency in your outfits, you can work comfortably and always be prepared to represent your company appropriately.
Consider Your Calendar
Always keep an eye on your calendar.
Is there an important meeting with a client?
Do you plan on going to a business lunch with your boss?
If you stick to a business casual dress code emphasizing the "business" side, you'll always look professional enough for all the important scheduled events, but you may want to adapt your outfit for the specific activities you have planned for your workday.
You might be interested to check those related posts as well:
FAQ
What are the 4 types of business attire?
The four types of business attire are business formal, business professional, business casual, and smart casual.
Although they all may sound very similar to you, there are many differences between them, so make sure to do your research before choosing your outfit to work.
Can leggings be business casual?
Can you wear leggings to work as part of a business casual outfit?
The answer is yes, as long as you keep it modest.
Focus on a professional look and combine them with appropriate, long tops or blazers in plain colors.
Is it OK to wear sneakers for business casual?
Yes, if you choose the right pair.
Offices are becoming more casual regarding wearing sneakers.
The more formal your office environment, the more formal the attire, including the shoes.
However, material and color are crucial if you decide to go for sneakers.
The ideal business casual sneakers should be made of suede or leather.
Black and brown colors are always a safe choice.
Can I wear black jeans to work?
Yes, black jeans are an excellent choice for a business casual outfit.
If they look neat and not worn out, black jeans can be a great addition to your wardrobe.
Try to pair a pair of black jeans with a shirt, blazer, and high-quality shoes.
Is maxi dress business casual?
It is appropriate to wear a maxi dress as a business casual alternative.
Just stick to the rule of looking polished and conservative.
However, it is never appropriate to wear strapless or spaghetti-strapped maxi dresses without an outer layer such as a jacket, blazer, or cardigan.
What is the difference between casual and business casual?
The main difference between casual and business casual attire in the workplace is that business casual is still a professional and even a slightly formal dress code.
Many employees often mistake business casual for casual and end up underdressing for work.
Casual attire means wearing clothes that are less formal, but still appropriate for the workplace and the type of job.
Conclusion
Deciding what to wear so that your outfit matches the business casual dress code in your office shouldn't be a painful task.
Try following our tips and browse some business casual attire on the internet.
Surely, you'll be able to choose some clothes that will fit both your style and your workplace.