The only way to become a successful entrepreneur is to step out of your comfort zone – but you don't have to do it alone. With the support of some of the world's best business blogs, you'll feel much more confident in your entrepreneurial journey.
Best Business Blogs and Websites in 2023
In this guide, we've gathered some of the best blogs and websites that currently exist for business-minded individuals. Read on to learn which blogs are best for advice, accounting, ethics, marketing, strategy, development, and much more.
1. Mashable – Best Online Business BlogIf you're looking for information about the internet and how it relates to business, Mashable is a blog worth checking out.
Founded by blogger Pete Cashmore in 2005, Mashable initially focused solely on social media, the internet, and how it impacts our everyday lives.
Nowadays, business owners can find much more than tech-related content on Mashable. The blog now also focuses on media and news, but if you're a business owner with an interest in technology, you'll still get the most value from the "Tech" section.
Of course, if you're just procrastinating, then you could venture to other areas of the website.
Recent tech-related posts on Mashable include "How to Change Your iPhone's App Icons", "ExpressVPN review: Fast speed and security make it totally worth the cost", "Samsung's Galaxy Z Flip 3 is not the future of phones", and "Best Squarespace templates for mobile websites".
You can find Mashable on Instagram, Facebook, Twitter, and more.
2. Forbes: Entrepreneurs – Best Blog for Business Case StudiesForbes: Entrepreneurs is an insightful blog that offers analysis and news on entrepreneurs.
Forbes is a well-known name for a good reason – you can get plenty of value from the brand's web content, whether you're looking for blogs on innovation, thought leadership, small business, money, lifestyle, and more.
This award-winning blog offers fascinating case studies into some of the richest and successful entrepreneurs alive today. If you're interested in real-life success stories and you're keen to learn tips from big names in the business, Forbes: Entrepreneurs is a brilliant source of motivation.
Recent posts include "The Next 1000: Resiliency Proves Vital To Small Businesses' Pandemic Recovery", "'We Can Control Our Own Destiny': John Zimmer Shares Lyft's Vision For The Company's Future And $1 Trillion Market Opportunity", "6 Questions You Need To Ask Your Potential Startup Co-Founder", and "By Solving A Painful Problem For Women, This Couple Built A Fast-Growing Brand That Just Got Acquired".
Forbes has a social media presence pretty much everywhere – Facebook, Twitter, Instagram, and more.
3. TechCrunch – Best Tech Business Blog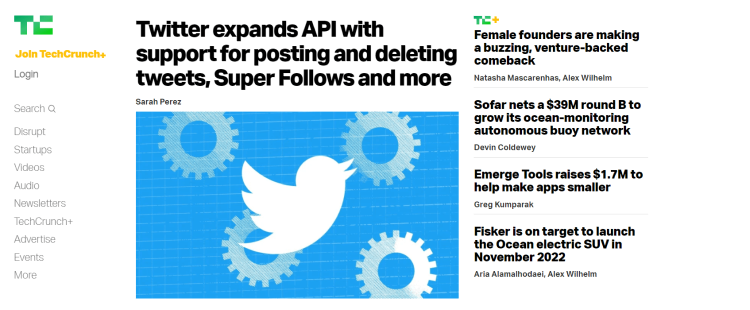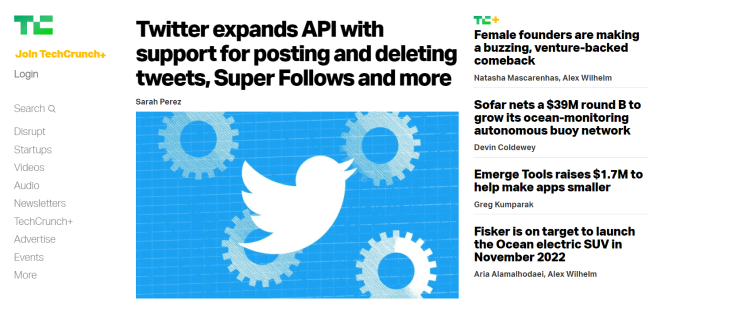 Reporting on tech, venture capital funding, startups, and Silicon Valley, TechCrunch is the best reliable and extensive tech blog for business.
The blog was founded back in 2005 by Michael Arrington and Keith Teare, and now has a team of nearly 50 writers reporting on the business of the tech and SaaS industry.
Whether you're a tech business or you just want to use tech to get more from your business, reading the "Startups and Technology News" section of the site will keep you well-informed. There's information about important people in the industry, and news and updates to catch up on daily.
If you're not a fan of reading, there's a section of the blog dedicated to video content.
Recent posts on TechCrunch include "Tech giants brace for impact in India as new payments rule goes into effect", "AutoLeap drives technology for car repair shops with new $18M capital infusion", "Startups have more options than ever to lower their reliance on venture capital", and "Twitter for Professionals will begin to roll out this week for businesses and creators".
As you'd expect for a tech blog, TechCrunch has a strong social media presence. It's worth checking out the blog's Facebook, Twitter, and Instagram.
4. VentureBeat – Best Business-Central Blog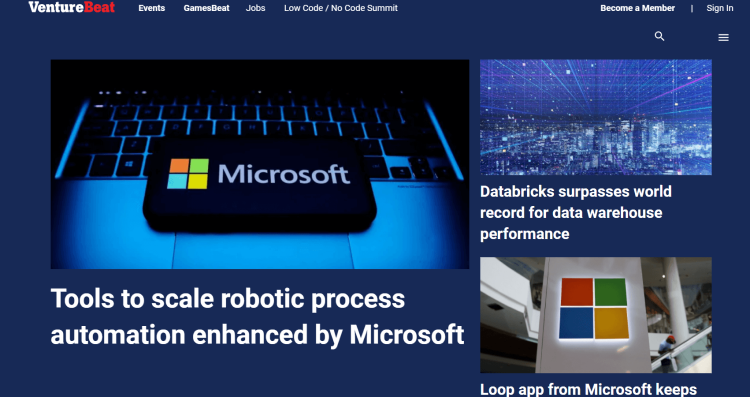 VentureBeat reports on tech, gaming, and how this relates to business.
The blog was founded in 2006 and has since become one of the leading resources for business news and events, providing business leaders with the guidance they need to stay on top of breaking news and make smart decisions.
You can do more than just read useful articles on VentureBeat. The blog also has its own newsletter and hosts networking events that encourage new knowledge, connections, and influences.
The blog itself is packed with news articles, insightful surveys, reviews, and educational content, all aimed at keeping the business leader informed on all the latest content relating to transformative technology.
Some of the most insightful recent posts on VentureBeat include "Enterprise compliance confusion stunts growth, survey finds", "Educational targets hit by rising cyberattacks in 2021", "Amazon's managed Prometheus service hits general availability", and "Boots exec shares the drugstore chain's pandemic-driven data strategy".
VentureBeat is active on Facebook, Twitter, LinkedIn, and other social media platforms.
5. MarketingProfs: Small Business – Best Small Business Marketing Blog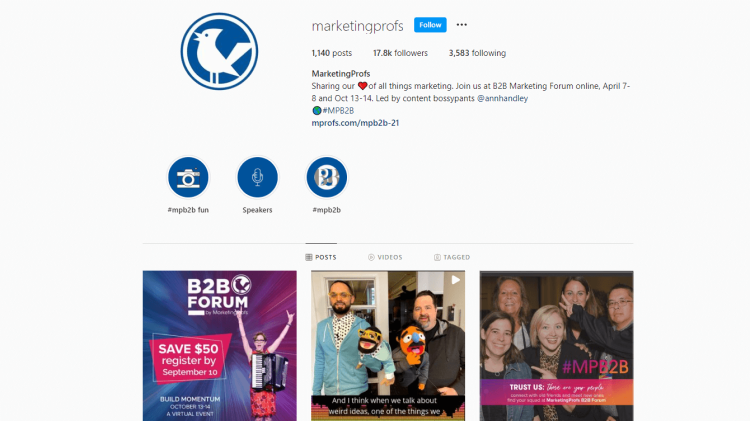 MarketingProfs is an educational business blog that offers free resources, training, and online events to help business owners execute successful inbound marketing campaigns.
This great blog has a section designed purely for small businesses and startups, offering tailored tips and advice on how to effectively market an emerging brand.
As well as free guidance, MarketingProfs also shares case studies about successful small business owners, important marketing news that new business owners should be aware of, trends, and more.
There's also a podcast library to explore if you prefer to learn by listening.
Recent posts include "How to Launch a New Brand: Five Tips for an Unforgettable Debut", "How Small Business Owners Got Their Start", "The Small Business Guide to Google Analytics [Infographic]", and "Seven Considerations for Your New Business's Social Media Strategy".
You can find MarketingProfs on Facebook, Twitter, and Instagram.
6. The HubSpot Sales Blog – Best Small Business Sales Blog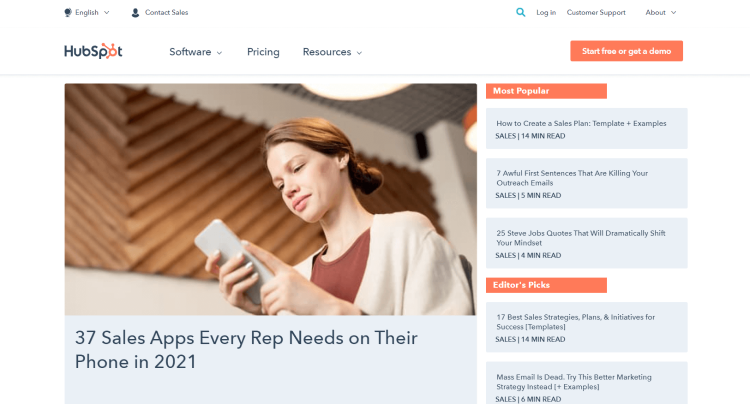 Sales is an unavoidable aspect of running a business, and when you're a small business owner, it's likely that sales will be your responsibility, to begin with.
The HubSpot Sales Blog is an invaluable resource for anyone keen to achieve success in sales, whatever that looks like to you.
Whether your goal is to learn and stay up-to-date with the best sales practices and techniques, you aim to improve what you already do, or you just want to stay informed about the latest sales trends, you'll find everything you need on The HubSpot Sales Blog.
Recent posts include "How and How Much Should I Charge as a Consultant?", "The 23 Best Crowdfunding Sites to Launch Your Business or Product", "20 Innovative CRM Trends to Pay Attention to in 2022″, and "How to Leverage Segmentation to Boost Cold Emailing".
You can find HubSpot on Facebook, Twitter, Instagram, and more, though there isn't a dedicated social media account for HubSpot Sales.
7. Science of People – Best Business Improvement Blog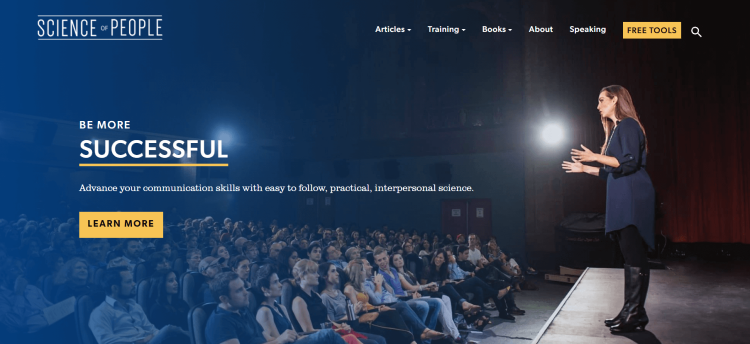 You might have a fantastic business idea, but that doesn't mean you're a natural-born leader.
The Science of People blog was founded by Vanessa Van Edwards, a self-professed recovering awkward person, whose aim is to help business owners build the confidence they need to achieve their goals, without being overlooked, interrupted, and forgotten.
This blog covers a variety of topics, including body language, career, interpersonal skills, behavior psychology, habits and productivity, leadership, entrepreneurship, happiness, and more. You can also sign up to receive free audio training on how to be the most likable person in the room.
Some of the most interesting recent posts on Science of People include "12 Amazing Tips to Stand Out (Professionally & Personally)", "How to Build Rock-Solid Self-Esteem in 8 Weeks (or less!)", "The 9 Laws of Influence: How to Be Influential (w/ Science!)", and "Condescending Body Language: Showing "I'm Better Than You".
You can find Vanessa Van Edwards on Facebook, Twitter, and LinkedIn.
8. Mark Manson Blog – Best Business Advice Blog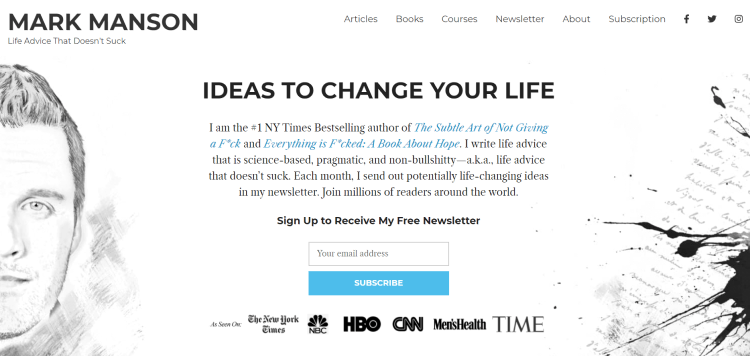 Most of us have heard of Mark Manson – he's the best-selling author of "The Subtle Art of Not Giving a F*ck". Mark shares science-based life advice on his blog, and much of it can be used practically from a business standpoint.
The posts and newsletters on Mark's blog are all fairly lengthy, but they're all highly valuable and worth investing time into reading. Most of the topics covered should provide the guidance you need to improve your everyday life as well as your working situation.
Recent blog posts and newsletters include "Social Media Isn't The Problem… We Are", "The Benefits of Time", "What is Wisdom?", and "The Virtue of Delayed Gratification".
You can find Mark Manson on Facebook, Twitter, and Instagram.
9. Skillcrush – Best Tech Careers Blog

If you're a tech student or you're simply interested in software and development, Skillcrush offers a broad range of free and paid content to help you reach your goals faster.
The blog was founded in 2012 by Adda Birn, and is headquartered in New York.
Skillcrush particularly focuses on careers in tech, rather than how tech can be utilized by business owners. With that said, the site's motto is "Where tech is for everyone", so it's just as suited for beginners with an interest in tech as it is for experts.
Some of the most engaging recent blog posts on Skillcrush include "What Happens in a Technical Interview? Your Technical Interview Questions Answered", "I Want to Work in Tech. How Long Will It Take to Get Hired?", "Should I Learn to Code in 2021? How to Decide if It's Right for You", and "How to Negotiate Your Salary in Tech: Dos and Don'ts".
Skillcrush is on Instagram, Facebook, and Twitter.
10. Copyblogger – Best Business Blog for Copywriters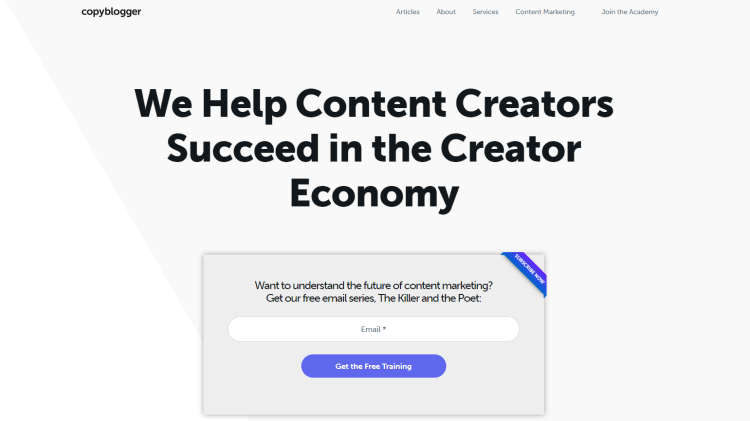 Budding copywriters, marketers, and content creators can get endless value from the Copyblogger blog.
As one of the longest-standing content marketing blogs, Copyblogger has been teaching people how to write killer content since it was founded by Brian Clark in 2006.
A range of topics is covered on Copyblogger, including finding and managing copywriting clients, honing your writing abilities, content marketing tips, and marketing your business.
There's also copywriting news that should be handy to you if you're already working in the industry.
Recent blog post examples include "Is It Time to Say Goodbye to Your Current Client?", "Ready to Charge More for Creative Work? Follow This Proven Process", "Do You Recognize These 10 Mental Blocks to Creative Thinking?", and "21 Useful Keyboard Shortcuts for Writers".
Copyblogger has profiles on Facebook, LinkedIn, and Twitter.
11. Ahrefs SEO Blog – Best Business Marketing Blog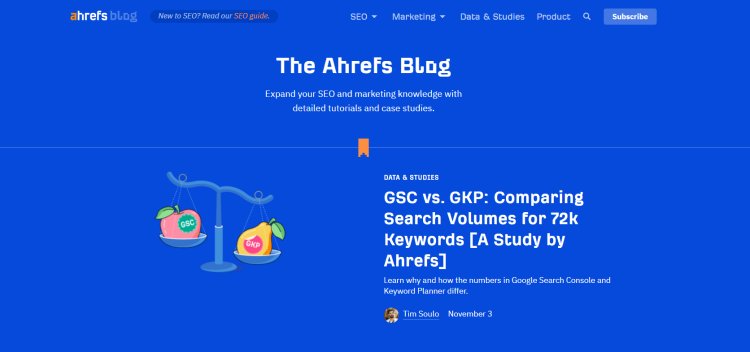 Ahrefs is an SEO and marketing blog that helps business owners and SEO experts expand their knowledge and deliver better results. Ahrefs is a popular paid marketing tool for SEO, but the Ahrefs blog is supplementary, and 100% free.
You can choose from topics including general SEO, keyword research, link-building, content marketing, and affiliate marketing. Ahrefs also carries out studies and supplies useful data on the current SEO landscape.
Recent articles on Ahrefs include "PPC Marketing: Beginner's Guide to Pay-Per-Click Ads", "6 Risky Black Hat SEO Tactics to Avoid in 2021 (And Their White Hat Alternatives)", "How to Implement the 4 Ps of Marketing", and "7 Niche Market Examples You Can Learn From.
You can connect with Ahrefs on Twitter, Facebook, YouTube, and more.
12. Neil Patel – Best Business Education Blog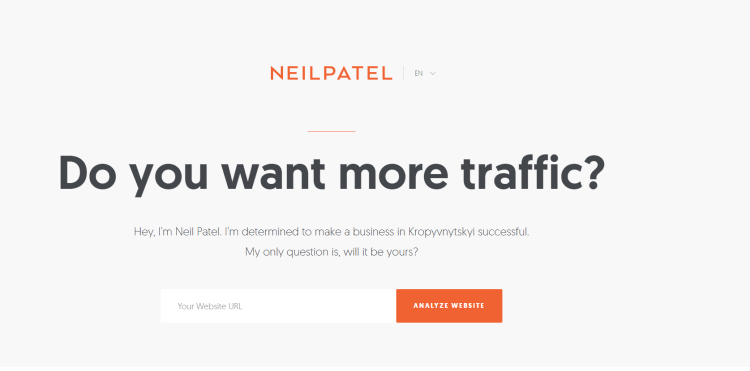 Neil Patel is a bestselling author, serial entrepreneur, and top influencer on the web. His blog is one of the best education business blogs for marketers and small business owners.
You'll learn everything there is to know about marketing – and if a process seems too costly or time-consuming, you can pass the job onto Neil.
On the Neil Patel blog, you can find posts about building websites, writing content, testing SEO strategies, managing projects, social media marketing, and much more.
Recent posts include "16 Hidden Facebook Marketing Tools That Will Increase Your Engagement by 154%", "20 Success Lessons From the Top Marketing Blogs", "4 Ecommerce SEO Techniques for Beginners", and "3 Effective Retargeting Strategies That Actually Work (With Examples)".
Niel Patel has profiles on Facebook, Twitter, YouTube, and more.
13. OptinMonster's CRO Blog – Best Business Intelligence Blog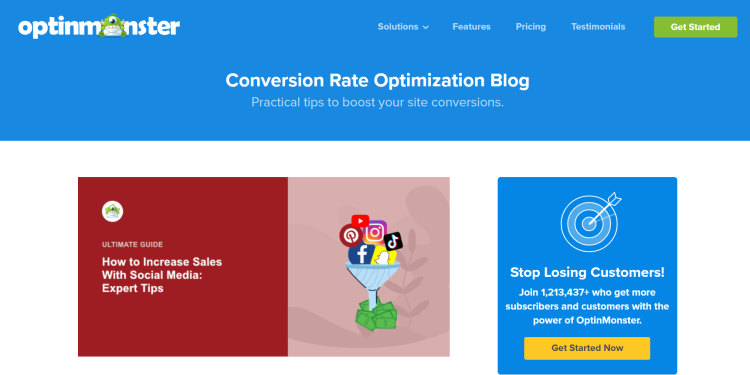 OptinMonster launched in 2013, with the aim of offering an easy-to-use tool to help businesses grow their revenue and customer base.
The tool is paid, but OptinMonster's blog is free and teaches a great deal about optimizing your business' conversion rates using tried-and-tested strategies.
Topics covered on OptinMonster include website operation and e-commerce, email strategies, marketing campaigns, newsletters, social media hacks, and more.
Recent posts on OptinMonster include "How to Create a LinkedIn Landing Page (in 3 EASY Steps)", "WordPress vs Shopify: Which Is Best for eCommerce", and "How to Add Email Options to WordPress in Under 5 Minutes".
You can find OptinMonster on Twitter, Facebook, and YouTube.
14. Teachable's Blog – Best Business Blog for Online Course Creators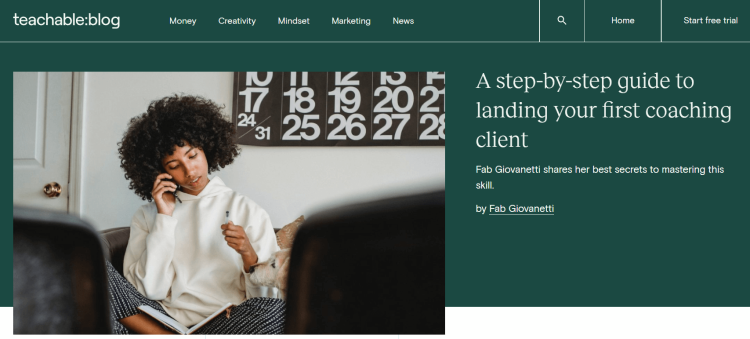 A rapidly growing business trend is online course creation, and Teachable is one of the most popular tools for doing so.
However, you don't have to be a paying Teachable customer to access the platform's free blog, which looks in more detail at the art of attracting customers with an enticing online course.
Topics covered on Teachable include course copywriting, engagement techniques, email marketing, money management, and more.
Popular blog posts from this year include "32 wildly successful email campaigns you should copy", "6 picks for the best affordable microphone for beginners", and "A pre-sale strategy is a win-win for you and your audience".
Teachable has profiles on YouTube, Facebook, Instagram, and more.
15. Freelancer's Union – Best Business Blog for Freelancers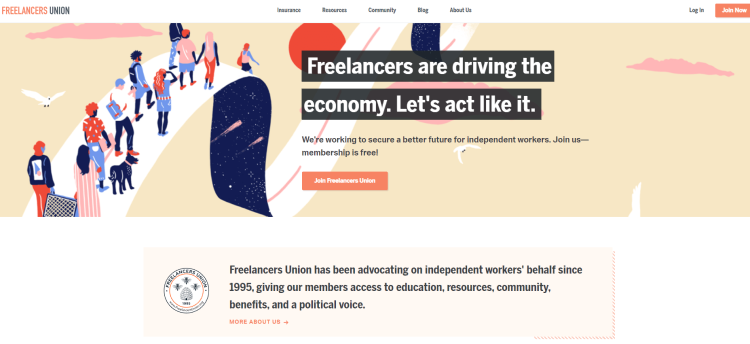 Freelancer's Union is a non-profit organization that advocates the rights of independent workers.
The organization was set up in 1995, and the Freelancer's Union website now gives its members access to resources and education on the freelancer lifestyle.
You can find every topic relating to freelancing on the Freelancer's Union blog, including finances, business strategy, taxes, freelancer interviews, and more.
Recent posts include "8 freelance interview tips that will get you the gig", "How to stand out in a sea of freelancers", and "5 steps freelancers can take to improve or repair their credit".
You can connect with Freelancer's Union on Facebook, Twitter, and LinkedIn.
16. The Smart Passive Income Blog – Best Blog for Business Ideas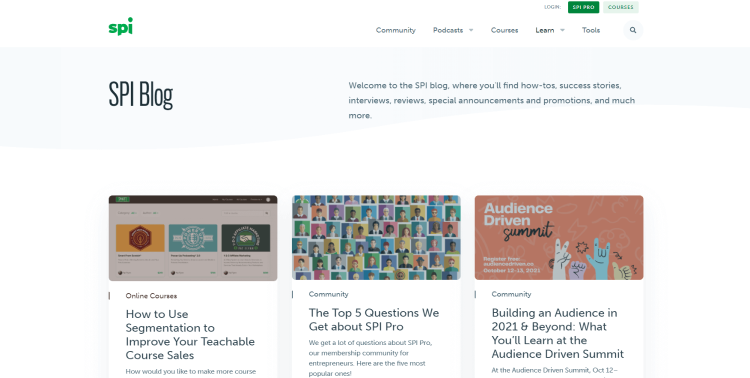 If you're looking to set up your own business and eventually achieve financial freedom with passive income, the Smart Passive Income Blog is well worth checking out.
The blog was founded by Pat Flynn, who had to form a "plan B career" online to support himself and his family and is now thriving in his working environment.
On Smart Passive Income, you can find training, content, and resources that will help you build your own successful online business. Every post is designed to help you develop both your business and your own mentality.
There are plenty of ideas for online businesses, too, so if you don't even know where to begin yet, the SPI blog is a good source of inspiration.
Recent posts include "Event Marketing: The Next Big Marketing Strategy for Online Entrepreneurs", "Are Podcast Ads Profitable? Plus How to Get Started (Guest Post)", "Influencer Marketing 101: The What, Why, and How Not To Go Wrong (with Examples)", and "Hybrid Events: What They Are and How to Get Started".
The Smart Passive Income Blog has Twitter and YouTube accounts.
17. Fundera Ledger – Best Accounting Blog for Small Business Owners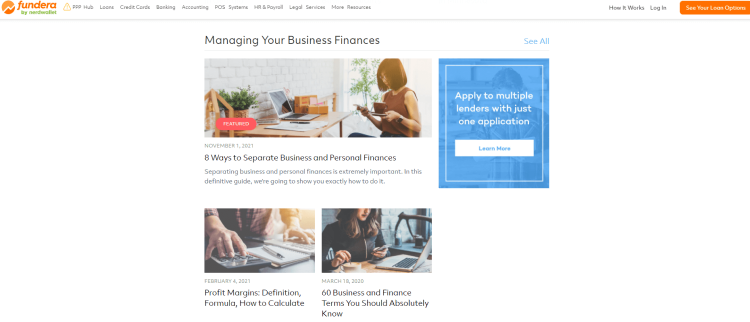 Fundera Ledger is described as a "go-to financial resource for small business owners", and the blog is packed full of financial news, advice, and support.
The blog's founders believe that small business owners should be aware of, and understand, their financial options, which will ultimately help them to make better business decisions.
A broad range of financial topics is covered on Fundera Ledger, including loans, credit cards, banking, HR and payroll, POS systems, legal services, business insurance, taxes, business operations, building credit, and more.
If you have any financial queries or concerns, it has most likely been covered on Fundera Ledger.
Recent posts include "Best Banks for Small Business in Georgia", "7 Best Business Budget Software for 2021", "Profit Margins: Definition, Formula, How to Calculate", and "11 Important Government Regulations on Business You Must Know".
You can keep up with Fundera Ledger on Facebook.
18. Business Insider – Best Business News Blog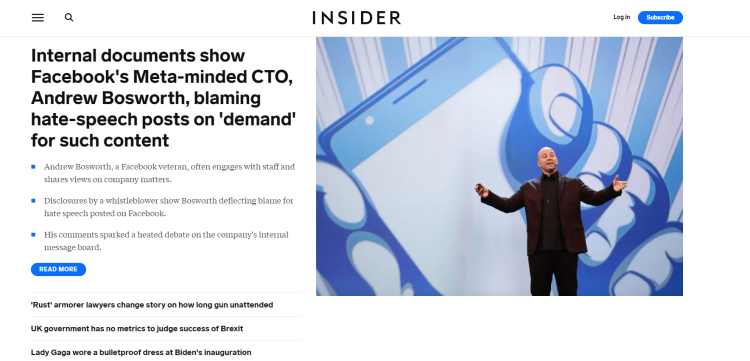 Featuring the latest news on media, tech, and financial aspects of business operation, Business Insider is one of the most well-known and most-visited blogs for business news and updates.
The website was founded in 2007 and now provides information and inspiration to an audience of more than 250 million business owners.
There's plenty to keep your brain engaged on Business Insider. In the "Business" section of the website, you can find articles on topics including retail, tech, finance, strategy, markets, and advertising.
There are other, non-business-related areas to explore on the site, too, if you just fancy a distraction from work.
Recent blog posts include: "Affirm and Zip cushion their businesses as BNPL competition heats up", "12 Gen Z founders who run 6-figure businesses and work with Sony and Adidas share the books every entrepreneur should read", "I'm a private pilot who flies famous singers, athletes, and transplant surgeons. There's never been a better time to break into the industry", and "The oldest orchard in America is bracing for another busy fall. Here are its secrets to 75 successful years".
You can find Business Insider on Twitter, Facebook, LinkedIn, and more.
19. AllBusiness.com – Best Business Development Blog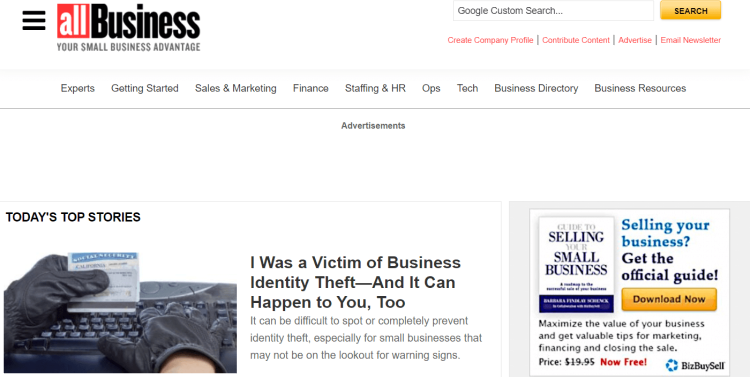 If you're a small business owner looking to scale and develop your operations, AllBusiness is a blog that can steer you in the right direction.
The blog offers "real-world expertise and practical advice", and has been featured by a range of international publications, including The New York Times and The Wall Street Journal.
AllBusiness focuses on all aspects of setting up and growing a small business, including sales and marketing, finance, staffing and HR, tech, and operations.
There's also a dedicated section of the blog offering business resources, and a business directory that you can submit your business to for free.
Some of the best recent posts for business development include "Budget Your Way to Financial Independence", "3 Business Technology Mistakes Many Startups Make", "How to Hire Employees for Potential, Not Just Past Experience", and "Make Your Business Idea a Reality by Following a Few Simple Steps".
AllBusiness has accounts on Facebook, LinkedIn, and Twitter.
20. Harvard Business Review – Best Business Management Blog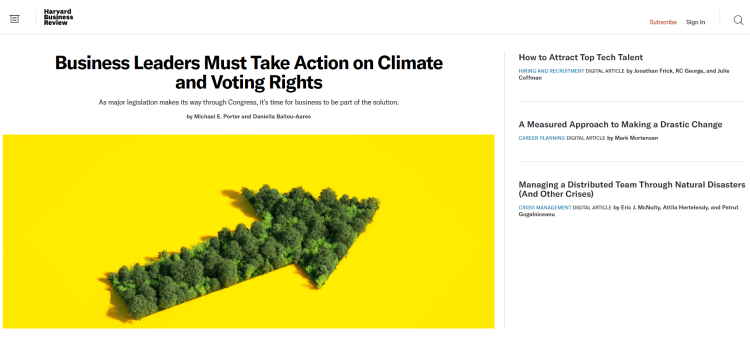 Harvard Business Review is produced by Harvard Publishing, a subsidiary of Harvard University.
The mission of the blog is to "improve the practice of management" – so, as you'd expect, there's a lot about business management to sink your teeth into on this blog.
If you're interested in a particular topic, visit the "Topics" section of the website and choose between leadership, strategy, managing yourself, economics, technology and analytics, hiring and recruitment, decision making and problem-solving, customer experience, and more.
You can also subscribe to the blog's magazine and check out its videos and podcasts.
Recent posts that may pique your interest include "With So Many People Quitting, Don't Overlook Those Who Stay", "Does Your Team Really Need Another Digital Tool?", "5 Techniques to Build Rapport with Your Colleagues", and "6 Ways to Unleash Innovation in the New Normal".
You can follow Harvard Business Review on Facebook, Twitter, and LinkedIn.
21. Entrepreneur – Best Business Entrepreneurship Blog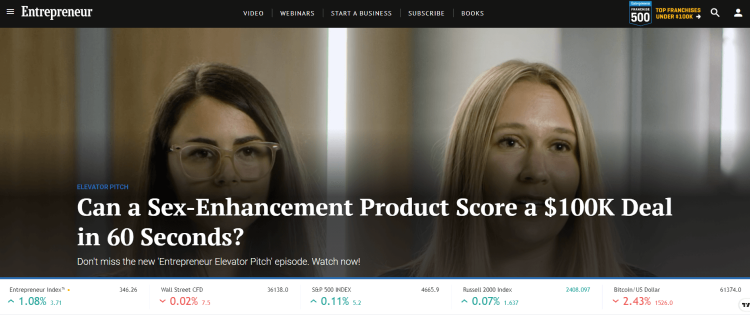 Entrepreneur offers insight, advice, guides, and profiles for aspiring and entrepreneurs across the world.
You can choose to subscribe to one of Entrepreneur's national magazine editions (there are publications in India, Europe, the United States, the Middle East, and more), but there's plenty of free value to be found on the Entrepreneur online blog.
As well as videos and podcasts on Entrepreneur, you can find articles on topics including freelancing, marketing and sales, leadership, creativity, finances, management, confidence, and general business news that entrepreneurs will find particularly interesting or insightful to know.
Recent blog posts include "Why Servant Leadership is Becoming the Leadership Style of the Future", "How to Nurture Your Leads and Create the Right Customer Journey", "Become a Better Communicator and Public Speaker", and "How to Turn Sustainability Into a Brand and Business Strength".
Alongside the blog, you can find shorter posts from Entrepreneur on Facebook and Twitter, and videos on YouTube.
22. Fast Company – Best Business Leadership Blog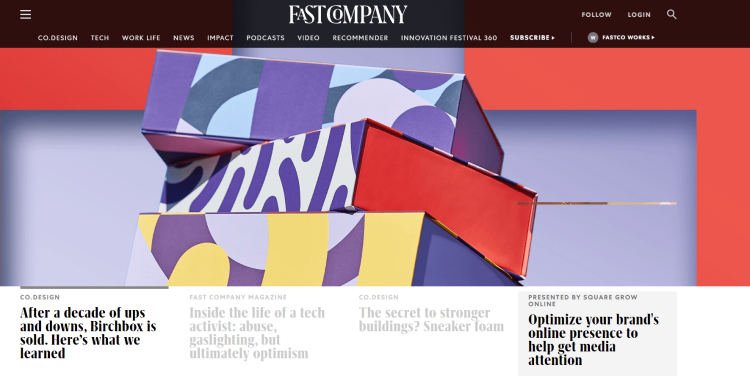 Fast Company was launched by Alan Webber and Bill Taylor, two former editors at Harvard Business Review, in 1995.
This media brand focuses largely on business leadership, technology, and world-changing ideas. If you're interested in which leaders are changing the business landscape, and you're keen to learn how to follow in their footsteps, check out Fast Company.
You'll find blog posts on a variety of topics, including work-life, news, and tech.
There are inspirational posts about successful business owners and tips and guides to help you reach your full potential as a business leader. Fast Company also has a podcast and shares videos for visual learners.
Some of Fast Company's most interesting recent posts include "How an eccentric engineer at the Beatles' record company invented the CT scan", "Bye Google: 7 privacy-first search engines everyone should try", "This is How to Close the Gender Financing Gap", and "Why Bill Gates gave away 4 million copies of this book to future leaders".
Fast Company has Facebook, Twitter, and Instagram accounts.
23. Business News Daily – Best Business Blog for Beginners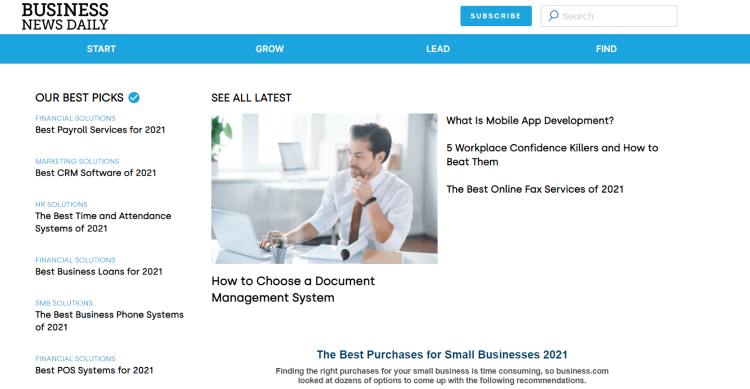 Business News Daily is a blog aimed at startup and early-stage business owners.
The blog offers guidance and news that supports small businesses in launching and scaling in today's fast-paced business climate. If you're looking to gain knowledge and skills to launch ventures, develop plans, and expand your company, Business News Daily is the right blog to visit.
What makes Business News Daily a particularly good platform for beginners is its dedicated "Start" section, which covers a range of topics on setting up a business, including business plans, ideas, startup basics and funding, franchising, and inspirational success stories.
You can also find posts on growing your business with sales and marketing, finance, technology, social media, and more.
Recent posts include "Best Business Loans for 2021", "Is Direct Sales the Right Career Path for You?", "What is C2B?", and "12 Cool Careers for History Buffs".
You can keep up with Business News Daily on Facebook, LinkedIn, and Twitter.
24. Small Business Administration – Best Small Business Blog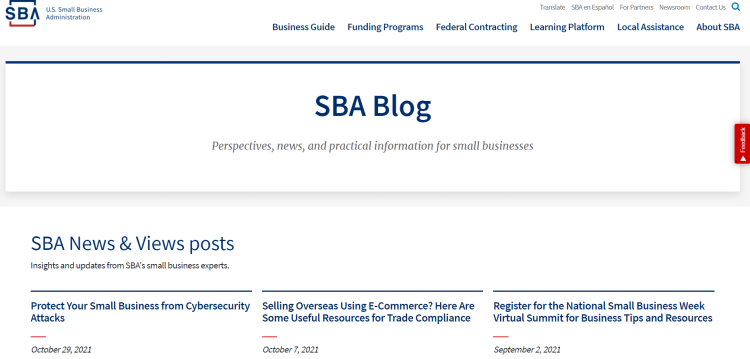 Small Business Administration was created in 1953, with the aim of helping entrepreneurs and small businesses achieve the American dream.
The website and blog offer business guides, funding programs, and local assistance, as well as free online support.
On the SBA blog, you can find news and practical information for the small business owner, on topics such as business growth, franchising, selling a business, financing, retirement, marketing, sales, and more.
There are also success stories to read if you're looking for a dose of inspiration.
Recent blog posts include "5 Ways to Start Selling Online", "Why a Business Line of Credit May Be a Smart Choice for Your Business", "Grow Your Small Business Through Exporting", and "Webinar Series Helps Women Entrepreneurs Learn About Government Contracting".
The Small Business Administration has accounts on Facebook, Twitter, YouTube, and more.
25. Sales Hacker – Best Business Sales Blog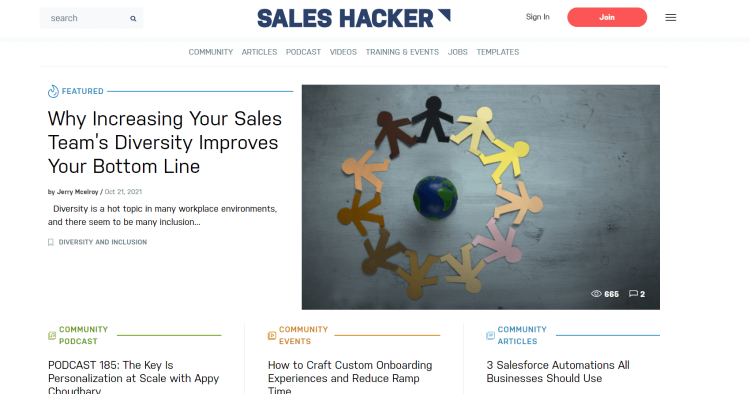 Sales Hacker is one of the leading blogs for sales professionals around the world, and is touted as the "world's largest community for B2B sales".
The blog was founded in 2014 and discusses sales hacks, tactics, and strategies that are currently being used by some of the most successful companies in the world.
On the Sales Hacker blog, you can find articles on career development, jobs and hiring, diversity and inclusion, sales development and engagement, training and coaching, sales management, and more. There are also articles, videos, and a podcast to delve into.
Recent posts include "How to Coach Your Team: Your Template for More Effective Coaching 1:1s", "When Over 50% of Your Prospects Go Quiet — Here's How to Get Them Talking Again", "How To Find Your Voice & Reach the Next Level In Sales", and "Don't Sit With Failure: Leadership Lessons with Anna Baird".
You can find Sales Hacker on LinkedIn, YouTube, Instagram, and more.
26. Small Business Trends – Best Blog for Small Business Owners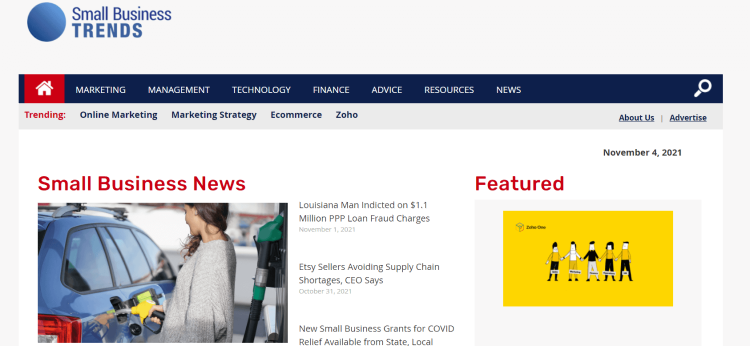 Founded in 2003 by entrepreneur Anita Campbell, Small Business Trends features over 20,000 pages of content, including news, reviews, and interviews.
The blog also offers trends, tips, and answers questions frequently asked by small business owners.
On Small Business Trends, you can find articles on subjects including e-commerce, digital marketing strategy, and advertising.
The site also publishes a digital magazine, checklists, and ebooks.
Recent blog posts include "How to Start an Amazon DSP Business", "10 Tips for Improving and Promoting Your Small Business Website", "Latino Business Owners Can Now Mark Their Google Profiles in New Partnership", and "5 Common Mistakes Small Businesses Make".
As well as the official website, you can also find Small Business Trends on Facebook, Twitter, LinkedIn, and more.
27. SmallBizDaily – Best Business Startups Blog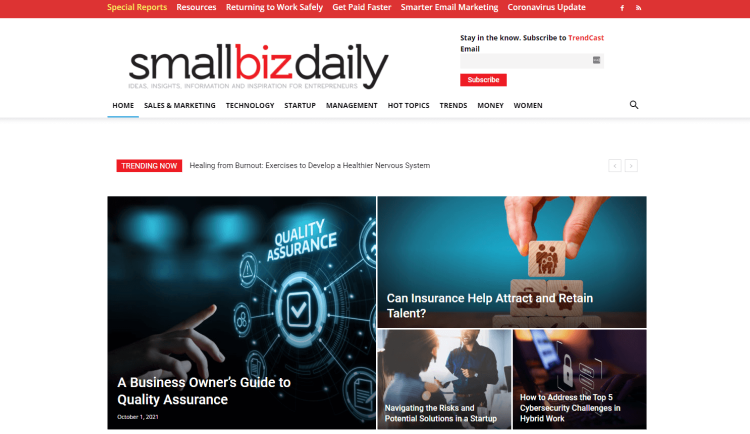 SmallBizDaily was founded by Rieva Lesonsky and Maria Valdez Haubrich, two female entrepreneurs who met over 30 years ago.
The blog combines the authors' experience in writing about entrepreneurship and founding their own business and is packed with tips, insights, and inspiration for the budding entrepreneur and startup business.
Topics covered on SmallBizDaily include sales and digital marketing, technology, management, trends, and hot topics, and money.
There's also a dedicated section for startups, discussing strategy, business opportunities and potentials, hiring team members, and more.
Some of the most popular recent posts on the "Startup" section include "4 Creative Side Hustles You Can Try in 2021″, "5 Little Changes That Bring Big Results to Your Business", "Navigating the Risks and Potential Solutions in a Startup", and "5 Key Things You Need to Consider Before Starting an LLC".
SmallBizDaily has Facebook, LinkedIn, and Twitter accounts.
28. Business Pundit – Best Free Blog for Business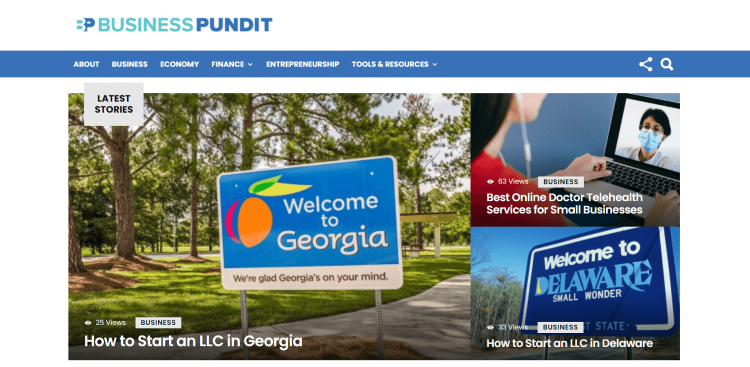 If you're just starting out in the world of business, you probably don't have the money to invest in resources to help you effectively manage and grow your company.
Business Pundit is a fantastic free resource that offers advice on starting and scaling a business in the US.
There are articles on a variety of topics on Business Pundit, including business, economy, finance, and entrepreneurship.
There's also a "Tools and Resources" section that offers advice on marketing and starting an LLC, and reviews on popular small business tools.
Recent posts include "How to Change LLC Name", "25 Small Business Ideas for 2021", "The Best Credit Cards on the Market", and "How Much Does an LLC Cost?".
You can find Business Pundit on Facebook.
29. FMLA Insights – Best Business Law Blog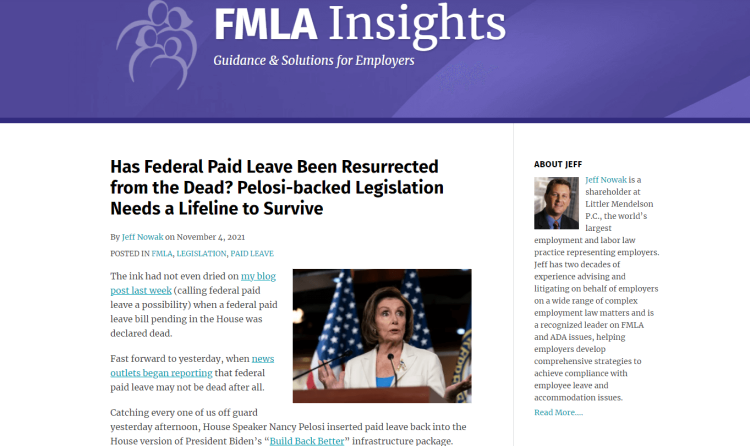 If you're looking for specific information on FMLA and ADA issues, FMLA is the go-to business blog to visit.
The blog was founded by Jeff Nowak, who is experienced in a range of complex employment law matters and is a recognized leader on the subject of FMLA.
The aim of FMLA Insights is to help businesses run the most efficient, profitable operations without being sidetracked by issues such as strikes and discrimination claims.
The blog focuses on every aspect of FMLA that you may be curious about or need to know.
Recent blog posts include "When an Employee Takes FMLA Leave During a Holiday Week, How Much FMLA Leave is Actually Taken?", "What's an Employer To Do When It Realizes It Failed to Designate FMLA Leave?", and "Can an Employer Grant FMLA Leave, but Also Discipline an Employee for Failing to Timely Report the Absence?".
You can find FMLA Insights on LinkedIn and Twitter.
I started out in business to make money and I have. But I found that money doesn't bring you happiness, doing something worthwhile for others is much more rewarding. – Neil Patel
30. Gaping Void – Best Business Innovation Blog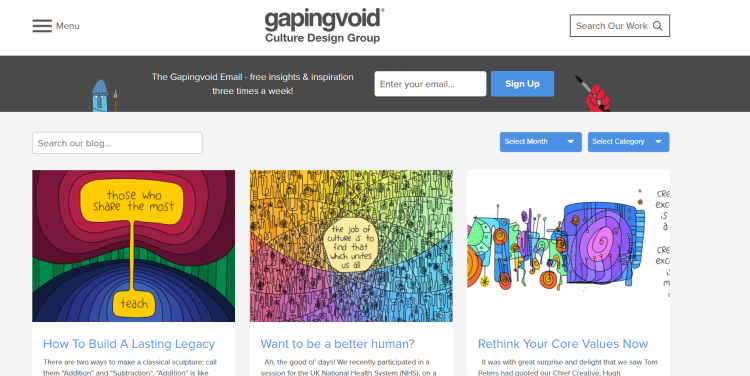 Gaping Void is a blog focused on strategy and innovation, offering expert advice on how to grow your business and achieve your goals.
This blog isn't your typical business blog; it looks in detail at topics that aren't usually covered in more "mainstream" blogs.
You can find posts on a broad range of topics, including mindset, change, common business problems, dreams, strategy, and space travel.
You can also read case studies on the Gaping Void website.
Recent blog posts include "The real reason we are racing to space", "Mindset Is Everything", "The Main Engine Driving The Ship", and "The Real Reason Culture Still Eats Strategy for Breakfast".
Gaping Void has Facebook, Twitter, and LinkedIn accounts.

You might be interested to check those related posts as well:
FAQ
Does my company need a good business blog?
It's not necessary for your company to have its own business blogging platform at all, let alone a good one. However, a successful blog can be incredibly beneficial, because it tells your readers (and potential customers) that you're an authoritative source on the topic they're interested in. Customers are more likely to buy from you if they trust that you know your stuff.
What companies use blogs?
Companies in all niches use blogs. In fact, it's rare for a business not to have a company blog nowadays. A corporate blog can become an essential factor in a larger digital marketing strategy. Businesses in all industries, both B2B and B2C, utilize blogs to increase traffic and inspire their audience.
What is the best way to prepare yourself for entrepreneurship?
If you're considering switching from corporate employment to being your own boss, congratulations! The best way to prepare for this exciting time is to carefully plan your business strategy in advance. If possible, sample your new business venture as a side-hobby or part-time job for several months first, which will give you hands-on experience before you make the big switch.
How dependable is the information in these blogs?
Many of the best business blogs are written by business experts and big names in the industry – in short, people who have been there, done that. You're most likely to find blog posts based on tried-and-tested methods, but it's important to remember that many aspects of business are circumstantial.
While the information in these blogs is dependable, keep in mind that your own circumstances may be different.
Do you need to read about business strategies?
You don't need to read about business strategies – but it certainly helps. You're less likely to achieve your business goals if you wing it. Understanding the processes you need to follow, and why you need to follow them, will help you to reach your desired outcome faster.
Final Words
If you feel inspired and you want to start your own business blog, you could read this guide on How to create a blog in 2023 and follow the steps.