ERP is the acronym for Enterprise Resource Planning. It is a way of managing all human resources and processes in the value chain. It can include many aspects of a business including production, financial activities, order processing, supply chain, customer relations, and trade.
The following ERP statistics will show you how important ERP has become and what it can do for your business.
ERP Market Statistics 2023
The ERP software market grew globally by 9% in 2019.
In 2019, the worldwide value (total software revenue) of ERP software was roughly $39 billion.
In North America, the ERP market is worth $10 billion.
IT decision-makers stated that ERP investment is a priority.
By 2026, it is expected that the global ERP software market will reach $78.4 billion.
Microsoft Dynamics 365 has a 49% edge over its competitors in terms of market share.
65% of small businesses now take advantage of ERP consultation services.
ERP Statistics by Industry 2023
In 2019, revenue growth for financial management software was 7%.
In human capital management, the growth was 10%.
A significant percentage of ERP market growth is in the retail and government, defense, and aerospace utility sectors.
ERP is considered the main priority for many financial firms, with 64% aiming to implement it within three years.
IT decision-makers consider ERP systems a crucial investment.
ERP Application and Implementation Statistics 2023
67% of manufacturers and distributors consider their implementation of ERP as being successful or very successful.
Primary reasons for implementation success are internal organizational elements such as management support, due diligence, and effective change management programs.
Only 12% of respondents gave poor quality software as the reason integration went wrong.
49% of companies said they experienced improvements in all business processes, following the implementation of ERP.
The fastest implementation periods were experienced by midsize organizations with $100-$250 million in revenue.
Small businesses can save at least 21% of expenses when negotiating with ERP service providers.
87% of companies require guidance when implementing ERP.
Companies spend, on average, 17 weeks choosing an ERP.
Cloud Technology Statistics 2023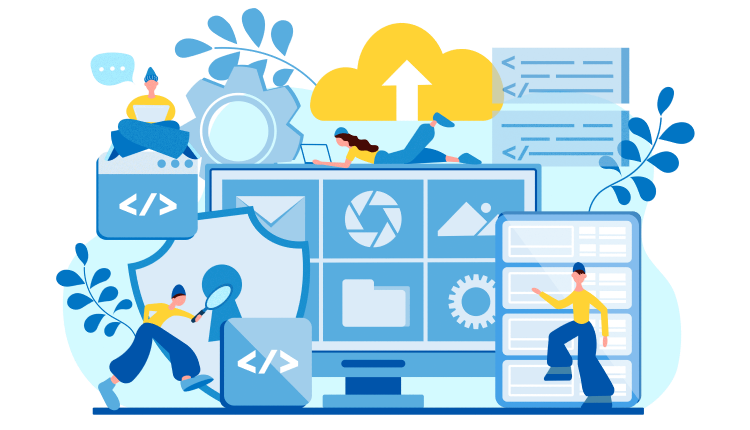 The enterprise application growth rate for cloud-based ERP systems was 21%, in the public cloud.
Estimates are that global cloud app spending will reach $226.9 billion by the end of 2022.
Spending on cloud platform services will reach $70 billion.
More than 50% of organizations using ERP software use solutions that are cloud-based.
Minority companies choose not to use a cloud ERP because of the risks of data loss, security breaches, and lack of information.
Just 1% of businesses have no cloud infrastructure.
ERP Usage Statistics 2023
The #1 users of ERP software are manufacturing companies.
Other industries most likely to use ERP software are distributors (18%), services (12%), and construction (4%).
A survey of companies looking to purchase ERP software found that 89% considered accounting to be the most critical function.
The average ERP software budget per user is $9,000.
The top reason for implementing ERP is increased efficiency (35%).
27% of company employees use its ERP system.
After using ERP, 95% of businesses enjoy major improvements.
A modern ERP system can increase on-time deliveries by 24%.
ROI is achieved within 12 months by around 28% of organizations.

ERP Challenges
It has been found that 50% of ERP implementations are a failure, the first time around.
Implementation costs are generally three to four times what was originally budgeted for.
The implementation process can take 30% longer than originally planned.
ERP systems fall short in the area of analytics, user experience, and data accuracy.
A major barrier to change is employee resistance (82%).
ERP project budgets can skyrocket by 50% because of testing and other similar processes.
44% of organizations consider their ERP inflexible.
ERP Trends
65% of CIOs are predicting that AI will be integrated into ERP systems this year.
In the UK, just over half of CIOs would like more intelligent ERP systems with features such as AI, automation, and machine learning.
The most critical ERP technologies for gaining a competitive advantage are deep learning and predictive analytics, according to CIOs.
43% of market leaders would like new and upgraded technologies in their ERP systems making operating them quicker and upgrading them quicker.
You might be interested to check those related posts as well:
FAQs
What are the main causes of ERP failure?
The main reasons businesses fail when implementing ERP solutions include a lack of adequate resources, inexperienced consultants, secondary customization, project management issues, and a poor implementation strategy.
What is the success rate of ERP?
Manufacturers and distributors are the major users of ERP and 67% rate their implementation process as successful or very successful.
What percentage of ERP systems are in the cloud?
53% of organizations that use ERP software use cloud-based solutions rather than on-premise platforms.
Conclusion
If you're a forward-thinking organization, it's possible to enjoy the benefits of ERP such as cost savings, quick deployment times, and increased efficiencies. Cloud-native ERP systems will open the door for you, regardless of the size of your organization.
Sources:
Oracle NetSuite
EPC Group
G2 Learn Hub