If you're thinking of starting a coffee-based business you should make yourself aware of the following coffee statistics for startups. They will help you create your business plan and marketing strategy.
The recent pandemic had quite an impact on the coffee shop industry, but now that restrictions are lifting, things are already looking rosier.
Coffee Statistics for Startups: Coffee Shop Market Statistics 2023
There has been an increase in the pickup and curbside orders of 5,380%.
25 to 34-years olds are the biggest coffee shop spenders, on average, they spend $2,688 every year.
It is projected that revenue in 2022 from the global coffee industry will be $90,277 million.
More than 50% of independent coffee shops will close in their first five years of business.
Coffee Shop Industry Statistics 2023
Over the last five years, there has been a 2.4% growth in the number of coffee shops in the US every year.
Figures for 2022 record 65,410 US coffee shops.
In the US, the number of coffee shop employees is expected to rise by 3.8% every year until 2025.
The US has 17,537 coffee-related jobs.
On average, businesses involved in coffee production retain four to five employees.
The quality of a small coffee shop's coffee has nothing to do with its closure, in 99% of cases.
By 2030, projections are that worldwide coffee consumption will increase by one-third
One of the fastest-growing restaurant industry concepts is coffee shops and by 2025, expectations are that the global market will reach us$ 237.6 billion.
Coffee Consumption Statistics 2023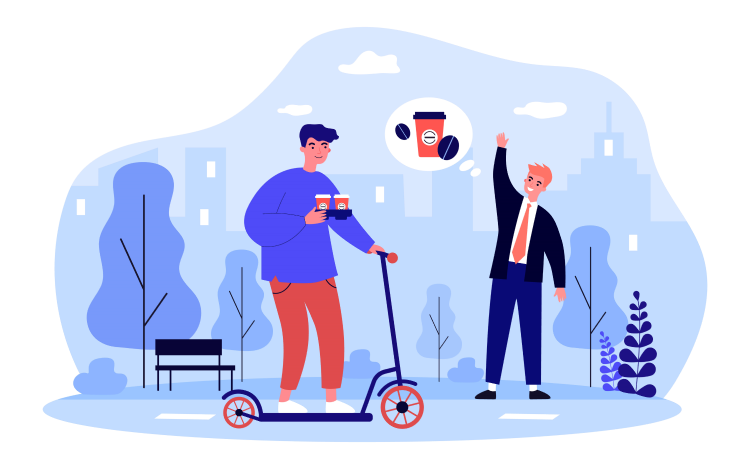 28% of US businesses and 41% of US homes have single-cup coffee brewers.
70% of US residents prefer to make coffee at home.
On average, US coffee drinkers drink two to three cups per day.
Millennials prefer to drink gourmet coffee and espresso-based drinks more than two-thirds of the time.
In 2022, global figures for purchases of roasted coffee are $73,935 million.
Global figures for instant coffee purchases are $16,342 million, in 2022.

There is never a bad time to start a business ~ unless you want to start a mediocre one. – Gary Vaynerchuk
Average Coffee Shop Startup Costs 2023
Depending on the size of the coffee shop, the services, equipment, and other considerations, the average cost is between $80,000 and $300,000.
High-quality equipment for a start-up coffee shop can total $10,000 or more.
Modern POS software for a start-up coffee shop costs between $50 and $200 monthly.
Associated POS hardware costs, on average, $1,200 to $4,000.
60-65% of prime start-up costs go to labor.
The average margin for regular coffee drinks is 15-20%.
The average margin for specialty coffee drinks is 12-18%.
Start-up costs for a mobile coffee cart start at just $60,000.
Marketing Trends for Coffee Shops 2023
Gen Z makes up the new wave of coffee drinkers with almost half of 18 to 24-year-olds drinking coffee.
Cold brew coffee has become a 29 million-dollar market in the US.
Custom ordering is on the rise and a trend that should be taken advantage of.
The fastest-growing segment in the European food service industry is specialty coffee shops.
Coffee Trends
59% of coffee consumed on a daily basis is gourmet coffee.
Twice as many people prefer regular coffee over espresso-based drinks.
20% of US coffee drinkers choose iced coffee once per week.
In 2020, global coffee sales decreased by 3.8% compared to the previous year.
You might be interested to check those related posts as well:
FAQs
Who leads the coffee industry?
In 2020, Starbucks was the leading coffee chain in the US, with Dunkin' in second place.
What is the success rate of opening a coffee shop?
A survey conducted in 2019, of coffee shops in the US, found that in the first five years, 50-74% of independent coffee shops would fail.
How profitable is a local coffee shop?
Your local coffee shop is not as profitable as you might think. The average net profit of a coffee shop is around 2.5% of sales, excluding the owner's salary.
Conclusion
Coffee consumption is on the increase and the industry is diversifying there's no denying these facts and the stats support this. However, if you want to take advantage of the coffee shop trend, the truth of the matter is that it will take a lot of hard work, long hours, and a certain amount of flexibility.
If you want to make real money, you've got to compete with the big guns and that means opening multiple shops.
Sources:
Fits Small Business
Coffee Affection
E-Importz
SmallBizGenius
LightSpeedHQ
Poster
Statista