For many people, a big priority this year is going to be making money online. There are a wealth of opportunities available, and for many of them, all you need is a smartphone and access to a reliable internet connection.
If you want to earn extra money easily, keep scrolling. To save you some time, I've created this list of side hustle money-making apps. All you've got to do now is find one or two you like the sound of and try them out.
What Apps Give You Real Money?
Side hustle apps might sound like a scam, but you really can make money online using your smartphone. First, however, you have to find the right app. There are many apps that pay real money for viewing ads, shopping in certain stores, taking surveys, and much more.
Make Money With Survey Apps 2023
One of the easiest ways to earn money online is by completing surveys. They don't require a massive amount of time. You can download as many as you want, receive notifications when a new survey is released, and complete the surveys on the go. Here are my top survey apps for 2021.
Google Opinion Rewards
This is Google's very own survey app, and you can earn points by taking part in surveys and audience measurement. Audience measurement involves sharing your TV usage. You'll need to connect your TV to a few products, but Google provides these.
The rewards for taking part include Google Play credits or PayPal payments for the surveys. For audience measurement, Google rewards you with gift cards. You can expect to receive between $0.10 and $1.00 per survey completed.
Both Android and iOS users can sign up and receive rewards.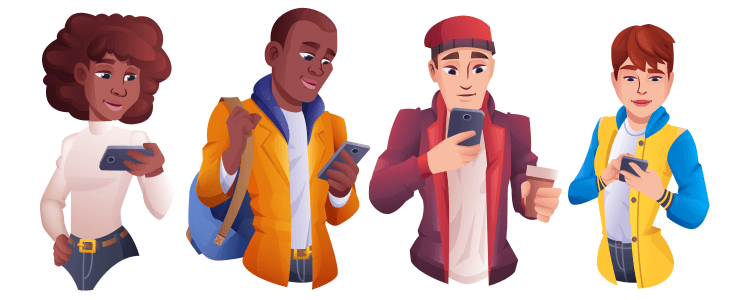 Survey Junkie
This is an excellent app if your time is limited and you want to earn a few bucks when riding the subway to work, watching Netflix, or waiting in line at the grocery store. You can join this free online community using an Android or iOS device and get paid for completing online surveys. Rates are $2.50 per hour, and the minimum payout is $5.
Well-known brands pay Survey Junkie to research target audiences and help test new product ideas.
Toluna
If you like to share your opinion on things and influence companies' future decisions, this could be the app for you. The app is available for Android and iOS users, and they've based it around the theme of brands. Surveys take a couple of minutes to complete and are worth 100 points.
On average, Toluna rates are $0.74 per hour. There are also daily lotteries you can participate in, with the chance to win a million points, equivalent to around $300. You receive your payment via PayPal or a gift card.
Dabbl
Dabbl is an app you can download for your Android or iOS device that allows you to turn your downtime into gift cards. You earn money by answering surveys, playing games, and watching videos.
Dabbl earns ad revenue from its partner brands and helps them conduct market research to target their customers effectively. You can expect to receive between $0.02 to $0.10 per survey. Your rewards are limited to $5 or $10 gift cards.
CashKarma
Download this app onto an Android or iOS device, and you can make money by completing surveys, watching videos, or taking advantage of various offers and deals. You get paid in points that you can redeem for cash via PayPal or through various gift cards, including Amazon.
How much you earn depends on the task, but 300 points are worth around $0.22. Before you start taking surveys, you first have to answer an initial short survey questionnaire for each of CashKarma's partners. This determines what surveys you're eligible for.
FeaturePoints
FeaturePoints is a mobile app that allows you to make money from various easy tasks, one of which is completing surveys. The app is free, and you can download it for both Android and iOS devices.
Other options for making money include downloading free apps and trying them out, watching videos, shopping online, referring new users, and participating in contests and offers. If you concentrate on downloading apps, doing surveys, and tasks like that, you could make $20-$30 per month.
You receive payments via gift cards, PayPal, and bitcoin.
Surveys On the Go
Surveys on the Go is an app that pays you for your opinion. Once you've downloaded the app onto your Android or iOS device, you start by completing two simple surveys that ask for basic information about yourself, your family, and your personal preferences.
Most surveys pay $1-$5, with some paying as much as $10. Before you can cash out any earnings, you have to earn a total of at least $10. You redeem your earnings via PayPal, Visa prepaid card, Amazon, or Starbucks gift cards.
Zap Surveys
Zap Surveys is another app that partners with brand research companies looking for customer feedback on new products and customizing advertising campaigns. Zap rewards you with cash for your opinion.
The money you earn is deposited into your PayPal account, or it can be redeemed as an Amazon e-gift card. You can expect between $0.05 and $0.10 for a short survey. However, one thing that makes this company stand out is that they also donate to charities that fight child hunger worldwide.
You can download the app for free using any Android or iOS device.
Poll Pay
Poll Pay is available for both iOS and Android and is a great way to earn extra bucks if you've got some spare time now and then. Use this mobile app, and you can get money and rewards in exchange for completing surveys.
The surveys take no longer than 15 minutes and consist of short and simple questions. You can earn between $0.50 and $2 for each survey you complete.
Qmee
Qmee is a browser extension that is also available for your iOS and Android mobile devices. Once you've installed it, your web browsing experience is augmented. The extension looks at where you go online and what you search for.
You earn income from searching and shopping, but also for completing surveys. You can expect to earn, on average, $1 per hour. Qmee pays you to a linked PayPal account, and you can request a payment at any time. Alternative payment methods include a gift card or a charity donation.
SurveyMonkey Rewards
With SurveyMonkey, you can take your side hustle with you wherever you go. Download the mobile app for free, and you can complete the surveys anywhere.
Take part in short surveys to earn gift cards or donate to your favorite charity. For a short survey, you can earn up to $0.35 per survey. This app is only available in the US, but it is available for iOS and Android devices.
QuickThoughts
This is one of the smaller apps on my list, but it's still worth considering. The app is available for iOS and Android and allows you to complete a maximum of five surveys per day. There are also several location-dependent activities you can make money from.
On average, you can expect $1 per survey, with the possibility of earning as much as $5 t $10 per hour. You redeem your earnings via Amazon or iTunes gift cards, but you need to build up a balance of $10 first.
Crowdtap
Crowdtap is an online community that rewards people for sharing their opinions and views. The app is available for all iOS and Android devices. Crowdtap works with well-known brands, and you earn points by answering survey questions, participating in discussions, and product testing.
It depends on the offers you qualify for, but you could earn up to $20 per month. When you've gained some points, you can redeem them for various store gift cards.
i-Say
i-Say is a top-rated survey site. It allows you to trade your opinions for cash. This survey site is run by Ipsos, international market research and consulting firm with its headquarters in Paris, France. You complete surveys and also engage in certain activities.
These help Ipsos understand consumer preferences. In return, you get paid with points that you can redeem for prizes, cash, or contest entries. Complete a survey, and you can earn from 20 to 100 points and 100 bonus points for a referral. The platform is available for both Android and iOS devices.
i-Poll
i-Poll surveys tend to center around the places you go and the service you use. Some of the tasks you participate in include taking pictures, testing products, and visiting shops. Use this app for just a few minutes every day, and you could earn as much as $50 every month.
Once your earnings have reached a total of $25, you can withdraw them. You redeem your points for gift cards, airline credits, or via PayPal. Sign up for the platform using an Android or iOS device.
1Q
1Q pays you or a charity of your choosing instant money for answering a simple question. For every question you answer, 1Q pays $1. Payments are immediately made to your PayPal account, so you don't need to wait to cash out.
1Q allows companies to interact with their customers and engage with an audience in real time based on who they are or where they are. The app is available for iOS and Android, and it sends questions, surveys, polls, promotional offers, and coupons to your mobile phone.
Pinecone Research
Pinecone is not the most popular app because many users prefer to use it on their desktops. The app, however, is available for iOS and Android.
Some of the surveys you can do involve product testing, so there is a possibility of getting some freebies. You're paid in points, and for one survey, 300 points are around $3. The minimum cash-out option is just $1.
Swagbucks
Swagbucks is one of the biggest names when it comes to surveying apps. It mostly operates as a website and browser plug-in, but you can download an app for your iOS or Android device. There are always lots of surveys available, but you might find you're not eligible for some of them.
You can also earn your Swagbucks through a wide range of other activities, including signing up for a newsletter, fulfilling an offer, playing games, or watching videos. Users of this app have reported earning as much as a few hundred dollars a year.
Money Machine
The Money Machine app is available as a free download for your iOS or Android device. The app focuses on surveys, but you can also earn money by watching videos and completing other small online tasks.
You receive notifications to let you know when offers are available, and once completed, the rewards can be transferred to your PayPal account as cash.
UserFeel
UserFeel is a UK and Germany-based company specializing in website and app optimization. You earn money by registering on their site and becoming a tester. You test UserFeel partner sites and provide feedback. In exchange, you receive compensation for completing the test.
For every test, you get paid $10. You receive your rewards via PayPal or convert them into Amazon gift cards. The platform is suitable for both Android and iOS.

Become a Successful Freelancer With Side Job and Gig Apps 2023
An increasing number of people are starting to make additional money through a side hustle. A side hustle is a great way to boost your cash flow.
Upwork
Upwork is a platform where you can hook up with individuals or businesses looking to get work done. It's a great place for freelancers to find work and connect with prospective clients. Upwork makes it easier to find jobs and make money, but you have to think carefully about which gigs you want to apply for.
The average hourly pay via Upwork is around $15.32, which is below the national average. Upwork charges fees for its service. For the first $500 you bill to your client the fee is 20%.
For total billings between $500.01 and $10,000, the fee is 10%. For total billings of more than $10,000, the fee is 5%. You set up your profile using an Android or iOS device.
PeoplePerHour
PeoplePerHour is a popular global freelance job board where clients post work requirements and freelancers find jobs. If you find a job you're interested in, you make a bid for the project. Alternatively, you can post 'offers' for a fixed fee.
How much you can earn depends on you and the work you choose. But you could make up to $150 per hour. Peopleperhour does charge a commission fee of 3.5% for every transaction made using the platform. Use an iOS or Android device to set up your profile and start looking for work.
Freelancer
Freelancer is one of the largest crowd-sourcing marketplaces, with 32 million registered users. There are thousands of jobs to choose from if you're looking for a freelance position.
Registration is free, and hundreds of new vacancies are posted every day. Freelancer rates vary considerably, ranging from $3 to $10 per hour, right up to $10,000 per job.
Browse what's available using the downloadable app for iOS and Android. Freelancer charges for its service, depending on the type of project you're completing. For projects with a fixed price, the fee is 3%. Projects that are paid on an hourly basis are charged at 3%.
Indeed
Indeed is a job search app you can use if you're looking for work. It is available for iOS and Android, and you can use it to peruse the database of millions of positions worldwide. Filter your search depending on your preferences. You can even use GPS to find a position in a city near you.
The app also includes alerts, reminders, and the option to send resumes. An average salary for a position secured via Indeed ranges from $25,000 to more than $150,000 annually, depending on the role.
Monster
Download the Monster Job Search app for iOS and Android. Features of the app include the option to swipe to apply or pass on any vacancies, get alerts when an employer wants to interview you, and an in-app career concierge.
Using the app, you can sift through millions of jobs around the world. Salaries for Monster jobs range from $37,000 to more than $70,000 per annum.
Fiverr
Fiverr connects businesses with freelancers offering digital services across 300+ categories. The Fiverr community is very competitive, but the work available tends to be low-paid.
You can use the platform to showcase finished projects. It even offers free learning courses to develop your skills and teach you how to pitch to clients. Use your iOS or Android device to see what's available. Use Fiverr to look for gigs, and you can earn 4 dollars per gig. This is because Fiverr takes $1 for providing the platform.
Truelancer
Truelancer is a platform that brings freelancers and employers together. It offers online jobs, work from home jobs, virtual assistance jobs, and a whole lot more. Earning money on Truelancer is easy.
You can access the site from a browser, Android, or iOS device. Truelancer charges freelancers a project fee which is based on the type of membership they have. It ranges from 3% to 10% per project.
Clickworker
Clcikworker is a job site that's been offering jobs for years. Tasks are offered based on your profile which you can update after signing up for Clickworkers. You can upload any certification you have to improve your chances of bagging a job. On average, Clockworkers earn around $8 per hour.
Members are accepted from around the world, and the minimum cashout is $10 through PayPal. Download the app for Android or iOS.
Instawork
If you're looking for something in the food service or hospitality industry, Instawork might have the job for you. It's both a website and an app where you can find flexible work.
You can work when you want to, accept shifts that fit your availability, and the app handles everything else, such as the paperwork, insurance, and payments. For providing such a service, Instawork charges $10 per shift. Download the app for iOS and Android devices.
Sell Your Things or Rent Them Out 2023
Have you heard about the latest minimalist movement? The aim is to declutter your home, your mind, and your life. It's also the perfect opportunity to earn some side money. And if you can't bear to part with particular possessions, free up some space and rent them out instead.
Fluid Market
Fluid Market allows you to make income from renting vehicles to your neighbors. You can rent out anything from a pickup truck to a Model T Ford. Vehicles can be rented hourly, daily, or weekly.
Use the app to make a listing, including photos, descriptions, specs, and rates. Fluid Market says that lenders make on average $331 every month. Download the app for iOS and Android devices.
Mercari
Mercari is a marketplace platform. You can use it to sell almost anything, as long as the item can be shipped. In-person meetups are not encouraged. Instead, sellers are encouraged to send their merchandise to buyers. Mercari also processes the payments, using identity verification and reviews to ensure everyone is fully informed.
To sell on Mercari, you follow a few steps using the app, which is available for iOS and Android. If you've got a steady supply of items to sell, it's possible to earn anything from $50 to $500 every month.
OfferUp
OfferUp is a selling app that helps widen the audience for things you want to sell. You have the option of shipping your items in the mail, but there are seller fees for shipping.
Simply set up a profile and list the items you want to sell. You can use this app to get rid of just about anything from electronics to furniture and clothing. The app is available for iOS and Android.
Poshmark
If you've got piles of clothing in good condition, Poshmark is an online selling site you should consider. Listings for adult and kid's clothing are free, and Poshmark sends a free pre-paid shipping label when you sell an item.
Users have reported being able to earn between $300 and $1,000 every month. A selling app is available for iOS and Android.
Decluttr
This is an app for iOS and Android that buys unwanted items as long as they're in good condition. Use the app to sell DVDs, CDs, tablets, old phones, and other electronic items. Use the barcode scanner that comes with the app, and you'll get an instant quote from the company.
The amount you get offered varies considerably, and it depends on the item and its condition. You also get a printable, prepaid shipping label, and a box if you don't have one. Payments are timely, via PayPal or direct deposit.
LetGo
LetGo is an app for iOS and Android that helps you list and sell your stuff locally. You post your items for free and can sell just about anything, from clothing to cars.
Simply take a few photos and list your item. It then appears in your local area based on your ZIP code. When you find an interested buyer, you arrange a meeting place, finalize the prize, and the buyer brings the cash.
5miles
With the 5Miles app, buyers can filter listings within 5 miles of their current location. Use this app to sell all kinds of items and list services, jobs, and garage sales.
There's also a section where you can list online skills such as online training, celebrity impersonations, pranks, and stunt performances. This app is very convenient as you can download it for your iOS or Android device.
VarageSale
VarageSale is a user-friendly selling app for both iOS and Android. The app has selling communities all around the world. Sell products that are new or used, and list them for free.
Anything you might find at a garage sale you can sell here. Safety is a priority, and both sellers and buyers have to create a profile that includes a picture and a name.
Tradesy
Available for iOS and Android, Tradesy is an app for selling clothing. The app allows you to upload photos of your clothing, provides pre-paid shipping labels, and charges a flat fee, so you know just what to expect with every item you sell.
Vinted
Vinted is an online selling app for selling and swapping clothing. It works out to be very cost-effective when you swap clothing with another user. When you sell items, you have to pay a commission. You can expect the best return on designer brands of higher value and those that are less common.
You can expect to make, on average, around $150 per month if you sell items via Vinted. Vinted accepts credit cards so that you can sell out-of-state. Download the app for iOS or Android.
Airbnb
If you've got a guest room in your home that sits empty most of the year, you should consider renting it out via Airbnb. It's a great way to make passive income. Use the app for iOS and Android to create a listing.
Take a few photographs of the accommodation, add a description, and how much people have to pay. According to research, Airbnb hosts make, on average, a little less than $1,000 per month.
BookScouter
Using the Bookscouter app for iOS and Android, college students can buy and sell their textbooks for cash. You simply enter the ISBN of the book you want to sell, and you'll see what companies want to buy your books.
You then go to your chosen book-buying company's website, enter your books, verify the prices, and create an order. Pre-paid postage labels are provided for you to send them off.
Etsy
Etsy is an online selling hub for arts and crafts and is an excellent platform if you've got the right products. Its focus is on unique items from independent sellers. You can sell locally or ship your items further afield.
You have to pay to list an item on this site, regardless of whether it sells, although the fee is very low at only 20 cents. There's also a 3.5% transaction fee to pay. The Etsy app is available for iOS and Android.
eBay
eBay is possibly the most prominent online marketplace. It's been around for many years and has an easy-to-use app for iOS and Android.
The app lets you take snap photos of the items you want to sell and list them. You have the option of listing your items on auction or giving them a "Buy it Now" price. Use this platform to sell just about anything, including real estate.
Fat LIama
Fat Llama is a peer-to-peer rental platform. It connects people who want something with people who have what they want. If you're going to lend something, you create a listing for the item using the iOS or Android app.
When rental requests come in, you check them out, approve the ones you want to accept and arrange a time to exchange your item.
Payment is through the Fat Llama secure payment system. Depending on the things you're renting out, you could make several thousand dollars every month.
Foap
Foap is a free photo app available on iOS and Android. The app allows you to sell your photos for cash. Once you've uploaded your pictures to the Foap app, they become available on the Foap Market to millions of photo buyers all over the world.
Foap takes 50% commission, so you end up with around $5 for each photo you sell.
Invest in Stocks and Trade in Your Receipts for Extra Money
How many times do you open your wallet only to discover it's packed full of receipts? You might not have realized, but you can turn those receipts into cash.
Investing in stocks is another great way to make money online. Did you know that you can even buy stocks from Disney or Airbnb or even Amazon? Here are some apps that will help you.
Ibotta
Ibotta is a free cash-back shopping and mobile coupon app. It's available for iOS and Android. Using the app, you have the opportunity to earn cash back on select products by performing easy tasks, purchasing the product, and providing proof of purchase.
ReceiptPal
ReceiptPal is an app for iOS and Android that lets you submit photos of your receipts in exchange for rewards. The creator of ReceiptPal is the NPD Group. This company does market research which helps businesses understand their customers better. Your receipts need to be for consumer goods, and they earn points.
Points are exchanged for gift cards from popular retailers. Using this app, it's possible to earn up to $100 every year.
Fetch Rewards
Fetch Rewards is a free shopping app. This app awards points in exchange for you scanning your receipts. These can be redeemed for gift cards. Receipts are accepted from many types of stores, and at any given time, the app features certain brands and products. Download the app for iOS and Android.
Checkout51
Checkout 51 is a free cashback app for iOS and Android. Checkout 51 partners with hundreds of different brands and is continually adding new offers. It helps you save on household products, personal care products, pet products, and snacks.
You should be able to earn up to $10 per month with this app, possibly a little more.
Receipt Hog
Receipt Hog is a free app that allows you to cash in by uploading pictures of your receipts. Available for iOS and Android, the app allows you to earn coins and then redeem them for cash, with PayPal or a gift card. Make a purchase at any store, cafe, or restaurant.
You then use the app's camera to take a photograph of the receipt. Each receipt you snap earns around ten coins, and 1,000 coins are worth $5 in gift cards or cash.
SavingStar
Use the SavingStar app for iOS and Android, and you'll save money on your groceries. Unlike other rebate apps, SavingStar focuses purely on on-store rewards. However, most SavingStar partners require linking to a loyalty card.
Acorns
Acorns is an investment service. It allows you to invest large and small amounts in a portfolio of exchange-traded funds. It's perfect if you prefer a hands-off investing experience.
Using a series of questions, the app determines how to allocate your assets. You can open an Acorns account using the iOS or Android app.
Webull
If you're interested in stock trading, this iOS and Android app might be for you. You set up an account using the app, and you also use the app to fund your account with an ACH bank transfer. No minimum deposit is required. Features such as news, real-time market data, analysis tools, and trading commissions are all free.
YieldStreet
This online platform offers investors access to alternative investments in commercial real estate, marine projects, and even art. Minimum investments typically start at $10,000. You can download the app and manage your investments on the go using an iOS or Android device.
Fundrise
Fundrise is an online real estate company that provides access for investors to private real estate deals. Using the iOS or Android app makes it easy for you to become a real estate investor. However, you must understand each investment's risks and underlying costs.
Make Money Delivering Stuff
The gig economy continues to expand, and one area that is exploding, particularly during the coronavirus pandemic, is the need for delivery drivers. Many companies are hiring, and here are some of the top apps you can use.
Amazon Flex
Amazon Flex is a courier service from the e-commerce giant Amazon. Driver for Amazon Flex, and you'll be making deliveries for Amazon.com, Amazon Fresh, and Prime Now. Your driving shift could see you delivering dinner, gifts, or groceries.
The service operates across the US, and to be a driver, you need a car, a smartphone, and to pass a background check. Once you've completed a questionnaire, you can download the iOS or Android app. Most Amazon Flex drivers earn between $18 and $25 per hour.
Postmates
Postmates is a food delivery app that hires drivers to deliver groceries, restaurant meals, and personal items to customers. You're paid by the mile, your time while waiting for orders, and the number of orders, you complete in an hour.
You also get to keep 100% of your tips, which is one perk that sets this company apart from other delivery services. Once you've passed all the checks, you download the app for iOS or Android, activate your prepaid card, and start making deliveries. As a Postmates driver, you could end up earning between $8 and $12 per hour.
DoorDash
Use the DoorDash app for iOS and Android, and you'll be paid for delivering food to customers from local restaurants. Customers place an order through the app. You pick up the order and take it to their home, office, or other location. You get paid $2 to $10 per delivery plus tips.
Instacart
The Instacart app is available for iOS and Android and offers users a full-service or in-store service only. A full-service shopper shops for orders and delivers them to customers.
An in-store shopper prepares orders for the customer to pick up from the store. When you download the app, you can decide which type of shopper you want to be. Instacart guarantees you'll earn at least $5 for a delivery-only order and $7 to $10 for a full-service shop.
Ubereats
Ubereats is an online food ordering and delivery app for iOS and Android. You have to download the app and register to become a driver. There are some forms to complete and documents you have to upload for a background check.
Payments are made directly to a debit card or your bank account. You can make deliveries by car, scooter, or bike, and you'll be paid around $3 for each successful delivery.
Shipt
Shipt shoppers shop on behalf of customers and deliver their groceries within an hour. You have to provide basic information and then wait for approval. Once approved, you download the Shipt app for iOS or Android and go through some training.
You also need to pass a test before you become an official Shipt shopper. Once you've got some experience, it's possible to make up to $22 per hour.
Grubhub
GrubHub is a food delivery service that's available in more than 4,000 areas. Customers order food from local restaurants using the app, website, or phone.
Their order is delivered by GrubHub drivers. Download the iOS or Android app, and once you've completed the initial application, you can set your shift hours or work in blocks. As a GrubHub driver, you can earn between $12 and $13 per hour.
Caviar
Caviar is a food ordering and meal delivery service specializing in local and independent gourmet and fine dining restaurants. To become a delivery driver with Caviar, you need to download the iOS or Android app and complete an online application.
If you're accepted, you receive an email inviting you to attend an in-person or remote orientation. Pay for this side gig is around $20 per hour, plus you get to keep your tips.
Handyman Gig Apps
A handyman is someone who can do lots of things, from simple plumbing and home repair tasks to furniture assembly and everything in between. If you think you've got what it takes and can offer handyman services, here are some apps you might find useful.
Handy
Handy is the gig economy app for cleaners and handymen. Use the iOS or Android app to connect with clients who want assistance around the house. You choose when and how much you want to work. Payments are deposited directly into your account as soon as the job is complete.
Thumbtack
Download the Thumbtack iOS or Android app, and you can create a profile for yourself, list your services, and respond to leads. Once you're listed, customers can find you. The app then asks customers specific questions about their job and matches them with the right handyman.
TaskRabbit
TaskRabbit is a platform owned by IKEA. Potential customers use the app to search for a handyman who can fix a few things around the house. To become a Tasker, you pay a non-refundable registration fee.
You also have to meet a few requirements. An app notifies you of any potential job near your location, and if any of them suit your schedule, you express interest. The app is available for iOS and Android.
Mystery Shopping Apps to Make More Side Money
Market research companies use mystery shopping. It is also used internally by businesses and watchdog organizations. A mystery shopper is someone who visits stores incognito to gain access to goods and services that they then report on and review. Here are some mystery shopping apps that pay for those findings.
Shopkick
With the Shopkick app for iOS and Android, you earn "kicks" at stores by merely walking in, scanning barcodes, scanning receipts, or linking your credit card. You can also earn "kicks" by shopping online. This app isn't a high earner, but you could earn up to $5 every couple of weeks.
Field Agent
This is a mystery shopping app you can use on your iOS or Android device. The app will show you what shopping jobs are available nearby using a map or list view. Jobs include buy and try, ticket jobs, Walmart customer service jobs, audits, anywhere surveys, and scavenger hunts.
For each job, you're allowed 2 hours. You're paid per job with Field Agent, and pay ranges from $3 up to $15.
Presto
Use the Presto app for iOS or Android to find mystery shopper jobs available in your area. There is one difference with this app, however. The jobs are not hosted by the app itself but pulled in from various mystery shopping companies. Jobs tend to center around customer interactions rather than shopping at merchants and retailers.
Mobee
Mobee pays you in points for every shopping shift you successfully complete. The points you earn can then be redeemed or donated to various charities.
Mobee jobs are called missions, and you have to locate specific products or displays, take photos and submit them using the iOS or Android app. For a couple of minutes of work, you can earn 100-500 points that you redeem for cash as $1-$5.
EasyShift
Not quite as many jobs are available on this site, but they are much easier to complete. The type of jobs available is mostly display and product audits to ensure everything expected in the display is there.
Using an app for iOS or Android devices, you take pictures of a display, submit them, and wait to get paid. Pay for each shift you complete ranges from $4 to $20.
Tutor People With These Apps
Over recent years there has been a growing need for home tutors. If you think you've got what it takes to teach, here are some apps that might get you the work you're looking for.
VIPkid
VIPKid is an online ESL teaching program that has its headquarters in Beijing, China. Teachers accepted to work with VIPKid to teach English to students based in China. Students are usually between the ages of 4-12.
Classes are held one-on-one and conducted online. Use the app for iOS or Android to check your bookings, cancel classes, update time slots, and much more. With VIPKid, you can earn as much as $22 per hour.
Chegg
Students can use the Chegg app to get expert help with their homework 24/7. Chegg pays tutors for answering academic questions, and the hourly rate works out between $20 to $30.
You earn points when a student likes your answer. You can redeem these points later on by converting them into dollars and transferring the cash to your PayPal account. The Chegg app is available for iOS and Android.
Magic Ears
Magic Ears offers group classes for up to four students in China. Teachers who qualify can use this platform if they're looking for a steady income. It also gives them the freedom to work from anywhere in the world.
It's also an excellent opportunity for anyone looking for a side hustle. The basic rate of pay is $8 to $10 for a 30-minute class. The Magic Ears app is available for iOS and Android.
Varsity Tutors
Varsity Tutors is a platform that provides students with tutors in subjects ranging from the basics to college-level nitty-gritty to certification exams and standardized tests.
It's an excellent opportunity to work flexible hours and be your own boss. How much you earn depends on your experience, but pay ranges from $15 to $18 per hour. Tutoring sessions take place using the app for iOS and Android.
Cambly
Cambly is an online education program for teaching English. Register to be a tutor, and you log on to the app to connect with your students. You can log on at random or sign up for 1-hour shifts.
Tutors are paid per minute of conversation. For every minute you spend chatting, you can earn $0.17. The app is available for iOS and Android.
iTutorGroup
iTutor provides work for teachers interested in teaching students online. The longer you teach with them, the higher the bonus rate you can achieve. Classes are available 24/7 on the iTutor platform and by using the iOS or Android app. In certain countries, you could make as much as $22 per hour.
Babysitting Apps 2023
Babysitting has always been a popular way to make money for teenagers. But, it's also a fantastic way for stay-at-home moms to make extra money while watching their own kids. Babysitting can also be fun and rewarding. Here are some of the most popular babysitting apps if you're looking to get hired.
UrbanSitter
There is no membership fee to sign up with UrbanSitter, and you get to keep 100% of the money earned after the job is done. To keep the community safe for everyone, both parents and sitters have to verify their identity.
The app is available for iOS and Android and uses a unique badge system to reward sitters with positive reviews. Top sitters have been known to earn more than $1,000 a week.
Sittercity
This is one of the top companies for anyone looking for babysitting jobs in their area. A four-step screening process is used to best match babysitters and parents. It's free to create a profile using the Sittercity app for iOS or Android.
Bambino Sitters
Bambino Sitters is more of a community app where babysitters can find jobs online. You log in to the iOS or Android app using your social media account. To get started, you need one recommendation.
After that, your profile is instantly visible to families in the neighborhood. A Bambino Sitter can earn between $12 and $25, depending on the job.
Care.com
Care.com is a huge community for caregivers that not only offers babysitting but nannying, tutoring, housekeeping, senior care jobs, and pet sitting from more than 20 different countries. The application process is relatively simple, but you need to pass the background check before working. The app is available for iOS and Android.
Cashback and Rewards Apps 2023
This type of app is changing the way many people shop and save. If you're looking for a good deal and a way to save money, the following apps might work for you.
Drop
Drop is a free app for iOS and Android that rewards you for shopping at your favorite brands. The app is easy to use and intuitive and lets you earn gift cards for money you're already spending.
Once you've downloaded the app, you create a profile and link a credit or debit card. Any purchases you make on your card are lined up with offers you've connected to on the Drop app.
Panel App
Panel app is a free mobile loyalty club that pays out in cash and prizes. Download the iOS or Android app and earn points by taking location-based surveys and sharing your location.
You can use your points towards great prizes, rewards, gift cards, sweepstakes, and much more. On average, you'll earn 33 points, which over a month equates to $3.
Apps That Pay You to Play Your Favorite Games 2023
How cool would it be if you could make money playing games online while sitting at home on the couch? There are lots of opportunities to use new online gaming sources to generate your own gaming-based income. Here are some of the top pay-to-play apps.
CashCrate
Sign up using the CashCrate iOS or Android app, and you'll get paid to play games, take surveys online, and perform different tasks to earn a few dollars. It's free to sign up, and you could get as many as 2-3 surveys invite every day. Each survey you complete could make you anywhere from $1 to $45.
My Points
My Points is a rewards program you can sign up for and earn rewards by taking surveys, watching videos, and playing games. Any points you earn can be redeemed through PayPal, on airline miles, or at your favorite stores. Download the app for iOS and Android.
Mistplay
Mistplay is currently an Android-specific application that offers you the opportunity to play video games in exchange for monetary rewards. The points you earn can be exchanged for gift cards to various retailers such as Google Play and Amazon.
Mistplay promises that an app is in the pipeline for iOS users, but you'll find the app on Google Play for now. With Mistplay, you can make up to $50 per month.
InboxDollars
You can earn money using the iOS or Android app by playing games, taking paid surveys, reading emails, watching videos, and shopping online. InboxDollars connects you to various game companies, including WorldWinner. Arcade games available include Word Chess, Mahjong, Sudoku, and Solitaire.
Ride Sharing Apps 2023
Ride-sharing apps are an increasingly popular way to get about, but they are also a great way to make extra cash. If you've considered this as a side hustle idea, here are the top apps.
Uber
Uber is a top-rated transportation app. Customers use the app to get a ride quickly, but almost anyone can make money with Uber, driving people around.
You use the Uber app for iOS and Android to get directions, and essentially, you're providing a taxi service to Uber customers. Estimated earnings for an Uber driver can be as much as $1,000 per week.
Lyft
Lyft works much the same way as Uber. Using the Lyft app, customers request rides and pay for them automatically. If you become a Lyft driver, you use the app for iOS or Android to accept any ride requests you want. You get paid per minute and per mile. On average, it works out at between $8.55 and $11.77 per hour.
Kapten
Kapten is also similar to Uber but offers cheaper fares for passengers and takes a lower cut from drivers. It's easy to download the app for both iOS and Android.
Bolt
Bolt is yet another ride-sharing app for iOS and Android that also offers cheaper fares for passengers and takes a lower cut from drivers. If you're interested in becoming a Bolt driver you can download the app for iOS and Android.
OTHERS
I've already covered a huge number of money-making apps, but there's still more to come. The following apps don't really fit neatly into any of the categories above, so they've been given their own little section.
Media Rewards
Media Rewards pays you cash for research by listening to the radio or watching TV. The aim of the program is to measure the impact of television and radio advertising on consumers.
Advertisers want to know if hearing ads about a particular brand of chocolate, for example, inspires you to go out and buy more. You listen to your radio or television using the iOS or Android app, and after listening you're asked questions about the products through surveys.
Rover
If you're a dog lover, Rover is a pet-sitting app that connects pet sitters to pet owners. But it's not just pet-sitting services. Other services you could provide include dog walking, dog boarding, house-sitting, drop-in visits, or doggy daycare.
The Rover app is available for iOS and Android and is fairly straightforward to use. Simply sign up, fill out the profile, and the app will connect you to dog owners who need services. Treat Rover as a part-time job and you could earn an average of $1,000 per month.
Weight Loss Bet by HealthyWage
Losing weight can be challenging, but what if you could get paid for it? HealthyWage is an online company that uses cash prizes to make weight loss and fitness more fun and effective. First, you have to pick your weight loss goal and see how much you can win using the free prize calculator.
You decide whether you want to place a bet, verify your weight, and then work on your challenge. Hit your goal and you win the prize. You can keep track of your progress using the app for iOS or Android.
AppTrailers
App Trailers is a way to watch video trailers of apps and earn rewards for each one you watch. You then convert your rewards into cash or gift card prizes. It's a great way to earn money from your smartphone and the app is available for iOS and Android.
Wag
Wag is a way to start a side hustle as a dog walker. The Wag dog walking service provides people looking for an extra income stream with a reliable, flexible, and fun way to earn money.
Although you do have to love dogs. In order to become a Wag Walker, you must pass a three-step screening process. You apply using the app for iOS or Android. On average, a Wag walker earns around $17.50 per walk.
Petbacker
PetBacker is a website and app for iOS and Android that helps connect pet sitters and dog walkers with pet owners. All sorts of other pet services are offered such as pet boarding, pet grooming, pet training, veterinarian, and pet taxi. Petbacker salaries are, on average, $16 per hour.
Sweatcoin
You might not believe it but Sweatcoin is an app that pays you for walking. You first need to install the app. You can download the app for iOS and Android. Once you've set up the app you start walking and let the app track your steps in the background.
Every time you walk, Sweatcoin registers how many outdoor steps you take and rewards you with sweat coins. You can exchange your sweat coins for one of the many rewards in the daily offers.
Money App
Cash App is available for iOS and Android and is an app that gives you cash for completing surveys, giving opinions, testing services, and much more. To earn money, you follow the instructions set in each task.
Current Music App
Are you a music lover? Is there always music playing in the background whatever you're doing? Current Music is a very passive way of earning extra money.
The app is available for iOS and Android and offers more than 100,000 worldwide radio stations. All you've got to do is tune in. You can also complete surveys and watch short ads. Refer your friends and you earn even more cash.
PERK TV
Perk TV is a rewards app you can use on your mobile device. It rewards users for engaging in activities that they already do in their day-to-day lives. These activities might include watching videos such as games, apps, and movie trailers. The app is free to use and available for iOS and Android users.
How you make your money is more important than how much you make. – Gary Vaynerchuk
You might be interested to check those related posts as well:
FAQs
What is a side hustle?
A side hustle is any type of paid employment you take on in addition to a full-time job. It is generally freelance or piecework in nature and provides a supplemental income.
What is a side hustle app?
You can use a side hustle app to find the perfect opportunities to make extra money. Often they connect customers with people offering a service.
How much I can make with a site hustle app?
How long is a piece of string? The answer to this question is almost impossible to quantify as it depends on so many things. Some side hustlers claim to make more than $500 per month with their side gigs, but every side gig is different.
How does a side hustle app work?
A side hustle app works by helping you make extra income. Rather than spending hours looking for money-making projects, a side hustle app brings the opportunities to you via your smartphone.
Are side hustle apps worth it?
Earning even a little more per month can add up to a large sum of money over the long term. If you're already managing to make ends meet with your day job income, you can save every single dollar you make on the side.
How do free apps make money?
Free apps make money from the following:
Advertising
Subscriptions
Selling merchandise
In-App purchases
Referral marketing
Sponsorship
Collecting and selling data
Physical purchases
Freemium upsell
Crowdfunding
Transaction fees
What apps make you the most money?
All of the apps on our list aren't going to make you rich anytime soon. However, most of them are a way to earn just a bit of extra cash that you can save for a bucket list vacation, a romantic dinner with your partner, or give yourself a treat that's long overdue.
Are money making apps safe?
All the apps in the list are tried and tested and considered safe to use. However, here are some tips to help ensure you make money not lose it.
Go in with realistic expectations
Be mindful of your time and expenses when using the apps
Beware of spending money to make money
Fees can eat up your profit
Payout thresholds have both pros and cons
How much do side hustle apps cost?
Some side hustle apps are completely free, while others charge a registration fee. There are others that take a percentage of your profits. You may also have to pay a fee to cover the processing of your background checks.
Do you have to pay taxes on a side hustle?
If you're working a side hustle to supplement your regular salary you do need to pay taxes. It's down to you to make sure your tax responsibilities are met.