If you've been looking to find more personal blogs and bloggers to read, then you've come to the right place!
Also if you have been thinking of starting your own blog, it's important to own your business domain. It's critical for brand recognition and customer affinity as you grow your business.
There always seem to be so many blogs and bloggers out there that it can often be hard to decide which ones are worth reading.
To try and help you out, we've created a great list of the best bloggers that you can follow for inspiration in a range of different personal content niches.
What are Personal Blogs?
Personal blogs are online platforms where individuals share their thoughts, experiences, and perspectives with an audience. They often cover a wide range of topics, including personal stories, hobbies, interests, and reflections on various aspects of life. Personal blogs provide a space for self-expression, creativity, and connecting with others who share similar interests or experiences.
How to Start a Blog?
Here is a short step-by-step guide on how to start a blog:
Choose a niche or topic that you are passionate about or knowledgeable in.
Select a blogging platform, such as WordPress or Blogger, and create an account.
Choose a domain name and web hosting provider for your blog.
Install and customize a blog theme to match your style and branding.
Create compelling and engaging content regularly.
Promote your blog through social media, SEO, and networking.
Engage with your readers by responding to comments and building a community.
Continuously learn and improve your blogging skills.
By following these steps, you can kickstart your blogging journey and share your thoughts and ideas with the world.
How Do Personal Blogs Make Money?
Personal blogs can monetize their content in various ways. Here are some common methods to make money from blogs:
Affiliate marketing: Promoting products or services and earning a commission for every sale or referral made through your blog.
Display advertising: Placing ads on your blog using platforms like Google AdSense to earn revenue based on clicks or impressions.
Sponsored posts: Collaborating with brands or companies to create sponsored content in exchange for payment.
Digital products: Selling e-books, courses, or digital downloads related to your blog's niche.
Membership or subscription: Offering exclusive content or access to a membership community for a recurring fee.
Sponsored reviews: Writing reviews of products or services for a fee.
Consulting or coaching services: Providing personalized guidance or expertise to readers for a fee.
These strategies, among others, can help personal blogs generate income and monetize their content effectively.
What are The Main Reasons to Start a Personal Blog?
People start their blogs for many reasons.
Some people start off hoping to make their blog into a business, whereas some people simply want to do it as just a hobby.
Here are some of the most common reasons that people start a personal blog:
To share information and knowledge
To build a community of like-minded people
To document their life
To improve their writing skills
To have a creative outlet
To build their own brand online and become an influencer
To make money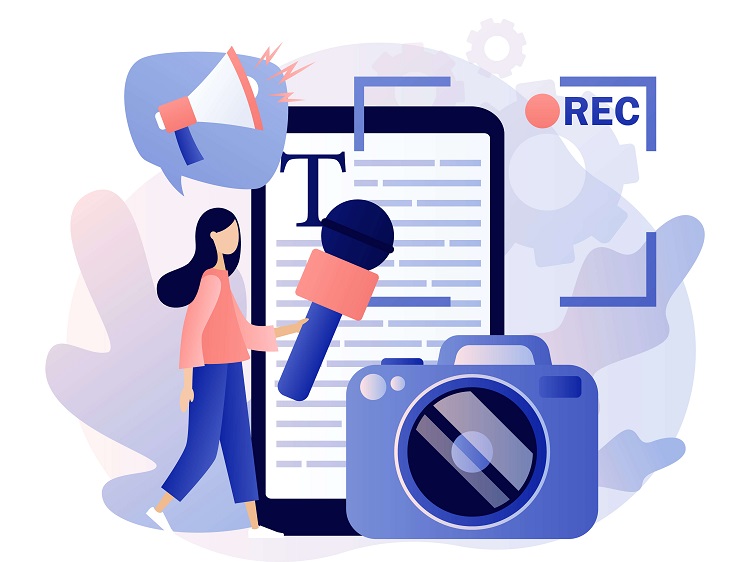 For a business, starting a blog is one of the best ways to create leads. Social media marketing and email marketing are also effective strategies, but blogging is one of the top sources of leads.
Blogs help to drive more targeted traffic to a website. Blogging also gives visitors a reason to convert. Blogging is also one of the most cost-effective long-term strategies.
If you want to start your own blog today – we recommend checking out Hostinger. They are a great partner if you are on the starting line because you can get features like:
Free Domain
Free website builder
Free SSL certificate
Unlimited bandwidth
Unlimited email accounts
Unlimited websites
and others with their Premium plan, and the prices are great.
And that's not all. With our coupon code (THRIVEMYWAY), you can take an
How to Start a Personal Blog
Pick a personal blog of your choice
Develop your own brand
Choose your hosting plan and domain name
Create content calendar
Optimize your content for Search Engine Optimization
Build your email list
Get your keyword
Best Personal Blogs and Bloggers
Below you'll find our list of some of the best blogs and bloggers that are creating personal and lifestyle content at the moment.
Not only will we give you the names and websites of these bloggers, but we'll also give you a summary for each one that will tell you everything you need to know about them.
Then you can decide if you're interested enough to follow them!
Here is a list of 30 popular personal blogs and bloggers:
A Cup of Jo
The Blonde Salad
Cupcakes and Cashmere
The Pioneer Woman
The Sartorialist
Bleubird
Design*Sponge
Oh Joy!
Love Taza
Humans of New York
Gala Darling
The Skinny Confidential
Honestly WTF
The Londoner
Zen Habits
Extra Petite
Minimalist Baker
The Everygirl
The Financial Diet
Career Contessa
Camille Styles
Oh Happy Day
The Budget Babe
A Beautiful Mess
The Nectar Collective
Man Repeller
From My Dining Table
The Middle Finger Project
The College Prepster
HelloGiggles
Please note that this is not an exhaustive list, and the popularity of blogs may vary over time. These blogs cover a range of topics, including lifestyle, fashion, food, personal finance, and career advice.
Here are 30 of the best personal blogs and bloggers:
Making Sense of Cents – Best Personal Finance Blog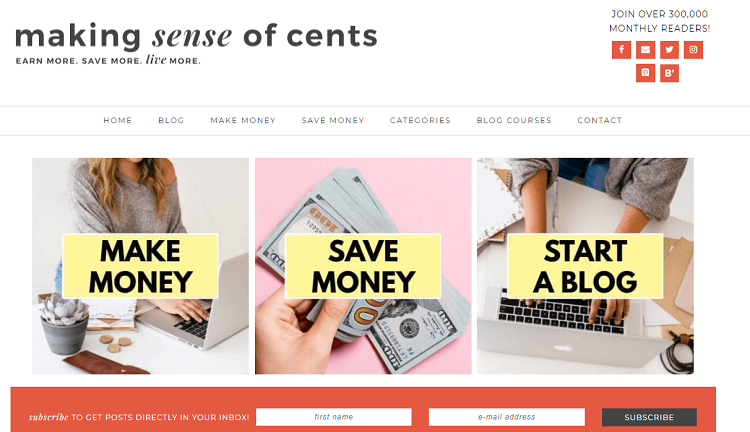 If you're sitting at home wondering how you're going to be able to pay off your student debt or gain financial independence, Making Sense of Cents is a personal finance blog that equips you with all of the tools and tips that you could need to make this a reality.
On this blog, you'll find a variety of posts on the topic of finance, ranging from how you can create a budget to keep track of your spending, to how to plan the perfect holiday trip when you're on a budget.
Over 300,000 people visit the blog every month to learn how to make and save money.
Making Sense of Cents provides this information in easy-to-read, relatable articles that are genuinely helpful no matter how much previous financial knowledge you have.
Read more from Making Sense of Cents.
By Sophia Lee – Best College Blog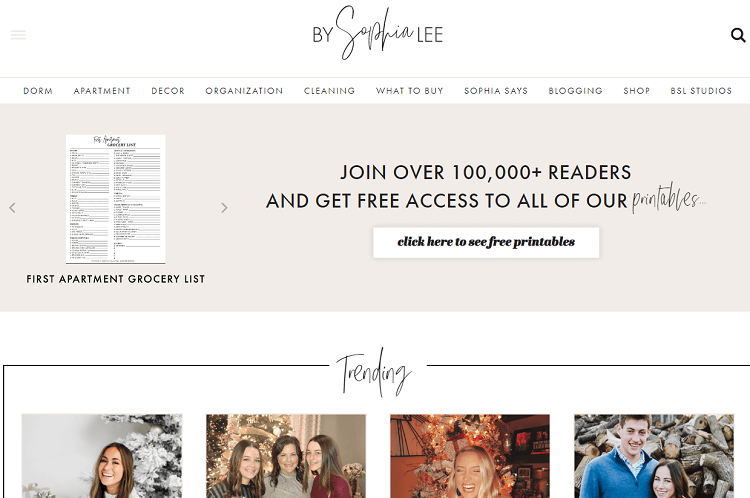 Are you moving into your freshman dorm room, or need help decorating your very first apartment?
Sophia Lee is here to help!
On Sophia Lee, you'll find all of the dorm room content that you could need, including things like where to get the cheapest mattress toppers, kitchen appliances, and home decor items.
The blog is updated extremely regularly and always has the best DIYs, tips, and life hacks that will make your college life so much easier.
Alongside dorm room content you'll also find a range of content aimed at college students, like fun holiday gift guides, Halloween costume ideas, and easy, affordable recipes.
Apartment Therapy – Best Interior Design Blog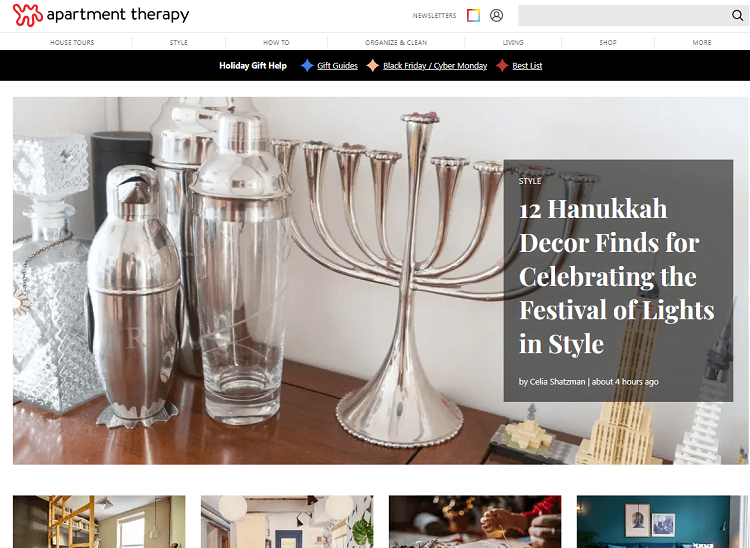 There's nothing better than being nosy and browsing some of the most attractive apartments around the world.
Apartment Therapy takes you through the front doors of some of their specially-selected apartments to give you some serious interior design inspiration.
The blog features a range of apartment-related content including tours, DIY tutorials, and shopping guides on how to get the most out of your space.
The blog isn't just limited to apartment content, as the name would suggest, but also covers all kinds of interior design projects.
As the blog says, they're "saving the world, one apartment at a time" by making it easier for everyone to get the room of their dreams, no matter their budget.
Read more from Apartment Therapy.
Pinch of Yum – Best Food Blog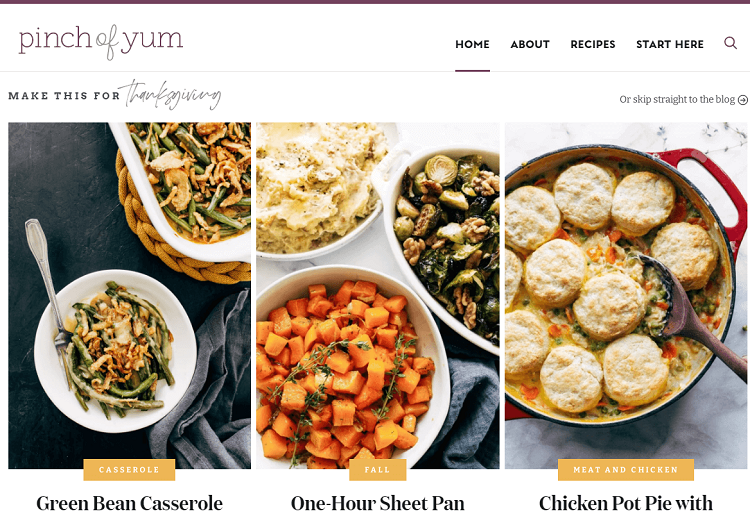 Pinch of Yum is one of the most popular food blogs that share thousands of simple and tasty recipes that anyone can easily recreate from their own kitchen.
The blog has grown so much in popularity due to the incredible photography that makes you want to try everything they feature, and their easy-to-follow recipes that simplify any dish.
Whether you're in a rush, want to use your Instant Pot, or trying out a vegetarian diet, there are plenty of recipes that you can choose from on Pinch of Yum that are interesting and, most importantly, taste amazing.
Pinch of Yum was started by Lindsay as a casual hobby while she was working as a teacher and has since become a successful, full-blown business.
She's even created her own free online cookbook that anyone can download and use at home.
Barefoot Blonde – Best Lifestyle Blog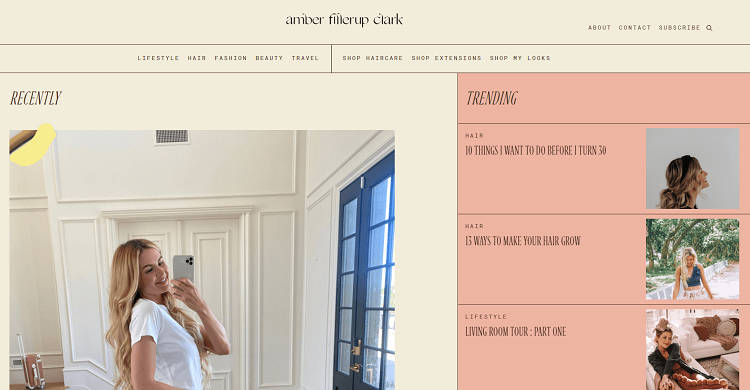 Barefoot Blonde is a personal blog that was started by Amber Fillerup Clark to be a place where she could document her life, like a diary.
She initially had the goal of inspiring just a handful of people with her content, but now the blog has grown into one of the biggest lifestyle blogs on the internet.
On her blog, Amber shares a mixture of lifestyle, beauty, and fashion content for her thousands of readers.
Her popular posts are usually her outfits where she shows her beautifully curated style, her hair tutorials, and the inspiring adventures that she goes on with her family.
If you're looking for a positive and inspiring personal blog to read, Barefoot Blonde is great.
If you enjoy Amber's content, she even has her own hair care line, Dae, which has also been a big hit!
Read more from Barefoot Blonde.
Zen Habits – Best Mindfulness Blog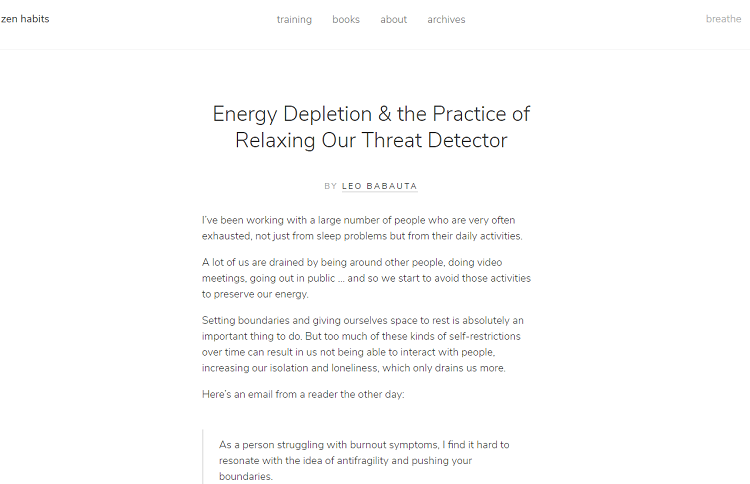 Mindfulness is something that a lot of people want to achieve in the modern world for personal growth, but something that you may need help with to get started.
Zen Habits is a mindfulness blog that helps you to find simplicity in the daily chaos of your life, giving you tips and skills on how you can clear out the mental clutter and find peace—even in the most stressful situations you find yourself in.
In the thoughtful and inspiring articles, Zen Habits covers topics like how to ground yourself, how to have a self-sufficient mind, and what to do when you're feeling scattered.
Going Zero Waste – Best Eco-Friendly Blog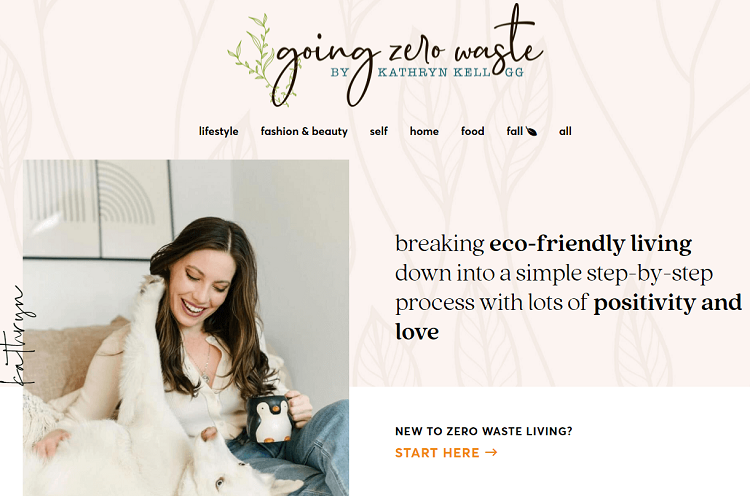 We all know that we should be more environmentally friendly in our everyday lives and cut our use of plastic, but do you know exactly how to do that?
Going Zero Waste is the best blog online that tells you exactly how to be more eco-friendly.
It does so in a friendly way, that makes it clear that the changes you can make are very simple and affordable.
The articles on the Going Zero Waste blog, take you through, step-by-step, just how you can make small changes in your life that will make a very big difference.
On the blog, you'll find everything you could need, from zero-waste recipes and DIY beauty and cleaning products and plenty of zero-waste swaps that the planet will love you for.
Read more from Going Zero Waste.
SEOmoz – Best SEO Blog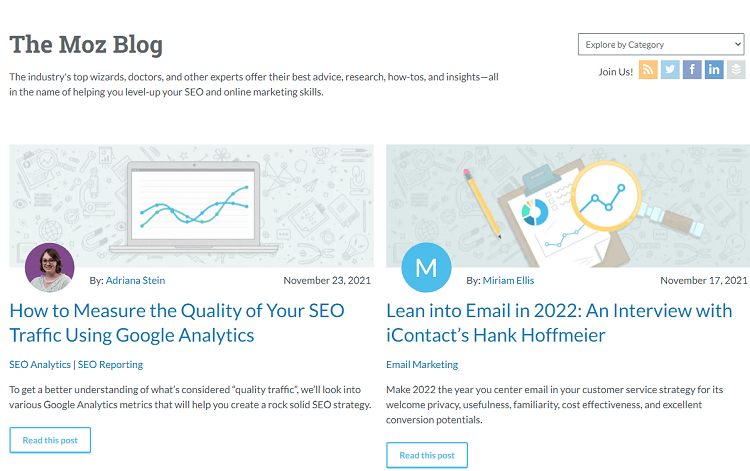 SEO, short for Search Engine Optimisation, is all about how you can make your website rank on Google.
It's something that Rand Fishkin, the author of SEOmoz, has plenty of experience in after the success of his website.
Whether you're using Squarespace, WordPress, or Bluehost for your blog, all of his tips will be highly relevant.
On the SEOmoz blog, he's sharing all of the tips and tricks that he learned with his readers.
You'll find articles on how to create your own SEO strategy and level up your online presence to increase the number of people visiting your site.
In his articles, Rand takes you through everything you need to know, like how often to post, how to find the right keywords to use on your website, and how often to use these keywords in your blog posts.
Neil Patel – Best Marketing Blog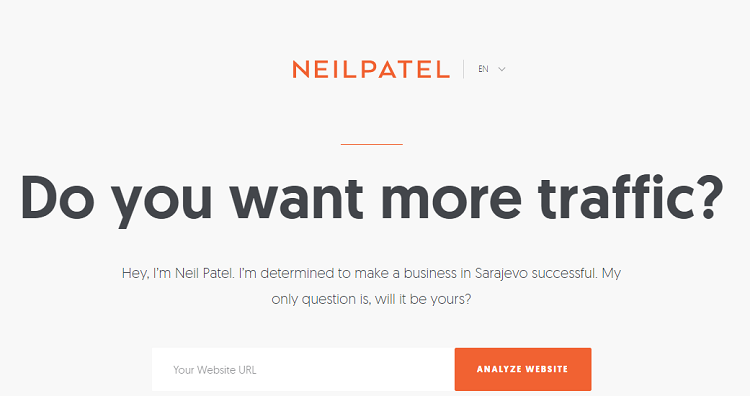 Online marketing trends always tend to change just as we start to get our heads around them, but thanks to Neil Patel you no longer have to figure it all out by yourself.
For any online marketing-related question you have, Neil has a thorough, in-depth guide to help answer your question on his popular blog.
Whether you need help starting a blog on the WordPress or Bluehost blogging platform, finding a WordPress theme or custom theme, setting up an email list, or finding the right keywords for your next blog post, Neil has a post written all about it.
Neil is very knowledgeable about blogging, so whatever web host you're using, like Squarespace or Bluehost, you'll be able to start a great blog with his help—he can even help with affiliate marketing advice.
Neil's blog is one of the most comprehensive and detailed marketing blogs that we've found online and is a must-read for anyone that's interested in the topic.
Copyblogger – Best Blog for Writers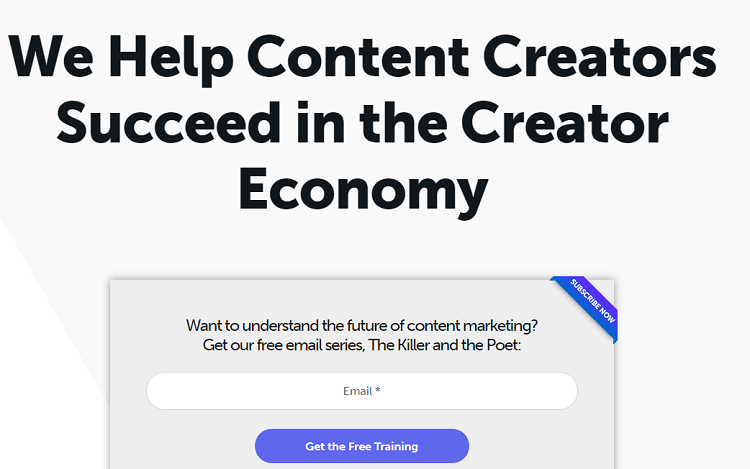 Do you have aspirations of being a copywriter or a blogger full-time?
If you do, Copyblogger is the best blog that will help you make those aspirations into your reality.
The blog, which was started by Brian Clark, is full of articles that give budding writers lots of advice and tips on everything they could need to know about writing online as a job.
He will help you with writing tips, how to tell your personal story through your writing on a new blog, how guest blogging works, and even how to start a political blog or be a lifestyle blogger.
The writing blog includes not only how to produce great writing, but also the key content marketing principles that every copywriter must consider and how to manage your freelance clients.
Smart Passive Income – Best Inspirational Blog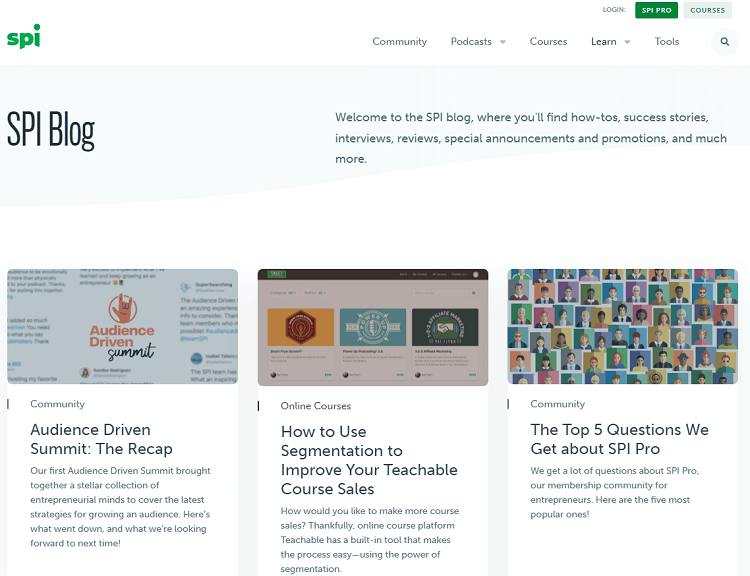 online course." width="750″ height="576″ />
Passive income is the goal for many people, it's income that keeps rolling in without you having to do any active work—things like selling an e-book or online course.
Pat Flynn, the author of the blog, wanted to run an online business to support his family and figured out how he could do that using a passive income strategy.
After he was able to make this strategy a success, he started a blog to teach other people how they can do the same.
The content on this blog is perfect for any entrepreneur wanting to start an online business.
Articles include topics such as how you can build an audience-driven brand, to how you can create an automated email sequence to create leads.
Read more from Smart Passive Income.
TechCrunch – Best Technology Blog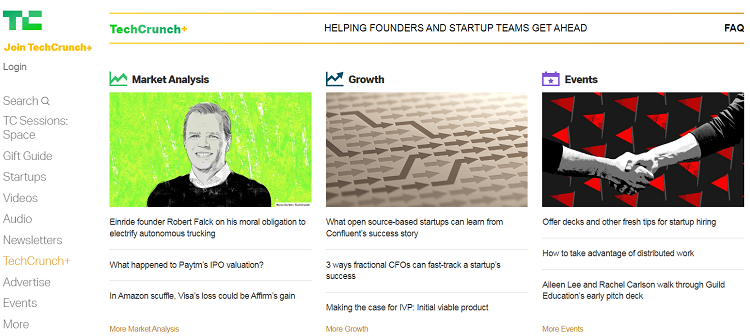 TechCrunch is the go-to source for everything you could possibly want to know about the tech industry, from what's going on in Silicon Valley to the newest tech launches you should know about.
The blog is written for people who love tech, by people who love tech so all of its content is extremely entertaining and informative.
It's definitely the best blog that you'll find on the internet to keep up with all things tech.
Tim Ferriss – Best Self-Help Blog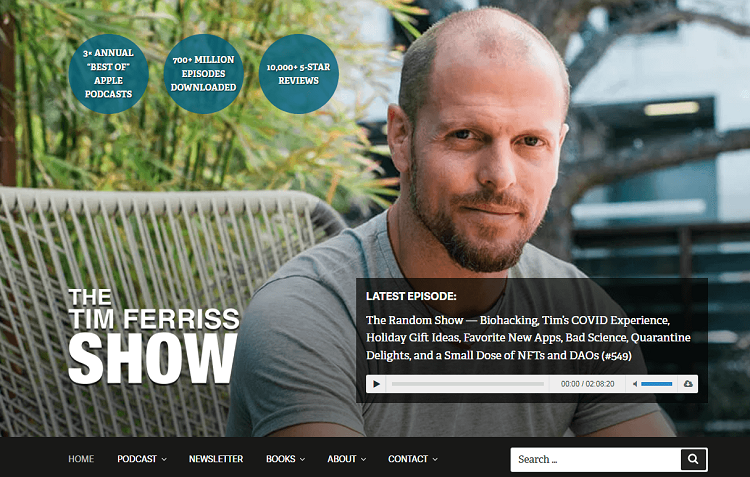 You've probably heard of the famous book about the 4-hour workweek—this is a book written by Tim Ferriss, who's also a self-help blogger.
Along with a number of other popular books, and an extremely popular podcast, Tim Ferriss uses his blog to inspire his readers to get the life that they want.
His blogs explore how you can work less in a week so you have more time to spend doing the things you love.
The blog mixes self-help with lifestyle, finance, and business content that, when followed, can help you to lead a much more rewarding life.
Problogger – Best Blog About Blogging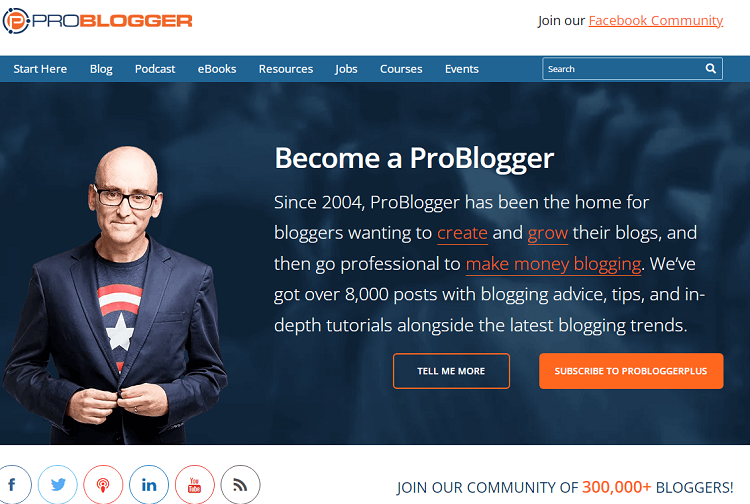 If you know exactly what you want to blog about, but just don't know where to start with setting your website up, Problogger will give you all of the information you need to know.
Problogger will help you to set up your blog on a free blogging platform and manage it so that it will quickly start to generate income for you.
They have over 8,000 blog posts on their website that are all geared toward helping their readers become professional bloggers.
Content on this blog covers blogging tips and tricks, in-depth tutorials, and insights into the latest blogging trends that you should be following if you want a successful blog.
Nerd Fitness – Best Fitness Blog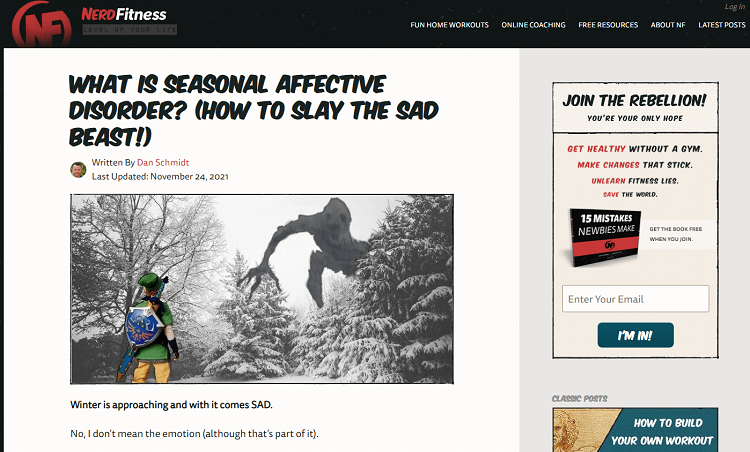 Fitness is the home for all content related to health and fitness, regardless of where you may be in your own personal fitness journey." width="750″ height="452″ />
Nerd Fitness is the home for all content related to health and fitness, regardless of where you may be in your own personal fitness journey.
Since 2009, Nerd Fitness has been blogging about how to keep fit and also running online coaching programs to help anyone achieve their full potential.
The articles on their blog cover a range of fitness topics, showing you everything from how to have the perfect workout, what you should be drinking for weight loss, to how you can stop feeling tired all the time.
Riskology – Best Leadership Blog

If you're an introvert, the thought of being a leader may be pretty daunting.
But, if you read Riskology, you'll be able to quickly figure out how you can embrace your personality type and use it to your advantage as a successful leader.
The blog has a range of articles about how you can change your mindset to be successful, how to adopt a positive morning routine, and how to make great first impressions at your next networking event.
Even if you're not an introvert, but just need some general leadership tips that can help in your career, we recommend reading Riskology.
Dad or Alive – Best Blog for First-Time Dads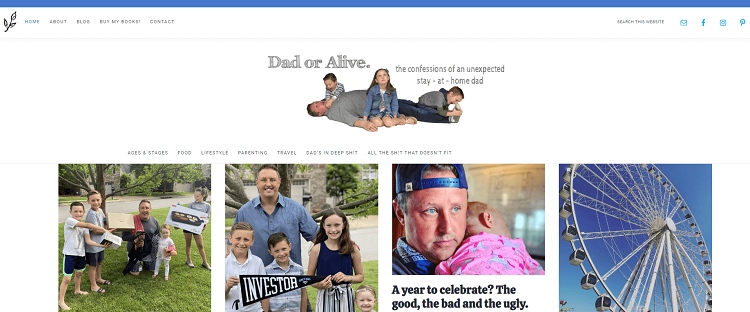 Being a first-time dad can be a stressful thought, especially if you're considering being a stay-at-home dad, like Adrian, the blogger behind Dad, or Alive.
Adrian started his blog to document his life as an (unexpected) stay-at-home dad for his young children.
He shares funny insights into his daily life and pokes fun at the ups and downs that come with being a full-time stay-at-home parent.
Topics that you'll find on Dad or Alive include travel blog tips and ideas, how to spend Father's Day as well as fun, family Halloween costume ideas.
Love That Max – Best Blog for Parenting Kids with Special Needs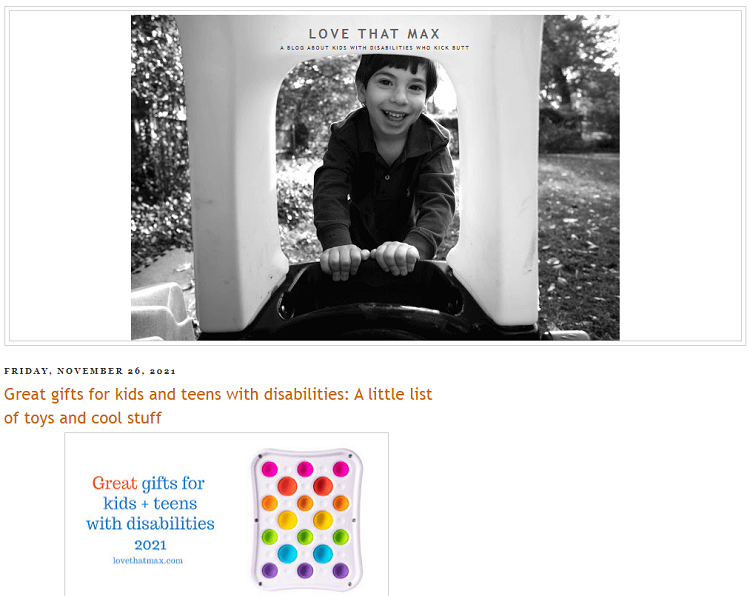 Love That Max is a parenting blog run by the parents of Max, a boy with cerebral palsy.
The niche blog was started in an attempt to give an insight into what it's like to parent children with special needs and to also foster a community of parents in similar situations who can motivate and inspire each other.
Posts on the blog include tips and advice for parents, as well as insights into the family's everyday life.
The Penny Hoarder – Best Finance Blog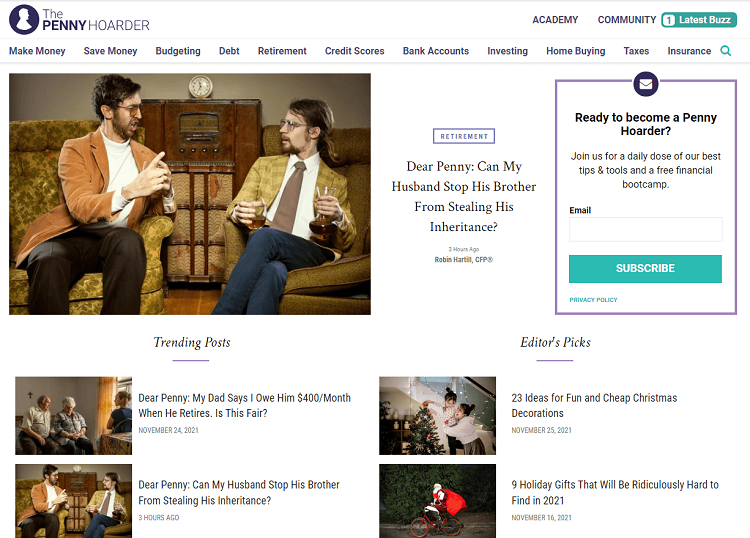 If you want some advice on finance, or how you can start working from home, The Penny Hoarder is the personal website for you.
On their blog, they post a range of articles that all focus on the ways that you can make and save money the most effectively.
The site now has millions of monthly viewers, making it one of the biggest finance blogs in the US.
If you're young and need some simple advice on how to manage your money, this is a great site to get you started on your personal finance journey.
Read more from The Penny Hoarder.
Wolf's Gaming Blog – Best Gaming Blog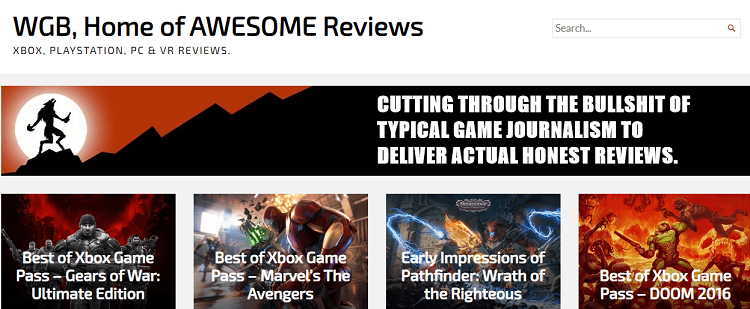 Want to know when the newest games are coming out, and if they are worth your money?
You can find out just that on Wolf's Gaming Blog.
As the name would suggest, Wolf is a huge fan of gaming and through his blog has been able to share his knowledge and experience with thousands of readers.
He shares posts about the best Xbox games, gaming equipment reviews as well as tactics that you can use to become a pro in your favorite game.
Read more from Wolf's Gaming Blog.
The Gottman Institute – Best Marriage Blog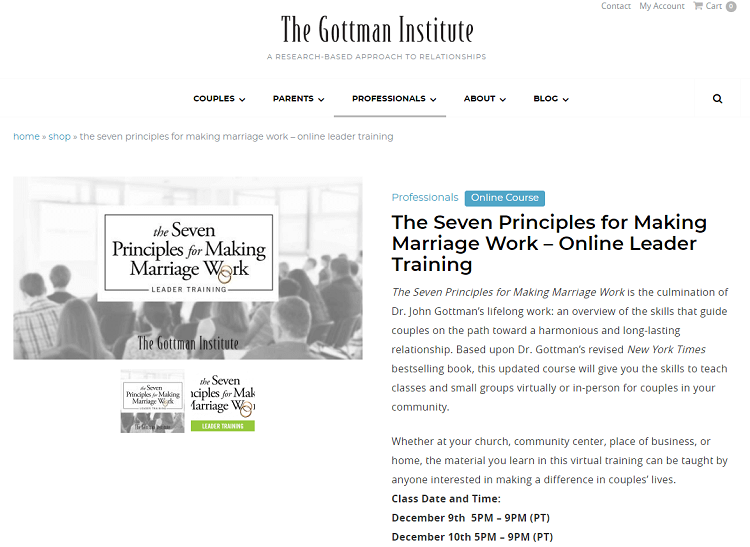 The Gottman Institute is a very professional, research-backed blog about psychology that is run by Drs. John and Julie Gottman work as researchers and clinical psychologists.
After years of experience, the Gottmans wanted to share their knowledge and help others who need it.
This comes through their blog posts which focus on how you can strengthen your relationships and how you can repair troubled marriages.
All of their blog posts are incredibly informative and give you actionable advice on how you can transform your relationships.
Read more from The Gottman Institute.
Skint Dad – Best Blog for Dads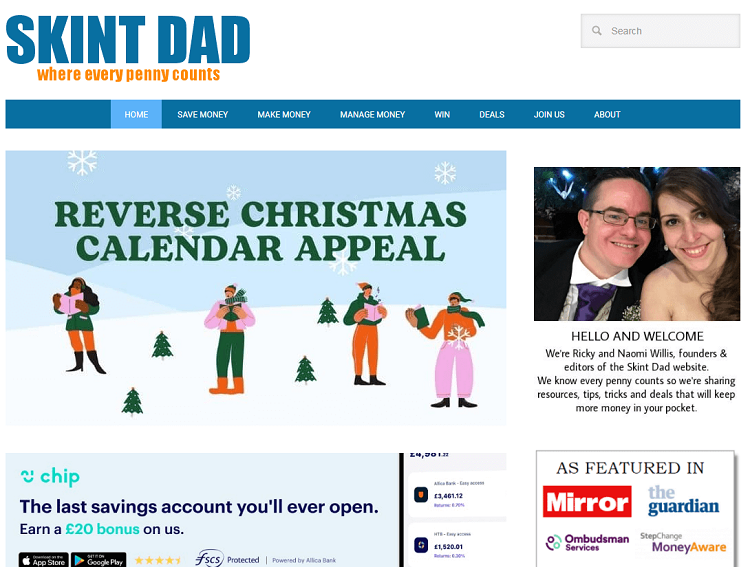 Ricky Willis, the founder, and editor of Skint Dad started his blog to give advice to other dads on how they can save, manage and make money, based on the tips that he's learned throughout fatherhood.
Skint Dad covers a range of topics, from how to invest your money, to cheap meal ideas that you can make for your children on a budget.
It's the perfect guide for any dad who wants to be more careful with their money.
The blog is now one of the largest finance blogs in the UK, with a massive 300,000+ visitors looking for advice every month.
Think Simple Now – Best Motivational Blog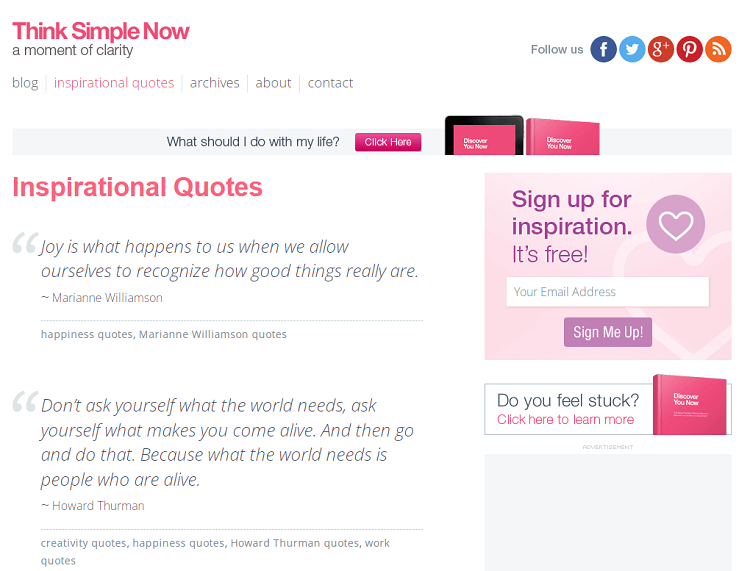 Feeling stuck with the direction of your life, or just need some inspiration to go about your day?
You'll find all of the help you need with the Think Simple Now blog.
The main topic of this motivational blog is focused on giving its readers actionable tips and advice on how they can make their lives better and happier.
The blog covers topics such as depression, how to deal with uncertainty, and how to remain calm in stressful situations.
If you're having a low moment, you can even click on their inspirational quotes page which will have you feeling motivated again in no time.
Read more from Think Simple Now.
Seasons in Colour – Best Luxury Style Blog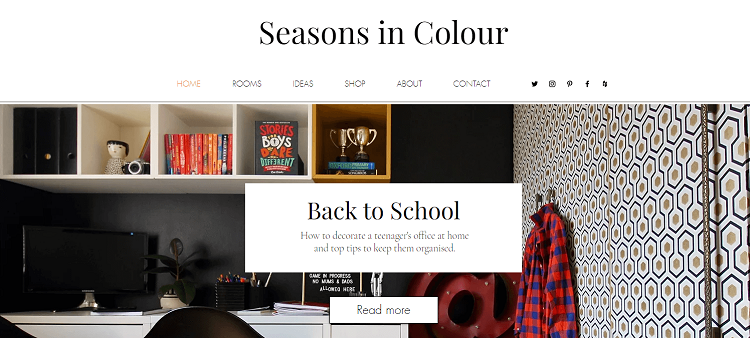 If you need some luxury interior design advice, we'd recommend you check out the blog, Seasons in Colour.
Seasons in Colour was started by London-based design aficionado, Jenny Kakoudakis.
On Jenny's blog, you'll find topics ranging from designing and styling your home, all the way to the top tips from industry experts that will help you decide on decor pieces to add to your space.
The style of Seasons in Colour is colorful, fun, and luxurious.
Every article is filled with amazing ideas that can help you transform your room into somewhere you'll never want to leave.
Read more from Seasons in Colour.
Selective Potential – Best Personal Blog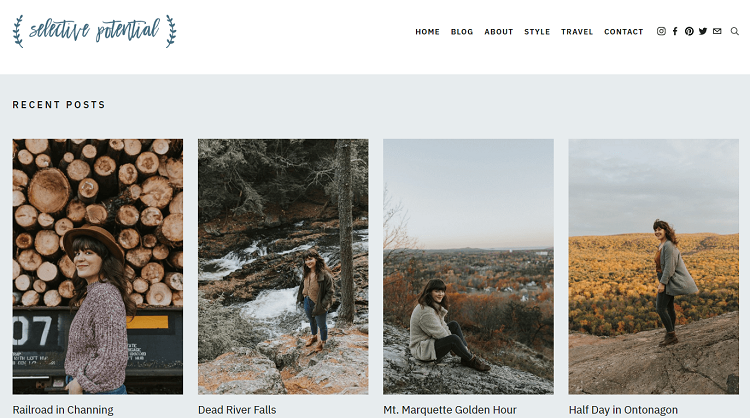 Selective Potential is a personal blog written by Tieka, a Michigan native who shares her outfits, travels, and everyday life on her blog.
What started in 2009 as a creative outlet, became a full-fledged hobby that Tieka works on alongside her full-time, graphic design job.
On Tieka's blog, you'll find lots of outside adventures—mainly around the 133+ lighthouses she plans to visit in Michigan—as well as insights into her personal style and daily thoughts.
This blog is ideal if you want to escape your every day and explore the lively goings-on around Michigan for a few minutes.
Read more from Selective Potential.
The Crafty Needle – Best Sewing Blog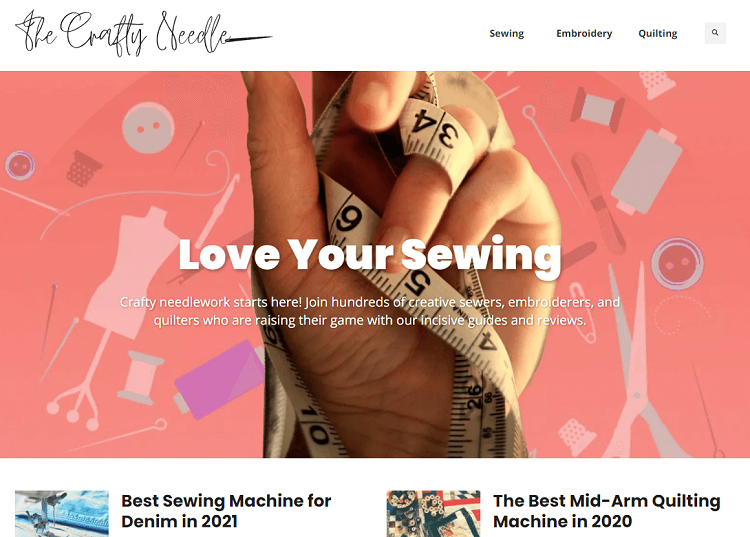 If you're into arts and crafts, you may have already heard about one of the most popular sewing blogs, The Crafty Needle.
It's a hub for all content about sewing, embroidering, and quilting.
The blog is contributed to by Natalie and Phyllis, who offer a mix of experience and creativity that makes every post inspiring and fun to recreate at home.
No matter if you're just getting started, or an expert sewer, there are plenty of informative guides and reviews that will make sure you have all of the best equipment you need to make your next sewing project a success.
Read more from The Crafty Needle.
KnowTechie – Best Tech News Blog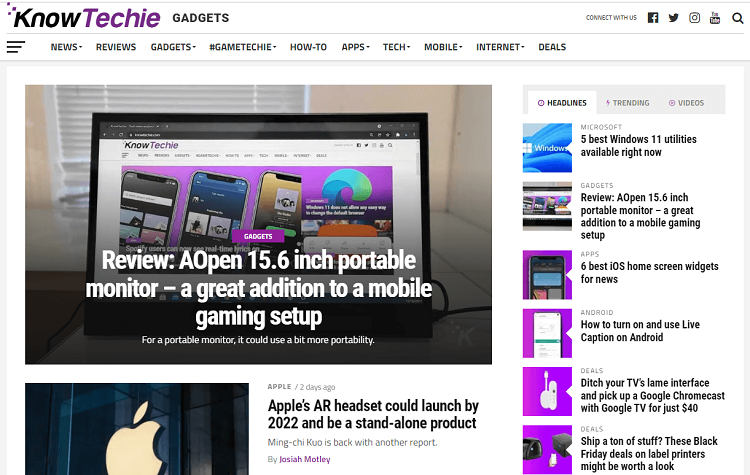 If you're interested in tech and want to keep up with the latest news, but aren't the most tech-savvy person ever, KnowTechie will probably be your new favorite blog.
Covering topics like the hottest game releases, iPhone updates, and news about the latest social media apps, Know Techie is a great business blog that has a range of articles to spark your interest.
They aim to provide articles that are both entertaining and informational, that appeal to anyone who enjoys tech.
If you want a blog to read in your breaks, this one is great as most of the articles are very short—only around 300-400 words each.
A Cup of Jo – Best Culture Blog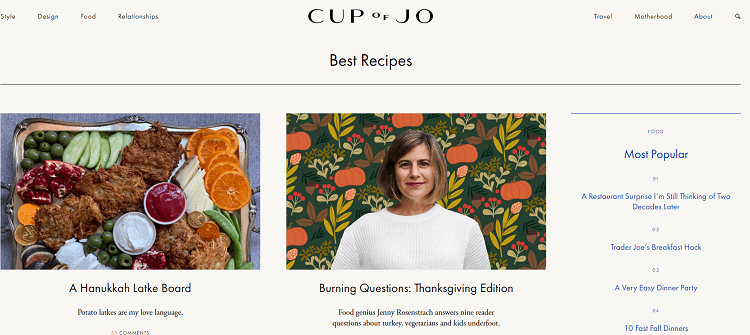 A Cup of Jo was founded in 2007 as a personal blog which has now, thanks to massive success, grown into a full team of content creators who blog about topics such as style, design, food, culture, and travel.
Their content is mainly targeted toward enthusiastic women who are passionate about learning new things.
Some of their most recent posts include a recipe for fall pancakes and a conversation about telling friends you love them.
If you're looking for a daily read that teaches you new things and covers a range of interesting topics for women, A Cup of Jo will surely be your new favorite.
Mr. Money Mustache – Best Investor Blog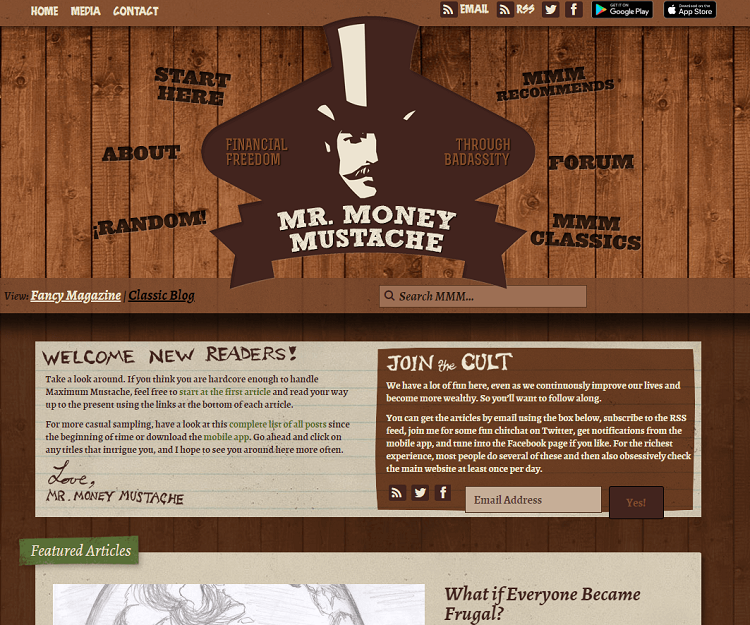 Mr. Money Mustache is a blog that was started by Peter Adeney, a Canadian who wanted to share his experience of being able to retire from his software engineering job at 30 by only spending a small amount of his salary and saving the rest.
His blog covers a variety of finance and investment topics that aim to help his readers follow in his footsteps and retire at a young age for financial freedom.
You can also find Mr. Money Mustache on Twitter, where he posts regularly.
Read more from Mr. Money Mustache.
Sincerely Jules
lifestyle blog written by Julie where she shares everything that interests her." width="750″ height="310″ />
Sincerely Jules is a lifestyle blog written by Julie where she shares everything that interests her.
On the blog, you'll find articles about her favorite outfits, recent travels, interior design inspiration, and sneak peeks of the collaborations she does with various brands.
All of Julie's posts are extremely aesthetic, with a combination of effortless and relatable writing with beautiful photography.
When Julie started her blog, she wanted it to be like a visual online diary that documented her life, having her readers feel like trusted friends with who she can share anything.
Over the years she's shared many parts of her journey, making her blog a truly interesting daily read.
Read more from Sincerely Jules.
Top 5 personal blogs about life
Here are the top 5 personal blogs about life:
Tiny Buddha
Mark Manson
The Art of Manliness
Zen Habits
Brain Pickings
Top 5 personal blogs about mental health and anxiety
Here are the top 5 personal blogs about love:
The Dating Divas
The Love Life Blog
Love in 90 Days
Baggage Reclaim
Lovepanky
Top 5 personal blogs about finance
Here are the top 5 personal blogs about finance:
Mr. Money Mustache
Financial Samurai
Get Rich Slowly
Budgets Are Sexy
The Simple Dollar
Top 5 personal blogs about travel
Here are the top 5 personal blogs about travel:
Nomadic Matt
The Blonde Abroad
Expert Vagabond
Legal Nomads
A Luxury Travel Blog
You might be interested to check those related posts as well:
FAQ
What is the most profitable niche in 2021 for personal blogs?
In 2021, one of the most profitable blogging niches was personal finance.
In recent years there has been a lot more interest in investing and budgeting, especially among younger people which has made it such a profitable topic for bloggers.
The reason personal finance has become so profitable is that it's not a seasonal topic—people are interested in learning about finance all year round.
What are the most popular niches for personal blogs?
If you're thinking of starting a new personal blog, you may want to consider writing in one of these 5 niches.
These are the most popular topics that will guarantee you plenty of views and comments.
They'll also give you the best head start if you're hoping to turn your blog into a business in the future:
Personal Finance Blog
Blog about blogging
Who is the most popular personal blogger?
Tim Ferris is one of the most popular personal bloggers who runs a personal development blog.
He rose to success by talking about how you can improve your life by cutting down on the amount of work you do in a week.
All of his content is focused on helping his readers become better, happier people.
He's now published a number of very successful books and runs his own podcast in addition to his blog.
Conclusion
We hope that you found this post on the best personal blogs and bloggers useful and helped you to find a new, free blog to start reading.
We think that the blogs and bloggers we mentioned are some of the best bloggers around at the moment, but if you think there's anyone that we've missed, please let us know in the comments below.