Looking for the best news blogs to follow?
Here's the ultimate list of international news, top news, breaking news, and entertainment news blogs.
In the past few years, it's become more and more popular for people to get their news online, whether this is on news blogs, social media, tech blogs, or on their favorite political blog.
No matter what your interests are, we've created a list of all of the best news blogs you should be following this year.
Our list will include all of the great blogs that cover digital marketing, social media marketing, tech, breaking news, business intelligence, current events—and more!
After checking out some of the blogs we mention below, you'll never have to worry about missing the news that's important to you ever again.
Why Is The Internet The Best Source Of News?
It's very common for people to only use the internet as their source of news, this is because it's a lot more convenient.
Firstly, online news is normally updated a lot more frequently than traditional outlets like newspapers, radio, or TV.
These news blogs and websites can be updated from anywhere at any time and accessed by people from all over the world.
The internet is also the best source of news because users can control the news they see.
They no longer have to sit listening to the news channel or the radio, they can find the exact news they're interested in with a few clicks of their mouse.
Then once you find an interesting blog, you can easily save it to your bookmarks to keep returning to it.
Best News Blogs and Websites to Follow 2023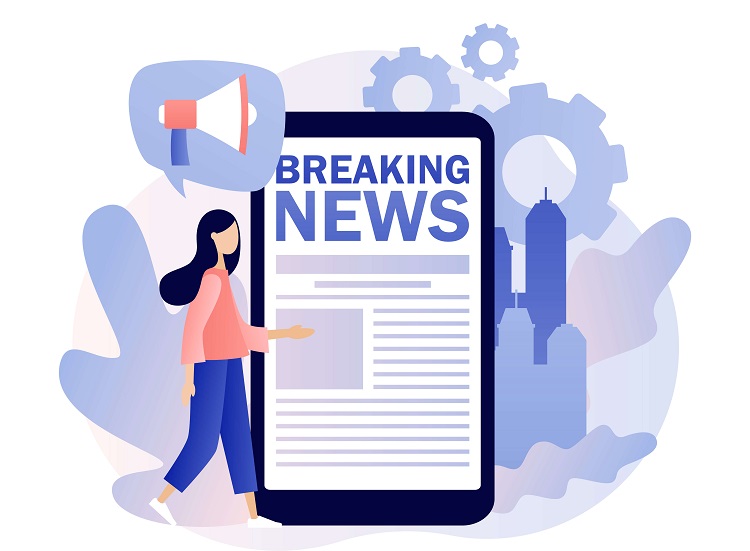 Below you'll find our list of 30 of the best news blogs and websites, we think you're going to love them all.
We'll be telling you everything you need to know about these blogs to help you decide if it's going to be your new daily read.
We'll tell you all about their specialist topics, how regularly they post, and where else you can find the bloggers online for even more updates.
1. HuffPost – Best Current Events News Blog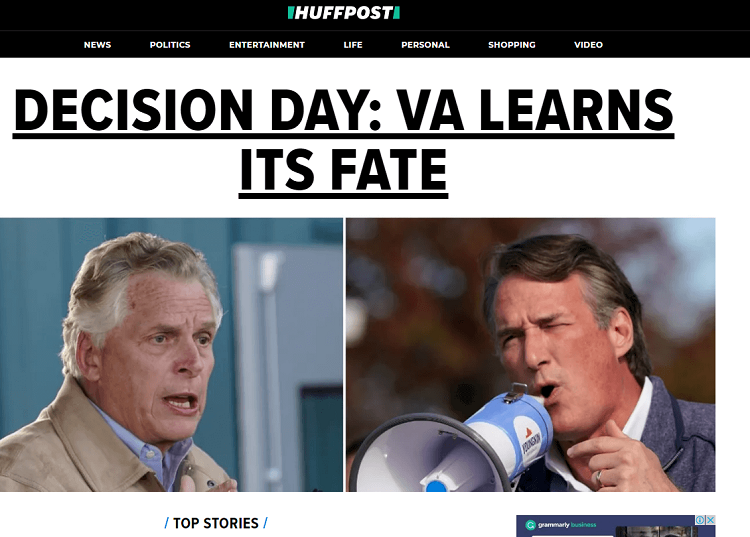 HuffPost, which was formerly called The Huffington Post, was started by Adriana Huffington, who was blogging in 2004 to share current events and news stories from across the world.
The site does focus slightly more on US-based news but is still very global.
HuffPost now comments on a range of breaking news stories related to politics, lifestyle, and entertainment.
The news website is updated very frequently, and there are also a very minimal amount of ads which makes for a much more pleasant reading experience.
The blog-turned-media giant puts a big focus on the people behind the story and approaches every piece of content with high levels of journalism standards and inclusivity.
Read more from HuffPost online and on Twitter.
2. BuzzFeed – Best News Blog for Teenagers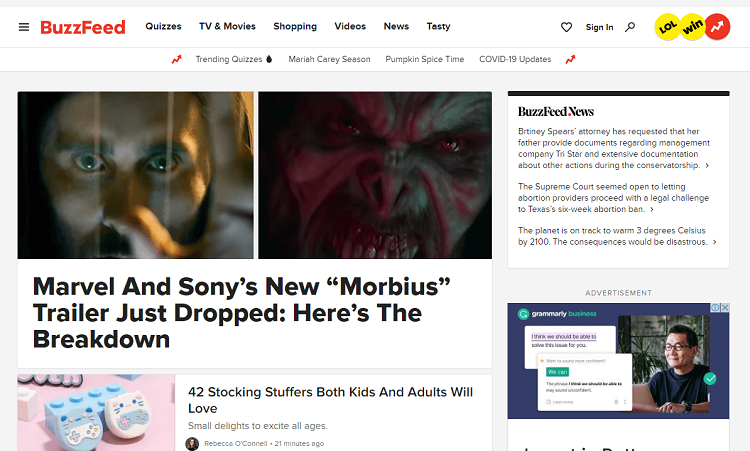 BuzzFeed is one of the world's leading independent digital media companies that produce light-hearted and entertaining content mainly targeted towards Millennials and Gen Z-ers.
The website became very popular in the 2010s because of its clickbait titles, photo-heavy listicle posts, and highly shareable content that was plastered across social media.
Although this isn't the place to keep up to date with current events and breaking news, it's a good website to help you keep up to date with the latest memes, celebrity trends, and entertainment news.
BuzzFeed has also recently expanded into some more serious, long-form content where they cover topics like technology and politics.
Read more from BuzzFeed online and on Twitter.
3. TechCrunch – Best Technology News Blog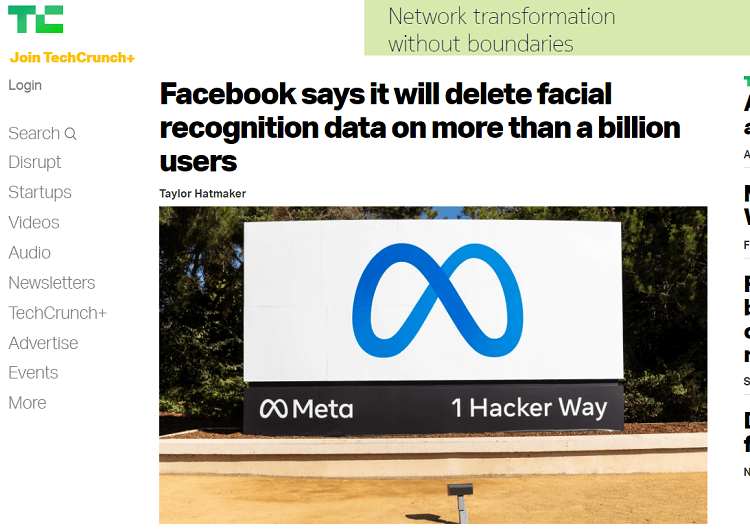 If you want to keep up to date with everything that's going on in the tech world, TechCrunch is the site that you want to add to your bookmarks tab—pronto.
TechCrunch is normally the first site to share breaking tech news, updates on the hottest tech startups, new gadget reviews, and everything else that you could think of to do with the business of technology.
Every month, the site receives an average of 26 million page views, making it among the most popular news websites on the internet.
Read more from TechCrunch online and on Twitter.
4. Business Insider – Best Business News Blog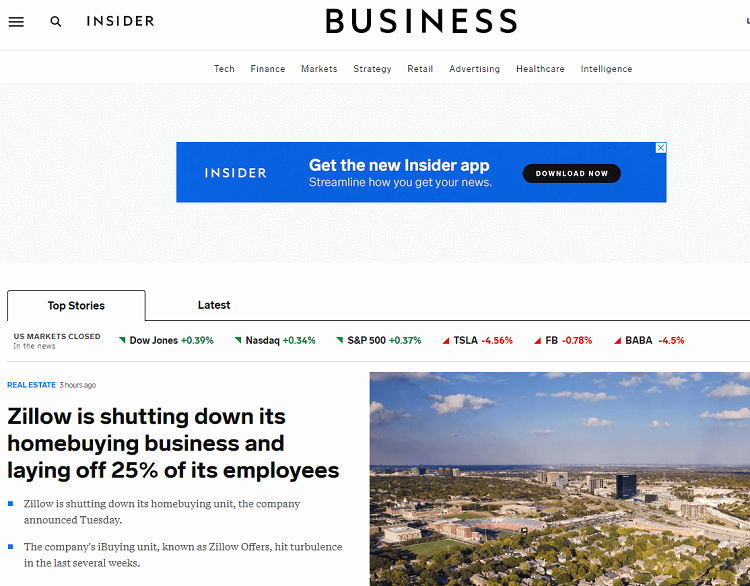 Business Insider, which was launched back in 2009, was started to be the go-to source for business news on the web.
Their content keeps readers updated on how the stock markets are doing and shares a range of financial, media, and technology-related information.
As the blog was started by former Wall Street analysts, the content historically had a focus on US business news but has since expanded and now reports on global business news to its over 40 million monthly readers.
Some content on the site is premium, requiring readers to purchase a subscription, but there are still a lot of articles that you can read without having to pay for membership.
Read more from Business Insider online and on Twitter.
5. Engadget – Best Gadgets News Blog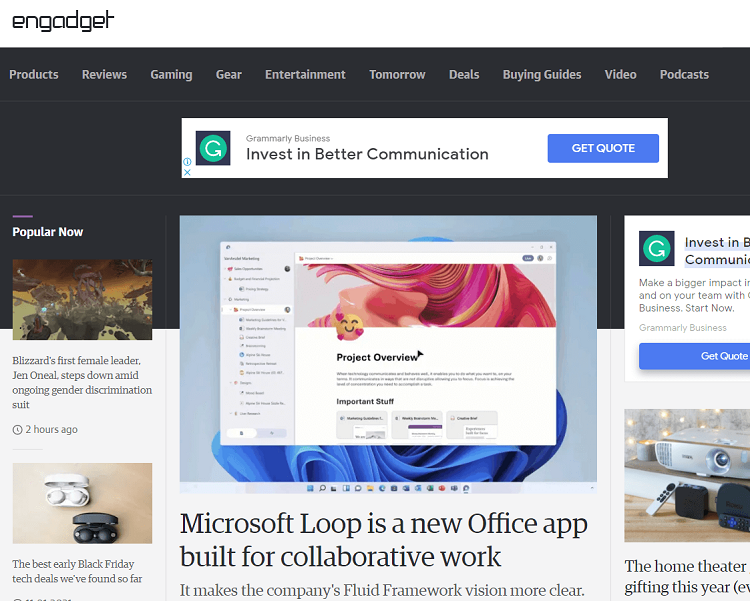 Engadget started as a blog to review the hottest and most popular new gadgets and consumer electronics products in the technology market.
After growing in popularity, the site has now started to cover a range of technology-related stories.
Recent stories include topics on social media, Reddit, cars, TV shows, SEO, and digital marketing blogs.
If you're in the market for a new phone, computer, or another kind of electronic device, we'd highly recommend checking to see if Engadget has reviewed it already.
Their reviews are always highly informational and tell you everything you could possibly need to know to decide whether you want to make a purchase.
Read more from Engadget online and on Twitter.
6. Science Daily – Best Science News Blog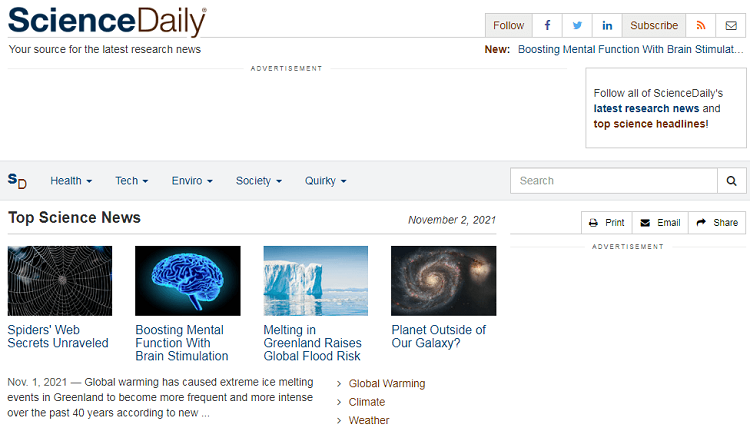 Science Daily is a more technically-focussed blog that shares breaking news and updates in the world of science.
Although there are some articles that are highly readable, they also share a lot of updates that are targeted toward people with a good understanding of science.
Their niche content comes from a range of sources, including leading universities, scientific journals, and notable research organizations.
They post new stories very frequently so you'll never be short of content, it's also a very simple website to read and navigate to find the stories that interest you.
Read more from Science Daily online and on Twitter.
7. BBC News – The Best Blog for Unbiased News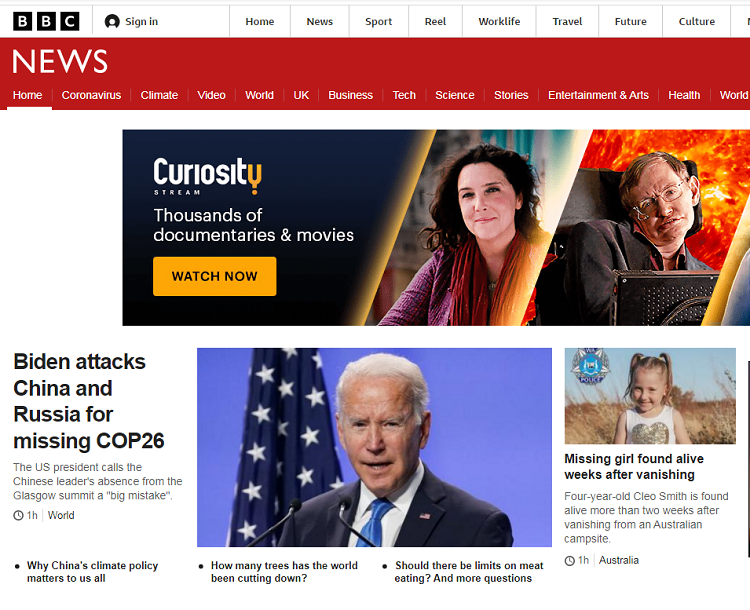 BBC News is a public news broadcaster that's funded by the UK Government, not by individual corporate organizations.
This means that the news that they share is impartial and has no hidden motive—which we think is highly important in a news blog.
Although based in the UK, the BBC also shares breaking news and current affairs on an international level.
The website covers a range of topics from politics and sports, to entertainment and celebrity news.
BBC News is one of the most popular websites on the whole internet, amassing more than 1 billion readers from across the world every month.
Read more from BBC News online and on Twitter.
8. The New York Times – Best US News Blog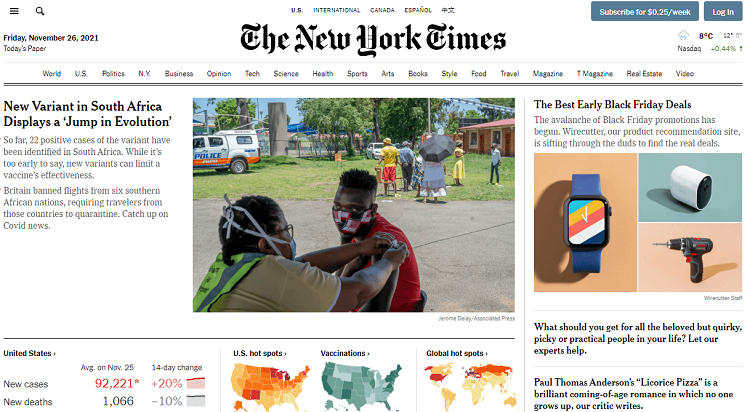 Based out of bustling New York City, The New York Times website mainly focuses on current news in the USA—most specifically, New York.
It's now one of the most recognizable American news outlets, focusing on every type of story from breaking news and politics to entertainment and arts news.
The New York Times is known for well-written, investigative journalism that explores current affairs in depth in ways that are accessible to everyone.
Read more from The New York Times online and on Twitter.
9. Moz – Best Digital Marketing News Blog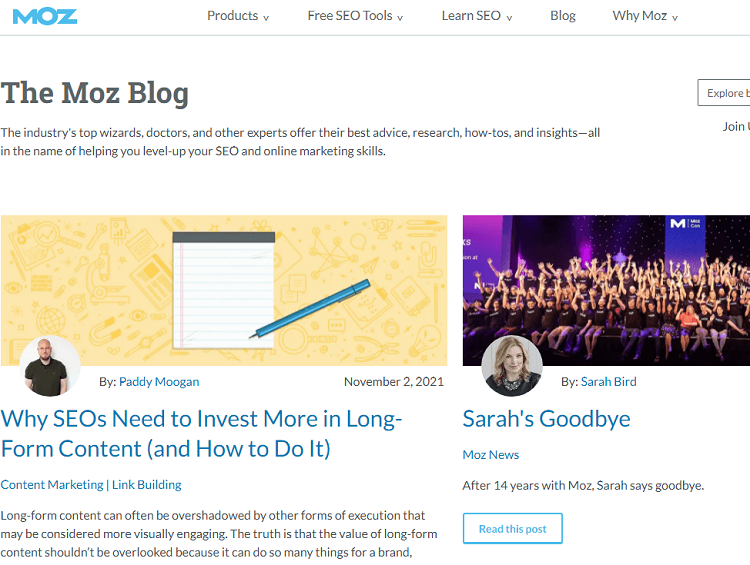 If you have your own blog, you may already be familiar with Moz, or at least familiar with the main topic of their blog—SEO.
Moz started off as a blog teaching readers important SEO tips and tactics to increase their ranking on Google search results.
Articles are on a range of topics including how to select the right keywords for your blog, how to conduct competitor SEO analysis, and how to set up your blog on a blogging platform like WordPress.
The blog has since evolved into a niche business, including a range of Moz SEO tools and paid courses.
Read more from Moz online and on Twitter.
10. Mashable – Best Digital News Blog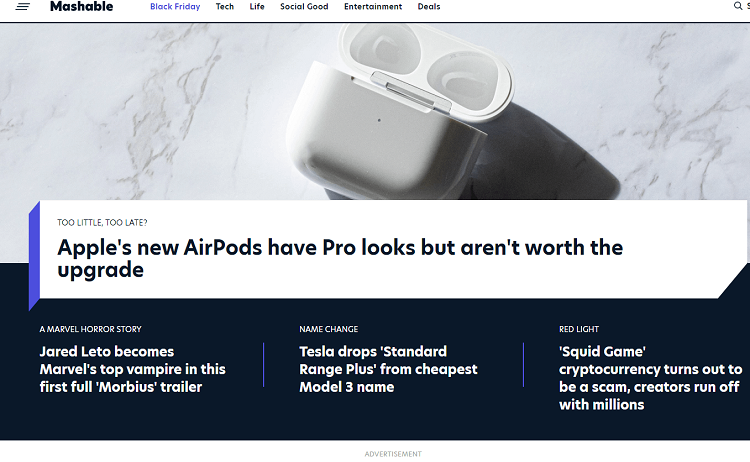 If you want a news website that reports on a wide range of topics, all loosely based on digital news, Mashable would be a great choice for you.
The blog covers global news and digital culture which has garnered it a following of 45 million people who read its articles every month.
The Mashable blog now focuses on 4 main topics; tech, life, social good, and entertainment.
Their content ranges from information about COVID vaccines and the newest movie releases to testing TikTok food recipes and setting up your business with Salesforce or Facebook.
Read more from Mashable online and on Twitter.
11. Treehugger – Best Eco-Friendly News Blog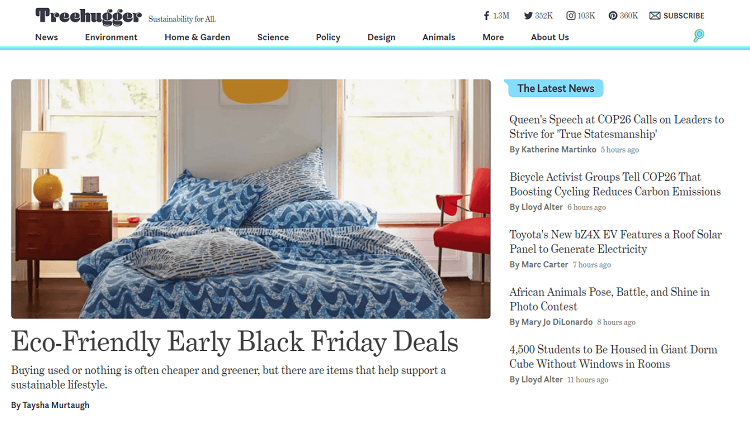 The popular blog, Treehugger, calls itself the only modern sustainable site that offers advice, clarity, and inspiration for people who try to live a more eco-friendly life.
It doesn't matter if you're a complete novice at going green, or a seasoned pro, this site caters to all.
As the environment becomes more of a mainstream focus, Treehugger has continued to be a go-to source for all the information any fellow 'treehugger' would want to know.
They report on a range of topics, from the latest news updates in the green space, as well as lifestyle tips and informational posts for people who are just starting out with adopting a greener way of life.
Read more from Treehugger online and on Twitter.
12. Times of India – Best Global News Blog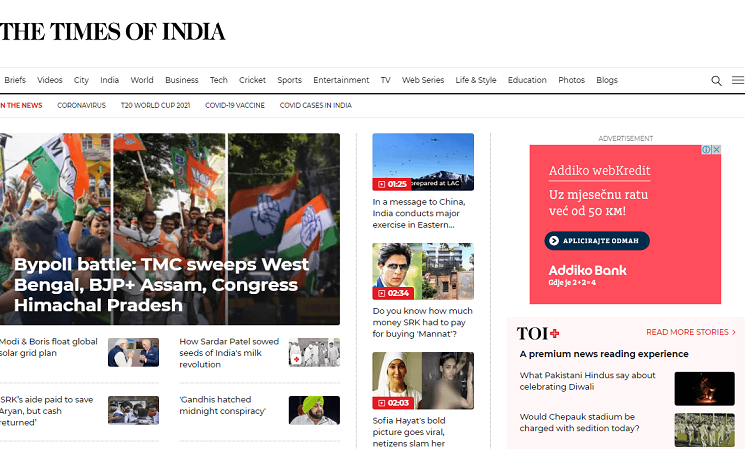 Times of India is a news website based in India that's an extension of The Times newspaper.
Since its launch, the website has become the number 1 digital news destination in India that has also attracted readers from across the world as it's published in English.
They mainly report on breaking news and current affairs, all articles are very straight to the point and provide you with all of the information that you need to understand the news story.
Read more from the Times of India online and on Twitter.
13. Sputnik – Best Breaking News Blog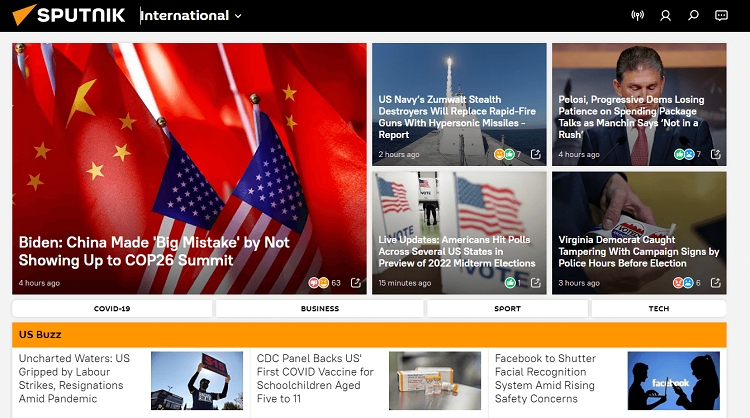 No matter where you are in the world, you can always be kept up to date with current affairs if you read Sputnik, a 24/7 news website that reports on a range of breaking global news stories.
Alongside the international site, Sputnik also has country-specific pages so that you can find relevant news based on where you're located.
However, if you're more interested in hearing about global news as it happens, this is a great website to visit.
Read more from Sputnik online and on Twitter.
14. Kottke – Best Art News Blog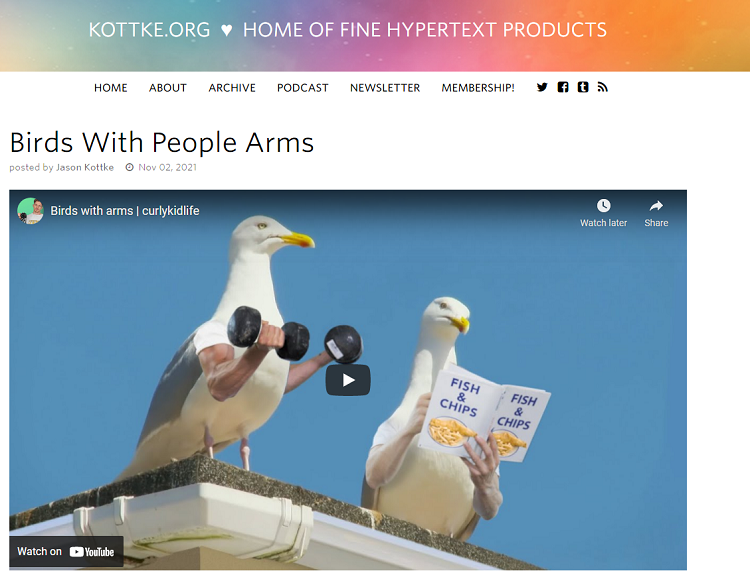 Kottke is one of the oldest independent niche websites on the internet which is a seriously impressive claim.
As one of the trailblazers of blogging—the website started in 1998—it has earned itself a cult following of readers who come to the website every day to read interesting news stories about art, technology, science, visual culture, and graphic design.
This website is a must-read for anyone who would consider themselves creative.
It's a great website to go to for inspiration, after all, there's a very big archive of posts that you can look through.
If you're looking for a break from the mainstream news, why not try out some of Kottke's interesting blogs to add to your RSS feed?
Read more from Kottke online and on Twitter.
15. Perez Hilton – Best Celebrity News Blog
Perez Hilton, named after the website's author, is one of the original blogs that kept its readers up to date with everything going on in the lives of popular celebrities in Hollywood.
With a focus on recent controversy and a look into the lives of celebrities like Kylie Jenner, Taylor Swift, and Selena Gomez, the gossip site shares the most up-to-date news as it happens, often being the first to report on many of the breaking stories.
The lighthearted blog isn't known for being the most well-written, but its fun and entertaining content has made it very popular and stood the test of time.
Read more from Perez Hilton online and on Twitter.
16. Screen Rant – Best Movie News Blog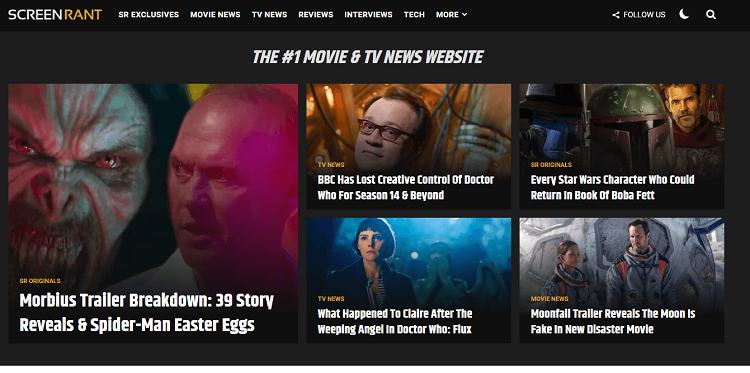 Want to see the newest movie trailers as they come out, read interviews with the stars of your favorite films, or get expert reviews to decide if the newest blockbuster is worth seeing?
You'll be able to find all of this content on Screen Rant, one of the leading blogs providing its readers with the newest movie news.
Since launching in 2003, Screen Rant has become one of the most respected websites providing entertainment news.
Whether you're a hardcore movie buff, or just interested to hear about the biggest movies of the year, this website is a perfect read.
Read more from Screen Rant online and on Twitter.
17. The Sartorialist – Best Fashion News Blog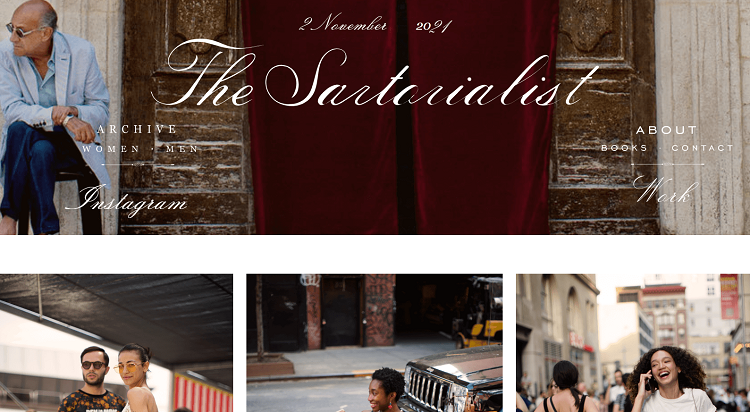 The Sartorialist is a fashion blog run by journalist Scott Schuman, a photographer who's worked with the likes of GQ, Vogue, and Interview Magazine.
On his blog, he shares street-style photos that show first-hand what are the hottest trends that everyone's wearing.
Unlike regular fashion news websites, he features regular people in their daily outfits going about their lives which is as close to breaking fashion news as it gets.
If you want to browse what people in the streets of Milan, New York, or London are wearing⁠—this former personal blog is the website for you.
Read more from The Sartorialist online and on Twitter.
18. Jezebel – Best Cultural News Blog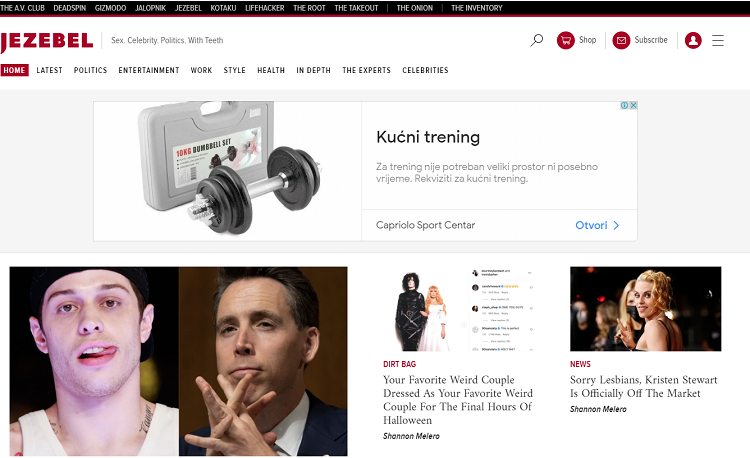 Launched in 2007, Jezebel is a US website providing news and cultural commentary that is geared towards women.
It was started with the goal of being a feminist counterpoint to traditional women's magazines, as shown in their description of the site as being 'with teeth'.
The online news blog focuses on a few main topics; politics, health, entertainment, style, and celebrities, and offers a refreshing, to-the-point, style of writing that really stands out compared to other publications.
Some popular recent posts from Jezebel include a sarcastic article on good reasons to divorce your husband and a hard-hitting story on changing the minds of people determined to ban abortion.
Read more from Jezebel online and on Twitter.
19. Politico – Best Political News Blog

There's always political news so it's great to have it all in one place for you to browse at your convenience.
Politico covers all of the latest breaking news in regard to politics and policy.
Politico has been the main source of credible and reliable political news from every continent.
They offer unbiased opinions on the latest developments to inform their readers and allow them to form their own opinions on current affairs.
Read more from Politico online and on Twitter.
20. GQ – Best Men's Lifestyle Blog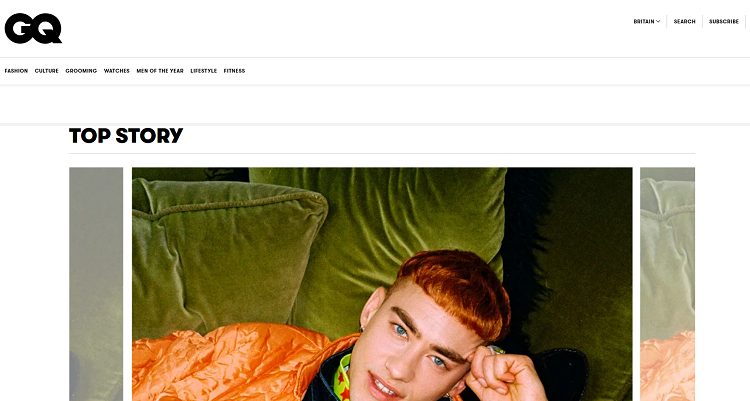 British GQ is one of the leading websites for men in the world. Providing readers with a whole host of topics from fashion and culture, to lifestyle and fitness.
Recent popular posts include a deep dive into the affordable watches worn by previous James Bonds, and a look into all of the hottest street style looks from Paris Fashion Week.
For any man who wants to revamp their style, keep up with the latest cultural news, or read interviews from some of their favorite male celebs, GQ is the best place to go.
Read more from GQ online and on Twitter.
21. Harvard Business Review – Best Business Intelligence Blog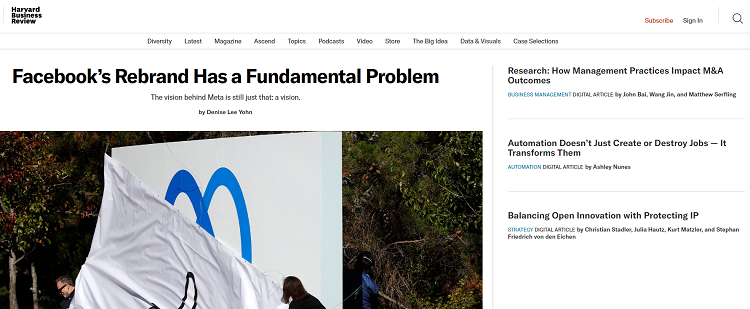 If you want to keep up to date with business news, where else would be a better source of information than the world's leading business school?
Harvard Business Review offers readers in-depth, well-researched articles on everything business-related from how to spark creativity, to how to manage a team effectively.
The website allows you to read a few articles for free a month, if you want to read more you'll have to pay for their membership.
Read more from Harvard Business Review online and on Twitter.
22. MarketWatch – Best Stock Market News Blog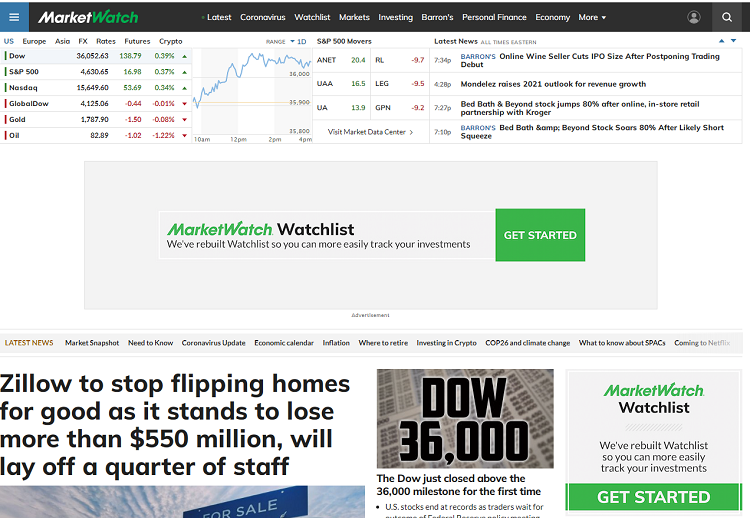 If you're a budding investor or trying to keep track of current investments, Market Watch is the website for the latest updates in the stock market as well as other relevant financial and business news that may impact your investing decisions.
The online stock experts publish frequent guides into what investors can expect in the coming months, long-form articles to educate readers on the stock market, and how various external factors have been recently affecting the market.
Read more from MarketWatch online and on Twitter.
23. Entertainment Tonight – Best Entertainment News Blog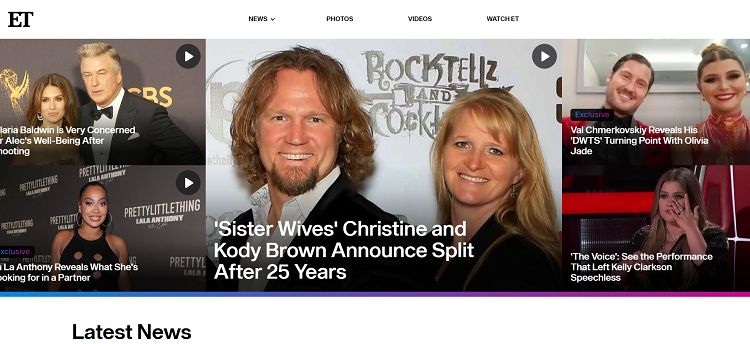 If you want a front-row view of the hottest red carpets of the season, interviews with your favorite entertainers, and the most recent celebrity news, Entertainment Tonight (ET) gives you it all.
ET mixes articles and video content that gives you an insight into everything that's going on in the entertainment industry, from music to TV programs and movies.
Some popular recent posts from ET include the newest TikTok trend inspired by Meg Ryan and a rundown of some of the must-see celebrity sightings from the month of September.
Read more from Entertainment Tonight online and on Twitter.
24. Men's Health – Best Men's Fitness Blog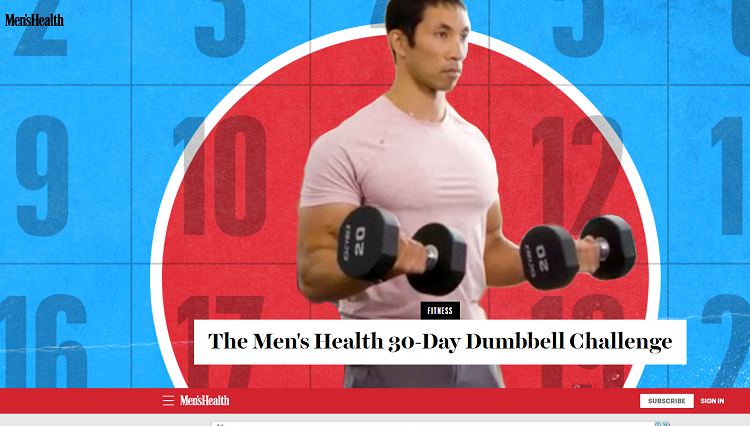 Men's Health is one of the best-selling fitness magazines for men in the UK and also has a very successful website where they share more articles and information to help men get⁠—and stay⁠—in shape.
Their articles mix tips for your next workout, recipe plans to work alongside your fitness routine, as well as insights into the diets of some of the most in-shape male celebrities.
The website also covers a wealth of other topics such as TV, music, sex, and relationships, and the latest technology to allow the site to be a one-stop hub for all the content that might interest men.
Read more from Men's Health online and on Twitter.
25. theScore.com – Best Sports News Blog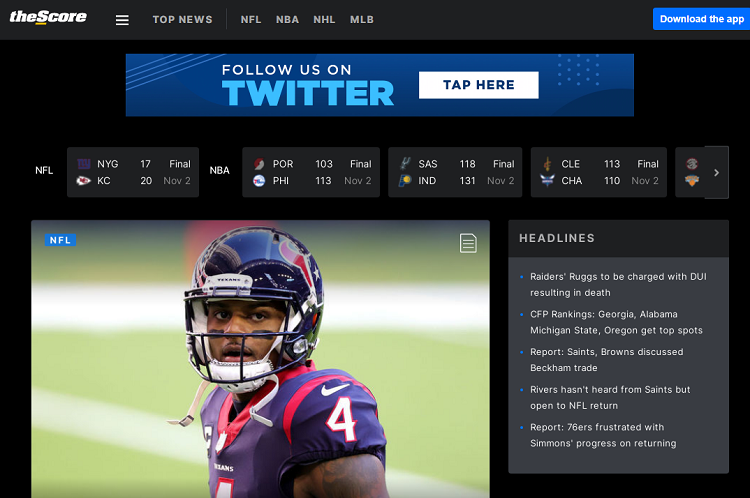 Want to get all of your sports news in one place?
theScore is a hub for all of the latest scores, updates, and announcements in the world of sport.
Covering football, basketball, baseball, hockey, soccer, and more, this website is very frequently updated so you're never left out of the loop when an important match is on.
Their short and simple blog posts give you all of the news and information you need, without having to miss too much of the real action on the screens.
Read more from theScore online and on Twitter.
26. Premium Beauty News – Best Beauty News Blog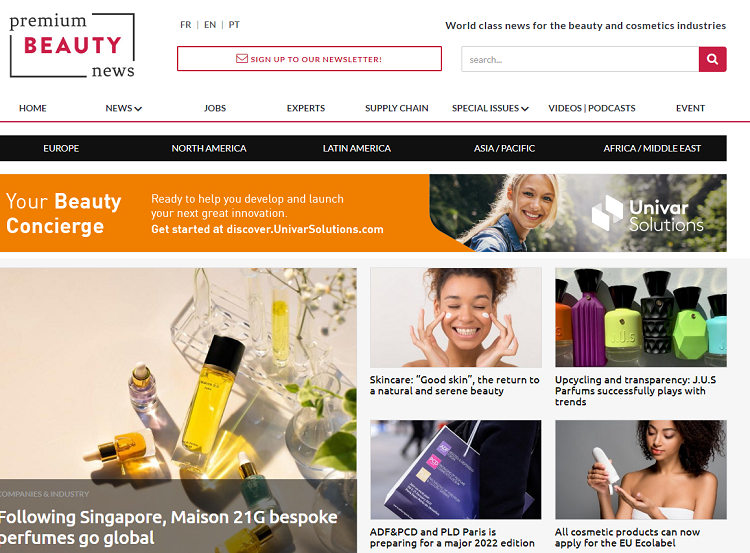 Whether you're in the beauty industry or a casual lover of beauty products, Premium Beauty News provides world-class beauty news from a team with a wealth of experience working in the cosmetics, beauty, fashion, and luxury industries.
The topics on this website cover industry-specific news that you won't find on regular lifestyle and beauty blogs.
They report on news covering industry buzz, innovations and new products, packaging design, and upcoming beauty trends to look out for.
If anyone wants to work in the beauty industry, this is an absolute must-read.
Some of the recent popular articles from the site include a look into the future of airless pump packaging for beauty products and how Cetaphil has committed to making its products carbon-neutral and biodegradable.
Read more from Premium Beauty News online and on Twitter.
27. Forbes – Best Industry News Blog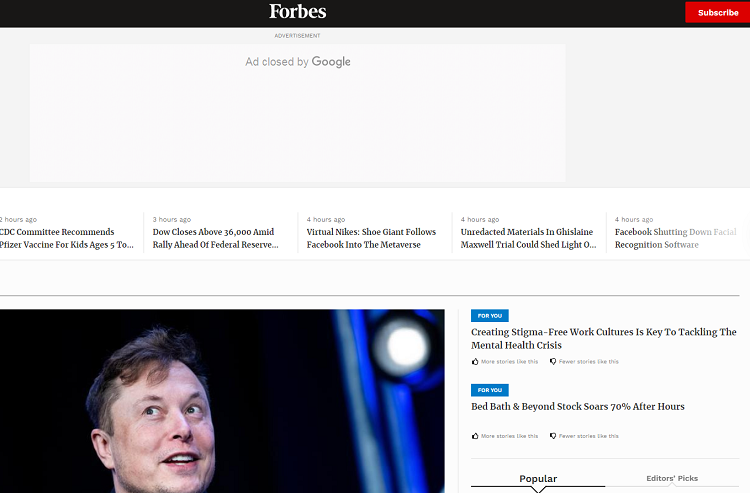 Dreaming of success as an entrepreneur?
The content on Forbes may be just the thing you need to read to motivate you to reach all of your goals.
With a focus on breaking news, business, and money, Forbes offers tips, advice, and information for budding businessmen and women, and insights that experienced professionals will also find useful.
You probably are familiar with their rankings, like 30 under 30, America's wealthiest celebrities, and the world's top companies.
Read more from Forbes online and on Twitter.
28. The Zoe Report – Best Women's Lifestyle News Blog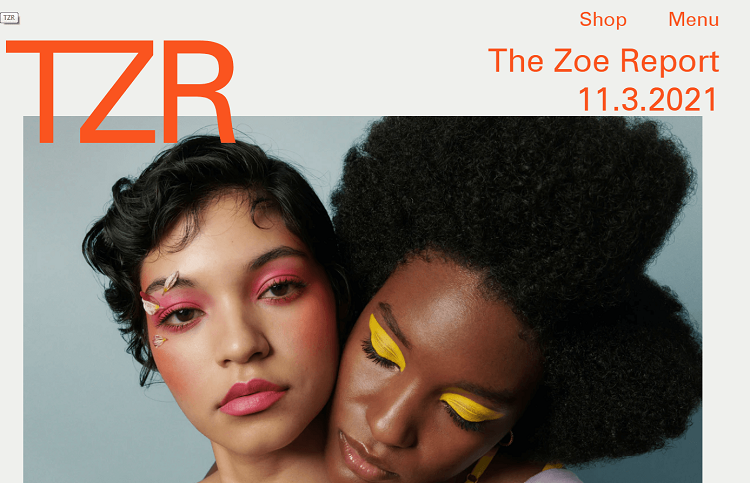 Started by American fashion designer, lifestyle blogger, and businesswoman, Rachel Zoe, The Zoe Report combines the latest news in the realms of beauty, fashion, and lifestyle⁠—providing everything that any woman would need to stay 'in the know'.
The online destination for women was recently acquired by BDG and emphasized its focus on millennial women, it has since established itself as a real leader in content for women.
Read more from The Zoe Report online and on Twitter.
29. Delish – Best Food News Blog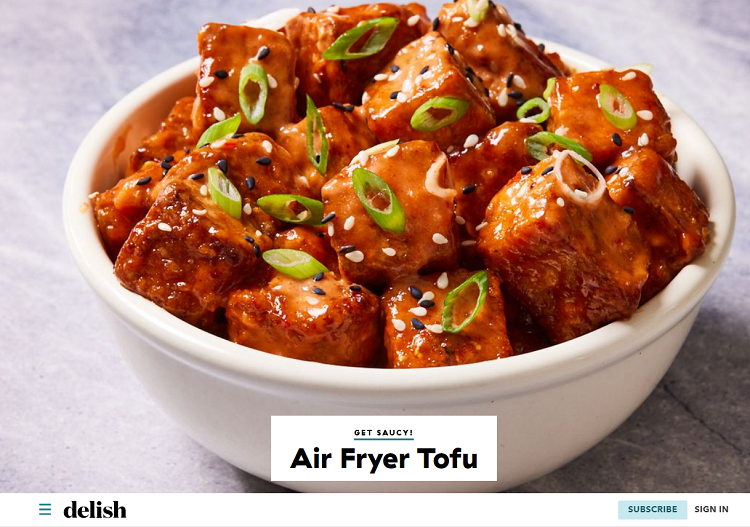 This may not be the blog to read when you're feeling hungry, but if you're looking for the hottest food recipes and food-related news, Delish is one of the leading food blogs.
Mixing news, recipes, and gorgeous photography, Delish has everything you could need when you're struggling to think of dinner ideas, on the lookout for a new way to cook dinner-time favorites, or when you need new appliances to use in your kitchen.
Some recent popular posts from Delish include an Autumn-inspired apple cider mimosa recipe and opinion pieces on how Latinx culture has influenced food in America.
Read more from Delish online and on Twitter.
30. Best Cryptocurrency News Blog

It's clear to see that cryptocurrency is the future of money and has quickly become a mainstream method of investing favored by novices and professionals alike.
If you want to keep up to date with the cryptocurrency market, which currencies are thriving, and advice on where to invest, Coin Desk will give you all the information you need.
Providing its readers with the latest news and leading the stories on cryptocurrency, CoinDesk has become an influential and trustworthy source in the ever-changing world of crypto.
Read more from Coin Desk online and on Twitter.
You might be interested to check those related posts as well:
FAQ
What is the most visited news website in the world?
The most visited news website in the world is the BBC, the world's leading public service broadcaster.
The website receives over 1 billion monthly visits and covers the latest news and sports headlines, weather, TV, radio, and any other kind of breaking news.
What is the biggest news source?
The biggest news source is now the internet, which is where most people tend to get their news because it's far more convenient than TV, radio, or newspapers.
Some of the biggest news sources on the web include CNN, Reuters, HuffPost, BBC, The Washington Post, and Fox News.
Who is the best news blogger in India?
According to Digital Exim, the biggest news blogger in India is Amit Agrawal who runs the blog labnol.org.
It's estimated that Amit makes over $60,000 a month from his blog where he focuses on topics around digital marketing, content marketing, and news about the latest tech trends.
What is the most credible news source?
The most credible news sources are the ones that are unbiased and non-profit.
A good example is an Alternative Press (AP), this outlet is normally the first to publish a lot of news stories which are then picked up by other news websites.
AP is non-profit and receives no corporate sponsorship or government funding, which is a good sign that they don't have any conflicts of interest, or show anyone preferential treatment.
Another credible news source is BBC, which is another public broadcaster that's funded by the UK government, rather than corporate organizations.
Who are the most popular news bloggers?
Some of the most popular news bloggers include Moz, which focuses on news in the tech world, Perez Hilton which runs stories on celebrity and influencer news, and HuffPost which runs news about current events and breaking news.
Some of these blogs have turned into large businesses in their own right, with many earning millions in revenue every year.
Conclusion
We hope you enjoyed reading this article about the best news blogs.
Did we mention any of your favorites?
In case you feel inspired to start your own blogging journey, we suggest that you check out our guide on How to start a successful blog in 2023.