Search engines like Google aim at fetching more relevant results for every user query online. That's why they come up with algorithm updates focused on improved online user experience from time to time.
So, what does that mean for your website?
As search engine optimization (SEO) is an ever-evolving space, hanging on to one particular SEO strategy doesn't help.
BEWARE. An obsolete SEO strategy can bury your website down in the Search Engine Results Pages (SERPs).
And the result?
Your website will hardly appear when your target audiences or potential customers perform a search online.
To stop that from happening, you need an updated SEO strategy in place.
In this write-up, I'll tell you how you can create an effective SEO strategy for 2023.
What is an SEO Strategy?
Simply put, your SEO strategy is your SEO plan. It is a process where you organize, decide and implement steps required to boost your web traffic, increase your search engine ranking and achieve greater online visibility.
An updated SEO strategy helps you understand what your potential customers are looking for online so you can create content accordingly.
This way, you don't create content pointlessly on what you think people may search for. In other words, you can bid goodbye to guesswork and start focusing on what your target audiences need and address pain points effectively.
Google ranks you higher when your content can answer its user queries accurately. That's the idea.
But is that it?
No. There's more to the story.
Let me quickly tell you what happens behind the scenes to figure out why a targeted SEO strategy is crucial.
Search engine bots crawl and index your pages before ranking them. Web pages added to Google's index are ranked based on their relevance to search queries.
When your web pages are unorganized, search engine bots find it harder to crawl and index them.
That means it will take time to rank them.
So how about making the job easier for search engines?
That's exactly where your SEO strategy comes into play.
With an SEO strategy, you organize your content and web pages making it hassle-free for search engines to index and rank them.
10 Steps to Build an Effective SEO Content Strategy 2023
Now that you know the "what" and "why" of an SEO strategy, let's get to the "how" part of it.
In this section, I'll explain how you can build an effective SEO strategy one step at a time.
1. Analyze SEO Strategies of Your Competitors
The first step to creating your SEO strategy is to know what the other players in your industry are up to. That will help you get a bigger picture of your strengths and the areas you need to improve on in terms of SEO.
So, how do you analyze your competitors?
Use a competitor analysis tool like Semrush or Ahrefs to find out who your SERPs competitors are.

That way, you will get to know the keywords they rank for, the web pages that drive high organic traffic and so much more.
This will give you an idea of the keywords you need to target and the type of content you should create to outdo your business rivals online.
Additionally, Semrush's Keyword Gap feature allows you to identify keywords your competitors are ranking for but you aren't.
Every keyword you aren't ranking for is a fresh opportunity. You can create new content or leverage your existing relevant content to rank for these keywords.
2. Make a List of Topics
The next step is to create a list of topics to create content.
So, where do you begin?
Type a seed keyword on Google.
Let's say your niche is 'Health & Fitness'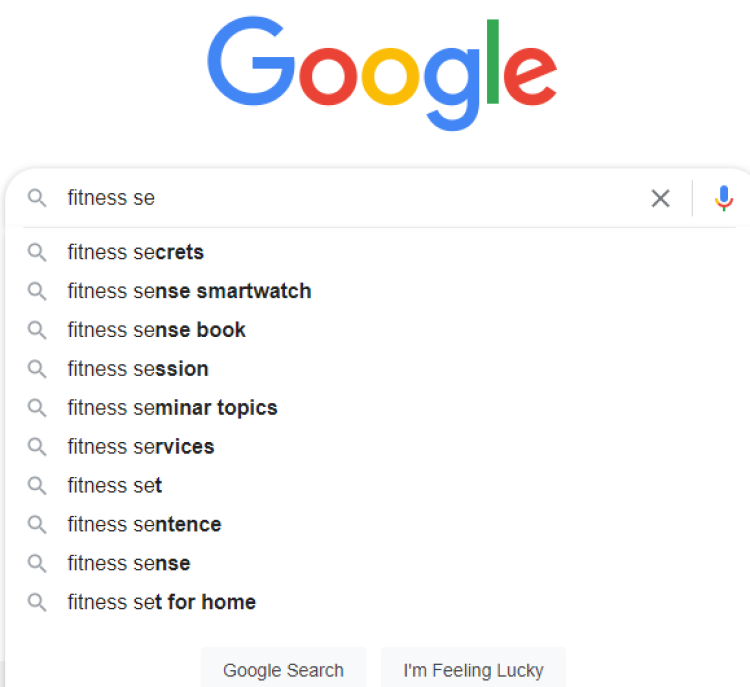 Google suggests a list of relevant keywords people are searching for. These keywords usually have a good search volume as they are pulled directly from the search engine.
For more refined keyword research based on search volume, you can use a trusted keyword research tool like Semrush.
For example, I chose the search term "paleo diet.", which has a monthly search volume of 110.0K.
The keyword research tool fetches a list of keywords related to the search term.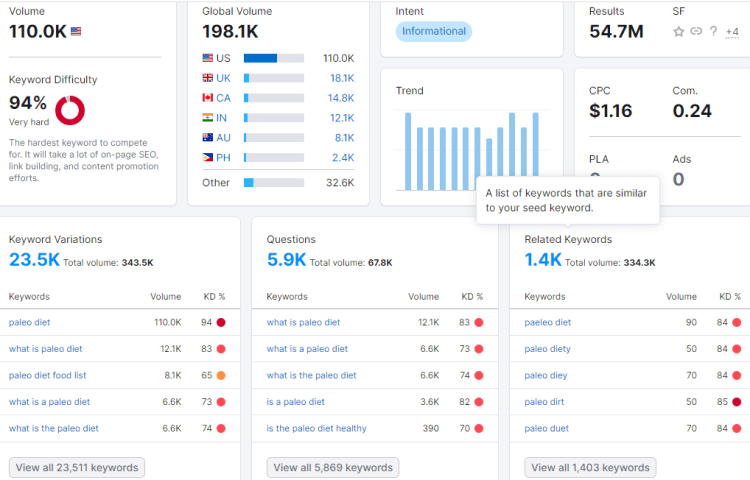 Pick anywhere from 10 to 15 short-tail keywords and create a list.
Remember, you aren't creating a dedicated blog post for each keyword. You are only picking keywords associated with your topics.
Let's take the same example as above. If I want to rank for the search term 'paleo diet', I shouldn't focus only on that particular keyword. Instead, I should also include other relevant keywords like "paleo diet foods", "paleo diet plan", and more in my content.
In other words, ranking for relevant search terms bolsters ranking for the seed keyword.
Each keyword you choose acts as a pillar of support for a bigger cluster of long-tail keywords. Let's talk more about this in the upcoming sections of this article.
While each keyword opens up a new opportunity for your business, ranking at the top of Google for every keyword in your niche is implausible.
Make sure you pick keywords with a decent search volume. Those are what your potential customers use to find your business.
After all, there is no point in ranking for keywords that no one is using.
3. Create a List of Long-Tail Keywords
So, what are these long-tail keywords? Why do you need them?
Long-tail keywords are phrases that people use to find answers to specific queries. These keywords often contain a minimum of three keywords.
Long-tail keywords come in handy to cover specific topics in-depth and create robust clusters around your pillar page.
Also, long-tail keywords are also useful to address specific pain points of your target audiences in a detailed manner and prompt them to buy your product or service.
Now, how do you find your long-tail keywords?
Once you've shortlisted your primary cluster topics, it's time to identify your long-tail keywords associated with them.
These keywords are often subtopics or in-depth supporting content pieces that strengthen your pillar page.
So, for every primary keyword that you have identified, come up with about 5 to 10 long-tail keywords that deep-dive into the primary topic.
Let me show you an example.
These are some of the long-tail keywords for my primary search term, "paleo diet."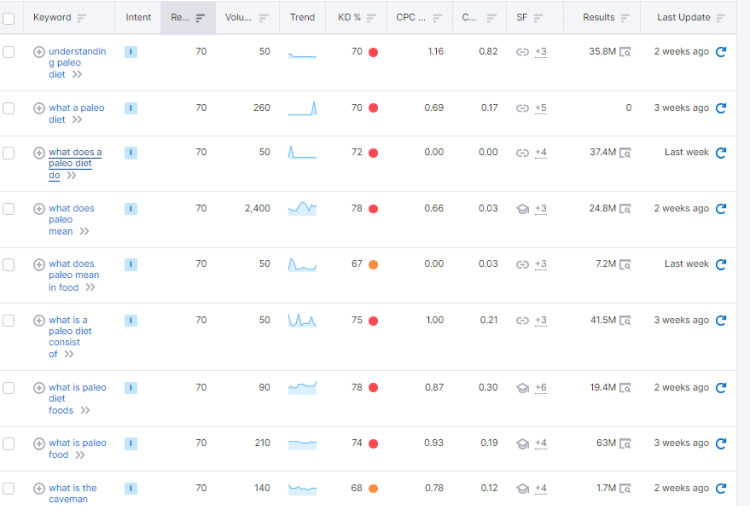 You simply have to repeat the process for every primary keyword in your list using your keyword research tool and choose long-tail keywords mainly based on search volume.
Once that's done, you can use the selected long-tail keywords to create informative, user-engaging content. It can be anything, from blog posts to user guides.
This way, you help your potential customers understand your products or services better and create genuinely compelling entry points for them to reach your business.
4. Build Topic Clusters
Now that you have your topic clusters, the next thing to do is build out on them.
Leverage your pillar topics to create web pages within your site that give an in-depth understanding of specific topics.
Make sure you include at least two or three relevant long-tail keywords in your content. As I said earlier, you can also use these long-tail keywords to create subtopics within a page.
Pro tip: You can create dedicated blog posts elaborating on these subtopics. That will make way for you to rank for long-tail keywords in your niche.
It's great if the number of pillar pages you create meets the number of products or services you offer.
This way, you can streamline the customer journey and prompt your prospects to end up on specific money-making web pages based on their interests and preferences.
5. Analyze Google's First Page
The ultimate goal of your SEO strategy is to make your website rank at the top of Google while outranking your competitors.
So, there is already someone out there ranking #1 for every search term in your industry.
How do you steal that top position?
You have to get to Google's first page to know who's secured a spot and how they made it there.
Here's how you do it.
Type a keyword in Google search.
Let's take "link building", for example.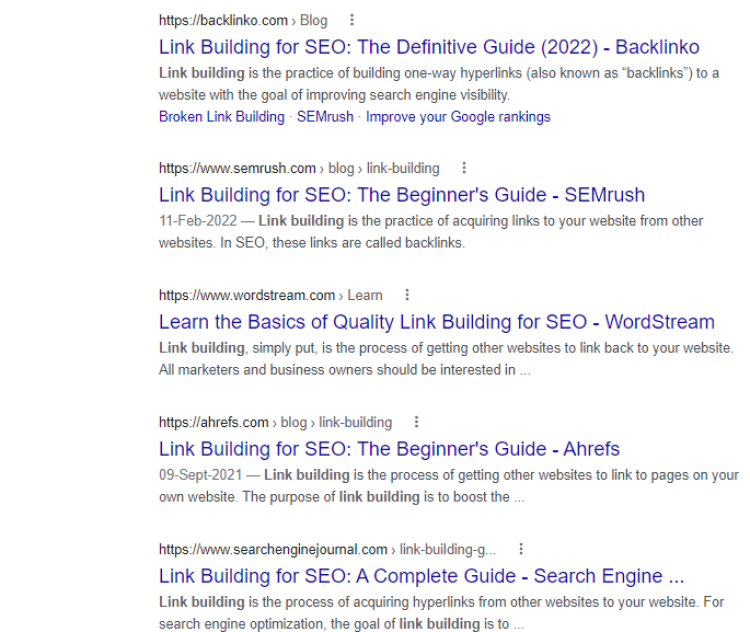 Do you see a common pattern in these results?
A majority of web pages that rank on Google's first page for the keyword "link building" are ultimate guides.
So, to rank #1 for this keyword, I will naturally focus on creating and publishing a complete link-building guide on my website.
That's the point.
SEO isn't about content creation. It's about content promotion. — Brian Dean
6. Make Your Content Stand Out
As you know, content is king.
So, when you aim at the #1 rank on Google, your content is SUPER-important.
The secret ingredient to reaching the top of SERPs is producing content that's way better than the one that's currently in the first position.
That's exactly what the Skyscraper technique talks about.
Make sure your content is 10X better than your competitors' every step of the way.
This way, besides adding value to your readers, your content will also entice many people to link to it, which, in turn, will strengthen your website's link profile.
Backlinks are, of course, a top search engine ranking factor.
7. Align Content with Search Intent
Google always aims to provide users with the most relevant answers to their search queries at the quickest.
That said, it isn't a wonder that Google is fond of the content that users like or find informative.
So, what does that mean for your website?
No matter the keyword search volume, if your content isn't satisfying the search intent of users, you won't see positive results.
But why?
That means the users are not looking for the kind of content you've created.
Let me give you an example.
Suppose the user enters "buy iPhone 13" on Google. But then they click on a search result and find themselves on a page featuring a review of the product.
That's not cool, right?
The search term "buy iPhone 13" is a commercial intent keyword that denotes that the user knows the product well and has already made a purchase decision.
Given the scenario, driving them to a product review page is inappropriate.
So, the user will certainly leave the page because that's not the content they expected to see.
That's why it is essential to ensure that your content meets the user's intent.
By doing so, you will satisfy the search engine and users alike. So, the probability of your site appearing for relevant queries will be high.
How do you make sure your content meets the search intent?
I'll explain.
Type a keyword on Google and analyze the top results.
For instance, let's take "blogger outreach."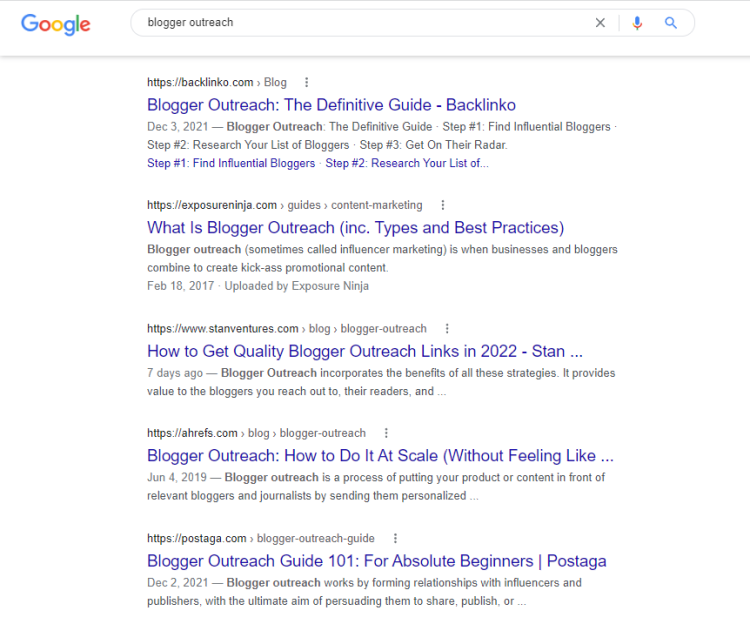 As you can see, these results are relevant to the what, why, and how of blogger outreach.
So, when you target this keyword, crafting your content to satisfy the informational intent will help you rank higher.
On the contrary, if you try to drive organic traffic or rank a service page higher for this keyword, it may NOT be likely to work the way you want.
8. Improve Your On-Page SEO
On-page SEO covers everything you do within your website to boost its organic traffic and search engine rankings.
It includes keywords, title tags, header tags (like H1, H2, H3), meta descriptions, and internal links.
While on-page SEO may look simple, it plays an important role in lifting up your site on SERPs. That's why ignoring on-page SEO elements will hurt your dear website badly.
Use a reliable on-page SEO checker tool to get a bigger picture of the improvements you need to make within your site and do the needful to fuel its search engine ranking.
9. Focus on Off-Page SEO
Unlike on-page SEO, off-page SEO points to things you do outside your site to drive more traffic and increase its search engine ranking.
While there are many off-page SEO elements, backlinks always come first.
As I mentioned earlier, backlinks are a top search engine ranking factor. Building high-quality backlinks from authoritative sites in your niche will give you the competitive edge you want.
Resource page link building, guest posting, broken link building, podcast links, infographic, and image link building are some of the tried-and-tested ways to build backlinks.
If you're not a designer, creating an infographic might be an impossible thing to do. However, nothing could be further from the truth. There are lots of tips and hints online you can use as a guide. There's also the option of using an infographic template. Use one to create your own infographics and communicate an idea in an eye-catching format.
There are trustworthy SEO agencies that provide guest posting services and they do this through a 100% manual blogger outreach strategy, which means you get genuine sites to link back to your website.
Social media engagement, forum discussion, earning brand mentions, and more are counted as other off-page SEO techniques.
10. Monitor and Optimize
No SEO campaign meets an end. Once it is on, it is always on.
Once you've created and implemented an SEO strategy, you need to monitor and refine it from time to time.
The enhancement can be anything, from creating new content and refreshing existing content to include new keywords to performing an audit to fix technical issues within your site.
After all, SEO is an ever-evolving space and a static strategy never works here.
Never skip this step if you want to retain a top position on SERPs or stop your business rivals from beating you in the SEO race.
Best Mobile SEO Strategies to Follow 2023
Did you know that more than 50% of online users use mobile devices to search for something on the internet?
Yes, if you don't optimize your website for mobile devices, you are missing out on something huge.
Let me walk you through the key mobile SEO strategies you need to follow to achieve SEO success.
1. Integrate a Responsive Design
A responsive web design ensures that the content and layout fit rightly on the user's mobile screen.
This way, you can provide a smooth user experience for your visitors.
Also, a responsive design makes way for the search engine bots to crawl and rank your web pages faster.
2. Manage Pop-ups Efficiently
Frequent and inappropriate pop-ups annoy users as they stop them from accessing the content on your web page. This holds true, especially for mobile users.
This will prompt them to exit the page abruptly, which, in turn, increases your bounce rate.
BEWARE. An increased bounce rate will have a negative impact on your SEO
So, avoid the appearance of pop-ups to accelerate your website's mobile SEO.
3. Optimize Title Tags and Meta Descriptions
Title tags and meta descriptions are a must-have for both mobile and desktop versions of your site.
Make sure you include relevant keywords in your title tags and meta descriptions to improve your online visibility.
Plus, when your web page appears on search results, the users are likely to click on it and visit your site as they find keyword appearances in the title and meta description. This will improve your website's click-through rate (CTR).
4. Optimize Page Speed
Do you know pages that load within two seconds have an average bounce rate of just 9%, while the ones that take five seconds to load face a miserable 38% bounce rate?
Ensure your web pages load faster so that your visitors don't leave the site immediately.
Use the Google PageSpeed Insights tool to know how fast your web pages load on different devices and make improvements to boost your page loading speed.
5. Make Local Search a Priority
30% of mobile searches are location-based and 78% of people who look for nearby businesses on mobile phones are likely to visit the place within a day.
What's more?
28% of online users searching for something nearby end up purchasing a product or service. Sounds great, right?
As you can see, mobile SEO is great for translating opportunities into a profitable business.
That's why it is more than important to focus on local search, especially when optimizing for mobile devices.
SEO Marketing Strategy 2023
Creating new content or enhancing your existing content isn't the end of SEO. If you want people to find you, you should be in places they are looking for as they're looking for businesses like you.
Social media, for instance, is one of the best places to promote your content for a wider reach.
Identify some social media platforms where your target audiences are likely to hang out more often. Establish your presence on those platforms by creating a dedicated page for your business.
Whenever you publish new content on your website, you can take on to these platforms and let people know you've published something new.
However, following a consistent schedule will fetch great results.
Here's an example.
Let's say you publish a new article on your blog once a week. If you follow the same schedule to promote your content, people will gradually get used to that particular pattern.
That means they know when to expect a new post from you.
Also, make sure you never compromise on your content quality and keep supplying your target audiences with the kind of content they are looking for.
This will improve the credibility of your brand and help gain the trust of your prospects.
That's exactly what you need to move them down your sales funnel and convert them into your customers.
You might be interested to check those related posts as well:
FAQs
What are the most important things for SEO?
High-quality content, powerful backlinks, the choice of keywords, robust internal linking structure, faster page loading speed and mobile-friendliness are some of the most important things for a successful SEO.
How important is a blog for your SEO strategy?
Your blog is one of the most crucial pipelines that bolster your SEO strategy. With a blog, you can achieve a higher search engine ranking by creating and publishing high-quality content that addresses your customers' pain points and answers their queries.
How much should you spend on internet marketing SEO?
Every business is unique and so are its SEO needs. Your SEO budget usually depends on how competitive your industry is, the search volume of keywords you want to rank for, the number and quality of backlinks you build and so much more.
Final Thoughts
Your SEO strategy is the lifeline of your SEO campaigns. A vibrant SEO strategy is a must-have to increase your organic traffic, boost your search engine rankings and skyrocket your business ROI.
Make sure you follow every step furnished above to build a result-driven SEO strategy that helps you achieve your goals and key performance indicators (KPIs).
Good luck!