Are you looking for some inspiration for your next trip? Here's a list of the best travel blogs and bloggers to follow in 2023.
When it comes to finding travel resources, the hottest new travel tip, or detailed destination guides, travel blogs are a treasure chest of knowledge for those who seek adventure.
Nowadays, there are thousands of travel blogs to pick from, covering everything from budget travel to luxury travel, solo travel to family travel.
We've put together a comprehensive list of the best travel blogs to follow in 2023, to help you find the travel advice you need.
What are The Main Destinations in Times of Pandemics?
After multiple lockdowns and social distancing, it's clear that many are desperate to travel again.
One only has to glance at social media to see that the ordinary traveler and influencers alike are taking the plunge and navigating traveling, despite the difficulties of COVID-19 related restrictions.
However, across the globe, the impact of the pandemic differs wildly.
While some destinations are welcoming tourists with open arms, others remain on high alert.
We've put together a list of the main travel destinations, taking into account factors such as quarantine, curfews, and tests.
Madeira: A great place to visit for its beautiful landscapes, Madeira is one of the safest destinations to visit during the pandemic.
Malta: With a temperate climate throughout the winter months, Malta is worth a visit all year round. They are also a country with one of the lowest numbers of severe COVID-19 cases in Europe.
The Azores: Throughout the pandemic, The Azores have been one of the safest destinations to visit. With many outdoor activities, visitors won't struggle to follow social distancing practices.
Costa Rica: Costa Rica has managed to maintain one of the lowest COVID-19 fatality rates in South America.
Best Travel Blogs and Bloggers to Follow in 2023
Whether you're planning your next big trip, or just looking for some inspiration, we've put together a list of the best travel blogs to follow in 2023.
Collectively, our top picks provide valuable information and guidance for every type of travel imaginable.

Nomadic Matt – Best Budget Travel Blog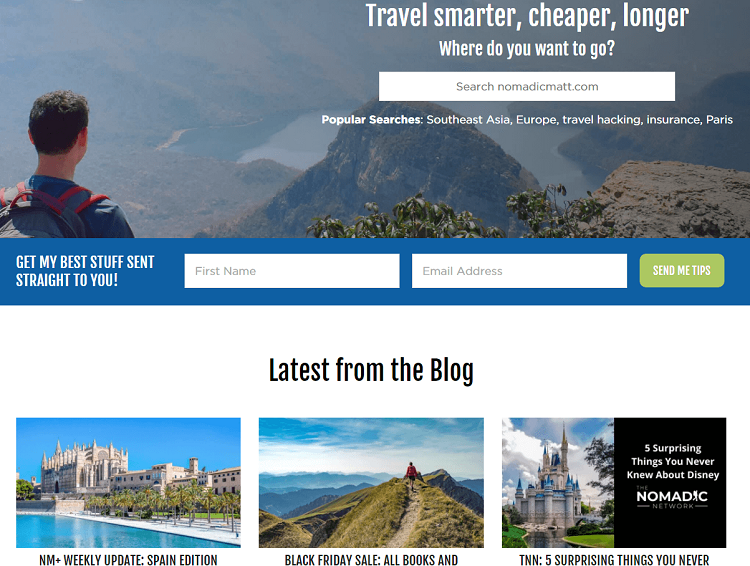 Growing up, Matthew Kepnes wasn't a big traveler.
In fact, he didn't take a trip overseas until he was 23.
This first trip took him to Costa Rica, where his experience opened his eyes to the possibilities of travel.
In 2006 he quit his cubicle job and embarked on a worldwide adventure.
His website helps the budget-minded traveler by providing tips and advice on cheaper ways to travel.
This website has been featured on major media sites such as The New York Times, National Geographic, and Lonely Planet.
From guidance for finding cheap airfare, to articles detailing ways to save for a trip, Nomadic Matt offers invaluable information from seasoned travelers.
Website: https://www.nomadicmatt.com/
Instagram: @nomadicmatt
The Travel Episodes – ​​Best Travel Stories Blogs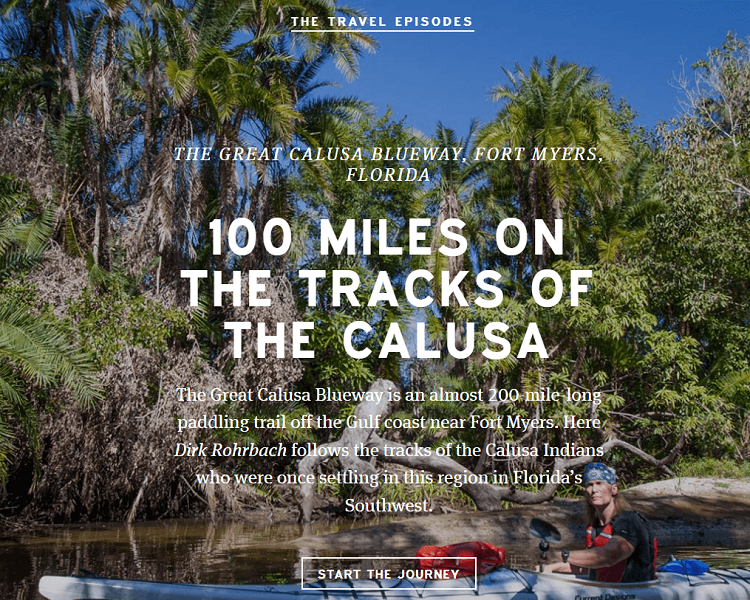 A project started by the blogger, graphic designer, and traveler, Johannes Kalus, The Travel Episodes is a website that publishes travel stories and travelogues from authors across the globe.
A self-confessed "scroll telling" site, users scroll through the stories, which are composed of a mixture of words, videos, and images.
Episodes feature stunning photography, and immersive storytelling, offering an innovative approach to travel blogging.
Website: www.travelepisodes.com
Instagram: @travelepisodes
Wandering Earl – Best Long Term Travel Blogs
A favorite travel blog amongst bloggers themselves, Wandering Earl documents the adventures of Derek Earl Baron, a certified travel veteran.
In 1999 Derek left the US for a 3-month post-graduation trip around Southeast Asia, and he hasn't been home since.
With over 20 years of experience, Derek has worked, volunteered, lived, and traveled across the globe.
In 2012 he started a tour company called Wandering Earl Tours.
This company offers guided trips to small groups, supporting small businesses along the way while providing authentic experiences through connecting tourists with locals.
His website, Wandering Earl, provides readers with insights on leading a life of long-term travel, as well as ways to make money while on the move.
Website: https://www.wanderingearl.com/
Instagram: @wanderingearl
Against The Compass – Best Adventure Travel Blog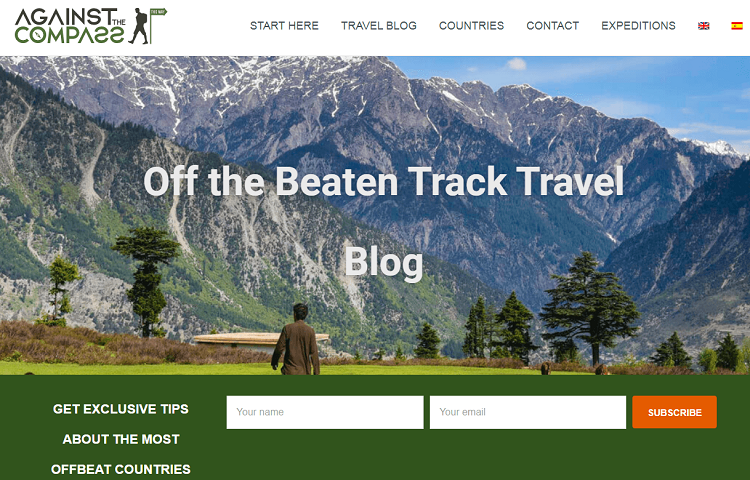 Against The Compass was created by Spanish Joan Torres, who created this alternative travel blog to inspire others to visit destinations that are off the beaten track.
His mission is to break stereotypes, by documenting his exciting adventure travel moments in countries such as Syria, Iraq, and Afghanistan.
This is one of the best travel blogs for intrepid traveler who is seeking an adventure outside of their comfort zone.
Website: www.againstthecompass.com
Instagram: @againstthecompass
Expert Vagabond – Best Digital Nomad Blog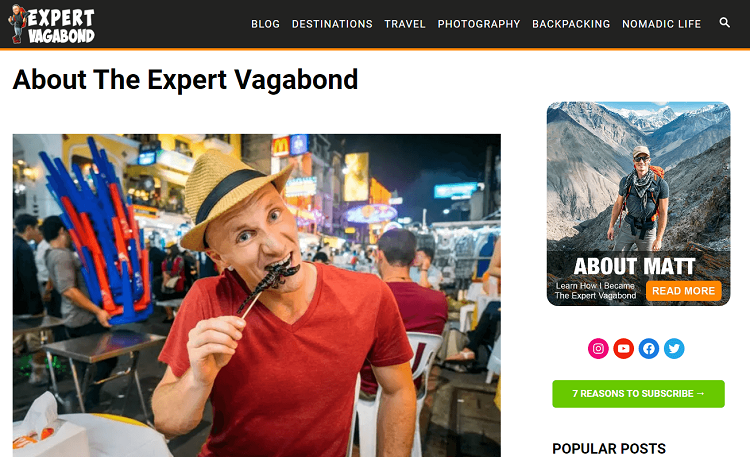 Travel blogger, the photographer, and digital nomad, Matthew Karsten, otherwise known as the Expert Vagabond, share a whole range of travel-related expertise for those seeking an adventure-filled life.
With over 10-years of traveling behind him, Matthew aims to inspire individuals with his photography and travel videos, while also offering practical advice on nomadic life.
He helps others to become location independent workers, with how-to guides on subjects such as working from home productively or becoming a virtual assistant.
Website: www.expertvagabond.com
Instagram: @expertvagabond
The Blonde Abroad – Best Female Travel Blog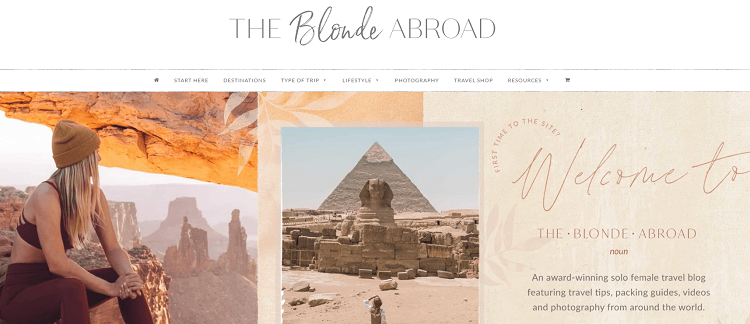 In the summer of 2011, Kiersten Rich took a hiatus from her career in corporate wealth management to spend three months traveling through Australia, Thailand, Cambodia, Vietnam, Bali, and New Zealand.
As soon as she came home, she immediately began to plan another long trip: she was hooked.
A decade later, she is an established name in the solo female travel blogging community.
Kiersten now has a six-member all-female team who help to run her business, which has various revenue streams such as digital content creation, social media marketing, and all-female travel tours.
She is a firm believer in empowering women to travel both independently or with other, like-minded females.
In addition to providing tips and tricks on everything from budget travel to luxury travel, she provides lifestyle content on topics such as style, beauty, and skincare.
Website: theblondeabroad.com
Instagram: @theblondeabroad
Legal Nomads – Most Empowering Travel Blog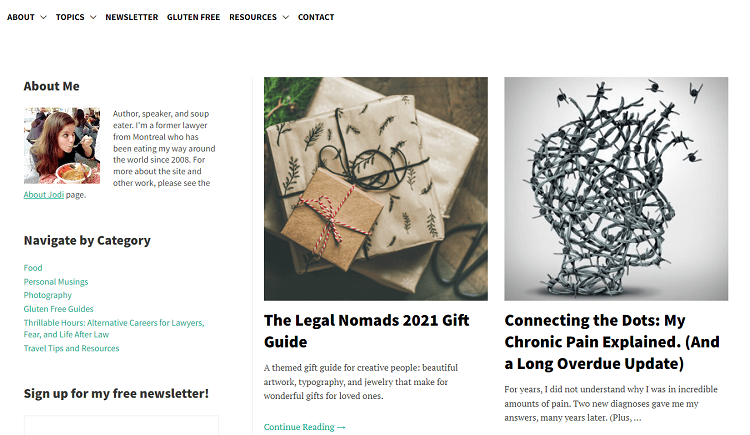 Ex-lawyer Jodi Ettenburg left her law job in 2008 to fulfill her dream of riding on the Trans-Siberian Trains and visiting Mongolia.
She started the Legal Nomads blog as a way to document her adventures, for friends, family, and former clients.
As a celiac, food was central to her travels, as she had to seek out food that wouldn't make her sick.
Through doing so, she hoped to empower others with chronic illnesses to explore the world around them.
Her website has been featured by news outlets such as CNN, BBC, and The Guardian, and she has won a myriad of travel journalism rewards.
In 2017, a routine spinal tap led to a spinal CSF leak.
Around this time, she was also diagnosed with Mast Cell Activation Disorder.
Now mostly bed-bound, the theme of her blog has made a shift, focusing on subjects such as grief and loss.
For Jodi, the most important thing is working on her mental mindset.
Website: legalnomads.com
Instagram: @legalnomads
Look yourself in the mirror and ask yourself, what do I want to do every day for the rest of my life' do that. – Gary Vaynerchuk
Bucketlistly Travel Blog – Best Travel Photography Blog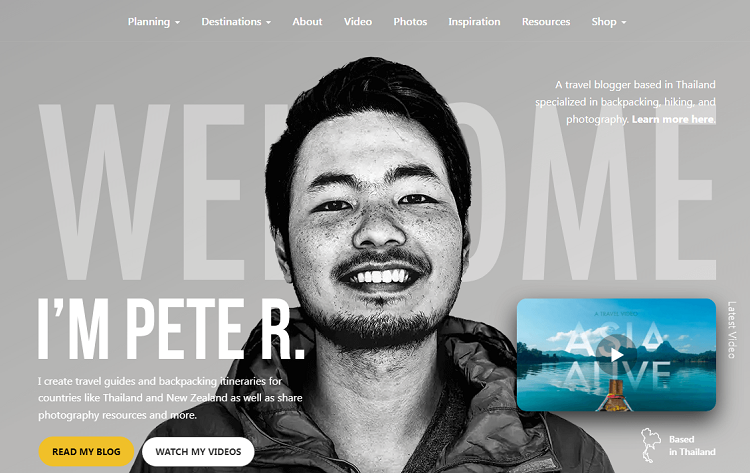 Born and raised in Thailand, Pete R began his journey as a solo traveler in 2012.
He funded his travels by working as a freelance UI designer, before beginning the BucketListly Blog.
Pete's main aim with his blog is to help ease the stress of travel planning for others, by providing travel guides and comprehensive travel itineraries.
However, the real star of his work is the incredible photographs he's taken, in different destinations across the planet.
Whether it's wildlife or a beautiful landscape, Pete certainly has an eye for beauty.
Website: www.bucketlistly.blog
Instagram: @peachananr
The Poor Traveler – Best Travel Blog for Rookie Travelers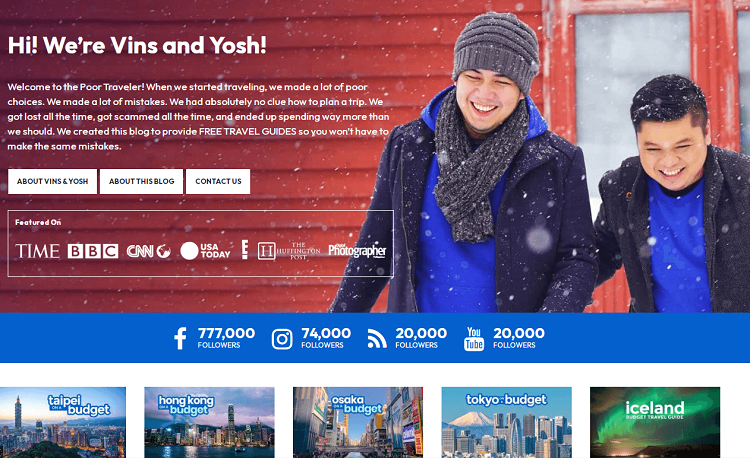 Despite the name, this blog isn't a blog for those looking for budget traveler tips.
In fact, the poor traveler refers to those who are unfortunate or unlucky, such as '​​the newbies, the first-timers, the lost and confused'.
The blog was created by travelers Yoshke and Vins, who wanted to document their misadventures.
Yoshke has since won three Philippine Blog Awards, and they have added two extra people to their team.
They aim to provide free travel tips and tricks so that others can avoid making the same mistakes that they did.
Website: www.thepoortraveler.net
Instagram: @thepoortraveler
Life Part II – Best Travel Blogs For Post-Retirement Travel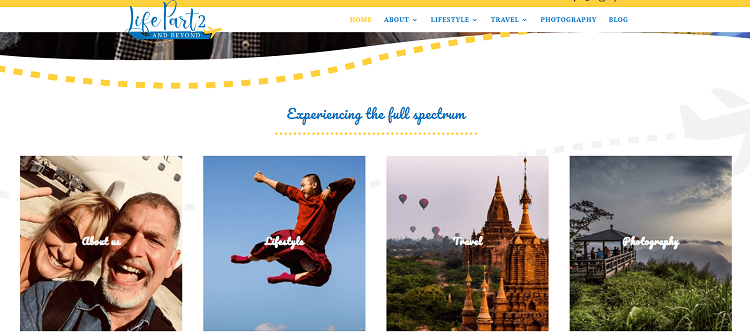 In 2011, Jonathan Look took early retirement to travel the world.
He started the blog to prove to other "baby-boomers" that the world is open to those who are adventurous and curious.
Together with his partner Sarah, they traveled extensively, documenting their adventures on the blog.
It was with deep sadness that Sarah announced the passing of Jonathan, at their home in Isla, Malta, on 12 March 2021.
Sarah intends to continue to travel in his memory, writing about it along the way.
Website: www.lifepart2andbeyond.com
Instagram: @lifepartii
Hey Nadine – Best Female Travel Vlogger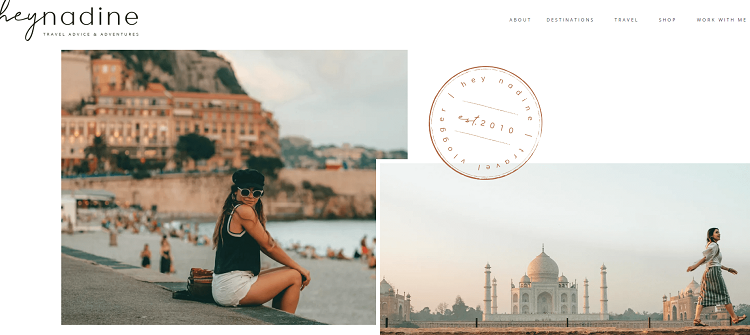 With over 495K subscribers on YouTube, Nadine Sykora documents her travels in a fun-loving, comical way, on both her YouTube and Instagram.
She has featured in publications such as The Huffington Post, Forbes, and CNN.
Her videos feature many travel hacks, such as 15 Rookie Camping Mistakes, and cover her adventures to destinations such as Kilimanjaro and the Bahamas.
She recently gave birth to a baby boy, so viewers can expect plenty of exciting new adventures as she and her partner embark on a new chapter in their lives.
Website: www.heynadine.com
Instagram: @heynadine
View from the Wing – Best Travel Blog for Airline Savings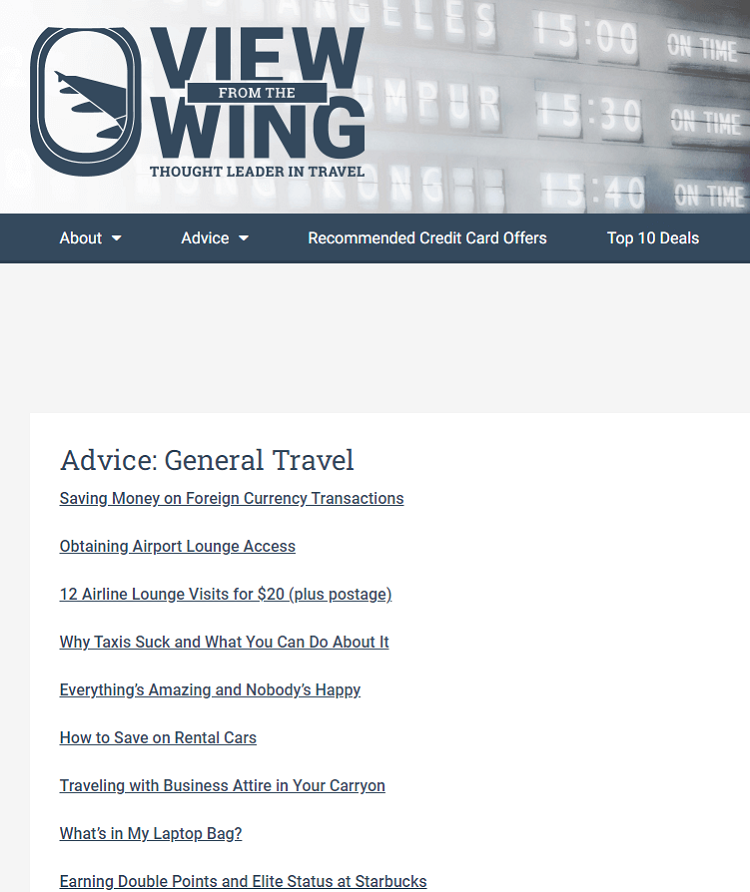 On his website, Video from the Wing, travel expert Gary Leff blogs about air miles and points.
Here you can find blog posts detailing starter's tips for collection miles and points, as well as information regarding different airline flyer programs.
Website: www.viewfromthewing.com
Instagram: @garyleff
Oneika the Traveller – Most Authentic Travel Blog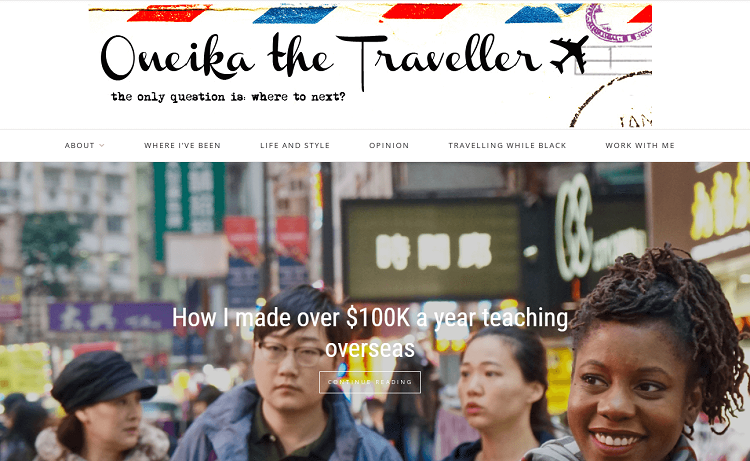 Emmy-nominated TV host and Oneika Raymond is the author of the award-winning blog Oneika the Traveller.
She documents her adventures on Instagram, on her blog, and on her YouTube channel.
Oneika uses her platform to address broader issues, such as traveling as a black person.
She isn't one to shy away from political topics, dedicating a post to explaining the reasons why she discusses politics on her travel blog.
While she is paid to visit and talk about destinations, she remains transparent and honest in her descriptions of places, and won't accept freebies that don't align with her brand.
Website: http://www.oneikathetraveller.com/
Instagram: @oneikatraveller
Never Ending Footsteps – Best Travel Blog For Anxiety Sufferers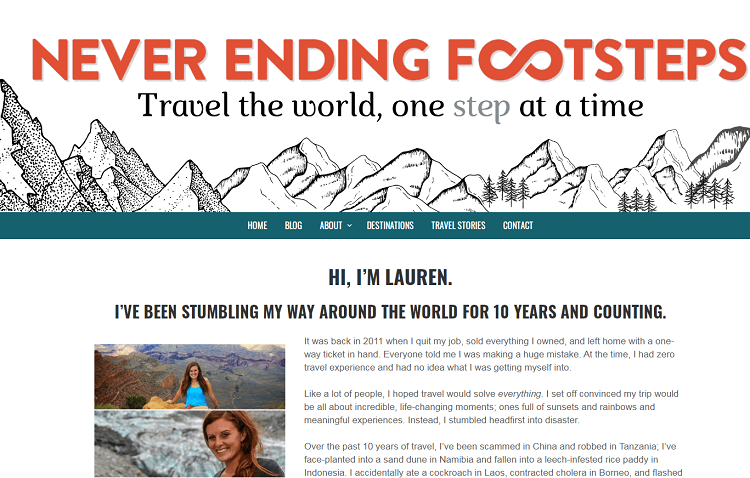 Laura Juliff always knew she had the travel bug.
Even as a child, she remembers daydreaming of foreign lands and unfamiliar cultures.
In 2011, after years of saving, she boarded a flight to Dubrovnik, Croatia, waving goodbye to her family and friends.
By the time she was 6 months into her trip, she was making $2,000 a month from the travel blog she had started 6 months before her departure.
As someone who suffers from anxiety, she launched the Overcome Travel Anxiety Course to help others overcome their fears and begin their adventures.
Website: www.neverendingfootsteps.com
Twitter: @NEFootsteps
Be My Travel Muse – Best Travel Blog for Empowering Women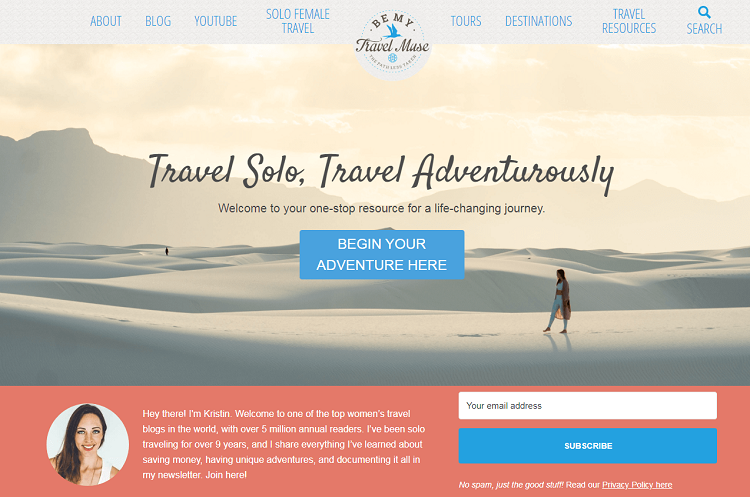 For Kristin Addis, a life following the normal path didn't feel right for her.
After four years working in investment banking, she felt miserable, her creativity unable to shine.
Eventually, she plucked up the courage to quit her job, cancel her lease, say goodbye to loved ones, and jump on a flight to Bangkok.
Since then she's hitchhiked solo across China, lead women's adventure tours across the globe, and become a Buddhist nun for 10 days.
Her blog includes a section titled 'Empowering Reads', where the posts listed aim to inspire and empower solo female travelers to embark on an adventure of their own.
Website: www.bemytravelmuse.com
Instagram: @bemytravelmuse
HoneyTrek – Best Travel Blogs For Couples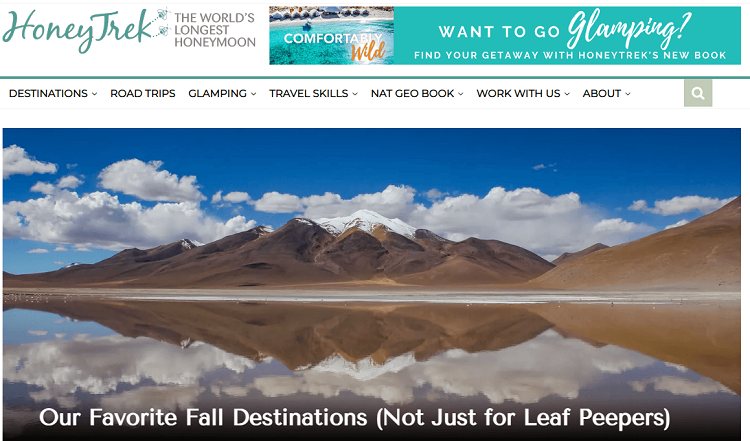 On 22nd January 2012, couple Anne and Mike Howard sold all their stuff to embark on a worldwide adventure.
Combining their skills from their previous careers in magazine editing and digital marketing, they set up their couples blog, HoneyTrek, to inspire others to travel.
Their website has been featured in media outlets, including USA Today and Lonely Planet.
Over their 9 years of traveling, they've stayed in accommodation ranging from 5-star resorts to camping tents.
However, they confess that their favorite type of lodging is glamping.
They love it so much that they wrote an entire Ultimate Glamping Guide book.
Website: www.honeytrek.com
Instagram: @honeytrek
Chubby Diaries – Best Travel Blog for Plus-Sized Travellers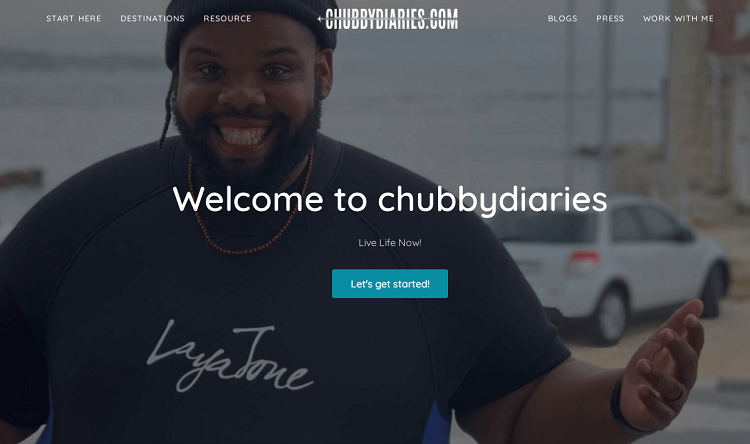 Jeff Jenkins is an award-winning travel blogger, content creator, and speaker.
He started Chubby Diaries as an online community for plus-sized travelers who are passionate about seeing more of the world.
On his blog, he shares, amongst other things, plus-sized travel tips, destination advice, and food recommendations.
Website: www.chubbydiaries.com
Instagram: @chubbydiaries_
Hey Ciara – Best Travel Blog for Millenials

After graduating from college, Ciara Johnson began working in corporate Human Resources.
However, 2 years later, she found herself miserable and unsatisfied with her professional life.
Wanting more from life, she decided to quit her job to begin traveling the world.
Her blog documents her travels, offering practical advice on tips on all things from studying abroad, to finding cheap flight deals, as she aims to inspire fellow millennials to follow their dreams.
Website: www.heyciara.com
Instagram: @hey_ciara
Another Escape – Best Environmentally-Conscious Outdoor Blog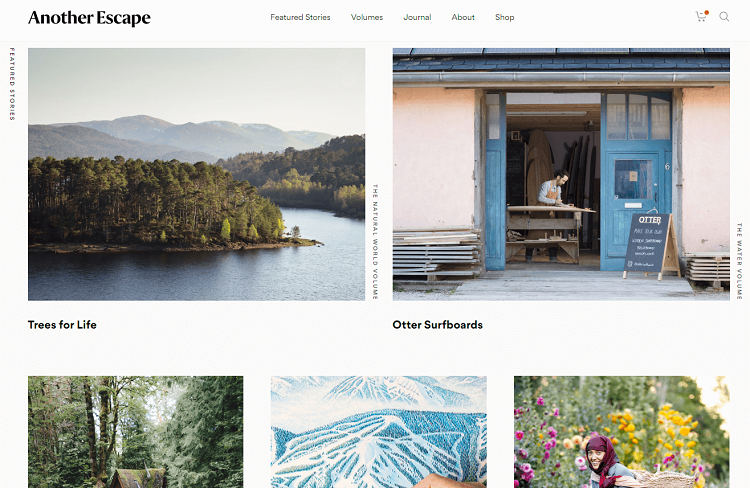 In 2012, founders Rachel Taylor and Jody Daunton created an independent media company, Another Escape.
Their mission is to encourage people to connect with the natural world and lead a more outdoor-oriented lifestyle, through both their physical journal and website.
The couple had originally saved the money they used for start-up costs to travel around the Balkans.
However, Jody injured his leg, ending up with a splintered tibia.
The surgery he underwent to repair it meant no walking for six months, meaning their planned travels could no longer go ahead.
Instead, they threw themselves into launching Another Escape.
Since the beginning of the business, nearly a decade ago, they have worked with Patagonia, and they recently celebrated being published and distributed in China.
Looking forwards, they're committed to building a future based on sustainable, regenerative living.
Website: www.anotherescape.com
Instagram: @anotherescape
Cookiesound – Most Aesthetic Traveling Blog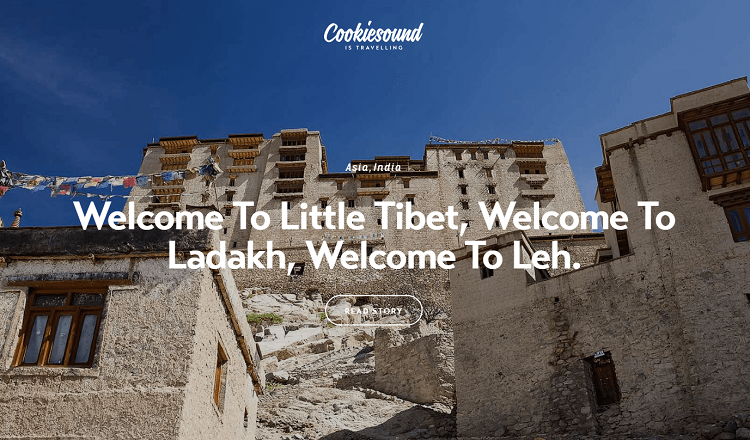 A mother-daughter travel photography team, Cookiesound documents the travels of Ulli and her daughter, Nisa.
Their adventure began soon after the birth of Nisa, with a twelve-month-long journey through Africa.
Between trips, they return to life in a small village just outside of Vienna.
Blog posts featuring travel tips and tales are interspersed with stunning photography.
Alongside their website, they run a photography company called Maier&Maier and are available for editorial and commercial assignments worldwide.
Website: http://www.cookiesound.com/
Instagram: @cookiesound
Jones Around the World – Best Travel Blog for Music Lovers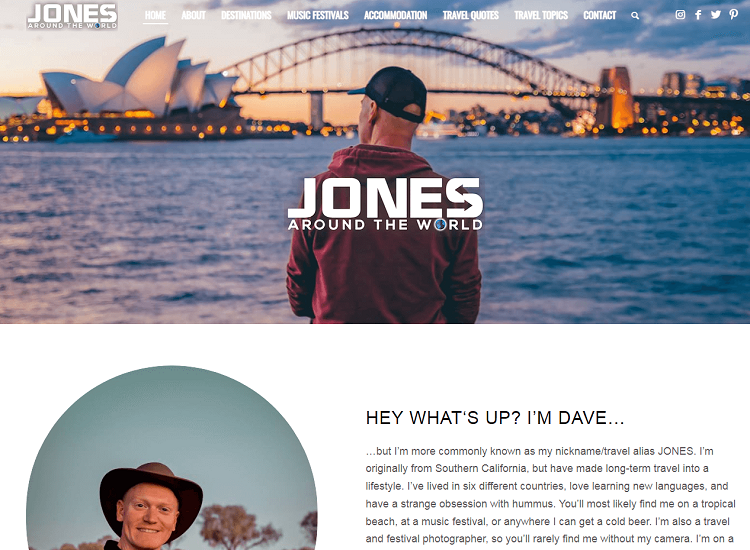 South-California-born David Anderson realized his love of travel after a 7-week trip to Europe in 2009.
In the Spring of 2010, he decided to spend a semester abroad in Rome, Italy.
Since then, he's traveled around the world, getting paid to attend Oktoberfest, toga parties in Greece, and the Cannes Film Festival in The French Riviera.
He has written extensively about music festivals on his blog, making his site the best travel blog for music lovers all over the world.
Website: www.jonesaroundtheworld.com
Instagram: @jonesaroundtheworld
Travel Freak – Best Travel Blog for Dreamers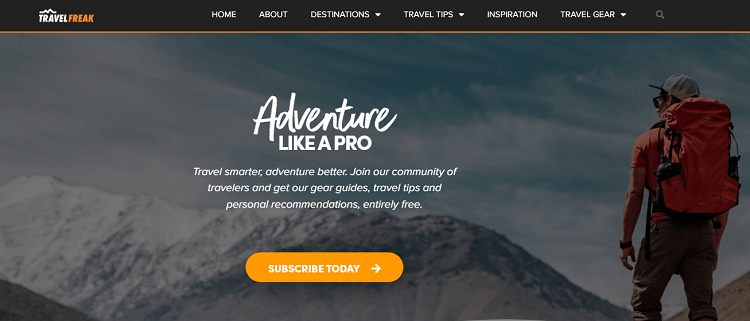 When Jeremy graduated from college in 2009, it was in the middle of the financial recession.
A firm believer in living a fulfilling life, he realized that to live an extraordinary life, he needed to do something different.
It's with this in mind that he left the US and bought a one-way ticket to Australia.
He started Travel Freak as a way to connect with other like-minded individuals, those who wanted to reject the status quo.
His advice has been featured in publications such as Vanity Fair, The New York Times, and Forbes.
On his blog, readers can find guidance on anything from travel insurance to RVs and campervans.
Website: www.travelfreak.com
Instagram: @travelfreak
Adventurous Kate – Most Influential Travel Blog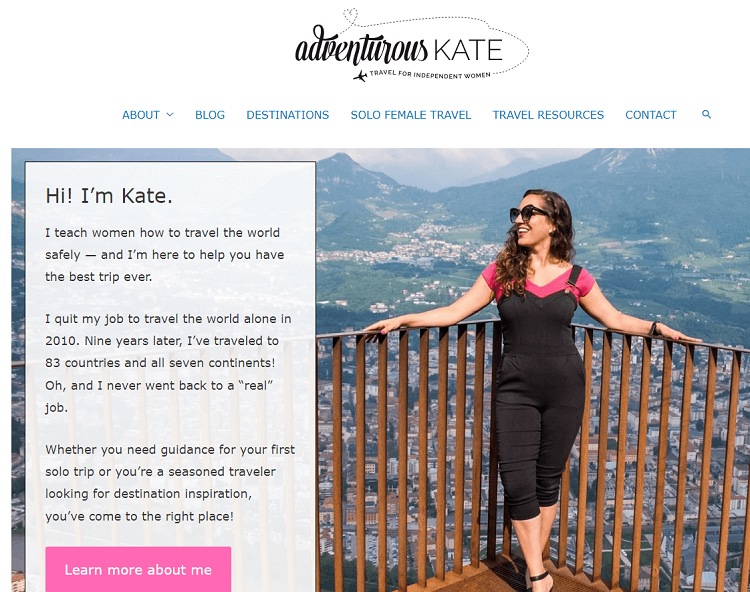 Kate McCulley was 26 when she quit her job to travel the world.
Her first stop was Southeast Asia, where she spent 6 months.
Here she worked to turn her travel blog into a full-time business.
From swimming in the freezing waters of Antarctica to fire-throwing with Vikings on the Shetland Islands, the past decade has been filled with adventures for Kate.
Her focus is inspiring women to travel, by rewriting the narrative around solo travel for females.
She has been featured in many major news outlets, and in 2017, Forbes named Adventurous Kate one of the top 10 most influential blogs.
Head over to her blog to find a whole array of resources dedicated to helping women travel the world safely.
Website: www.adventurouskate.com
Instagram: @adventurouskate
The Points Guy – Best Blog for Points and Miles Tips
Head over to The Points Guy to find all the latest tips and tricks on points, miles, airlines, and credit cards, so that you can learn how to travel the world without digging deep into your pockets.
Their beginners guide details how to use credit cards to earn points and miles, which can later be turned into airline savings.
They now have a staff of more than 100, with an expert team of 40 editors, reporters, and writers.
This website is the go-to place for those wanting to learn more about earning points and miles.
Website: www.thepointsguy.com
Instagram: @thepointsguy
The Travel Book – Best Eco-Conscious Travel Blog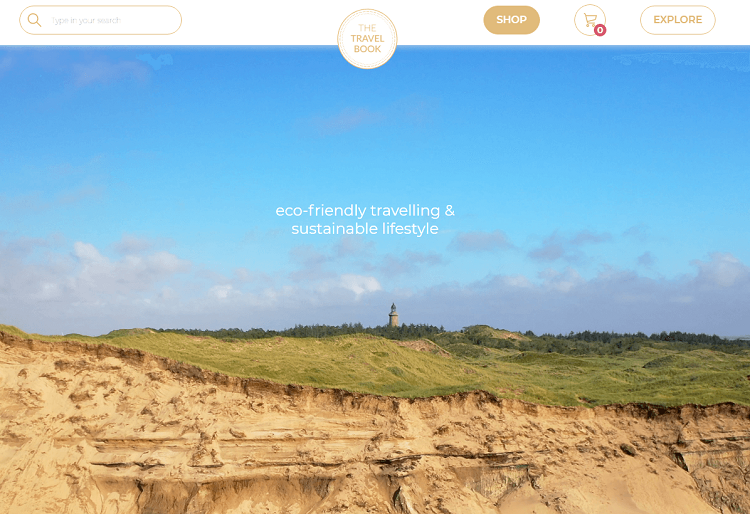 Couple Karoline and Rasmus have previously traveled across the globe to far-flung exotic places, constantly adding to their climate footprint.
However, they realized that it was time for a change: the future had to be eco-friendly travel.
They started The Travel Book to inspire fellow travelers to travel using more environmentally friendly means, to lower the impact on the world around them.
On their blog, you can expect to find beautiful travel photography that will inspire you to get out and explore.
Website: www.thetravelbook.world
Instagram: @thetravelbook
Time Travel Turtle – Best Culture and History Travel Blog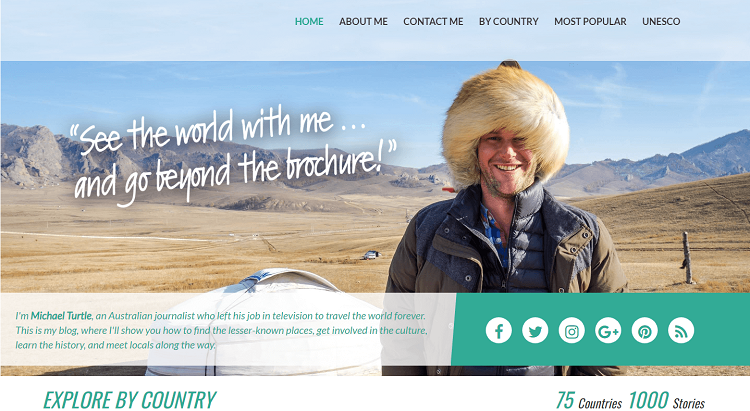 From running a student newsletter at school to working for a decade as a television and radio reporter, Michael Turtle has always been a storyteller.
Now he runs his blog, Time Travel Turtle, where his mission is to uncover places that you won't find in guidebooks or brochures.
One of his favorite things to do is visit UNESCO World Heritage Sites, and there's an entire section on his blog dedicated to this, where you can follow his progress.
Website: www.timetravelturtle.com
Instagram: @michaelturtle
Global Grasshoppers – Best Travel Blog for Travel Snobs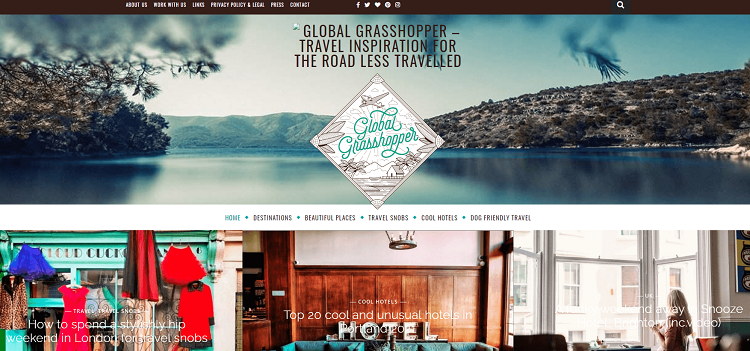 Global Grasshoppers is an award-winning blog, run by Becky Moore and her team.
They call themselves self-confessed travel snobs, who work together to discover the world's most beautiful and unique places.
Their website offers guides to finding destinations away from crowds of tourists, where you can find unspoiled places.
Website: www.globalgrasshopper.com
Instagram: @globalgrasshopr
Ckanani – Best Blog for Luxury Travel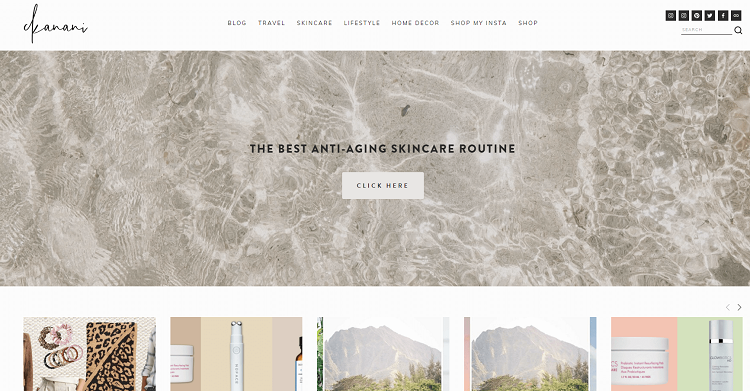 San-Francisco-based Christie Sultemeier is a luxury travel blog writer and photographer, who runs the website Ckanani.
For those who prefer the finer things in life, then Christie's website is your go-to place for all things luxury travel and lifestyle-related.
Her photos have a romantic, nostalgic feel to them, enticing you to visit the destinations she blogs about.
Website: www.ckanani.com
Instagram: @ckanani
A Luxury Travel Blog – Best Blog for Wealthy Travel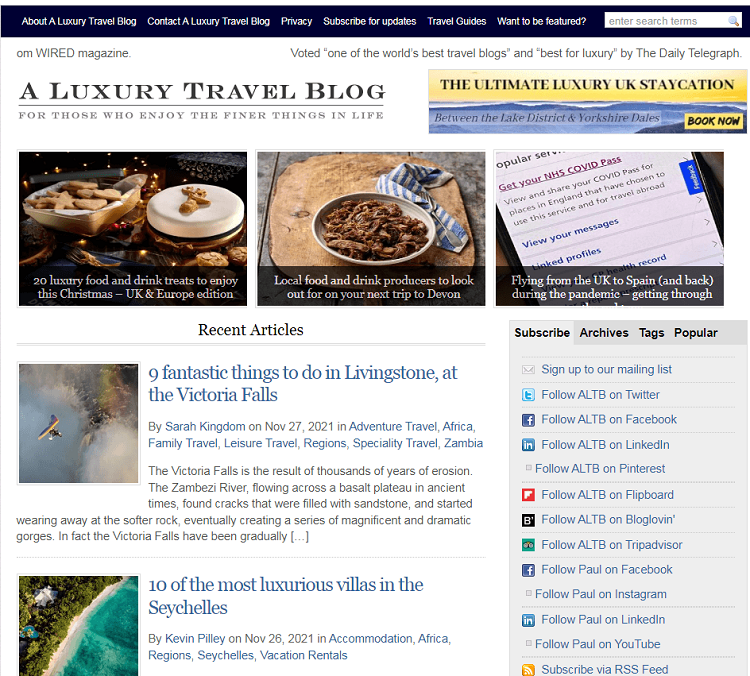 Author of A Luxury Travel Blog, Dr. Paul Johnson, has worked in the travel industry for 30 years.
He focuses on up-market travel across the globe, recommending the best hotels, restaurants, and experiences for a taste of luxury.
He has been featured in many news outlets, from CNN to Enterprise Magazine.
Website: www.aluxurytravelblog.com
Instagram: @paulhjohnson
Breathing Travel – Best Travel Blog for Wellness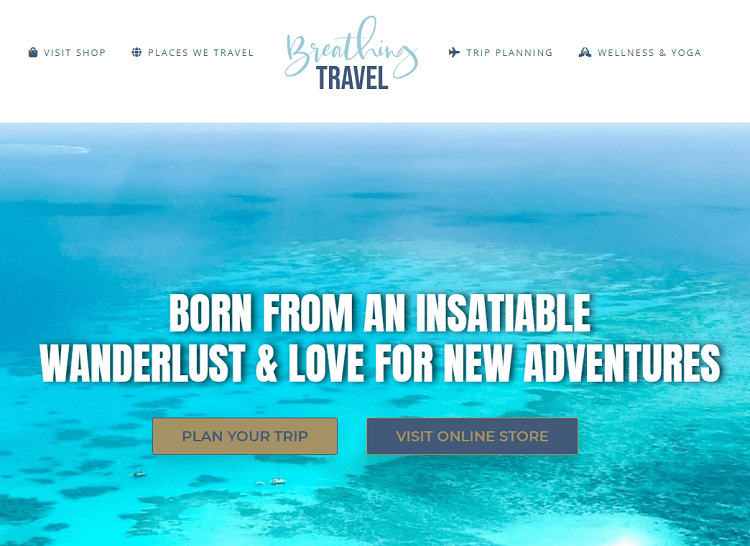 At the age of 16, Carolin Pilligrath left her home in a small town in Germany and moved to Australia for a year for high school.
After this, she says, her life was never the same again.
Since then she has traveled extensively, documenting her adventures on her blog 'Breathing Travel'.
With a section dedicated to Wellness and Yoga, her website is perfect for those seeking advice on yoga retreats, as well as recommendations for yoga gear and yoga teacher training classes.
Website: www.breathingtravel.com
Instagram: @breathingtravel
Charlie on Travel – Best Blog for Sustainable Travel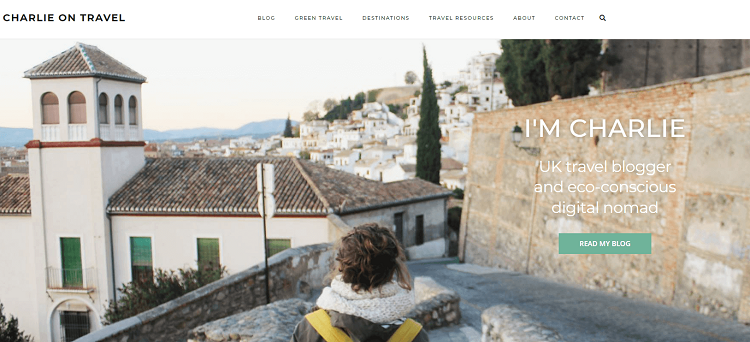 Charlie Marchant is a sustainable, UK travel blogger, who runs a website called Charlie on Travel.
She and her partner, Luke, are advocates for slow, eco-conscious, sustainable travel.
They love house sitting, claiming that it allows them to visit amazing neighborhoods that they never would've otherwise seen.
They offer green travel guides, sustainable travel guides, and house sitting advice, for those who also want to travel more responsibly.
Website: www.charlieontravel.com
Instagram: @charlieontravel
Earth's Attractions – Best Blog for Travel Guides by Locals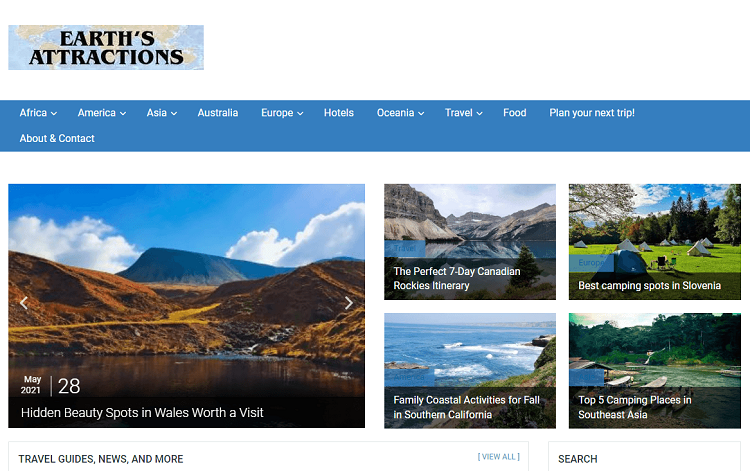 Run by Violeta-Loredana Pascal and Liliana K, Earth's Attractions is the best travel blog for those seeking advice from locals.
This website features insider travel itineraries, travel tips, and recommendations.
Check out their 'food' section for recipes for authentic dishes such as Australian pavlova and Hungarian goulash.
Website: www.earthsattractions.com
Instagram: @violeta.loredana
The Family Without Borders – Best Travel Blog for Families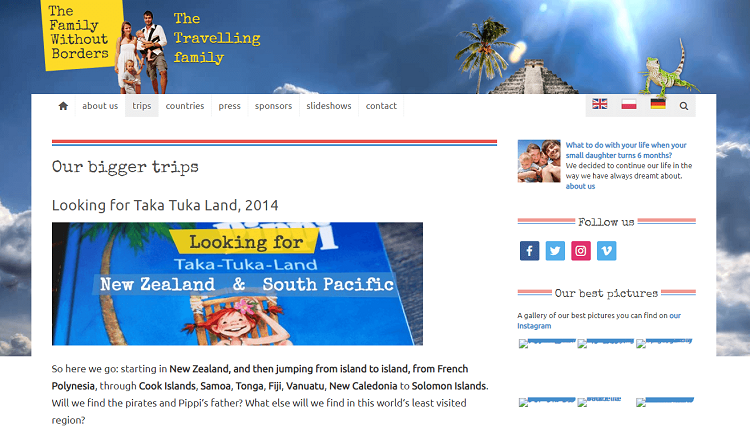 Anna and Thomas met during an international conference for young journalists in Brussels in the early 2000s.
They started traveling together to different countries, before quickly realizing that they wanted to spend their lives together.
They now have two daughters, Hanna and Mila, and they document their travels on their family travel blog, The Family Without Borders.
Thomas and Hanna prove that it is possible to live an unconventional life, even with two young children in tow.
Website: www.thefamilywithoutborders.com
Instagram: @thefamilywithoutborders
Global Help Swap – Best Blog for Responsible Travel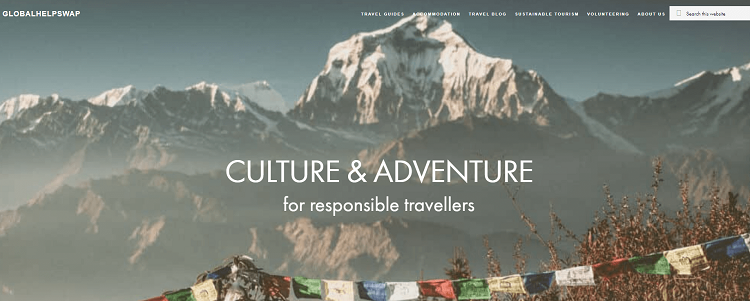 In 2009, after a year together, couple Karen and Paul decided to pack their bags and set off on an 18-month life-changing adventure.
Along the way they realized that they both had a deep desire to give back in some way, so they started Global Help Swap to promote volunteering.
However, they soon began to realize that an ugly and exploitative side existed in the world of travel and volunteering.
Eventually, their website took on a new mission: to promote responsible travel that enriches both the traveler and the destination.
Their website features guides and advice for volunteering and sustainable travel, helping others join their mission.
Website: www.globalhelpswap.com
Instagram: @globalhelpswap
Girl vs Globe – Best Blog for Foodies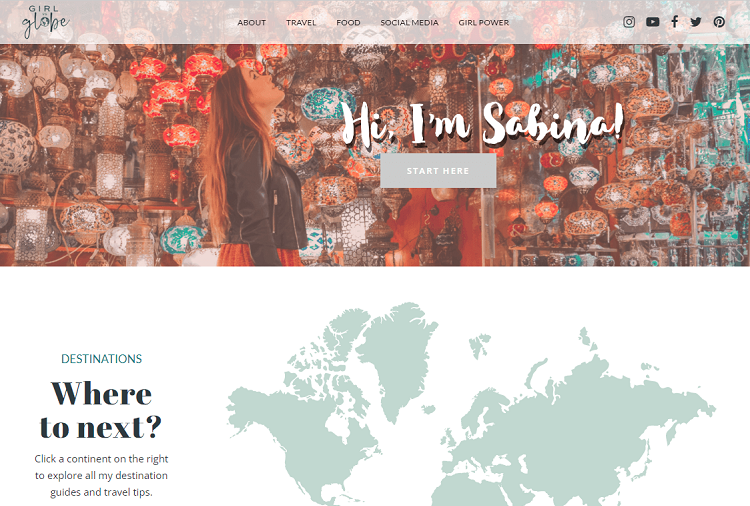 Sabina, born in Pilsen in the Czech Republic, started her blog in 2014 when she was working during the night as a broadcast journalist.
With a 2-hour gap to fill around 2 am, she leaped and set up Girl vs Globe.
After she graduated university a year later, blogging became her full-time job, and she is now able to travel and write for a living.
For those who enjoy trying the different foods a destination has to offer, you're in safe hands with Sabina.
For vegans visiting Glasgow, check out her Ultimate Vegan Glasgow Guide.
Website:www.girlvsglobe.com
Instagram: @girlvsglobe
The Opposite Travellers – Best Budget AND Luxury Travel Blog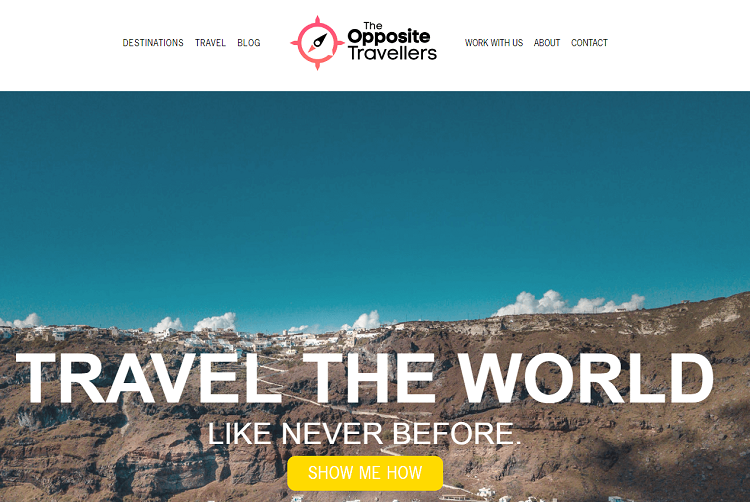 Rachel and Ryan are a travel-loving married couple, with two very different approaches to travel.
While Rachel loves traveling in style, Ryan prefers the basics.
Given that compromise is necessary for a healthy relationship, their blog documents both luxury excursions and adrenaline-filled adventures.
For those looking to strike the same balance, look no further than The Opposite Travellers.
Website: www.theoppositetravellers.com
Instagram: @theoppositetravellers
Explorista – Best Travel Blog for Entrepreneurs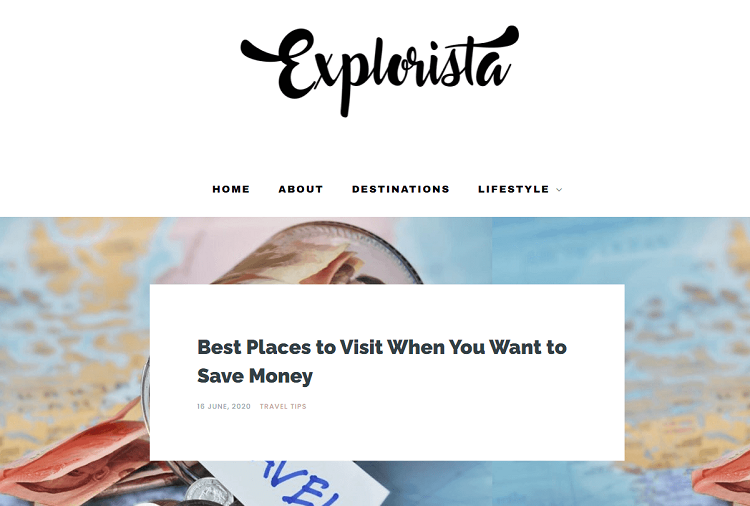 Milou, the creator of Explorista, is a full-time travel blogger and digital nomad.
Her three main passions are travel, entrepreneurship, and helping women build location independent lives.
She is the founder of Female Digital Nomads, the largest online community for female nomads.
Head over to her blog to find tips and tricks on business, budgeting, and life as a digital nomad.
Website: www.explorista.net
Instagram: @explorista
WeSeekTravel – The Best Backpacking Travel Blog

Olly is an Australian adventure travel blogger who runs We Seek Travel.
He's been living on the road full-time for nearly four years now documenting and photographing his epic adventures around the world.
On We Seek Travel, Olly publishes detailed destination guides with an emphasis on adventure travel.
From independent trekking in the Himalayas to island hopping guides in South East Asia, We Seek Travel is a go-to resource for tens of thousands of people every month.
If you're looking to get inspired, Olly takes a fresh and unique approach to travel.
He dives deep and values experience above all else.
He's fought Muay Thai in Thailand as a foreigner, solo bike-packed across New Zealand, sailed the east coast of Australia in a home-built yacht, and lived in a car in Icelandic winter.
Follow his journey and be inspired by his photography at We Seek Travel.
Website: https://www.weseektravel.com
Instagram: @ollygaspar
TripTins
Started by Charles Breitbart, TripTins is a site full of detailed travel itineraries and guides for countries all over the world. Charles started the site back in 2018 as a fun side project, writing about some recent trips he took. After having enough of the 9-5 life, he quit his job and went on a year of solo travel in 2019, visiting 20+ countries along the way. You can now find travel guides and itineraries for everything from hiking and waterfalls to cities and road trips (and everything in between).
Instagram: https://www.instagram.com/triptins/
Best Equipment for a Travel Blog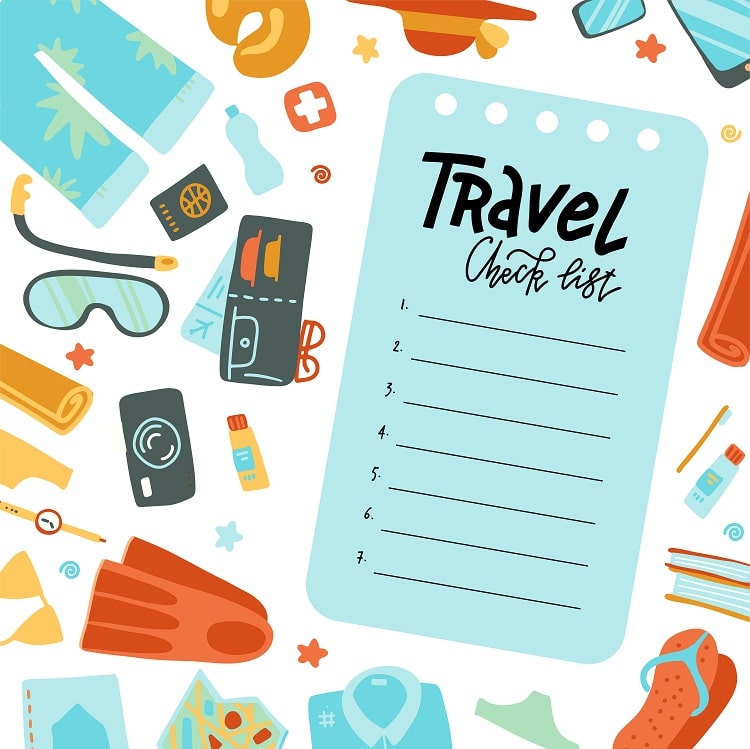 To create the best travel content, it's important to invest in the best equipment.
We've put together a list of our recommendations for the best gear for travel bloggers:
Camera: Sony Alpha a6000: At just over $600, this option from Sony is a great option for travel bloggers. It boasts a quick focus, an efficient face detection program, and interchangeable lenses. For incredible photos at a good value price, look no further.
Drone: DJI Mavic Air 2: With a flight time of 34 minutes, you will have plenty of opportunities to get the shot you're after. Two features, Spotlight 2.0 and ActiveTrack, keep subjects centered allowing you to capture the best of each travel experience.
Laptop: Apple Macbook Air Silver 13": While not the cheapest option on the market, Apple products are popular for a reason. Lightweight, easy to use, and with a sleek design, the MacBook Air is perfect for those on the move.
External hard drive: WD 5TB My Passport Portable External Hard drive: This hard drive option from WD is small and lightweight, but packs a punch. It is password-protected, provides an automatic backup, and it is compatible with Windows 10 or Windows 8.1, Chrome OS, but can be reformatted for other operating systems.
Tripod: 3 Legged Thing Leo 2.0: This ultra-compact travel tripod folds down to just 45cm in length, yet has a payload capacity of 30kg and offers a maximum height of 146cm. The tri-mount plate allows for multiple devices, making it a great option for professional photographers.
Backpack: Nomatic Navigator Travel Backpack: This 32L backpack can hold up to 5 days worth of clothing, and a 17" laptop, making it a great carry-on luggage option. Composed of durable and water-resistant materials, it's built with adventure in mind.
Best Travel Blogging Platforms
Keep a record of your adventures and share them with others using these amazing blogging platforms:
Track that Travel: This global travel blogging platform, launched in 2017, allows users to link their social media accounts and track their blog statistics.
Photler: This website is aimed at photographers, allowing them to create portfolios to showcase their travel photography.
Mapify: Previously called Atameo, Mapify is a platform where users can document their trips by uploading photos and sharing them with the community.
Travellerspoint: Travellerspoint brings together people who love to travel, allowing users to map out their upcoming travels, discuss traveling plans, create travel blogs, browse for a particular wiki travel guide, and book accommodation.
Medium: While Medium isn't a website built specifically with travel in mind, it allows users to 'write, read, and connect'. Check it out and discover a wide range of travel stories and articles.
Best Travel Blog Themes WordPress
There are 1000s of travel blogs hanging around on the internet.
To make yours stand out from the crowd, make sure to pick one of the best travel blog WordPress themes:
Maaya: This theme is easy to use, quick to load, and very aesthetically pleasing. Its style is best suited for those who document luxury travels. Best of all, there's no coding required.
Travelogue: With a unique and elegant design, a Travelogue is a good option for those looking to showcase stunning travel photos.
Divi: A very popular theme among bloggers, Divi offers multiple ready-made layouts and unlimited customization options.
Vagabonds: With a nod to traveling in the name, this theme is a modern and stylish option for travel bloggers.
Elegant: Although simple, this theme is elegant and beautiful. Without unnecessary add ons, Elegant allows for the focus to be on your content.
Best Travel Blog Squarespace Template
Squarespace allows users to build beautiful websites relatively easily, without spending loads of money.
Here's a selection of our favorite Squarespace templates:
Native: This template features a clean, minimalist design, which allows your great content to shine.
Skye: A great option for websites with multiple contributors, Skye allows you to display an author bio and photo at the end of each blog post, or in the sidebar. On top of that, the design is crisp and clean.
Haute Culture: Haute Culture is a template that prioritizes imagery. If you intend to start a blog to showcase your photography skills, this is the option for you.
Rivoli: This template design screams elegance and sophistication. It's easy to use, yet looks highly professional.
Tudor: A great all-around choice for bloggers, Tudor features a modern, asymmetrical design.
Best Insight about Travel Blogs according to Reddit:
As someone who has been an avid reader of travel blogs for many years, I would suggest that you consider starting a travel blog only if you are actively traveling or have a genuine passion for a specific destination or aspect of traveling.
You might be interested to check those related posts as well:
FAQ
Who are the most famous travel bloggers?
There are many popular travel bloggers, many of whom followed a similar path: they quit their jobs to embark on an adventure, and never looked back.
The most famous among these vagabonds are those who offer practical insights into life on the road, as well as tips and tricks for other travelers are Expert Vagabond, The Poor Traveller, Nomadic Matt, and The Blonde Abroad.
Who are the highest-earning travel bloggers?
For those at the top of their game, travel blogging can be very lucrative.
With revenue streams including incomes from sources such as affiliate links, sponsorship, adverts, and running courses, there are many ways that a travel blogger can rake in the cash.
The highest-paid among them include Nomadic Matt ($50K+ per month), Johnny Ward from OneStep4Ward ($20-25K per month), and Derek from Wandering Earl ($12K per month).
What are the most popular travel blog topics?
Travel blogs cover content ranging from destination guides to long-haul flight packing tips.
Some of the most popular blog topics include the following:
Tips for Booking Cheap Flights/Accommodation/Tours
Top 10 Best Beaches in [insert destination]
How to Become a Travel Writer
How to Save Money For Travel
10 Travel Photography Tips
Packing List for [insert destination]
Advice for Solo Travelers/Family Travel//Travelling with Friends etc.
Tips for the Best Road Trip
10 Tips for Submitting Work to Your Favourite Travel Magazine
Conclusion
We hope that our list of best travel blogs to follow in 2023 gives you the inspiration you're after to pack your bags and embark on an adventure of your own.
Whether you're traveling to a popular destination, or off the beaten track, our list of travel experts will have you covered with all the tips, tricks, and advice you need.