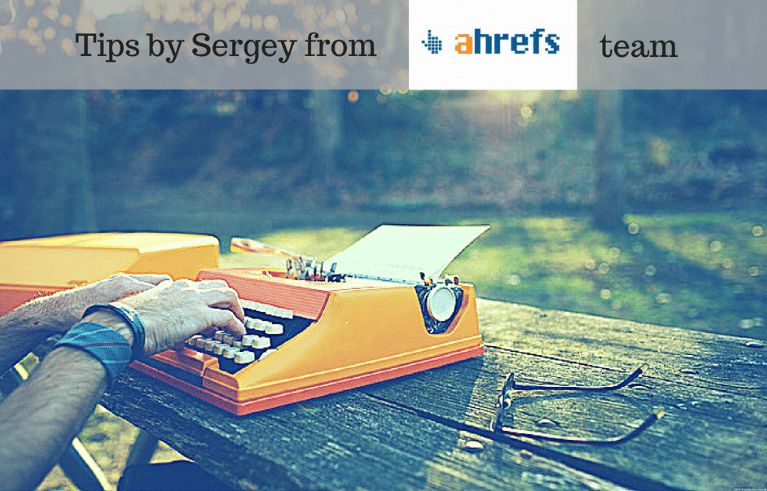 Content is one of the key elements that help your website rank on Google. And thought about top positions in the search forces us to create whatever content we can just to reach our goal. Unfortunately, neither Google nor your audience will be impressed with some mediocre content. Both search engines and people want to get high-quality, informative, and unique content ONLY. But how is it possible to write top-notch content both for people and robots? I am going to tell you about 10 SEO copywriting rules that will help you make your content far better for Google. Shall we begin? SIDENOTE: if you are curious about what SEO tips would work for you in 2018, check out this video.
What Does SEO Copywriting Exactly Mean?
The definition of 'SEO copywriting' is simple. It says that this type of copywriting tends to make your content rank better in Google. Apparently, it includes a formal process of writing content mixed with some SEO techniques that would help to make it rank well in Google. In a nutshell, there are three basic steps:
Choose the topic that has decent organic search traffic potential
Write content
Build link triggers
You might think that these three steps look a bit simple. However, SEO copywriting wouldn't be called an art if it was as easy as a pie. Thus, I will cover 10 other aspects of this process along the post.
1) Start with the Content Idea
It goes without saying that when you write content on a daily basis, it will be hard for you to come up with an outstanding blog post idea that would hit the jackpot. You start surfing the net to find the topic that strongly resonates with your target audience's interests. And you can see that there are too many variations and ideas for content to choose from.
How to make a right choice?
Here are a few ways to come up with a fresh blog post idea that would be in-demand:
You can use different SEO tools for brainstorming content ideas but I personally prefer to use Content Explorer tool. It works pretty simple, just put into the search bar a query related to your niche and see what content gets more organic traffic:
As an example, I decided to test what I could get for 'protein powder' topic. The tool provided me with 3K results for the past month and it seems like I could find a few ideas for myself among all the articles: "Here's Exactly How Much Protein You Should Be Eating Every Day" and "The 15 Best Keto Breakfast Ideas to Power Up Your Morning" look promising to me and they have 4.8 – 5K organic traffic. Now I should think about the title of my future post on the same topic and start writing the post. I also recommend you to use BuzzSumo for finding content ideas. This tool works brilliantly as well. 2.  "Evergreen" content still rings the bell! So, why not to use it to your benefit? It is a well-known technique called a "skyscraper"? Here is a brief guide on how it works:
Analyze your content on a blog and see what topic has got the majority of social shares, backlinks, and traffic
Give it another chance and update with the new fresh information
Get in touch with all people who linked back to it previously
Introduce your new version of the same post
Believe it or not but this strategy works great. Go ahead and try it. Let's say you have already found an idea for your post. What's next? Yes, the next step is keyword research. (Editor's note: read Robbie's round up post on the best Tools For Keyword Research)
2) Keyword Research
Content creating always revolves around some keywords that you want to rank for in the search. That's why it is utterly important to do detailed keyword research. I won't cover the whole keyword research process in this post because it deserves a separate guide. However, I would like to touch upon another aspect of it. There are billions of the keywords that people use for creating content but informational keywords bring more value to your content. First of all, let me explain what "informational" keywords are. Informational keywords tend to provide people with certain information and this type of keywords always has informational intent. These keywords are distinguished by "question words" like "how", "where", etc. What's more important, such keywords are not commercial. Thus, you should use them for the sake of sharing the information only. It is uber-important to keep this in mind because there is no sense to rank for the keywords that Google doesn't really want to see due to low search volume. Since I mentioned a search intent I believe it would be useful to discuss it deeply.
3) Search Intent
Let's say you know what type of content you should create. However, the question is " how to make a target audience find your content? " If you put any query into Google's search bar you will get hundreds of thousands (or, even, millions) results in a second. Here, let's see what I will get for "email marketing" query: As you can see, the results are huge numbers but only a bunch of them have a chance to get to Google Top 10. The main idea is to find a solution and make your content rank well. I must admit that there are many different ranking factors that play a crucial role in placing content in Google search. However, a search intent is the factor that helps Google understand whether a search query gains traction among users. I recommend you to discover the SERP results concerning any commonalities. Here are the observations for "blogger outreach" query:
The screenshot above illustrates the list of the articles containing "how-tos" , "tips", and "list of tools" guides. You can find the data on informational keywords that you might miss to rank for with the help of Content Gap tool:
Exploring this information you can start to build some assumptions on who might be interested in your content. Knowing the exact search intent you will be able to find the right topic that would make your audience to read your post. If the audience finds your content useful, Google will reward you with a top position in the search.
4) Don't Shy Away of Using Long-Tail Keywords
Long-tail keywords are a 'phrase' type keywords that contain at least three or more words in the phrase. It should be stated that long-tail keywords have a low individual search volume but this type of keywords makes up around 40% of all search traffic on the net. And here is what the search demand curve shows in numbers:
The stats reveal that even if the individual volume is low, there is a huge amount of phrase combinations that make the overall volume pretty high. Thus, it makes sense to use the long-tails in your writing.
5) Long-Form Content Works Great
Despite the fact that writing long-form content takes your time, you won't regret it. Google loves this type of content due to a couple of strong reasons:
It is topically relevant.
First things first, Google considers topic relevance as a very significant ranking factor. Thus, you should try to create content that would go in line with the inquiries people tend to put in the search. Here is what I mean by this. If you put a query "jack london birth", you will get a short piece of information:
An ordinary and straightforward query provides with the same search result. Let's go further and put another query like "how to bake cake", you will get a step-by-step instruction:
By clicking "More items" you will be redirected to a post with the same instruction that includes a few more items. These two examples have proven you that it really depends on the query people put into the search bar. So, the query like "how to do on-page seo" will give you a list of results that would be long-form articles:
Such type of queries is pretty hard to cover with the help of short-form content. Thus, it is the situation when long-form posts come in handy.
I think the best argument would be a couple of illustrative infographics. And I want to start with the one that Backlinko has proven in the research:
Another chart from HubSpot illustrates that the content with 2,500+ words ranks better in contrast to a smaller one:
I am sure that you don't have any doubts that long-form content ranks well.
For your information, long-form content is really shearable. And it is due to all the useful information it brings into masses. Here is a chart that shows how many shares content gets depending on its length:
As you can see, the more words your content has, the more shares it will get.
If you can't convert your content, you won't be able to give it another chance to hit the jackpot. That's why long-form content works great. You can refresh it by adding some new elements in the text. Or you can create it in some other way crafting video tutorials or infographics. In a nutshell, long-form content gives you more possibilities for manipulations with your content marketing efforts.
6) Add Keywords Within URLs, Titles, and Headers
You should know that the first places where Google starts looking for the keywords are URLs, headers, and titles. Your task is to help Google with finding the keywords. Now I want to show you how a particular keyword should be placed within the URL, title, and header. Let's take the keyword "Google keyword planner" and see how it is used within:
Furthermore, you can use long-tail keywords as well. You can see the examples above in the title ('How to use Google Keyword Planner') and in the header ('How to gain access to Google Keyword Planner'.)
7) Don't Forget to Link to Other Relative Resources
You should never neglect linking to other resources within your content that are related to your niche. It is a useful practice for your website and content. So, what is the benefit of this?
You provide the users with a flexible way of acquiring new information
Google will reward you for the help with finding answers to questions people have
In other words, there are no negative aspects of using this strategy.
8) Don't Avoid Linking to Your Own Content
The other name of this technique is called "interlinking" and it means linking to other pieces of content from the posts on your website. Like this one:
What are the advantages of this strategy?
It passes link juice between pages on your website
It organizes website architecture
It opens routes to the pages that have been less accessible to search crawlers?
It improves the user experience
Etc.
9) More Interaction with Your Users
There is one of the important factors that Google always takes into account. I am talking about 'bounce rate.' Bounce rate shows the percentage of the visitors on your website considering the time these users spent on it. In plain English, it is calculated how much time a person spends on your site. If Google notices that your site's bounce rate is high, it will be a clear signal that your website is less popular and less useful for users. It will lead to low rankings and the absence of traffic. To prevent yourself from the bad bounce rate stats, you should interact with your audience. Try to create engageable content, add different variations of multimedia, reply to the comments, and apply inbound links. Try to create engageable and conversational content, add different variations of multimedia, reply to the comments, and apply inbound links.
10) Don't Be Shy and Encourage Your Audience to Share Your Content
Without sharing your content, you won't reach out to Google Top10. To get more shares, you will have to encourage your target audience to do so. There is nothing abnormal in asking your users to click "share" button. Keep in mind that the "formula of success" is pretty simple. I've already told that the more words your content has, the more shares it will get. Furthermore, if you have more shares, you will get more traffic. The more traffic comes to your website, the more chances it has to rank higher in Google.
To End Up
SEO copywriting is not all about some technical manipulations with your content. It has a more "humane" approach in organizing writing materials. I have just listed 10 rules that I advise you to abide to take your SEO copywriting skills to the next level. I don't say that it is not a challenging task but if you overcome it, you will get a solid amount of passive traffic. If you found this post useful, feel free to share it on your social media channels. And don't forget to leave your comments as well.   This is a guest by Sergey Aliokhin from Ahrefs. About the author: Sergey Aliokhin is a Marketing Manager at Ahrefs. Apart from working at Ahrefs he likes spending his time with family, studying martial arts and plucking fat bass guitar strings.