Are you in need of some foodie inspiration?
Look no further!
We've compiled the best food bloggers online right now to give you some cooking inspiration.
Read on to find your next food fix!
What Is A Food Blog?
A food blog is a type of blog that primarily focus on food-related topics. It is a platform used by individuals, known as food bloggers, to share their experiences, recipes, cooking techniques, restaurant reviews, and other culinary content with a wide audience.
Food blogs often feature a combination of written content, high-quality food photography, and sometimes videos. Bloggers may document their own cooking adventures, provide step-by-step recipe instructions, share personal anecdotes related to food, and discuss food-related news.
What Are The Pros Of Being A Food Blogger?
Starting a blog is exciting!
You can be your own boss!
Bloggers connect and work with like-minded people.
When you run a blog you have full creative control of the subject matter.
If your blog grows large enough you'll be able to travel or start book projects.
With a larger platform, you can voice your opinion on topics that matter to you.
You can monetize the blog and make some money!
Your cooking skills will keep growing as you try new recipes!
Blogging will teach you more skills. When you have a blog you also write, edit, and create imagery!
27 Best Food Blogs and Bloggers to Follow in 2023
Whether you're after a hot new recipe, a way to use up ingredients, or a meal plan for the next week, we have a blogger for all needs.
Here are the best food blogs and bloggers online now!
101 Cookbooks – Best Healthy Food Blog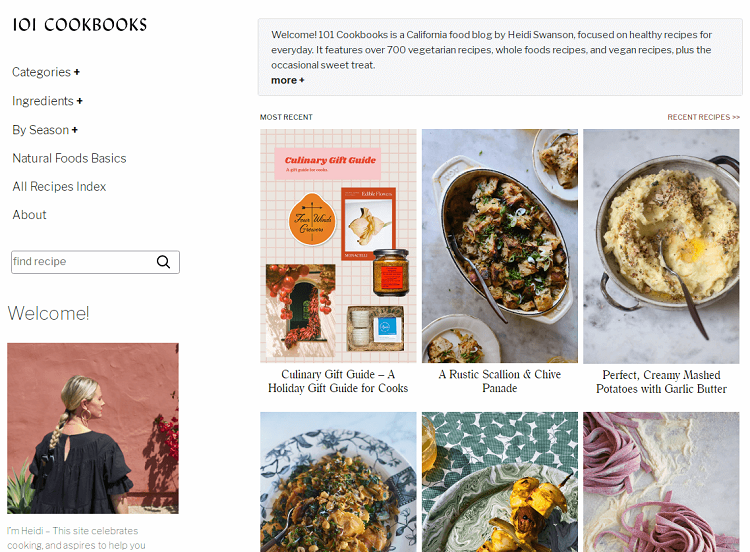 With nearly twenty years of experience, 101 Cookbooks was created to share the owner's cookbook collection online.
Owner and creator Heidi Swanson was fed up with cooking the same recipes over and over, so decided to embrace her large cookbook selection and share this love online.
The recipes shared by Heidi are vegetarian, vegan, and all-natural.
You can also find a range of gluten-free, low-carb, high protein, and quick-to-make recipes on her blog too.
If you're beginning a vegetarian or vegan journey or maybe you just want healthy recipes, this is a great blog to read as there's a recipe for every occasion!
101 Cookbooks also features gorgeous food and lifestyle photography, so if you want an aesthetically pleasing blog – this is the one for you!
Find the blog here or on Instagram here.
Minimalist Baker – Best Everyday Food Blog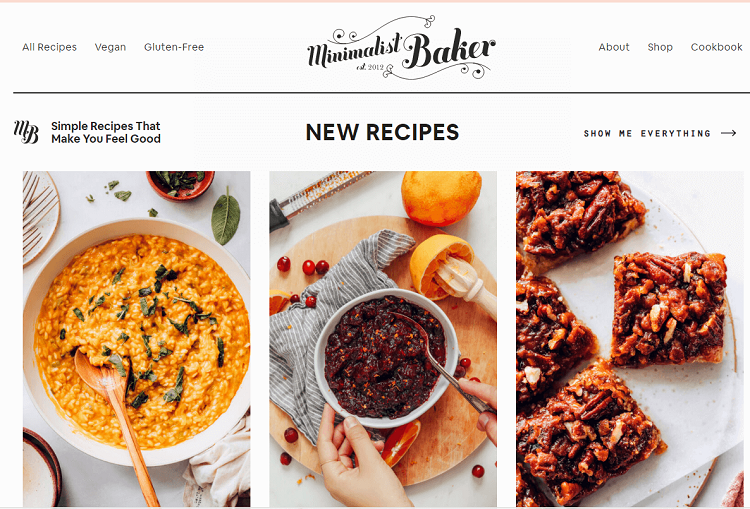 Are you interested in cooking with as few ingredients as possible?
Does the idea of buying lots of ingredients that you'll never use again stress you out?
If that's the case, check out Minimalist Baker!
This blog aims to feature recipes that need 30 minutes or less to prepare, 1 bowl, or 10 ingredients or less.
Despite the title of the blog, not all the recipes involve baking and you can find some exciting meals here!
This blog features a range of recipes, including gluten-free, vegetarian, vegan, dairy-free, or naturally sweetened options.
There's something for everyone here.
This is a great place to start if you're new to cooking and don't want to jump straight in with difficult recipes and long prep times.
Find the blog here or on Instagram here.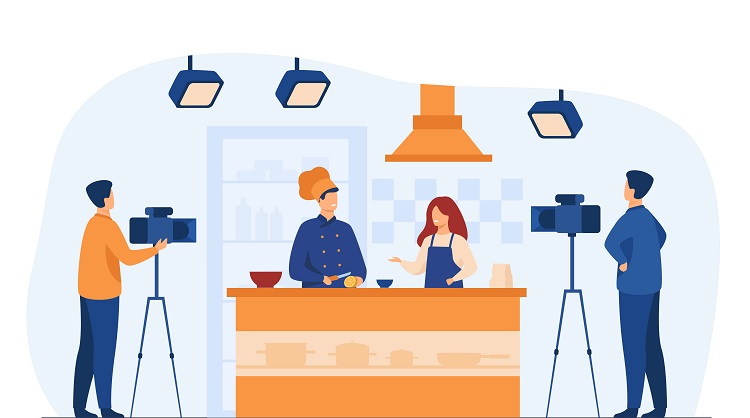 Love & Lemons – Best Vegetarian Food Blog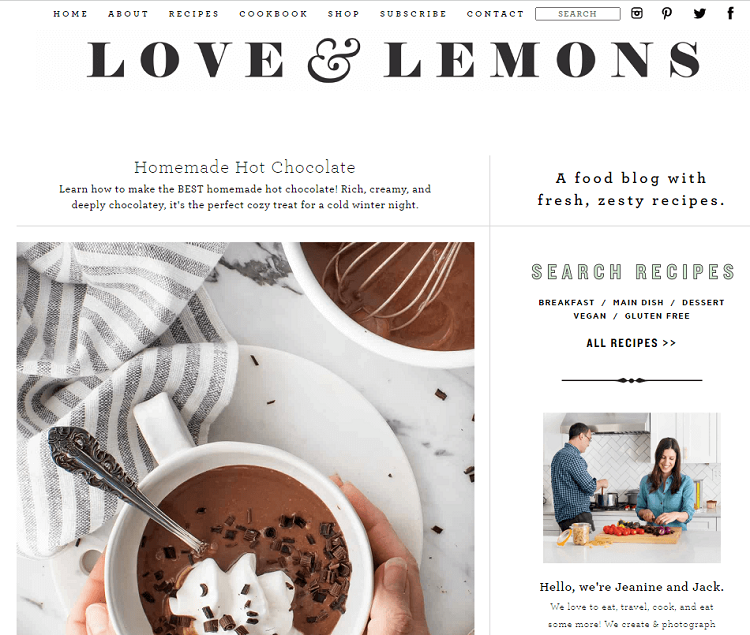 Established by Jeanine, Love & Lemons is a haven for vegetarian recipes.
Jeanine created the blog to show how versatile and delicious cooking with veggies can be, proving you don't need meat in every meal.
The blog features a range of meals for every time of the day.
Whether you want breakfast, lunch, or dinner, Love & Lemons has a recipe for you!
The site also has numerous dessert recipes and many vegan alternatives for readers with a sweet tooth!
Though the majority of the website's recipes are vegetarian, they also have over 80 vegan alternatives and 30 vegan desserts, as well as gluten-free variations too.
If you want more recipes, you can also flick through the blog's two cookbooks for endless inspiration!
Find the blog here or on Instagram here.
Sugar Free Londoner – Best Weight Loss Food Blog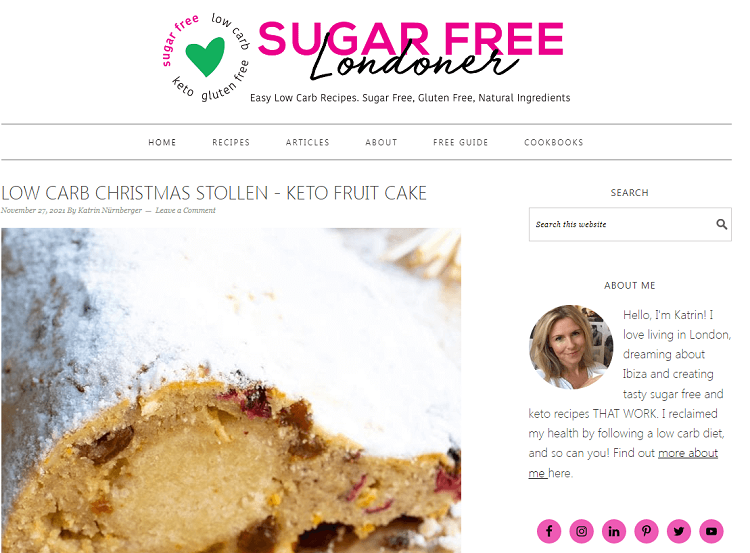 Created by Katrin Nurnberger, Sugar-Free Londoner was created to help anyone wanting to avoid sugar and improve their diet.
Katrin started looking for sugar-less recipes when she was diagnosed with interstitial cystitis and realized sugar feeds inflammation.
To cure her pain and improve her health, she started eating sugar-free food and started sharing her findings through blogging!
Katrin suggests that her sugar-free diet keeps her pain-free, more energetic, positive, and can help with weight loss too.
The recipes on this blog are low carb, often keto-friendly, and use natural ingredients.
This is a key blog to explore if you want natural and healthy meal plans.
Find the blog here or on Instagram here.
Budget Bytes – Best Student Food Blog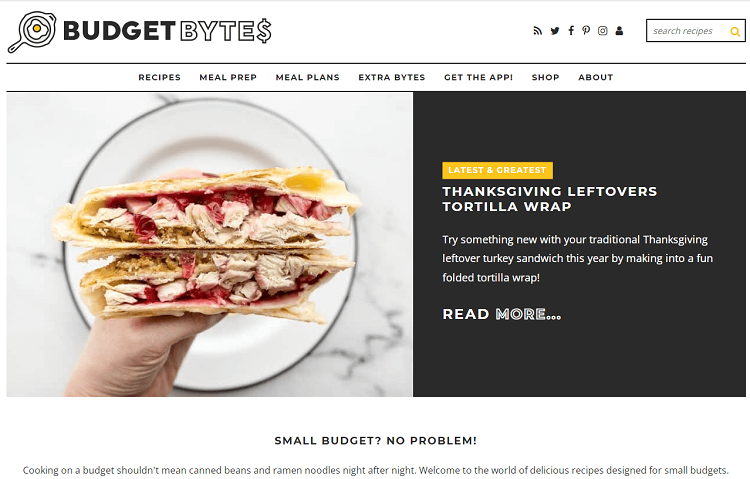 Budget Bytes was created by Beth, a self-described "meticulous budgeter".
If you want to cut down on spending and find meals for less cash, this is the food blog for you.
Eat more and spend less with these calculated, yet delicious recipes.
This blog has been helping thousands create meal plans on low-budgets since 2009, giving the blog over 10 years of experience.
This is a great resource for students, graduates, and anyone looking to cut corners financially without sacrificing great taste.
Aside from sharing low-cost meals, Beth also started sharing basic cooking recipes to help people learn how to get better in the kitchen.
This blog has grown into a cookbook and even has a Budget Bytes mobile app too!
Find the blog here or on Instagram here.
Serious Eats – Best Gourmet Food Blog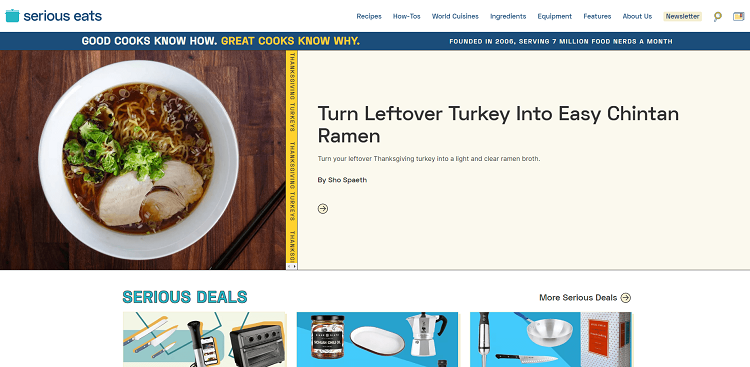 Founded in 2006, Serious Eats now shares great recipes with over 7 million food fans per month.
All of the recipes shared on this food blog are tested and science-driven to ensure they taste great and offer nutrition to all who try them.
This blog has a team of the editorial staff and many guest contributors so every meal featured has to pass high expectations to make it onto the blog.
The team likes to experiment with cooking techniques and ingredient combinations, but they also share thought-provoking food news too.
If you're a foodie or a food geek, this is a great blog to follow for interesting reads and tasty food.
You can also find reviews and recommendations of food products and various kitchen equipment to make sure your home is stocked with the best of the best.
All reviews are from culinary experts, so you can trust their take!
Find the blog here or on Instagram here.
Two Peas & Their Pod – Best Family Food Blog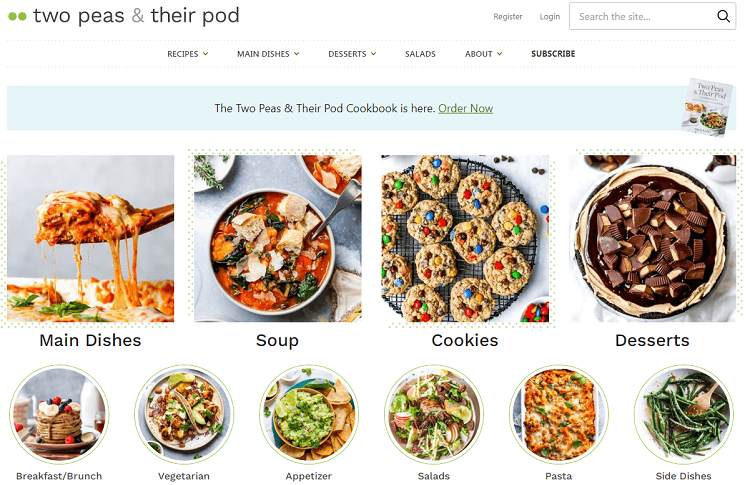 Married couple, Maria and Josh, share their love for cooking and baking through the blog Two Peas & Their Pod.
The blog was started after the two wanted to share recipes from their wedding day.
This turned into regular posts of the couple's culinary experiments and soon the blog started to grow.
With a recipe for every taste, this is a great foodie resource to check out if you need to cook a meal to impress your guests.
With savory, sweet, or healthy choices, there's something for all tastes here.
The website is also known for having nearly 200 cookie recipes, an impressive number and great for anyone who likes to indulge their sweet tooth.
Find the blog here or on Instagram here.
Chocolate Covered Katie – Best Dessert Food Blog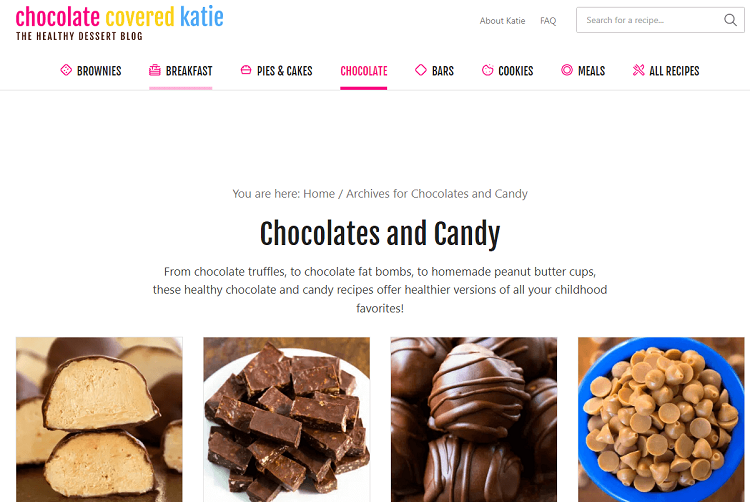 Deserts aren't healthy, right?
Well, Katie has proved that notion wrong!
With the mission of promoting healthy desserts and comfort food recipes, Chocolate Covered Katie is the best source of dessert recipes on the web.
The blog was even voted to be one of the top 25 cooking websites on the internet and gets up to 8 million viewers per month.
Desserts covered on the blog include brownies, pies, cakes, chocolate, breakfast options, bars, cookies, and more.
You can even find vegan meals and more miscellaneous recipes here too!
This is a must-visit if you need an extravagant dessert idea or just want to learn more about cooking sweet treats.
Find the blog here or on Instagram here.
Food52 – Best Award Winning Food Blog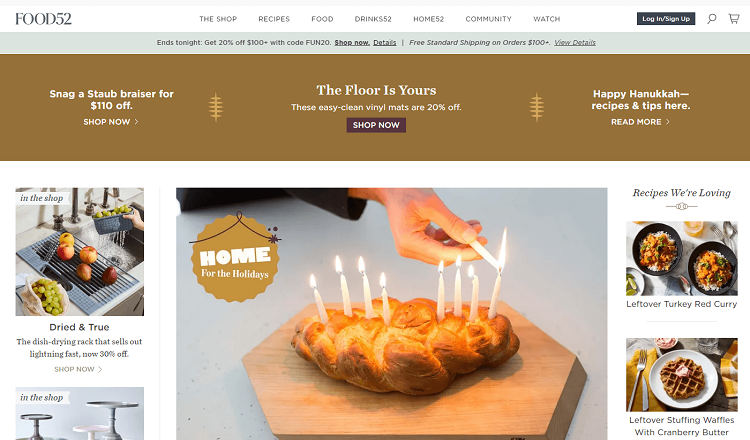 Named Food52 as we cook in all 52 weeks of the year, this blog has become an increasingly successful website for all things foodie.
Over 10 years ago, the blog was started to create a community of cooks worldwide in order to exchange recipes, tips, and just to make friends.
Now tens of millions of readers visit the site monthly to find new recipes and to get inspired.
The blog also features a shop that's curated with the readers in mind.
The website is home to thousands of recipes submitted by the community and then cooked and tested by the editors in their own kitchens.
Some of the articles on the website are James Beard Award-Winning and the Food52 cookbooks are New York Times bestsellers.
Join the community of over 13 million cooks and foodies to get new inspiration today.
Find the blog here or on Instagram here.
Balanced Bites – Best Natural Food Blog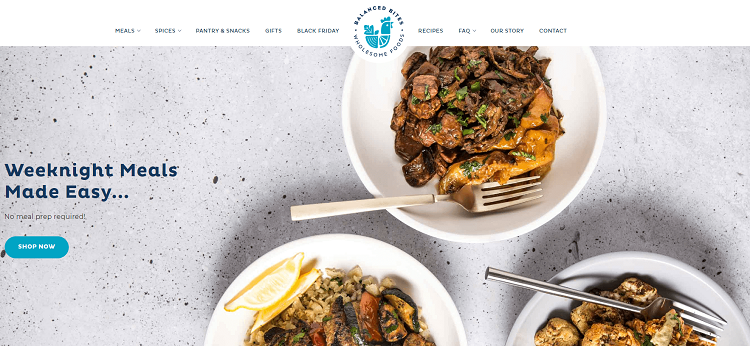 Recipes with premium, natural ingredients are popular now more than ever.
If you want to get your natural food fix, visit Balanced Bites for some wholesome tasty food inspiration.
Balanced Bites is known for its food delivery service where customers can get nutritional meals delivered straight to their door, their blog is perfect for home cooks too.
Whether you want recipes, food updates, or links to their podcasts, the Balanced Bites blog is perfect for anyone with a hunger for all-things-delicious.
With tips for cooking, eating, or creating unique favors, this is a must-visit for improving your culinary game.
Find the blog here or on Instagram here.
David Lebovitz – Best Pastry Food Blog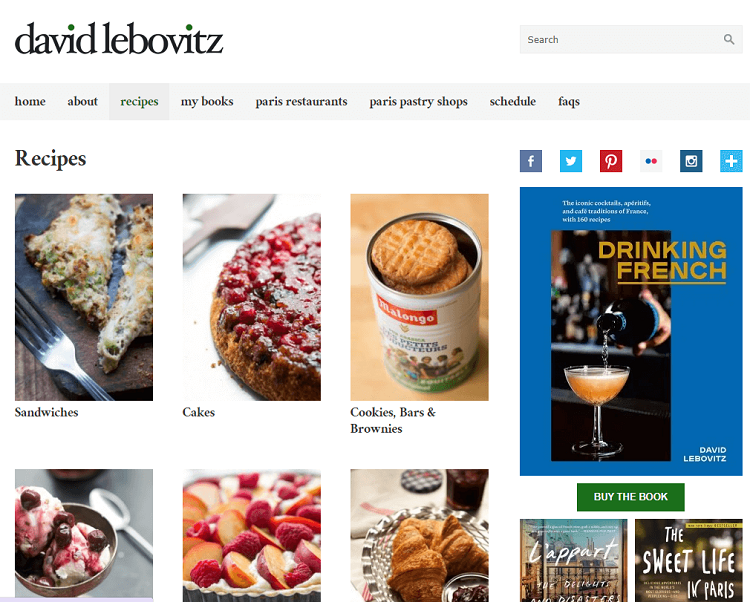 David has had a rich career cooking with some of the best chefs around.
From working at the Chez Panisse with Alice Waters to working as a line cook in Zuni Cafe, David has learned from the best and now shared this knowledge through his blog.
David has been named one of the Top Five Pastry Chefs in the Bay area and has been featured in publications like the Los Angeles Times, Orpah, and more.
The blog focuses on food, travel, and cooking and strives to help others learn through his experiences.
David likes to use basic, everyday ingredients and lots of fresh food, real vanilla, chocolate, and pure putter.
If you're a home baker looking for a mentor – this is a great blog to visit!
Find the blog here or on Instagram here.
My Name Is Yeh – Best Homemade Food Blog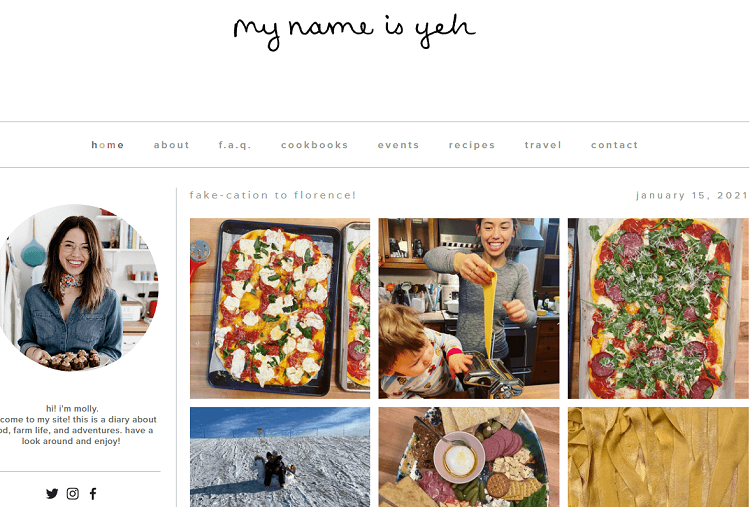 Molly Yeh graduated from Julliard with a degree in percussion, but after moving to NYC fell deeply in love with food.
Since 2009 Molly has documented her love for food through recipes and reviews.
Molly's food is influenced by her Asian and Jewish roots and her new farm-based Midwestern home.
If you love a variety of tastes, this is a blog to follow!
My Name Is Yeh features a variety of food like cakes, sweets, savories, and even drinks too.
Molly also features a travel section for readers to find out about foods from around the world.
As the blog has grown larger, My Name Is Yeh has been featured in media outlets such as The Huffington Post, Food52, Food+Wine, and many more.
Find the blog here and on Instagram here.
Sally's Baking Addiction – Best Baking Food Blog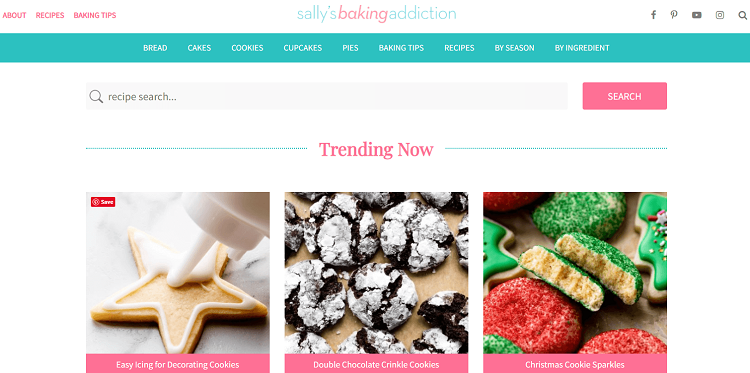 personal blog and over the last 10 years, it has become a success." width="750″ height="373″ />
Sally is a mother, blogger, author, food photographer, and most importantly a baker!
In 2011 she started Sally's Baking Addiction as a personal blog and over the last 10 years, it has become a success.
From recipes to how-to guides, Sally loves to teach new bakers her craft as she started on her own too as a self-taught baker.
On the blog, readers can find recipes by category or ingredient, baking tips, and links to Sally's cookbooks.
You can also explore Sally's Cookie Palooza and Sally's Baking Challenge, two fun interactive activities for any experience of cooking.
This is another blog that is perfect for readers with a sweet tooth, so get some inspiration for your next baked treat here!
Find the blog here or on Instagram here.
Cooking Classy – Best Traditional Food Blog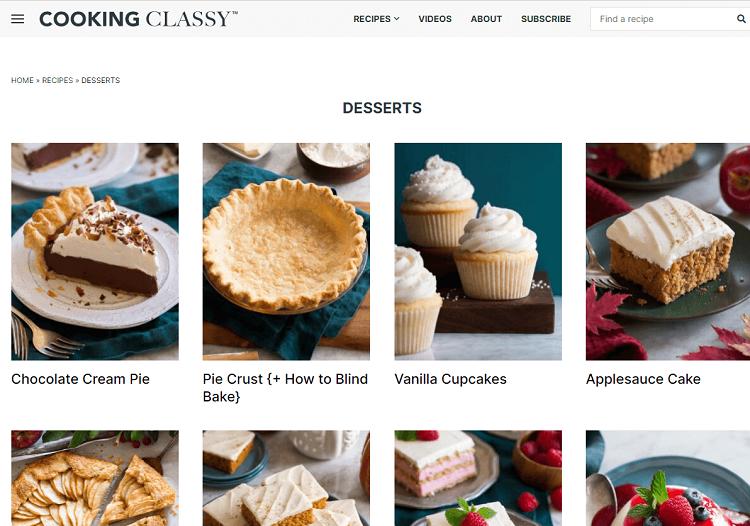 Self-taught cook Jaclyn loves all things food and knows what makes great food.
If you want to find your next stale recipe with a unique twist, Cooking Classy is a key cooking blog to read.
Whether you want comfort food, dessert, or a meal to impress your friends, there's always something new on this food blog.
All recipes on the blog are tested and approved by Jacyln, so there's no need to worry about them not tasting delicious!
Recipes are clearly sectioned into categories to make your online experience clear and easy.
Categories include Appetizers, bread and rolls, breakfasts, healthy, Christmas, and many more.
If you love variety and want to try every flavor combination out there, allow this blog to guide you through them.
Jaclyn also creates helpful videos to demonstrate exactly how to cook each dish.
Find the blog here or on Instagram here.
Downshiftology – Best Wellness Food Blog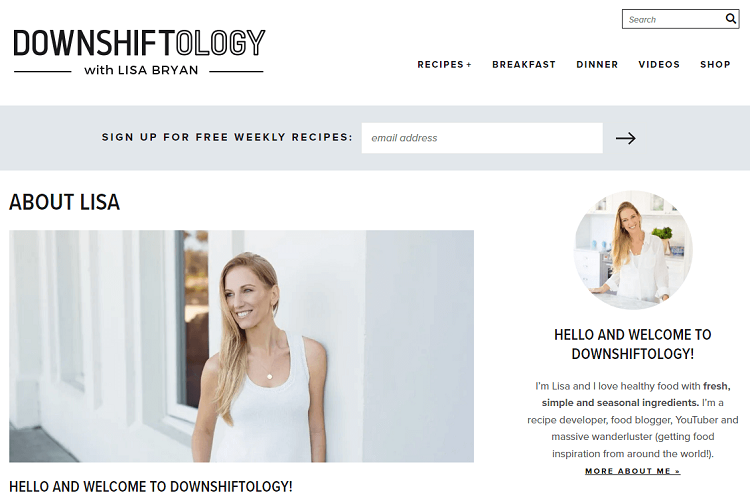 Downshiftology was inspired by creator Lisa's love of self-care and taking life "down a notch".
This blog is focused on natural and holistic ways to enjoy food, travel, and general day-to-day life.
All recipes featured on the blog include wholesome and nutritious ingredients and they also have a minimalist theme to keep cooking simple.
Alongside these fresh recipes, Lisa also writes about cooking tips and general kitchen tutorials.
Lisa's blog helps readers restart their lives with fresh ingredients and healthy diets.
If you love wellness, this is the food blog for you!
Also featured on Downshiftology are youtube videos, lifestyle posts, travel writing, and a shop for all your wellness needs.
Find the blog here and on Instagram here.
Deliciously Ella – Best Vegan Food Blog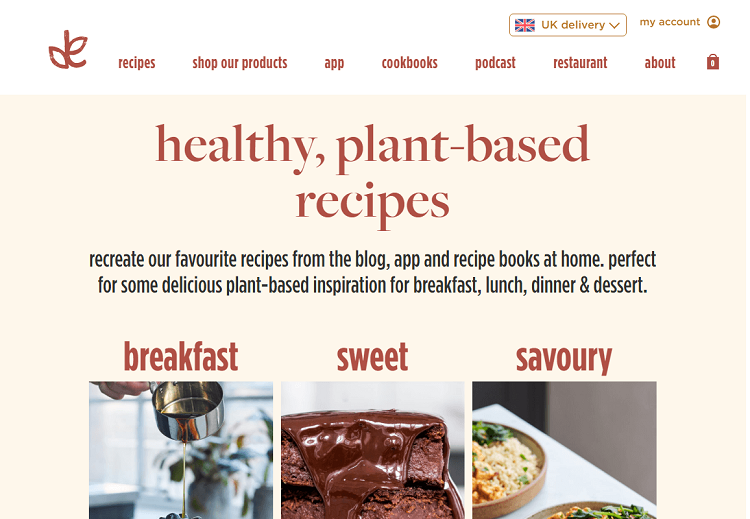 This website started off as a recipe blog and transformed into a plant-based food and wellness center for like-minded individuals.
Deliciously Ella started in 2012 as founder Ella had been diagnosed with various illnesses that caused her to hit a wall physically and mentally.
This caused her to look for a new diet to manage her symptoms and she started posting plant-based recipes online.
Now Deliciously Ella is a leader in the industry and has evolved into a range of cookbooks, an app, plant-based food products, and even a restaurant with a catchy name too!
The recipe blog is still alive and thriving under "recipes" on the website and is a must-read for any vegan or plant-based eaters.
All recipes are fresh, and natural, and taste amazing too.
Find the blog here and on Instagram here.
My Moroccan Food – Best Cultural Food Blog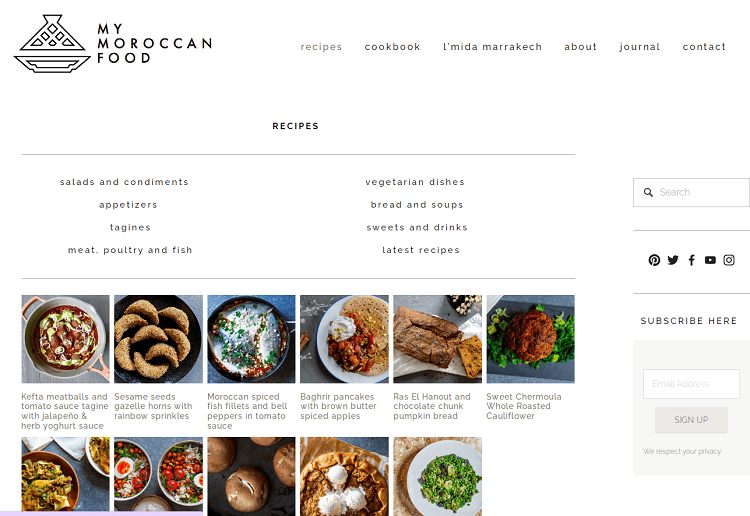 Created by Nagrisse Benkabbou, My Morrocan Food was born out of her love for food and cooking.
Nagrisse trained at Leiths School of Food and Wine where she started creating Moroccan meals inspired by her home country.
The blog features a cookbook, online recipes, and a journal section.
For anyone new to cooking or wanting to learn more about Moroccan cuisine, visit the journal tab to learn more about the native spices, foods, and techniques in Morocco.
This blog has great food writing and always involves tasty and fresh ingredients too.
Find the blog here and on Instagram here.
The First Mess – Best Plant-Based Food Blog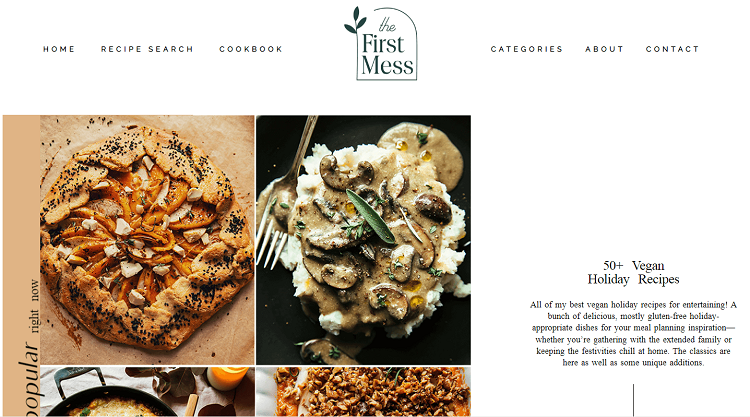 For vegans and plant-based eaters, it can be hard to create new recipes that haven't been done before.
Laura Wright at The First Mess is here to help!
The food blogger strives to help readers eat more plants and feel healthier.
Not all of her readers are strictly vegan, many follow the blogger's posts to be healthier, happier, and to eat more fresh food!
The blog features a range of main courses, soups, strews, easy recipes, and a few desserts.
You can also find lifestyle posts and general inspiration too, perfect for those who love food writing and more.
Find the blog here and on Instagram here.
Steamy Kitchen – Best Simple Food Blog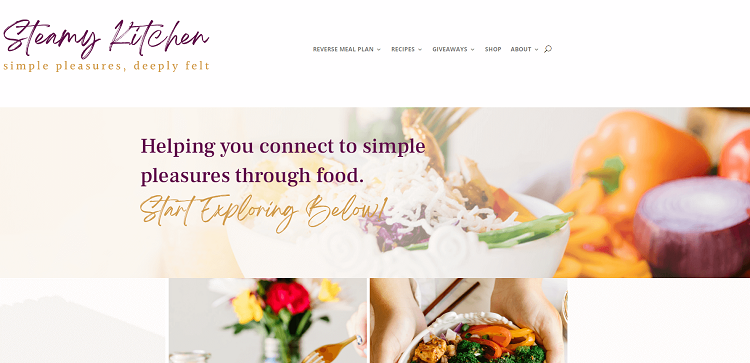 This blog strives to teach readers the joy of exploring the simple pleasures of life – including food.
Steamy Kitchen has been featured on media such as The Early Show, Fortune, and Oprah, proving the tastiness of the recipes.
With over 8 million views and 550,000 fans per month, this is an extremely popular food blog!
On the blog, you can find a variety of foods and recipes.
From Buddha bowls, to fridge detox plans, this blog is here to help simplify and improve your cooking skills.
Why make complicated meals when you can make simple ones that taste just as good?
Find the blog here and on Instagram here.
The Modern Proper – Best Hospitality Food Blog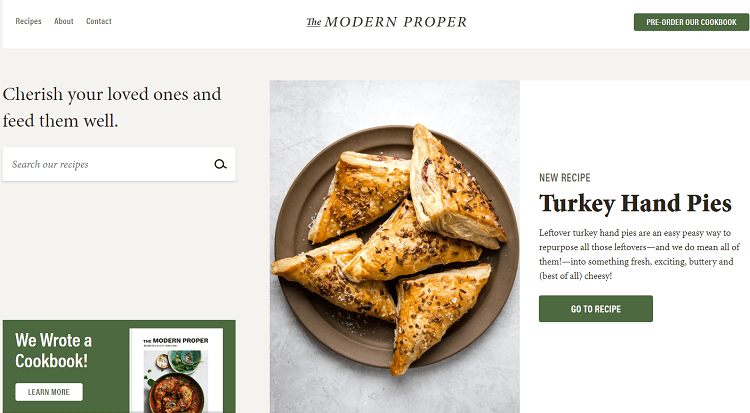 The Modern Proper was created by two friends who had a common interest in cooking good food and sharing hospitality ideas.
The blog started with stories, recipes, and goods and over time grew into a community of like-minded people who cherish food and company.
On the blog, you can find a wealth of recipes that are sorted into different seasons, courses, lengths to make, and dietary needs.
Whether you need a 30-minute recipe, a one-pot recipe, or a recipe created from scratch by the founders – there are many options available to enjoy.
Find the blog online here and on Instagram here.
Natasha's Kitchen – Best Holiday Food Blog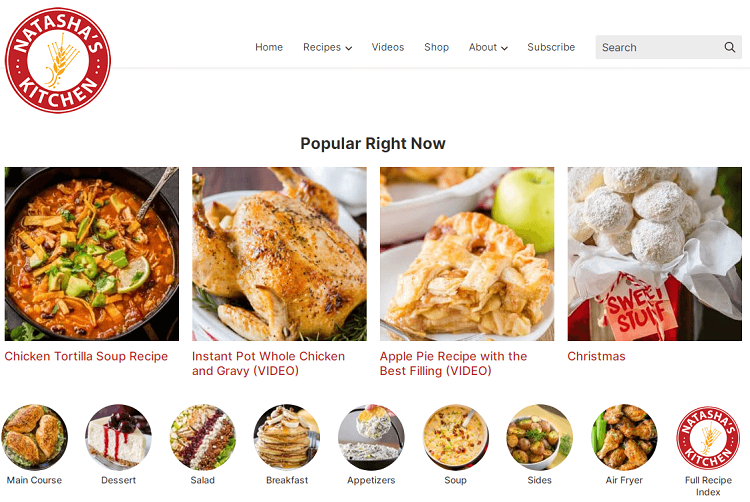 If you love home-cooked food and family recipes, Natasha's Kitchen is the food blog for you!
Natasha is a mom, wife, flood blogger, video creator, and social media influencer who is dedicated to sharing recipes the family will love.
This food blog is great for anyone with kids, as Natasha loves to focus on family-friendly content.
Each recipe posted on Natasha's Kitchen is cooked and tested by Natasha and her family to ensure that they truly love everything they promote.
Make sure you check out the videos on the blog for visual walkthroughs of tasty treats and meals.
Find the blog online here and on Instagram here.
Fit Foodie Finds – Best Food Blog For People Who Workout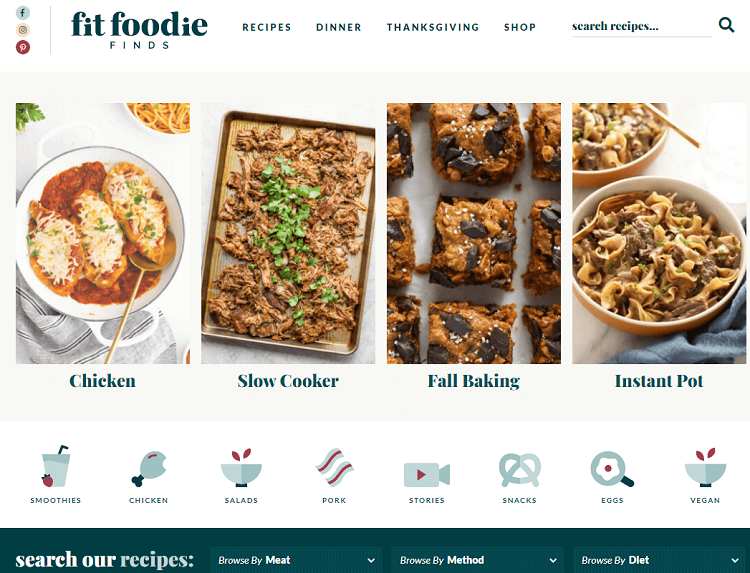 Have you ever wished you could throw together a meal from scratch?
Well, with the help of Fit Foodie Finds you can!
This female-run food and wellness blog features thousands of recipes that feature natural and fresh ingredients.
From low-carb meals to indulgent sweet treats, there's a variety of treats to cook here!
There are also lifestyle, workouts, and wellness articles to browse through too.
This blog is an all-encompassing food and lifestyle website – great for anyone who is interested in self-development and health.
Find the blog here and on Instagram here.
A Cozy Kitchen – Best Latin-American Food Blog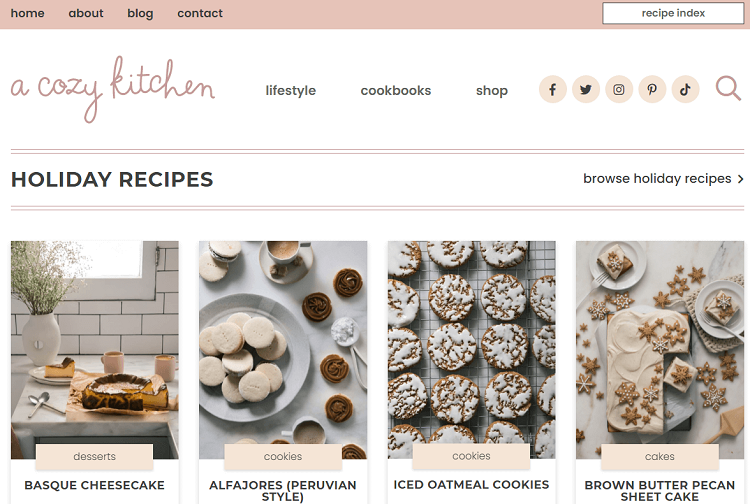 Created by Adrianna, A Cozy Kitchen is a blog where she shares recipes, cooking tips, and lifestyle articles.
Many recipes are inspired by her Latin-American background as her mom is Peruvian and her dad is Colombian.
This is great for any readers who want to experiment with some Latin flavors.
You can also find fusion recipes, pasties, breakfast meals, cakes, and many pies!
A Cozy Kitchen also has a cookbook and a coloring book that readers love to experiment with!
This is a great blog to read if you love celebrating cultures with food.
Find the blog here and on Instagram here.
The Daring Gourmet – Best Food Blog For Busy Moms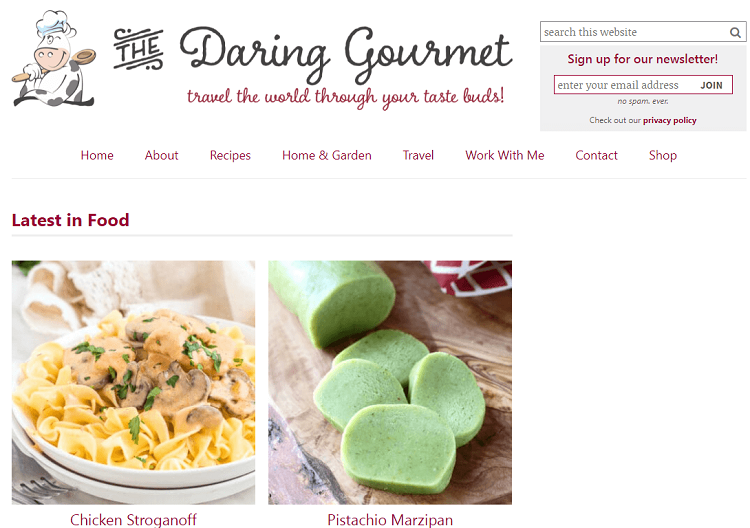 Founded by Kimberly Killebrew, The Daring Gourmet celebrates having the passion to cook.
Owner Kimberly loves to experiment with flavor and culture, and she is often inspired by her international travels.
The recipes on The Daring Gourmet have a focus on healthy eating, which is influenced by Kimberly's husband who is a doctor.
There are some naughty dessert recipes though so you can indulge from time to time in something damn delicious too!
Find the blog here and on Instagram here.
Alexandra's Kitchen – Best Yummy Food Recipes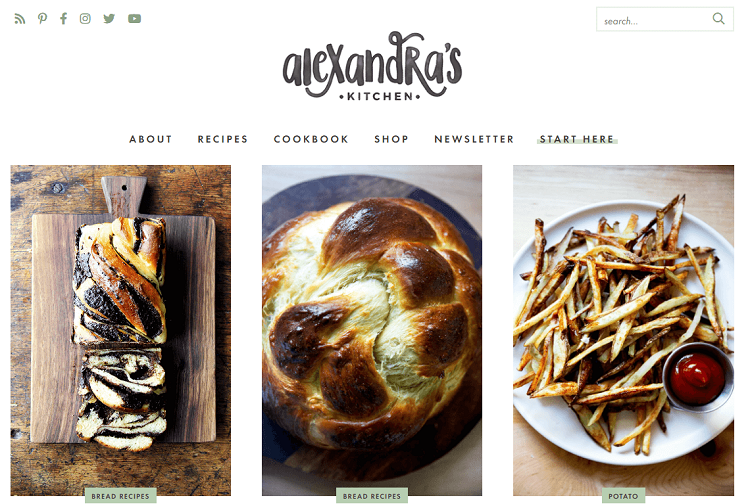 This blog was started in 2006 on a whim to curate simple and seasonal recipes.
A decade later it has thousands of loyal followers and a cookbook.
Creator Alexandra now lives in New York with her family and spends every spare moment baking, cooking, and writing.
The blog features over 900 recipes and has a "getting started guide" to help users navigate through them.
Many are still seasonal recipes that encourage readers to use the veggies produced at certain times of the year to their full potential.
The blog also features tips and lifestyle articles to help readers optimize their kitchens.
Find the blog online here and on Instagram here.
The Recipe Critic – Best Meat-Based Food Blog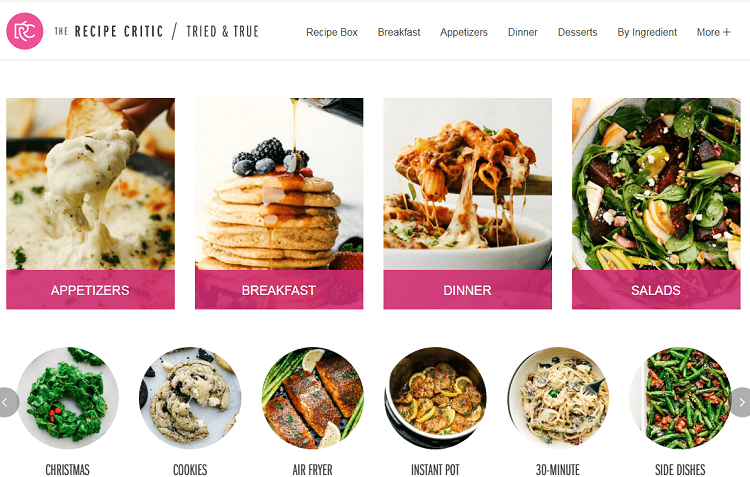 With over 10 million readers each month, The Recipe Critic is one of the largest American food blogs online.
The blog features professional food photography, tested premium recipes, and editorial content for all foodies to enjoy.
Creator Alyssa Rivers has been sharing her passion for food since 2012, building a supportive network of readers ever since.
The blog features a range of cooking types, including instant pot, slow cooker, baked, freezer meals, 30-minute recipes, skillet, smoked, and grilling techniques too.
Sometimes it may seem like the majority of food blogs are veggie or vegan now, however, The Recipe Critic has many meat-based options to try!
Find the blog here and on Instagram here.
Mexican Food Journal – Best Authentic Food Blog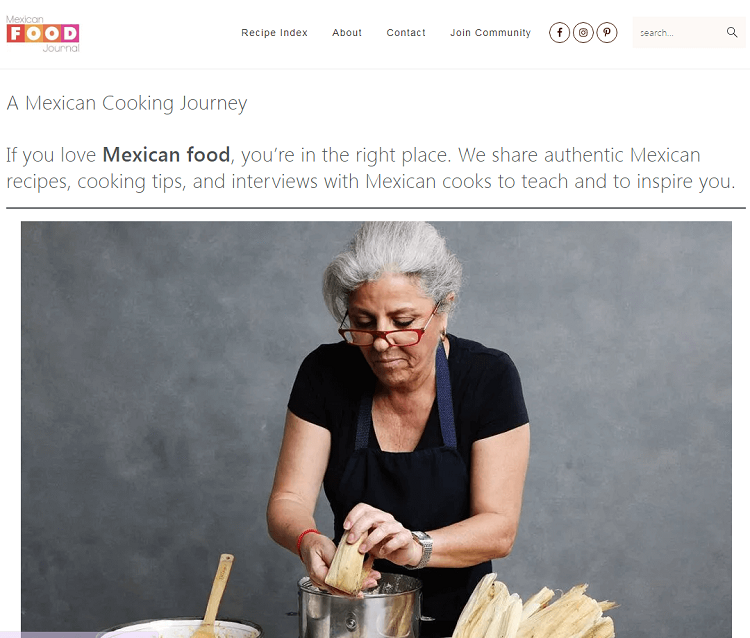 If you want to experience authentic Mexican cuisine, this is the blog for you!
Instead of commercialized recipes, the Mexican Food Journal offers real family recipes that taste like the real Mexico!
The blog offers a range of recipes in all areas of traditional Mexican cooking.
You can also sign up for the cooking blog's newsletter and learn two new recipes every week!
This is ideal for anyone who is a keen home chef and loves international food.
Find the blog here or on Instagram here.
Gimme Some Oven – Best Easy Recipes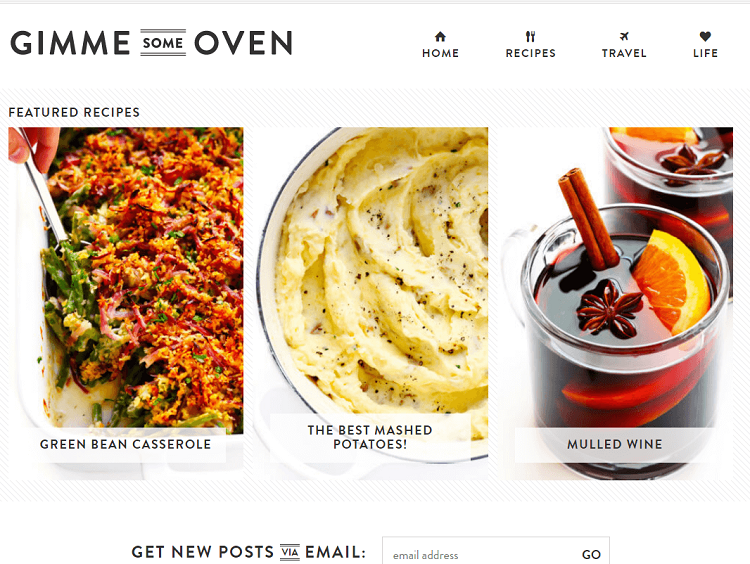 Gimme Some Oven was created to celebrate coming together and eating great food.
Creator Ali wanted to share her passion for food through food writing and recipe blogging and these posts started to get attention.
Ali focuses on simple, easy-to-follow recipes that beginners and experts both love.
On the blog, you can find additional cooking videos and "How To" guides to help all levels of the cooking experience.
Ali also uploads travel and life blogging for anyone who enjoys general wellness reading too!
Find the blog here or on Instagram here.
You might be interested to check those related posts as well:
FAQ
Who is the best food blogger?
The best food blogger is Food52 as this food blog has the most experience and has an editorial team working with them to produce the best food content.
Not only that, but Food52 has won numerous awards and has worked with industry professionals too.
Who is the youngest food blogger?
While not all food bloggers on this list reveal their ages, for a younger take on food and wellness we recommend Fit Foodie Finds.
The girls that run this blog have a youthful spirit and are in touch with the latest food and lifestyle trends too.
Who is the most popular food blogger?
One of the most popular food bloggers on this list is the plant-based Deliciously Ella!
Ellas has turned her online blog into books, a line of food, and now a restaurant with a catchy name- proving how popular her recipes really are!
Visit her online today to try her work.
What is the biggest food blog?
One of the most popular food blogs is Steamy Kitchen.
This blog boasts over 8 million views and 550,000 new users visiting the site per month.
This food blog has also been featured on TV shows and in magazines too.
Who are the best food bloggers in India?
Mallika Basu is one of India's most popular food bloggers right now.
Basu focuses on food, drink, and destinations on her food blog.
Basu also has two cookbooks focused on traditional Indian cuisine.
Not only that, but she writes recipes for the London Evening Standard too.
Who are the most influential food bloggers?
Love & Lemons have a large online following, but also a further 460,000 followers on Instagram proving how influential this blog is.
This food writer has become a food influencer too, posting daily photos of perfect recipes and more to the platform.
What is the world's favorite food?
According to this source, at least 17 counties have come together to state that pasta is the world's favorite food.
What do you think?
Are you a pasta lover?
Or is there better food out there?
Pasta is a great dish to cook, with many flavors and styles, we can see why this versatile food is up there for many foodies.
Conclusion
Food is a wonderful element of life. It can bring us together and make us feel joy.
Whether you're new to cooking or a seasoned expert, we hope you found some inspiration in one of these food blogs.
Have a favorite food blogger?