Whether you're trying to get some back-to-school outfit ideas or need a killer look to wear to the office, fashion blogs and bloggers have become a great source of inspiration.

To help you keep up with the latest fashion trends, we've rounded up a list of our favorite blogs and bloggers that we think everyone should be following in 2023. Our list covers all of the best fashion content, style advice, and style tips from across the internet.

After checking out all of the biggest names in fashion blogging, your wardrobe will be looking better than ever!
Maybe, you'll find inspiration to start your own blog and you'll make it to our list one day!
Best Fashion Blogs and Bloggers to Follow 2023
Below you'll find our list of the 30 best fashion blogs and bloggers.
We're telling you everything you need to know about their fashion sense, the type of content you can expect, and where you can follow them online.
1. Babba C Rivera – Best Eco-Conscious Blogger
Babba C Rivera is a Swedish Latina currently living in New York City whose minimal, Scandinavian-inspired style has helped her to gather over 159,000 followers on Instagram alone—she's so successful that she even found herself on the Forbes Under 30 list!

If you're looking for unique street-style inspiration, Babba's page is the perfect place to look. She effortlessly mixes casual outfits with bright colors, statement pieces, and killer accessories that would look great on everyone.
Alongside her fashion content, Babba is also the resident Eco Beauty Expert at Vogue Scandinavia and has gone on to launch her own clean haircare range, inspired by her Latinx heritage, called Ceremonia.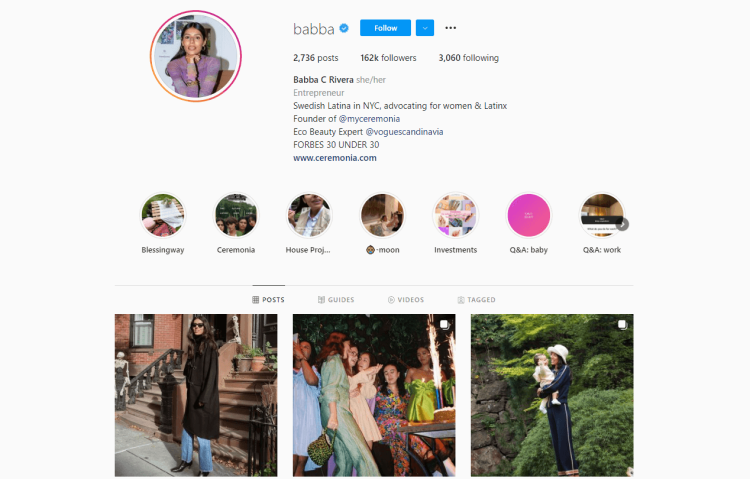 Some of Babba's most popular posts include her guide to summer dressing and her more recent tips video that explains how you can easily style loafers.
You can find more of Babba's content on Instagram and Twitter.
2. Catarina Mira – Best Photography Fashion Blog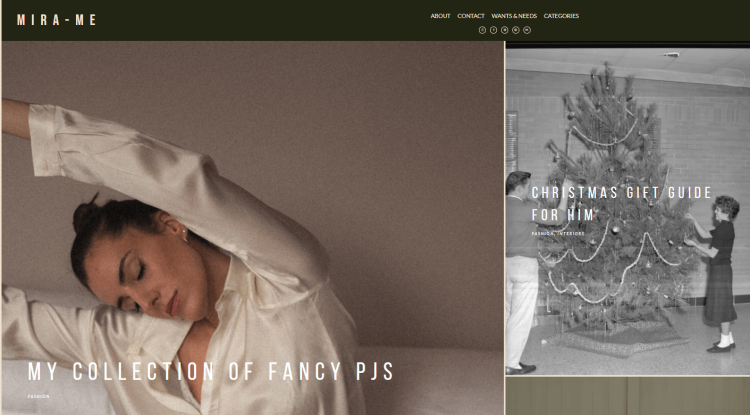 Catarina Mira is a fashion influencer, originally born in Portugal, that made the move over to London to fulfill her creative ambitions and start her blog, Mira-Me.
Mira-Me is a fashion blog with excellent visuals. Catarina is a talented photographer that captures her fashion in a moody and artistic style that sets her apart from other bloggers and helped her build a large base of loyal followers.
Catarina's style is very classic and sophisticated with the appearance of a lot of neutral colors in most outfits. She's also about to have a baby, so you'll be able to find a lot of pregnancy-style tips on her blog.
Some of the most popular posts that you will find on Catarina's blog include her Recommendations post which she frequently updates with the fashion pieces that have recently caught her eye.
There's also her Fancy PJs post where she discusses some of the hottest nightwear pieces of the moment that will help you to fall asleep in style.
You can find more of Catarina's content on her blog and Instagram.
3. Eniswardrobe – Best Petite Blogger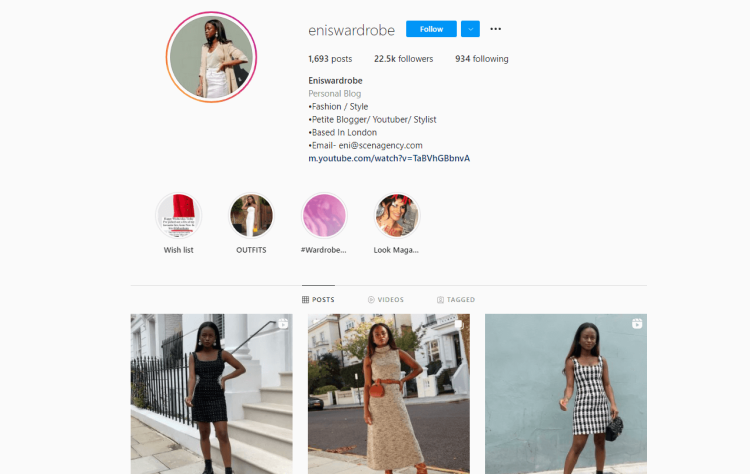 Eni is a petite fashion blogger based in the UK, originally born in Nigeria, who works as a blogger, YouTuber, and stylist in London.
Using fashion as a fun way to express her own personal style, Eni has created a platform where she produces stunning visuals and inspiring outfits that are easy for everyone to recreate.
Her style mixes fun, vibrant prints with simple wardrobe basics, giving all of her readers the inspiration they need to elevate their day-to-day outfits with ease.
With over 22,000 followers on Instagram alone, Eni has become one of the most-loved bloggers sharing style ideas for people with a petite body shape who may otherwise struggle to find clothing pieces that fit their body shape.
Some of Eni's most popular posts include her summer styling video which shares how to style the popular athleisure trend and her 4 all-black looks video which is perfect for those who love to sport a monochromatic look.
You can find more of Eni's content on her blog and Instagram.
4. Mercer 7 – Best Blog for Capsule Wardrobes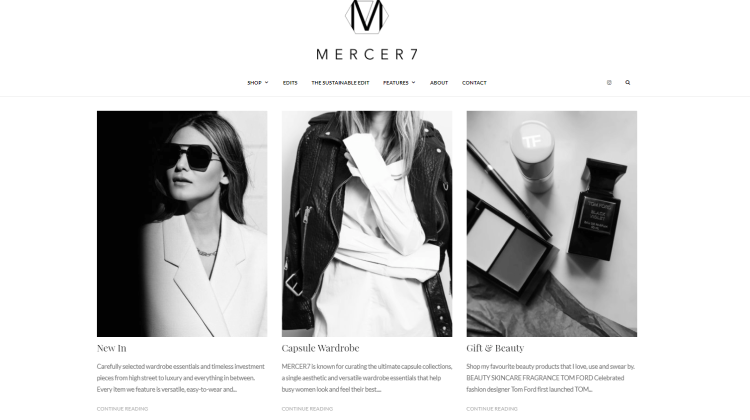 Mercer 7 is a blog founded by a New York fashion designer, stylist, and creative director, Erna Leon. The blog and Erna are now based in London and can be described as a 'curated womenswear concept and a collaborative lifestyle platform'.
The blog is best known for helping its readers create their own capsule wardrobes, consisting of a limited amount of clothes that can be worn in a variety of ways. The blog is also a champion of slow fashion and investing in particular pieces that will last you throughout the seasons, rather than shopping for trendy items from fast fashion brands that won't last long.
Mercer 7's style is very effortless and timeless that focuses on a 'less is more' approach when it comes to style. This means that all of the looks you find on the blog will be very easy to recreate and will, most importantly, not go out of style any time soon.
Some of the most popular posts that you can find on Mercer 7 include the capsule wardrobe edit, which shares all the pieces you should invest in for a minimalist wardrobe. Also, the sustainable edit focuses on highlighting ethically manufactured clothes and ethical fashion brands.
You can find more Mercer 7 content on their blog and Instagram.
5. Chrissy Ford – Best New York City Blog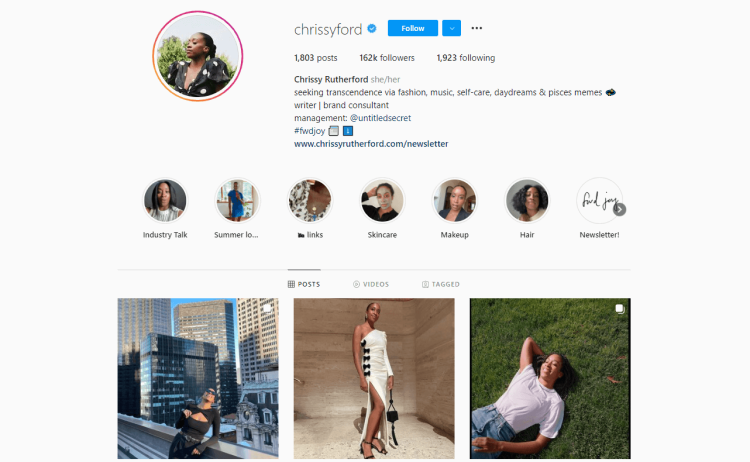 Chrissy is a writer and wellness advocate that currently lives in New York—and also has the most inspiring style that she shares with all of her followers!
Chrissy is the epitome of 'cool girl style', her fashion-forward and street style-inspired looks are always extremely creative and effortless. She's able to mix masculine tailoring with statement dresses and super cool prints to create a unique style you won't be able to find in anyone else.
Alongside her fashion content, you'll also find lots of posts about wellness and self-care, which is another big passion for Chrissy. She also shares a lot of insights into what it's like to live in the busy city of New York, which would make anyone want to pack up all their things immediately and book the next flight over there!
Some of Chrissy's most popular posts include her frequent videos sharing the outfits that she'll be wearing for the next month. In the posts, you'll be able to see all of the latest fashion trends before they happen and get planning what you plan to wear during the month.
You can find more of Chrissy's content through her blog, newsletter, and Instagram.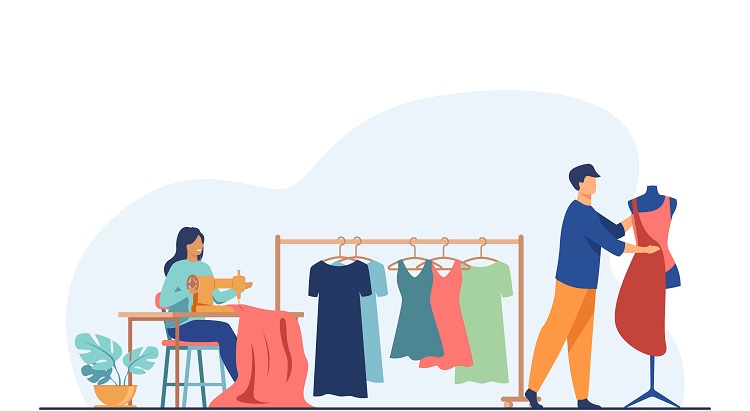 6. In the Frow – Best Designer Fashion Blog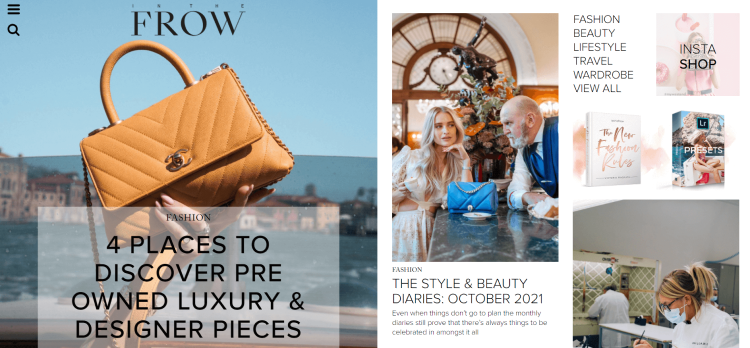 In The Frow is one of the most popular fashion blogs in the UK, and is run by Victoria, a London-based luxury fashion lover. Not only is Victoria incredibly stylish, but she also has a Ph.D. in fashion and a best-selling book all about the rules of fashion – so she really knows her stuff as a style influencer.
Victoria started In The Frow in 2012 and since then has gone on to win a number of awards, and gathered a following of over a million fans who go straight to her for all of their fashion inspiration and advice.
Victoria's style is very elegant, full of sharp tailoring, traditional silhouettes, and lots of blazers. In The Frow is the blog for you if you're interested in designer clothing or high-quality investment pieces that are made to last.
Every fashion and beauty post on In The Frow is extremely well-written and comes paired with some of the most stunning visuals we've ever seen. All of the photos are very editorial, and wouldn't look out of place in any magazine, so offers some serious inspiration to every reader.
Some of Victoria's most popular posts on the blog include her list of the best Autumnal biker jackets and the best new pieces in her late-Summer wardrobe to give you all of the inspo you need to elevate your style in different seasons.
You can find more In The Frow content on the blog and Instagram.
7. Edaowa Fashion – Best Risk-Taking Fashion Blog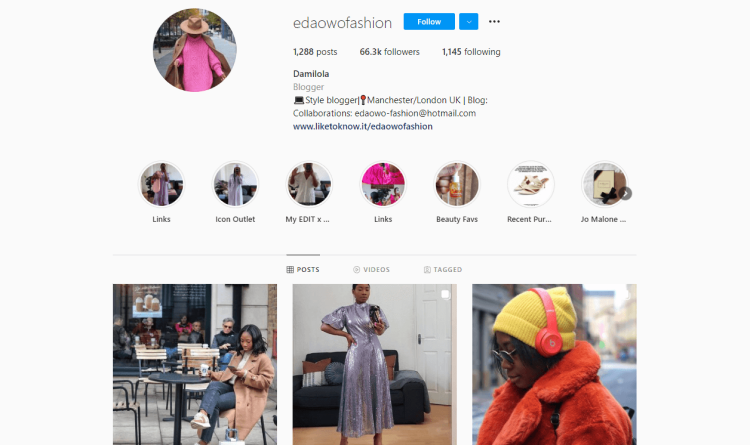 Edaowa Fashion is all about taking fashion risks, whether that's when it comes to classic fashion or not-so-classic fashion choices.
The popular style page, run by Damilola in Manchester, mixes blazers and tailoring with fun, vibrant dresses and lots of pops of color to create a truly unique style that everyone could take some inspiration from.
Alongside more casual, everyday fashion posts, Damilola is very much a big lover of dresses, as any reader of her page will quickly be able to see. We love checking out Damilola's page to see how she styles dresses for different occasions, and how you can accessorize to take your outfits to the next level.
Some of the most popular posts on Edaowa Fashion include a run-down of Damilola's favorite wool hats and a fun video sharing some of the cutest Summer dresses we've ever seen.
You can find more Edaowa Fashion content on Instagram.
8. Megan Ellaby – Best Creative Fashion Blog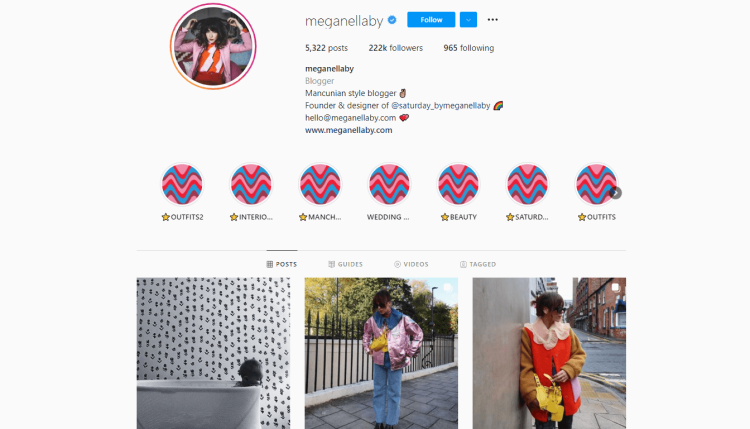 If bright colors and clashing prints are your things, you're going to love the content from Manchester native, Megan Ellaby.
Megan Ellaby is one of the most creative and fun fashion bloggers that we've found in a long time. Every outfit that she shares instantly gives off positive vibes—which we love!
Megan started her blog 7 years ago while studying fashion at University and has been able to build her platform to become one of the most recognized fashion blogs in the UK. Over the past 7 years, Megan has won 3 awards for her blog and has also recently started her very own clothing line, Saturday by Megan Ellaby, that's heavily inspired by her own personal style and a touch of glamorous 70s designs.
If you want to try something new with your style and experiment with fun prints and colors, Megan Ellaby is the perfect person to get inspiration from.
Some of Megan's most popular content includes her rainbow outfit ideas and her guide on all of the best small businesses that you should be supporting in the fashion and lifestyle industries.
You can find more Megan Ellaby content on her blog and Instagram.
9. Oracle Fox – Best Editorial Fashion Blog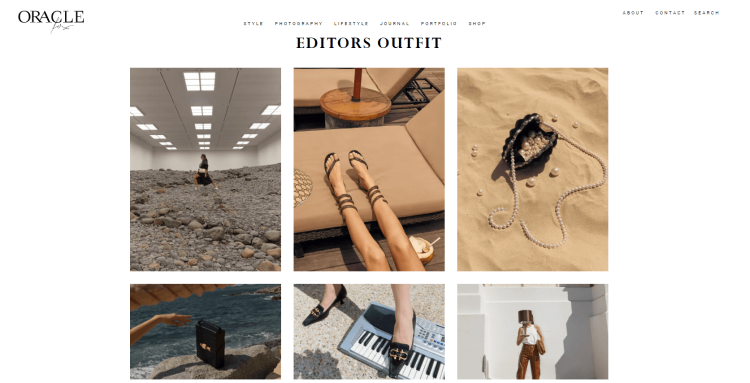 Oracle Fox, run by Amanda Shadforth, is known for being a premium fashion and beauty destination that shares the hottest fashion pieces in creative and editorial ways.
Amanda is a talented artist so every single post you find on the blog will look fit for the pages of any big fashion magazine. If you're a blogger or wannabe fashion photographer, you're bound to find plenty of artistic inspiration in Oracle Fox's posts.
If you're looking to make your next designer purchase, or simply looking to see fashion in a new and creative way, Oracle Fox is the perfect blog for you to read.
Some of the most popular posts on Oracle Fox include the runway breakdowns that come from the various fashion shows that Amanda attends throughout the year, as well as Amanda's photo diary travels which most recently came from her stay in Venice.
You can find more content from Oracle Fox on the blog and Instagram.
10. Guy Overboard – Best Plus Size Men's Fashion Blog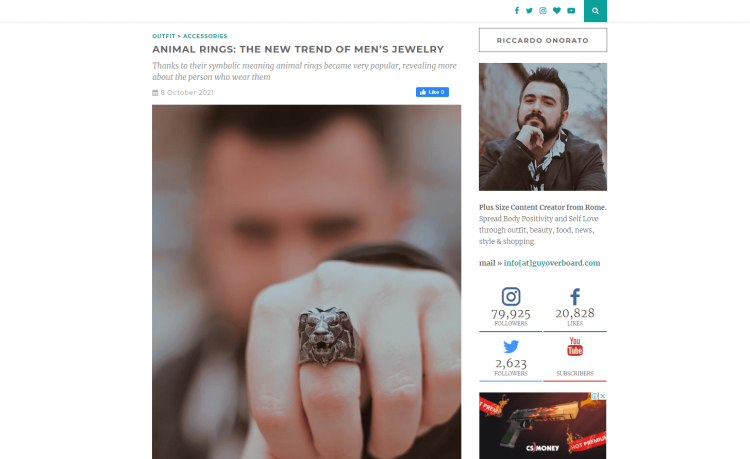 Guy Overboard is run by Riccardo Onorato, an Italian who grew up in Naples. By day he is a UX/UI designer, and by night he runs the popular men's style blog, Guy Overboard which is dedicated to spreading body positivity and self-love culture to men across the world.
On Guy Overboard, you'll find posts sharing Riccardo's recent outfits, beauty reviews, and news about lifestyle and shopping, making it the ultimate destination for any man looking to improve their wardrobes and personal style.
Guy Overboard is particularly focused on clothing for plus-size men, who all too often find that a lot of clothes exist in sizes that they can't wear. Through his blog, Riccardo has been able to find inclusive men's fashion brands that create fun and stylish clothes for any man to rock, regardless of their size or body shape.
Some of the most popular posts on Guy Overboard include a guide on how to introduce patterns into your wardrobe and a post on how to style oversized blazers.
You can find more content from Guy Overboard on their blog and Instagram.
11. Chiara Ferragni – Best Women's Fashion Blogger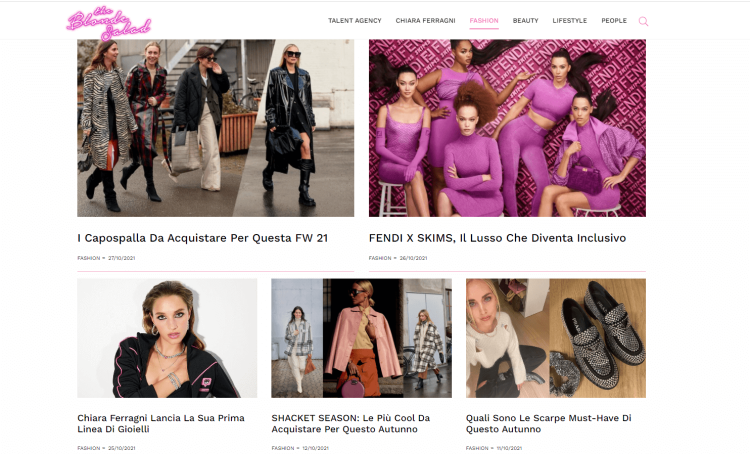 Chiara Ferragni, the writer of The Blonde Salad, is the most popular fashion blogger in the world. The Italian blogger started her lifestyle blog over a decade ago and has amassed an impressive following of over 24 million on Instagram alone who come to her for daily fashion content.
The Blonde Salad focuses on fashion, news, and also snippets of Chiara's life which have found a huge loyal following of fellow fashion lovers.
Chiara is always at the forefront of new fashion trends and fashion tips, which is why she has become so popular. Her readers go to The Blonde Salad for all of the latest styling tips, fashion news, and fashion inspiration for every new season.
Chiara's style is very classic but includes fun pops of color and mixes of on-trend prints to keep every outfit looking fresh and unique.
Some of the most popular posts on The Blonde Salad include a look into some of the best shoes to buy for Autumn, and trend breakdowns where Chiara shares some of the hottest trends she's seen on the catwalks at fashion shows she's been invited to sit front row at.
You can find more content from Chiara Ferragni on her blog and Instagram.
12. Who What Wear – Best Fashion Blogs for Professionals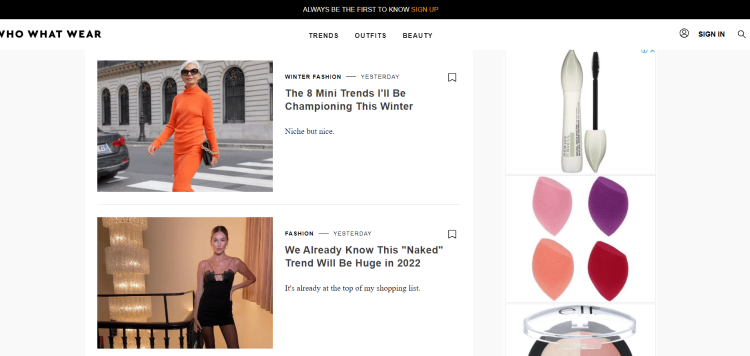 Who What Wear (WWW) is an award-winning fashion and style blog founded by Katherine Power and Hillary Kerr in 2006 that started with the goal of reimagining how women consume content and shop for products online.
WWW is a very professional online blog that has articles on everything you could imagine related to fashion and beauty, ranging from the latest trends to wardrobe styling tips that inspire readers to update their clothing collections and be more adventurous with their wardrobes.
There's no particular style with Who What Wear as there are a lot of different writers that contribute articles to the site, so regardless of what your personal style is, you should be able to find content that resonates with you.
You'll also find a good mixture of designer clothing inspiration and more budget-friendly, highstreet options too so there are items for every budget.
Some of the most popular recent posts on Who What Wear include the 7 lingerie basics that everyone needs, and some of the best high street pieces from London Fashion Week.
You can find more content from Who What Wear on the blog and Instagram.
13. Catherine Summers – Best Fashion Blog for Over the 40s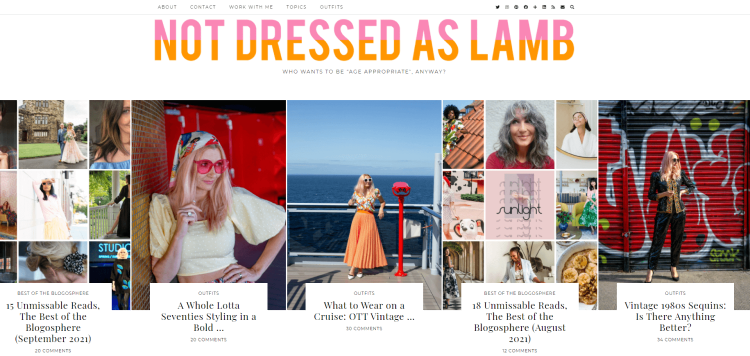 Catherine Summers initially started her fashion and beauty blog, Not Dressed as a Lamb, in the 365-day run-up to her 40th birthday as a way to share outfit ideas and styling tips for anyone else who didn't want to dress 'age appropriately'.
What started as a year-long hobby, has turned into almost a decade of creating outfit styling tips and fashion content that are grown and changed with Catherine herself.
Catherine shares a range of outfits that incorporate fun patterns, colors, and prints that really express her creative and unique style. Alongside fashion content, Catherine also shares glimpses into her life, travels, and the occasional piece of beauty content for her readers.
If you're over 40 and want to get outfit inspiration that doesn't look old and boring, Catherine is the best person to take advice from. Because really there's no point in losing your own personal style once you hit 40!
Some of the most popular recent posts on Not Dressed as a Lamb include a post on what to wear on a cruise and a post on how to style white straight-leg jeans.
You can find more content from Catherine on her blog and Instagram.
14. Girl With Curves – Best Curvy Fashion Blog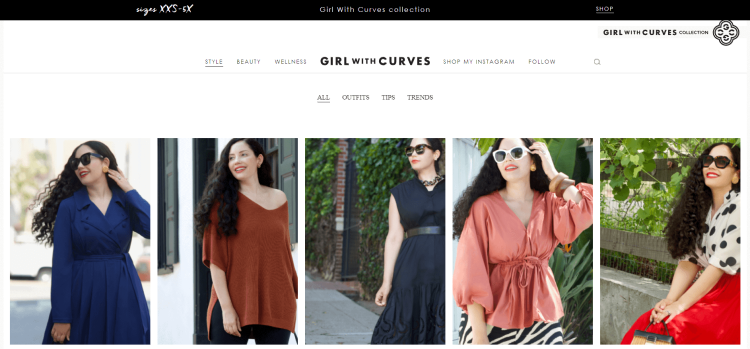 Girl With Curves is a fashion blog started by curvy fashionista Tanesha Awasthi in 2011 to be a place to share outfits that are flattering for girls with curves.
The personal blog has now turned into a multi-award-winning blog that has empowered women all around the world to look and feel beautiful, regardless of their shape or size.
After years of inspiring women's plus-size fashion and the success of the blog, Tanesha has also recently launched the Girls With Curves clothing collection which is a fully inclusive line of beautiful clothes, fit for everyone.
The Girl With Curves blog covers a range of topics, including trends, and style tips with a focus on plus-size fashion. Tanesha has been able to find some of the best clothing pieces and accessories that fit perfectly on plus-size bodies and has helped her readers to stay stylish while wearing clothes that work for them.
Some of the most popular recent posts on Girl With Curves include a run-down of some of the trendiest black cotton dresses and a guide on how to style the GWC tunic sweater.
You can find more content from Girl With Curves on their blog and Instagram.
15. My Fash Diary – Best Urban Fashion Blog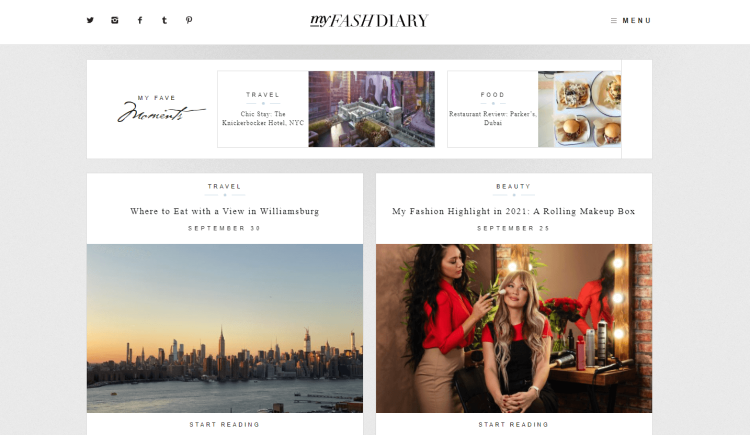 My Fash Diary is a style diary written by Tala Samman, who was born in Chicago and grew up in Dubai. Tala started her blog as a way for her to share the passion she has for fashion with a larger audience of people.
Tala's style is very clean and refined, on her page you'll find outfits featuring stunning dresses, fun beachwear, and the perfect pieces to wear on your next night out.
What once started as a fashion blog has since expanded to cover any topic that Tala takes an interest in, from wellness and beauty tips to DJing and music.
Some of the most popular recent posts on My Fash Diary include her monthly favorites post where she shares all of the things she's been loving in the previous month and her interview with Shiva Safai.
You can find more content from My Fash Diary on their blog and Instagram.
16. We Wore What – Best Fashion Inspiration Blog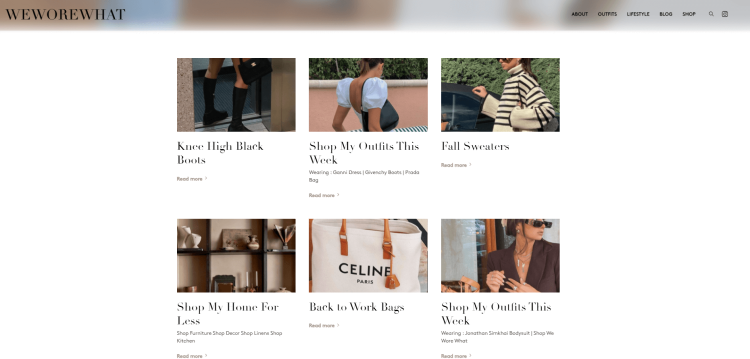 Started by Danielle Bernstein, We Wore What was one of the original fashion blogs based in NYC that became extremely popular. Since it started, Danielle has also been able to branch out and start her own collection of fashion-forward and unique clothing, also under the name We Wore What.
Danielle started the blog to be a daily source of fashion inspired by every corner of New York City. Many older posts are focused on street style across the 5 boroughs of NYC, but more recently have become more centered around Danielle's own personal style.
The style of We Wore What is minimal, effortless, and totally chic. On the blog, you'll find the perfect denim jeans, crisp white shirts, and classic boots that are the perfect addition to any wardrobe and that are completely timeless.
Some of the most popular recent posts on We Wore What include the best boots to wear in Autumn and a run-down of all the outfits Danielle wore in the week which goes into detail on every item of clothing Danielle wore in the previous week so that you can purchase the items for yourself.
You can find more content from We Wore What on their blog and Instagram.
17. Permanent Style – Best Luxury Men's Blog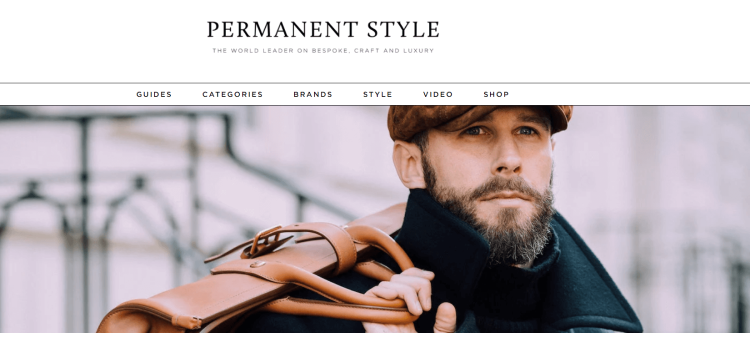 Permanent Style is the leading blog for men's luxury fashion that receives up to 600,000 pageviews every single month.
The site was founded by a professional journalist, Simon Crompton, so all of the content on Permanent Style has an editorial tilt that focuses on sharing top-quality information and news with its readers.
If you're interested in luxury fashion, craftsmanship, and bespoke design, Permanent Style is the site for you as it highlights some of the leading manufacturers in men's fashion.
It's also helpful for readers who are just starting to get into fashion as the site frequently breaks down different pieces and styles to educate readers more on the topic of fashion.
Some of the most popular recent posts include a case on the summer suit and a collection of must-have bags that any man should have in their capsule wardrobe.
You can find more content from Permanent Style on their blog and Instagram.
18. Simply Mr. T – Best Men's Style Fashion Blog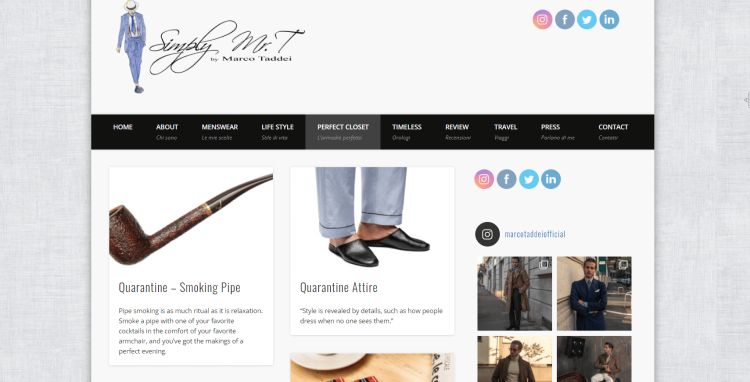 Simply Mr T is an Italian men's style blog written by Marco Taddei who has a passion for fashion and style that he loves to share through his blog.
Marco's style is classic and sophisticated, combined with classic Italian fashion, so on his blog, you will find all of the suit and tie inspiration you could ever need. Alongside Marco's daily outfits, readers will also find tips on how to style an outfit for your next event, or simply elevate your everyday fashion to be more adventurous and stylish.
With a focus on tailoring and well-made items, Simply Mr. T is a go-to destination for any man who wants to improve their style and find their next wardrobe essential.;
Some of the most popular recent posts include how to wear a grey jacket in the summer and how to style an all-white look.
You can find more content from Simply Mr. T on their blog and Instagram.
19. Lizzy Hadfield – Best Indie Fashion Blog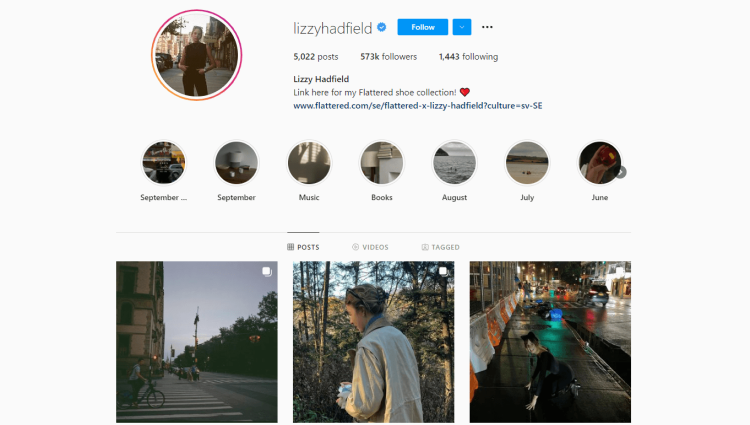 British blogger, author, and podcaster, Lizzy Hadfield—AKA Shot From The Street—is known for combining her love for fashion with a passion for film photography on her blog.
On Lizzy's blog, you'll find long, editorial posts with plenty of stunning film photography to show off all of the outfits and pieces in their best light.
Lizzy has a minimal style that focuses on elevated basics that can be worn in multiple different ways, think denim jeans, white t-shirts, and black trousers. If you're looking to start investing in key pieces or build up your capsule wardrobe, Lizzy is a great person to go to for advice.
She frequently does 'deep dives' into particular items on her blog, like jeans, where she shares everything you could want to know, like how to shop for jeans, what stores sell the best jeans, and how to find the right size. This knowledge of fashion has cemented her as an expert style blogger.
Some of Lizzy's most popular recent posts include her guide on how to style jeans and a t-shirt and her series on YouTube where she tests basic clothing pieces from different stores at a range of different prices.
You can find more content from Lizzy on her blog, Instagram, and YouTube channel.
20. Freddie Harrel – Best Eco-Fashion Blog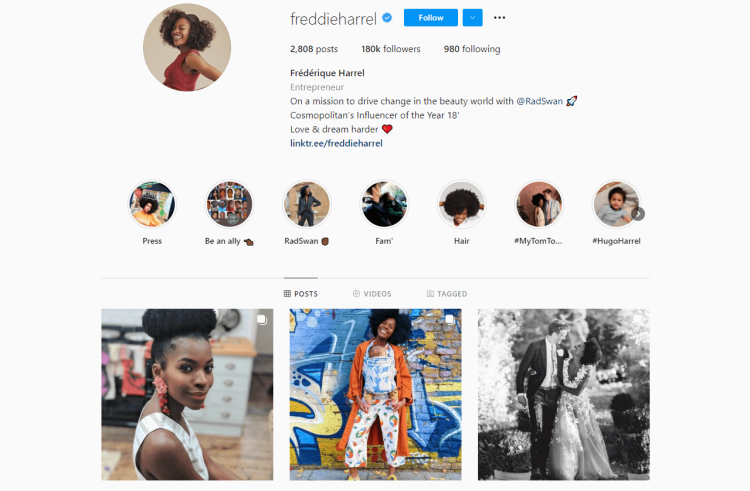 Freddie is a French-born blogger turned businesswoman who's become known for sporting bold prints and killer power suits on her blog for almost a decade. Freddie currently lives in London and has become very well-known for her many entrepreneurial endeavors.
Freddie's all about female empowerment, and hosts a number of confidence workshops alongside her fashion blog to push forward her mission—and she's even launched her own ethical haircare range!
If you're looking for fun outfit inspiration, uplifting content, beauty advice, and endless styling tips, Freddie is an awesome person to look to. During her pregnancy, she also shared plenty of styling tips for expecting mothers, which we highly recommend for some inspiration!
You can find more content from Freddie on her blog and Instagram.
21. Margaret Zhang – Best Fashion Trend Blog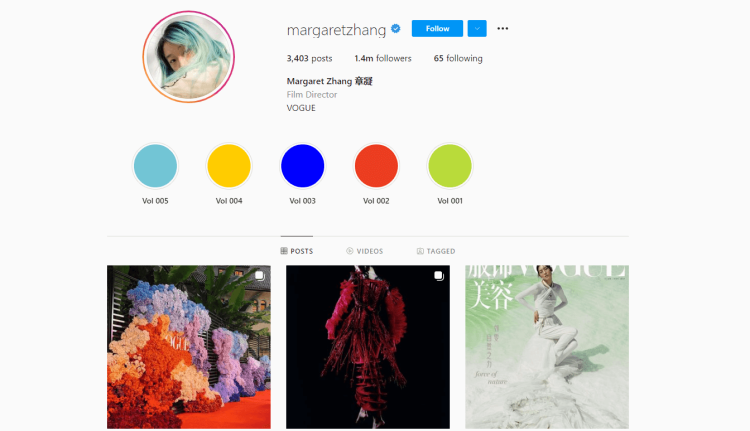 Margaret Zhang has been a great example of how you can use your fashion blog as a way to get into the fashion industry as she recently became the editor-in-chief of Vogue China.
Margaret started her fashion blog at the age of 16 as a way to share her daily style, which has gained her over 1.4 million followers on Instagram alone. Her style is very creative, and unique and focuses on the latest fashion trends.
Drawing on influences from her Australian upbringing and Chinese heritage, Margaret's blog and style feature an eclectic mix of modern trends and classic pieces that will be perfect additions to anyone's wardrobe.
Despite being very successful in the fashion industry, Margaret still regularly updates readers of her blog and followers on Instagram with what she's been up to and provides sneak peeks into the hottest fashion trends that the editors are excited about.
Some of the most popular recent posts on Margaret's blog include behind-the-scenes shots from recent editorial shoots that she's done with Vogue and also a mother-and-daughter style interview with Yara Shahidi.
You can find more content from Margaret on her blog and Instagram.
22. Zagufashion – Best High Fashion Blog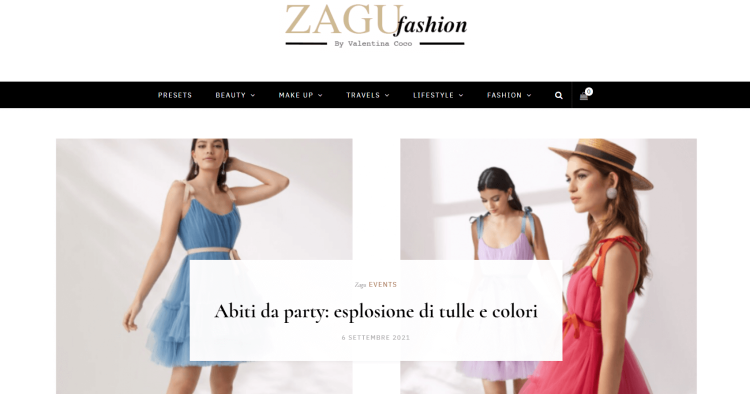 Valentina runs the popular high fashion blog, Zagufashion which is based out of Italy. Her style is elegant and classy, providing her readers with inspiration on how to effortlessly style all of their outfits to look as chic as possible.
On Valentina's blog, you will find tips on how to shop for dresses, how to style the latest trends, and how to find the best new pieces to invest in for your wardrobe. With a mix of Italian style and inspiration from her travels abroad, Valentina is the go-to blogger for everything in high fashion.
Some of the most popular recent posts on Zagufashion include how to dress for a mountain holiday and where to find the best elegant party dresses to wear for your next event.
You can find more content from Valentina on her blog and Instagram.
23. Yolande Macon – Best Hipster Fashion Blog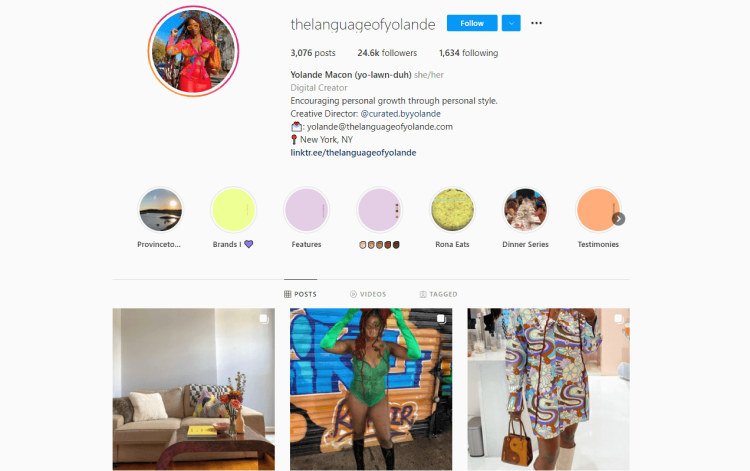 Yolande Macon is another NYC-based fashion blog that mixes hipster street style with bold colors and prints.
Yolande's style is fun, eclectic, and bold, but can also be very flexible. She's easily able to go from wearing a bright and exciting knit one day, to basic jeans and a t-shirt the next, able to make both look extremely chic and wearable.
If you want some ideas on how to incorporate color into your everyday outfits, look no further than this blogger.
Whether you want a subtle hint of color or feel braver, you'll definitely find the perfect outfit inspiration from Yolande.
Some of the most popular recent posts on The Language of Yolande include how to style neon and neutrals together in the same outfit and how to wear the hottest new spring trends.
You can find more content from Yolande on her blog and Instagram.
24. Wendy's Lookbook – Best Sophisticated Fashion Blog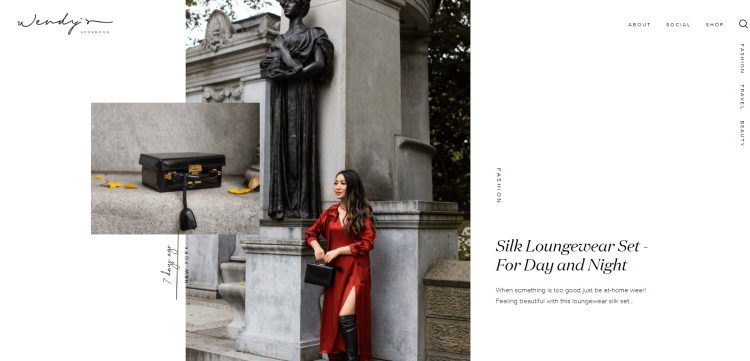 Wendy's Lookbook is the go-to source for those who want to perfect their sophisticated and elegant style. The blog is run by Wendy, a petite fashion lover who adores colorful outfits, statement accessories, and effortlessly chic looks.
Wendy shares outfits that are perfect to wear to any event or night out but also shares lots of styling tips so that you can get the most out of every piece in your wardrobe.
Alongside fashion, Wendy is also passionate about supporting children and has set up the Wendy's Lookbook Foundation which advocates for young people who have been impacted by the juvenile justice system.
Some of the most popular posts from Wendy include her video on how you can style a scarf in 25 different ways (which has over 42 million views!) and how to wear a bright summer dress.
You can find more content from Wendy on her blog, Instagram, and YouTube channel.
25. Lindsey Holland – Best Casual Fashion Blog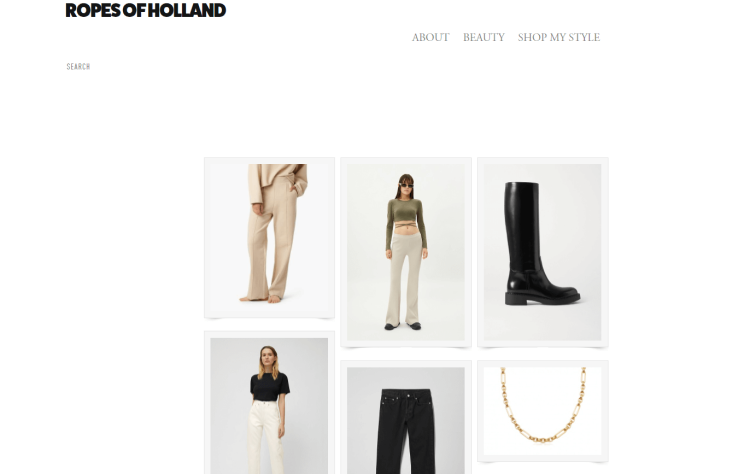 Lindsey Holland is the fashion influencer behind Ropes of Holland, a casual fashion blog that focuses on Lindsey's own personal style.
On Ropes of Holland, you'll find elements of Lindsey's perfectly curated style, which includes plenty of trench coats, shirts, denim, and blazers that make for the perfect everyday outfit. The style inspiration is endless, offering budget and luxury pieces that anyone could add to their wardrobe.
Lindsey is a popular Instagram influencer with a following of over 120,000 followers. She also hosts a successful podcast with fellow fashion blogger, Lizzy Hadfield, where they discuss a range of topics related to lifestyle, fashion, and beauty.
Some popular posts from Ropes of Holland include her cozy season post which features a mix of photography and outfit pictures to give you inspiration for your Autumn/Winter wardrobe, and her week in photos posts which shares some outfit inspiration and tips.
You can find more content from Lindsey on her blog and Instagram.
26. Hannah Crosskey – Best Personal Style Fashion Blog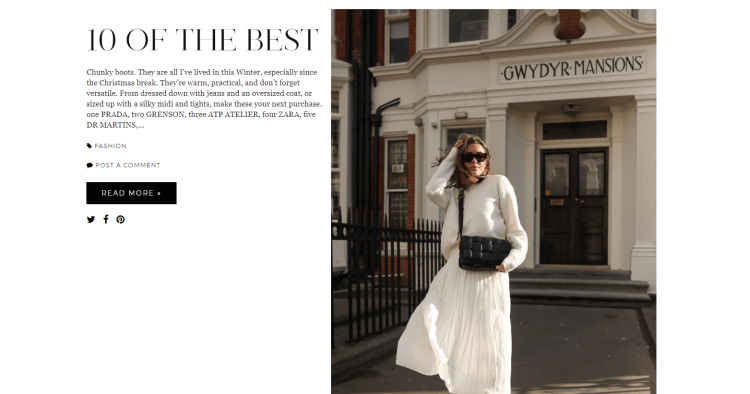 Hannah started her blog, A Fashion Fix, in 2012 as a hobby while she pursued a career in Personal Shopping. What started as a hobby became a more steady gig, which has now made Hannah one of the go-to personal style fashion and beauty bloggers in the UK.
Hannah has a very distinct personal style, that is simple and Scandinavian-inspired. On her blog, you can expect to find classic silhouettes and designs, with lots of neutral tones and tailoring, all pictured in Brighton, where she currently lives.
Hannah says that she's not an expert when it comes to fashion, which is also what makes her so personable and relatable as a fashion blogger. Over 120,000 readers follow her on Instagram for sneak peeks into the newest trends, pieces, and styling tips.
Some of the popular fashion posts on Hannah's blog include a guide on how to buy and sell designer items and style inspiration for the Summer.
You can find more content from Hannah on her blog and Instagram.
27. Tarmarz – Best Minimalist Fashion Blogger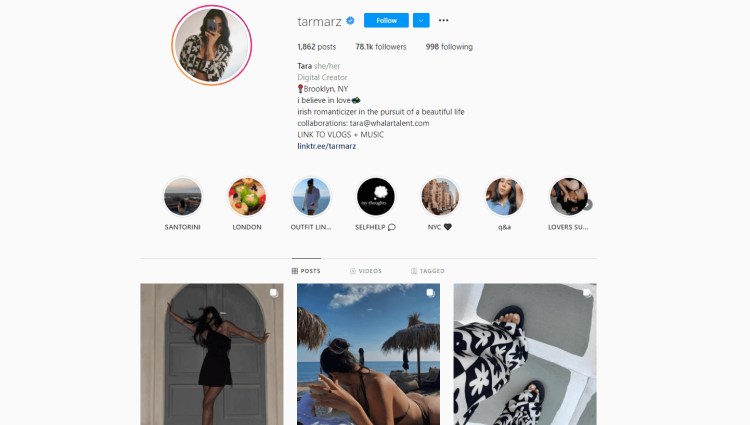 Tara is a blogger and Youtuber from Ireland who currently lives in NYC. Over the past years, Tara has become a very well-known blogger due to her impeccable minimalist style and relaxed style.
Inspired by the streets of Brooklyn where she lives, Tara blends classic street style with more classic pieces to create a unique style that has brought in over 200,000 followers across her various platforms.
If you like minimal styling and tasteful accessories, with frequent pops of color and print, Tara is a blogger that you will enjoy. She is an advocate for investing in core pieces that you can keep in your wardrobe season after season, and also frequently hits up the local vintage stores in her area to add fun statement pieces to her wardrobe.
All of this content can easily be found on Tara's YouTube channel where she inspires her followers to be more thoughtful when it comes to fashion purchases and gives tips on how to show your own personality through the clothes you wear.
Some of her most popular posts include her everyday jewelry video where she shares the key pieces that everyone should have, and her style update hauls where she shows clothing items she's recently brought and provides inspiration on how they could be worn.
You can find more content from Tara on her Instagram and YouTube channels.
28. A Mother's Edit – Best Mom Fashion Blog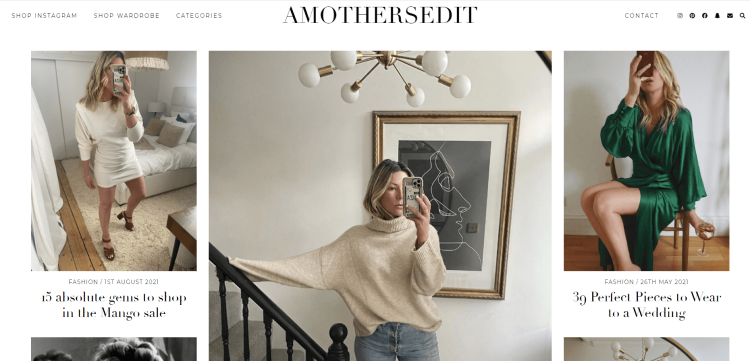 A Mother's Edit written by Ashely Wilson is a blog that shows that you don't have to compromise on your personal style once you become a mum.
Ashley is based in London and on her blog, you'll find styling tips, outfit inspiration, and also general mothering tips that any new mum would enjoy reading.
What started out as a place to share daily outfit pictures to inspire other mums to get out of the working-from-home fashion slump, has since turned into a successful online hub for all things motherhood and fashion.
On the blog, you'll find casual, yet stylish, fashion inspiration and styling tips that can easily be thrown on during the busy morning school rush.
Ashley mixes casual daytime wear, with elegant evening looks that can take you from the daily dog walk to a fancy event. There are plenty of blog post ideas for any newbie fashion blogger too!
Ashley also likes to mainly focus her posts on affordable high-street brands, with regular features highlighting new pieces at stores like Zara, ASOS, and Mango. Although if luxury clothing is your thing, you can find the occasional piece on A Mother's Edit too.
Some popular posts on A Mother's Edit include a lowdown on the hottest new pieces at H&M at the moment and a list of the best party dresses that could be worn during the festive season.
You can find more content from Ashley on her blog and Instagram.
29. 9to5 Chic – Best Work Style Fashion Blog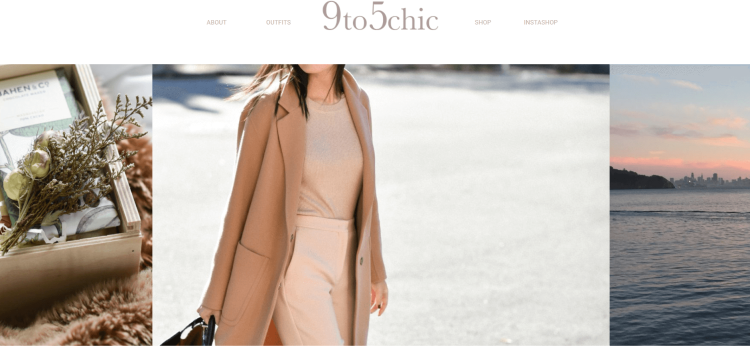 Whether you've just got your first job after college or starting a brand new position that you want to make a good impression of, it can be hard to know how to dress appropriately for the office while still looking stylish.
Thanks to 9to5 Chic, any professional woman can get fashion and styling tips that they can take into the office without compromising on her own personal style.
Anh, who's based in San Francisco, writes 9to5 Chic and focuses on how to style comfortable yet professional outfits that are fit to wear around the office.
Anh believes that you shouldn't have to dress boring just because you're at work, and instead offers tips and advice on how you can incorporate your personal style into your work wardrobe.
Regardless of if you're looking for a daily outfit to wear, or need something extra smart to wear to an important meeting, you'll find plenty of inspiration at 9to5 Chic.
Some of the most popular posts on 9to5 Chic are Anh's advice on how to wear one cardigan in two different ways and how to style a fun linen suit for the office.
You can find more content from Anh on her blog and Instagram.
30. College Fashion – Best Fashion Blog for College Students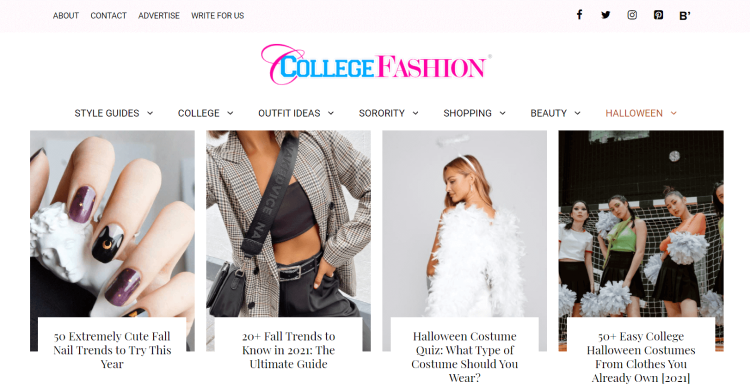 College fashion is all about dressing as comfortably as possible during a busy day of lectures, and then being able to transition to fun outfits to wear while partying. No matter what kind of college outfit you're looking for, College Fashion will have the inspiration you need.
If you're in college and want to keep up with the latest fashion trends, tips, and styles for students—while sticking to a budget—this is the perfect blog for you.
The blog, which is written by college students for college students, started off as a personal style blog but has grown to incorporate all elements of college fashion and now has a large team of writers who contribute articles.
The topics on College Fashion range all the way from what you should be wearing on your first week of college, to fun Halloween costume ideas to wear to your next sorority party.
College Fashion posts also keep readers up to date on all of the latest fashion sales and discounts to use next time they go online shopping.
Some of the most popular posts on College Fashion include 40 of the best Halloween costumes to try using clothes that you already own and the best cheap boots to wear in autumn that cost under $50.
You can find more content from College Fashion on their blog and Instagram.
30. UnderFit: Mastering Men's Formal Fashion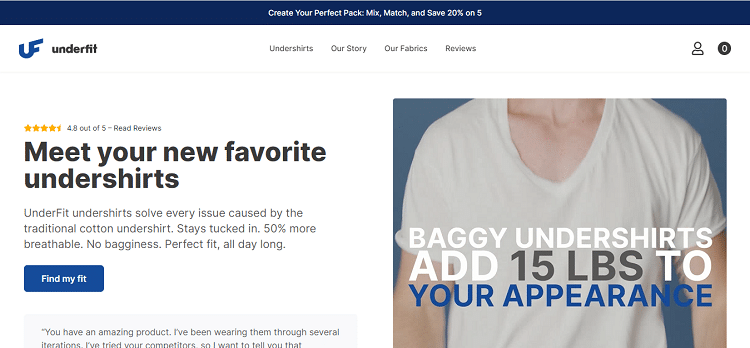 Explore the world of men's fashion with UnderFit, an e-commerce brand specializing in undershirts. Owned by Leigh McKenzie, the blog focuses on content related to all occasions where men wear undershirts – office attire, date nights, weddings, and more.
UnderFit's fashion blog is dedicated to helping you enhance your style and create a polished look for any occasion. With expert advice, trend analysis, and curated outfit inspiration from Leigh and his team, http://UnderFit.com is your ultimate guide to mastering the art of dressing with confidence and sophistication.
You might be interested to check those related posts as well:
FAQs
What is the most popular fashion blog?
These are the top 10 most famous and trendy fashion bloggers:
Egg Canvas
Hello Fashion
Atlantic-Pacific
The Daileigh
One Dapper Street
Grasie Mercedes
Girl With Curves
Harper & Harley
My Fash Diary
The Fashion Guitar
Who is the highest-paid fashion blogger?
Chiara Ferragni, the author of The Blonde Salad, is the highest-paid fashion blogger with an average income of $250,000 every month!
Chiara has run The Blonde Salad since 2009 and has been able to grow her blog and associated social media platforms into a real success. Across her platforms, she's amassed an impressive 17 million followers.
Do people still read blogs?
Yes! In fact, recent statistics also have shown that 77% of internet users regularly read blogs—that's a lot of people!
Of course, reading habits change and trends come and go but blogging has been able to adapt to all of this and remain some of the most popular content on the internet.
We hope you enjoyed reading about the hottest fashion blogs and bloggers to follow in 2023, did we mention any of your favorites?
If you think we missed anyone from our list, let us know in the comments!