Blogging is a career that requires commitment, discipline, and an eye for detail. Of all the blogging niches you could create a career from, lifestyle blogging is definitely the most flexible and easiest for first-time bloggers because it offers a wide and varied selection of blog categories and topics to focus on.
Whenever you feel ready to start your blogging journey you can take some tips from our How to start a blog article.
What is a Lifestyle Blog?
A lifestyle blog is a type of blog that focuses on topics related to lifestyle, such as fashion, health, fitness, travel, home decor, and relationships. The content typically focuses on helping readers live a better or more fulfilled life.
Successful lifestyle blogs:>
are diverse, well-structured, and very well researched
offer sound advice to complex issues and problems
are written by everyday people for everyday people (yes, even celebrities!)
fill a specific need, but talk about related needs, as well.
One of the easiest and most intuitive blogging platforms available is a WordPress blog, which also offers a huge selection of WordPress plugins so you can design and manage your new blog any way you want to.
Great blogs also use their Youtube channel, Instagram feed, and other social media accounts to share their content with their followers, widening their influence to build a bigger following.
The 20 Best Lifestyle Blogs are considered to be amongst the top lifestyle influencers in their niche and make a lot of their money from affiliate marketing, freelance writing jobs, and paid display adverts for products that relate to their niche topic or category.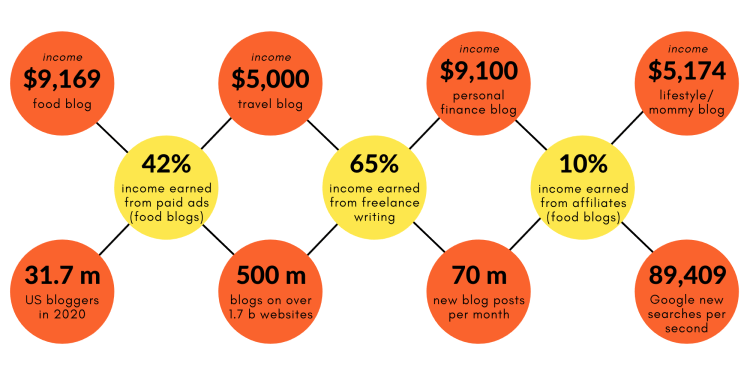 Source: https://www.semrush.com/blog/blogging-stats/
What are the Common Lifestyle Blog Niches?
While niches may overlap at times, there's no rule that says you can't have more than one category within the main niche on your blog. The best lifestyle blogs that make money online started off by creating a narrow niche to draw in a targeted audience and then expanded as their readers demanded more.
For inspiration, here are some of the more common lifestyle blog niches you could focus on:
Parenting – homeschooling tips, advice on raising a child, baby clothes and toys, garden and home hacks, and support for single parents.
Food – vegan lifestyle, beverages, and alcoholic drinks, nutritional advice, eating plans, cooking and baking recipes, and best places to eat out.
Finance – financial advice and strategies, how to make money online, the best ways to invest, how to save money, financial independence, paying off debt, and money management.
Men – all things wheels, RC hobbies and toys, fitness, fashion advice, must-have gadgets, hobby tips, travel destinations, the dad lifestyle, and DIY tips or hacks.
Entrepreneurs – work-from-home advice, starting your own business, freelancing and contracting info, and employee or supplier info.
Women – fashion, female empowerment, clothing advice, hair and makeup tips, fitness, specific health problems, home decor, and hobbies.
Entertainment – music, movies, places to see, things to do, traveling tips and destinations, and celebrity news and gossip.
Technical – engineering, science, coding, design, web-based applications, and learning platforms.
Hobbies – RC cars and drones, photography, writing, art and drawing, reading, home improvement, DIY, and gardening.
Fitness – various sporting activities such as running, cycling, weight training, gym routines, fishing, yoga, workout home routines, stretching, and more.
Health and wellness – medical advice, nutritive supplements, positive psychology, anxiety self-help, tips about work/life balance, managing stress, and well-rounded advice on leading a happy and connected life.
Employment – pretty self-explanatory, this category covers the aspects of career choices, relationships at work, finding and keeping a job, upskilling, and best practices for the workplace.
Blogging remains a relevant and accessible way to earn a living from anywhere. It is hard work that offers bloggers a rewarding way to enjoy, document, and share their passions and experiences with the world – from anywhere in the world.
Bloggers also earn an income from sharing their knowledge and skills. Examples of this include online courses and workshops, ebooks and resource guides, tools, and templates.
For the more extroverted, blogging can also extend to vlogging (video blogging), coaching, speaking gigs, and consulting. If you think this is something you would like to make a fortune on, you can learn more from our How to make money blogging article.

Best Lifestyle Blogs to Inspire You 2023
Other than a product page on a static website, a blog is really the only other way a website can make money. A blog is a showcase that is used to build credible authority on a given topic that relates to the website's theme or brand.
This information is then shared across social media, creating followers, influence, and brand recognition.
The 20 Best Lifestyle Blogs featured here all have a few things in common. Leave your comments below if you can guess what they are.
1. Thrive Global – Best Wellness Blog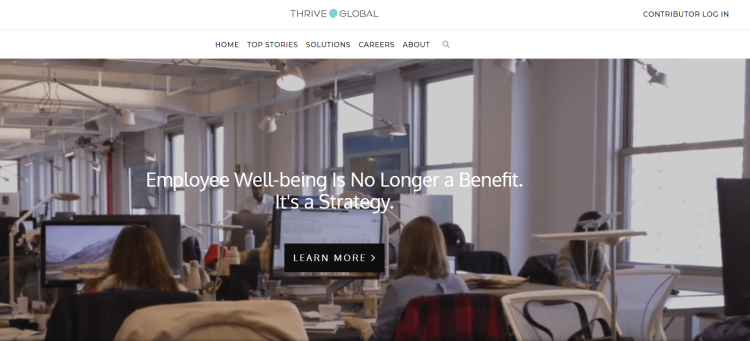 Arianna Huffington is perhaps most well-known as the co-founder of the Huffington Post. She has authored 15 books, founded her own wellness company in Thrive Global, and is a lifestyle blogger that features yearly on Time Magazine's 100 Most Influential People list and Forbes' Most Powerful Women list.
In 2011, Huffington Post sold for $315 million to AOL, although Arianna retained the title of editor-in-chief. Shortly after the sale, Huffington Post became the first-ever commercially-run American digital media enterprise to win a Pulitzer Prize for outstanding journalism.
Inspired by her own burnout in 2007, Thrive Global was officially launched in 2016, at which time Arianna stepped down from Huffington Post (now known as HuffPost).
Thrive Global is a wellness blog that focuses on the damaging effects of stress and burnout, offering solutions to manage these and move beyond their life-altering effects on everyday people and situations.
By 2017, Thrive Global was named one of the Top 10 NYC Startups to Watch by Inc. By 2018, Thrive Global had made LinkedIn's 50 Most Sought-After Startups In The U.S list, and in 2021,
Thrive Global was named one of America's Best Startup Employers by Forbes.
Website: https://thriveglobal.com/
Social Media Platforms:
LinkedIn
Instagram
Twitter
Facebook
2. Brightbazaarblog.com – Best Home Lifestyle Blog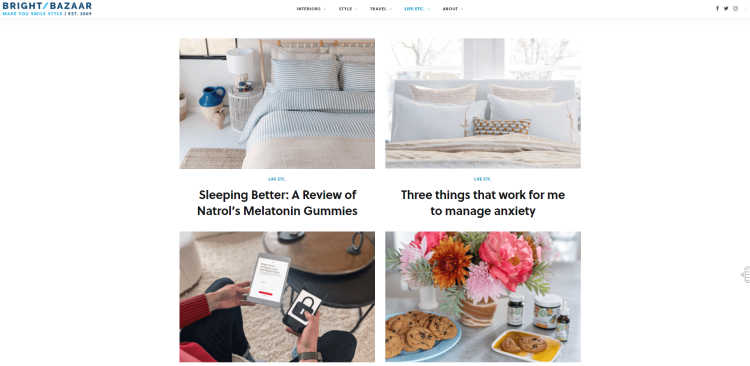 Will Taylor is a British-born journalist, content creator, interior designer, and the founder of brightbazaarblog.com, a company he started out of his bedroom more than a decade ago.
He has been featured in Forbes' Top 30 Social Media Power Players list, appeared on Good Morning America more than once as a design expert, is a best-selling author of two design books, and boasts his own furniture product line.
In addition to this, Will received critical acclaim from BuzzFeed, Elle Décor, and HGTV (to name a few), has been profiled by the New York Times and The Daily Telegraph, and has a strong ad campaign relationship with household brands such as Coca-Cola, Google, Nespresso, Old Navy, Starbucks, Virgin, and Warner Brothers.
In fact, Will's personal brand is so influential that Hyundai sponsored him for a whole year with the brand-new Hyundai Palisade!
Shortlisted for the Dulux Let's Color Award, brightbazaarblog.com is a journey down style alley, with simple colors and straight lines that match, not clash.
Will loves dressing to match the room he's in, and the bold masculinity of the products and colors available on his website is a testament to this. Style never gets old – just ask his 2.4 (plus one more!) million monthly website viewers!
For make-you-smile style tips, reviews, and how-tos on interior design, apparel and dress sense, travel and Airbnb recommendations, vehicles, and best-practice tips on coping with anxiety, burnout, and stress, head on over to brightbazaarblog.com or check out Will's social media pages for up-to-date inspiration.
Website: https://www.brightbazaarblog.com
Social Media Platforms:
Instagram
Twitter
Facebook
Pinterest
3. Making Sense Of Cents – Best Financial Lifestyle Blog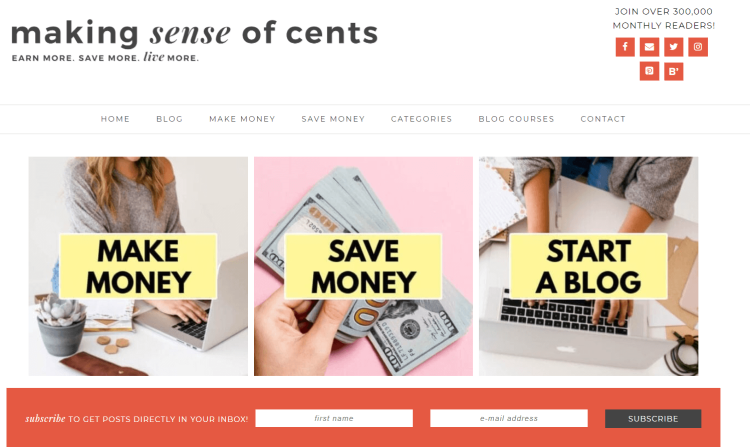 Michelle Schroeder Gardner made our list of 20 best lifestyle blogs for her no-nonsense and straightforward approach to managing money, making her financial advice blog easy for just about anyone to follow and implement.
Makingsenseofcents.com was started by Michelle in order to help her readers get out of debt and improve their finances – just after she used her own advice to get out of debt, too.
A financial MBA graduate, Michelle found herself facing massive student loan debt once her studies were completed in 2012. Beginning her career in the financial services industry as a financial analyst, Michelle eventually broke away to begin makingsenseofcents.com and has never looked back.
Recently returning from a tour of North America in an RV, Michelle and her family sold their home a few years ago and now live on a sailboat!
Michelle is a fully self-employed freelancer and solopreneur and publishes her own content, including monthly income updates. Makingsenseofcents.com has over 300,000 readers per month.
Michelle has been mentioned more than 100 times by Business Insider, CNBC, Forbes, Huffington Post, Reader's Digest, Time, and more.
She has been nominated or won over 20 awards since 2012 for Best Personal Finance Blog, Best Blog Contributor/Freelance Writer and Blog of the Year, Must-Follow Personal Finance Blog, and Best Inspirational Blogs for Debtors, amongst others.
Website: https://www.makingsenseofcents.com/
Social Media Platforms:
Instagram
Twitter
Facebook
Pinterest
4. Neil Patel – Best Entrepreneur Lifestyle Blog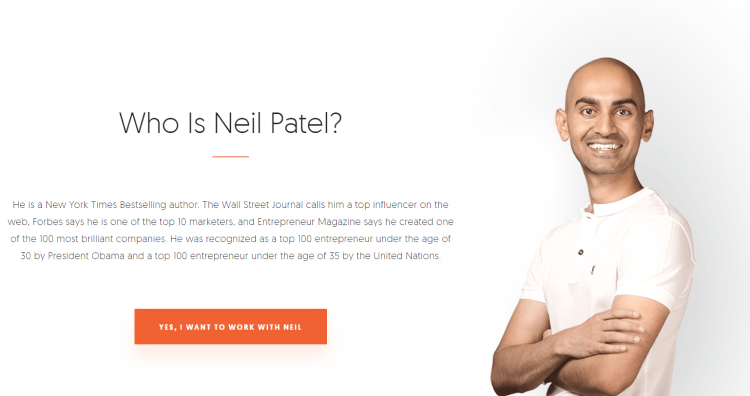 Born in Britain and well-known as a generous angel investor, Neil is the co-founder of Crazy Egg, Hello Bar, KISSmetrics, Quick Sprout, and Stride, and is a columnist for Entrepreneur, Forbes, Hubspot, and Inc.
Neil is also the co-founder of the wildly successful neilpatel.com website, dedicated to making digital marketing accessible to everyone. Neil manages his own website and blog. One of the most astounding personal facts about Neil Patel is that he manages to still find 5 hours a day to watch TV!
Neilpatel.com is available in 5 languages, including Spanish, Italian, and Portuguese. Not your average entrepreneurial portal, neilpatel.com is primarily dedicated to helping websites navigate the tricky aspects of SEO and online marketing in a digital age.
Neilpatel.com offers its readers access to free tutorials, guides, how-tos, training material, and SEO tools, while also giving the busy entrepreneur a wealth of information, insights, and tips on successfully managing their own websites and business.
Neil's LinkedIn profile reads like the ultimate guide to success, recognition, and reward. His client list includes Airbnb, Amazon, General Motors, Google, Microsoft, NBC, SalesForce, Thomson Reuters, and Viacom.
Neil's revenue is generated from a number of his digital portals, including:
his blog, which enjoys over 4 million visitors per month
purchases from more than half of those visits in paid ads on his site
his Marketing School podcast (which generates over 1 million listens per month)
his YouTube channel has more than 31 million views and 765,000 subscribers monthly
his Facebook page shows more than 1 million Facebook fans
he has nearly 400,000 Twitter followers
and has spoken at more than 300 conferences or companies worldwide
Website: https://neilpatel.com/
Social Media Platforms:
Youtube
LinkedIn
Instagram
Twitter
Facebook
5. Refinery29 – Best Entertainment and Lifestyle Blog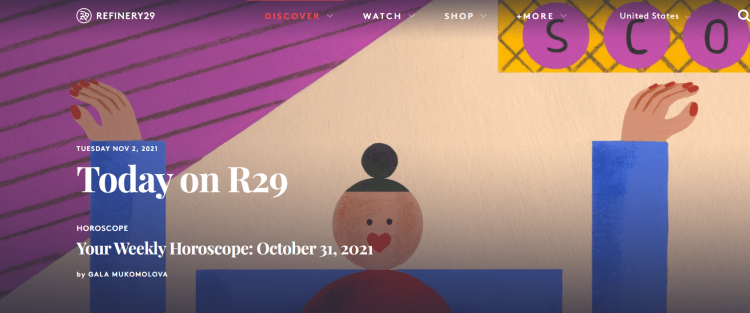 New York is not just the Big Apple; It's a big city, too. Keeping your finger on the pulse of city life in a metropolis the size and diversity of New York is a job not meant for the faint of heart.
Justin Stefano, Philippe von Borries, Piera Gelardi, and Christene Barberich co-founded Refinery29 in 2005 and originally intended the site to be a well-rounded fashion and style guide.
Refinery29 soon grew into one of the most trendy lifestyle blogs, but also one of the most visited blogs, with local versions of the site in the US, the UK, France, Canada, Germany, and Australia.
The site began as a fashion blog, later expanding to include articles and recommendations for a makeup blog category. As reader demand increased, so did the Refinery29 focus and niche topics.
Today, the site offers readers access to the best fashion and beauty tips, home and decor inspiration, the best travel and wedding write-ups, as well as career advice, personal finance, music journalism, and tech portals.
In 2019, Vice Media (which is partly owned by the Walt Disney Company) acquired Refinery29 in a deal worth an incredible $400 million!
However, the company was plagued by rampant suggestions of pay disparity, racial discrimination, and a toxic working environment, which led to a restructuring of top management and a new way of working that began in 2020.
Refinery29 was listed on Crain's "Fast 50" for 3 consecutive years and is the winner of 7 Clio Awards and 7 Webby Awards. They are also credited with creating 29Rooms, an annual pop-up exhibition, hailed as the world's first selfie museum.

Website: https://www.refinery29.com/en-us

Social Media Platforms:
LinkedIn
Instagram
Twitter
Facebook
Pinterest
6. He Spoke Style – Best Men's Lifestyle Blog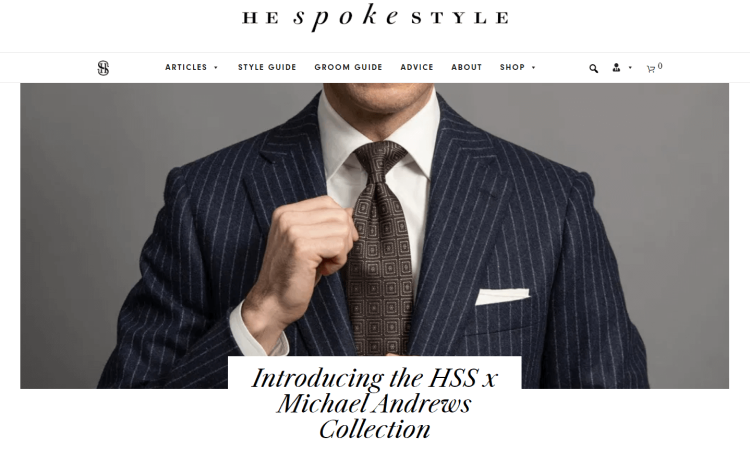 There are probably many men's lifestyle blogs out there that cater to men's specific tastes in style and grooming, but none quite fit the profile of He Spoke Style.
Brian Sacawa, a former elite-level cyclist and professional musician started He Spoke Style in 2013 after discovering a unique void in the then-burgeoning online menswear niche. Brian's unique style and flair were transferred to hespokestyle.com, resonating with regular guys who wanted to emulate the gentleman lifestyle.
Hespokestyle.com blends style inspiration and information with practical style advice and delivers top-notch content for those interested in menswear and gentleman's grooming. Hespokestyle.com has expanded to now include even more relatable features for discerning customers, including categories for travel and lifestyle.
Brian believes that style is about the appreciation of quality and craftsmanship in all aspects of life, not just the clothing you wear.
The site's advice, recommendations, and practical tips are combined with a collaboration with Michael Andrews Bespoke, a leading tailor, to create custom menswear from Brian's own wardrobe selection.
Based in Baltimore, New York City, and Milan, hespokestyle.com is maintained by contributing authors and editorial staff in the three locations.
Brian and hespokestyle.com have been featured in over 30 press articles, publications, and popular media sites such as The Rake and the Robb Report, The New York Times, The Wall Street Journal, Huffington Post, Style Code, and The Sun.
Website: https://hespokestyle.com/
Social Media Platforms:
LinkedIn
Instagram
Twitter
Facebook
Pinterest
7. Luxe Digital – Best Luxury Lifestyle Blog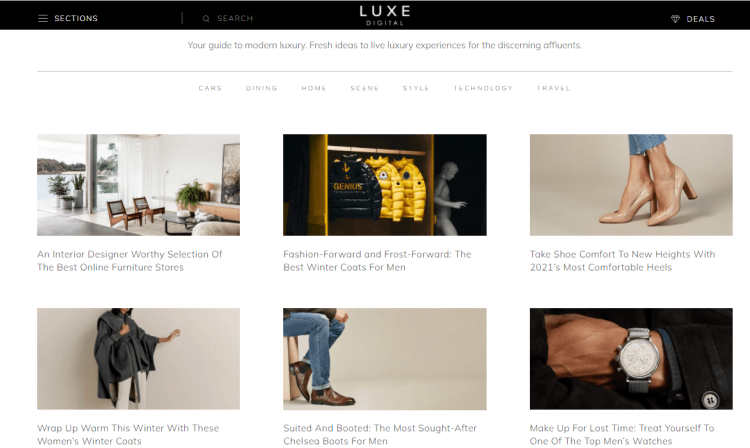 One of the most unpretentious and yet best conscious-living lifestyle blogs around, Luxe Digital's goal as a digital magazine is to inspire discerning, affluent, and ambitious millennials who are moved by innovation and change to follow a minimalistic, yet luxurious, way of life.
The online magazine is an expression of co-founders Simon and Florine Eppe Beauloye's personal opinions, trending and emerging luxury brands, technological innovations, up-and-coming influencers, luxury craftsmanship, one-of-a-kind experiences, and relatable digital trends.
Luxe Digital is a wholly-owned and managed subsidiary of mOOnshot digital.
Originally begun as a side project to gain attention for their main business, Luxe Digital caters primarily to the Millennial and Gen-Z market, focusing on luxury style, business, and lifestyle elements that include:
Opinions, rankings, trending stats and data, and global style reports
Luxurious lifestyle choices on fine dining, elegant home decor, and high-end travel destinations, luggage, and travel accessories
Everyday lifestyle information, such as beauty products and tips, cars and style, and technology that disrupts and enhances lives
Website: https://luxe.digital/
Social Media Platforms:
LinkedIn
Instagram
Twitter
Facebook
Pinterest
8. Fit Men Cook – Best Food and Lifestyle Blog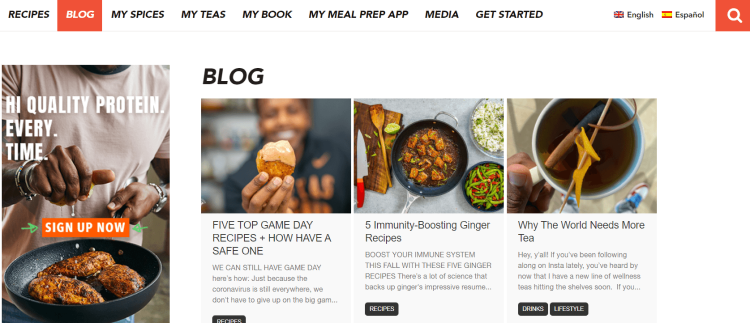 An inspiring and motivating food, fitness, and travel blog, creator and founder of fitmencook.com Kevin Curry uses his platform to advocate for healthy living choices, specifically in the kitchen. In addition to this, his award-winning recipes are not just healthy, they're low-budget and easy to make, too.
Kevin's journey began when he realized that he was overweight and unfit, leading his doctors to discuss his dangerously high blood pressure with him. Limited by his budget, Kevin started experimenting with low-budget foods and everyday healthy recommendations.
One of Kevin's mantras is "Never eat another boiled chicken breast unless I have to!", and that's the inspiration for the flavorful recipes he creates. He also boasts his own spice range and invites others to share their recipes on his site.
Fitmencook.com features a wealth of the best nutritional lifestyle information, including how to get started, how to stay fit, and how to best prepare your food for optimal taste and texture.
His recipes are not ingredient-limiting, so expect to find a vegan curry right alongside a juicy, tender turkey burger in the recipes section!
Website: https://fitmencook.com/
Social Media Platforms:
LinkedIn
Instagram
Twitter
Facebook
Pinterest
9. Wellness Mama – Best Mom Lifestyle Blog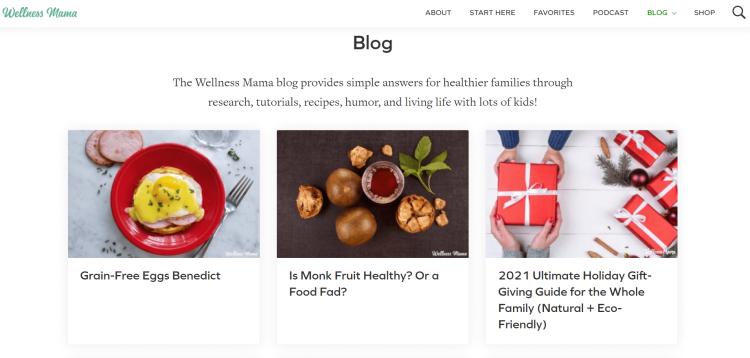 The Wellness Mama team develops content that's full of practical advice, info, and relevant resources for young mothers, moms of teens, and women in general. Topics are fact-checked by an editorial team and then reviewed by medical advisors for accuracy before being published.
Founder Katie Wells and her editorial team work tirelessly, analyzing content in the health, parenting, and natural living niches, then summarizing the information so it becomes an understandable and usable resource.
Sub-topics in their best mom lifestyle blog niche include beauty, health, aspects of motherhood, natural remedies for common issues, best travel advice, and healthy recipes for busy moms.
WellnessMama.com is an online portal for moms specifically, and women in general, who want to focus on living a healthier life and providing their families with natural, healthier alternatives. The site is loaded with DIY and beauty instructions, practical tips, green cleaning tutorials, and more.
The Wellness Mama podcast features a host of medical and celebrity nutritionists, doctors, and healthcare providers who offer real and accurate advice for most conditions. The podcast is also available on iTunes, Spotify, Google Play, Android, and Stitcher.
Katie's background in research, journalism, and nutrition helps her cope with the everyday stressors of managing her brood of six, while also developing her own line of beauty and wellness products, called Wellnesse. Katie is the author of two best-selling books, The Wellness Mama Cookbook, and The Wellness Mama 5-Step Lifestyle Detox.
Website: https://wellnessmama.com/
Social Media Platforms:
LinkedIn
Instagram
Twitter
Facebook
Pinterest
10. I am Aileen – Best Women's Lifestyle Blog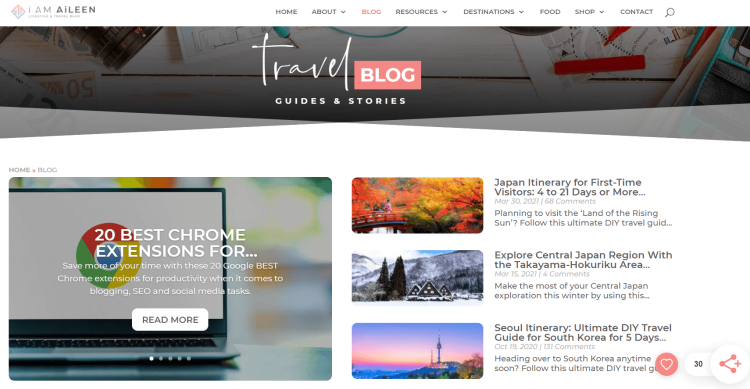 Aileen Adalid first registered her domain in 2008 and blogged her way through life until 2012. An online diary of sorts, iamaileen.com was built to document and chronicle Aileen's journey through life, a way to keep her memories and experiences alive and fresh in the cloud.
In 2014, Aileen revamped and relaunched the site as a travel blog, hoping to inspire others on a journey to follow their passions in life, to travel, and to not let everyday obstacles (such as Aileen's third world passport) stop you from going after your dreams.
A writer at heart, Aileen enjoys sharing her travel tips and the hacks she picked up along the way. Aileen's long-form writing style is perfect for readers who are looking for details, tried-and-tested work-based resources, food recommendations, and ideas on how to live a financially independent life with remote working opportunities.
Iamaileen.com has been featured in and on BBC, Buzzfeed, Cosmopolitan, Forbes, Independent, Lonely Planet, National Geographic Time, and more.
Website: https://iamaileen.com/
Social Media Platforms:
LinkedIn
Instagram
Twitter
Facebook
Pinterest
11. Perez Hilton – Best Celebrity Lifestyle Blog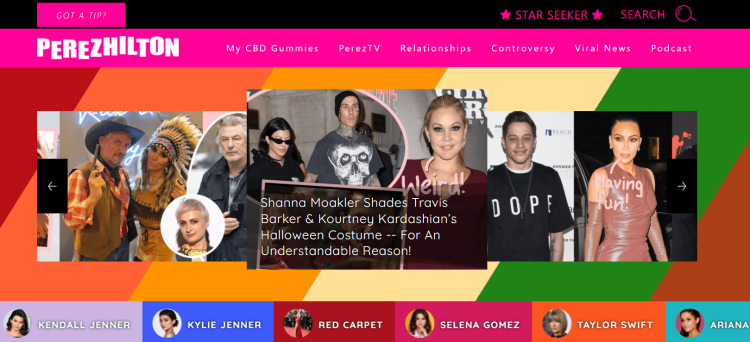 Mario Lavandeira is a Cubano and Miami native that's best known as Perez Hilton, aka the internet's most notorious celebrity and gossip columnist. Mario lives in Hollywood with his three kids, which places him at the epicenter of all things to do with celebrity lifestyles, news, reviews, and scandals.
In fact, the LA Times once referred to Perez Hilton as a sagacious man – a synonym for shrewd and acutely insightful.
In 2004, Mario launched pagesixsixsix.com, which was later renamed perezhilton.com.
The site currently records over 300 million hits a month, and Mario has used his fame as Perez Hilton to create his own record label, Perezious Music, and to write two best-sellers in 2009, namely Perez Hilton's Red Carpet Suicide, and Perez Hilton's True Bloggywood Stories.
Just over a decade later in 2020, he released TMI: My Life in Scandal.
Mario (as Perez) has been featured in or on more sites and publications than can be named here, including Howard Stern, Us Weekly, The View, Larry King, CNN, the L.A. Times, MTV's TRL, The Wall Street Journal, E!, Business Week, Time, CBS News, Much Music, Dateline, NY Times, and Billboard.
At the height of his scandalous climb back in 2009, Mario's awards and accolades include being named the #1 Web Celeb for 2007, 2008, and 2009 by Forbes Magazine, being listed as one of the 15 most influential Hispanics in the US by People, and was named 2009 Hispanic of the Year by Hispanic Magazine
Website: https://perezhilton.com/

Social Media Platforms:
Instagram
Twitter
Facebook
Pinterest
12. Mashable – Most Influential Culture Blog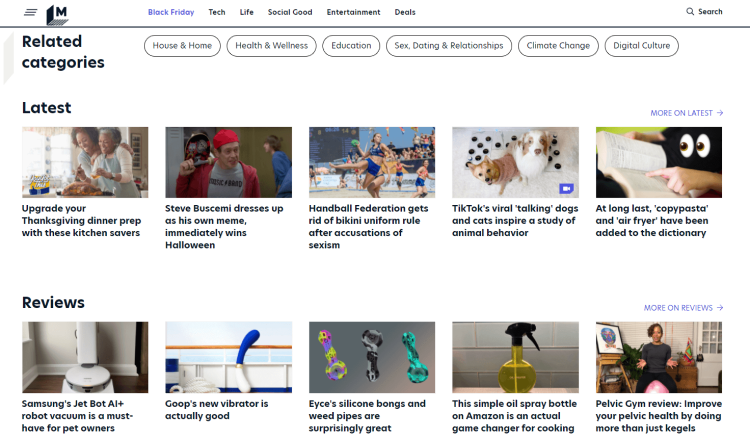 Pete Cashmore founded his website and blog from his bedroom as a teen in Scotland back in 2005. Just 10 years later, he would address the UN about the role that media plays in making the world a better place and his belief that the world wide web can empower people and change the world.
Pete's original site focused on documenting the role of social media giants at that time in the world, like Facebook, Myspace, and Youtube. What made the site different is that the posts were all just bite-sized nuggets of digestible information, a practice that continues on mashable.com today.
In 2009, Time named Mashable one of the 25 Best Blogs to read. Pete had always been obsessed with how technology and the internet work, and their impact on people's everyday lives. His infatuation with the topic was so all-consuming that he dedicated 18-20 hours of his day to just talking about it in his Mashable blog.
Within 18 months of posting multiple blogs per day, Mashable had acquired more than 2 million readers. The editorial staff was instructed to deliver between 7 and 15 articles per day. Word of mouth and interactive social media engagements catapulted Mashable to the forefront of readers' feeds, seemingly overnight.
By 2015, Mashable was recorded as an international culture, entertainment, science, tech, and social good digital media platform that incorporates news and multi-platform media and entertainment. Then Mashable sold in 2019 to Ziff Davis in a reported "fire sale" for a low $50 million.
Mismanagement and too many missed publication deadlines saw Pete step down as CEO of Mashable. His social media accounts all reflect the same message, stating that "Now: Taking some time off and working on something new."
The site however lives on with a full Ziff Davis editorial team to back the content. The structure and bite-sized snippets of information remain the same, and the site has grown to over 45 million readers worldwide.
Website: https://mashable.com/
Social Media Platforms:
LinkedIn
Instagram
Twitter
Facebook
Pinterest
Youtube
Tik Tok
13. Conscious Lifestyle Magazine – Best Healthy Lifestyle Blogs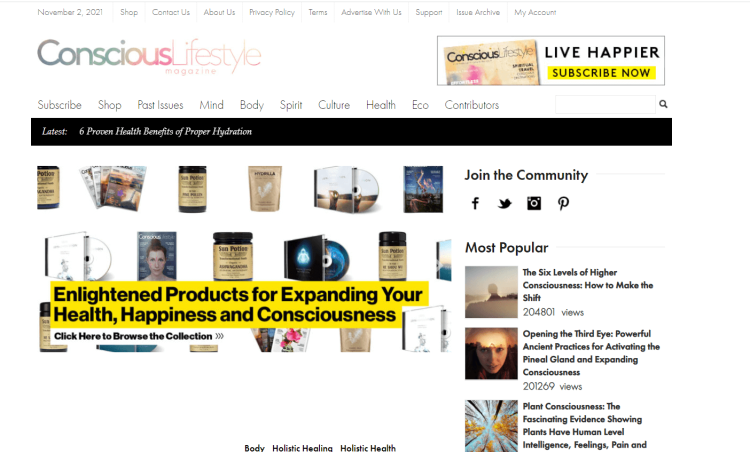 When you cut through the spirituality and the nice words, you discover that Conscious Lifestyle Magazine was created out of a desperate need to pay the bills – just like any other blog on this list.
Co-founded by Meghan McDonald and Justin Faerman in 2013, Justin's personal blog at justinfaerman.com tells an all-too-familiar story of student debt and a degree that offered no real-world work opportunities.
But amongst Justin's long list of achievements, you'll find the Conscious Lifestyle Magazine, dedicated to making the world a better place to live, work, and love.
Meghan is an award-winning human behavior and psychology researcher who consumes raw, organic chocolate in copious amounts to fuel her passion for personal growth and development.
Together, this duo strives to help people live happier, more fulfilling lives from the inside out, where greater awareness of self and the world around them contributes to a positive future for all. Conscious Lifestyle Magazine shares practical tools, techniques, and inspiration for health and healing.
Tips about mindfulness and meditation rest comfortably alongside posts about yoga and healthy relationships. Scroll a little more, and you'll find art, music, travel, and food vying for space with ayurvedic medicines.
What makes this site stand out from other healthy lifestyle blogs is the idea that you can experience abundance, freedom, prosperity, and flow in your life – and into the world around you – simply by looking within to heal the mind, body, and spirit.
Website: https://www.consciouslifestylemag.com/
Social Media Platforms:
LinkedIn
Instagram
Twitter
Facebook
Pinterest
14. Food Fun Travel – Best Travel Lifestyle Blog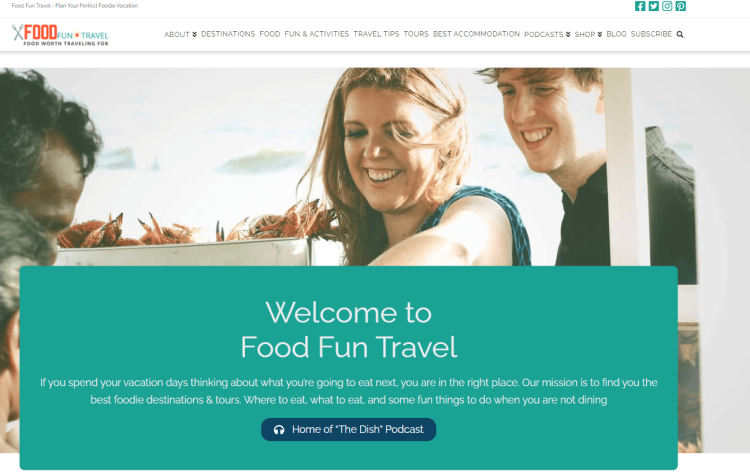 Cofounders Meagen and Tommo Collins are no strangers to travel, nor to tasting food dishes from around the world. The pair met in Denmark back in 2010 and instantly hit it off, discovering their mutual passion for bespoke food in far-off cities.
British by birth, Tommo and Meagen now reside in Australia, where Meagen hails from. This is also where Food Fun Travel is based.
The pair also co-founded the Travel Freedom Network which includes the Food Fun Travel brand, the Travel Freedom Podcast, the Travel Blog Virtual Summit, and The Dish Podcast. Meagen has always been a traveler, beginning her career on a cruise ship back in 2006.
The Food Fun Travel blog is not just about where to travel or where to stay. Meagen (aka Megsy) and Tommo share their love of foods that delight and off-the-beaten-path travel destinations, where locals are featured as chefs for the day, and everyone gets a piece of the pie.
In 2019, the pair of food-hunting nomads discussed relocating to Portugal, and alternative streams for building a freelance, location-independent income in a nomadtopia.com podcast, though social media is rather quiet about this change.
Their blog includes food guides, tours, cooking classes, and weird or wonderful foods from around the world.
Website: https://foodfuntravel.com/
Social Media Platforms:
LinkedIn
Instagram
Twitter
Facebook
Pinterest
15. Wit & Delight – Most Interesting Blog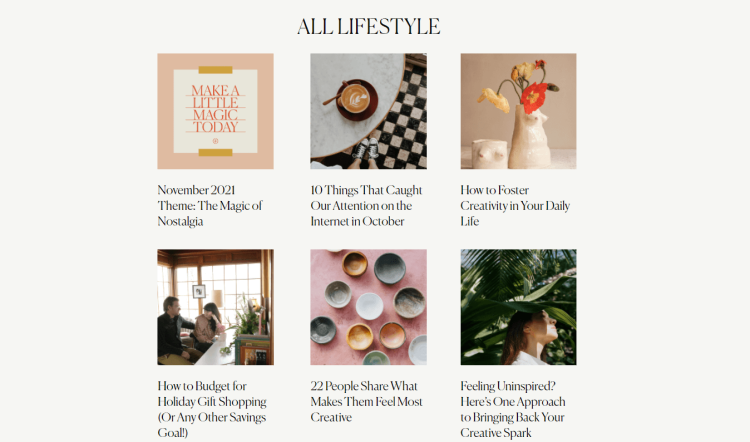 A designer by trade and a self-taught writer, founder of the Wit & Delight lifestyle blog Kate Arends began the blog in 2009 when she was in over her head in debt and struggling to pay the bills, even though she was employed at the time. What started out as a possible Plan B safety net soon became a full-time career.
In 2014, Kate's life was turned upside down by a divorce and the discovery that she was suffering from a mental illness and an undiagnosed learning disability.
Kate's personal essays explored her journey through these crises, and exposed her vulnerability to over 3 million followers, making her a firm favorite for readers who could relate.
Wit & Delight is a resource where others who feel alone can find travel suggestions, food reviews and recommendations, relationship advice, fashion and style tips, decor and interior design inspiration, and learn more about creating a life that brings them joy.
Website: https://witanddelight.com/blog
Social Media Platforms:
LinkedIn
Instagram
Twitter
Facebook
Pinterest
16. A Beautiful Mess – Most Creative Blog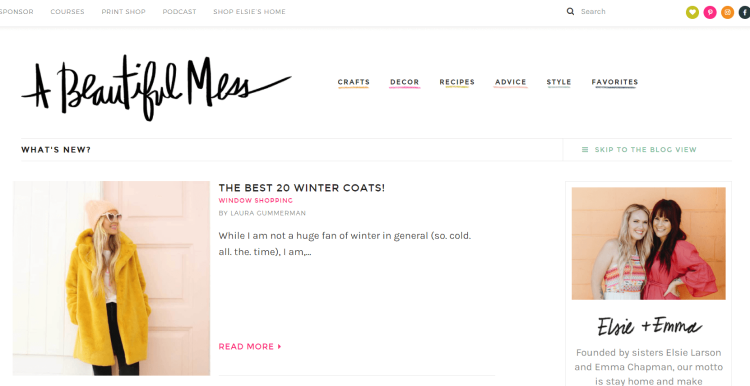 These two sisters are about as different as you can get in siblings! Co-founders Emma Chapman and Elsie Larson are all about staying home and creating a living space that's designed around those living in it.
Emma's childhood hero (Donald Duck) clashes not so subtly with Elsie's hero (Michelle Pfifer as Catwoman), but the two bring together the shared love for home, heart, family, and creation in A Beautiful Mess. The blog features posts on arts and crafts, cooking tips and favorite recipes, and elegant ways to fill your home with style.
While both sisters are content creators, Elsie manages the Beautiful Mess podcast (launched in 2019), and Emma runs the day-to-day operations of the A Beautiful Mess company. Between them, they've published 6 nonfiction books, and managed a clothing line, a fabric line, and a beauty product line.
Abeautifulmess.com also features a DIY project space, and most of the images used on the site are thanks to Emma and her love for photography. Emma also focuses on recipe development, craft tutorials, and home decor content for the site.
Raised as homebodies, both women share their love of all things homely, helping millions of other women around the globe raise their own children in a stable, nurturing, and creative environment.
Website: https://abeautifulmess.com/
Social Media Platforms:
LinkedIn
Instagram
Twitter
Facebook
Pinterest
17. Legal Nomads – Best Food Photography Lifestyle Blog

In 2008, Jodi Ettenberg planned a year-long sabbatical to Siberia and quit her job as a lawyer. So that family and friends could follow her journey, she began a blog that would grow into Legal Nomads. The blog was an instant hit.
Jodi uploaded her photographs and documented her journey. Somewhere along the way, she fell in love with food, using it as an opening to connect with people in new places. Jodi never returned to her law career and focused all her energy on Legal Nomads.
A celiac, Jodi was careful about what she could eat in which location and learned all she could about the foods in the places she traveled to. In this way, she had less chance of falling ill and less anxiety about her illness.
Jodi hoped that her blog would inspire others with a disability to travel and explore. In 2011, Jodi began speaking publicly about her experience of fear and travel in various keynote addresses.
Since a botched spinal tap and a life-changing diagnosis of Mast Cell Activation Disorder altered Jodi's reality forever, the blog has changed a bit, though still reflects her incredible courage to not only deal with grief, despair, and incredible pain but also to share that journey so others may feel not so alone.
No longer nomadic or able to enjoy the foods of the world that inspired her so much, Jodi's writings of late reflect her new challenges as she navigates her new normal.
An award-winning travel journalist, Jodi has also published a book called The Food Traveler's Handbook, which guides readers on how to eat tasty, healthy food on a budget anywhere in the world.
Website: https://www.legalnomads.com/
Social Media Platforms:
LinkedIn
Instagram
Twitter
Facebook
Pinterest
18. The Everygirl – Best Sustainable Lifestyle Blogs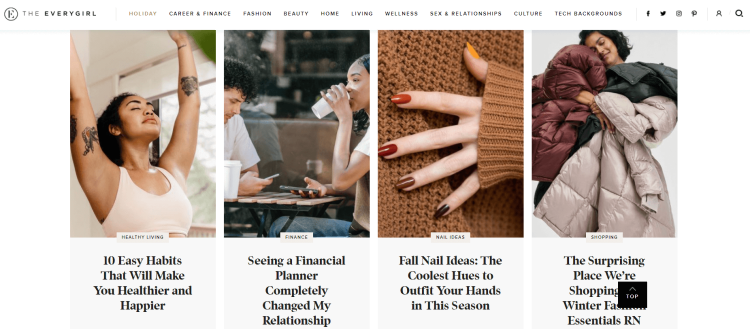 Alaina Kaczmarski started her blog (Live Creating Yourself) as a side hustle to her full-time job until the end of 2012 when she was laid off due to cutbacks. The Every Girl launched in 2013 and has since become a household name.
Building a sustainable lifestyle is not just about recycling materials. Theeverygirl.com helps millions of women (and men!) around the world to become well-rounded individuals who lead financially sound and emotionally stable life.
The site features tips, trends, info portals, how-to guides, and solid advice in many aspects of everyday life, including:
career & financial advice
practical life and office skills
fashion and style tips and trends (for the plus-sized ladies, too)
hair, skin, and nail guides
meal prep and planning
wellness and healthy living advice
home decor, DIY, and gardening
relationship and sex advice
covers cultural and entertainment news
and takes a look at news, opinion, and current events
Website: https://theeverygirl.com/
Social Media Platforms:
Instagram
Twitter
Facebook
Pinterest
19. Thirteen Thoughts – Best Blogs for Young Adults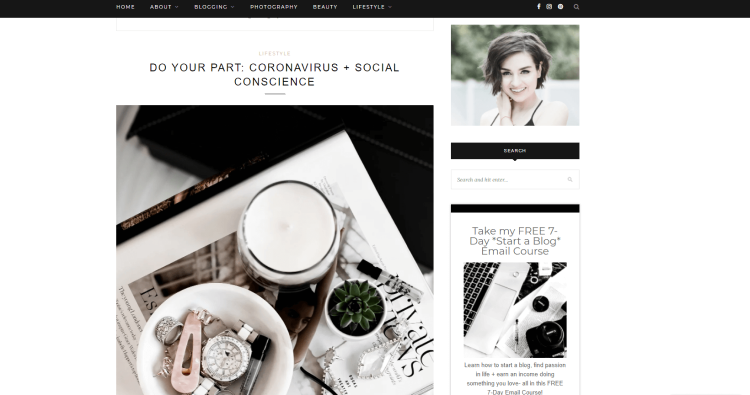 Known simply by her first name, the founder of thirteenthoughts.com, Paula is an enigma. Starting out first as a photography blog when Paula picked up the hobby and then progressing to beauty, Thirteen Thoughts has again evolved to include much more than just beauty-related content.
Although Paula's first blog was launched at age 12 and was created as a way to combat her depression, Thirteen Thoughts is now aimed at young adults looking for self-help and personal development advice, and who may be looking to change their lifestyle and transform their lives for the better.
The blog features a number of categories and columns, including:
Paula's favorite makeup and skincare products
best photography tips and helpful hints
self-love and personal growth advice
coping mechanisms
travel tips and handy hints
motivational advice
Paula also regularly posts advice and tips for affiliate marketers to grow their income and brand.
Like many others, the number 13 can be seen as lucky, especially for over-thinkers. "Thirteen Thoughts" is simply the best name that Paula could think of.
Website: https://www.thirteenthoughts.com/
Social Media Platforms:
Instagram
Facebook
Pinterest
20. Corporate Career Girl – Best Female Empowerment Blog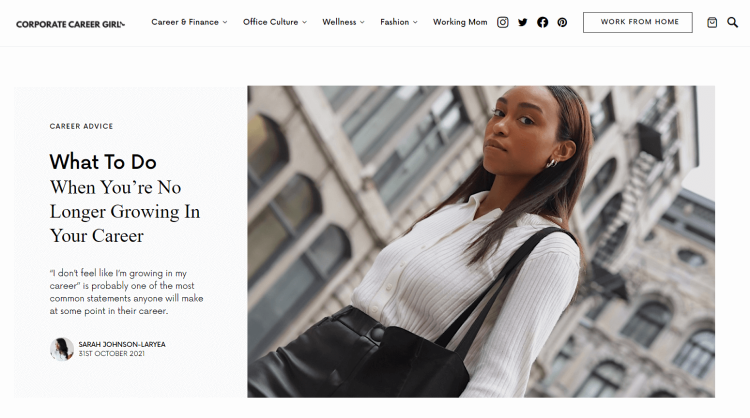 Sarah Johnson-Laryea had an idea to share her corporate journey with the online world. Sarah's goal was to help millennial women in the corporate workplace to gain more confidence and succeed at their jobs.
A Master's degree in International Marketing Strategy and a strong background in digital marketing, content creation, and SEO places Sarah at a distinct advantage over those who have no prior knowledge of these core marketing concepts.
Corporate Career Girl was founded in 2016, posting daily at that time in an effort to reach out and empower women from all walks of life. This practice remains in place today.
Millennial and Gen Z women find themselves facing what may seem like impossible and daunting challenges on a daily basis. How they respond to those crises will determine the kind of employment culture they create.
Corporatecareergirl.com provides the best career resources, top tips, confidence-building guides, and well-balanced advice to steer the leaders of tomorrow and help them to own their careers, whether formal or informal.
Whether you're just starting out or are an old hand with decades of experience under your belt, Corporate Career Girl can help you to:
balance your full-time job and side hustle
find new ways how to deal with workplace issues
deal with stress in the workplace
dress with style but not over-do it for work
boost productivity in work-from-home or remote positions
choose the right career path
keep your skin clean and healthy when you don't have the time to relax after a hard day's work
The internet and particularly blog posts are great sources of inspiration if you're looking for a new career or want to develop the one you're already chosen. Reading about someone's real-life experiences is more beneficial than reading generic posts. Quite often, blogs contain hints and tips that go far beyond the standard career advice.
You'll find posts that cover career, finance, workplace culture, health and wellness, and style and fashion posted on Sarah's blog.
Website: https://corporatecareergirl.com/
Social Media Platforms:
Instagram
Twitter
Facebook
Pinterest
You might be interested to check those related posts as well:
FAQ
Who is the highest-paid lifestyle blogger?
There's a reason Arianna Huffington is featured as #1 on our list, though technically speaking, she is the highest-paid entrepreneur who also blogs, is a lifestyle influencer, and is widely recognized as an authority on the topics she writes about (no matter what they are). Arianna is followed by Michael Arrington of TechCrunch fame.
What kind of lifestyle blogs are the most common?
Food, travel, and fashion/style top the list of the most common lifestyle blogs out there.
What is a lifestyle influencer?
Lifestyle influencers are bloggers and blogs that post a wide selection of content in their respective niches, have a good rapport with their readers, and resonate well.
In addition, the authority and trust these bloggers and lifestyle influencers bring to a site develop a lifetime of relatable authenticity that increases buying power among site followers.
The blogging income statistics we covered at the beginning of this list make it clear that blogging – and bloggers – are here to stay, and are elevated by the quality of the content they write or produce.
While competition is fierce, so are the rewards for those that are willing to put in the time, do their homework, and deliver high-quality content that speaks to a wide audience.