You have a unique story to tell, and you are ready to share it.
But how?
Podcasting is a fantastic way to connect with people, and the process doesn't have to be overwhelming.
Record, edit, publish.
Easy, right?
Okay, it may seem a bit daunting, especially if you don't have any sound editing experience, but there is an answer for you.
Read on to see which podcast editing software best suits your podcast's needs.
What to Consider in Podcast Editing Software 2023
What are the hallmarks of quality podcast editing software?
It somewhat depends on the nature of your podcast, but there are some standard features to examine.
Whether you're using a typical Digital Audio Workstation (DAW) or an all-in-one podcast-making app, consider whether the software has all of the features you need to tell your story.
Recording – How will you record your podcast? Some all-in-one podcast-making apps allow you to use your phone or computer as a recording device. Other DAWs will require microphones and an audio interface. While other editing software options do not have recording features at all but will enhance the audio of your pre-recorded files.
Editing – The amount and type of editing your podcast will need to depend on the nature of your podcast. Is there a single speaker or is it an interview? Will there be music or sound effects? Are you working with one or more takes? Some podcasts will only require minimal clean-up while others may cut and splice multiple recordings together. This will greatly impact the type of software you require.
Sound Quality – The quality of sound is arguably the most important aspect of post-production. Are all of the speakers at the same volume? Is there background noise? Distortion? Whether you are new to podcasting or a veteran podcaster, your audience won't subscribe if your podcast is hard to listen to. Some editing software can automatically enhance your sound quality, while others rely on the human ear to make adjustments. Choose a software that is compatible with your skill set.
Built-in tools and plug-ins – Plug-ins are a podcast editor's best friend. They can enhance the functionality of the DAW you're using. Plug-ins might clean up and repair audio, offer EQ and compression, or have other specialty functions. Be mindful of what is available in whichever software you choose.
Training Resources – There will likely be a learning curve for any software you choose, but especially if you are new to audio production and sound mixing. Software like GarageBand has a vast community of users with tutorials on just about any topic. It's particularly important to be sure that any free software you use has some form of training resources simply because there won't be customer service to help you figure it out.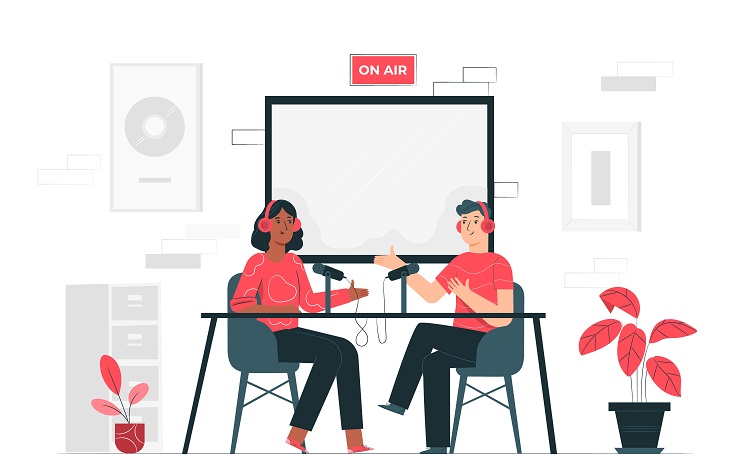 Comparing the Best Podcast Editing Software 2023
Which podcast editing software is best for you?
Read on to learn more about the key features, pros and cons, and pricing of some of the best podcast editing software available.
Alitu – Best Online Podcast Editing Software
Alitu, an online podcast editing software, with built-in call recording and production features, automates many of the technical aspects of podcast making.
It is purpose-built as a podcast editing tool specifically for podcasters.
Simply record a solo or group call, in-app, or upload an audio file.
Edit your podcast with easy drag-and-drop functionality or click to remove mistakes, then send it off to Alitu's bots to master and level your audio!
You're ready to publish directly from Alitu to your hosting platform.
Features
Recording tools – Record with up to 6 people, Automatic call backup
Editing tools – Drag and drop episode builder, Easy clip splitter, Mistake & silence remover
Automate and forget the details – Noise reduction, Hum removal, Volume leveling (to industry standard), ID3 metadata (to industry standard), Bitrate (to industry standard)
Access to assets & support – Music library with 200+ tracks, Access to podcasting courses, Podcaster success team ready to jump in and help with the software or your podcast
Pros
No audio background knowledge is necessary
Simple, easy-to-use interface
Publish directly to the hosting platform
Access to Alitu podcasting courses with a subscription
Cons
Lacks many standard recording and editing tools
No way to manually adjust audio levels
No multi-track recording (scheduled for 2022)
Not ideal for recording because it is internet-dependent (double-ended recording coming 2022)
No mobile app
Prices & Packages
Free: 7-day trial
Monthly: $32/month
Yearly: $320/year
Audacity – Best Free Podcast Editing Software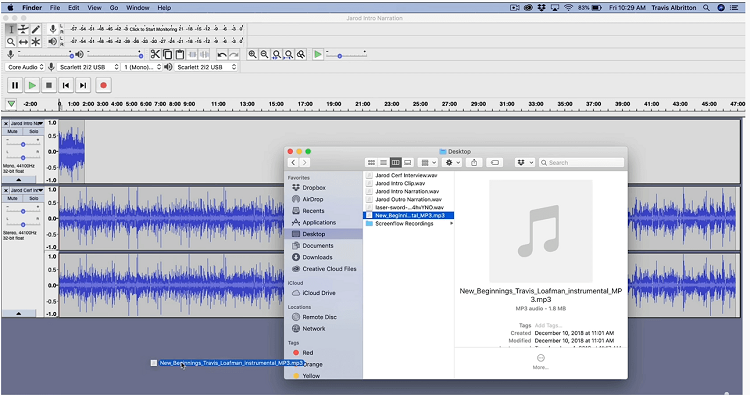 If you are a novice podcaster working with a tight budget, look no further than Audacity.
Audacity is a free, open-source audio recording and editing software.
It has all of the basic editing tools you need to create high-quality audio for your podcast.
Features
Compatible with macOS, Linux, Windows
Basic recording and editing features: record, cut, splice, and edit audio
Remove background noise, adjust levels, and normalize audio
Create 16-bit, 24-bit, or 32-bit audio recordings
Numerous audio effects
Import and export various types of audio files and/or convert them into different file formats
Automatic crash recovery
Built-in support for multiple plug-ins
Pros
The price
Record and edit audio in one software
Records high-quality audio
Many online tutorials due to popularity
Cons
Prices & Packages
GarageBand – Best Podcast Editing Software for Beginners

Another editing software option for a fledgling podcaster would be the Apple-exclusive GarageBand.
GarageBand is best known for its music production capabilities, but many of the audio editing tools available in GarageBand translate well to podcast editing.
Because it is free and has an enormous community of loyal users that share tips and tricks, it is an excellent choice for learning the basics of audio editing.
Features
Compatible with macOS, iOS
Basic recording and editing features: record, trim, splice, and edit audio
Remove background noise, adjust levels, and normalize audio
Multitrack recording
A graphic EQ with color-coded bands
A robust collection of plugins
iCloud backup
Pros
It is free
User-friendly interface
iPhone and iPad apps make it a very portable podcast recording and editing tool
Numerous online tutorials
Cons
It is only available on Apple devices
Mobile apps have fewer editing functions available than the desktop version
Requires a basic understanding of sound design to use it effectively
Prices & Packages
Logic Pro – Best Podcast Editing Software for Mac Users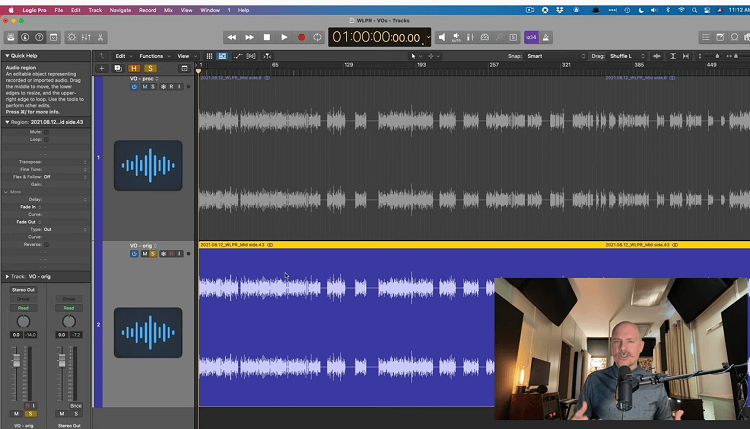 If you are already a Mac user and are looking for more professional tools than what GarageBand has to offer, you may consider using Logic Pro.
Like GarageBand, Logic Pro is music production and audio editing software developed by Apple, but with more sophisticated audio editing tools.
If you have already been using GarageBand as your primary podcast recording software, Logic Pro would be the most logical upgrade.
They both use a similar interface, and GarageBand files can easily be opened in Logic Pro.
Features
Compatible with macOS
Logic Remote app for iOS
Supports 24-bit audio recording
Advanced audio recording, editing, and mixing tools
A massive library of plug-ins and sounds
Pros
High-quality professional audio recording and editing tools
A seamless upgrade from GarageBand
Ample online resources
Cons
Complex professional audio editing software that requires some technical knowledge
More features than necessary for a quality podcast software
Only available on Mac computers
Full Logic Remote mobile app features are only available on iPad, with limited features on iPhone
Prices & Packages
One-time purchase of $199.99.
Anchor – Best All-in-One Podcast-Making App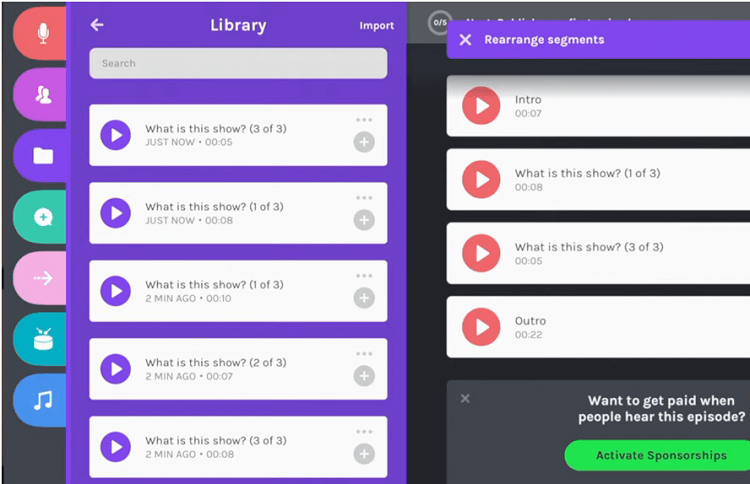 Do you want more than just editing from your editing software?
Anchor not only allows you to record, edit, and publish your podcast, but the app also offers you analytics and opportunities to get paid for your podcasts.
Developed by Spotify, this all-in-one platform simplifies podcasting.
Features
Compatible with Android and iOS; also web-based
Publishes podcasts directly to podcast players like Spotify, Apple Podcasts, Google Podcasts, and more
Analytics from Spotify
Monetization options
Music integration from Spotify (full tracks only)
Pros
Free, unlimited podcast hosting
User-friendly interface
Cons
Limited recording and editing options
250 MB file size upload limit
Prices & Packages
Auphonic – Easiest to Use Podcast Editing Software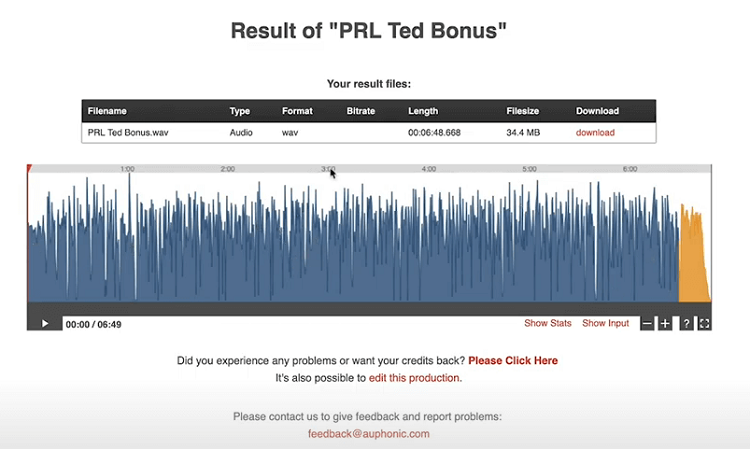 Auphonic is audio software that uses AI-based algorithms to take the guesswork out of sound engineering.
Auphonic will automatically balance levels, reduce background and hum noises, and run loudness normalization of your audio files, optimizing sound and providing podcasters with a polished product within just a few minutes.
The software allows you to publish your podcast to several podcast hosting platforms and will even generate a transcript.
Features
Compatible with Android, iOS, Windows, and macOS; also web-based
Desktop and mobile apps
Sound leveler, loudness normalization, and audio restoration
Transcription in over 80 languages
Adds chapter marks to podcasts and audio files
Pros
No sound experience is necessary
Exports to common cloud storage systems including Dropbox, Google Drive, YouTube, Facebook, SoundCloud, and more
Cons
No recording capabilities
Limited control of the final product
DAW required for any cutting or splicing
Not all features available in the desktop version
Prices & Packages
You can either purchase recurring credits as a monthly subscription and/or one-time credits that do not expire and can be used in addition to the recurring credits if more time is needed.
Recurring Credits
Auphonic XS – Free 2 hours of processed audio/month
Auphonic S – $11/9 hours/month
Auphonic M – $24/21 hours/month
Auphonic L – $49/45 hours/month
Auphonic XL – $99/100 hours/month
Auphonic More– Contact Auphonic for pricing
One-time Credits
Auphonic 5h – $12
Auphonic 10h – $22
Auphonic 25h – $50
Auphonic 50h – $88
Auphonic 100h – $150
Auphonic >100h – Contact Auphonic for pricing
Descript – Best Transcription-Based Podcast Editing Software
Descript is another easy-to-use podcast software, but what makes it stand out is its unique way of working with audio.
When you record in Descript, the audio is automatically transcribed.
Then you simply edit the document, and the changes are made on the audio track.
What may be even more impressive is the ability to add words or a sentence by typing text into the document.
Descript's Overdub* feature will synthesize your voice and add it to the audio track.
*Overdub is available in the Pro price plan.
Features
Compatible with Windows and macOS; also web-based
Video editing
Screen recording
Transcription
Basic recording and editing features: record, cut, splice, and edit audio
Multi-track recording
Remove background noise, adjust levels, and normalize audio
Overdub: synthesize your voice by typing the script
Pros
Cons
Only available in English
Poor transcription of non-native English speakers
Watermarks in the free video export
Prices & Packages
Descript uses a tiered subscription plan.
Each level offers more transcription hours and features.
Below is the monthly rate.
There is a 20% discount on the annual plan.
Free – 3 hours of transcription, full audio & video editing, unlimited screen recordings
Creator – $15/10 hours of transcription, watermark-free video export
Pro – $30/30 hours of transcription, unlimited Overdub
Enterprise – Contact Descript for prices and features
Reaper – The Most Customizable DAW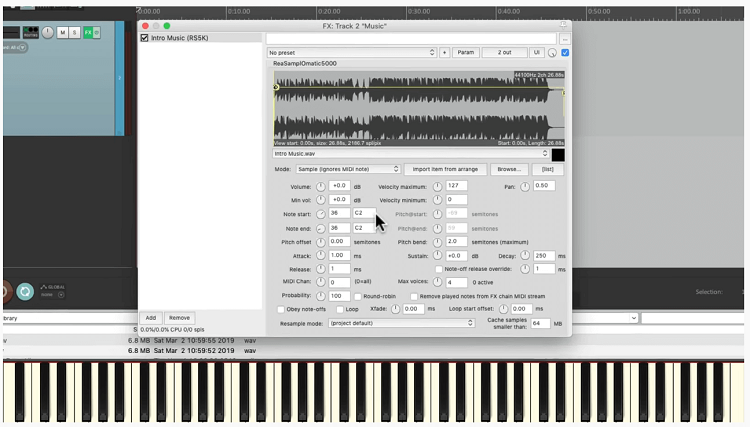 Reaper is a DAW and MIDI sequencer software that offers multitrack audio recording, editing, and processing.
Reaper is completely customizable from layout to icons to colors, and you can switch between layouts for different projects.
You can also choose how to complete various actions with either a keystroke, toolbar buttons or even external controllers.
Reaper can easily be customized to your specific podcasting needs.
Features
Compatibility: macOS, Windows, Linux
Basic recording and editing features: record, cut, splice, and edit audio clips
Multi-track recording
64-bit internal audio processing
Supports many third-party plugins and extensions
Reads and writes various types of audio file formats
Pros
Requires minimal computer processing
Extremely customizable
Fast startup
Cons
A bit of a learning curve
No mobile app
Fewer online tutorials than other common DAWs
Prices & Packages
Reaper offers two types of licenses, depending on use.
Both licenses are a one-time purchase and will include free upgrades through version 7.99.
The current version is 6.38.
Free – 60-day evaluation
Discounted License – $6
Commercial License – $225
Adobe Audition – Best Editing Software for Audio-only Podcast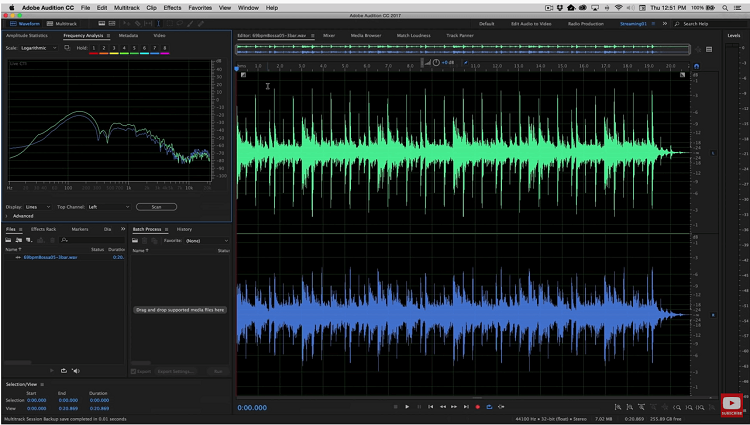 One of the best options out there for podcast editing is Adobe Audition.
Audition is a robust DAW that is part of the Adobe Creative Cloud.
It boasts a comprehensive toolset with tools for creating, mixing, editing, and restoring audio content so you can have the best sound for your podcast.
If you are wanting to produce high-quality, professional podcasts, Adobe Audition might be the right fit.
Features
Compatible with Windows and macOS
Single and multitrack recording
Noise reduction capabilities and advanced compression
Built-in podcast template
Waveform or multitrack editors
Essential Sound panel editing tools for professional-quality audio
Customizable work area
Video editing software is also available
Pros
Powerful recording and editing tools
Tutorials available
Cons
Provides more audio editing tools than most podcasters need
Aimed at professional users
Prices & Packages
As part of the Adobe Creative Cloud, you may purchase Audition on its own, or as part of the entire Creative Cloud collection.
Free – 30-day free trial
Audition (for individuals) – $20.99/month
Audition (single app for business) – $33.99/month
All Apps (for individuals) – $52.99/month
All Apps (for business) – $79.99/month
Restream – Best Recording Software for Video Podcast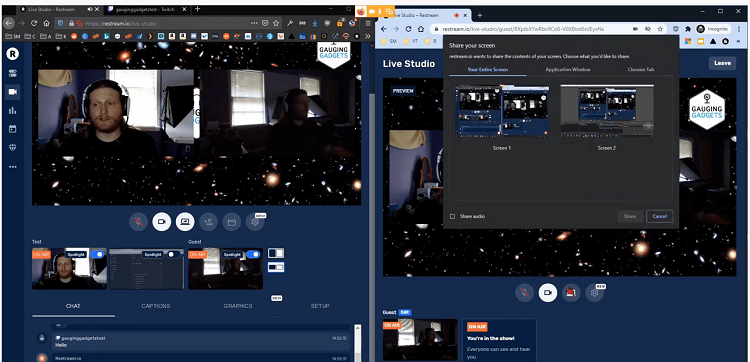 First and foremost, Restream is a live streaming service that allows you to broadcast to 30+ streaming channels simultaneously.
Restream also has a component called Restream Studio which offers tools to help make the most of your live stream.
While not truly editing software, Restream does have great podcast features available, especially if you are a video podcaster.
Features
Compatibility: web-based
Split-track recording
Record without going live
Echo cancellation
Noise suppression
Up to 100 GB of cloud storage
Restream Analytics
Multi-streaming capabilities
Pros
Excellent for streaming your video podcasts to multiple platforms
User-friendly
Cons
No true audio editing tools
The free plan includes Restream branding
Prices & Packages
Restream uses a tiered pricing plan with additional tools and features added to each level.
As a baseline, the free plan includes 30+ platforms for multi-streaming and unlimited streaming minutes.
Free – Forever Free
Standard – $16/month
Professional – $41/month
Premium – $83/month
Business – $249/month
Pro Tools – Best Podcast Editing Software for Advanced Podcasters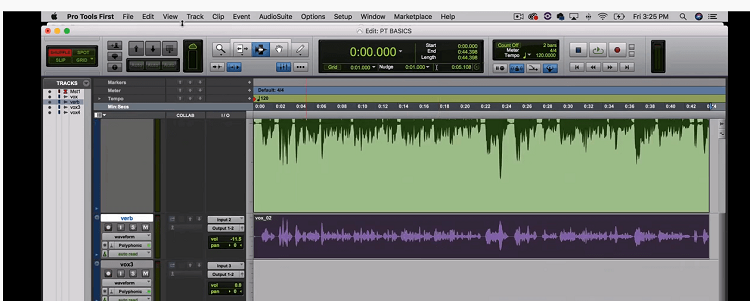 Pro Tools is a powerful DAW that has everything you need to create, edit, and mix audio for your podcast and more.
Pro Tools is an industry standard for mastering audio.
It can be used for music, television, and movies and therefore may be more tools than necessary for a beginning podcaster.
Features
Compatible with Windows and macOS
Simple recording, editing, and mixing
Multitrack recording
Digital processing
Advanced post-production tools
Live to monitor while recording
Pros
Robust set of audio tools
Variety of plugins
A vast community of users
Cons
Overwhelming amount of audio recording features for those without previous audio recording experience
Tedious setup
Expensive plugins
Prices & Packages
Pro Tools First – Free
Pro Tools – $29.99/month
Pro Tools Ultimate – $79.99/month
Podcastle – Multifunctional AI-Powered Editing & Recording Platform
Podcastle is a multifunctional web-based podcast creation platform that provides exceptional quality audio and video recording as well as easy-to-use tools to polish your audio.
The intuitive UI allows both professionals and amateurs to polish their audio content with minimal effort.
Podcastle also offers transcription and text-to-speech services with 19 voice skins. After transcribing your audio, their advanced algorithm can detect the unnecessary filler words for you to remove. This feature can operate in four additional languages – French, Spanish, German, and Italian. You can also get automatic episode summaries which is a great way to repurpose your content and use it for improving your SEO.
Features
Automatic noise and silence removal
Built-in transcription tool with automatic filler word detection and removal
Remote interviewing with up to 9 guests
19 voice skins for text-to-speech conversion
Free iOS app for remote group recording
A sound and music library
Pros
Simple and intuitive UI
High-quality multitrack recording and a wide range of easy-to-use editing tools
Browser-based which means no need to download anything
Cons
Mobile support is iOS only
Editing is available on the web platform only
Prices & Packages
Basic – free for unlimited time
Storyteller – costs $14.99 per month
Podcastle Pro – costs $29.99 per month
Team – custom price
Hindenburg Journalist- Best Podcast Editing Software for Professionals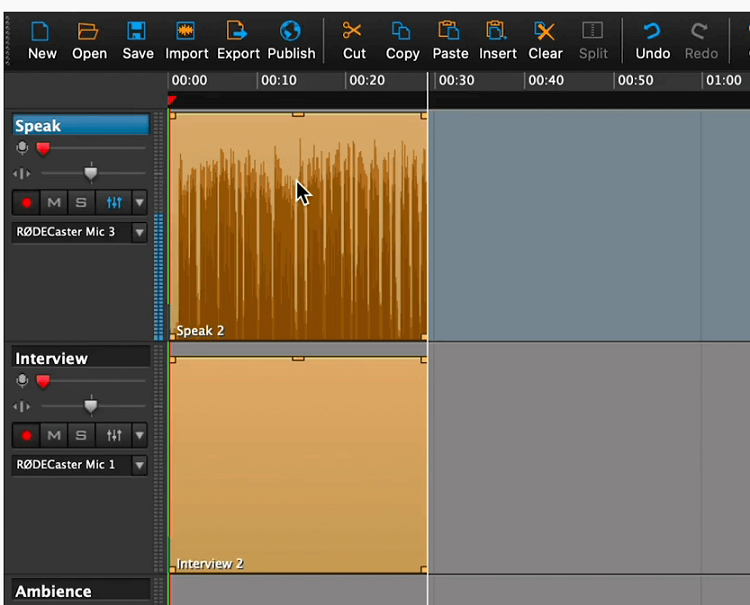 Unlike many DAWs which were designed for recording and editing music, Hindenburg Journalist was designed specifically for broadcast journalists and podcasters.
This means you won't be bogged down by features that are tailored to music but will be able to focus on the features for spoken voice.
Features
Compatibility: Windows, macOS
Multi-track audio editor
Auto-leveling function set to broadcasting standards
Voice profiler
One-click publishing
Add images, chapters, and links
Supports all types of audio files
Pros
Simple audio recording setup
Training opportunities
Cons
Pricey
Features only basic audio editing tools
Prices & Packages
Free – 30-day free trial
Hindenburg Journalist – $99
Hindenburg Journalist Pro – $399 (Buy) or $120/one year (Rent)
HABC Narrator – $499
You might be interested to check those related posts as well:
FAQ
Is Audacity or GarageBand better for creating a podcast?
Both options work well for a beginner podcaster because they both have excellent recording capabilities, a robust set of audio editing tools and have been around for a long time.
While both programs are free, GarageBand is only available through Apple.
What is a DAW?
DAW is the acronym for a "Digital Audio Workstation," or simply a music production software.
DAWs allow you to record and edit audio for a variety of purposes.
Is Audacity a DAW?
Yes, Audacity is a DAW.
What equipment do I need to record a podcast?
At the most basic level, you need something to record your podcast with (a microphone or smartphone), somewhere to store your audio files (a laptop or desktop computer), and software in order to manipulate the files (an app or a DAW).
What is the best software for recording podcasts?
There are many great options for recording podcasts.
Audacity and GarageBand are excellent free options.
Logic Pro, Adobe Audition, Hindenburg Journalist, and Pro Tools are all professional-level recording software.
What is the best computer to use for podcasting?
You can use either a Mac or a PC for podcasting.
Note that some DAWs only work on Macs (GarageBand and Logic Pro), but there are many other options that will work on both operating systems.
Your preference and comfort level should be taken into consideration.
You will also want to consider things like memory space and types of USB ports when selecting your computer.
How do I record a podcast on an iPhone?
Anchor is an all-in-one podcast-making app that is compatible with an iPhone.
You can record, edit, and distribute your podcast directly from your phone.
What is the best podcast editing software for Chromebooks?
Audacity and Reaper can both be used on a Chromebook.
How much does podcast editing cost?
The cost of podcast editing depends on who is doing the editing and what program you are using.
If you are editing your own podcast and using free software like Audacity, there is no cost.
However, if you are using a professional sound editor you could be paying $20/hour or more.
Can I edit my podcast for free?
Yes, there are many free podcasting software options available, including Audacity, GarageBand, and Anchor.
Restream also has a free plan.
How much does it cost to host a podcast on Spotify?
Spotify does not technically host podcasts, but they do stream them, and this service is free.
However, to get your podcast on Spotify, you must submit your podcast through your host, which may have a cost.
Popular podcast hosts include Libsyn, Buzzsprout, Blubrry, and PodBean.
Each of these hosts does have a cost, but there are free hosts available, including Spotify's Anchor.
Conclusion
There are many excellent podcast editing options out there, and now that you know what they are, grab a microphone, hit record, and tell your story!