Thanks to social media, the world of digital marketing has been transformed.
A social media marketing strategy has become key for any serious marketer, but it's an ever-changing and complex field.
Knowing some of the latest social media facts and statistics will help you better understand the industry and its opportunities.
In this post, you'll find some key social media stats and facts you can use to help with your social media marketing strategy and analytics, whether you're a business owner or a digital marketer.
Key Social Media Stats and Facts 2023
There are now nearly

4 billion users

on social media.

Slideshow ads use five times

5X less data

than videos.
57.6% of the world (4.55 billion people) now uses at least one social platform, and this figure includes Snapchat users.
Globally, there are 5.29 billion unique mobile users, which means that more than two-thirds of the world's population now has access to a mobile phone.
On average, people spend two hours and twenty-seven minutes per day using social media.
The average number of social networking platforms used by each internet user is 6.7 per month.
54% of social media browsers use social media to research products.
At least 3.9 billion people are using social media worldwide last 2022, which is a 4.8% increase from 2021.
Global Social Media Growth Rates
Over the last twelve months, social media usage has increased by more than 13%.
By 2020, the number of new users that joined the various social media platforms was more than 1.3 million, or approximately 1512 new users every second.
In the last decade, social media platforms have almost tripled their total internet user base.
India is reported as experiencing the most significant growth in social media, with 130 million new users joining the social media platform between 2019 and 2020.
Social Media Demographics Statistics
Facebook Statistics
The largest demographic group of Facebook users (26.3%) is between 25 and 34.
More than half of Facebook users are female.
In households with an annual income of less than $30,000, 85% use Facebook compared with 86% of households with an income of more than $100,000.
Twitter Statistics
The highest percentage of Twitter followers is in the 18-29 age bracket.
The split between male and female Twitter users is 50/50.
Twitter is used as a social media marketing tool by 67% of B2B businesses.
Instagram Statistics
People over the age of 65 use Facebook the least (6%), compared with 67% of those aged between 18 and 29.
Instagram is most popular with households that have an annual income of more than $100,000.
Less than 50% of Instagram users are male.
TikTok Statistics
TikTok currently enjoys more than 130 million daily active users.
The TikTok user base is as follows: 10-19 – 32.5%; 20-30 – 29.5%; 30-39 – 16.4%; 40-49 – 13.9%; and 50+ – 7.1%.
60% of Twitter users are female.
YouTube Statistics
81% of people between the ages of 15 and 25 regularly use YouTube.
More than 50% of YouTubers are female.
More than 70% of YouTube viewers use a mobile device.
LinkedIn Statistics
LinkedIn is most popular among the 25-34 age bracket (60%).
LinkedIn is used by 60% of households with an annual income of more than $100,000.
The ratio of female to male LinkedIn users is 43/57.
Pinterest Statistics
71% of the Pinterest audience is female.
38% of Pinterest users are between the ages of 50 and 64.
89% of users say they use Pinterest to inspire their purchases.
Social Media Usage Statistics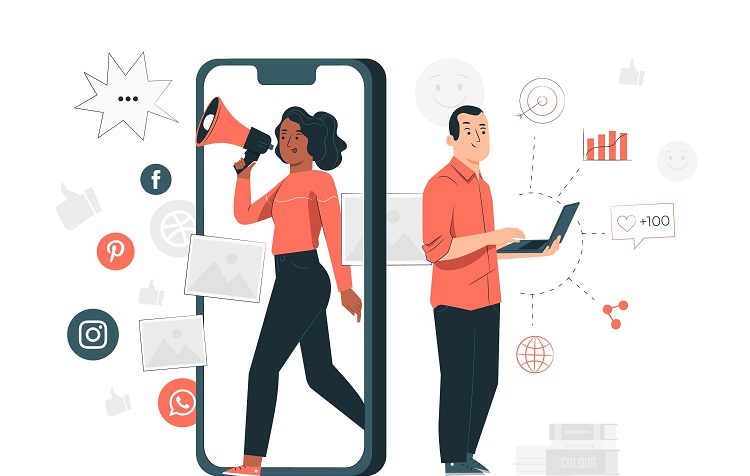 Facebook Statistics
In 2020, Facebook generated almost $86 billion in revenue, and three-quarters of that came from the Facebook app. The remaining quarter comes from displaying ad products on Instagram, Messenger, and third-[arty online properties (websites or mobile applications).
Facebook downloads in 2020 were 985 million.
Facebook traffic in April 2021 was 22 billion.
Twitter Statistics
In 2020, Twitter generated $3.7 billion in revenue, an 8.8% increase year-on-year.
One hundred eighty-six million people use Twitter daily, 38 million of which are in the US.
66% of brands with more than 100 employees use Twitter for marketing.
Instagram Statistics
More than 70% of Instagram users are below the age of 35 years.
At the last count in 2020, Instagram had 1.3 billion users.
Downloads of Instagram stand at 3.8 billion, and it was the fourth most downloaded app in the 2010s.
TikTok Statistics
In 2019 and 2020, TikTok was the most popular app.
TikTok was downloaded 593 million times in 2019 and downloads increased to 850 million in the following year.
18% of global internet users between the ages of 16 and 64 use TikTok.
YouTube Statistics
More than 2.3 billion people access YouTube at least once a month.
The number of YouTube subscribers reached 30 million in 2020.
The most subscribed channel on YouTube is T-series, which has 176 million subscribers.
LinkedIn Statistics
The country with the most LinkedIn members is the US, followed by India and China.
More than 120,000 schools and 57 million businesses have a LinkedIn social media account.
Forty million people apply for jobs via LinkedIn at least once a week.
Pinterest Statistics
Pinterest has almost 500 million monthly active social media users, more than 70% of which are female.
Fifty-seven percent of Pinterest users access the social media platform at least once a week.
Eighty-five percent of Pinterest visitors use iOS and Android devices.
Social Media Engagement Statistics
Facebook Statistics
34.73% of Facebook content is photos, and 15.09% is videos.
When a Live Video lasts longer than one hour, it increases engagement from 0.19% to 0.86%.
On average, users comment five times, like posts 12 times, share once, and like one page in one week.
Twitter Statistics
92% of tweets in the US are contributed by the top 10% of tweeters.
A tweet with a GIF gains 55% more engagement than a tweet without one.
In October 2020, Twitter ranked fourth globally for web traffic.
Instagram Statistics
The average engagement rate for all types of Instagram posts is 0.96%.
A photo with a face will perform almost 40% better than one without a face.
There are more engaged Instagram users on weekdays.
TikTok Statistics
The rate of engagement for TikTik is 69%.
The most popular content categories (entertainment, dance, pranks, fitness/sports, home reno/DIY, beauty/skincare, fashion, recipes/cooking, life hacks, pets, outdoors) enjoy more than 1 billion views between them.
Sixty-three percent of engaged users say they have liked a video in the last month, while 54% say they have commented on someone else's video in the previous month.
YouTube Statistics
Total video watch hours per day is 1 billion hours.
The number of YouTube videos shared to date is 5+ billion.
The number of daily pageviews per visitor is 6.95.
LinkedIn Statistics
22.04% of LinkedIn traffic comes from search alone, while 99.63% of that traffic comes from organic search.
When a company posts weekly, it can expect to see a 2x rise in engagement.
If a LinkedIn Page is complete, it gets 30% more weekly views.
Pinterest Statistics
78% of users say they find the brand content of the social media platform useful, particularly for brand awareness.
40% of engagement on Pinterest relates to Pins.
Fifty-six million pinners actively engage with home content.
Social Media Business Statistics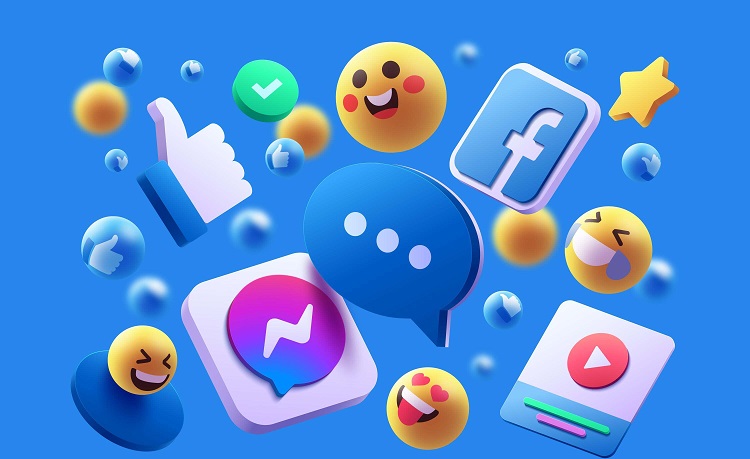 Facebook Statistics
Usage in the B2C marketing industry increased to 97%.
More than 90 million Facebook pages are for SMBs (Small and Midsize Businesses).
On average, the organic reach for Facebook posts is 5.2% of the page's total likes.
Twitter Statistics
When a company uses Twitter for customer service, it sees a 19% increase in customer satisfaction.
92% of companies tweet more than once a day.
75% of B2B business marketers use Twitter.
Instagram Statistics
For business accounts on Instagram, the growth of monthly active users is 1.46%
Instagram is used by 70% of shopping enthusiasts for product discovery.
Five hundred thousand active influencers are on Instagram.
67% of brands use Instagram for influencer marketing.
TikTok Statistics
More than $23.1 million has been spent by Americans on in-app TikTok purchases.
A TikTok influencer with 2.5 million followers charges around $800 per post.
India's ban on Tik Tok cost $500,000 and lost 15 million new users.
Russia's Facebook and Instagram bans will cost Meta approximately $2 billion.
YouTube Statistics
69% of marketers plan to increase their use of YouTube videos.
55% of marketers say that YouTube is their number one video channel.
37.6% of B2B buyers and decision-makers say they discovered new brands via video social media sites, including YouTube.
LinkedIn Statistics
In the world of B2B marketing, LinkedIn is the second-most popular platform.
Eighty-nine percent of B2B marketers use LinkedIn for lead generation.
Four out of every five LinkedIn users drive business decisions.
Pinterest Statistics
97% of all Pinterest searches are unbranded.
For 48% of Pinterest users, shopping is their top priority.
If a pin shows a service or product in action, it's 67% more likely to drive sales.
Social Media Advertising Statistics
Facebook Statistics
You can reach 2.14 billion people through Facebook adverts.
57% of Facebook ad audiences are male and 43% female.
Monthly active users between 45 and 54 make the most ad clicks.
Twitter Statistics
Compared with other platforms, Twitter users spend 26% more time viewing ads.
Marketers can reach 5.8% of the 13+ age group with Twitter ads.
Year-over-year for Q3 2020, Twitter ad engagements increased by 27%.
Instagram Statistics
You can reach 1.16 billion people through Instagram ads.
The biggest Instagram ad target audience is the 25-34 age group.
The country with the highest potential Instagram advertising reach is the US, followed by India and Brazil.
TikTok Statistics
63% of TikTok users consider themselves to be brand conscious.
61% of TikTok users say they tend to buy from brands they see advertised.
A TikTok challenge with a hashtag will cost your brand $100,000+.
YouTube Statistics
YouTube is the preferred social media platform for 53% of B2B marketers.
50% of marketers invest in creating online video content for YouTube.
Globally, 90% of people say they discover new products and brands on YouTube.
LinkedIn Statistics
With an ad on LinkedIn, you can reach 12% of the 13+ age group globally.
The largest LinkedIn advertising audience is in the US, with a reach of 170 million users.
You can expect a 40% conversion rate with LinkedIn Message Ads.
Pinterest Statistics
You can reach 189 million people with Pinterest ads.
The biggest audience for Pinterest ads is the 24-34 age group.
Pinterest's yearly quarter-on-quarter advertising reach changes by +5.8%.
Average Time Spent on Social Media
As of 2020, the average daily social media usage globally was 145 minutes every day.
The country that spends the most time on social media per day is the Philippines.
Western Europe has a 79% social media penetration rate.
Social Media Usage by Device
99% of people globally access social media networks using a mobile device.
78% access platforms solely from a mobile phone.
Most Important Social Media Trends to Watch
The world of social media is constantly changing, with platforms regularly introducing new features and changing their algorithms.
Such rapid change brings new challenges for social media marketers and brands.
Here are a few of the social media trends to watch going forward into 2023.
Live streams will remain popular following the lifting of COVID restrictions. 25% of marketers say that live video is one of the most valuable content types.
With more than 500 million users interacting with Instagram Stories every day, it looks like this content format is not going away anytime soon. Images in Stories have a 5.65% higher tap-forward rate than videos.
Augmented and virtual reality look set to become future trends.
Frightening Social Media Statistics and Mental Health Statistics
Social media has many pluses, but there's also a very worrying and darker side to this trend.
Here are some statistics that might surprise you.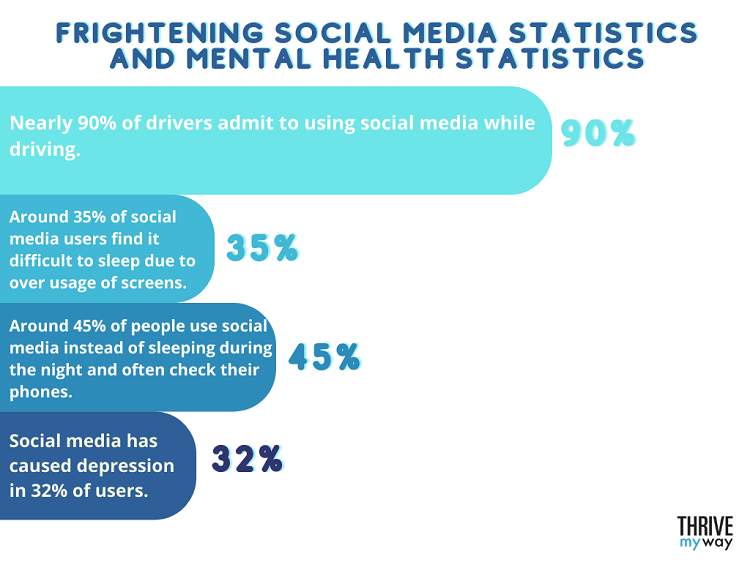 More than 210 million people suffer from social media and internet addiction globally.
Nearly 90% of drivers admit to using social media while driving.
Around 35% of social media users find it difficult to sleep due to over usage of screens.
Around 45% of people use social media instead of sleeping during the night and often check their phones.
Excessive use of social networks can result in poor mental health, such as low self-esteem.
Social media has caused depression in 32% of users.
You might be interested to check those related posts as well:
Final Thoughts
We hope you enjoyed exploring these social media statistics.
They certainly show what a powerful force social media platforms can be.
However, they also indicate that social media channels, in general, do have a downside.
An important takeaway from this article is that a social media strategy should be included in any marketing plan because it's jam-packed with opportunities.