Why is your Snapchat not working?
There's nothing more frustrating than opening an app like Snapchat only to have it crash on you.
There are many reasons why this could be the case, but thankfully, troubleshooting can be an easy fix.
If Snapchat won't open or won't send your photos or snaps, then try one of the following solutions to see if you can fix Snapchat.
Restart Snapchat
One of the first things you should to do fix Snapchat is to restart the app.
In some cases, there may be one-off glitches or issues that can be solved by rebooting the app.
To do this, close the app and then reopen it to see if the problem still persists.
You can also try logging out of your Snapchat account.
You can do this by navigating to the settings menu and selecting "Log Out".
But don't forget your username and password – you'll need those credentials to log back in.
Another option is to delete and then redownload the app.
While this will erase any information and settings you currently have stored in the app, it won't delete what's on your device or camera roll.
Make Sure You Have Internet Connection
Generally speaking, Snapchat needs an internet connection in order to work.
Therefore, you should double-check that your phone is connected to WiFi or using mobile data.
If you are using cellular data to load Snapchat, then you also have to turn on this permission for the app in your system settings.
If you are connected to the internet, but Snapchat is not working, then there may be a problem with your router or provider.
You can check this by opening your browser or email to see if other apps can connect to the internet.

Check App Permissions
If you can open Snapchat but not access certain features, then you might have an issue with app permission settings.
All installed apps, including Snapchat, require certain permissions to operate.
For example, you'll need to give permission for the app to use your camera, send you notifications, or access your contact list.
Without those permissions, you won't be able to load or send snaps.
You can see which permissions Snapchat has by looking at your device settings.
On an iPhone, select "Snapchat" from your "Settings" menu.
Here, you can see which permissions Snapchat has access to.
For the app to work properly, you should have Location, Contacts, Photos, Camera, and Microphone enabled.
If Snapchat notifications aren't working, you may also need to update the permissions under the Notification settings.
If you are using an Android phone, you can check permissions under "Settings".
Click on "Apps & Notifications" and then "Snapchat".
Finally, select "Permissions" to see what information Snapchat can access.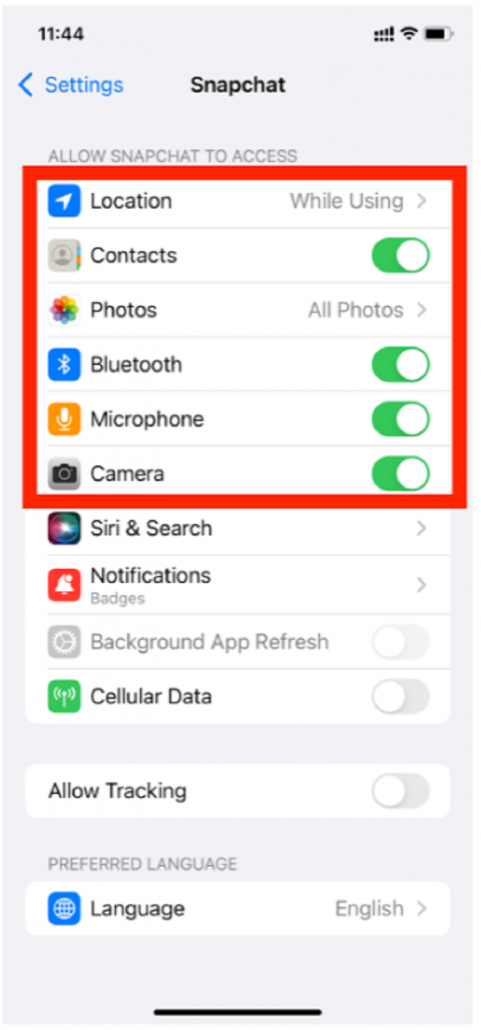 Check for Any Updates
Using an outdated version of Snapchat might cause issues loading the app.
That's because product features and bug fixes often get released with app updates.
Apps should automatically update if you have this setting enabled on your Android smartphone or iOS device.
But if you don't, then you'll need to manually do this through the app store.
On iOS, you'll need to navigate to your app store app and click on your profile picture in the top right corner.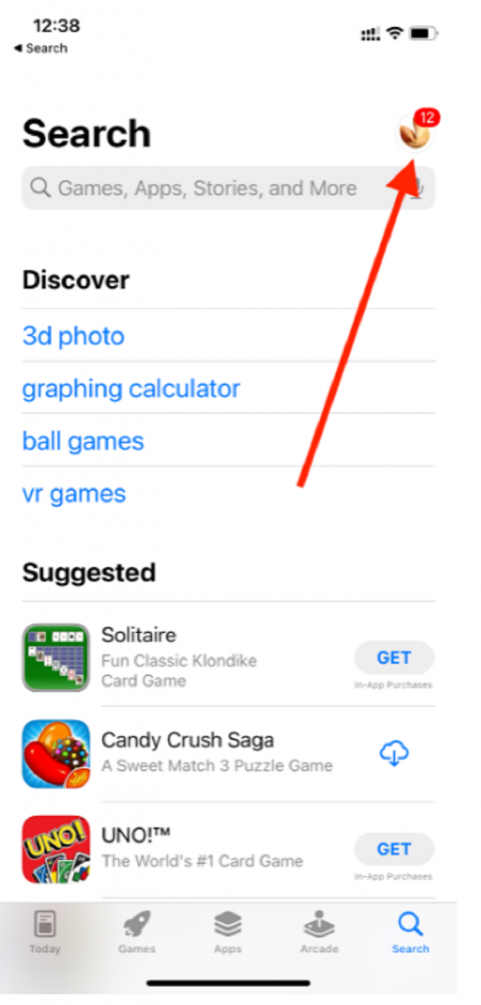 Then, scroll through your app list until you find Snapchat.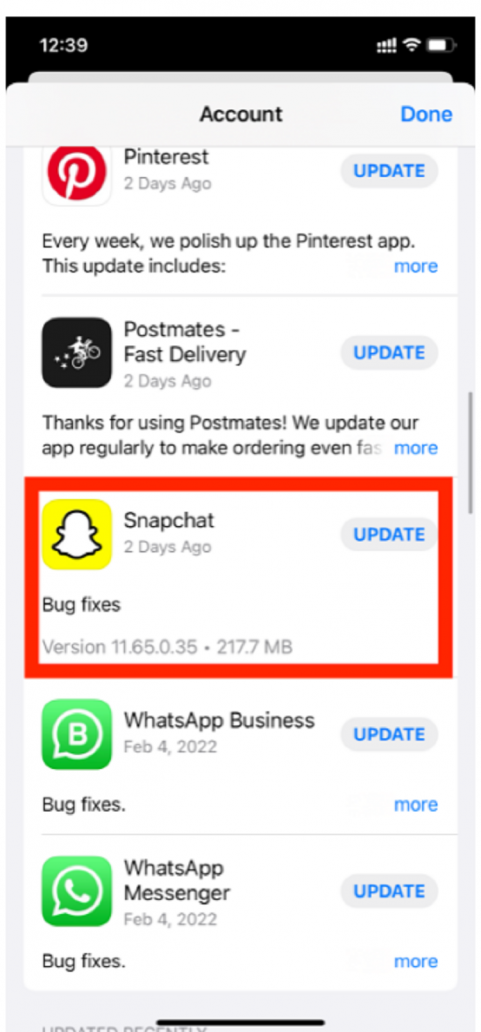 Snapchat app on Android, visit the Google Play Store and select your profile icon in the top right corner to view settings." width="481″ height="1032″ />
To update the Snapchat app on Android, visit the Google Play Store and select your profile icon in the top right corner to view settings.
Then, click "Manage apps & devices."
Find Snapchat and update the app to the latest version.
Clear Your Snapchat Cache
Like most apps, Snapchat retains data in cache files to help the app run faster.
However, this can cause lagging issues if your device is low on storage space.
The more features you use, the more data Snapchat will store on your device.
You can clear the Snapchat app cache to see if this fixes any issues you have loading or opening the app.
If you have an Android device, you can clear the cache through your phone settings or directly in the Snapchat app.
However, iPhone users can only clear the cache through the app under Snapchat Settings.
Clearing the cache simply removes the data files from your device.
Your photos, conversations, filters, and lenses will still be available for you to use.
Check if Snapchat is Down
While it's rare for Snapchat to go down, network outages are still possible.
If Snapchat won't open or let you send snaps, then there might be a chance that they are experiencing an outage.
There are many reliable sites online where you can check to see if Snapchat is down.
If that's the case, you will need to wait until they fix Snapchat to log back in.
Check for Geo-Restrictions
Some countries have tight restrictions on social media usage.
Therefore, apps like Snapchat may be banned if you're traveling to a country like China or Iran.
These geo-restrictions will not let you access the Snapchat server to use the app.
You can check online to see if your current country prohibits the use of Snapchat.
If so, you may be able to find a workout by downloading a Virtual Private Network (VPN).
A VPN changes your device's IP address which will allow you to bypass country restrictions.
Restart Your Phone
Finally, you can always try to restart your device.
Restarting your phone starts a new session and refreshes any software or programs that were previously running.
In some cases, it could also fix any issues or errors you were seeing while trying to run Snapchat.
You might be interested to check those related posts as well:
Conclusion
Is Snapchat not working after trying these troubleshooting steps?
Then it might be time to contact Snapchat support.
Hopefully, they can figure out the issue so that you can start sending snaps and messages once again to your friends!