VKontakte is the most popular social media in Russia. It is considered Russian Facebook due to its likeness to the world's most popular social media platform.
Let's dive in and discover how popular it is by exploring the VKontakte stats.
Key VKontakte Stats 2023
VK is the #1 social media site in Russia. It's the sixth most popular website on the internet in Russia, making it more popular than Instagram and Twitter.
VKontakte was launched on October 10th, 2006, in Saint Petersburg, Russia. This social network has been active for 15 years at the time this article was written.
On October 12, 2021, the VKontakte brand was changed. These days, the official name of this social media site is VK. The audience that reaches the old domain gets redirected to the new one automatically.
According to recent stats, VK is a popular social media in Belarus, Baltic States, Moldova, Kazakhstan, and Kyrgyzstan.
VK, formerly Vkontavke, was the leading social network in Ukraine until it was banned in 2017 by its government.
VKontakte Usage Statistics
In 2021, VK had more than 72 million active users in Russia and more than 97 million active social media users worldwide.
On average, mobile and desktop users spend 37 minutes a day using Russia's #1 social media platform.
15 billion messages are sent daily by people who use this social media for communication.
The total number of registered VKontakte users is more than 400 million.
47% of Russian users reach the VK website daily.
Following the VKontakte statistics, 66% of VK members use additional digital products offered by the VK company.
Videos on this social media get roughly 960 million views daily.
70% of companies use this social media to promote their businesses online. They can create a company's public page and launch advertising campaigns.
It was the 9th most popular social media in South America at the end of 2020.
VK is a primary source of news and information for some people in Russia. 14% of users in the country get all their news updates from this website.
Social media usage for online learning in Russia is high. It is the 3rd most popular platform that is used to promote online schools in Russia.
The VK Messaging app is the 3rd most popular application used to send messages and make calls, following Viber and WhatsApp in Russia.
According to VKontakte statistics, sports companies use this social media as the primary online platform to gain their online following.
Every VK user can submit likes. More than 1 billion of them are shared daily on the platform.
11.2 million social network users prefer only using VK. They don't use other alternatives like Instagram, Twitter, or Facebook.
53% of the VK audience wants to stay updated about recent technology developments.
The VK mobile app is the 6th most popular in the Russian market. It outranks Facebook, Twitter, and even TikTok.
Even though VK is blocked in Ukraine, it remains the 7th most popular social networking site in the country.
This social network supports 85 languages, including some of the rarest ones. Russian-speaking users can choose language versions that are Soviet and Pre-Revolutionary.
VK Ads can be shown to a target audience from Eastern Europe and Russia. It is worth noting, that Facebook ads are not shown on the VK social media platform at all.
Less than 0.1% of Internet users in the United Kingdom use Russian Facebook to read news and share messages daily.
Movies and TV series are the most discussed topic among VK users in Russia, with a 46% engagement level of social media users, according to VKontakte statistics.
The share of users who don't mind advertising if they can access free content is 54%.
VK is a leader in B2C sales in Russia. Roughly 15% of online sales are made using this social media site.
Users in Russia use the largest social network in the country most actively on Monday.
VK is the third most popular online platform to watch videos in Russia after YouTube and Yandex, a local search engine.
Demographics Statistics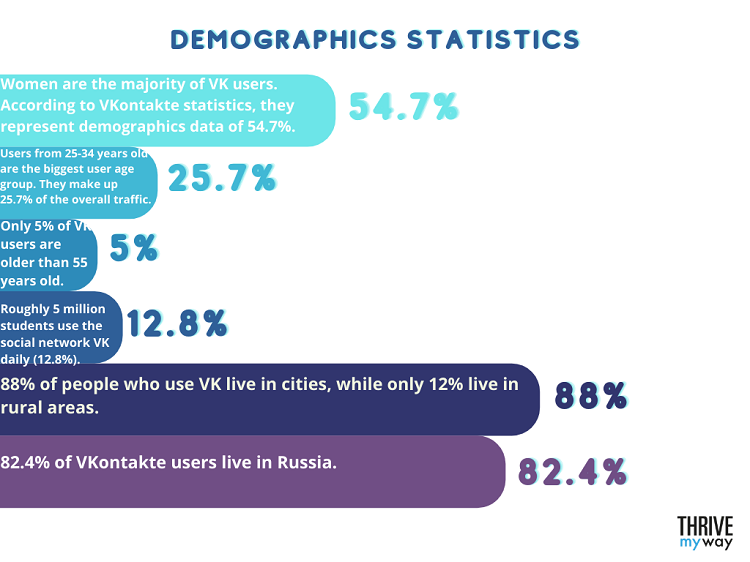 Women are the majority of VK users. According to VKontakte statistics that represent demographics data, 54.7% of users are women, while 45.3% are men.
Users from 25-34 years old are the biggest user age, group. They make up 25.7% of the overall traffic.
Only 5% of VK users are older than 55 years old, according to VKontakte statistics.
Roughly 5 million students use the social network VK daily in Russia. The group takes 12.8% of the monthly reach.
The largest segment of the VK audience in the US earns from $80,000 to $100,000 per year.
88% of people who use VK live in cities, while only 12% live in rural areas.
82.4% of VKontakte users live in Russia. In addition, 4% of users are from Ukraine, and 3.65% are from Belarus.
Traffic Statistics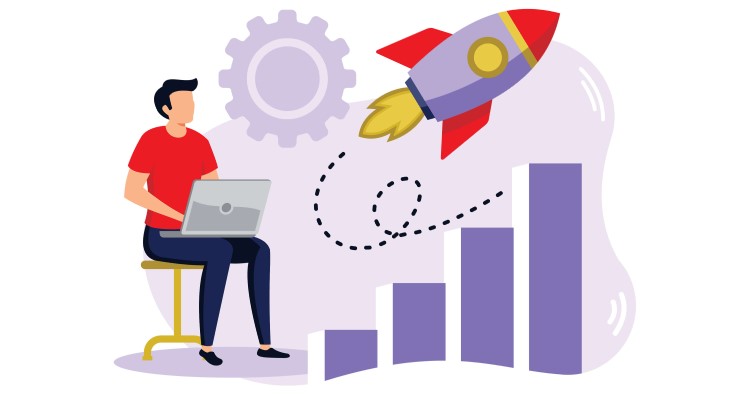 The website gets roughly 3 billion page views each day.
39% of users access the #1 Russian social media using a mobile device only.
One in four VK subscribers utilizes the desktop version only.
One in three Russian Facebook visitors uses both desktop and mobile versions.
On average, users visit 17 pages when using VK, the largest social media in Russia.
The bounce rate on VK's platform is 24%.
According to recent data from VKontakte statistics, 76% of VK traffic is direct. Most users use mobile applications or have the website bookmarked in their browsers.
Typically, the VK app is the first that both men and women in Russia open on their devices.
13.27% of Russian Facebook traffic comes from web searches and 3.68% from referrals.
99.83% of traffic is organic. Different variations of the site's name are the most popular keywords.
Only 0.17% of traffic is paid. It is driven by companies that promote their businesses using this social media.
VK is a predominant app by usage for all age groups in Russia.
Mail.ru and Yandex.ru are the primary referrals that drive traffic to the website.
3.56% of traffic comes from other social media sites, and 2.3% comes from YouTube.
VKontakte Growth Statistics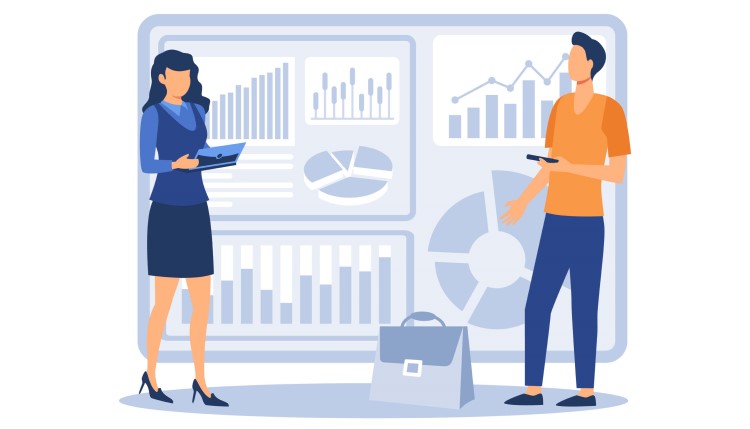 According to predictions from VKontakte statistics, Russian Facebook usage is expected to reach 93 million active users by 2025.
The number of VK users in Italy has dropped from 0.4% to 0.1% over the last three years.
The number of unique visitors increased by 33% during the last five years.
Facebook is a source of traffic for VK. However, only 0.09% of traffic comes from the most popular social media in the world.
The average length of videos in VK increased by 49% over the last year.
According to VKontakte statistics, users' activity has grown by 20% since the beginning of the pandemic, when international tourism stopped, and lockdowns started.
The number of users who utilize mobile phones to reach this social media grows by 3.1% every year.
You might be interested to check those related posts as well:
Conclusion
According to the VKontakte statistics, this social network surpasses Facebook's popularity in Russia.
The popularity of VK keeps growing while its competitors get less traffic in Russia and Eastern Europe. However, it has had a hard time escaping Russia and getting popular worldwide.