No matter if you are trying to bring in some extra money as a side gig or if you are trying to turn your Etsy store into a full-time business, this article will walk you through how to make that money on Etsy.
What is Etsy?
Etsy is the go-to marketplace for handmade, crafty, or vintage items. It is a collection of third-party sellers, either individuals or small businesses, providing a more personal feel. As a seller on Etsy, you can sell a wide variety of items ranging from handmade items and printables to vintage collectibles and home decor.
How to Make Money on Etsy
It does not cost money to open a storefront on Etsy, making it an easy way to bring in extra cash. There are a few other things like fees and startup costs to consider, however.
Finding Your Profitable Niche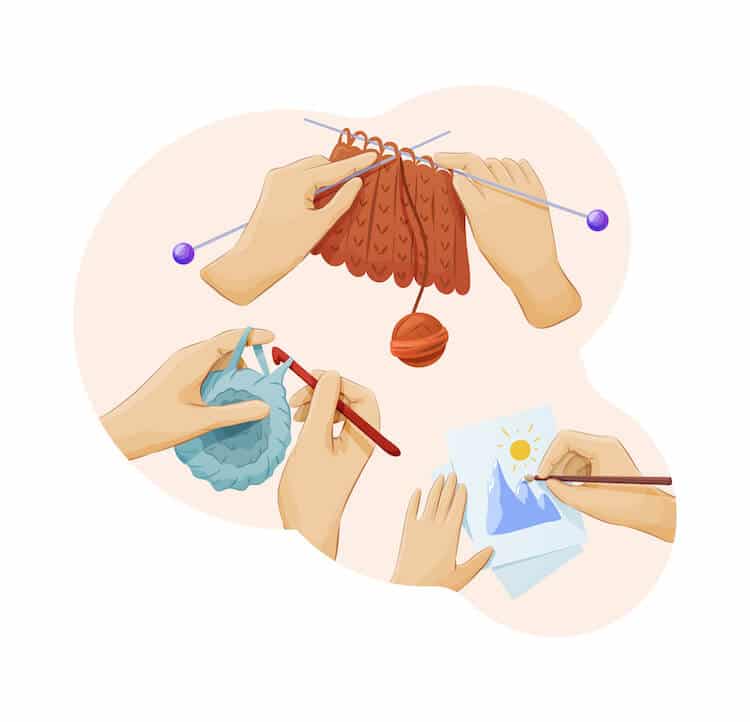 It is important for you to find your niche on Etsy to maximize profits. You'll want to do some market research to determine what sells well and what you can offer to the market.
Understanding the Concept of a Niche in the Etsy Marketplace
Etsy stores are all based off of a niche market providing something very specific for a need. Whether it be masks, customizable earrings, weighted stuffed animals, or vintage clocks, sellers on Etsy are capitalizing on niche markets.
Identifying Your Interests and Skills to Find a Suitable Niche
Don't try to sell handcrafted jewelry on Etsy if you've never made it before. Pick something you already know well and start with that. If you want to branch out later, that's okay too! Many stores on Etsy have a variety of options.
Researching Customer Needs, Trends, and Competition
You can do this by checking out the details that Etsy publishes publicly. You won't be able to see revenue, but you will be able to see sales and check out reviews of the top-selling stores.
You can also look into tools like eRank, Competition Tracker, and Keyword Explorer to see what is doing well. Plus, once your own shop has been up and running for a bit, you can use internal data to determine what sells and what doesn't, and then prioritize what does.
Selecting Best-Selling Product Categories
Overview of Various Best-Selling Product Categories on Etsy
Handmade goods make up for 85-90% of sales on Etsy. Most of those handmade goods fall under these categories:
Home and Living

Art and Collectible

Jewelry
There is a market demand for these items. So you will easily find an audience for what you want to sell if it falls under those areas. However, do not fear if what you're selling doesn't fit into those categories either. There is an audience for everything.
Examples of Successful Product Categories and Their Potential
To get more specific, one of the best selling product categories on Etsy is stickers. If you're an artist or graphic designer and want to get designs out there, Etsy is a great place to do that. You can also be successful selling digital designs.
Jewelry is a category that comes up repeatedly. This is because so many people want custom earrings, rings, and necklaces. You will no doubt have a customer base if you want to sell jewelry.
Vintage items also do well on Etsy. If you like sourcing second-hand and vintage items, cleaning them up, and then reselling them, Etsy is a viable place to do so.
Tips for Choosing Products that Align with Your Niche and Audience
When you're first starting out, you want to have one or two specific items that you are focusing on. Pick things you know well and can easily personalize the product listings for. You don't want to randomize too much, or you'll end up not being successful.
Setting Up Your Etsy Store
First, you will need to create an Etsy account if you do not already have one. You can use a profile that you use to buy items as the one for your shop as well. Add a bio and a profile picture so you are not only a username.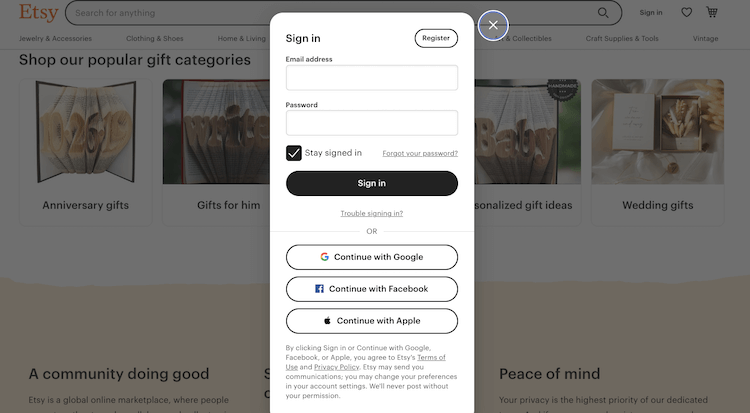 Step-by-Step Guide to Creating an Etsy Shop
Etsy makes it easy to set up a shop:
Go to etsy.com/sell and click on "Get Started"

Go through the prompts and answer the questions

Set your shop language, currency, and country

Choose your shop name
Customizing your store page and product listings
Once you have your shop set up, you'll want to personalize it by putting up a banner, shop logo, and a welcome announcement. This is also where you put information like policies and shipping profiles.
Integrating with a Print-on-Demand Platform like Printify
If you intend on selling items like stickers, posters, or other prints, integrating a service like Printify means you do not have to print items until they are sold, potentially saving you money.
Once your Etsy shop is set up, set up a Printify account, then go into your Printify settings and select "Manage Stores." Then, you can integrate the two shops and not need to worry!
Marketing Your Etsy Store
To get your Etsy Store in front of customers, you will need to market it appropriately.
Defining your Target Audience and Understanding their Preferences
With your niche already picked out, most of this can be done with SEO. By tagging appropriately, people will organically come across the items you are selling.
Choosing Effective Marketing Channels for Etsy Promotion
There are many options here, and it is important to choose the ones that work best for you. Some options include:
Partnering with influencers

Blogging

Your own social media presence

Google Ads

Email marketing

Social media ads
Utilizing Etsy Ads and Other Advertising Methods
Etsy runs ads internally that you can set up once your shop has been open for 15 days. You set a budget and Etsy does the rest for you. Offsite ads may also be available to set up through Etsy depending on your revenue, so that is also something to check out.
Managing and Monitoring Your Store
Etsy stats gives you data for your shop including how it is performing, how shoppers are engaging, and where your shoppers are coming from.
Importance of Continuous Optimization and Data Collection
Reviewing your Etsy stats regularly gives you the ability to know how shoppers are interacting with your shop and where they are coming from. You can then make adjustments as necessary to keep making future sales.
Staying Updated on Trends and Customer Feedback
Another good metric to keep an eye on is customer feedback. Negative feedback is one way to know what you may need to change, but even positive feedback can be indicative of trends and how you will want to operate in the future.
Monitoring Store Performance and Making Necessary Adjustments
It is important not to make adjustments too quickly, and not to make large adjustments when a smaller one may do.
Partnering with Printify for Success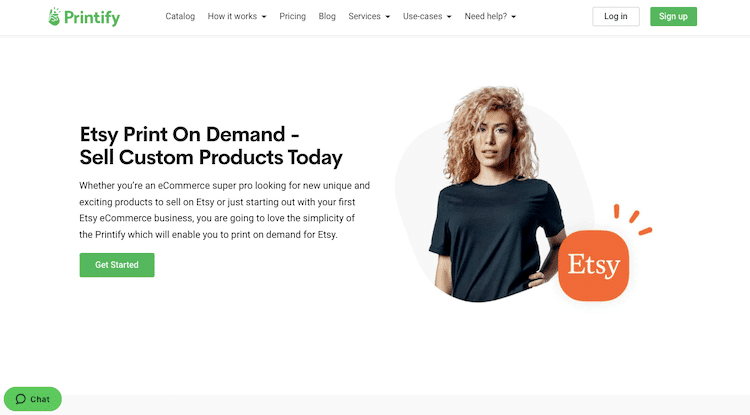 We mentioned Printify earlier for a way to sell your custom products on-demand without worry.
Introduction to Printify as a Print-on-Demand Platform
Printify offers one of the highest profit margins by charging you lower prices to print. They are capable of handling holiday rushes and have a wide selection of quality brands for you to print your designs on.
Benefits of using Printify for Etsy Sellers
The designs aren't printed until the item is purchased, meaning you won't have unnecessary overstock. Printify handles both printing and shipping, meaning less hassle for you.
Seamless Integration and Automated Processes
Printify makes it easy to integrate with Etsy once you have an account both places. Once you've done the initial setup, there's nothing more you need to worry about beyond uploading designs.
FAQs
How To Make 10k A Month On Etsy?
To make this much a month on Etsy, Etsy will be your full-time job. You will need to sell within a successful category, cater to your audience, have a good pricing strategy, and offer a variety of items within your niche.
How Much Money Can You Make On Etsy Printables?
People report making up to $12k a month on Etsy just by selling printables.
How Long Does It Take To Make Money On Etsy?
With a well-set up shop, sellers usually see money within a week or two.
Conclusion
Etsy makes it easy for you to set up a shop and start selling within a niche. It is a great way to make some extra income. It is also completely possible to make it your full-time job for even more earnings.