Worldwide, people of all ages spend more than 2 hours watching online videos every week.
40% of Millennials (aged 26-35) spent an average of between 4-10 hours per week just watching online videos, with 15% spending 20+ hours per week.
The bottom line?
Video content has a lot of potentials today, but you also have a lot of competition.
Make sure you're using the best video editing software to produce high-quality content or else you risk your audience losing interest.
What Should You Look for in Video Editing Software?
To find good video editing software, pay attention to these factors:
System compatibility
You need to choose software that works with your computer. If the software isn't compatible with your computer, it doesn't matter what features it has.
Editing tools
Most video editing software today will come with a similar set of basic editing features, depending on who it is marketed to. Higher-end software offers a lot more features. Look for basic editing tools like transitions, clipping, audio editing, overlays, etc.
Ease of use
You should expect some kind of learning curve with any new software, but it's better to look for one that doesn't require an enormous time investment to understand.
Price
There are many different price categories for video editing software, ranging anywhere from $50 to $500+. Find a budget you're comfortable with. You may also find free video editing software that works for your needs.
Ongoing support
Check if the software is still being updated on a regular basis and the level of ongoing customer support you can expect as a user.
File types supported
Depending on the type of recording device you use where you get your files from, you'll need editing software that's compatible with that file type for video inputs. Check what kind of outputs are supported by the software as well, so you can upload the video to its destination without any trouble.
Software limitations
Always check if the software has any limitations that might get in the way of your use. Look for things like the number of editing tracks available, if there's a subscription required to use certain features, if the software is online only, etc
Audio editing
It's helpful if video editing software can also manage basic audio editing and layering. As long as the software is compatible with mp3, WMA, and WAV, it should be able to work with nearly everything.
Another option worth considering is an infographic. These are visual images such as a chart or diagram you can use to represent information or data. You can also use them to highlight the evolution of projects, events, products, and company milestones. If you've no design experience, you might find a timeline maker a valuable tool.
What is the Best Video Editing Software Now [2023]?
As it stands, there are many different types of video editing software on the market today.
Because of the large number of choices, there's no software that's definitively the best for everyone.
The best video editing software is the one that fills your specific needs.
Here are the details about some of the most popular video editing software available to help you decide for yourself.
Apple iMovie – A Best Free Video Editor for iPhone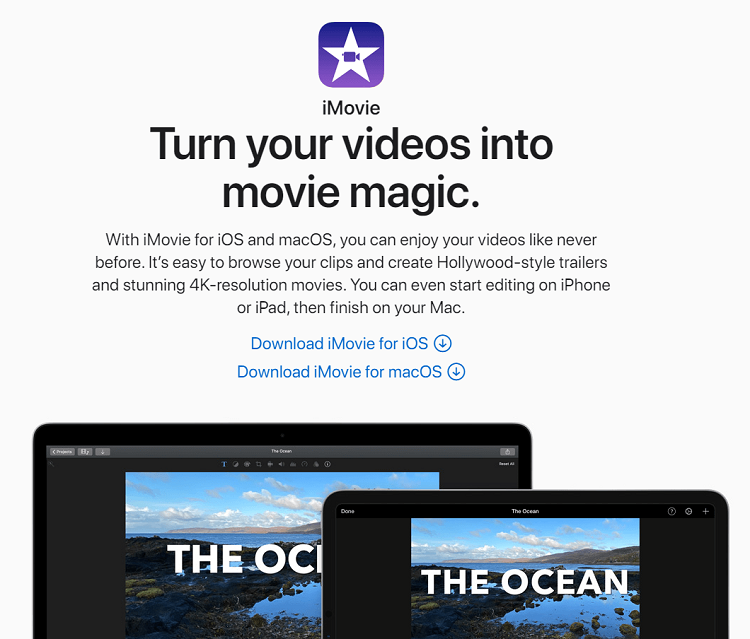 Free video editing software that comes with all new Apple devices, including Macbooks, iPhones, and iPads.
For a more feature-rich software for MacOS, look for Final Cut Pro (previously Final Cut Pro X).
Compatibility
iOS and MacOS 10.14.6 or later
Key Features
Basic editing tools (combine, clip, titles, transitions, etc.)
Color matching tools for images/video clips
4K and HEVC compatible
Click and drag editing
Trailer or Movie editing modes
Picture in picture editing (1 image only)
Green screen editing
Split-screen video supported (2 equal halves)
Basic audio editing – compatible with iTunes and Garageband audio files
Output saves as mp4 files
Pros
Super simple to learn and use
Ideal for short videos or voiceovers
Included on all new Apple devices by default
Seamless import/export of video projects between Apple devices
Make high-quality short videos quickly
Mobile app for cross-device editing
Cons
2 video editing tracks only
Lacking many advanced editing tools
No 360 video editing, VR video, motion tracking, or 3D editing
Not ideal as a long-form movie maker
Pricing
Lumen5 – Best Online Video Editor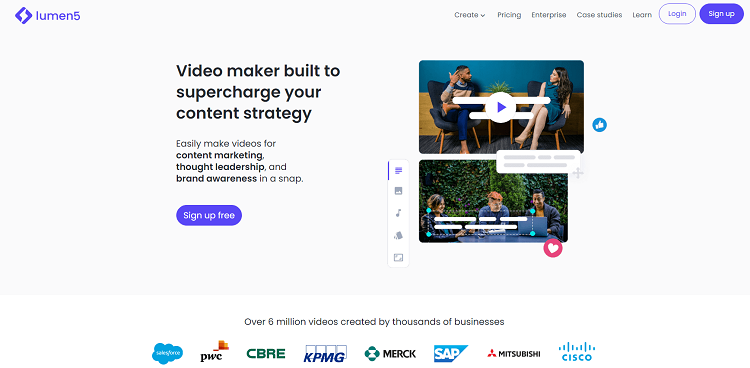 Browser-based software you can access from anywhere.
Very stripped-down and simple to use, but requires a strong internet connection.
Compatibility
Online only, all browsers & operating systems
Key Features
Basic video editing tools + AI auto-edits
Drag & drop editing tracks
Direct social media integration
Built-in catalog of overlays, transitions, and effects
Large database of royalty-free audio, video, and images
Supports MP4, MOV, GIF, and standard image file formats
Pros
Web-based, no download necessary
Create short online videos in less than an hour
Well-suited for social media useEasy branding features for videos/images
No experience is required, AI auto-editing does most of the work
Highly collaborative
No app is needed for mobile use
Cons
Voiceover does not work well
No image or audio editing
Internet connection required, no offline editing (high data usage)
No 4K video support
Maximum video length of 2 minutes
No green screening, masks, or alpha channels
Pricing
Freemium software.
The free plan allows 5 videos per month.
Subscription packages:
Starter – $29/month
Premium – $79/month
Business – $199/month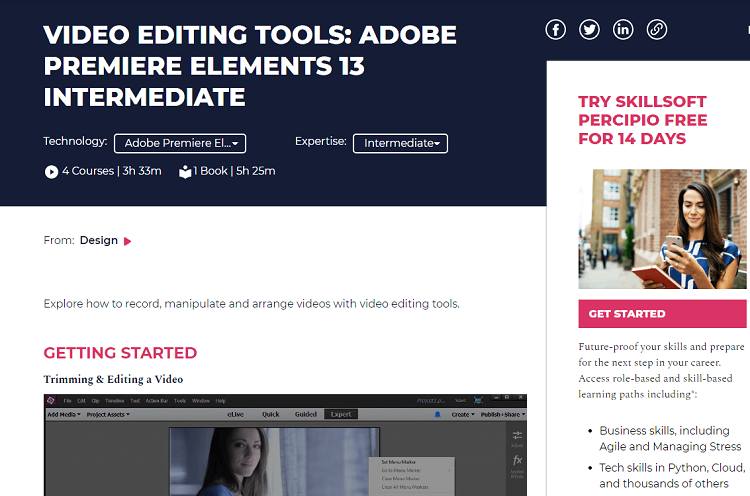 Simple editing software that's ideal for basic short videos and image videos.
Although it's compatible with many Mac computers, Adobe Premiere Elements doesn't work with Macs that use Apple Silicon processors.
Compatibility
64-bit Windows 10 or Windows 8.1, MacOS 10.14 or later
Key Features
Quick, Guided, and Expert editing interfaces
Basic audio editing
Auto Creations
Automatic video and image adjustment
Video still captures
Basic video editing (trimming, clips, speed, etc.)
Basic transition selections
Drag and drop editing
Pros
Excellent motion-tracking features
Auto-tagging makes finding clips or images in the organizational library easy
Easy to use, even for beginners
Simple interface that's less cluttered
Ideal for quick edits
Cons
Slow rendering compared to other similar programs
Does not allow 360, multi-cam, or 3D editing
No HVEC output option
No collaborative features
Limited editing features
Pricing
One-time payment of $99.99 (30-day free trial available)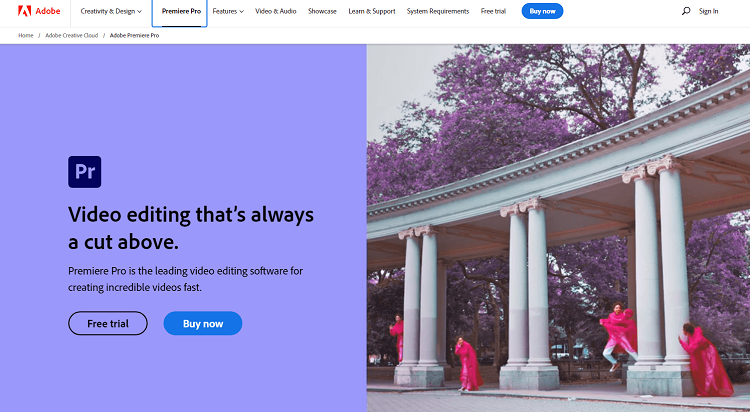 Advanced video production software that can handle anything.
Premiere Pro has all the bells and whistles, but it also has a learning curve that might be too steep for beginners.
Compatibility
64-bit Windows 10 or Windows 8.1, MacOS 10.14 or later
Key Features
Advanced audio editing (noise reduction, individual frequency adjustment, etc.)
Royalty-free stock audio gallery
Productions – collaborative feature for editors
Large selection of transitions and effects
Wide range of video and image editing tools
Organizational features for libraries
VR video editing
Pros
Great for advanced editing and professional work
Work on multiple projects simultaneously
Compatible with 40+ files formats (input/output)
Useful as a moviemaker and social media video content creator
Publish directly online or download locally/to the cloud
Excellent closed caption tool that works in multiple languages
Responsive design works well on most screen sizes
App version available
Cons
Complex for beginners
Subscription-only, no one-time purchase option
Requires a stronger computer
Pricing
Subscription software.
Annual subscriptions:
Individual – $20.99/month
Business – $33.99/month
Filmora – An Easiest Simple Video Editor for Windows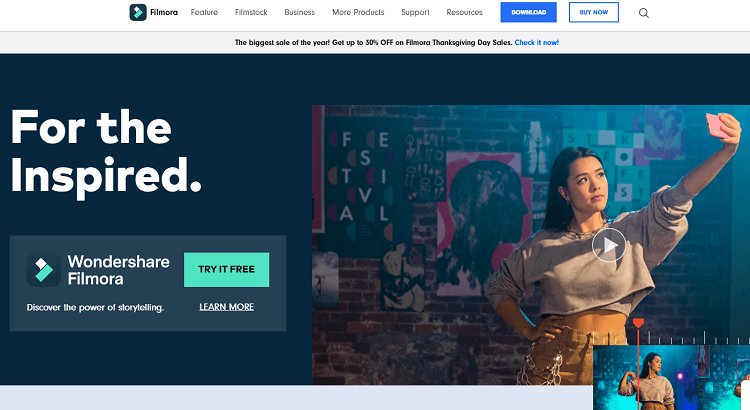 Helpful editor for quick projects with limited complexity.
Best when combined with an outside audio editing program.
Compatibility
Windows 10, 8, and 7 or Mac 10.12 or later
Key Features
Basic video editing
Basic audio editing, separation, and equalizing
GIF creation and editing support
Split-screen and multi-clip layering, overlays
Video stabilization and noise reduction
Green screening
Screen recording
Royalty-free audio library
Simple transition selections
HEVC and 4K file support
Pros
Great for social media videos and other online videos
Fast rendering speed compared to similar software
The intuitive interface is easy to learn
Split-screen editing allows up to 4 screens simultaneously
Motion tracking available
Presets and templates help you do simple edits quickly
Video editing app version available
Cons
Audio quality is not as high as some other software, limited editing options
Limited text and titles selections
Watermark on free video edits
The pro version is not as feature-rich as other comparable software (business package)
Some lag when editing multiple video tracks
Pricing
One-time purchase (Filmora X)
From $69.99 (individual user)
Subscription:
Individual – $39.99/year year
Bundle Package – $99.87/year
Business Package – $155/year per user
InVideo – Online 4K Video Editing Software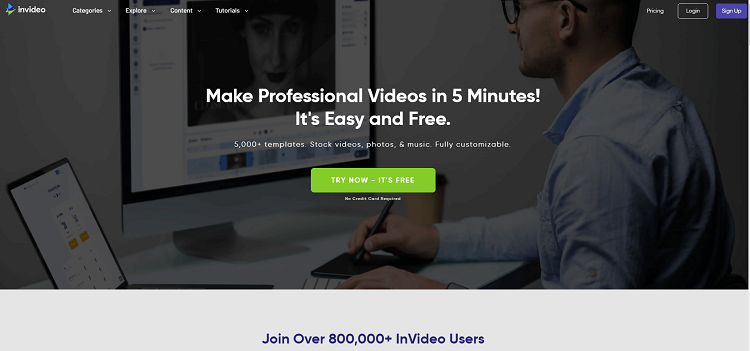 Cloud-based video editor geared towards short social media videos.
Highly collaborative, great for teams of all sizes.
Compatibility
Online only, mobile and desktop
Key Features
Drag & drop video editing
4K video editing support
Audio capture and simple editing, including voiceover
Basic video editing tools, including stabilization and split screens
Branding overlays
Direct social media integration
Royalty-free media galleries
Bulk uploading of video clips, images, and audio
Text overlays and editing
Text-to-video for published content (i.e. blog posts)
Pros
Ideal for video intros or outros, or social media content
Quickly create social media videos or video ads
Access to a top online database of stock video, images, and audio with a subscription plan
Create and save templates for faster editing
Great for teams who need to post a lot of online video content
Work on multiple projects simultaneously
Cons
Limited video formats, sizes, lengths (15-minute video cap)
Online-only (strong internet connection required)
The offline editor has no access to templates, royalty-free media
Limited to 1 media track per video
Text-to-speech options don't compare well to other editors
Videos are edited on a single track
Pricing
Freemium software.
Free Package.
60 videos per month, with a non-removable watermark.
Subscription Packages:
Business package – from $15/month
Unlimited package – from $30/month
HitFilm Express – Best Free YouTube Video Editor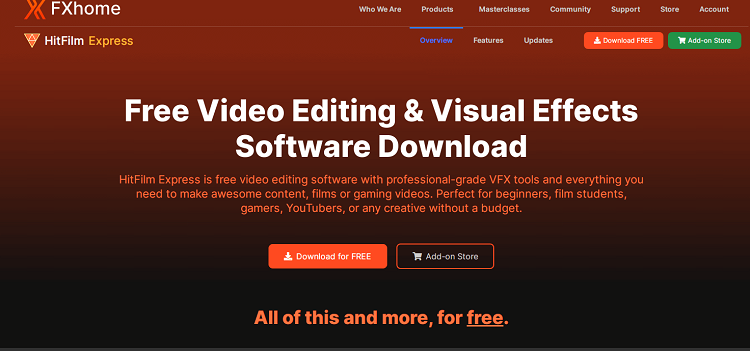 Free video editor with a packed set of features, lots of tutorials, and expansion options.
Compatibility
64-bit Windows 10 or Windows 8, MacOS 10.13 High Sierra or later
Key Features
Basic video editing tools, including color adjustment
4K video exports in standard file formats
Motion tracking and basic animation tools
Green screening
Overlays, modern video effects, and limited 3D simulations
Basic audio editing, multiple audio tracks on videos
Pros
Easy to use for people of any experience level
Scalable with paid add-ons if you need more features
Compared to other free options, HitFilm Express has a lot of extra editing features
Great for simple YouTube videos and social media content
Lots of presets and editing templates are available
Cons
Any non-standard file formats require a purchased add-on
Add-ons required for advanced video editing features
Ads and purchase prompts are all over the software home screen
Pricing
Free (Pay what you want) with paid add-ons available
HitFilm 4 Pro – $349 (Extra features, no paid add-ons) one-time payment
Avidemux – Best Video Trimming Software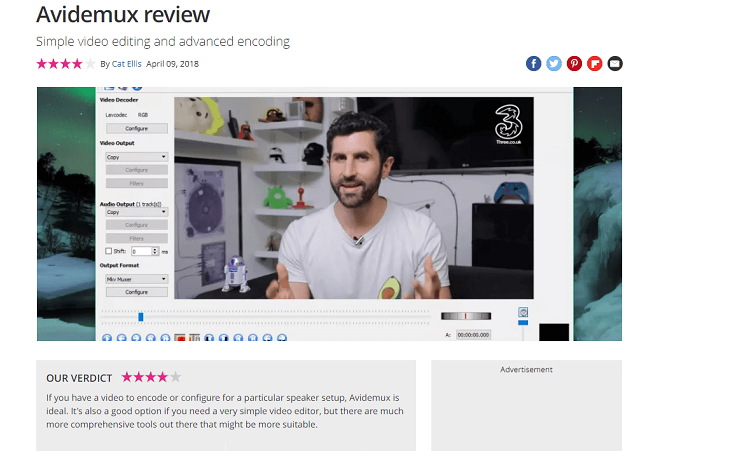 Avidemux is a simple free video editing software that lets you quickly make changes to online videos.
It's a free solution for small businesses and individuals who need to edit videos regularly.
Compatibility
Windows XP, Vista, 7, 8, or 10 (32-bit and 64-bit), Mac OS X 10.9 or later, Linux, BSD
Key Features
Basic video editing tools (trimming, cutting, simple filters, etc.)
Common file format compatibilities (DVD, MP4, MPEG, AVI, etc.)
Layering and filters
Audio syncing and sound effects
Compressing video file sizes
Web-based software
Pros
Quick and easy editing
Minimalistic UI
Great for personal use
Compatible with most operating systems
Cons
Cannot transcode videos in batches
No advanced editing features
No timeline for normal linear editing
Limited update support as an open-source software
No advanced video format support (4K, 360, etc.)
Pricing
Free, open-source program
DaVinci Resolve – Best Free Video Editing Software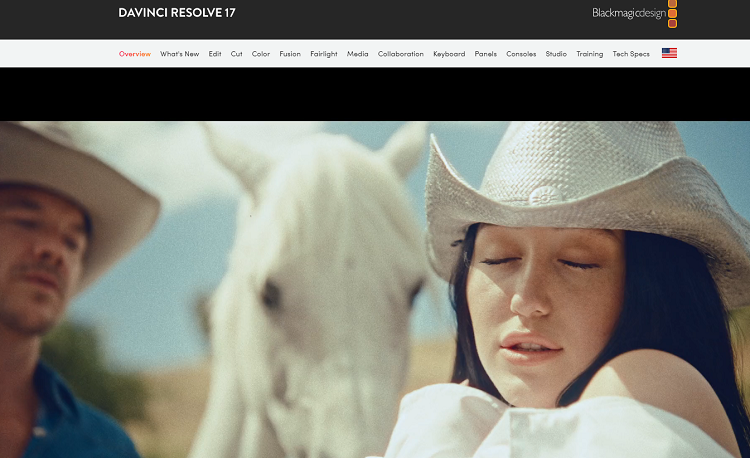 A powerful editor with a full suite of tools geared at long-form content.
Lots of room to grow from the free version as you gain experience editing videos.
Compatibility
64-bit Windows 10, MacOS 10.4.16 Mojave or later, Linux CentOS 7.3 or later
Key Features
Basic video editing tools
Color correction and adjustments tools, auto-adjustors
Advanced audio editing tools, including sound mixing and effects (Fairlight FX in paid version only)
Wide compatibility for most input/output file formats (4K supported)
3D animations and editing (paid version only)
Remote rendering and file export
Multi-user simultaneous collaboration
Pros
Great file format support compared to other free video editors
Choose to use keyboard shortcuts from top editing software (Premiere Pro, Final Cut Pro, etc.)
Feature-rich for beginners and experienced editors alike
Cinematic edits for professional polish
Excellent color correction features, even in the free version
Great for beginning editors looking to get into TV, movies, or commercial advertisements
Supports up to 2,000 audio tracks per video
Export multiple projects at once with the render queue
Cons
Higher learning curve compared to other free editors
Requires a more powerful computer than other free editors
Pricing
Free Version – Davinci Resolve
Paid Version – Davinci Resolve Studio 17 – $295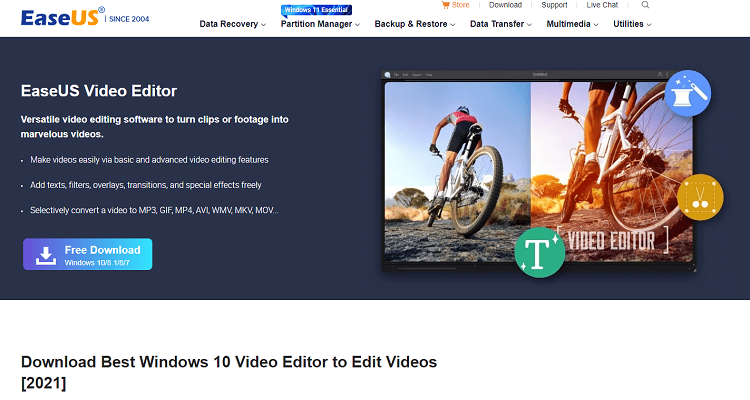 A low-cost video editor with a lot of features and a free version you can use to try it out.
Compatibility
64-bit Windows 7, 8, or 10
Key Features
Basic video editing features
Adding text, images, and overlays
Simple transitions and effects
Basic green screening
Basic audio editing (importing, mixing)
In-platform voiceovers
Split-screen editing
GIF editing support
Pros
One-click voiceover recording
Export in mobile-ready formats
Lets you remove watermarks from existing videos
Remove audio from videos
Cons
No 4K video support
Only compatible with Windows desktops
The free version has very limited features
Pricing
Subscription (free trial available)
Subscription Plans:
Annual – $49.95/year
Monthly – from $17.97/ month
Lifetime Plan – $79.95 one-time payment
Shotcut – Best Free Video Editing Software for Windows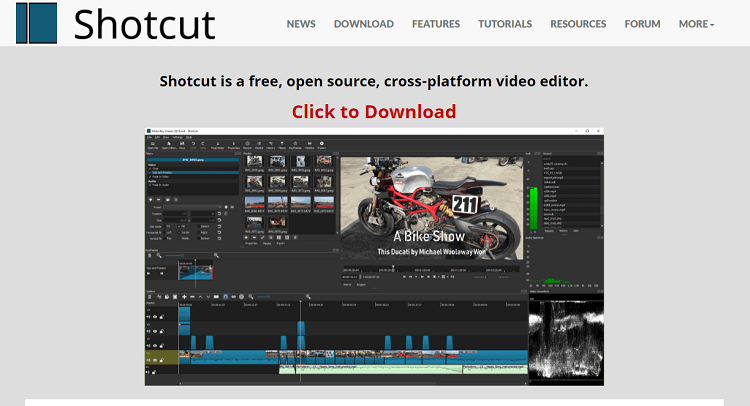 Free video editing software with a lot of great features packed into a slightly messy interface.
With a little bit of a learning curve, you can make professional-looking videos from many different video, image, and audio files.
Compatibility
Windows, MacOS, Linux, FreeBSD
Key Features
Native timeline editing (no video or image file import needed)
Wide video and image file support (including 4K and 360 videos)
Webcam and audio capture
Advanced audio editing features
Advanced video editing features
Green screening
Basic overlays and effects
Pros
Edit images and video clips with various file formats
Easily organize clips and images as you edit
Download the software to your computer or use it from a portable hard disk
Software is translated into many different languages
Fully codec and platform-independent
Create fully customized file export settings
Cons
Takes some time to learn to use all the features
UI is not as beautiful or refined as other comparable software
Not always stable – it may crash sometimes under heavy use or with low-performance PC
No support for uploading external subtitle files – you must create them yourself with text overlays
Pricing
VideoPad – Best Video Editing Software for Personal Use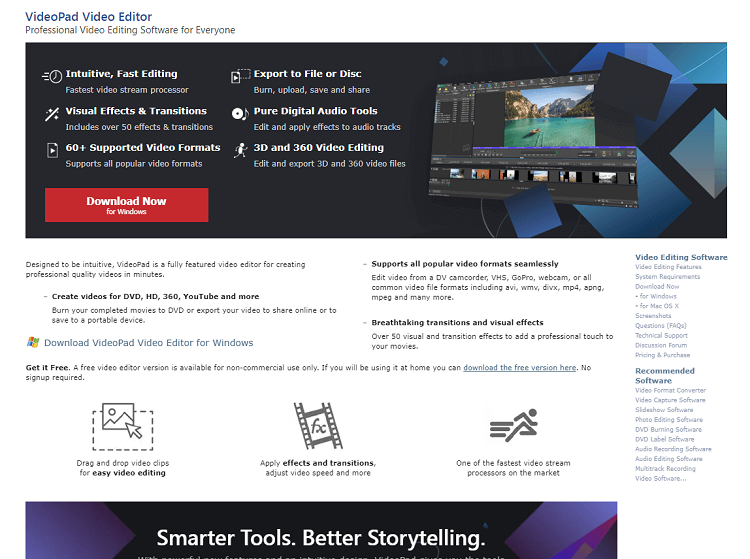 With free and paid tiers available, this software has a few options to suit different budgets and business needs.
Good for online video content, but limited usefulness for long-form content or cinema.
Compatibility
Key Features
Basic video editing features
Video stabilization & shaking reduction
Import music tracks over video & trim sound clips
4K video support (import & export)
360 video supportGreen screening
Pros
Export directly to YouTube and Facebook
Simple to get started and make quick videos
Works with low-spec computers
Ideal for simple videos, ads, or social media content
No watermarks, even on the free version
Unlimited video editing tracks
Cons
Slow rendering and upload speeds
Limited visual effects available
The interface is outdated and not intuitive – some features are difficult to find
Purchased licenses are not transferrable between computers (even your own computers)
Pricing
Subscription.
Free non-commercial package.
One-Time Purchases:
Master Edition (full features, no limits) – $99
Home Edition (full features, some limits) – $60
Subscription Plans:
Master Edition – $5.50/month
Nero Video – A Best Low-Cost Video Editor for YouTube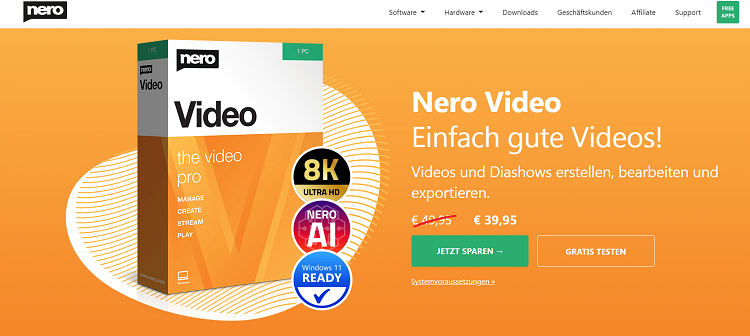 Jack of all trades with editing features that fall a little short of the competition.
Great multi-device syncing options mean seamless editing between your smartphone and desktop.
Compatibility
Key Features
Basic video and audio editing
Create slideshows with both images and videos
Wide file format compatibility (including 4K and HEVC)
Express or Advanced editing mode
Vertical video editing
Simple effects and overlays
Pros
Music auto-adjusts to accommodate video length
Video and image features to help you from start to finish
Good for YouTube content – especially picture-in-picture edits
Quick clip previews to save time while selecting video footage
Cons
No 360 or 3D video support
No motion tracking or multi-cam options
Cannot export directly to social media
The outdated interface may be a little hard to use
Pricing
One-Time Payment – $49.99
Freemake Video Converter – Best Clipping Software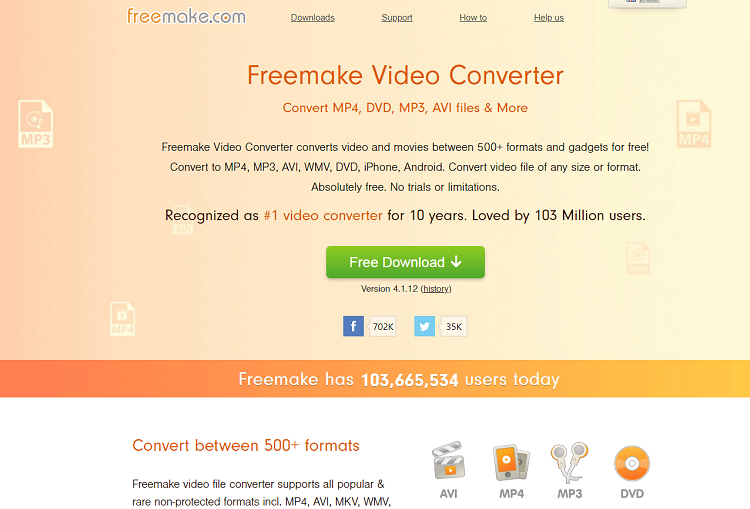 Only the basic editing features, but enough to handle simple tasks.
More of an import/export tool, this software helps you get videos where you want them in the format you need.
Compatibility
Key Features
Limited video editing tools (cut, merge, rotate)
Common file format support
Adding and trimming audio
File format converter
Pros
Great for beginners with simple projects
Clean, modern interface
Direct integrations with Facebook. YouTube, Vimeo, and others
Change video files into common online formats
Cons
No HEVC or 4K video support
Watermark included on longer videos
Some ads are placed around for other software
Pricing
Subscription.
Free plan available.
Annual subscription – $9
One-time Payment – $19
Lightworks – Best Mid-Range Video Editor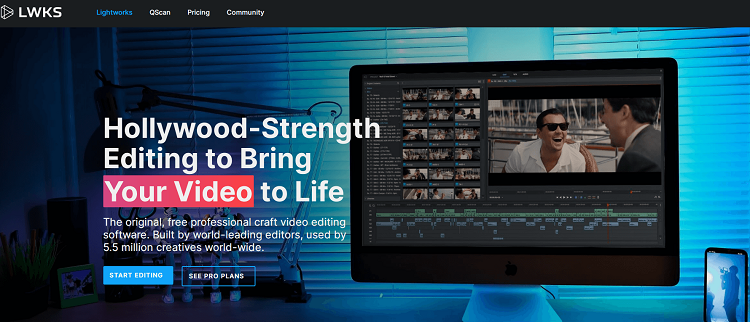 A good mid-range editor with a solid free version that lets you get used to the software before committing to a purchase.
Compatibility
Key Features
Multitrack video editing
Non-linear, drag-and-drop editing bar
Multi-cam editing support
4K video support
Text and effect overlays
Audio capture
Pros
Export directly to many social media, YouTube
Easily find images, video, and audio files in the media library
Intuitive interface that's easy for new users to learn
Quick rendering and editing speeds
Useful for short-form and long-form content
Cons
It May be difficult to learn if you have already used other professional editors
The free version only allows limited file format exports
No 3D video editing option
Pricing
Free version available, limited features.
Subscription Packages:
Lightworks Pro – $24.99/month or $174.99/year
One-time Payment – $437.99
Final Cut Pro

– Best Video Editing Software for iOS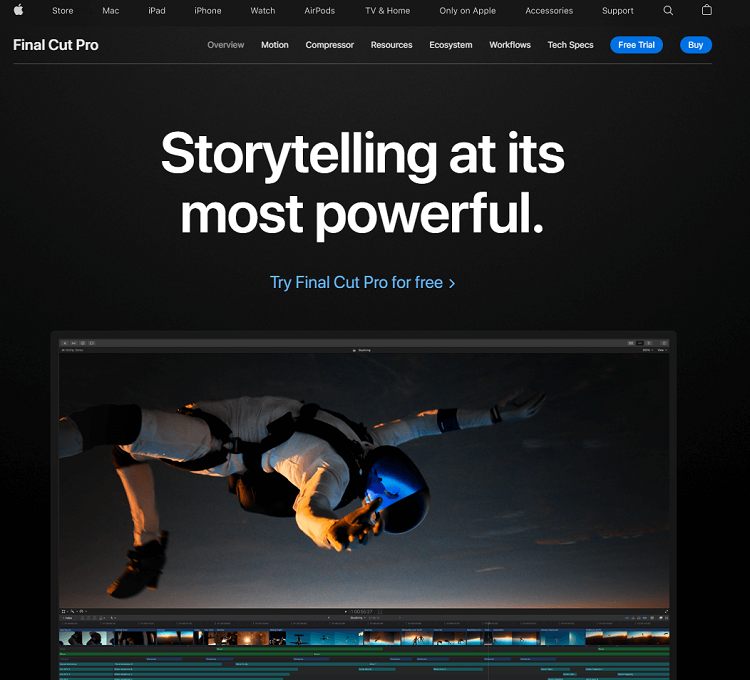 Previously called Final Cut Pro X, this is Apple's professional video editing software with a full suite of editing features for Mac users.
Compatibility
Key Features
Supports 4K, HVEC, 360, XML, and other formats
Add metadata, including keywords, to specific clips or whole projects
Magnetic clips, drag-and-drop editing
Customizable roles for categorizing clip types
Upload completed projects directly online or save them locally (mp4)
Compound clips – grouping clips, audio, and effects together
Clip auditioning – seamlessly compare multiple clips in a final production
Advanced editing tools – 100+ transitions, clipping, color matching, etc.
Advanced audio editing – 100+ audio effects
Picture in the picture & other overlay effects including green screening
Edit 360 & multi-cam video
Pros
Unlimited editing tracks
Continuous updates
Customizable keyboard shortcuts
Highly compatible with iMovie
Great 360 video editing tools
Flow tool smooths awkward jump cuts
Good selection of 2D and 3D title templates
Cons
No search option in an import dialog box
3D titles need a second program to edit – Apple's Motion app for $49
Does not support Quicktime or MIDI files
The extra program needed to expand output file types – Apple's Compressor for $49
Not ideal for videos with menu selections (i.e. DVD or Blu-ray discs)
Pricing
$299 (3-month free trial available)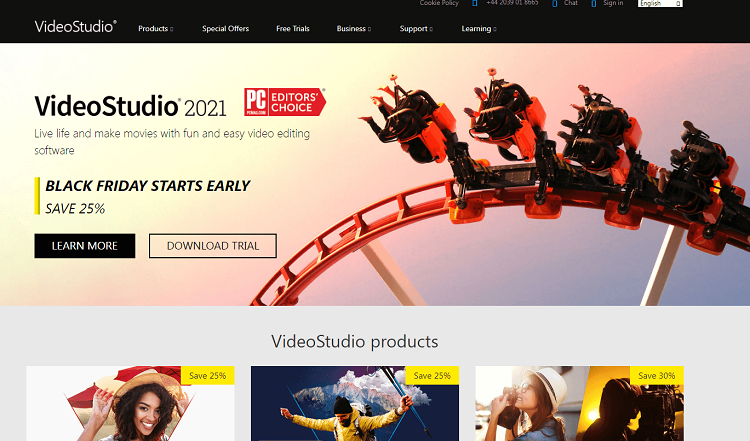 The stable, feature-rich editor that fits most of the needs for personal and professional video content.
Compatibility
64-bit Windows 7, 8, or 10
Key Features
Screen capture and voiceovers
Multi-cam, 4K, and 360-degree video editing
Basic video editing tools (cut, merge, etc.)
Filters, effects, and text overlays
Timeline editing bar
Color correction and enhancement
AR filters
Video stabilization
Split-screen editing
Animation tools
Basic audio editing
Pros
Upload your videos directly to YouTube or Vimeo
Quick rendering speeds
Easily create smoothly animated videos – especially stop-motion videos
Works with most input and output formats
Recent updates have greatly improved the program's stability
Cons
Media library cannot be keyword tagged
Many features are automatic, fewer options for in-depth custom edits
Video-cutting tools can be imprecise
Pricing
Full version – $79.99
Ultimate version – $99.99
Movavi Video Editor – Best Editor for Video File Conversion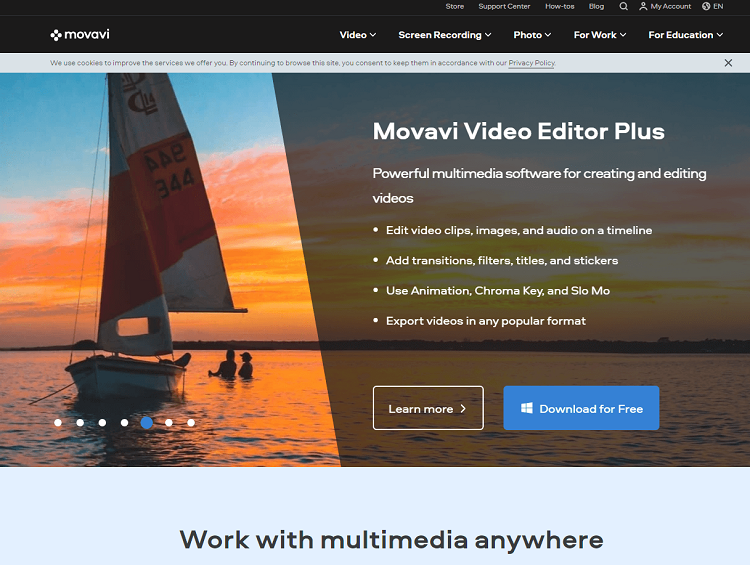 A simple set of features that can make attractive videos without needing a powerful computer.
Compatibility
Windows XP, Vista, 7, 8, and 10, MacOS 10.10 and later
Key Features
Green screening
Motion tracking filters
Lowers storage requirements than other editors
Basic video editing features
Library of transitions, filters, overlays, and title presets
Pros
Unlimited editing tracks
Clean interface that's easy to navigate
Great for use on a low-end computer
Free mobile editor available (Movavi Clips) for a similar experience
Cons
Rendering speed is slow compared to competing for software
Trimming tools are limited
Upsells throughout the software unless you purchase the full package deal
Limited color correction/grading tools
Pricing
Starting from $59.95 one-time payment (free trial available)
MiniTool MovieMaker – Best Video Editing Software for Images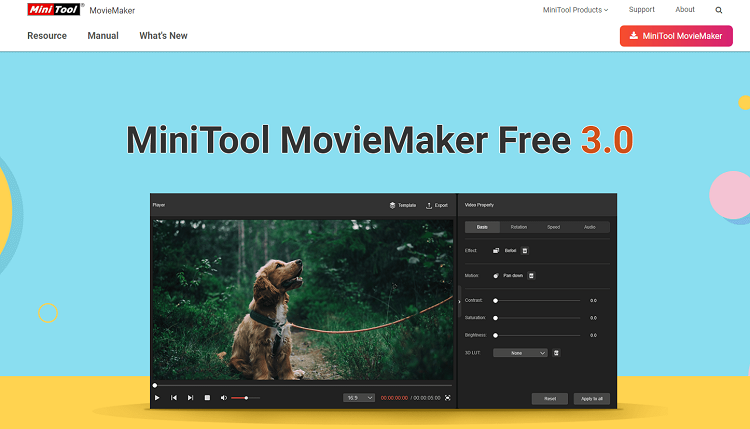 A basic tool that's ideal for combining a lot of images together into a video with transitions.
This is free video editing software for Windows users.
Compatibility
Key Features
Create videos from images
Pre-made transitions
Basic video editing tools
Speed control tools
A simple array of effects, including text
Auto-save
Basic audio editing
Pros
Create simple videos out of your images
Throw a video together in minutes
Features are easy to learn to use
Drag and drop images or video clips into place
Lots of different interesting transitions to use
Cons
Very limited features – no video capture, stabilization, brand overlays, or voiceover
Can't share videos directly to social media
No 4K or 360-degree video support
The editing process can be frustrating, especially trying to keep audio in sync
Pricing
Blender – Best Video Editor for Animated Videos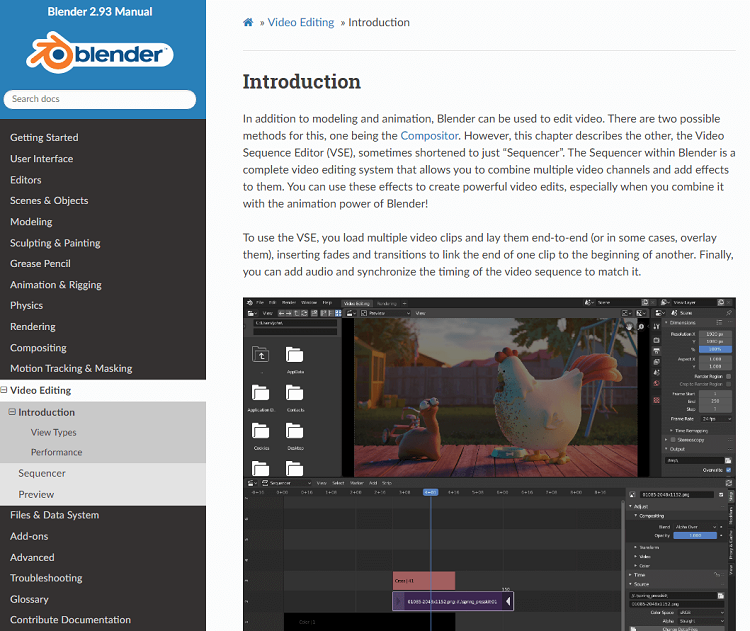 Mainly a 2D and 3D animation tool for motion graphics, Blender also includes a basic video editor that lets you make simple videos quickly and easily.
Compatibility
Key Features
3D animation tools
Basic video editing tools
Fades, transitions, and other effects
Basic audio editing
Green screening
Picture-in-picture, text, and other overlays
Pros
The editor is stable and can handle large video files well
As an open-source program, it's more flexible than some editors
Lots of third-party add-ons are available for free to enhance the editor
Download to your computer or run the editor from a USB/external hard disk
Cons
Only 2 editing channels are allowed (1 for video, 1 for audio)
Rendering is slow when you have too little RAM
Older computers may run the program slowly
Pricing
Subscription service.
Free version available.
Subscription Package:
$11.50/month (expanded features, video training)
Clipchamp – Best Online Video Editor for Chrome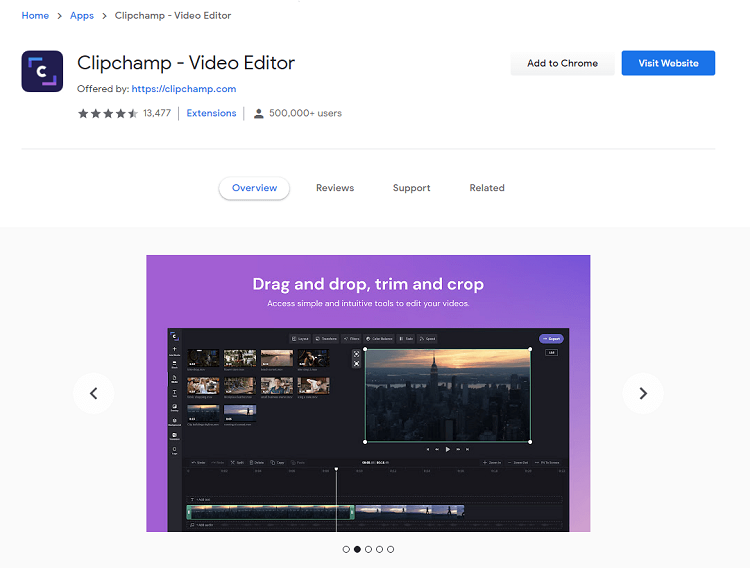 This simple browser-based video editor has a large following and a solid set of tools.
Compatibility
Google Chrome, Microsoft Edge, and other Chromium browsers
Key Features
Basic video editing tools
Screen recording and capture
Green screening
Basic audio editing
Add images or video clips
Customizable preset video templates
Browser-based editor
Pros
Easy to add simple graphics and text to videos
The lightweight editor that runs well on a lot of computers
Other editing and video-related software available that integrates well with this program
Large user base
Acquired by Microsoft in September 2021
Cons
Videos above 480p have a watermark on the free version
Limited color grading options
Some rendering issues when using your own imported video files
Limited functions in the free version
Pricing
Free version available
Subscription Plans:
Creator plan – $9/month or $72/year
Business plan – $19/month or $156/year
Business platinum – $39/month or $324/year
WeVideo – Best Video Editing Software for Education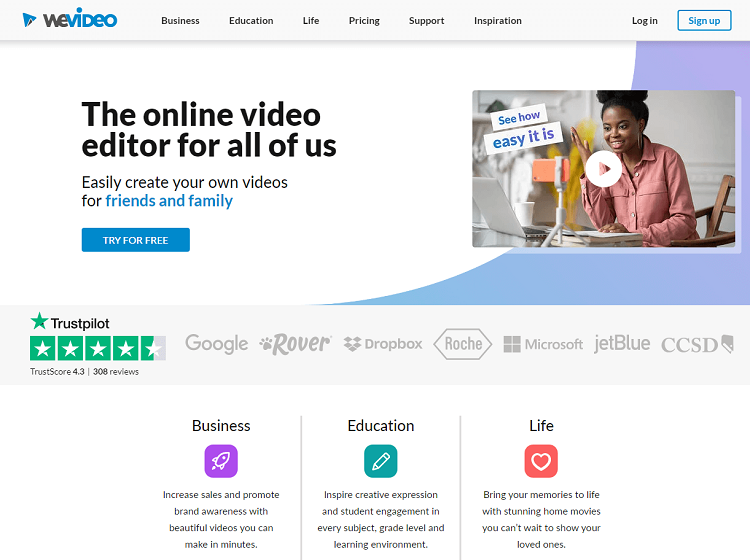 A useful cloud-based video editor with collaborative editing capabilities and cloud storage.
Compatibility
Chromebook, Windows, MacOS, Android, iOS
Key Features
Green screening
Large stock media library
Cloud-based editing
Collaborative editing with multiple users
Effects, transitions, and overlays
Pros
Unlimited access to stock videos, images, and music tracks with the right package
Publish directly to YouTube, Facebook, Instagram, and more
Great for creating social media content
No software download needed
Simple integrations for education
Edit on the Android app, iPhone app, or iPad app
Cons
Collaborative editing sometimes glitches when multiple users are making changes
The cloud-saving mechanism can be difficult to navigate (copying, saving, editing, etc.)
Limited text overlay options
Pricing
Subscription.
Individual and Business Plans:
Power – $9.99/month or $59.88/year
Unlimited – $15.99/month or $95.88/year
Professional – $39.99/month or $239.88/year
Business – $73.99/month or $443.88/year
Education Plans:
Individual Teacher – $89/year
Classroom – $299/year
Grades or Groups – Custom Pricing
School or District – Custom Pricing
Vimeo Create – Best Video Editor for Vimeo Videos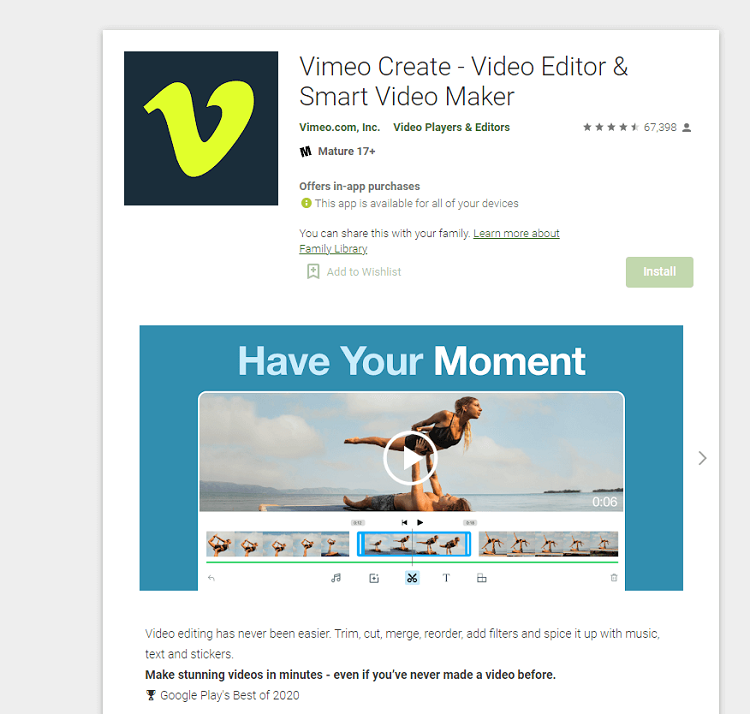 Create videos directly for Vimeo or other platforms.
Limited features in a lightweight tool that's great for short-form content uploaded directly online.
Compatibility
Android 7.0 or later, iOS 12.0 or later, MacOS 11.0 or later, all browsers on Windows
Key Features
Branding overlays (fonts, colors, graphics, etc.)
Pre-made video templates
Basic video editing tools (cutting, trimming, merging, etc.)
Live streaming (Premium only)
Direct recording
Collaborative team projects
Pros
Ideal for short-form content
Make videos quickly
Time-coded edit comments for easy collaboration
Vimeo has a whole suite of other tools to complement your created videos
Wide file format support
Cons
The free plan is very limited (no stock media, 30-second videos only, etc.)
Many advanced features are restricted to higher-cost subscription plans
All videos are limited to 10 minutes
Pricing
Subscription.
Free option available.
Vimeo Basic – Free, but with limited features
Plus – $12/month or $84/year (30-day free trial)
Pro – $240/year (30-day free trial)
Premium – $900/year (30-day free trial)
Enterprise – Custom Pricing
OpenShot – Best Video Editor for Linux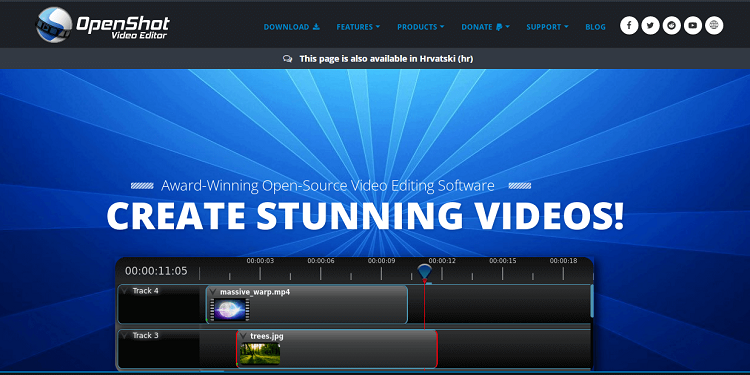 One of the few video editing programs made with Linux users in mind, OpenShot is a solid free option that checks a lot of the right boxes.
Compatibility
Key Features
Drag-and-drop editing
Unlimited editing tracks
Basic video editing skills (scaling, trimming, rotating, etc.)
Branding, effects, and image overlays
Real-time editing previews
Title templates and animated 3D titles
Time-mapping while editing
Basic audio editing
Green screening, color correction
Pros
Edit on any desktop platform
Wide support for video, audio, and image file formats
Precise editing – as precise as frame-by-frame
Separate audio from videos to edit or remove it
Lightweight software that runs well on most computers
Cons
Making video captions is not intuitive
Rendering speed for YouTube-ready files can be longer than average
Software may crash when editing large videos or .wmv video files
3D animations are outdated compared to other free editors
Pricing
Machete Video Editor Lite – Best Clipping Software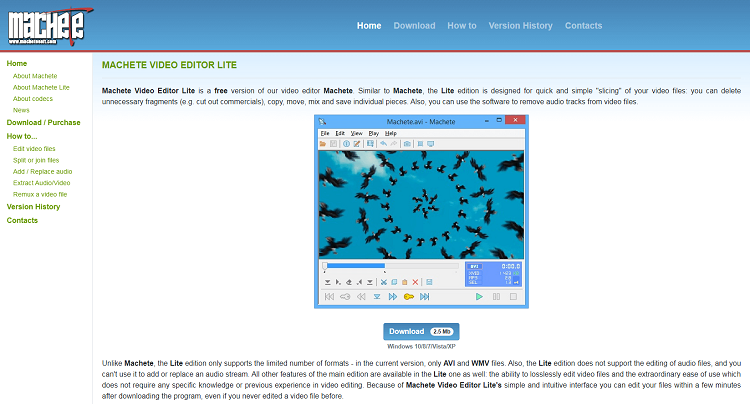 This is the lite version of the paid video editing software Machete.
It's lighter and quicker but lacks a lot of the advanced editing features of its paid counterpart.
Compatibility
Windows Vista, XP, 2000, 7, 8, 10
Key Features
Lossless editing
Basic video editing tools (cutting, moving, merging, etc.)
Remove audio from videos
Video tagging
Screen capture
Audio capture
Pros
Ideal for simple cutting and re-arranging raw video footage
The intuitive interface is easy to learn to use
No need to re-encode every video
Cons
Limited file format support
Can't combine videos with different file formats simultaneously
Pricing
Pinnacle Studio – Best Video Editing Software for Windows 10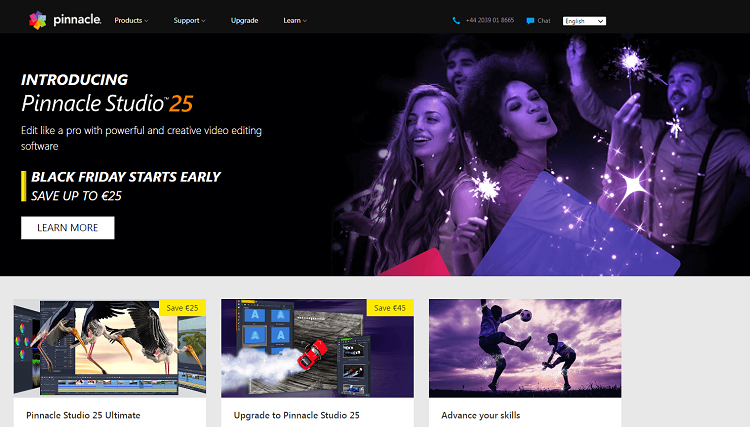 Good for long-form content and heavy video projects, as long as you have a good computer with Windows 10.
Compatibility
Key Features
Video capture and screen recording
Modern effects, including motion tracking
Titling and branding overlays
Multi-cam, 4K, and 360-degree editing
Unlimited video editing tracks
Advanced video editing toolkit
Advanced audio editing and mixing tools
Transitions from preset transition library
Green screening
Video stabilization
Pros
Great rendering speed
Clear and simple editing interface for basic use
Upload directly to Facebook, YouTube, Vimeo, or Box
Make video clips into GIFs
Process multiple videos in a batch rather than one by one
Cons
Some features are hidden in menus that are hard to find
Higher desktop system requirements than comparable software
The magnetic editing bar is sometimes imprecise
Pricing
One-time payment.
Free trial available.
Studio plan – $54.95
Studio plus plan – $89.95
Studio ultimate plan – $109.95
CyberLink PowerDirector – Best Low-Cost Video Editor with a Fast Rendering Speed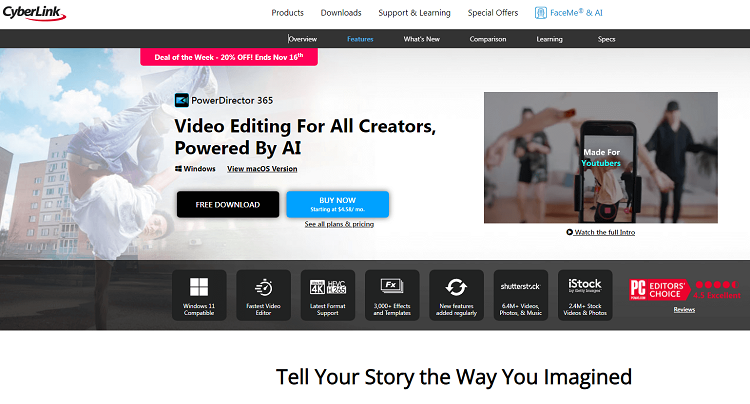 With a lot of different purchase options and a free version, PowerDirector is a good editor to try out and scale up as you need more.
Compatibility
Windows, MacOS 10.14 or later
Key Features
Basic video editing features
Basic audio editing (more features in advanced plans)
360-degree, multi-cam, and 4K editing
Motion tracking feature
Screen recording
Titles, effects, picture-in-picture, and simple overlays
Pros
Fast rendering speeds compared to similar editors
High frame rate import/export
Publish directly to social media
Plenty of great transitions
Edit from the app version as well
Cons
No access to stock media without a subscription
No updates with one-time payments
Watermarks on free videos
Some lag in zooming in and out of the editing timeline
Some ad prompts for updates
Pricing
Subscription.
Limited free version available.
Subscription Packages:
PowerDirector 365 – from $4.33/month
Director Suite 365 – from $8.08/month
One-Time Deals:
Ultra – $99.99
Ultimate – $139.99
VSDC – Best Video Editing Software for Low-End PCs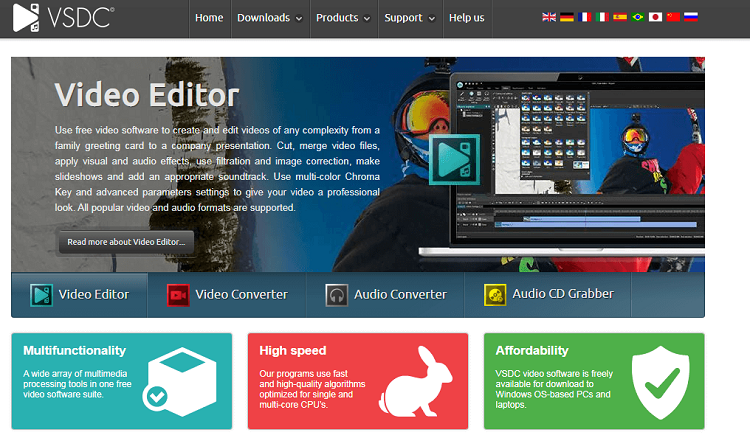 A simple video editor that works well on almost all computers, even very old ones.
Compatibility
Windows XP, Vista, 32-bit or 64-bit Windows 7, 8, and 10
Key Features
Non-linear editing track
Basic video editing tools
Basic audio editing tools
Green screening
Effects, filters, text titles, and other overlays
Simple transitions
4K and 360 VR compatible
Pros
Supports most common file formats
Very low system requirements – works on almost every computer
Feature-rich compared to similarly priced software
Cons
The nonstandard layout takes some getting used to
Some common features are tucked within submenus
The software can sometimes crash
Pricing
Free or $19.99 one-time payment for added features
FAQ
What is Video Editing Software?
Video editing software allows you to modify video files.
Most video editing software lets you clip videos, merge separate video and image files, and apply effects.
These software can be installed directly to your laptop or mobile device or can be used in a browser.
When is the best time to buy video editing software?
If you want the lowest price, the best time to buy video editing software is when a sale is going on.
Sometimes software goes on sale during Black Friday, giving you a great limited time offer.
You may also find good one-time deals throughout the year.
Should I pay for a premium video editor?
You may want to pay for a premium video editor if:
You need to make cinematic-quality videos
You regularly make videos
There are specific effects or editing tools you need
You use a lot of stock videos or images
If you're just starting out, you may not necessarily need a premium video editor.
Is free video editing software good enough?
Free video editing software is often good enough for simple online videos.
If you're starting to experiment with video content or you're using the editor for personal videos, many free editors can work well.
If you're trying to make professional quality or cinematic videos, long videos, or 3D animation videos, a free editor may not be the right tool.
Which video editing programs do most YouTubers use?
Many top YouTubers use one of these 3 editors:
Final Cut Pro (previously Final Cut Pro X)
iMovie
YouTube beginners sometimes start out with iMovie, Shotcut, HitFilm Express, or Filmora. These free software provide a lot of the features you may need to get started without the upfront cost.
Can you get a free video editor without watermark?
Yes, there are many free video editors that don't put watermarks on your videos.
These include:
VSDC
OpenShot
Shotcut
Lightworks
Blender
iMovie
HitFilm Express
DaVinci Resolve (free package)
Clipchamp
Always check if a free video editor puts a watermark on your videos before you use the software.
What are the primary functions of editing?
Basic video editing features include:
Trimming video clips
Framing and cropping
Color correction (including exposure adjustment)
Blurring or adjusting focus
Merging or resequencing clips/images
Transitioning between clips or images
Adding overlays (subtitles, branding, picture-in-picture, etc.)
Adding title sequences
Most video editing software includes these features. The effectiveness of the feature may vary. Premium video editors include additional advanced editing features.
How can I improve my video editing skills?
Improve your video editing with a few of these tips:
Watch editing tutorials on YouTube
Download project files to follow along with tutorials
Storyboard your videos
Organize your files well for easy access
Use keyboard shortcuts
Color correct throughout your video
As long as you're practicing the right things, your editing is likely to improve the more you do it.
Recommended Video Editing Software according to Reddit:
Admitting that I cracked Sony Vegas and used it for all my videos. I previously used Filmora but wanted better quality, so I learned Sony Vegas. It's easy, just drag, drop, and click. Much easier than Premiere Pro.
You might be interested to check those related posts as well: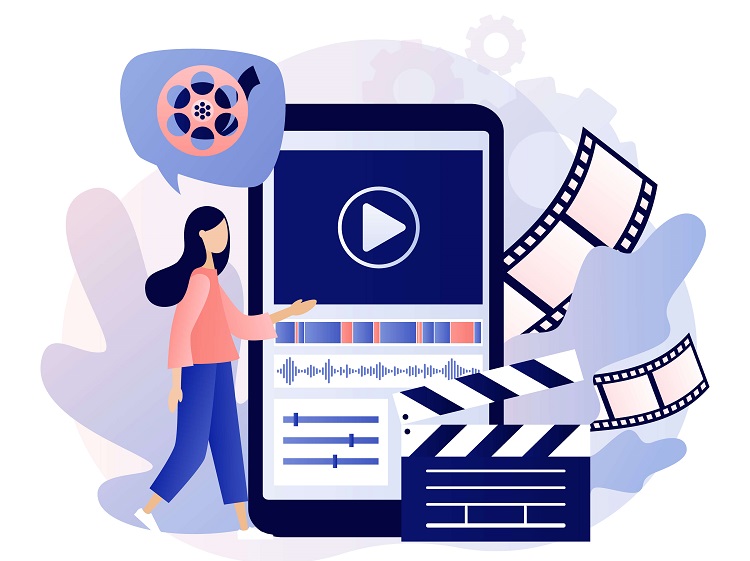 Conclusion
The quality of videos you can produce relies heavily on the tools you're using.
Make sure you've got the best video editing software for what you need and start churning out great video content today!