We've scoured the internet to find over 40 amazing music blogs and websites that are certainly well worth following.
We've handpicked each entry to include only the most successful music blogs.
Whether you're a musician or a music lover, you'll find music bloggers offering news, reviews, and insight into your favorite genres.
Visit them all, or just take your pick of the sites that appeal to you most. We hope you find this list useful for furthering your journey as a music fan or an indie musician.
In case you want to start your own blog, check out our guide on How to start a blog in 2023.
Why Are Music Blogs Important?
Whether you're into folk music, country, rock, or rap, we're all passionate about our favorite bands and artists.
Music blogs are a vital source of information to feed our curiosity for the latest news or gossip regarding our most loved bands.
Music blogging brings us new information on a regular basis, and when a blog is closely aligned with our own musical tastes, it's a great way to discover new music, to stop our listening choices from becoming stale.
When you subscribe to a music blog, you'll always be the first to hear about new releases, and you'll never miss the opportunity to get tickets for that 'must-see' concert.
Become a regular blog visitor and you can become part of the community, leaving your comments for others to see, and getting involved.
You may be able to influence the listening of others, recommending your own favorite bands, and of course, in return, you'll be able to tune in to some new music yourself.
Best Music Blogs and Websites
Music lovers are lucky, there are so many amazing music blogs and websites out there.
But how do you find the very best music blogs available?
You could just type the name of your favorite genre into Google, but that can lead to some disappointing results, so instead, we've made it easier for you by bringing you our favorite 40+ best music blogs and websites.
Whatever your taste in music, our list is sure to have plenty of sites you'll want to bookmark and enjoy every day.
Consequence of Sound – Best Music News Blog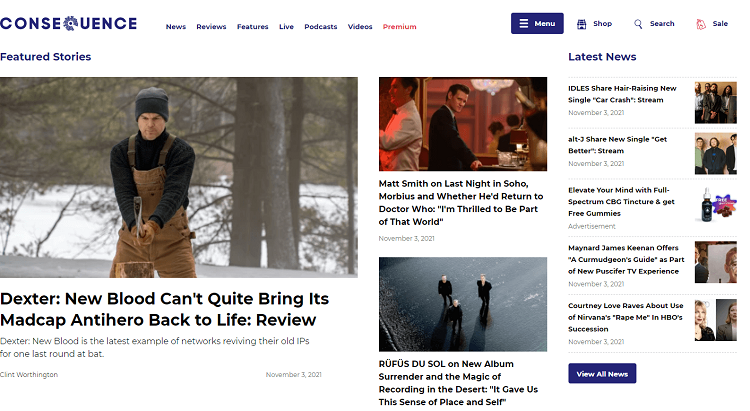 Known for its accuracy and reliability, New York-based Consequence of Sound is one of the best music news blogs.
With several posts every day, you're always on top of the latest developments in the music world when you read the Consequence of Sound blog.
Covering a wide range of topics, you can read album and concert reviews, find out what's coming up with regard to releases and performances, and you'll be the first to hear when an artist features in the news or has something interesting to say.
Consequence also has channels for film and TV so there's plenty more to browse on the website.
All Music – Best Music Review Blog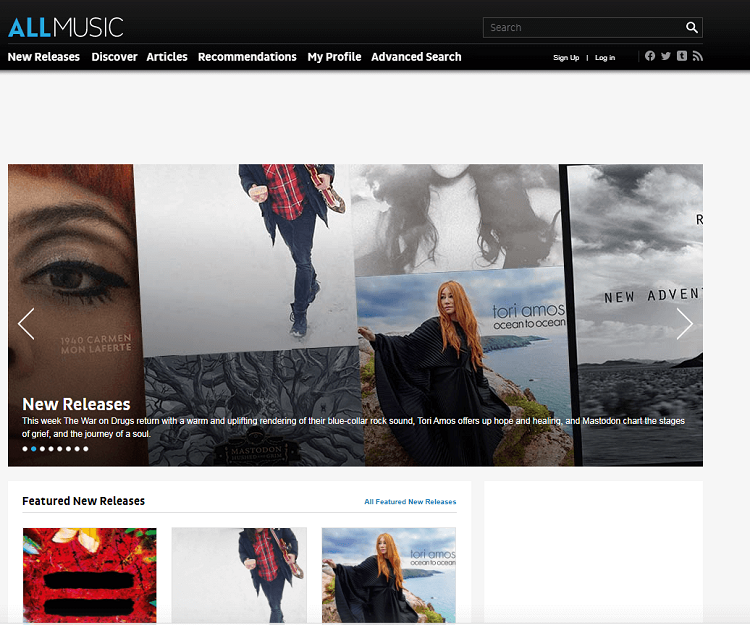 Visit All Music and you're on one of the best music discovery websites due to the wide range of styles and the in-depth level of detail that is included.
You'll find reviews, not only of the latest releases but also revisits of older classic albums.
Perhaps you'll discover a new favorite that you missed the first time around.
This is a great place to find new music as the site offers sound samples right there within the page, as well as links to streaming services, so you can easily listen and see if it's something you're interested in.
This Song Is Sick – Best Hip-Hop Blog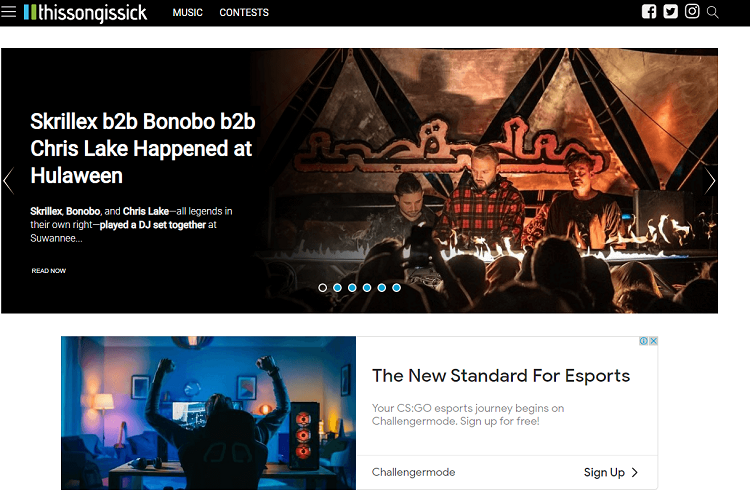 This Song is Sick is a fantastic blog for both musicians and fans alike.
With an emphasis on new talent, from indie to hip-hop, it's one of the best hip-hop blogs to submit music to, with emerging artists being regularly featured.
It's a great place to get a little extra exposure.
The aim of the site is to make it easy to find new music and discover sick new tunes.
Sometimes it's nice to be the first of your friends to discover a new artist and here's where you can find them.
Pigeons & Planes – Best Website for New Music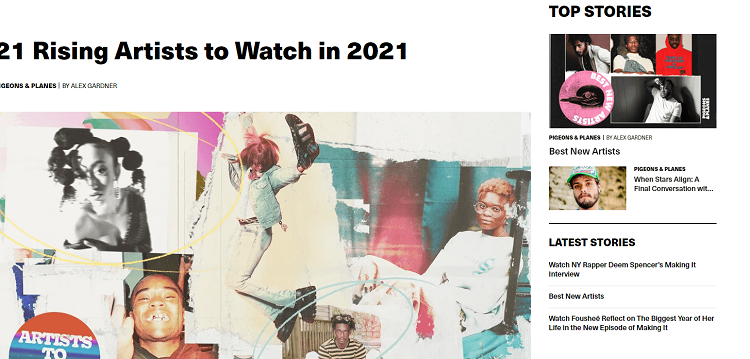 Follow Pigeons & Planes and stay ahead of the crowd when it comes to discovering rising talent.
This is one of the best websites for new music, with a constant eye out for those artists that are on the brink of a breakthrough but haven't yet made it to the mainstream music world.
With a regular list of artists to look out for, you'll discover amazing unsigned artists and talented independent musicians across a wide range of genres from pop to electronic music and hip-hop.
Pop Matters – Best Academic Music Blog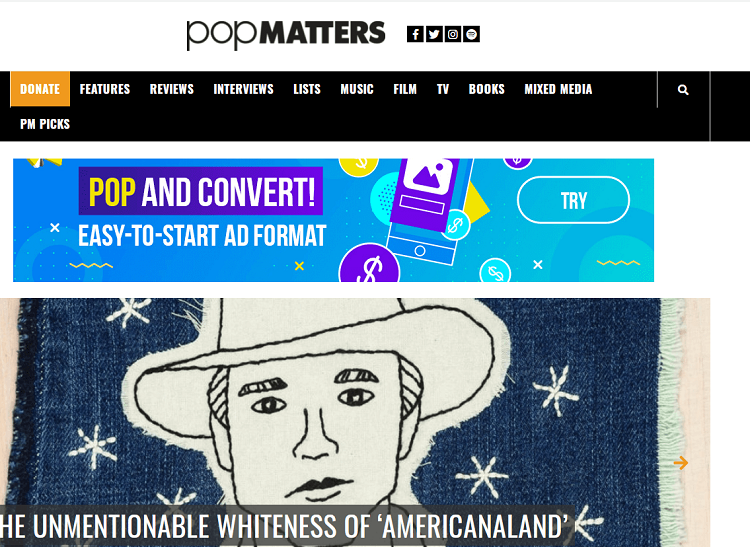 Covering all aspects of pop culture, this website aims to educate as much as it entertains, so you'll find articles regarding topics such as popular music that go a little deeper than many other blogs.
It's a unique niche that makes this one of the best academic music blogs around.
Budding writers can submit their own work to be included in the blog too.
This a great chance to bring your perspective on your favorite music to a wider audience.
Stereogum – Best Pop Music Blog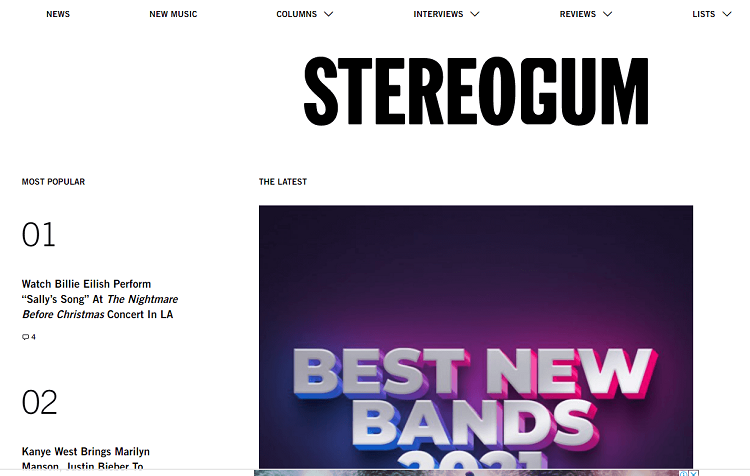 Stereogum, the self-declared world's best music blog, was set up in 2002 and has been going strong since.
Featuring a wide range of music-related content including reviews, interviews, and fun lists, alongside regular columns bringing you the latest news from the world of pop music.
There's also a strong social media presence with news items posted on a regular basis.
Indie Shuffle – Best Indie Music Blog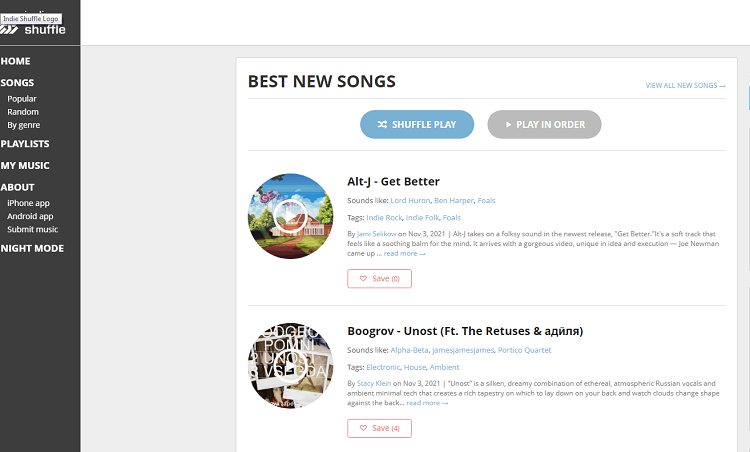 One of the best new indie music blogs, Indie Shuffle is a one-stop shop for discovering new indie bands.
The idea behind the site is to replicate the process of friends recommending great new artists to each other.
So Indie Shuffle brings recommendations from a team of international writers with tastes that may well be aligned with yours.
While indie music is obviously a predominant genre for this blog, you'll also find a good range of other music styles featured such as rock, hip-hop, and electronic.
Mixmag – Best Music Magazine Website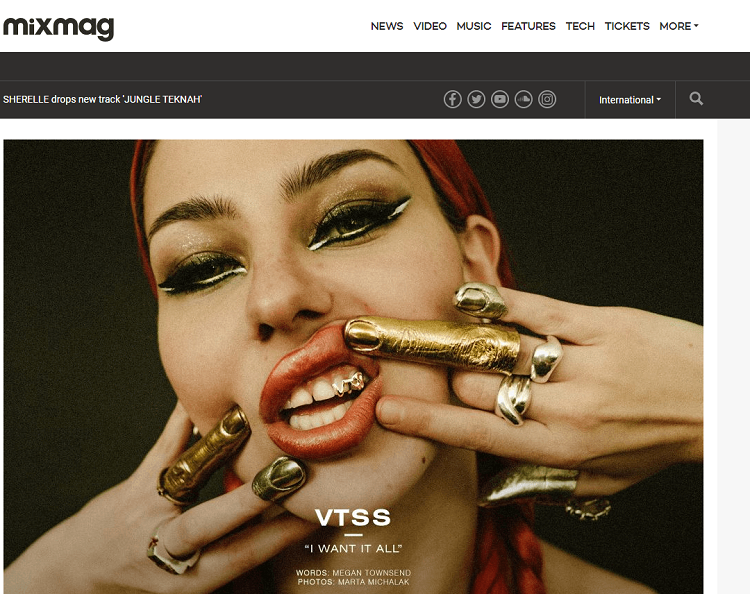 Mixmag is undoubtedly one of the best electronic music blogs.
Starting life as a print magazine, back in 1982, Mixmag has always had a huge following, and the transition to a more digital-based presence has been an easy one.
It's a go-to blog for anyone interested in electronic and dance music, with all the latest news from the top nightclubs and big-name DJs.
Dancing Astronaut – Best American Dance Music Blog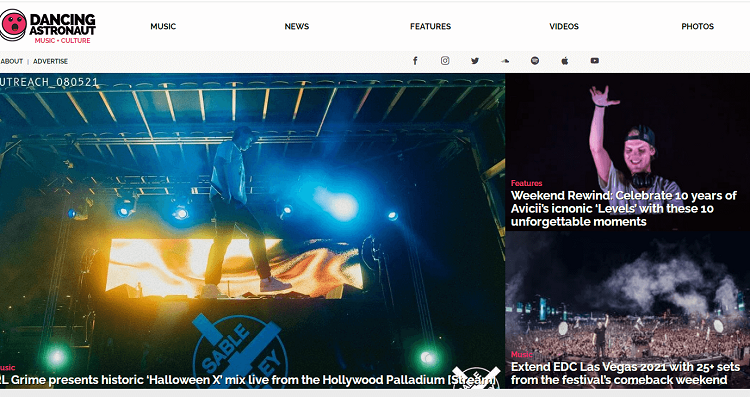 Dancing Astronaut certainly deserves its place among the best American blogs.
With a focus on electronic dance music, the site covers a range of related topics such as music festivals and concerts alongside reviews and industry news.
Dancing Astronaut's music bloggers post very regularly, so there's something new to read every day.
EDM.com – Best Electronic Music Website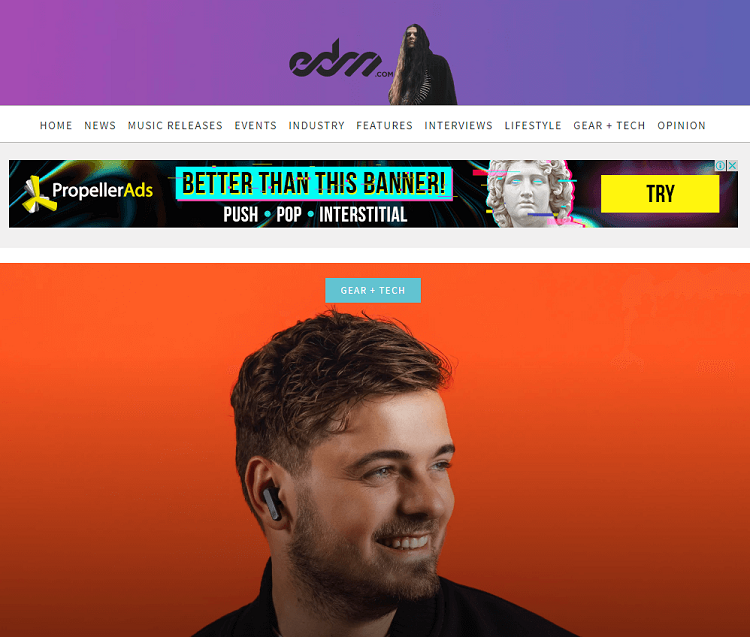 Dubbed the definitive voice of electronic dance music, EDM is a community-centered blog with an emphasis on inspiration and information.
For fans, there's a wealth of information and news with interviews and new releases, and for artists, this is perhaps one of the best music gear blogs, with regular features regarding the latest DJ technology innovations and best buys.
So whether you're an industry veteran looking for the latest information, or an electronic dance music fan in search of new music or events, EDM is certainly well worth checking out.
Run the Trap – Best Underground Music Blog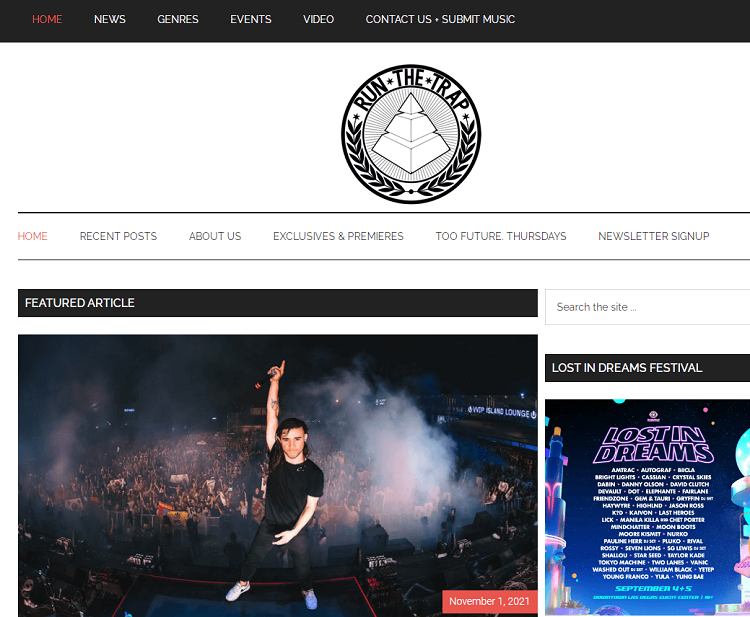 Fans of trap music, hip hop, and club tunes will appreciate that Run the Trap is one of the best underground music blogs.
The site promises to only post the very highest quality works on their site, with all features being carefully selected from among a wealth of underground bass music genres.
In addition, the site also brings to your attention the fashions and styles of the underground trap music culture.
With posts on a near-daily basis, the content is always new and fresh.
This is RnB – Best R&B Blog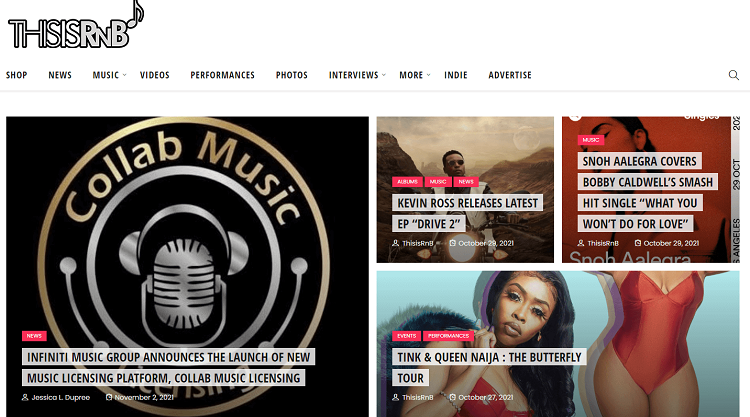 If you're looking for a specialist RnB blog, then you'll find this to be one of the best R&B blogs out there.
With lots of embedded YouTube videos, you don't have to go far to enjoy the latest R&B releases.
Or subscribe directly to the YouTube channel for hours of great music.
Metal Injection – Best Heavy Metal Blog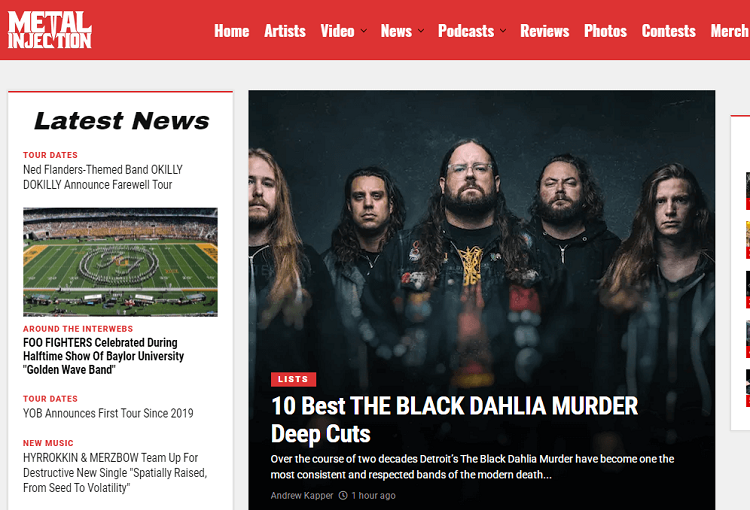 Some say this is one of the best heavy metal blogs of all, and it certainly has enough content to keep any metalhead well entertained.
There's all the latest news and album reviews, along with a photo section, a comprehensive artists directory, and plenty of media to enjoy with videos and podcasts.
Music Business Worldwide – The Best Blog for Music Industry Insiders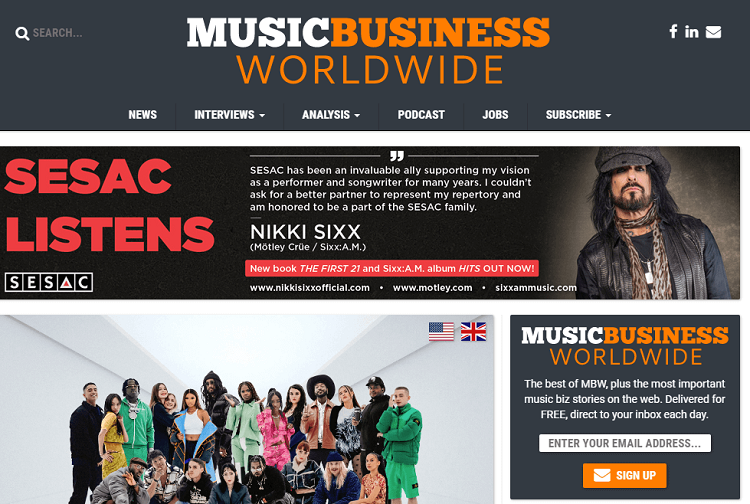 Music Business Worldwide brings a wealth of news and information to anyone working or hoping to work, in the music industry.
One of the best music blogs for musicians, it's easy to navigate and keeps those in the business abreast of all the latest news, changes in legislation, and all aspects of the music industry's latest developments from around the globe.
ReverbNation Blog – Best Blog for Musicians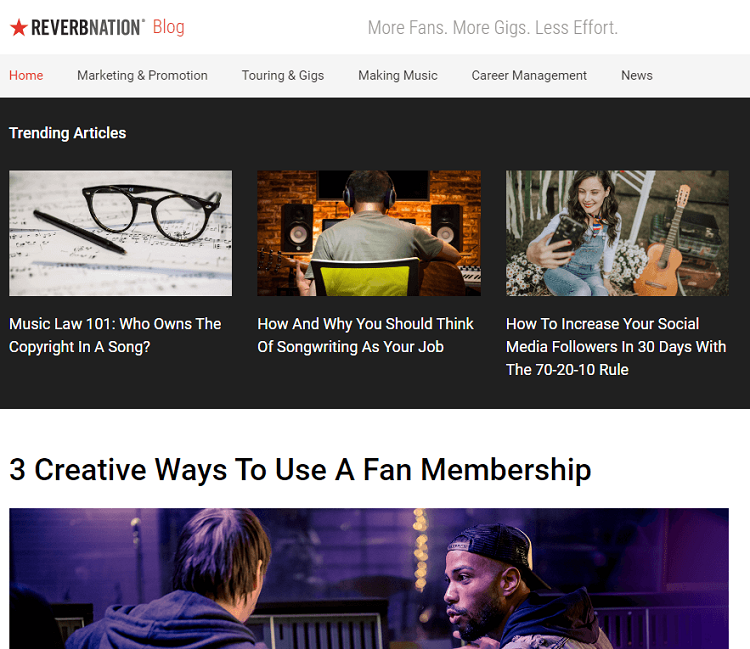 ReverbNation blog is packed full of tips and invaluable information for musicians.
Covering a wide range of topics, readers can learn tips for recording music, writing music, and how to get ahead in the industry.
From marketing and promotion to touring and gigging, all musicians are bound to pick up something useful if they read this blog.
RollingStone – Best Blog for Multi-Genre News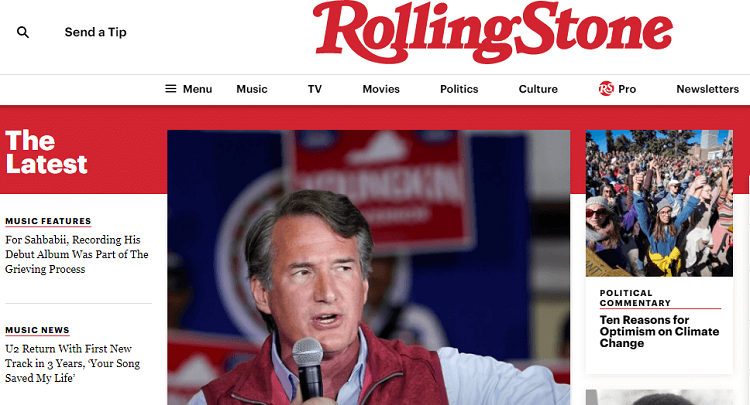 RollingStone.com is the online presence of Rolling Stone Magazine, a magazine that proved to be very popular with the youth of the 60s from its incarnation in 1967 and its unique blend of music news, pop culture, and politics.
For those with an interest in a wide range of genres, Rolling Stone brings all the top news together in one place.
The Line of Best Fit – Best Music Discovery Website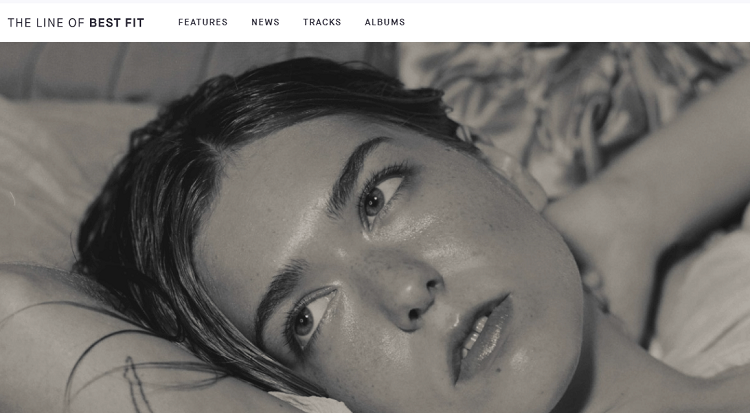 A great place to discover new music, The Line of Best Fit is read by millions of fans every month, eager to discover emerging artists.
The site has its own Spotify playlist featuring the best of new music from indie artists to pop and dance music.
The site is updated regularly with new posts and a song of the day.
Digital Music News – Best Blog for Sync Licensing News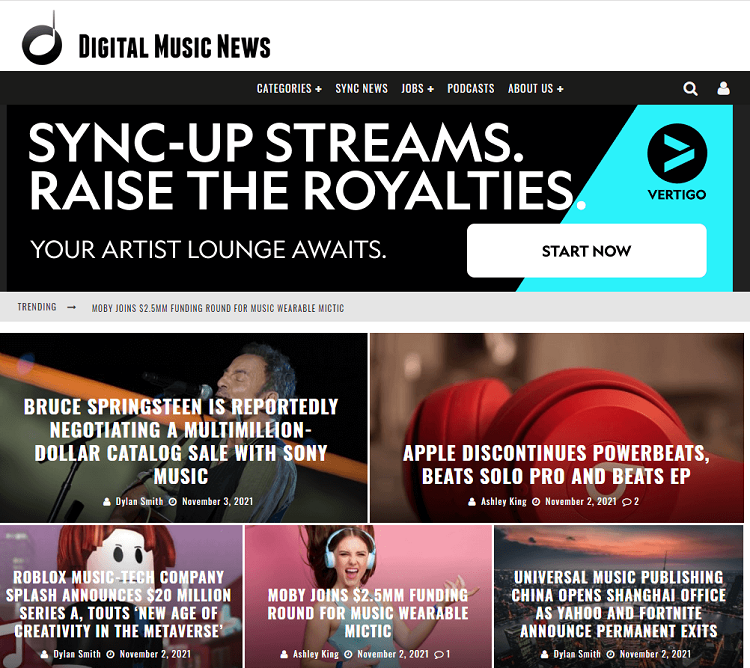 Digital Music News provides news and industry analysis across the entire music business.
Keep on top of the latest developments with a daily morning email or subscribe to social media or RSS feeds.
Offering content valuable to musicians and those who work behind the scenes, there is a special emphasis on news related to syncing licensing.
Hypebot – Best Blog for Digital Music Promotion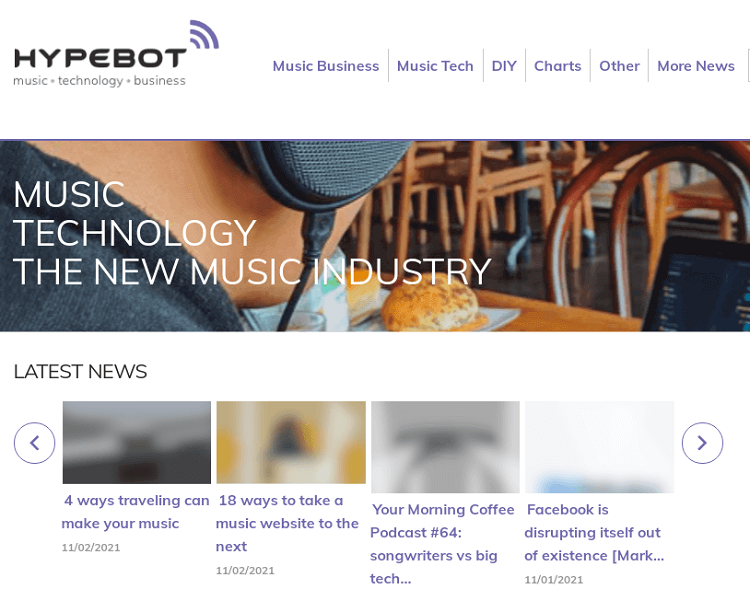 Music trends change fast, so if you like to keep your finger on the pulse of music industry trends, Hypebot should certainly be one music blog that you add to your bookmarks.
With an emphasis on digital marketing, Hypebot offers advice such as how to create successful YouTube content and the best way to get your music featured on Spotify playlists.
XS Noize – Best Blog for Podcasts
XS Noize is an online music magazine with a lot to offer.
Run by music blogger Mark Millar, alongside other contributing bloggers from around the world, the site includes reviews, interviews, news, and opinion.
There's a regular podcast with some interesting artist interviews featuring the best of indie artists and popular musicians.
Music Is To Blame – Best Blog to Submit Music to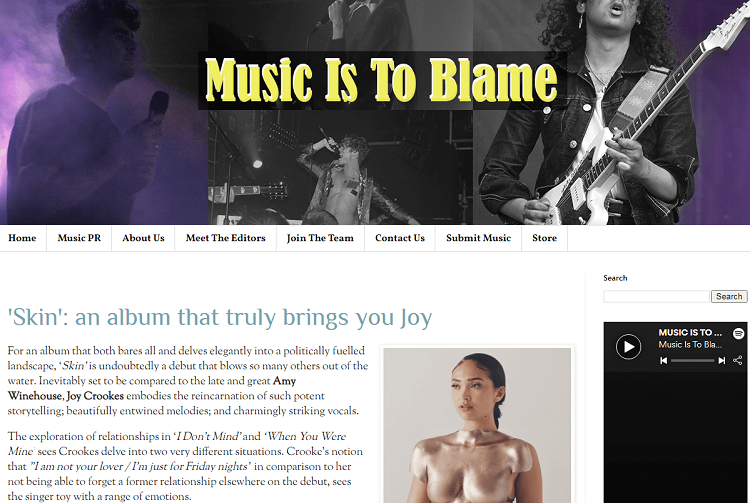 Music is to Blame consists of a team of more than 100 music journalists, working together to deliver great relevant content with an emphasis on indie bands.
The site promises to listen to every track sent to them via the MusoSoup platform, making this a superb blog for submitting your music to, for a chance of some decent exposure.
LIVE Music Blog – Best Live Music Blog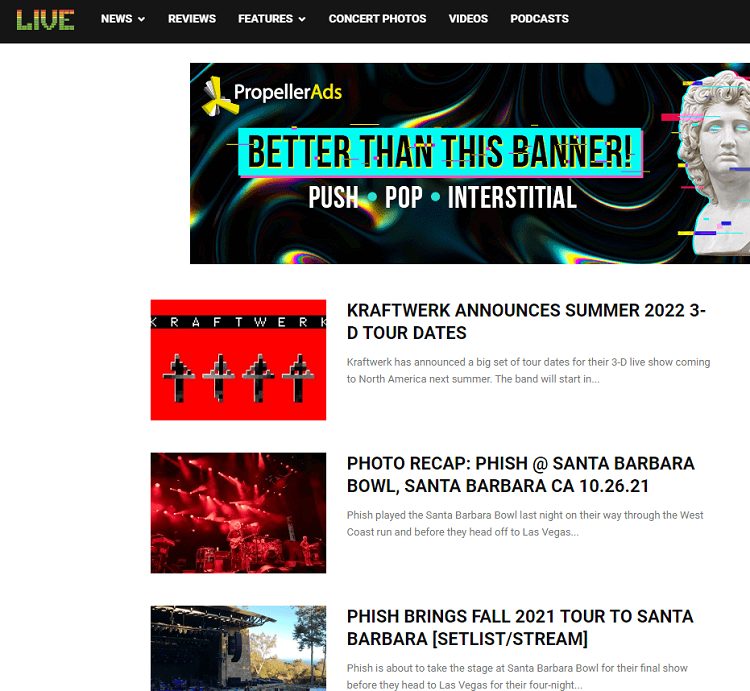 If you love live music, gigs, and festivals, then you'll find LIVE music blog a valuable resource to keep you up to date with all the latest music festivals and concerts, along with setlists and live streaming of some great gigs.
Relive past events with the Concert Photos Recap section and follow the news on all the latest music webcasts.
Guitar Junky – Best Blog for Musical Instrument Reviews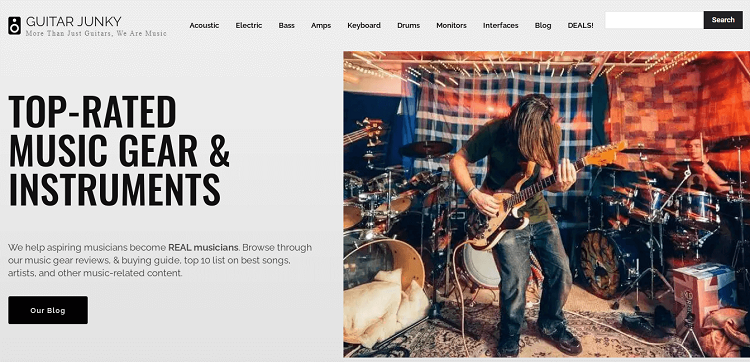 Aimed at musicians, but not just guitar players as the name might suggest, Guitar Junky brings you reviews of instruments and other music gear and technology.
There are buying guides and Top Ten lists covering kits for all types of guitars, keyboards, drums, and more.
Whether you specialize in country music, heavy metal, or indie rock, you'll find invaluable information on Guitar Junky.
That Grape Juice.net – Best Blog for Pop Culture and Gossip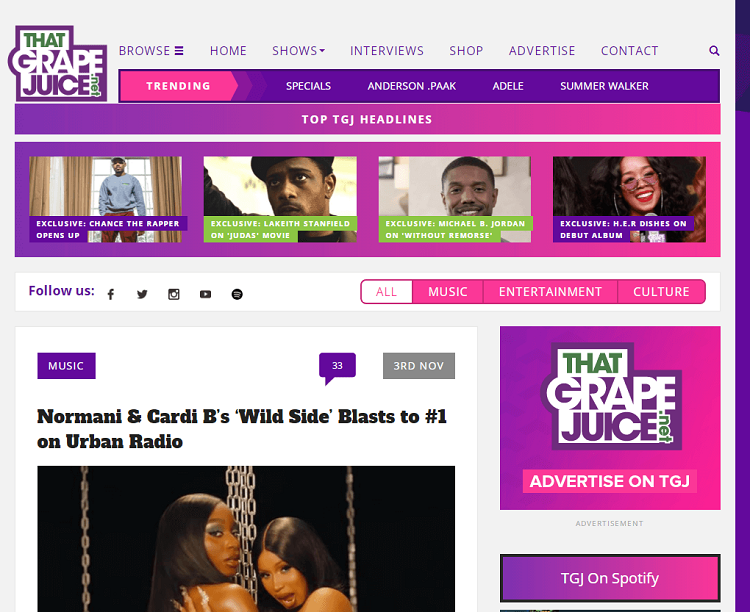 With a wide angle, covering topics from music to celebrities, entertainment, and culture, this all-around website is a great one to dip into.
Discover the latest news on your favorite artist, find a new favorite song for your Spotify playlist, and get all the latest gossip on the most popular musicians.
That Grape Juice.net is a must-visit for music fans who want to be in the know.
Song Exploder – Best Music Knowledge Blog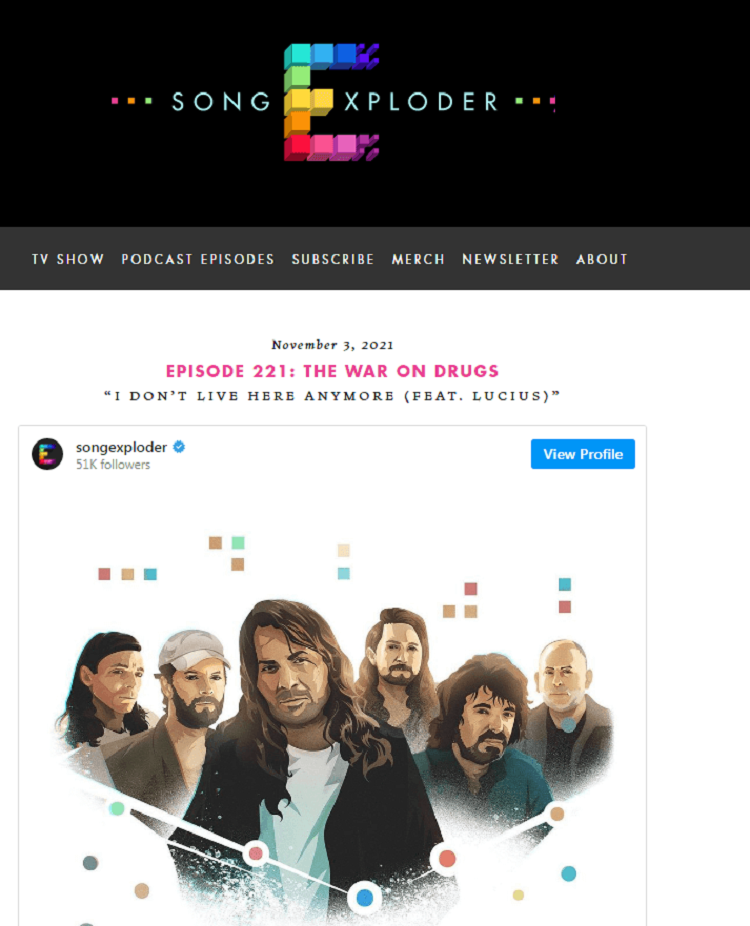 If you love to really understand the background of your favorite artists and the story behind the song, then Song Exploder is for you.
This podcast-based blog gives both emerging artists and popular musicians the opportunity to take apart their songs, and piece by piece tells the story of how they were made.
From the inspiration for the song to its composition and the technology and instruments used, it's a fascinating insight into some good music.
Pandora Blog – Best Music Recommendation Blog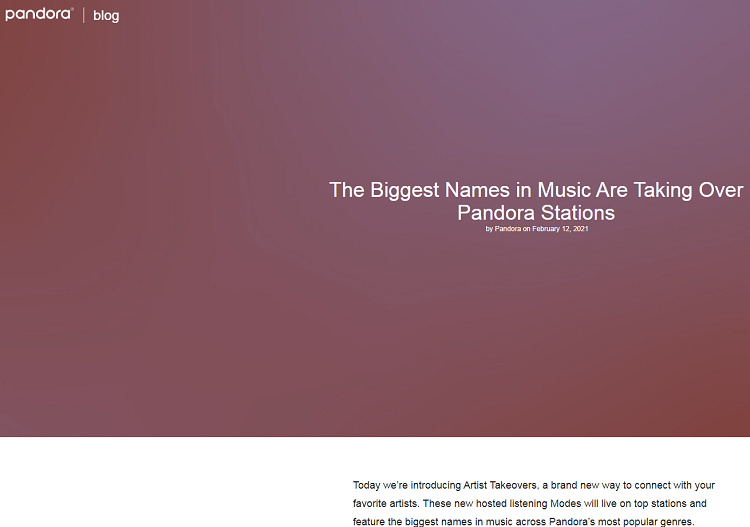 If you're one of the millions of users of the Pandora streaming service, you'll find the Pandora blog invaluable for discovering what's new on the platform and for new music discovery.
The blog covers music news with tips on emerging artists and unsigned artists to look out for.
BrooklynVegan – Best New York Music Blog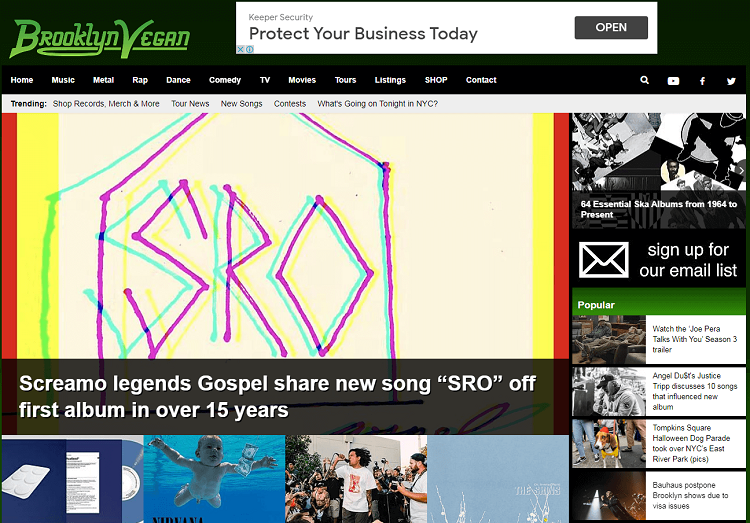 Focussing predominantly on live music events in the New York area, if you live in NY then this site is one of the best music blogs covering everything you'll need when planning some great nights out with live music, comedy, and dance listings.
However, there's also a wealth of music news with the latest releases from popular musicians so there's something for everyone here, regardless of location.
Classical Music.com – Best Classical Music Blog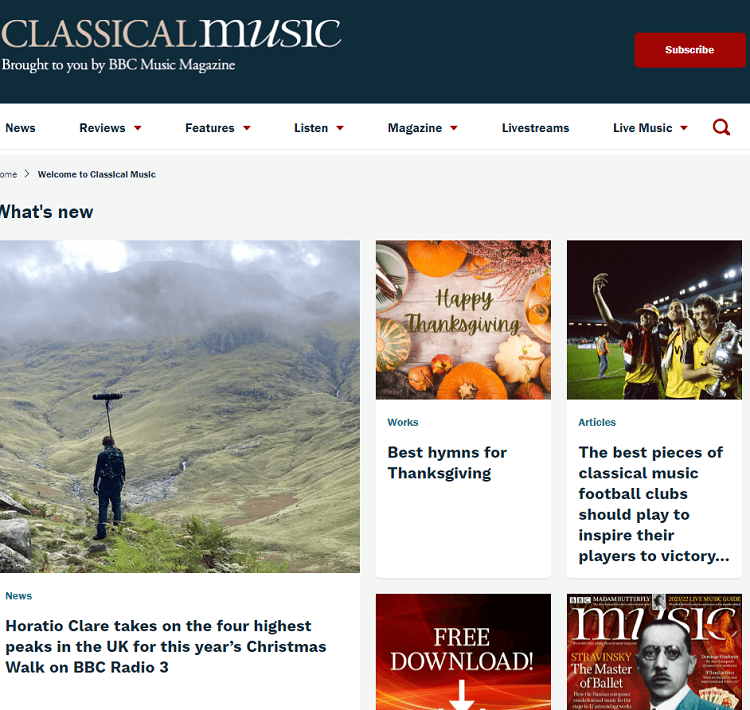 A highly successful music blog from BBC Music Magazine covering news, reviews, and features from the world of classical music.
With playlists and live streams from the BBC, this high-quality site delivers a lot of content for fans of classical, jazz, opera, choral music, and more.
FACT Magazine – Best Alternative Music Blog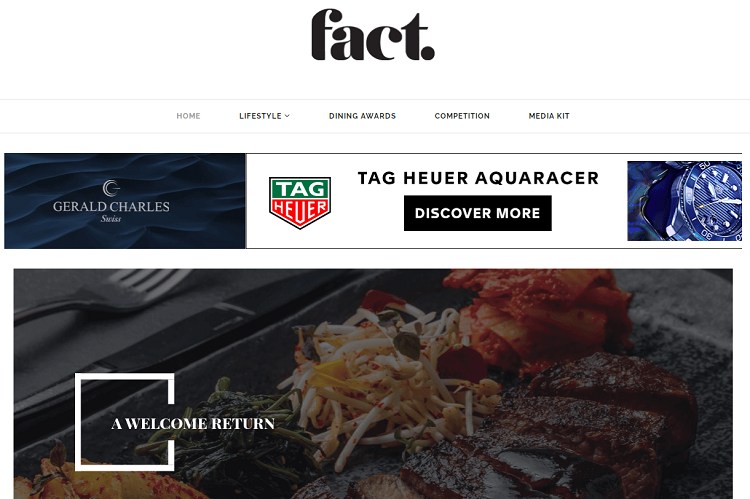 Launched in 2003, FACT is both a print magazine and an online audio-visual channel.
With a focus on alternative and emerging artists, FACT brings you films and documentaries, with a crossover between art, music, and technology, with electronic dance music being a powerful thread that runs throughout the amazing work you'll discover on this website.
Consordini – Best Music Production Blog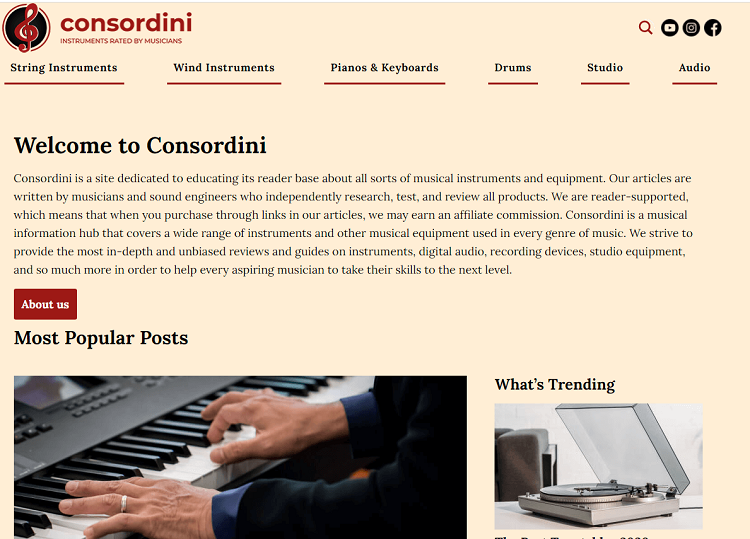 Consordini is a hub of information for music production and musical instruments.
Whatever instrument you play, and whatever music genre you prefer, there's no shortage of useful guides, tips, and reviews on Consordini.
Content includes expert guides covering digital audio, recording devices, and studio equipment.
Essential House – Best Deep House Music Blog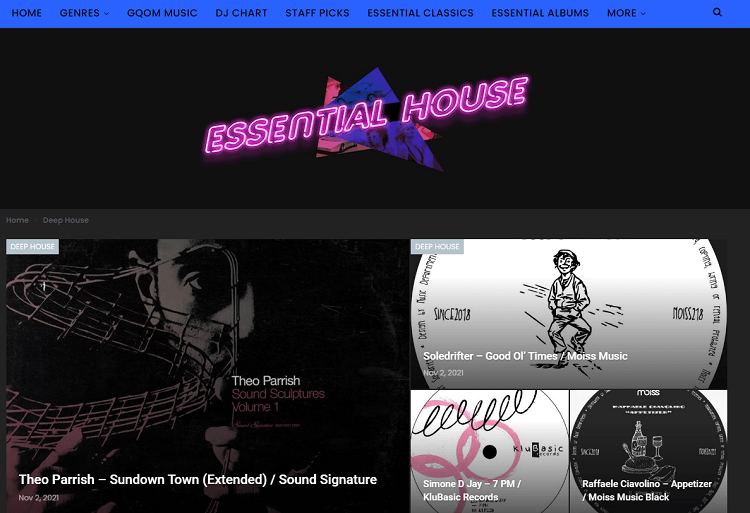 Specializing in all types of house music, from deep house to afro house and soulful house, Essential House is the home of house music.
You'll also find associated genres such as techno and chillout featured here.
Discover new music with album reviews and staff picks.
The Free Jazz Collective – Best Jazz Music Blog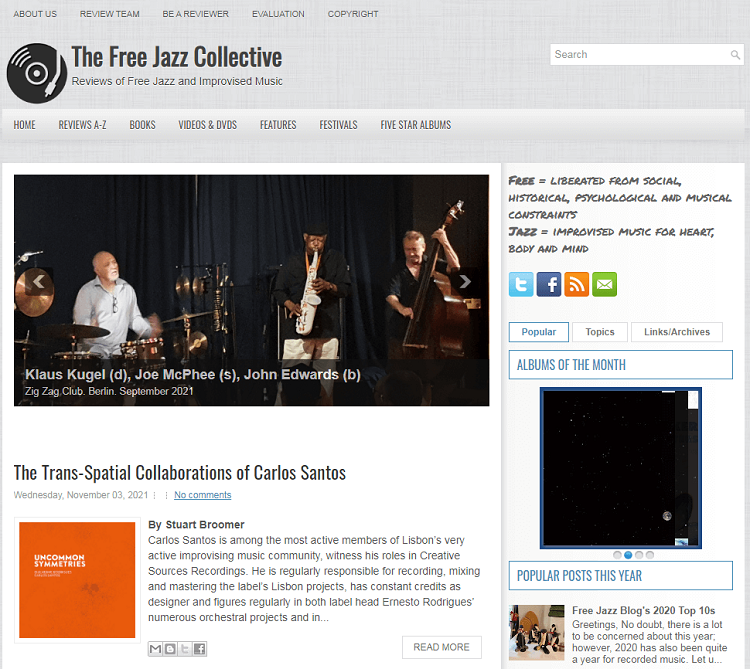 A comprehensive blog for free jazz and improvised music reviews and news.
Content covers albums and festivals as well as reviewing related content such as books and DVDs.
The popular Album of the Month feature highlights a new album every month so it's a great way to find new music.
DIY Musician Blog – Best Music Composition Blog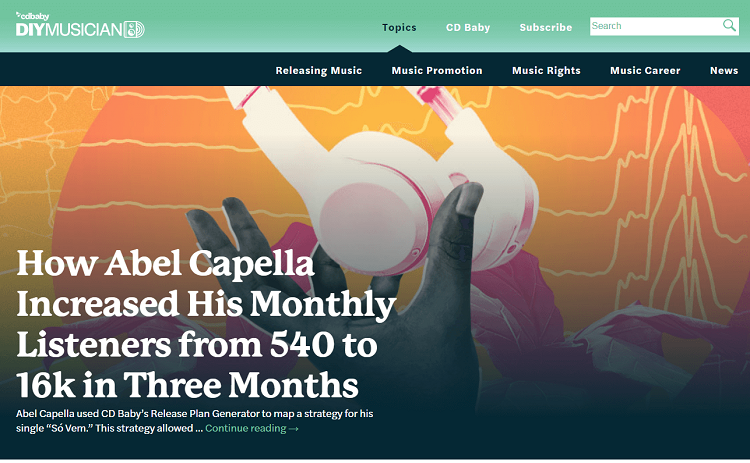 For an independent artist looking for top tips and guides covering every aspect of music composition and recording, music promotion, and your rights as a musician, this site is a valuable resource.
With the information that's vital but often overlooked such as your tax obligations, this is certainly one to bookmark if you're earning money as an artist creating independent music.
The Rambler – Best Film Music Blog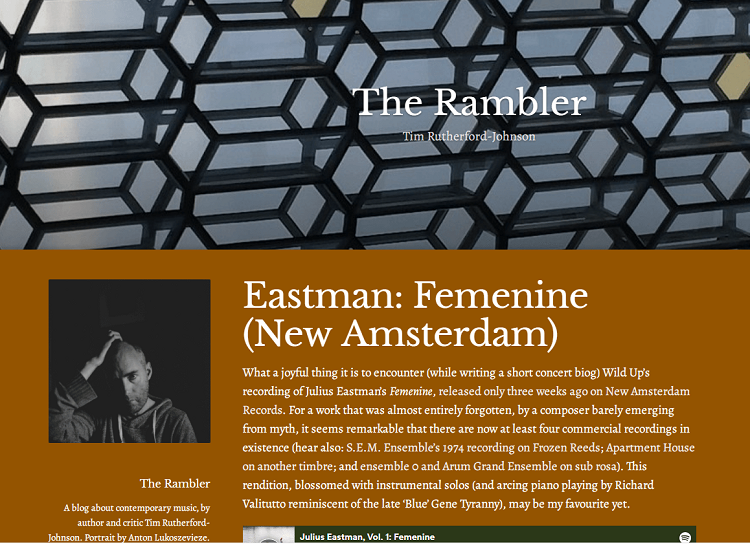 The Rambler is the work of the writer, speaker, and teacher Tim Rutherford-Johnson and brings you a critical analysis of contemporary music.
If you're looking for intelligent comments on your favorite film music composers, this is a great starting point.
Only Techno – Best Techno Music Blog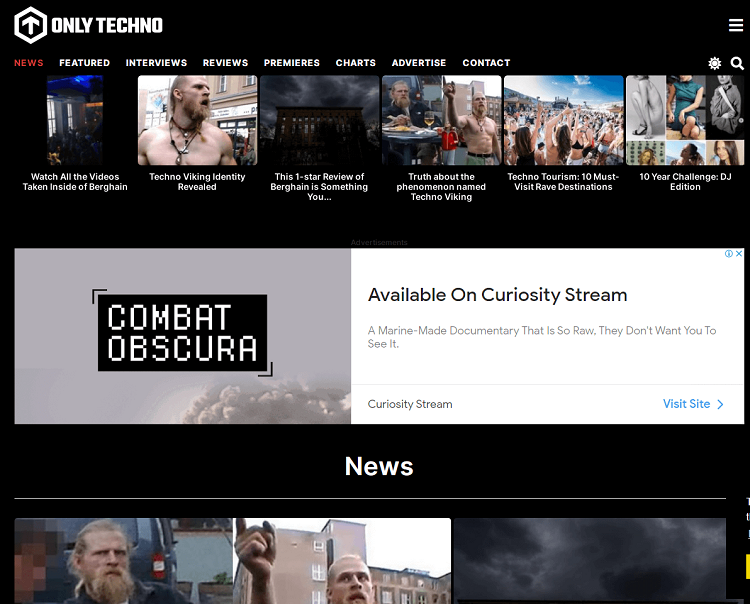 As the name suggests, Only Techno is the home of all things techno, with up-to-date music news, features, interviews, and reviews.
With information on the best clubs worldwide, and the latest from top DJs, you can easily keep up with the latest on the techno scene.
StringOvation Music – Best Music Teacher Blog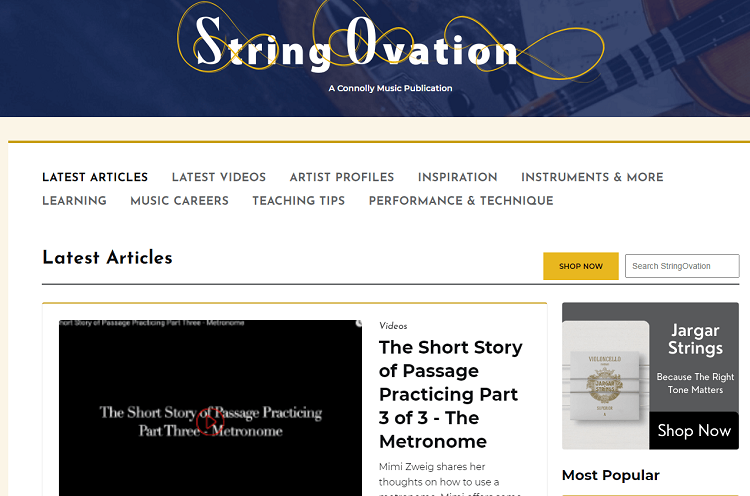 StringOvation is one of the best music blogs focused on inspiring and aiding teachers and string musicians.
There are plenty of handy instructional articles and videos to improve technique and aid with performance skills, as well as in-depth masterclasses, inspirational pieces, and some fascinating reading on the history and production of stringed instruments.
Psychology of Music – Best Music Psychology Website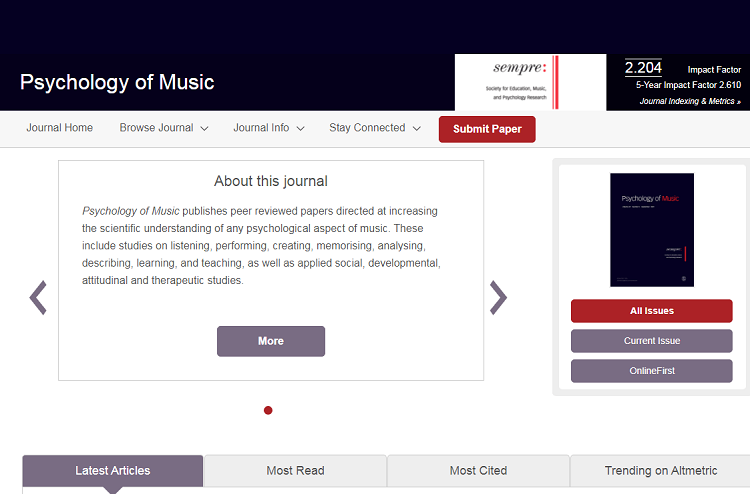 The Psychology of Music Journal publishes peer-reviewed papers regarding all aspects of the psychology of music.
Discover the results of studies across a wide range of fascinating topics such as the effects on the brain of memorizing, listening to, and creating music as well as the use of music in therapeutic, social, and developmental settings.
Christmas A Go Go – Best Christmas Music Blog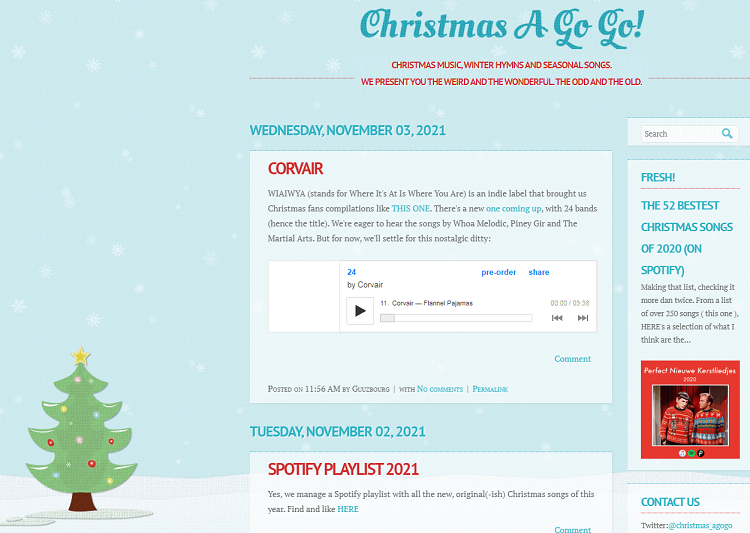 If you love festive music at Christmas time then this is going to be one of the best music blogs for you.
Covering everything from carols to rock songs, if it's Christmassy then it's allowed in!
Unsurprisingly you'll find most new content is posted in the lead-up to Christmas, but you can keep scrolling back to find some magical, wonderful, and just plain weird Christmas tunes.
Latino Music Cafe – Best Latin Music Blog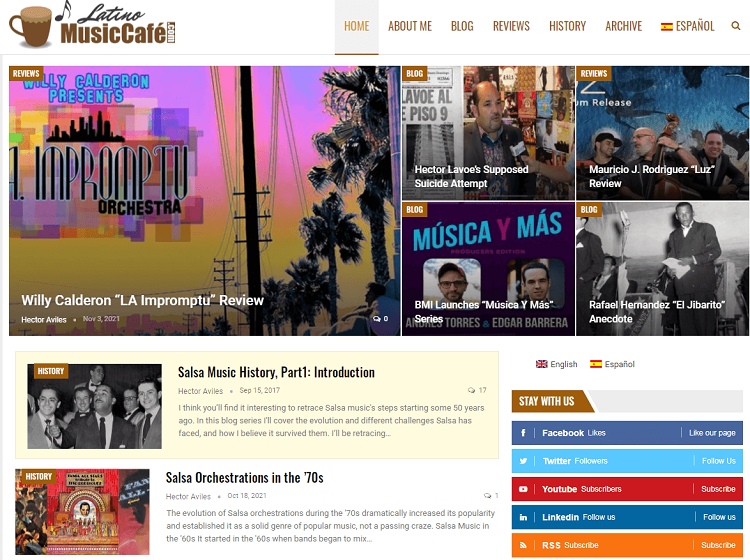 Created by a true Latin music fan and avid blogger, Hector Aviles, Latino Music Cafe is a comprehensive Latin music blog covering all styles of Latin music including salsa, trois, boleros, rancheras, and more.
You'll find the latest music news, but also some fascinating insights into the history of Latin music.
CMT News – Best Site for Country Music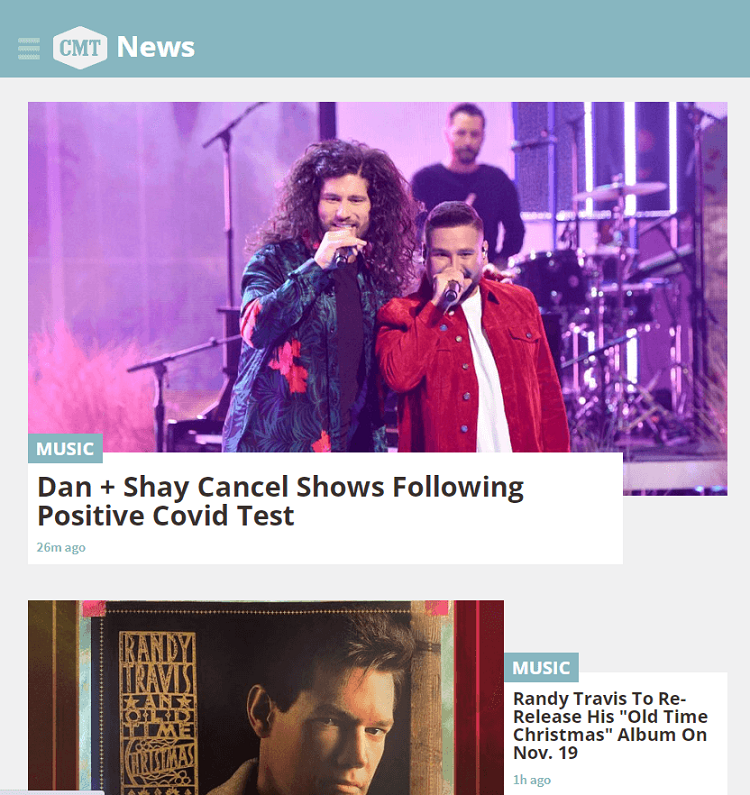 CMT News is the YouTube Channel for CMT, the Paramount country music show.
There are reams of content from concerts to interviews, all within the country music genre.
CMT certainly finds the more obscure artists you may not have heard of yet, so it's a super-channel for music discovery.
Gospel Centric – Best Blog for Gospel Music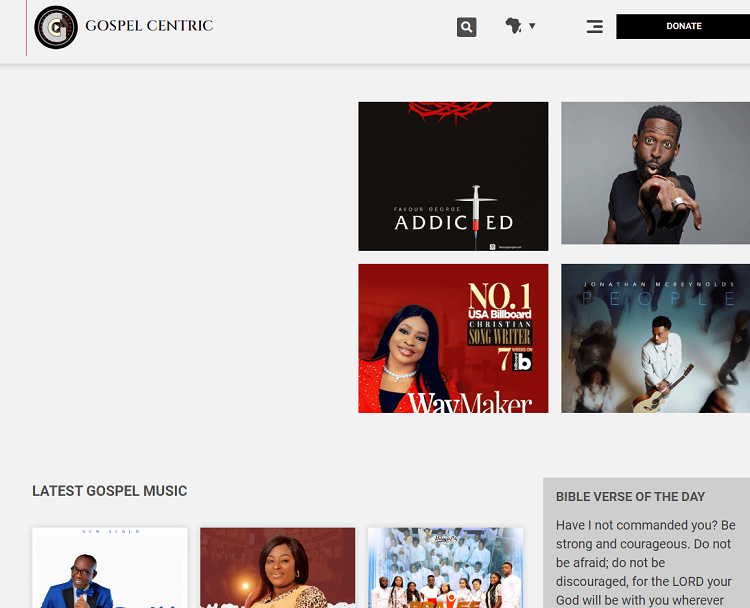 A worldwide resource for all aspects of gospel music with further Christian content and information regarding Christian entertainment.
The blog is regularly updated with new reviews and recommendations as well as artist features and Christian music news.
Stereofox – Best Music Recommendations Blog

If you're looking for a wide range of music, the team at Stereofox has got you covered. The blog which started in 2013 is now also a label and dwells in the space of instrumental, electronic, r&b, and hip-hop music.
The content is updated daily and the international team is making sure they truly stay on top of their game. Besides that, you're able to curate your own playlists with your favorite discoveries from the foxes.
You might be interested to check those related posts as well:
FAQ
What is the most influential music blog?
There are many influential blogs, each with its own unique audience.
If we take into account longevity, then the blogs associated with long-running magazines such as Mixmag and Rolling Stone could certainly be considered the most influential overall.
There are music blogs where you submit your songs for exposure but is it worth it?
Getting your music out there is so important.
How can anyone enjoy it, share it, and talk about it if they haven't heard it?
Submitting songs for exposure is definitely worth it, as long as you are wary of any sites that are charging for your music submissions or are asking for too much personal information.
What is indie music and where can you find it?
Simply put, indie music is short for independent music, any music that has been released outside of the large record labels.
Finding indie music is fun and easy, discover indie Spotify playlists or search online for blogs specializing in independent music.
How did music spread so quickly around the world?
From our heartbeat to our words, rhythm flows through our lives.
So it's no surprise that since the dawn of time, music has been a source of entertainment and communication.
Even when people cannot communicate with language, a tune can easily be learned and passed on to others.
Travelers have always shared music, and so it spreads rapidly, particularly now in our digital age.
Conclusion
Building your knowledge of music and discovering new music is exciting.
By visiting these top music blogs, you can explore a world of music discovery, read artist interviews and album reviews, and support independent musicians and unsigned artists.
We hope our selection of the best music blogs provides some great resources for any music lover.