A necessary but oh-so-dreaded step for anyone starting a new business is creating a business plan. It can leave even the most experienced businessperson lamenting and procrastinating for days and even weeks.
Fortunately, there is a way to remove all the guesswork and make the business plan creation process much more manageable.
Take advantage of one of the best business plan software solutions currently available in any business plan shop, and while it won't be able to create your plan for you, it will save time and guide you in the right direction.
What are the Main Benefits of a Good Business Plan?
Before introducing the best business plan software tools available, let's take a quick look at the benefits of business planning software. Just in case you needed convincing of their worth.
Simplifies the process: It doesn't matter what kind of business you run or whether you're just starting out or are a veteran. A helping hand will always come in useful when you're faced with writing an actionable plan. With the right software, the process will be simplified, and you'll be guided through the process step-by-step. You won't have to think in too much detail because the software will provide hints on what to include and remove.
Saves time: The business plan software will provide suggestions based on your ideas. It will also give you insights into meaningful financial data to include and the organization of your plan. Ultimately, this will save you energy and time.
Helps with your finances: Creating a business plan can be very nerve-racking, especially if you've got no previous business finance experience. Software for business planning will help you work your way around cash flow projections, financial statements, balance sheets, income statements, and other financial details and create a model you can use to back up your plan.
It can be used by multiple team members: You don't have to create your business plan on your own. Business planning software allows other team members to contribute relevant information. It helps you nourish a collaborative spirit, back the best use of everyone's talents and competencies, and give better results.
Customizable templates: The best business plan software tools will provide a range of templates, depending on the industry you operate in. With a library of templates at your disposal, you can ensure your business plan reflects your ideas visually.
One other benefit worth mentioning is that you can learn from the experience of others. Take pitch decks, for example. Many of the most successful businesses once had to create one of these at the start of their journey. Business plan software tools often include the option to create a pitch deck as part of the package.
Focus on being productive instead of being busy. – Tim Ferriss
18 Best Business Plan Software Tools 2023
A sound and strong business plan is critical if you want to make a good impression on potential financial investors. But where to start if you've never written a business plan before? The following list includes the top 17 best business plan software tools currently available.
These tools have been hand-picked because they satisfy the needs of a range of business owners. Each offers both common and unique features, and the one you choose will depend on your current needs.
1. LivePlan – Best Business Plan Software for Small Businesses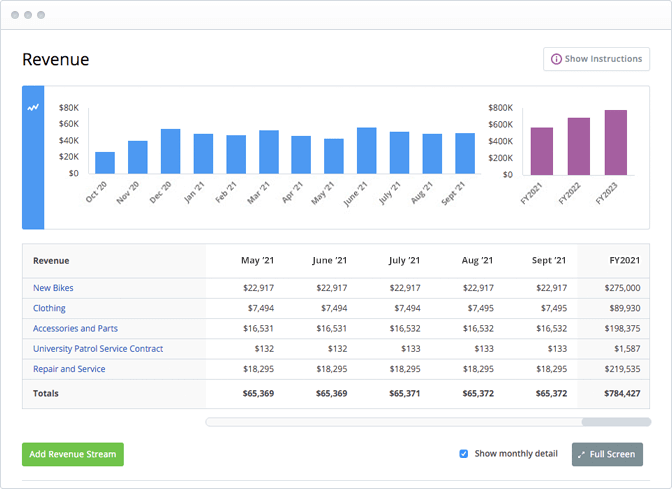 Live Plan by Palo Alto Software is a startup business plan tool but can also be used for companies that are already up and running. It is fully compatible with industry-standard Xero and Quickbooks accounting systems.
The main focus of this tool is on business planning, and it includes a range of features such as a one-page business pitch, financial forecasting, and business plan writing guidance.
Another helpful feature is the dashboard that allows you to check how things are going at a glance.
Throughout the business plan's building process, you'll be guided with instructional videos and text descriptions. There's also a free blog that contains hundreds of valuable articles.
Features:
One-page or detailed business plans are available
500 SBA-approved industry-specific templates
Step-by-step instructions
Financial performance tracking
Pros:
Technology integration such as Xero and Quickbooks
Export projects to an investor or creditor to help your presentation
Compare numbers and goals using a benchmarking feature
Cons:
Limited integration options
Pricing:
Live Plan comes with a 60-day money-back guarantee, and if you choose to pay annually, you get a 25% discount. Two packages are available:
The standard package is designed for anyone who needs a professional business plan and costs $20/per month.
The Premium package is designed for businesses that also need financial tools to help them operate and grow and costs $40/month.
2. Bizplan – Best Business Plan Software for Startups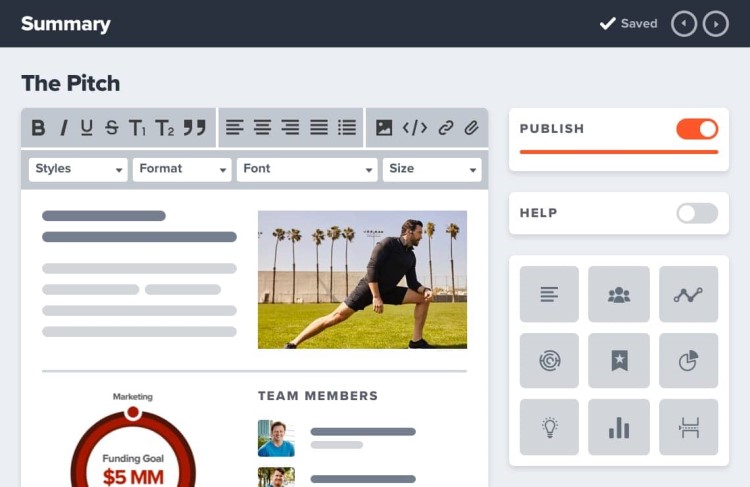 Bizplan is part of the Startup.com suite of business products. It provides a comprehensive solution for entrepreneurs who are looking for investors to help fund their business ideas.
As well as a business plan tool, you also get expertly-taught masterclasses and access to 20,000 experts who can provide individual counseling. There's also a funding platform where you can pitch directly to potential investors.
The business plan software tool walks you through each section of a business plan, ensuring you don't miss anything or get confused.
The interface is easy-to-use and includes various drag-and-drop templates and a progress tracker so you can monitor your progress.
Financial forecasting is an option that includes the setting of limits, and financial projections, plus you get access to multiple templates and financial worksheets.
Features:
Multi-user access
Access to Launchrock.com and Fundable.com
Access to masterclasses, mentors, and guides
Financial forecasting, reporting, and performance tracking
Pros:
A subscription gives you access to all of Startups.com's tools
Lifetime access subscription option
User-friendly drag-and-drop business plan builder
Cons:
Templates are not tailored to specific industries
Pricing:
Bizplan offers three pricing choices.
Monthly plan: $29/month
Annual plan: $20.75/month billed annually at $249/year
Lifetime access: One-time payment of $349
3. GoSmallBiz – Best Business Plan Software with the Most Extra Features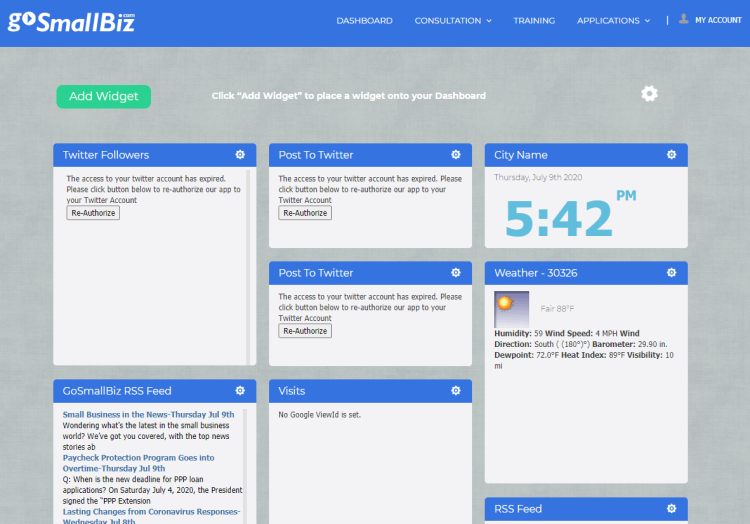 GoSmallBiz provides users with a comprehensive suite of business tools, one of which is a business plan builder. It is similar to many other tools in that it offers step-by-step guidance that takes you through each section smoothly. It also provides multiple financial report templates that allow you to track and manage your finances.
However, this particular package stands out from the others because it includes additional business management tools and consulting.
You get:
Unlimited business consultation
Customer relationship manager
Website builder and analysis
Digital marketing strategy dashboard
HR document builder
Business roadmap
Corporate minutes writer
Business courses and document library
Features:
Industry-specific business plan templates with step-by-step building wizard
Customer relationship manager with integration with MailChimp
Business documents and courses library
Pros:
Unlimited business consultation and an extensive library of online resources
Multiple business tools on one software package
Website consultation analysis and business assessment
Cons:
The monthly cost is expensive compared to other business plan software tools.
Pricing:
If you want to take advantage of all that GoSmallBiz has to offer, it will cost you $199 per year. However, there is the option to pay for just the business planning tool at the cost of $15 per month. In addition, there is a free 7-day trial available.
4. FinModelsLab – Best Industry-Specific Financial Models in Excel for Startups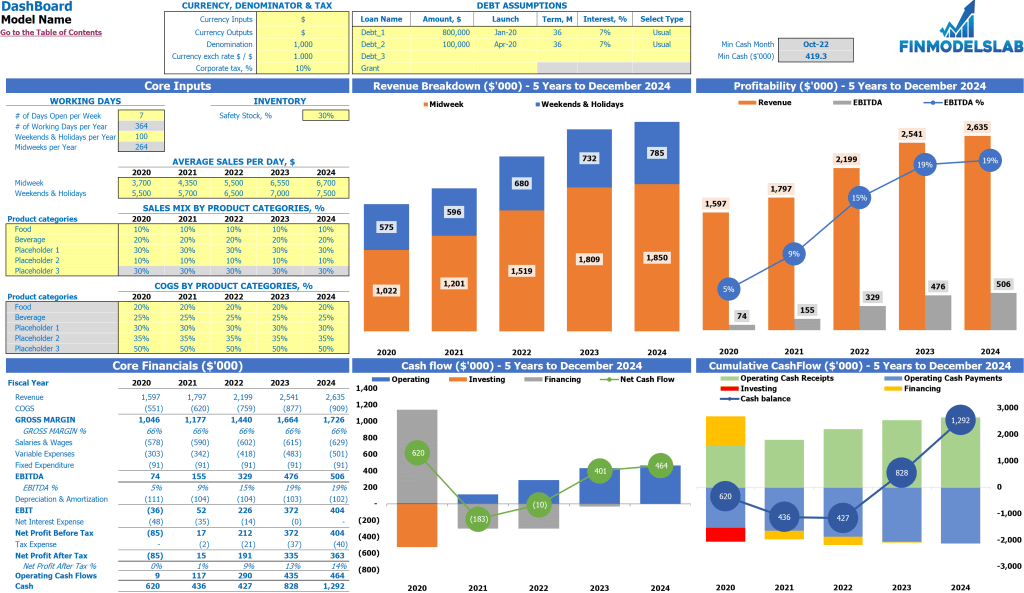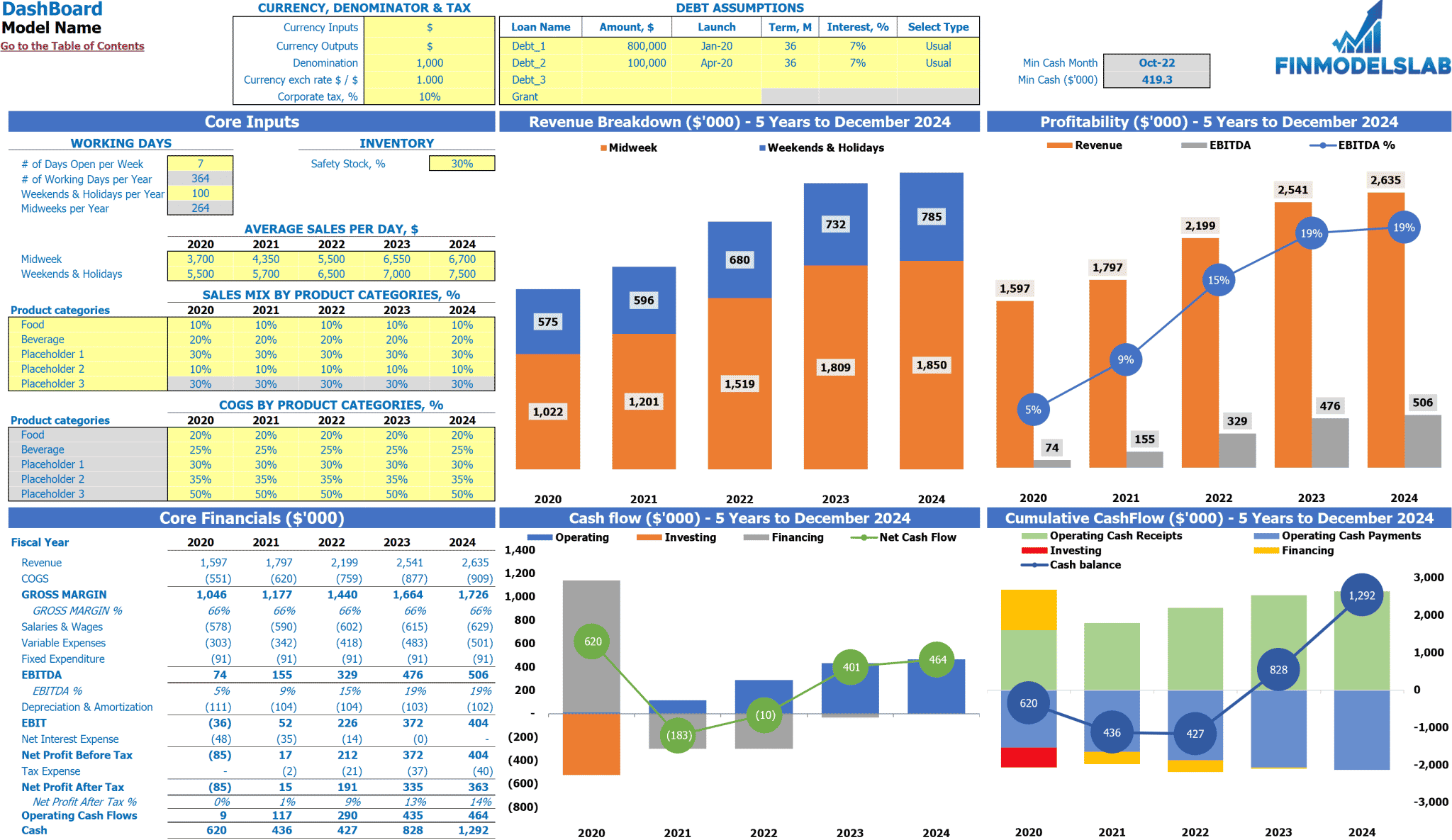 Want to create a high-quality financial projection for a startup or small business in a fast and easy way, see whether your business idea has potential, or whether you need funding. No problem! Create a financial model in Excel in no time with our easy-to-use financial modeling functionality.
The template will help you create personnel, sales, costs, expenses, investment, and funding projections. Want to customize the data to the extent you could customize a spreadsheet? No problem either! Our templates are fully editable; just plug in numbers as you would in Excel. Once you add your projection assumptions to the input section, you will have a complete Excel financial model.
Startup Financial Model in Excel Template includes and connects everything (assumptions, calculations, outputs) and presents it in an investor-friendly, deal-proven way.
Features:
500+ Industry-Specific Financial Model Templates
20+ Reports including Profit & Loss, Cash Flow, and Balance Sheet
Investor-ready. Complete pack of required reports for a Pitch Deck
Works for startups and small business
Pros:
One-time payment. No Subs. Lifetime access.
Excel/Google Sheets and MAC/PC supported
Industry-specific assumptions and KPIs
Simple-to-use. Minimal financial modeling experience is needed.
All-in-one. All necessary reports and calculations are inside.
Cons:
No third-party integrations. Manual inputs only.
Pricing:
Single price for fully unlocked Excel template.
Only $129 for a solid package of print-ready reports ready to pitch to investors.
5. Enloop – Best for Simple, Fast Business Plan Creation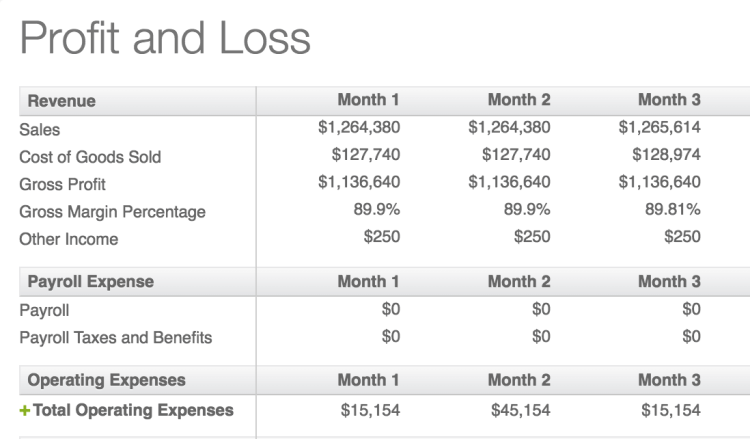 The platform is very straightforward and allows you to write your business plan online, guiding you through every step of the process.
Two features make this software stand out. They are Autowrite and TextSync. Autowrite allows Enloop to generate the framework of your business plan using the information you have already entered. This information might include management history or financial forecasts.
The Autowrite feature means a highly structured business plan can be created. The TextSync feature automatically updates items in your business plan and "data bubbles" are synced whenever you change the numbers.
Features:
Automated text writing and data-synced text
Free 7-day trial available
Financial forecasting and business plan scoring
Multi-user access
Pros:
Competitively priced for those with a limited budget
Simple and straightforward software, solely dedicated to business plan creation
Automatic text generation that streamlines the writing process
Cons:
Limited additional educational resources
Pricing:
You can try Enloop free for seven days. Then, if you like what you find, there are two packages to choose from.
The Detailed plan costs $19.95/month and includes three business plans, detailed financials, and three financial ratios analyzed. You can save 55% by paying annually.
The Performance package costs $39.95/month and includes three business plans, detailed financials, and 16 ratios analyzed. In addition, you receive a 60% discount with annual billing.
6. PlanGuru – Best for Financial Planning and Budgeting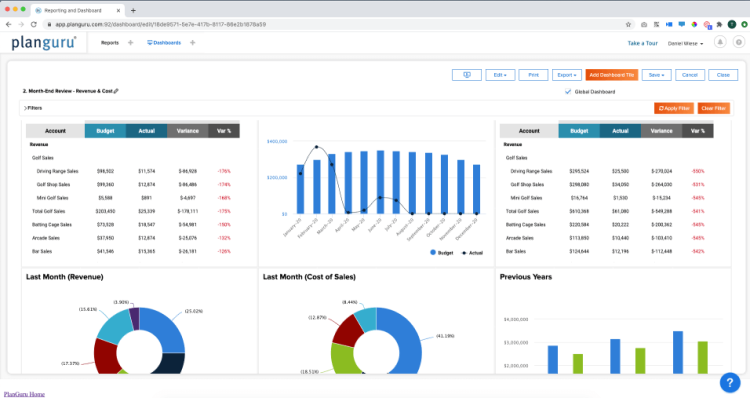 PlanGuru is a business plan app that includes financial reporting in the package. It's a very suitable option for small companies and teams but also works well for mid-sized businesses.
The tool includes several features that allow you to better understand your finances, which are a critical part of writing any business plan. It uses more than 20 forecasting techniques, calculates, and creates reports that you can then export to Excel, Word, or PDF.
To help you navigate the software, there are some case studies and video tutorials. These will also help you learn more about making profitable business plans.
Features:
20+ forecasting methods
Financial reports and strategic planning
Budgeting flexibility is unlimited
Financial software integration
Pros:
The software allows you to forecast for up to 10 years
A substantial library of resources
14-day free trial and 30-day money-back guarantee
Cons:
This is a very expensive business plan software tool, especially when it comes to adding additional users
Pricing:
PlanGuru is available as an app or installed Windows version. You have the option of trying either free for 14 days.
When you're ready to pay, the prices are the same for both. The cost is $99 per month. For additional users, you have to pay $29 per month. If you want to pay annually, the price is $899, with additional users costing $299/yr.
7. EquityNet – Best Tool for Investors
Fundamentally, EquityNet is a very successful crowdfunding platform. But that's not all that this company offers. EquityNet also provides cloud-based software that empowers you to build a business plan, and not just any business plan, either.
The business plan you build with the help of EquityNet will be accessible to potential investors and help them decide whether your business is worth an investment.
What sets EquityNet apart is that the tool can be used by those looking for investments and those looking to invest. Various calculators are part of the business planning tool, including a profit margin calculator, cash flow calculator, startup risk calculator, and valuation calculator.
Overall, the business planning platform is well-built and could help speed up the funding of your tech startup.
Features:
Services available to non-paying subscribers or paid members
It may help you find some investors
The step-by-step business plan-building process
Range of patented business planning tools
Pros:
Unique services are offered that match entrepreneur with investors
A free version of the software is available
The primary focus is not the development of business plans
Cons:
The monthly subscription is high if you're only going to use the business planning tool
Pricing:
Getting started with EquityNet is free, without the need for a credit card. However, certain premium features require a paid subscription. In terms of fees, EquityNet is priced at $199 per month for crowdfunding and analytical tools.
8. Infinity – Best Business Plan Software for Businesses of All Sizes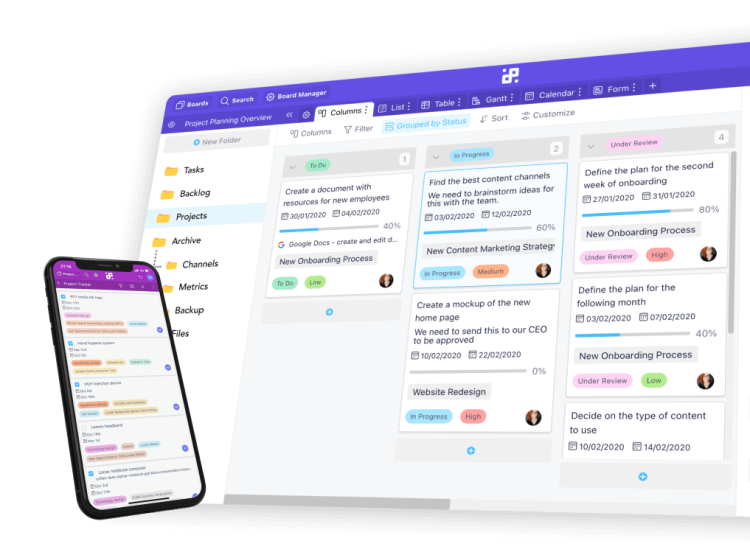 Infinity is an online business plan software that has been designed to meet the needs of a range of businesses and users. You'll find using it very intuitive and should have no issues adapting it to your own processes.
Even the most complex procedures are simplified so that freelancers, companies, and personal users can get the most out of them.
All the features you could possibly need for writing your business plan are included in one affordable package. In addition, the software can handle various data types, including charts, reports, numbers, dates, and text.
A myriad of customized business plan software options are also available should you want to organize your financial data and control who sees what. In addition, you can choose from a range of visuals when it comes to representing your data, including columns, lists, calendars, Gantt charts, and Kanban boards.
Features:
Dozens of templates
Multiple views
Set roles and permissions according to departments
Grouping, filtering, and sorting items on your business plan is a breeze
Pros:
Extremely flexible, thanks to the many customization options
Easy-to-use drag-and-drop technology
Very affordable pricing options
Cons:
Pricing:
Pricing is based on the size of your company. The regular per-user price is $9 per month. However, they are currently offering an exclusive lifetime deal. Prices start from a one-time payment of $149. The baseline plan includes five members, 25 GB of storage, access to all features, full customer support, and a lifetime account.
There is a 30-day money-back guarantee, no questions asked.
9. nTask – Best Free Business Plan and Management Software for Small Teams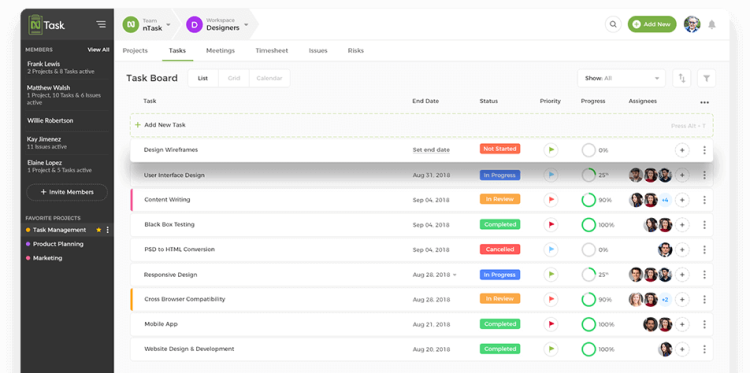 nTask is so much more than a mere business planning tool. It was developed with project managers, contractors, MNCs, and home users in mind to help manage daily workflow activities.
Some of the tasks you can perform with the help of this tool include allocating resources, defining budgets, collaborating with your team, and using Gantt charts to track progress.
If your team comprises five or fewer members, you can enjoy many of the software's benefits for free.
Features:
Integrates with Slack, Google Calendar, and Zoom
Allows multi-user management and real-time team collaboration
Users can create, organize, assign, and manage an unlimited number of tasks
You can invite stakeholders to view your projects/businesses
Pros:
You can bring all your business teams into one loop
Offers a complete project management suite
Includes a range of business meeting management features
Cons:
No templates are available at present
Pricing:
With nTask, you get a 14-day free trial. There's also a basic plan designed for freelancers and individuals that costs nothing at all. The basic plan offers 100MB storage, five members per team, unlimited workspaces and tasks, meetings, timesheets, and issues tracking. If you want additional features, the following plans might be of interest.
Premium Plan for SMEs and startups: Costs $2.99/month, billed annually, per user
Business Plan for Larger Corporates: Costs $7.99/month, billed annually, per user
10. ProofHub – Complete Business Planning and Collaboration Software

ProofHub is an award-winning business planning software tool that includes collaboration and project management features. This easy-to-use business software will help ensure your business runs smoothly.
Thousands of businesses and teams worldwide use this software for planning projects and keeping track of everything. In addition, you can use it for assigning personal or group tasks, ordering them by priority, creating reports, and self-managing.
It also works as a fantastic team collaboration tool, bringing teams, projects, and communications together and keeping things centralized and secure.
Features:
Multi-language interface
Integration with Google Drive and Calendar, Freshbooks, and DropBox
Includes Kanban Boards and Gantt Charts
You can use existing project templates or create new ones
Pros:
All-in-one tool for planning projects, collaborating, and keeping work organized
Reasonable price for numerous functionalities
Free trial available
Cons:
Limited third-party integrations
Pricing:
You can cancel your ProofHub subscription at any time, and an unlimited number of users can be included in the plan. A 14-day free trial that includes all features is one option to start with, or you can jump right in by choosing one of the paid-for plans.
These are as follows:
Ultimate Control Plan: You pay $89/month if you decide to pay annually or $99/month billed monthly.
Essential Plan: You pay $45/month if you decide to pay annually or $50/month billed monthly. With this plan, you're limited to 40 projects, unlimited users, and 15GB of storage.
11. BizPlanBuilder – Best Tool for Growth Strategy or Fundraising Planning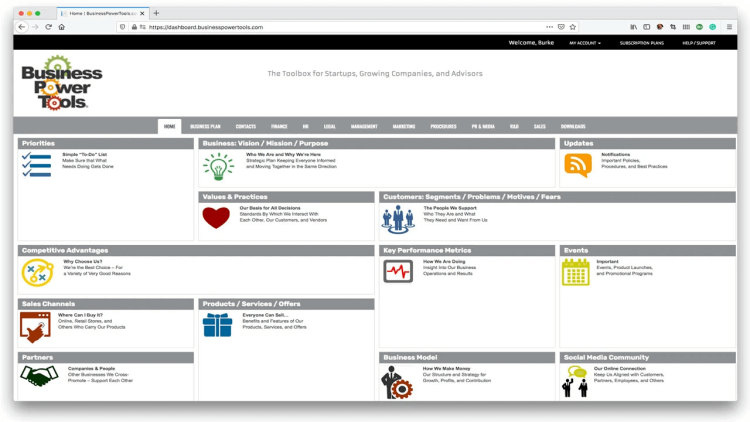 BizPlanBuilder was initially known as JIAN, but more recently transitioned to its current brand name. It's a great tool to have if you ever need to create a growth strategy or fundraising plan.
As well as walking you through the business planning process, it also allows you to share your plan with any potential investors.
Together with the range of pre-made industry-specific templates, the software helps you design a plan that is a good reflection of your business goals.
Features:
Explanation tabs and videos provide education and guidance
To help get your business plan off the ground, there is a library of industry-specific templates
You can use the tool to create a pitch deck
A collaboration feature lets your team members log in, view, and edit the business plan simultaneously
Pros:
The visuals are very appealing to the eye
In-depth presentations are an option
Create your plans using easy-to-use drag-and-drop templates
Cons:
Exporting PDFs are difficult
Pricing:
You can start your BizPlanBuilder journey with a free guest account for 14 days. It provides many of the features of the paid-for plans and gives you the opportunity to check that the tool is a good fit for your business.
If you want to business plan part of the package, there are two paid-for plans to choose from:
Strategic Planning, Startups, and Growth Funding plan cost $27/month for the 1st user. Choose annual billing at it will cost just $22.50/month.
The BizPlanBuilder Everything Plan costs $97/month for the 1st user. Pay annually, and the price is reduced to $80.83/month.
12. Wise Business Plans – Best Professional Business Plan Software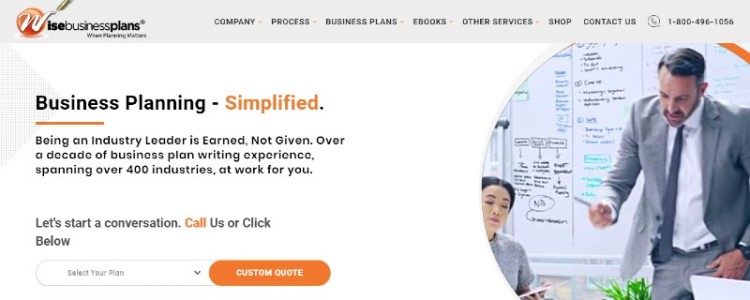 Wise Business Plans is a little different than the other tools on the list. In this instance, Wise Business Plans offers professional business plan writing services rather than software.
This option is relatively expensive, but you do get a business plan that's been written by an experienced business plan pro writer. Using the information you provide and their own research, these experts write your plan. One free revision is included in the price. If you want to make more revisions, you'll have to pay more.
Features:
Offers business formation services and business license searches
A range of options for different kinds of business plans
Plans are custom-written by a professional business plan writer
Business plans are completed in seven to ten business days
Pros:
Includes a lot of helpful information and options for forming your business
The company can help your new business establish business credit
Provides plan templates for franchises and non-profits as well as a diverse range of other business types
Cons:
Not an actual business plan software
Pricing:
Pricing is based on the scope of your business plan project. You can get a free quote online or give the company a call for a personalized quote.
13. Business Sorter – Best Software for Creating a Card-Based Planning System


Business Sorter uses its unique 273-card-sorting system to help you create a complete business plan in just a couple of hours.
You get to choose one of its pre-made cards and sort your business objectives for six different areas: finance, goods and services, sales, operations, people, marketing plan, and brand. Alternatively, you can create your own card.
You then have to define your objective and work your way through a series of steps in order to identify which one will help you achieve your goals. Business Sorter then compiles them into a business plan foundation.
If you want, you can customize it further, polish it, assign tasks to others, add notes, budgets, and much more.
Features:
273-card sorting system
Step-by-step instructions
Multi-user access and assignments
Detailed business plans
Pros:
Emphasis is more on internal matters such as operations
Helps you stay accountable to your business plan by creating tasks, and deadlines, and assigning tasks to team members
Low starting price
Cons:
Not as feature-rich as some other business planning tools
Pricing:
You can try Business Sorter free for 14 days. First, check whether the features are a good match for your business.
There are four paid-for plans to choose from. Pay annually, and you can save 33% on the following prices.
Small Team Plan: $10/month for three users and up to 4 extra users once you get started.
Medium Team Plan: $30/month for tenBut, firsts, and up to 12 extra users once you get started.
Large Team Plan: $80/month for 30 users and up to 20 extra users once you get started.
Enterprise Plan: For an unlimited number of users and an overview dashboard for multiple teams of clients, you have to contact the company for a custom price.
14. IdeaBuddy – Best Business Plan Software for a Limited Budget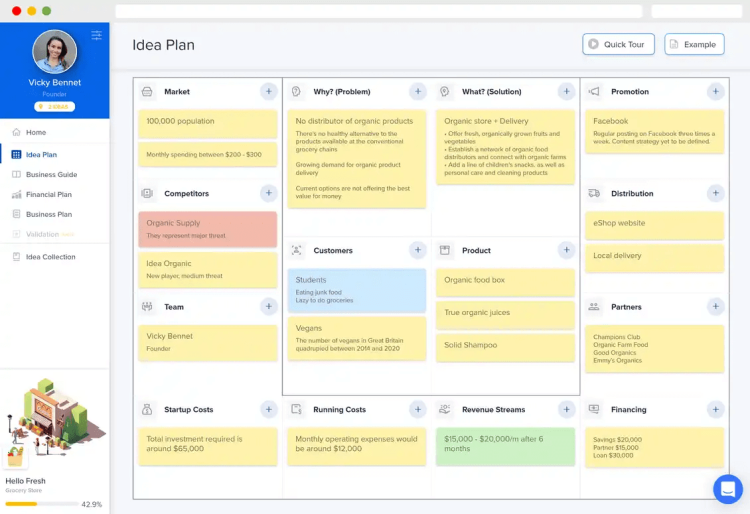 Using IdeaBuddy's business guide, you can understand the planning process better. With a clear understanding, you can use the software to develop your ideas, create a business model, validate your business concept, and create a very impressive business plan.
From your initial business idea to having an investor-ready business plan, IdeaBuddy helps you every step of the way.
Features:
A business guide that takes you through the five stages of the business planning process
Financial forecasting features in LivePlan
Templates for different kinds of businesses
The idea, financial, and business plan options
Pros:
Visually attractive
Idea templates
Innovative step-by-step business guide
Cons:
The 15-day free trial has very limited features.
Pricing:
IdeaBuddy has a range of affordable plans, plus you can also get lifetime access starting from $89. If you're not satisfied with your purchase, there is a 15 days money-back guarantee.
Three plans are available:
Dreamer plan for creative mavericks who want to hone and refine their ideas: $45 per year for one collaborator and one idea.
Founder plan for aspiring entrepreneurs serious about starting a business: $85 per year for three ideas and three collaborators.
Team plan for startups and businesses with plenty of ideas and a limited budget: $165 per year for 30 ideas and 30 collaborators.
15. iPlanner.NET – Best for Industry Specific Business Plan Templates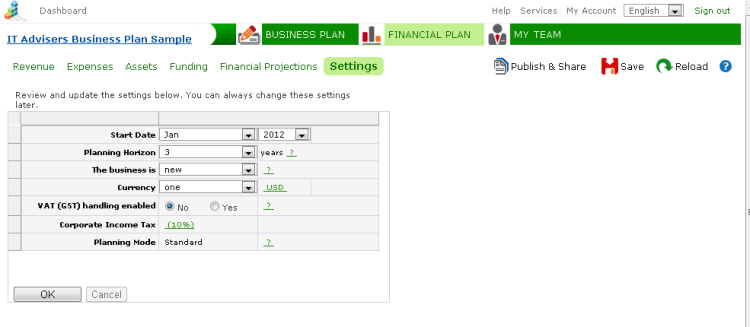 iPlanner.NET offers software that works as a business planner for new enterprises and also as a project management tool.
Using the business modeling framework, you can generate a business model in real time. At the same time, you can collaborate effectively with your team.
In addition, it offers a wide range of user-friendly business plan templates for all manner of industries. You can also integrate it with Dropbox and Microsoft Office.
Features:
Massive library of how-to articles and business sample plans
A step-by-step wizard guides you through the process
Personalized assistance provided by expert mentors
Two levels of pricing based on the number of projects saved in the program
Pros:
Clear and flexible setup for collaborative planning.
You can work in offline mode and then integrate it back into the online mode.
Multiple output tools allow you to export documents to Microsoft Word, HTML, or PDF files.
Cons:
No month-by-month payment option.
Pricing:
Pricing is based on the duration of your project and the number of projects.
The Professional Plan is for business owners who want to create one business or financial plan. Prices start from $24 for a minimum of 3 months. Six months costs $39, while 12 months costs $55.
The Corporate Plan is designed for several people to use and those who need multiple projects. Prices start from $59 for a minimum of 12 projects over six months. For 12 months, the subscription increases to $92.
16. Business Plan Pro – Best Business Plan Software for Small Businesses (Not Cloud-Based)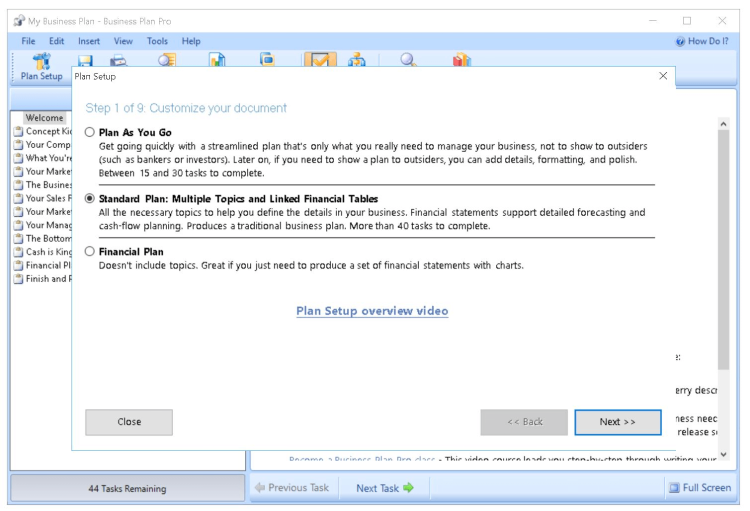 Business Plan Pro comes from the creators of LivePlan. It is actually an offline version of its cloud-based solution. Unfortunately, all the bells and whistles of cloud-based software are missing too.
Using one of five hundred professional templates, you can customize them in many ways to make a business plan of your own. As well as the vast number of plans and templates to choose from, you also get additional support for planning financials and consultancy services.
Features:
Using the drag-and-drop graphic forecaster tool, you can create visually appealing forecasts
You can import data directly from Quickbooks and export your business plan to Excel, Microsoft Word, and PowerPoint
Performance dashboards track sales and budgeting
Milestone scheduling feature
Pros:
60-day money-back guarantee
A wide range of business plan maker templates
Detailed guidance for businesses
Cons:
No collaboration opportunities
Pricing:
You can try Business Plan Pro risk-free with a 60-day 100% refund guarantee. Two editions of the software are available.
Premier Edition: $159.95
Standard Edition: $99.95
17. Trello – The Best Business Planning Software for Startups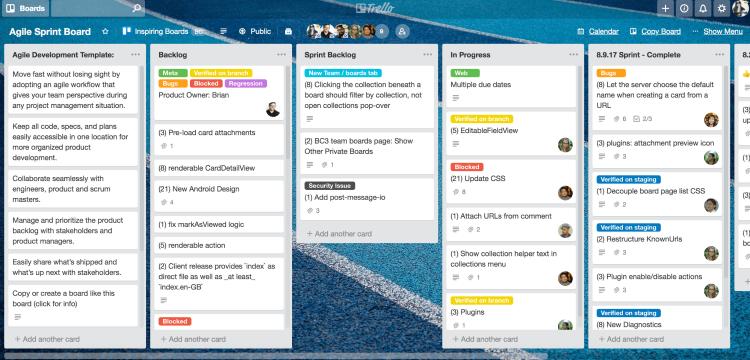 You can use Trello for determining your business goals, and key activities, mapping priority tasks, identifying stakeholders, and determining the resources you need to achieve your goals.
You can enjoy many of the software's features for free, and even if you need extra features, the price won't break the bank.
Trello can also be used for conducting competitor, industry, customer, and SWOT analyses, calculating funding requirements, writing revenue models, and calculating expenses.
To ensure your team functions seamlessly, this business planning software integrates with Gmail, Dropbox, Slack, and Outlook.
Features:
Custom backgrounds and templates
Scheduled commands
Workflow automation
Android and iOS apps are available
Pros:
A valuable tool for outlining requirements, and expectations and creating a coherent business plan
Above-average free plan with affordable add-on features
Great tool for assigning tasks and team collaboration
Cons:
Better suited for smaller projects
Pricing:
Trello has a free plan designed for individuals or teams looking to organize anything. If your team needs to manage more work and requires scale collaboration, there are three plans to choose from:
Standard Plan: $5 per user per month, billed annually.
Premium Plan: $10 per user per month, billed annually. This plan is best for teams up to 100 that need to track multiple projects and visualize work in various ways.
Enterprise Plan: $17.50 per user per month, billed annually. This plan is designed for organizations that need to connect work across teams with more security and controls.
18. Asana – Most Powerful Business Planning Software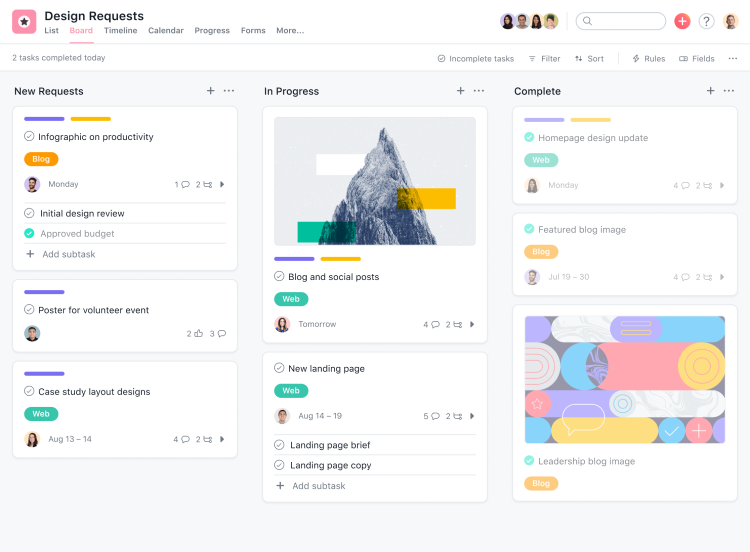 Asana is one of the most popular project management tools available, and it also makes the planning process much simpler and more empowering. It integrates with Zoom, Slack, and Outlook.
Use Asana for your business planning, and it will help you set future goals and achieve them. Once you've created your business plan, you'll be able to share it with partners and get almost immediate feedback.
Features:
Android and iOS Apps
Shared and Private Access an Option
Document Management and task workflow automation
Task analytics
Pros:
Asana's interface is easy-to-use, which leads to a better user experience.
It is a well-integrated tool that integrates with other project management apps such as Slack, Microsoft Teams, and Google Drive.
This tool is heavily focused on collaboration.
Cons:
Asana's task assignment features are limited.
Pricing:
Asana is another tool you can use for free for as long as you need to. If you think you need more features, there are two paid-for plans.
Premium Plan: $10.99 per user, per month, billed annually. If you'd prefer to pay monthly, the price is $13.49 monthly.
Business Plan: $24.99 per user, per month, billed annually, or $30.49 billed monthly.
You might be interested to check those related posts as well:
FAQ
What Are The Three Main Purposes of a Business Plan?
The three most important purposes of a business plan are:
Creating an effective strategy for the growth of your business
Determining any future financial needs
Attracting lenders and investors, such as VC funding and angel investors
What are the 4 Types of Business Plans?
Business plans come in various shapes and sizes, but they can be roughly divided into four distinct types.
The Mini plan: This is a plan you can read or download quickly. It will include most of the same ingredients as a longer plan but will cut to the highlights. It's all you typically need for a small-business venture and could give you a competitive advantage.
The Presentation Plan: PowerPoint presentations have changed the way many business plans are presented. Presenting your business plan as a deck can be very powerful.
The Working Plan: This is a tool you use to operate your business. It should be long on detail but short on presentation. It is a plan that is generally intended for internal use.
The What-If Plan: A variant on your working plan is good to have should you face unusual circumstances. For example, you might want to prepare a contingency plan when you're looking for bank financing.
What is the Most Important Part of a Business Plan?
The executive summary is possibly the most essential part of any business plan you write. The main objective of this section is to get an investor to read the rest of your business plan. It might be the only part that gets read, so make it as perfect as possible.
How Often Should You Update Your Business Plan?
The most honest answer to this question is that you should be updating your business plan constantly. Whenever something changes, you should update your plan. By updating it consistently, it will become a long-term planning process that sets up your strategy, objectives, and the steps you need to take.
It might not be realistic to update your business plan constantly. So, you should aim to update it at least once a year. An essential part of the planning process is watching the difference between the plan and the actual results.
You need to be keeping track of where, why, and how you were wrong. Tracking your plan in this way is key to effective management.
Conclusion
In this list of 17 best business software tools, there should be one that makes your life easier. Now you've reached the end, you might already have one in mind. If not, go back to the list and see if there's one that catches your eye.
When you're trying to decide which one is best for you, consider the specific features you're looking for, and consider your business budget. Doing this means you'll have a set of criteria in mind when exploring the different solutions.
Whichever one you choose, it will decrease the difficulty and drastically reduce the time it takes to create a comprehensive, investor-ready business improvement plan.
In addition, you can expect it to make the process seamless and deliver a professional plan you will use to guide your business for many years to come.