A solid marketing plan can make or break a company in today's competitive online business environment. A well-designed content marketing strategy has the potential to help your business grow by targeting new customers and increasing engagement with current clients.
To help get your creative juices flowing, take a look at a few of our favorite marketing websites — all created by industry experts, by the way. And we've also thrown in a few great blogs that focus on marketing tips so you can brush up on topics such as conversion optimization and landing page development.
Best Marketing Blogs and Websites in 2023
There are tons of blogs and websites with examples and tips you can use to develop or improve your marketing strategy. Many of the websites on our list provide services designed for specific industries — think eCommerce and SaaS companies.
Others offer information about tasks such as creating social media buzz and affiliate marketing. Below you'll find reviews of our favorite internet marketing blogs and websites, many of which offer marketing and eCommerce services to help companies of various sizes on their digital journeys.
1. Unbounce — Best Conversion Blog and Landing Page Advice
Unbounce offers an easy-to-navigate, one-stop solution for content development and management. It helps marketers and small business owners design landing pages, social media marketing campaigns, and more. It even has services to help with new lead generation.
The platform is a great resource for eCommerce and SaaS companies, as well as for organizations that deliver professional services and small businesses. The site even has a blog with tons of helpful tips on topics ranging from landing page development to search engine optimization.
Available products and services:
Integrated services for digital marketing agencies and content-creating business owners
Pop-up and sticky bar creation widgets for added style and website functionality
Smart Copy feature to quickly create new content that resonates with a brand's tone and style
AI-informed A/B Testing for landing page ads and seamless Google Analytics integration
Mobile device-optimized email marketing campaigns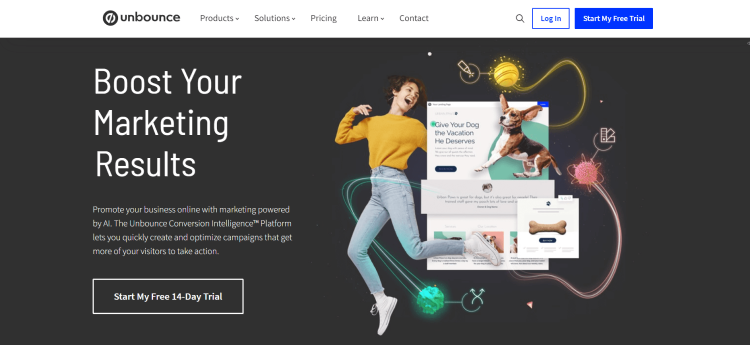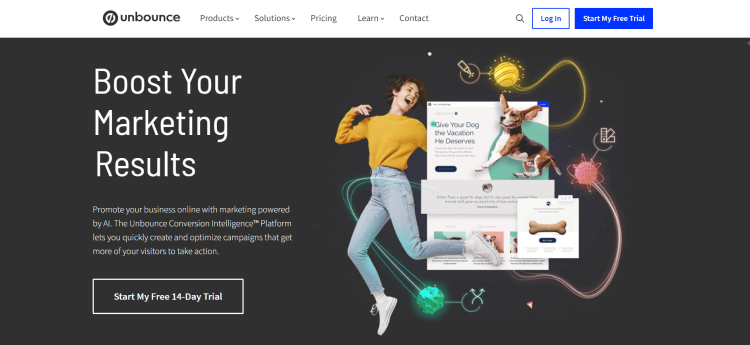 2. Copyblogger — Best Content Marketing Blog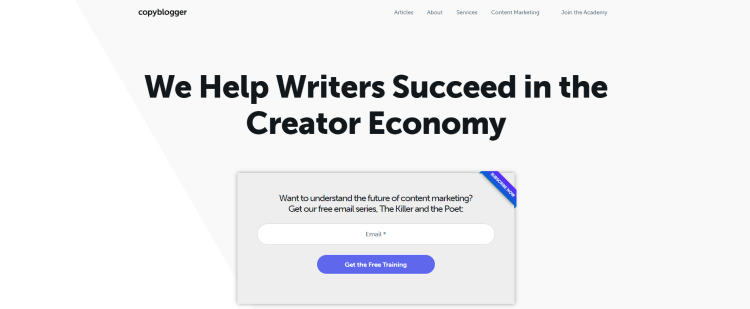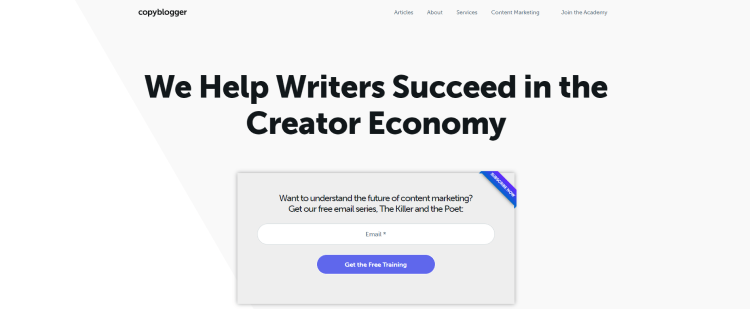 Copyblogger began as a content marketing blog back in 2006 — but it's grown and expanded substantially since then. It now offers a source of well-researched, up-to-date information about the latest trends in Marketing Land, along with a suite of digital marketing tools through affiliates such as Digital Commerce Partners.
The Copyblogger site itself is best thought of as an information resource — head there for informative articles on topics ranging from video marketing to advise on content strategy development. It even has free resources for those just starting out to help you develop powerful social media and content marketing strategies.
Available products and services:
Full-service SEO services, including related email marketing and lead development
Access to vetted writers with extensive content writing experience
Content writing, email marketing, SEO, and online business masterclasses for professionals
Blogs dedicated to helping new businesses get started with internet marketing, SEO, and more
Free email list with regular updates on the latest developments in content marketing
You must market your marketing. – Jay Baer
3. HubSpot — Best Inbound Marketing Blog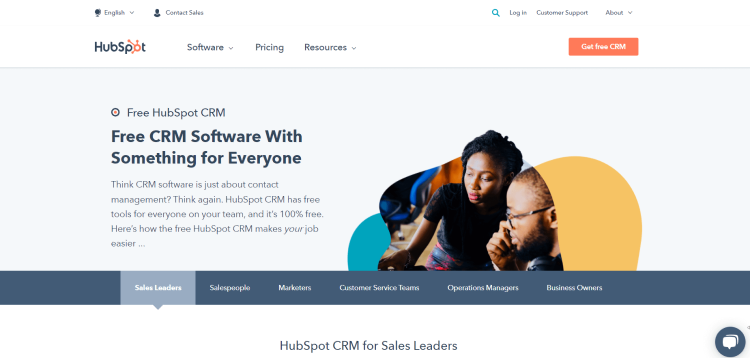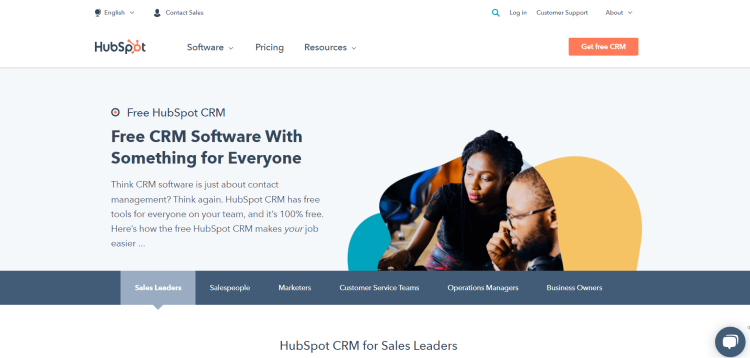 HubSpot offers a range of "hubs" — each of which is dedicated to meeting a specific segment of business needs — from marketing to operations. The company provides integrated inbound marketing strategy development tools via its CMS that help businesses increase engagement, leads, and return on investment.
The Hubspot blog features articles on marketing topics such as working with analytics and growth marketing. There's even a free inbound marketing course you can sign up for to learn more about this key digital marketing concept.
Available products and services:
CMS Hub features tools to organize, create and deliver content
Operations Hub to organize information for optimal business process efficiency
Tons of integrations and extensions to customize websites and apps
Software to streamline customer service interactions
Marketing Hub with lead generation and marketing automation options
4. John Doherty — Best Sales and Marketing Blog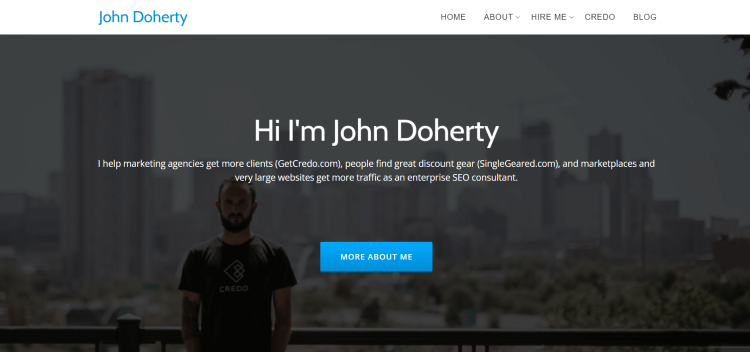 John Doherty, founder of Credo — a company that brings digital marketing professionals together with businesses searching for advertising guidance — has a blog that offers tons of information about finding a great digital marketing agency and how to leverage online marketing to increase sales.
The site offers tips on how to get the most out of working with a digital marketing agency and even how to hire an SEO expert. Make sure to check out the site's recommendations section to find books and resources with information to help budding entrepreneurs get up and running.
Available products and services:
Digital marketing agency coaching to improve B2B customer engagement
SEO audits to document current marketing deficiencies
SEO strategy development to improve digital marketing campaigns
SEO consulting on retainer to assist with the development of a comprehensive digital marketing campaign
5. Buffer — Best Social Media Marketing Blog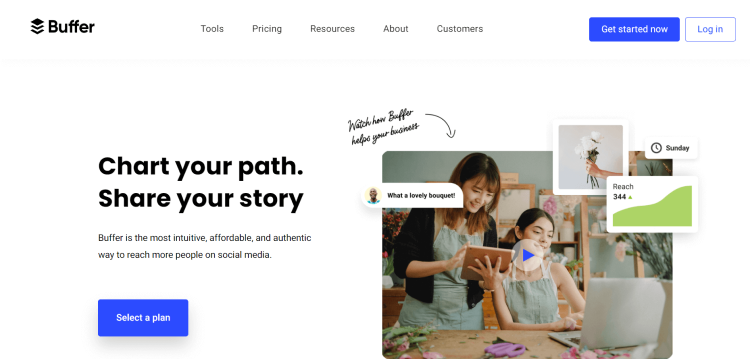 Buffer is the place to go for social media marketing tips and tricks. It offers tons of resources for companies and agencies of all sizes looking to increase their chops when it comes to marketing on Facebook, Instagram, YouTube, and more.
Fun topics addressed on the site include video marketing, content creation, and how to effectively work from home. There's even a blog with tips on how small businesses can quickly get started with Instagram marketing.
Available products and services:
The free tier includes a complementary landing page builder
Comprehensive small business social media and digital marketing toolkit
Access to analytics, including performance overviews and campaign analysis
Social media planning and scheduling, including Twitter mentions and hashtag suggestions
Streamlined Facebook marketing and Instagram tagging options
6. BigCommerce — Best eCommerce Marketing Blog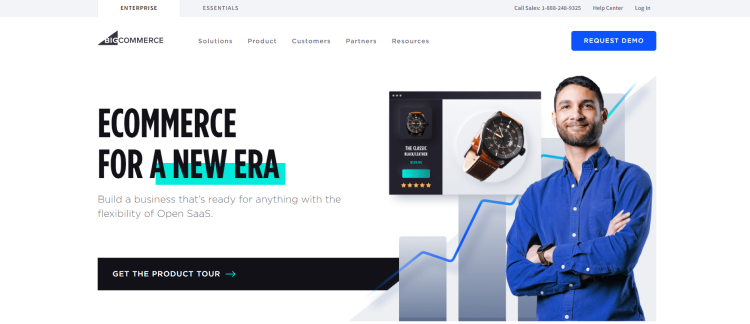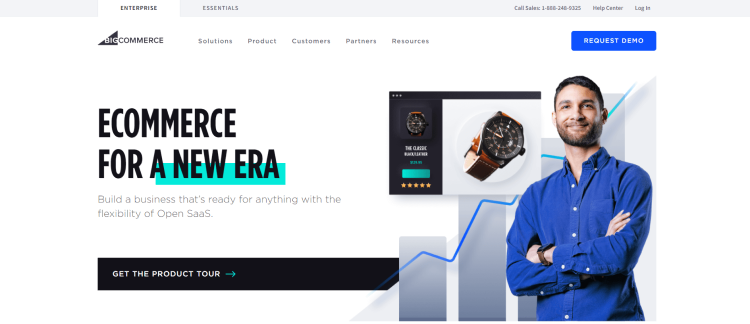 BigCommerce makes our list of the best marketing blogs and websites thanks to its comprehensive blog dedicated entirely to eCommerce. Head here for articles on topics ranging from sustainability to cybersecurity in the big-time eCommerce space.
While businesses of any size can benefit from the site's articles, podcasts, and video presentations, BigCommerce focuses mostly on enterprise customers seeking to develop, maintain or grow an online profile.
It offers comprehensive eCommerce solutions for B2B, wholesale and international concerns in the health and beauty, apparel and fashion, manufacturing, and automotive industries.
Available products and services:
Launch Services to quickly establish an online presence
Coaching enterprise customers new to eCommerce
Success Services to streamline current eCommerce merchants' account management and technical issues
Customer Success Managers to assist in the development of an eCommerce strategy
Storefront design options with a theme and checkout customization
7. 9Clouds — Best Automotive and Healthcare Sector Marketing Blog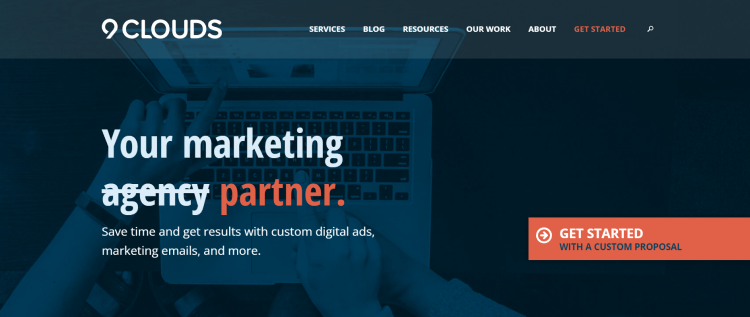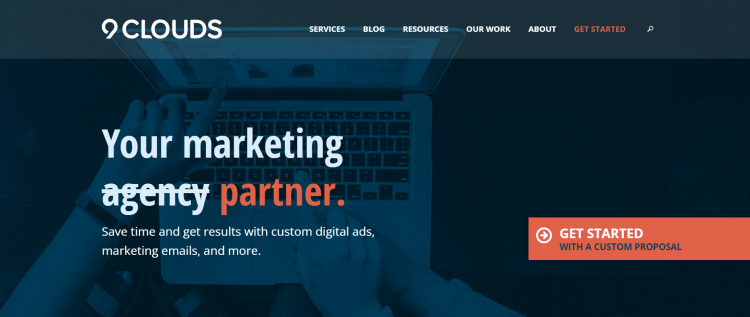 9Clouds, a thriving digital marketing agency, has a blog you can turn to for full coverage of the latest marketing trends in the automotive, healthcare, and livestock industries, from ideation to implementation. The agency also has a fantastic array of marketing automation software perfect for enterprise clients.
The website features a series of articles, webinars, tips, and suggestions specifically for the boating, automotive, and healthcare industries. Head to the site's resources page for ebooks and case studies involving digital marketing in the livestock and automotive sectors.
Available products and services:
Search engine optimization service to help increase google search placement
Digital advertising service to create and run digital marketing campaigns from start to finish
Email marketing service to increase sales through targeted email campaigns
Lead Tracking Service to apply analytics to customer data for increased sales
Bespoke training on the latest digital marketing trends for company decision-makers
8. GetResponse — Best Email Marketing Blog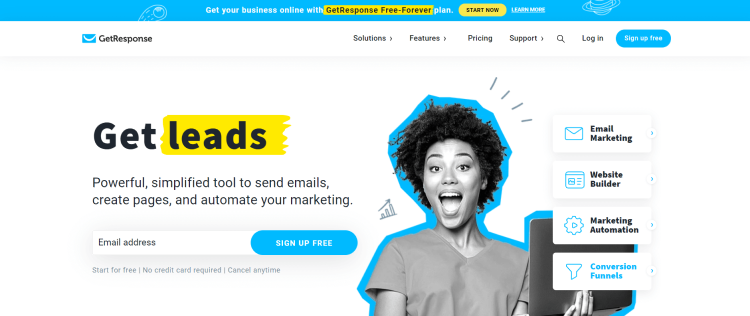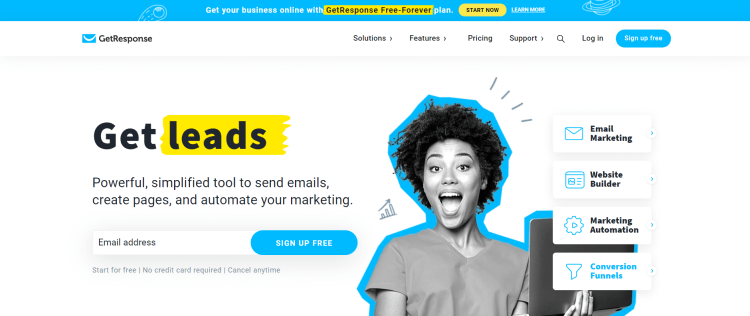 GetResponse is, at its core, an email marketing platform that features tons of extras businesses and non-profit organizations can use to analyze data to drive customer engagement and increase sales. It offers a range of solutions appropriate for online marketers and companies of all sizes.
The site has a handy digital marketing blog with articles on affiliate marketing, creating an online portfolio, and more. There's even a guide introducing the basics of B2B marketing full of examples and tips for reaching clients via email and optimizing your search engine optimization game.
Available products and services:
Lead Generation Software to increase conversion and customer engagement
Knowledge Sharing Website tools to provide ebooks and sellers of online classes with high-quality marketing tools
Email analytics to create targeted, effective revenue-generation campaigns
AI-driven website builder offering industry-specific yet customizable templates
Ecommerce Email Marketing System to integrate online sales, analytics, and marketing
9. GetFeedback — Best CX Advice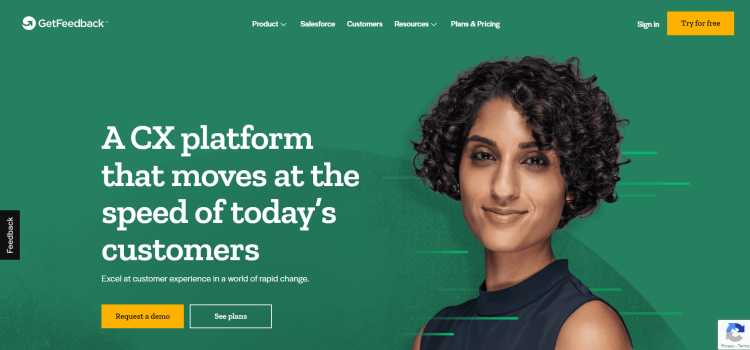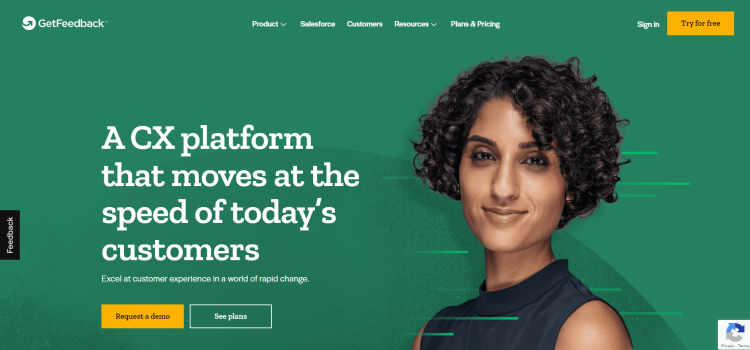 While the platform's site doesn't have a blog, it does offer a collection of resources companies can use to up their customer experience game. This is the place to head for articles on the latest industry trends and tons of actionable insider information.
Available products and services:
Essentials Program with ready-to-deploy CX surveys and audience targeting
Pro Program featuring Pardot and Slack integration along with branding opportunities
Ultimate Program with tools for website, chat, and even app customer feedback
Agile CX platform offering a complete, full-service CX experience
Platform optimized for Salesforce, Slack, and Jira integration
10. CoSchedule — Best Scheduling Tips for Marketing Professionals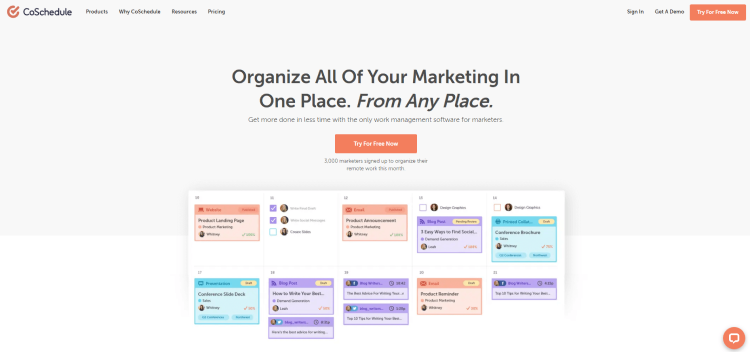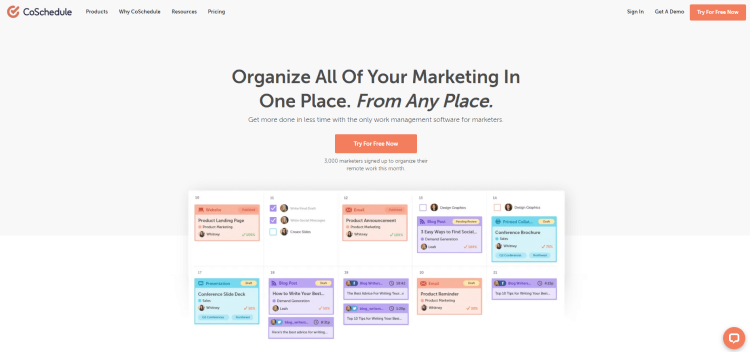 CoSchedule offers marketers and marketing agencies a comprehensive online scheduling platform. It makes keeping track of upcoming content and deadlines simple and lets you coordinate marketing efforts seamlessly across multiple types of media.
CoSchedule has a series of helpful client education resources giving you the actionable insight you can use to increase the impact of your marketing.
It has helpful blog posts with information about the differences between inbound and content marketing, as well as podcasts offering marketing professionals both strategy tips and advice.
Available products and services:
Meeting calendar software to coordinate multiple content marketing and other projects
Calendar software that tracks progress and streamlines team member communication
Marketing Suite option with built-in calendar and content organizational tools
Work organizer tool to streamline production and keep track of last-minute and urgent changes
Asset Organizer software to share important marketing folders and files in real-time
11. Ahrefs — Best Beginner SEO Marketing Blog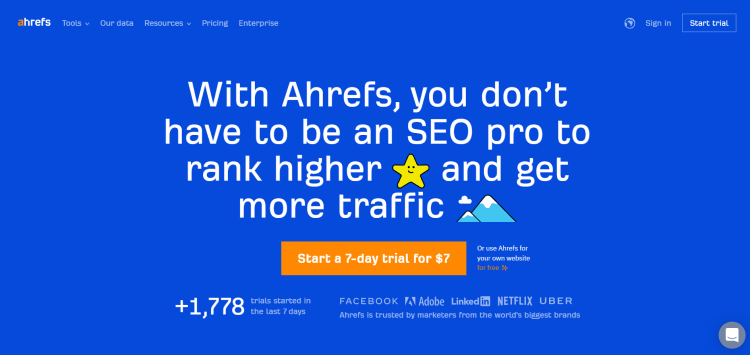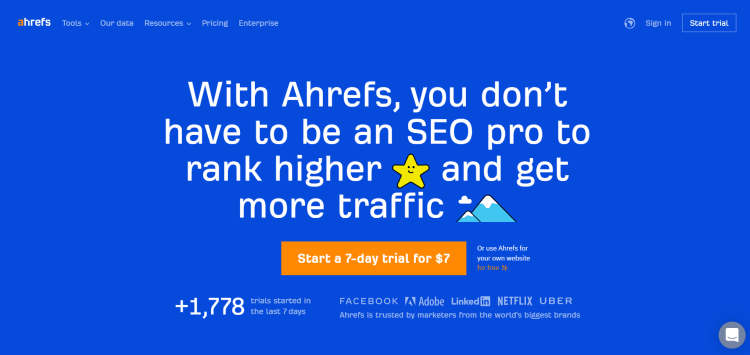 Ahrefs offers content marketing professionals a suite of SEO tools to help businesses improve ROI and increase customer engagement through marketing. From site audits to keyword development tools, businesses of all sizes use Ahrefs tools to manage and expand their content development and production.
If you have questions about online marketing, including how to get up and running with SEO or what you need to know about creating a fantastic landing page — Ahrefs has several resources to get you started.
Check out the site's SEO and tech blogs for tons of relevant digital marketing tips. If you're new to online and social marketing, make sure to take a look at the company's helpful guide to search engine basics.
Additional products and services:
Dashboard offering a birds-eye-view of projects and deadlines
Site Explorer to glean insight from competitor's websites and marketing campaigns
Keywords Explorer option to help identify high-quality SEO strategies and approaches
Site Audit functionality to identify opportunities to improve your digital marketing presence
Content Explorer to help you find new ideas and links
12. GetApp — Best Business Software Review Blog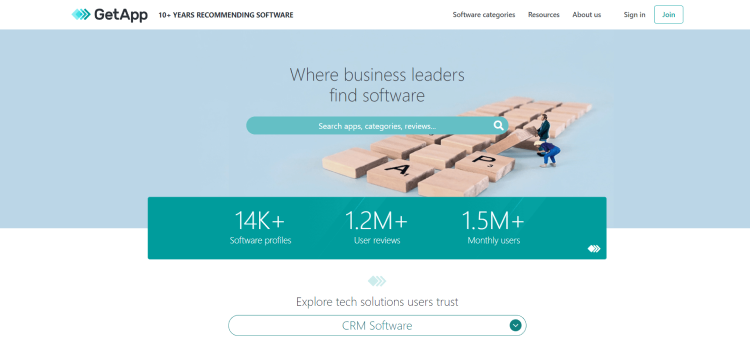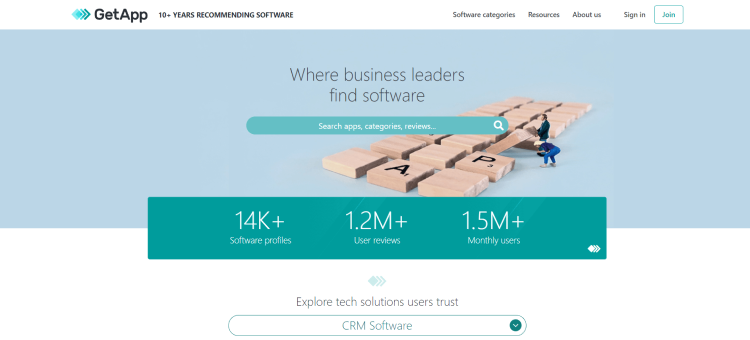 GetApp helps companies through the often confusing process of finding the right software to manage marketing, production, inventory, pricing, and more. The company doesn't make software or offer a platform-based solution but helps businesses find the right options from currently available software.
The site has a helpful resource space with tons of helpful information for marketers on topics ranging from YouTube marketing to how to improve your retail game. It also features a handy guide to help you quickly find blog posts and articles relevant to your industry.
Additional products and services:
Comprehensive list of finance and accounting software
Extensive collection of software for legal professionals, including billing and case management options
Tons of information to guide SaaS companies through the software selection process
Research and reviews to assist business owners in software selection
13. Disruptive Advertising — Best PPC Blog



Disruptive Advertising is a full-service digital marketing agency that delivers bespoke solutions for a variety of industries — think insurance, healthcare, legal services, and more. From paid advertising advice to landing page design services, the company's services will get your digital marketing house in order in a snap.
Not only does Distributive Advertising offer tons of digital marketing services, but it also regularly shares its knowledge with the world — entirely for free. Head to the site's blog for a nice collection of articles on topics such as creating a successful social media campaign and designing great holiday marketing.
Additional products and services:
Paid advertising service to increase Google and YouTube search placement
LinkedIn, Facebook, TikTok, Twitter, and Instagram ad creation and placement
Lead nurture marketing service to increase lead development and conversion
Email marketing campaign development and maintenance
Creative services, including landing page and creative strategy development
14. SE Ranking — Best Web Marketing Advice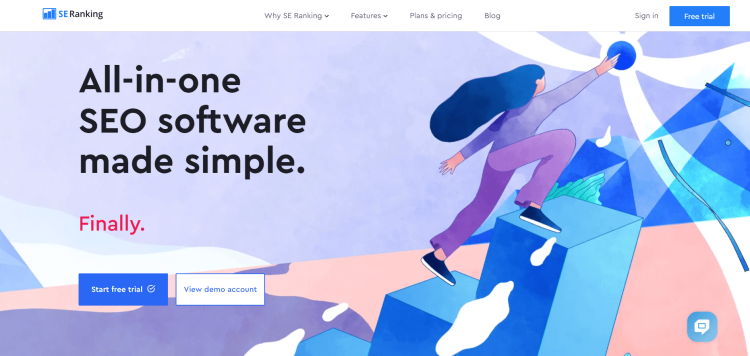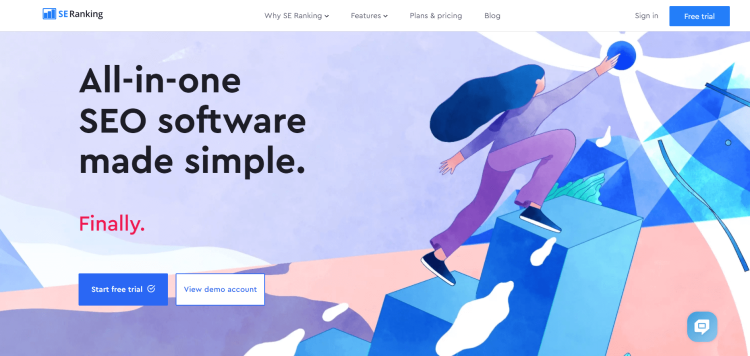 SE Ranking has a panoply of tools you can use to improve your businesses' search engine ranking results — there's a service that will keep an eye on your backlinks for you and even one that will help you keep an eye on your company's social media marketing.
The platform offers SEO services appropriate for small, medium, and enterprise companies, as well as entrepreneurs just getting started.
If you're interested in staying on top of the latest SEO developments, head to SE Ranking's blog for tons of actionable suggestions and insider information to keep you busy all year long. Recent articles have provided guidance on how to calculate and think about conversion rates and tips on sales-driving UX design elements.
Additional products and services:
Three pre-packaged plans to choose from with available customization options
Monitoring for up to 90,000 backlinks with the SE Ranking Business Plan
SEO reports are available and delivered in multiple formats
Built-in social media data gathering and management tools
On-page audits to ensure optimal keyword targeting and use
15. Orbit Media Studios — Best Web Design and SEO Blog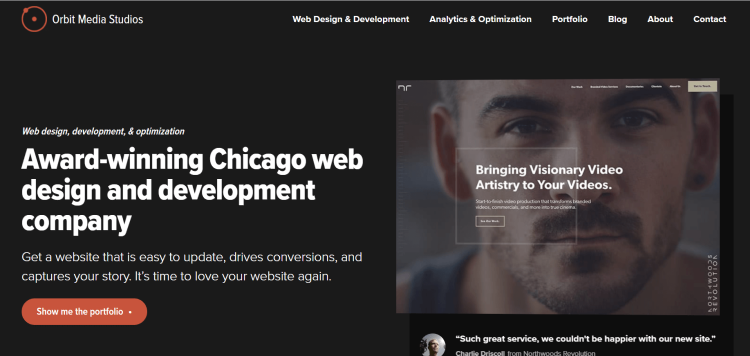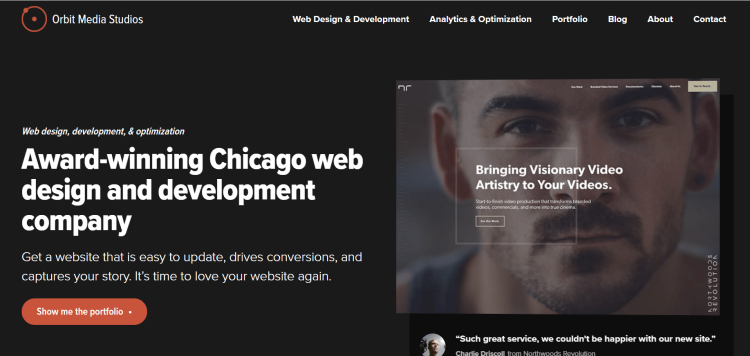 Orbit Media Studios provides personalized web design and development services, helping companies in sectors ranging from legal services to manufacturing create stunning, impactful websites. As a certified B-Corporation, it's the place to go if you're interested in working with or supporting socially-responsible entrepreneurship.
Orbit Media Studios has a blog with information about content marketing and web design. Recent articles have covered mistakes web designers often make during site redesigns and fixing problems with Google Analytics.
Additional products and services:
Bespoke UX-focused site development and design
SEO research and keyword development services
Brand development and persona creation options are available
Data-driven storytelling development
Website development featuring WordPress, Drupal, and other content management systems
16. BloggersIdeas — Best Blog for Beginning Marketers



BloggersIdes is a must-visit site for beginning marketers — it offers a wide range of in-depth articles addressing just about every aspect of developing an effective online presence, from website development to keyword research.
There are even sections on the site with free tutorials on topics such as how to get started blogging and everything you need to know about working with themes.
The site has tons of articles covering topics such as optimizing YouTube videos and implementing the latest SEO trends. But the site contains information on a vast array of topics, from keyword optimization to hosting — there's even a podcast featuring interviews with marketing experts such as Rand Fishkin and Neil Patel.
Additional products and services:
17. Adweek — Best General Marketing Blog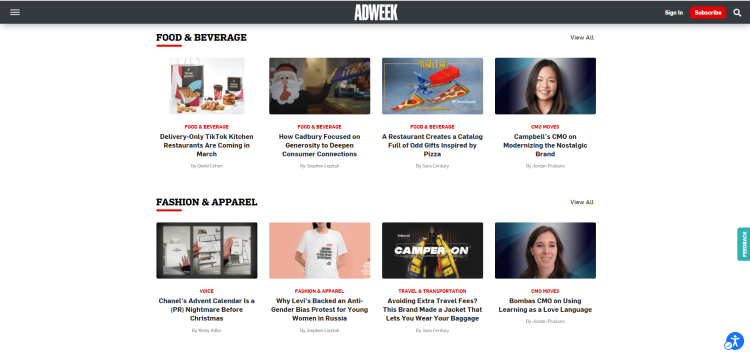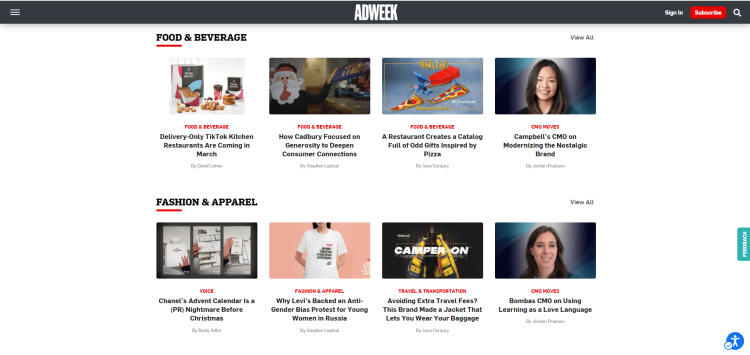 Adweek is the place to go for information about the goings-on among elite agencies, as well as comprehensive coverage of the latest marketing trends. If you're interested in quality reporting on anything in the marketing world, Adweek is where you need to be. The site also offers articles on topics such as performance marketing, influencer marketing, leadership, and much, much more.
Adweek's site features a brand marketing section with podcasts and articles on inclusive advertising, the development of sustainable technology, and more. There are also pages with articles dedicated to the beer, spirits, cannabis, and eCommerce industries.
Additional products and services:
Tips for Success article series addressing diversity and inclusion in marketing
Free toolkit packed full of CMO career development information
Dedicated CPG and Grocery blog with articles on leadership, sustainability, and more
Search Engine Marketing and Search Engine Optimization blogs for beginning marketers
Influencers and Creators Blog with articles on the latest trends and popular personalities
18. Animalz — Best Content Marketing Blog for Enterprise Companies and Venture Capital Firms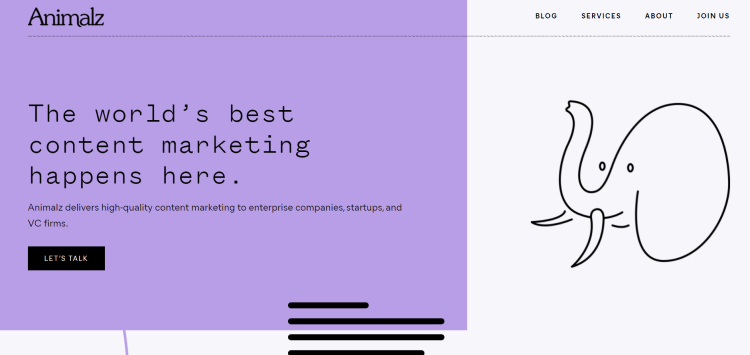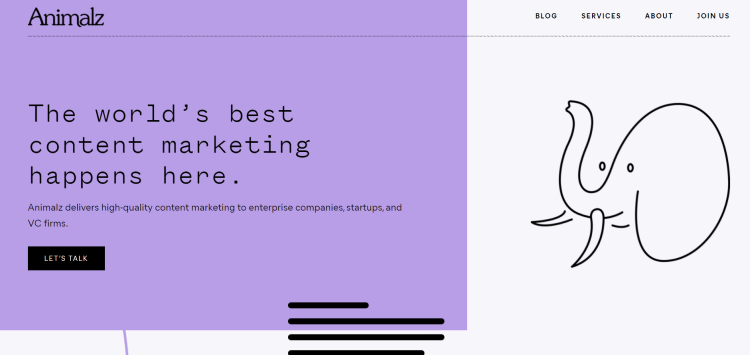 Animalz is a content marketing agency that offers clients a range of services, including SEO research and content production. It specializes in creating content for SaaS companies, VC firms, and startups.
The website's blog features several articles useful for beginning and more advanced content marketers, including a content writing guide detailing how to write engaging blog posts and an informative discussion of the content value curve.
Additional products and services:
Free weekly newsletter with the latest information about enterprise SaaS companies
Articles on how to avoid creating bad content, tips for writing engagement-improving blog posts, and other actionable marketing advice
Data Blog with articles on small blog metrics and eCommerce tips for small businesses
Strategy Blog featuring posts on the benefits of hybrid content teams, how to correctly complete a content audit, and more
Podcasts with marketing insights from industry thought leaders such as Ash Read, Blake Emal, and others
19. Leanplum — Best Multichannel Marketing Blog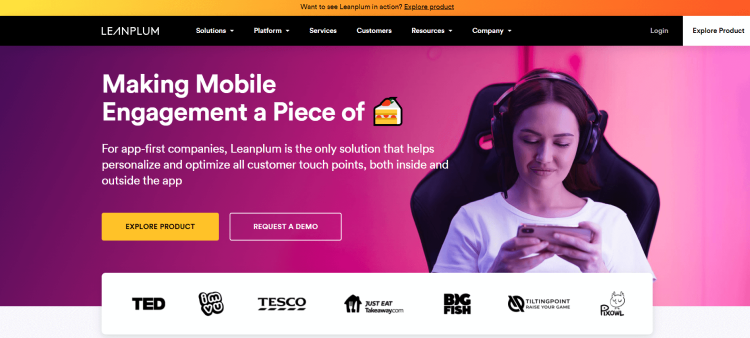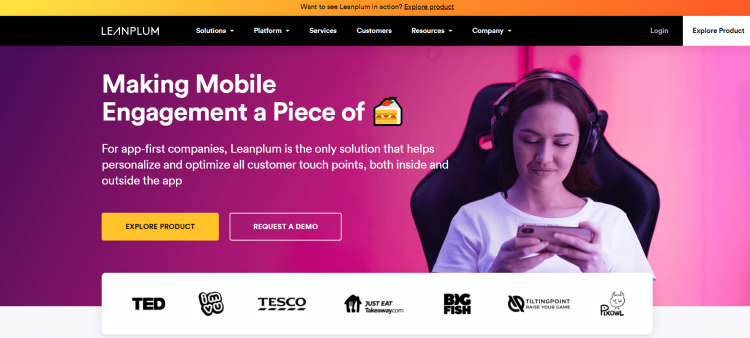 Leanplum offers technologically-advanced marketing automation tools to help companies engage with customers across a variety of online ecosystems, including paid subscription apps, gaming platforms, and on-demand services.
Pixelberry Studios, Tesco, Via, and TextNow have all relied on Leanplum for digital marketing guidance.
Head straight to Leanplum's blog if you're looking for tips on topics such as how to improve your mobile marketing or how to develop powerful messages that drive in-app gaming purchases. There's also a resources page with on-demand content covering retention maximization, app strategy development, and more.
Additional products and services:
Tools to personalize customer engagement on subscription-based apps
The plan monitors customer in-app behavior so you can optimize marketing to drive profits
Simple and easy A/B testing on everything from promos to update nudges
E-commerce solutions to increase sales through in-app personalization
Built-in multichannel re-engagement tools to reconnect with targeted users
20. Social Media Examiner — Best Social Marketing Trends Round-Up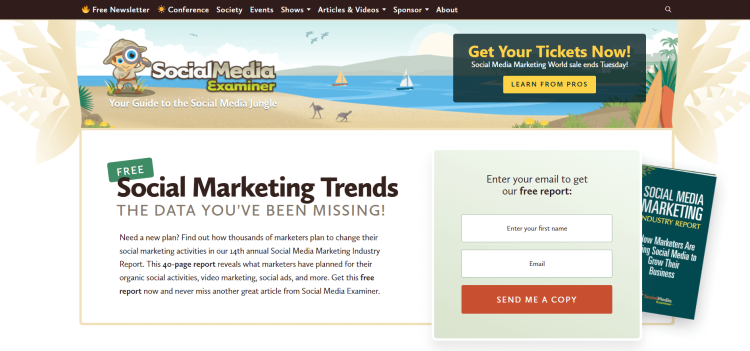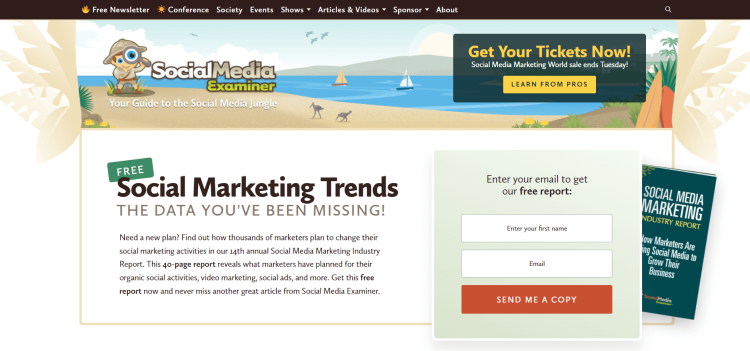 Social Media Examiner is a website that reports on the latest developments in social media marketing. It has a robust collection of articles covering just about everything you need to know about social marketing, from Facebook marketing to developing YouTube ads.
Stay on top of the latest social media platforms with video introductions to TickTock and Clubhouse marketing. There are also several articles on how to get started with Facebook ads and even tips on how to increase customer engagement using LinkedIn.
Additional products and services:
Free guide with actionable information on interpreting social media trends and statistics
Social Media Marketing podcast with tips on leveraging social media to increase engagement and drive sales
Social Media Marketing talk show providing hot of the presses information about social marketing developments and trends
Video tutorials with tips on Instagram and Facebook marketing strategies
Access to networking and educational events for social marketers
21. Google Ads and Commerce Blog — Best Google Ads Blog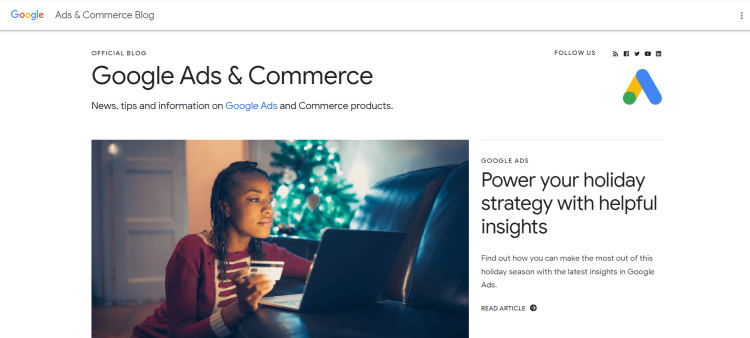 Google has gathered together a wealth of articles to help businesses of all sizes understand search engine and marketing basics. It's the definitive place to go for the latest information on new Google products and services.
Recent articles have covered Google's integration with BigCommerce and the role of machine learning in digital marketing. There are even articles providing tips for online retailers looking to beat the competition during the holiday season.
Additional products and services:
Articles on Google Ads and eCommerce
Actionable tips for online retailers looking for information about working with Google Ads
Tons of information about new Google products for marketers
Rundown posts with insider insights into future digital marketing trends
22. VistaCreate – Best for small businesses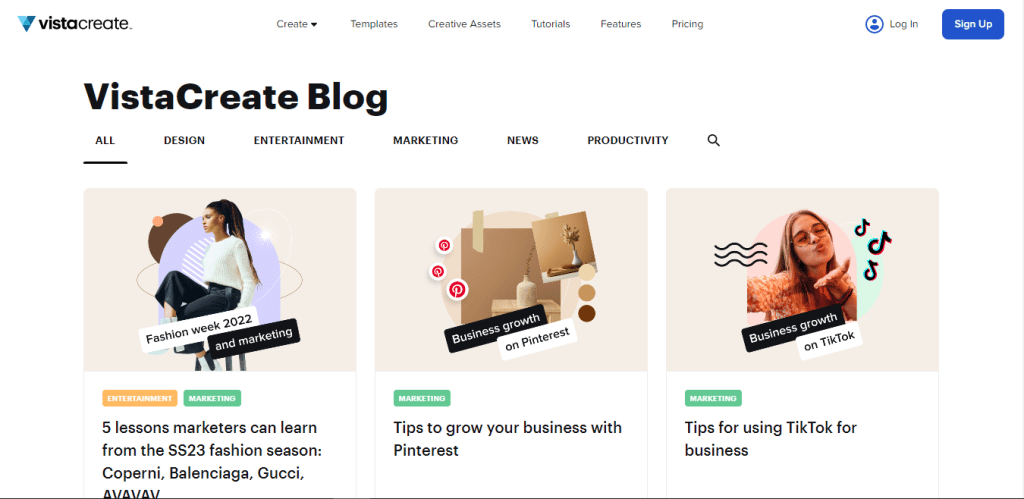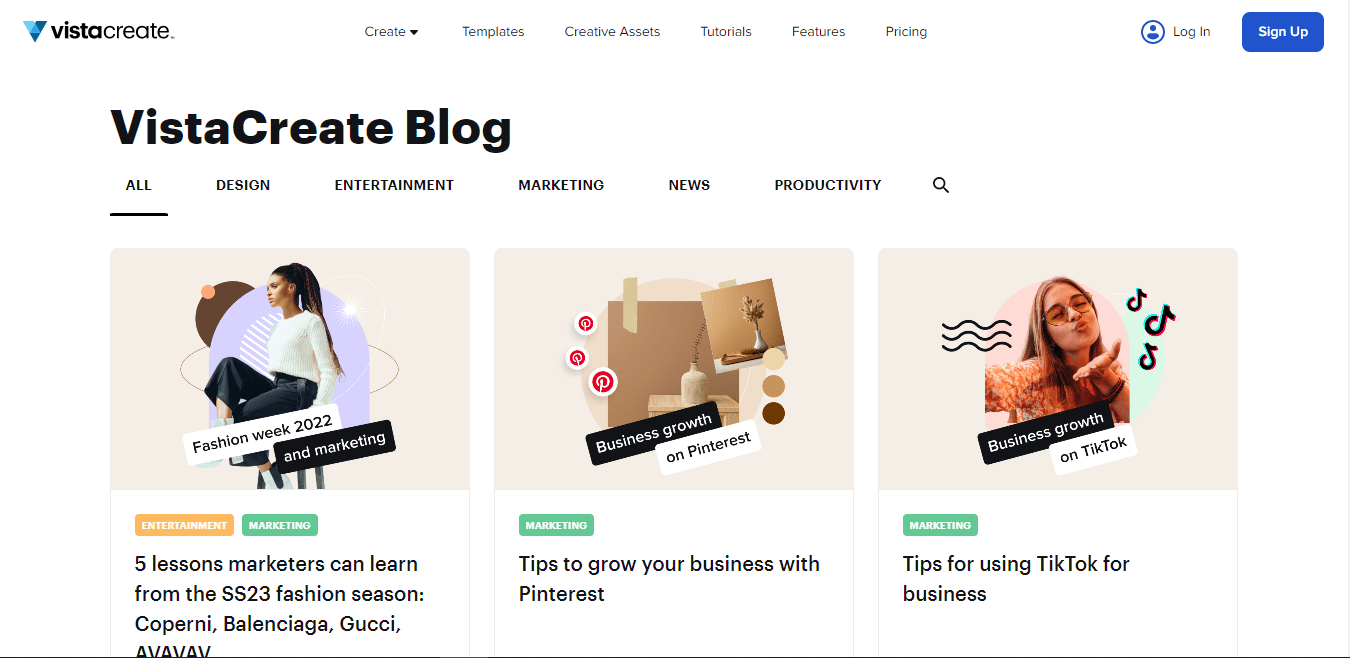 VistaCreate offers small business owners an opportunity to single-handedly handle marketing design with the help of a powerful online graphic editing tool and a library of ready-made professional design templates.
On top of that, VistaCreate also offers a vast selection of free creative assets — stock photos and videos, sounds, vectors, animations, etc. — to use in your visuals. From social media marketing to print marketing — VistaCreate is the tool for everything!
If you want to improve your design skills, get a comprehensive overview of the latest design and marketing trends, and learn more about effective marketing strategies, the VistaCreate blog is there to help.
The blog is filled with actionable how-tos, exclusive reports, thought leadership pieces, and expert articles on design and marketing. On top of that, you can also turn to the VistaCreate blog to find out more about modern entrepreneurship, team management, and productivity.
Additional products and services:
An online graphic editing tool
A vast library of creative assets
Thousands of professional design, ready-made templates for different formats and purposes
A Social Media Scheduler to plan your social media feeds ahead
Best Blog Themes for Marketers
While there are several themes out there for marketers to choose from, below, you'll find five of our favorites. Featuring intuitive designs and offering several pre-built layouts designed for marketers, each of these options offers all the bells and whistles needed by marketing professionals and digital marketing agencies.
Divi — Several pre-designed marketing-related pages, including sales, landing, and contact pages
Marketing Pro — Pre-built demos that support integrated marketing and sales
Optimize — Tools for infographic integration and case study development and publication
SEO Crawler — Three choices of homepages optimized for digital marketing agencies
X — Easy to include elements such as price tables, buttons, and rotating click-on panels
Best Blog Platforms for Affiliate Marketing
Finding a solid blogging platform that makes it easy to earn money through affiliate marketing can be difficult — so we've done the leg work for you. Below you'll find five blogging platforms that make it easy to monetize your content.
WordPress.org — Easy-to-install and customizable integrated affiliate marketing tools
WordPress.com — Fantastic basic options for beginning digital marketers
Tumblr — Graphics and video-led microblogging tools with social network integration
Ghost — Open-source search engine optimization plug-ins
Weebly — Tons of easy-to-work-with customization options and integrated affiliate marketing tools
You might be interested to check those related posts as well:
FAQs
What's today's hottest marketing trend?
Social media marketing has become absolutely indispensable when it comes to customer engagement. Facebook, Instagram, and even Twitter offer businesses of all sizes ways to increase customer engagement, retention, and sales.
And don't forget about video marketing — more and more companies have had success incorporating video marketing into their social media marketing campaigns.
What's content marketing?
Content marketing involves offering a targeted audience valuable and relevant information to establish and maintain market authority and increase customer engagement with the ultimate goal of creating an identifiable brand identity or story.
Effective content marketing involves the production of infographics, podcasts, video clips, blogs, and articles that work together to create a brand identity.
What are the five most important marketing strategies?
Effective marketing strategies deeply engage with a company's identity and core products — in other words, a strategy that works for one company or industry won't necessarily be universally applicable.
There are, however, five core principles profitable businesses factor into their marketing plans: price, production, place, people, and promotions — interestingly enough, these are also the five most important elements driving engagement, sales, and customer satisfaction.
What are some of the best marketing blogs to follow?
The best marketing blog to follow depends on factors such as the size and nature of your business. BigCommerce makes tons of lists as one of the best enterprise eCommerce marketing blogs out there. HubSpot makes lots of waves with its B2B blogs and content. And Social Media Today gets rave reviews from the small business crowd.
Conclusion
Whether you're just starting out with your first business or have years under your belt as an experienced entrepreneur, having a fantastic marketing plan is a critical part of growing and nurturing your business. The blogs and websites we've reviewed offer tips to help you stay on the cutting edge of marketing. Take a look and enjoy!