You've started a beauty blog, but how will you turn it into a moneymaker? Let's make money from your beauty blogs!
Beauty blogging is fun and flexible and makes makeup, haircare, and skincare into a passion project. Passion doesn't pay the bills, however, so how will you make money from your beauty blog?
In this article, we'll show you how to turn your beauty blog into an income stream.
The world of beauty is one of the largest market shares globally in retail. From haircare and skincare to makeup and nails, beauty and beauty products are a passion for millions.
Beauty bloggers continue to make a huge name for themselves, and several have successfully transitioned from Beauty Blogger to Beauty Mogul.
No matter what your aims are with your beauty blog, it's likely you'll want to see some money coming in for the time and effort you put into it- so here are some basic tips for turning your beauty blog into a money-making beauty blog.
What Kind of Beauty Blogger Do You Want to Be?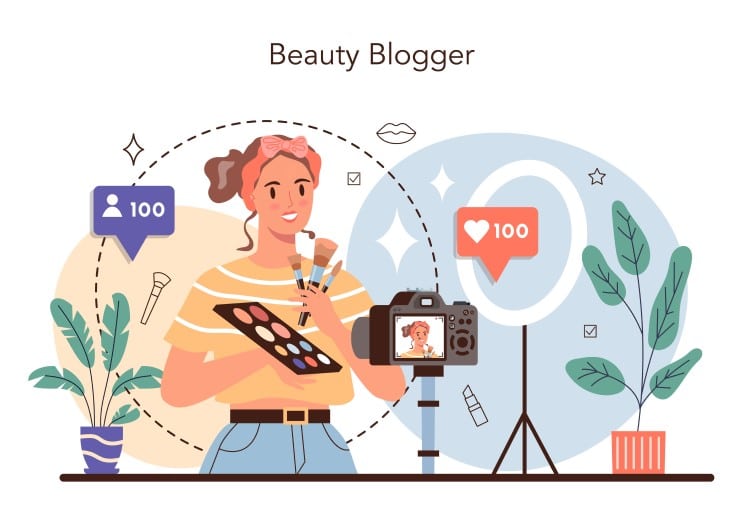 The world of beauty is incredibly multifaceted. As a result, beauty bloggers can focus on any one of hundreds of different avenues, categories, or niches.
Success in blogging is largely dependent on finding your audience, and the more nuanced, the better. A targeted audience is more likely to engage with your content, so get specific when deciding what kind of beauty blogger you want to be.
Will you focus on reviewing products, tutorials, beauty hauls, and subscription services? Haircare, skincare, or makeup? What kind of hair care, skincare, or makeup?
If you're looking for some inspirational material to help focus your own blog, here's the A to Z of major beauty blogs and bloggers currently making a mark for themselves while reeling in the big bucks.
They may all have a different approach to their brand's style and tone but they are each equally successful and engaging. Check them out!
Keep in mind, the more specific, the better. Perhaps you're all about making your own hair and skin care products from eco-friendly ingredients at home.
Maybe you have extensive experience with covering acne or hyperpigmentation with makeup.
Do you have a unique or difficult-to-style hair type? All of these are opportunities to create a beauty blog centered around your personal experience and a targeted audience of beauty enthusiasts who can relate!
Blog Authentically and Relate to Your Audience
Making money as a beauty blogger takes more than great makeup skills or knowledge about beauty products.
Beauty enthusiasts are more likely to follow and engage with blogs where they find the blogger behind them to be "real," authentic, and relatable.
Figure out what products you sincerely like or dislike, and share that information with your audience sincerely.
Audiences are fairly discernible, and they can tell the difference between content designed to engage potential sponsors versus content meant to engage with them.
Write your posts and create your content with your audience in mind, and they'll be more devoted to you.
Building an audience of loyal followers means consistent traffic for your blog and social media platforms- and leveraging those audiences, and that traffic will translate to income in the long run.
Choose a Blogging Platform That Grows With You
Using WordPress as your blogging platform is highly recommended if your end goal in blogging is to create a money-making blog.
WordPress is highly customizable, has a broad range of available plug-ins that allow you to add additional features and capabilities to your blog, and easily integrates with a variety of necessary platforms and features that facilitate your financial success.
Other blogging platforms have their benefits, but most research indicates that the greatest flexibility is available through WordPress blogs.
If you aren't already using WordPress as your platform, you can migrate your content to a WordPress platform and make the needed adjustments.
Take Charge and Ownership of Your Domain Name
Purchasing your domain name and hosting from a blog hosting service allows you more control over how your beauty blog appears on the web.
While some blogging sites allow you to use a subdomain for free, you'll ultimately appear more professional and have the most control with your own domain name and hosting.
There are several sites where you can do this, including BlueHost, HostGator, and more. It's best to do your research and decide which hosting site is the best fit for your price range and technical skills.
Keep an eye on reliability, security, and pricing.
Have a Clean, Functional, and Aesthetically Pleasing Theme
Beauty blogging has an even higher reliance on aesthetics than most blogging niches for obvious reasons, so it's vital to have a theme that reflects that when setting up your beauty blog.
This is another area where setting up your blog with WordPress is an advantage. There are a ton of beautiful themes to choose from, and they're easily customizable.
When seeking out your beauty blog theme, keep these theme necessities in mind:
Beautiful, aesthetic design

Easily customizable and works with your style

Mobile capability and responsiveness

Speed and loading of pages

Positive ratings from reviewers

Good customer support
Your theme will not only determine how your page looks but how it runs and functions, so take your time and do your research to get the theme just right.
Cover the Topics Your Audience Wants to See
Successful beauty bloggers who make money from their blogs cover various topics, but audiences expect a few major things to be covered.
These types of topics also get engagement from both readers and potential brand partners, so it's wise to include them in your beauty blog.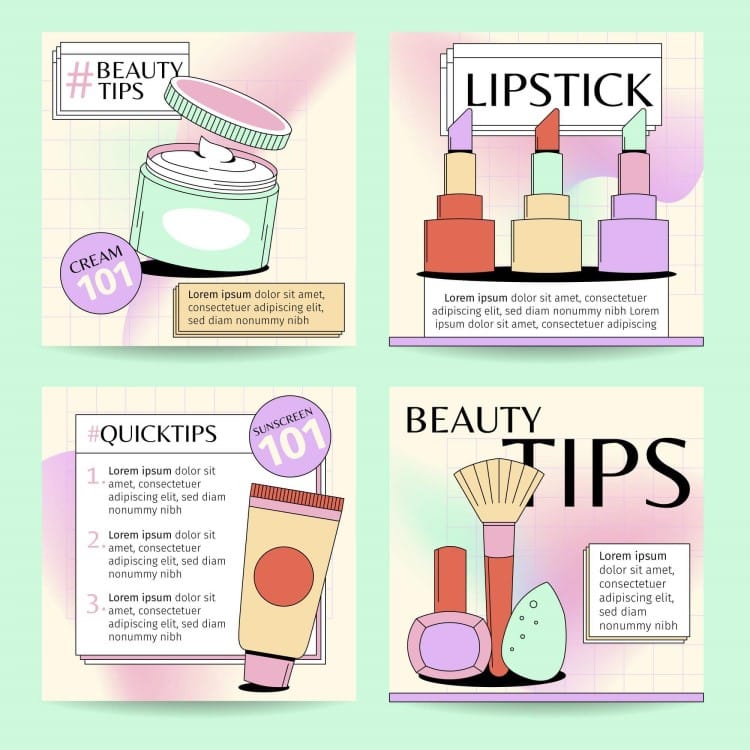 Beauty Tips:
Quick and easy hairstyles, how to get the most out of your foundation, how to avoid shredded cuticles and more- beauty blogging and beauty tips go hand in hand.
How-to and Tutorials:
These are the bread and butter of the beauty blogging universe. Whether you use the step-by-step photo method or video content, how-tos and tutorials are some of the most popular beauty posts. Allow your audience to emulate your style and the looks you share.
Monthly Roundups:
Newest releases, products you're loving, etc. These product roundups are a great way to follow up on initial product reviews and share which products you find yourself returning to again and again.
Product Reviews:
Audiences want to know how a product looks, feels, smells, and performs on various hair and skin types. Beauty consumers seek out reviews on products before buying, especially before purchasing products online.
Product reviewers can often negotiate with brands for free products to review or even brand partnerships.
While these suggestions don't run the full gamut of what kinds of posts should appear on a beauty blog, they are a selection of some of the most popular types of content and the ones most likely to get traffic onto your blog.
Use Social Media to Promote Your Blog Posts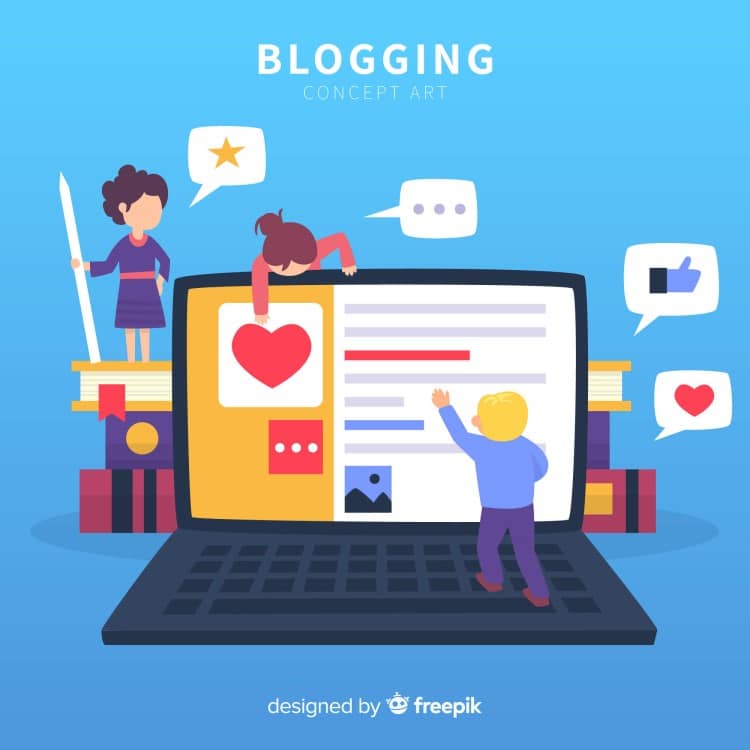 Social media network presence and promotion is a key ingredients in a successful money-making beauty blog.
With beauty being such a visual topic, you'll want to have a heavy presence on highly visual social networks like Instagram and Pinterest, as well as video-sharing sites like YouTube and TikTok.
Beauty content on all of these sites is a great way to drive traffic back to your blog, where you can get readers and followers invested in the content you're sharing. Make sure you're using each site to your best advantage as well.
Keep updating your Instagram Link In Bio with your new posts, use and research popular hashtags within your beauty niche, and engage with your followers and other bloggers and beauty profiles to maximize your audience.
All of these are essential parts of your social media presence.
Use calls to action and communicate on your various profiles and platforms that you want users to visit your site for more.
Use SEO and Keywords to Increase Visibility
Learning how to effectively utilize search engine optimization and keywords takes some effort, but those efforts more than pay off when your blog content improves in search engine rankings.
Take the time to learn to do SEO properly, don't overstuff your content with keywords but use them strategically, and you'll drive higher volumes of traffic to your site.
Start Making Money with Affiliate Marketing and AdSense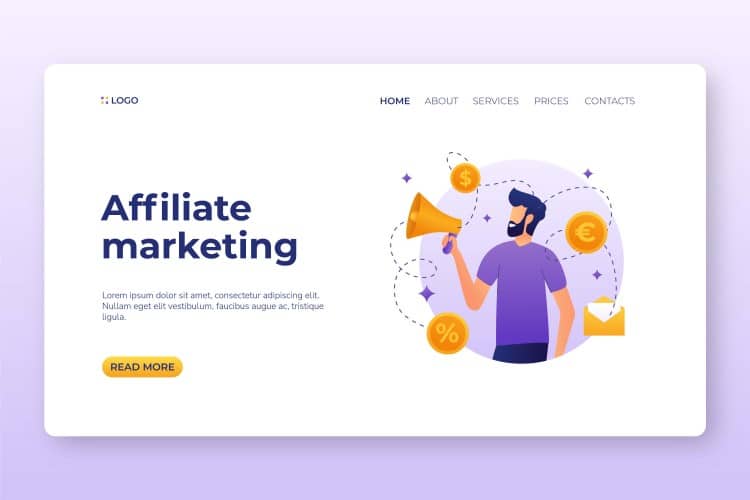 As your blog's traffic and audience grow, you can start making money through your beauty blog before you've advanced to having brands reach out or gain sponsors.
Those relationships come with time and growth, but even bloggers who are just starting out can begin making money.
Some of the biggest bloggers in the world earn their keep through affiliate marketing or social media content, while others focus heavily on eBooks, drop shipping, and providing their readers with valuable content.
Here's a helpful online resource "How to make money blogging" that will help you to market your site and make some real money.
All the information outlined has been tried and tested and with a little fine-tuning could help you generate a proper income.
AdSense from Google allows you to make money from ads placed on your blog. Affiliate marketing is the way many beauty bloggers make their money. You can become an affiliate marketer through a variety of platforms, including:
Amazon

Rakuten

Honey

Walmart

Target

Tailwind

FlexOffers

Like2KnowIT
Affiliate marketing is a way to get paid a commission for every sale that you refer to that merchant.
The list of the above platforms is only partial. There are many other platforms to choose from. Check out the above list for options to join and get started making affiliate sales right away!
FAQs
How long should a beauty blog post be?
Generally speaking blog posts typically vary in length ranging from 300 to 2000 words depending on factors. However what truly matters is not the length itself. Rather the quality and relevance of your content.
It's crucial to ensure that each word carries significance and provides value to your readers. Always remember that when it comes to blogging quality holds weight than quantity.
Final Words
Making money from your beauty blog takes time but if you've made the effort to set yourself up for success, your beauty blog will begin to pay you for your passion.