If you want to improve conversions, landing pages are critical to your marketing strategy.
All landing pages are easy to read and use for the customer, plus they rank higher in search engines and generate more leads.
A landing page is the first stop for your consumers and is the ideal opportunity to make a good impression.
Landing pages are custom-built to convert customers because they deliver personalized Call To Actions (CTAs), highly relevant offers, and information.
Understanding the statistics and trends for 2023 will help you leverage your landing pages more effectively.
We've included the most useful insights about landing page optimization and landing page conversion statistics.
General Landing Page Stats 2023
The first rule of landing pages is one offer per page because multiple offers can decrease conversions by as much as 266%. However, 48% of landing pages contain more than one offer.
Publishing effective landing pages at regular intervals will get you more leads. Publish more than 40, and it could generate 12x more leads.
Across all industries, the average conversion rate is just 9.7%.
Using the right target and test types could increase your landing page conversions by up to 300%.
Click-through landing pages perform the best for most industries, but around 62.6% of landing pages use forms.
Companies with 30 or more landing pages tend to generate seven times more leads than those with less than 10.
If you use videos on your landing pages, you could improve conversions by as much as 86%.
Almost half of the marketing experts build a new landing page for each marketing campaign.
17% of businesses have a Google map embedded in their landing page.
58% of companies use clickable graphics.
Landing Page Conversion Rate by Industry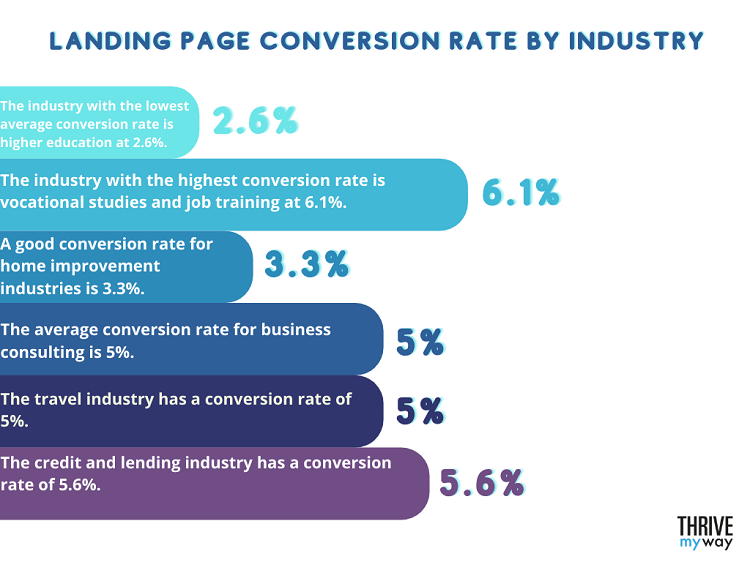 The industry with the lowest average conversion rate is higher education at 2.6%.
The industry with the highest conversion rate is vocational studies and job training at 6.1%.
A good conversion rate for home improvement industries is 3.3%.
The average conversion rate for business consulting is 5%.
The travel industry has a conversion rate of 5%.
The credit and lending industry has a conversion rate of 5.6%.
Landing Page Conversion Rate Optimization Statistics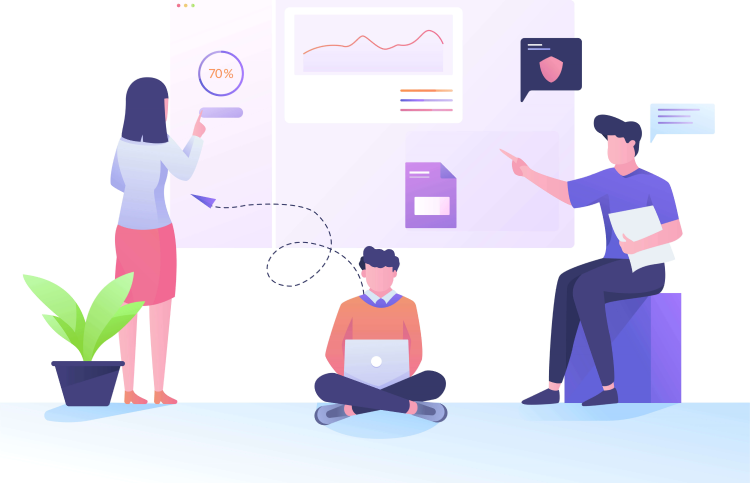 If you reduce your landing page form fields to less than five, it could boost your conversions by 120%.
For every extra second it takes your landing page to load, your conversion rates drop by 4.42%.
Landing page sign-up forms have a 23% conversion rate.
If you request a person's age, it will reduce conversion rates.
Visitors who land on product detail pages generate half as much revenue as those who land on other pages.
52% of marketing professionals reuse landing pages for their campaigns.
A quarter of online shoppers land on product-detail pages.
If you put multiple offers on your landing page, it could potentially reduce conversions by as much as 266%.
If you want to receive the best conversions, you need to get into the top 10% of landing pages.
Landing Page Optimization Statistics
60% to 90% is a typical goal for landing page bounce rates.
If your mobile landing page load time is more than five seconds, it could almost double the chance of visitors bouncing.
37% of the top landing pages include testimonials in the content.
A one to ten-second delay in load speed increases the probability of the visitor bouncing by 123%.
Four-fifths of visitors who use a mobile device concentrate their attention on the top of the page.
The average number of form fields is 11, but if you reduce the number to 4, it can lead to a 120% increase in conversions.
Remove the navigation menu, and it results in a 100% increase in conversions.
If the content is combined with bold, attention-grabbing imagery, 80% of users are more likely to read it.
Landing Page Click-Through Rate Statistics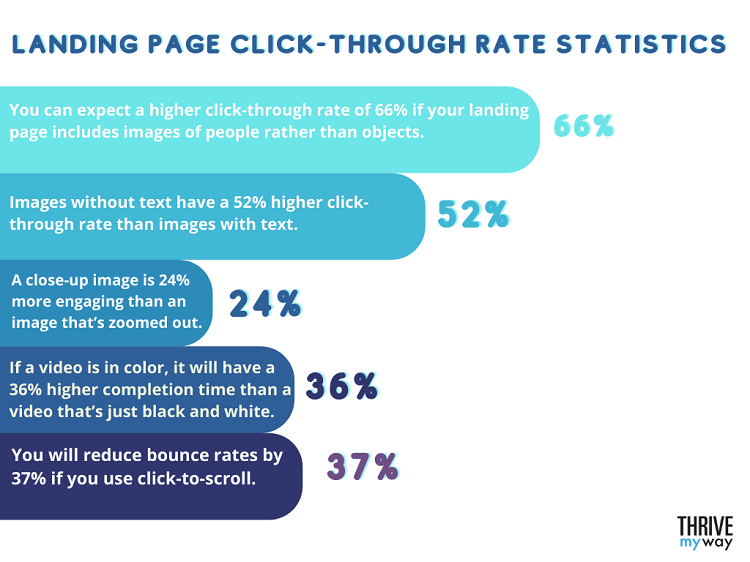 You can expect a higher click-through rate of 66% if your landing page includes images of people rather than objects.
Images without text have a 52% higher click-through rate than images with text.
A close-up image is 24% more engaging than an image that's zoomed out.
If a video is in color, it will have a 36% higher completion time than a video that's just black and white.
You will reduce bounce rates by 37% if you use click-to-scroll.
Landing Page Testing Statistics 2023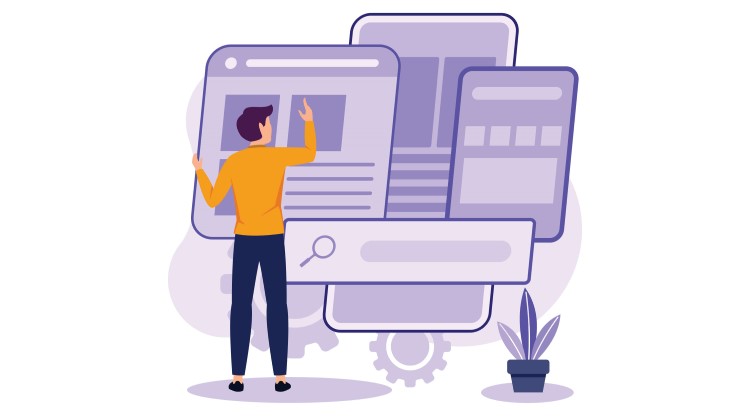 Only 17% of marketers use A/B testing to boost conversion rates.
President Obama understood the value of landing page testing and was able to raise an additional $60 million by using A/B testing.
Out of all the companies that experienced an improvement in conversion rates during the last twelve months, an average of 50% said they did more testing, including the use of split testing software.
When you use targeting and testing, you could increase conversions threefold.
The percentage of companies testing five or fewer landing pages per month is 61%.
Landing Page Creation Statistics 2023
86% of the top landing pages are mobile-friendly.
If your landing pages are designed for cursory reading, they are more likely to be read.
Only 2 out of 10 people read the whole of a landing page, but 8 out of 10 people read the headline.
Almost half of SaaS landing pages feature images of people.
More than half of SaaS landing pages have a green Call to Action button.
Longer landing pages generate 220% more leads than shorter landing pages.
If you use marketing automation to nurture your prospects, it could result in a 451% increase in qualified leads.
Landing Page Lead Generation Statistics 2023
If you include contact details on your landing page, it can increase sign-ups by 9%.
According to 46% of B2B marketers, form layout has a massive impact on conversions.
48% of the best landing pages rank for Google Maps and Organic Search.
If you include social proof in the copy of your landing pages, it will convert at an average of 12.5%. Social proof might include customer testimonials or embedded Instagram photos.
If you address buyer concerns in your landing pages, it could increase conversions by as much as 80%.
Landing pages that make use of UGC (User Generated Content) convert more visitors than those without UGC.
Email post-click landing pages could generate $48 in ROI for each $1 spent.
Statistics About Best Landing Page Practices 2023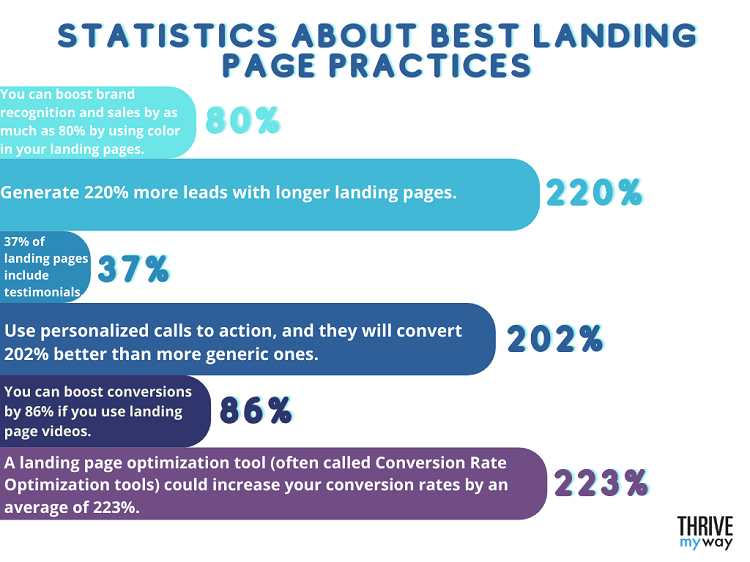 You can boost brand recognition and sales by as much as 80% by using color in your landing pages.
Generate 220% more leads with longer landing pages.
37% of the best landing pages include testimonials.
Use personalized calls to action, and they will convert 202% better than more generic ones. This is particularly relevant for an eCommerce landing page.
You can boost conversions by 86% if you use landing page videos.
On average, the number of fields on lead generation forms is 11.
You get just 7 seconds to make a compelling impression on viewers.
Of the viewers who read your headline, nine out of ten will also read your call to action.
A landing page optimization tool (often called a Conversion Rate Optimization tool) could increase your conversion rates by an average of 223%.
Landing Page Trends for Marketing Experts 2023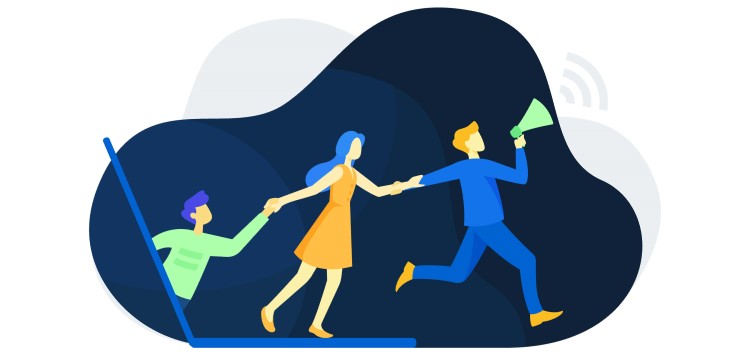 A landing page does what it says on the tin. In other words, it is designed for a prospective customer to land on. The potential customer often gets there by clicking a CTA button in an ad or email, and it takes them to your landing page. A CTA action that leads to a landing page can also be featured in a social media post on Facebook or Twitter.
Whether you run a B2C or a B2B company, the goal of that landing page is to convert visitors, act as a traffic source, generate more leads, or sell a product. Your landing page doesn't need to be jam-packed with information, and It doesn't need to have lots of links. All your landing page needs is only what is necessary to prompt the prospect to take action.
If you're looking for some inspiration for your landing page strategy, here are some trends you might want to consider adopting for 2023.
Landing Page Trend #1: Less is More When it Comes to Landing Page Design
You don't need to fill your landing pages with lots of information to attract attention or improve the user experience. To draw attention, it should be simple, geometric, and have a clean design. Such a page is easy on the eye and easier to digest, but most importantly, it will load much faster. You've only got a few seconds to make an impression, after all.
Landing Page Trend #2: Make Your Landing Page Interactive
Not many brands use interactive landing pages, but they are very effective. Interactive content increases the efficiency of your message transmission by 79%. Interactive content is 81% more likely to hold the visitor's attention. Because visitors stay on your landing pages for longer, it will help your page rank higher in search engine results.
Landing Page Trend #3: Custom Illustration and High Contrast
Custom content helps to carry your message to your prospects. Include custom illustrations rather than stock photos to convey your unique message. Images of real people also perform much better than stock images.
Heavy contrast is another critical trend that also happens to be fun and eye-catching. In addition, it concentrates the viewer's attention front and center. Gradient colors are a popular choice because they keep things interesting without being overly complicated.
Whitespace helps make landing page copy and headlines pop and explain to the user why they're there.
Landing Page Trend #4: Zero Navigation Links
Too many navigation links will kill your conversion rates. Every link you include distracts the prospect a little more, and they're gone before you know it. A navigation bar or link doesn't convert, whereas CTAs do.
Landing Page Trend #5: Your Landing Page Will Rock if You Include Video
If you include a video on your landing page, it can do all the heavy lifting of communicating your message, which means you don't have to worry so much about copy and images. With a short and sweet video, you can answer all your audience's key questions.
You might be interested to check those related posts as well:
FAQs
How many landing pages do you need?
Studies have shown that when a business website has 10-15 landing pages, it tends to increase conversions by 55% compared with business websites that have less than ten landing pages. If you have more than 40 landing pages, it could lead to a higher conversion rate of more than 500%.
What is a reasonable conversion rate for a landing page?
Across a variety of different industries, a good average landing page conversion rate is 2.35%. However, top landing pages can expect to convert at 5.31% or even higher. If you manage to break into the top 10% of landing pages, you can expect a conversion rate of 11.45%, possibly more.50 Amazing Wix Stats & Trends [Facts You Need to Know] 2023
Read more at: https://thrivemyway.com/wix-stats/
How many landing pages is too many?
When it comes to landing pages, there's no such thing as too many. On the contrary, using multiple landing pages can be very powerful. Here are a couple of statistics to back this statement up.
Companies that have between 31 and 40 landing pages get seven times more leads.
Companies with more than 40 landing pages get 12 times more leads than those with only 15 landing pages.
How much does a landing page cost?
The cost of a landing page depends on what you expect from your landing page. A landing page could potentially cost from a few dollars to several thousand.
Conclusion
Landing pages play a critical role in an inbound marketing campaign, and the landing page stats back up this statement.
We hope you enjoyed reading them, and if there's one thing you take away, let it be how easy it is to turn your landing pages into lead-generating and conversion-making machines.
Take note of the upcoming trends and consider including them in your latest digital marketing strategy.
Don't forget to test for optimal performance using analytics and marketing experiments and making changes when necessary.
We would like to credit the following sources that were invaluable in our research.