If you want your business to grow, landing pages are a necessity, and the more you've got the more leads you'll be able to generate.
Did you realize that the average landing page conversion rate across all industries is 9.7%?
Landing pages also have the highest conversion rate of 23%.
However, creating those landing pages can be very challenging, especially for the small business owner or anyone starting out.
Luckily, as you'd expect, technology can come to your aid in the form of landing page builder software.
The best landing page builders will make it far easier to create as many landing pages as you need from scratch.
They are also very likely to include a host of other useful features.
What Makes a Great Landing Page Builder?
Building trust in your customer but also finding the page easily and looking simply to be used are important points when considering a great landing page builder.
Using a unique builder, you should be able to create awesome designs with little to no coding required, which will greatly facilitate your work.
The benefit of this is that the tool will be practical and accessible, whatever your level of expertise.
In essence, the best landing page builder software will meet all your needs.
For example, it should include various perks such as A/B testing, registration of a domain name, and third-party software integration.
The builder should be a one-stop solution that is so effortless to use that you can do everything from creating the site to collecting those all-important leads and managing them efficiently.
There are, however, so many to choose from that knowing which one to use can be overwhelming.
Which is the main reason for this list.
What are the Best Landing Page Builders in 2023?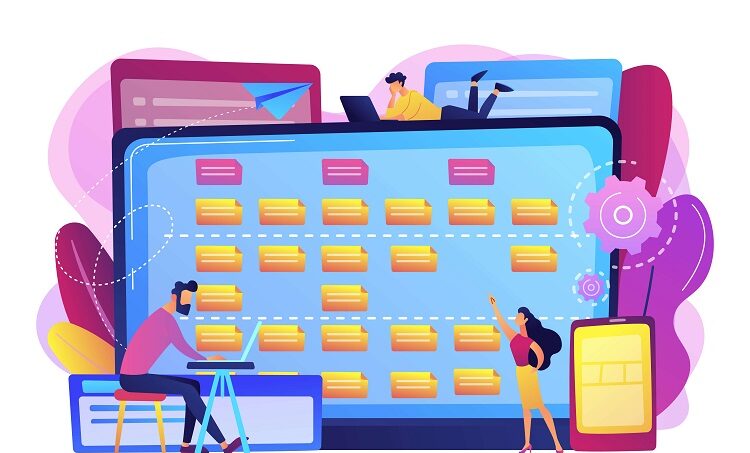 The following list includes the best landing page builders worthy of your attention.
Also included in each software review are the reasons why it might deserve some attention.
HubSpot – The Most Reputable Landing Page Software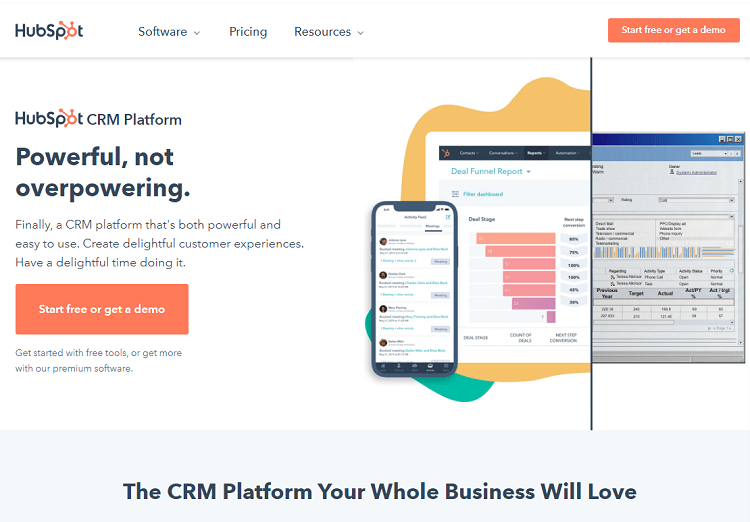 HubSpot has created a range of tools for salespeople and digital marketers, but in this instance, it's the landing page tool that will be of the most interest.
HubSpot is one of the most reputable brands in B2B marketing and can provide everything you need for your marketing strategy.
The landing page builder has features including analytics, a form builder, and a design tool.
It's also possible to integrate the software to include ad management, email marketing, and a host of other tools.
Key Features
You can improve your landing page with A/B testing
Customize your landing page to suit your target audience
Send messages to the right people with the help of list segmentation
Mobile-friendly responsive layouts
Includes a form builder and design tool
Pros
All-in-one CRM solution
The supplemental content is outstanding
Social media scheduling features and email marketing support are available
Cons
There is no e-commerce platform
The number of features doesn't warrant the price tag
There's so much going on you might find it overwhelming
Pricing
The landing page creator comes under the marketing tools section.
There are three plans to choose from:
Starter plan: $50 if you pay monthly
Professional plan: $890 if you pay monthly
Enterprise plan: prices start at $3,200 per month
If you pay upfront for 12 months at a time, you can save 10%.
HubSpot also has a selection of free tools, including CRM, sales, customer service, and marketing tools.
Another option is to choose the CMS Hub, which includes a website builder.
Prices for this are $25 per month for the Starter plan.
The Professional plan is $400 per month, while the Enterprise plan starts at $1,200 per month.
A 14-day free trial is available for the CMS Professional and Enterprise plans.
Instapage – The Best Landing Page Builder for Beginners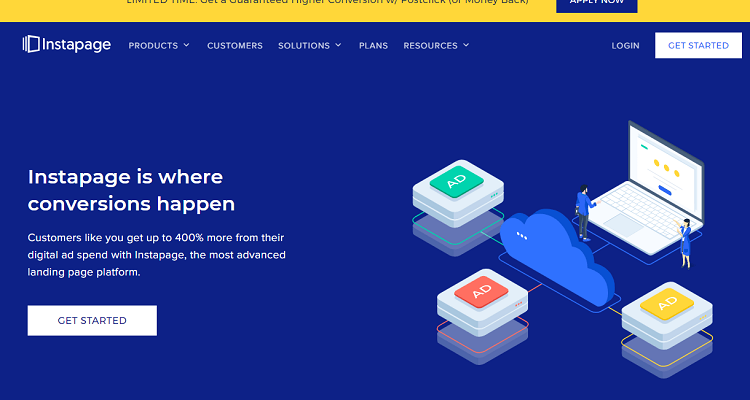 Use Instapage to can create on-brand, stunning landing pages.
There are more than 200 templates to choose from, and no developer skills are necessary.
This landing page builder software tool is very powerful, and with the drag-and-drop function, you'll be able to create pixel-perfect pages effortlessly.
It's quick and easy to set up, and the customizable editor is very user-friendly.
However, on the downside, it is relatively expensive, which means it's aimed more at a large company or agency.
You'll also need to edit the pages to make them mobile-responsive.
Key Features
More than 200 out-of-the-box templates
A library of stock images for your media content
A/B landing page testing
Integrate third-party software to improve features
Uncomplicated to use
Pros
You can capture leads and send them to AWeber, Zapier, Mailchimp, and more
Custom code can be added to pages
Visual on-page collaboration in real-time
Cons
Can work out very expensive
Mobile responsiveness needs tweaking
Customer support isn't always as helpful as you'd like
Pricing
There's a free demo if you want to know more about how this builder works.
You can also take advantage of a free 14-day trial and try it before you buy.
There are only two plans:

The Building Plan and Converting Plan.
The Converting Plan is a customized service, so the cost depends on your needs.
The other plan costs $199 if you pay annually or $299 if you prefer to settle on a month-by-month basis.
Leadpages – The Best Landing Page Builder for Businesses on a Budget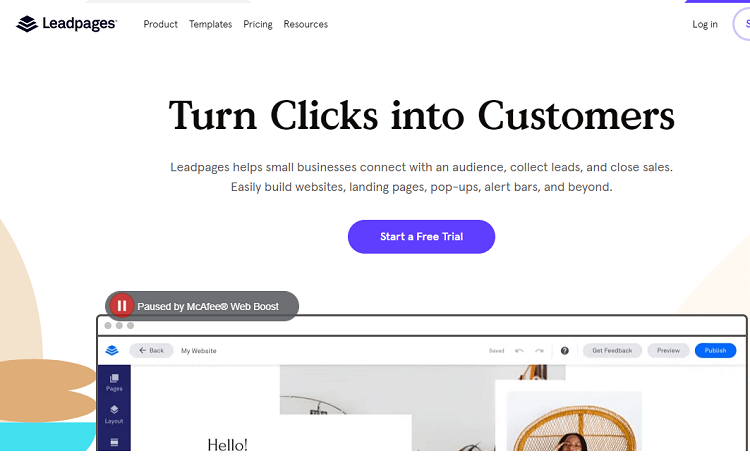 Leadpages manages to pack lots of features into its package, and it won't cost you much.
You'll find all the additions beneficial and vital for the success of your campaign.
If you're aiming your high-converting landing page at a mobile audience, and let's face it, who wouldn't, you'll be pleased to learn that Leadpage templates are all mobile-friendly, straight out of the box.
On the flip side, some of the page designs are not as sleek as other tools, and the page editor needs some attention.
Key Features
More than 160 templates to choose from
An analytics dashboard is available
Perform your own A/B split testing
No publishing limits
If you need more functions, it's possible to use third-party software
Pros
To make it easy to design your site, there is a simple drag-and-drop interface
Adding images and videos is effortless, thanks to the multimedia embedding which means you only have to paste an embed code
The analytics for monitoring your landing page are terrific
Cons
Some of the design elements are difficult to fine-tune
You may have problems with some of the customization options
In the Standard Plan, there are no follow-up trigger links
Pricing
Leadpages offers a 14-day free trial, after which you can choose from one of three plans.
However, certain features, such as email trigger links, online sales and payments, and A/B testing, are only available if you subscribe to the Pro and Advanced Plans.
Standard plan: $27 per month if you choose to pay annually
Pro plan: $59 per month if you choose to pay annually
Advanced: $239 per month if you choose to pay annually
Unbounce – The Best Landing Page if You're Looking for Advanced Features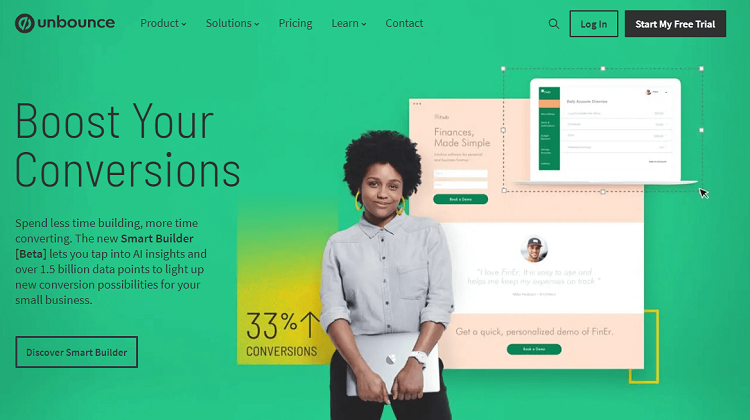 Unbounce has possibly one of the best reputations as a provider of landing page builder software.
According to its website, it is a landing page and AI copywriting platform for more than 70,000 customers.
This software company promises to help you build one or more optimized landing pages.
These pages will attract new leads and convert them into paying customers.
The templates available are mobile-responsive and fully customizable.
The features include a drag-and-drop editor, A/B testing, and third-party marketing tool integration.
One more feature worth mentioning is dynamic keyword insertion.
This function ensures your landing pages are optimized for Search Engine Marketing (SEM).
Unbounce does support CSS and JavaScript, should you need it, but knowing how to code is not crucial.
Key Features
An uncomplicated drag-and-drop feature is available
Landing pages are secure thanks to SSL encryption
Lead generation tools are accessible
More than 100 templates at your fingertips
You can use it to publish landing pages on your domain
Pros
Easy to use
Implementation of A/B testing is excellent
Industry-specific templates are available
Cons
Not as many templates available as some other builders
You may have occasional issues with mobile responsiveness
The analytics tracking could do with some improvement
Pricing
Unbounce has four plans to choose from, depending on where you are with your business.
A 10% discount is applicable if you play annually. It is also available to try for 14 days for free.
Monthly prices are as follows:
Launch plan (for anyone just getting started with landing pages): $80 per month
Optimize plan (when you're ready to start optimizing and leveling up your marketing): $120 per month
Accelerate plan (if you want a little extra oomph for your business): $200 per month
Scale plan (when you need more traffic): $300 per month
Lander – The Best Landing Page Builder for Using with PPC Ads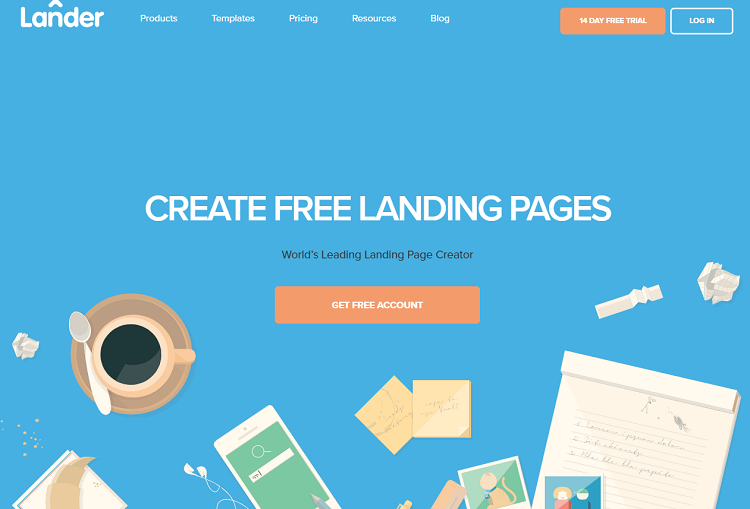 One feature of the Lander landing page builder that makes it ideal if you run PPC ads is its use of dynamic text replacement.
It'll save you money and time because the software dynamically matches your PPC keywords with your PPC landing page.
The drag-and-drop editor makes creating landing pages easy as pie.
It's also possible to integrate your pages with Facebook and perform A/B testing.
It claims to have more than 1.5 million customers and 3000 brands, so it must be doing something right.
However, there are some limitations, such as limiting how many visitors you get per month.
Key Features
Auto-fill forms help to increase leads and conversion rates
Powerful integrations such as Google Maps
Mobile-friendly and responsive landing pages
You can create an unlimited number of landing projects
User-friendly and intuitive drag-and-drop building tool
Pros
You can achieve PPC ad integration seamlessly thanks to the DTR feature
Simple to add widgets and media to your landing pages
Built-in conversion charts allow you to track your landing pages activity
Cons
Some design features are missing
Certain integrations aren't available with the Basic plan
The number of visitors you get per month is limited
Pricing
You can try any Lander Plan entirely free for 14 days.
After which, you can choose to subscribe to one of two plans, both of which are much cheaper if you pay annually.
Annual payments also entitle you to more features.
The basic plan for small businesses: $16 per month when paid annually
Professional plan for in-house marketers: $83 per month when paid annually
SendinBlue – The Best Landing Page Builder for Email Marketing Campaigns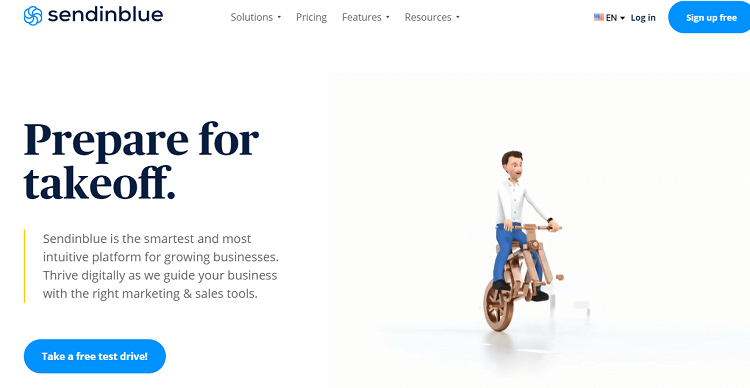 Targeted at small and medium-sized businesses, SendinBlue is a landing page builder that is fundamentally an email marketing hub tool.
Its platform is feature-rich but also surprisingly user-friendly.
It allows you to automate your email marketing and not spend a fortune doing it.
Features include a CRM, SMS, transactional emails, marketing automation, Facebook, and of course, landing pages.
SendinBlue is very reasonably priced but includes a free plan if your budget is really tight.
Key Features
Allows you to send trigger-based and transactional emails and SMSs
You're able to import customer orders and customizable KPIs
Includes web tracking and lead scoring
European servers mean you have access to a greater server reach
Pros
Far cheaper than many other comparable tools
SMS marketing tool
WordPress Plugin is available
Cons
The free plan has a daily sending limit of 300 emails
Some of the templates look a little dated
When loading, the web application can sometimes be slot
Pricing
You can get started with SendinBlue for free. It allows you to send up to 300 emails per day and enjoy unlimited contacts.
However, if you want a little more from a landing page builder, there are three plans to choose from.
Lite plan: $25 per month
Premium plan: $65 per month
Enterprise plan: You have to call for a personalized quote
Mailchimp – The Best Landing Page Builder for Email Marketers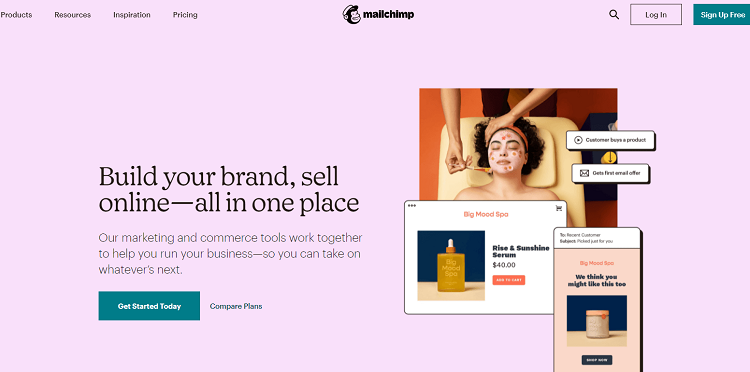 If you're looking for a landing page tool geared towards promoting products and email marketing, Mailchimp is worth considering.
It lacks a few of the more advanced features you'll find with other tools, but there are more than enough customization options for the price.
MailChimp already has a good reputation for providing industry-leading email software but has expanded the menu and now offers a landing page builder as part of its software suite.
Key Features
Publish unlimited pages for free
Store images in the content studio for quick and easy access
MailChimp's mobile app allows you to create a simple, one-click landing page wherever you are
Reports on visitors, clicks, conversions, and revenue
Pros
Built-in drag-and-drop builder
You can use your website content to auto-populate your landing page builder
It's easy to tie your landing page to a MailChimp campaign
Cons
You can't customize your URL without paying an additional premium
Choose the free option, and you're limited on the size of your list
The focus is not on landing page builder software
Pricing
MailChimp offers a range of different platforms, depending on your needs, for example, transactional emails, websites, and commerce.
The landing page builder, however, is part of the marketing platform.
Again, there is a free option or three different plans to choose from.
Essentials plan: Starts at $9.99 per month, based on 500 contacts
Standard plan: Starts at $14.99 per month, based on 500 contacts
Premium plan: Starts at $299 per month, based on 10,000 contacts
The prices above are just for reference and are subject to change, depending on the size of your audience.
Elementor – The Best Landing Page Builder for WordPress Users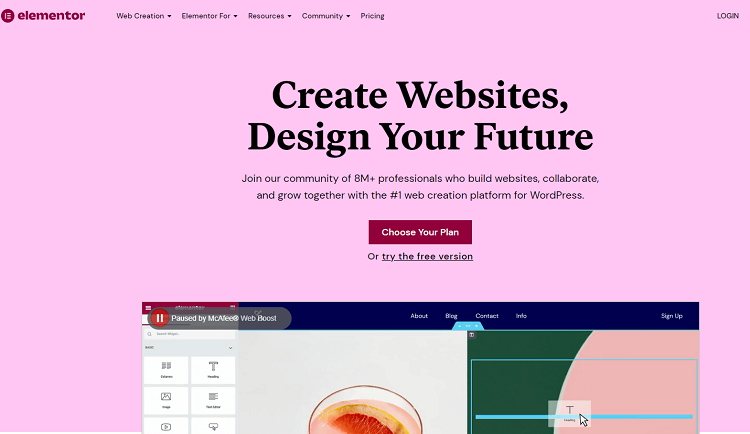 WordPress is an incredible website creation tool, and if you happen to use it for your business, Elementor is a landing page builder tool that compliments it very well.
Elementor gives you total control over every detail of your landing page design.
There is a range of templates to choose from.
However, there's also the option to design one yourself from scratch.
Third-party tools can be integrated seamlessly, should you need additional functionality from your landing page.
This means you don't have to worry about looking for new ones.
Key Features
Integrates with WordPress flawlessly, as well as other third-party tools
Variety of ready-to-use themes are available
Responsive editing tool
Builder tool allows you to build custom pop-ups
Includes more than 80 design elements such as buttons, spacers, videos, forms, image galleries, and much more
Pros
The visual builder interface allows you to see changes immediately
Includes some of the best design templates
Works well with most WordPress themes
Cons
Understanding how to use the tool can be challenging
Mobile responsiveness occasionally has issues
Some design areas are not as flexible as others
Pricing
Elementor offers a 30-day money-back guarantee on all its plans.
There's also a free plan available that requires no credit card details.
In addition, it allows you to explore the drag-and-drop live editor and gives you access to 40+ basic widgets and 30+ templates.
Finally, if you like the experience and want more features, there are four paid-for plans available.
Essential plan: $49 per year for 1 pro website
Expert plan: $199 per year for 25 pro websites
Studio plan: $499 per year for 100 pro websites
Agency plan: $999 per year for 1000 pro websites
Landingi – The Best Landing Page Builder if You Want Flexible Pricing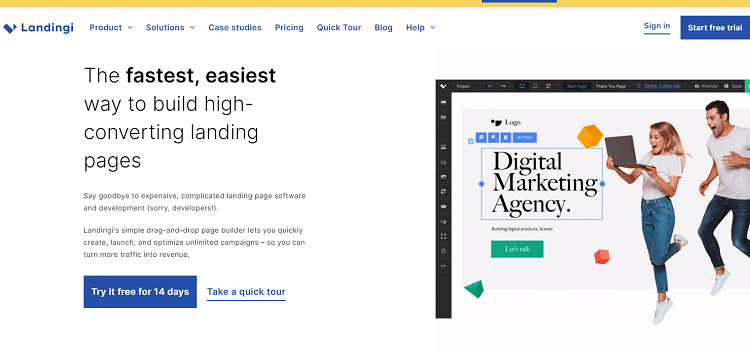 Landingi is a company that aims its product across the board.
The pricing plan it uses is flexible, so you're bound to find one that meets your needs and suits your budget.
However, it's not just about the pricing. Landingi has lots more to offer.
For example, you need no coding experience to create an effective landing page, thanks to the drag-and-drop website builder.
It's also straightforward to monitor your online presence using the software's analytical features.
Key Features
More than 100 out-of-the-box templates
Integrations with Mailchimp, Salesforce, HubSpot, and more
You can import other pages from the internet to "clone
Perform A/B testing and get web analytics
There is no limit to the number of landing pages you can create
Pros
The landing page design process is simple
Prices are very affordable
Captures leads and lets you perform automation using those tools
Cons
Customization options are limited
Low-price plans have limited functions
Landing pages are not very mobile-friendly
Pricing
Landingi offers a 14-day free trial, and you don't need to provide any credit card information.
If you like the software, there are three business plans to choose from.
Create plan: $55 per month, billed annually
Automate plan: $79 per month, billed annually
Agency plan: $149 per month, billed annually
The lowest-priced plan is for business owners and smaller companies.
The Automate plan is for marketing pros, while the highest-priced plan is for agencies, resellers, and integrators.
You have the option to pay monthly, three-monthly, or six-monthly, but the price will increase.
ClickFunnels – The Best Landing Page Builder for Selling Courses or Offering Consulting Services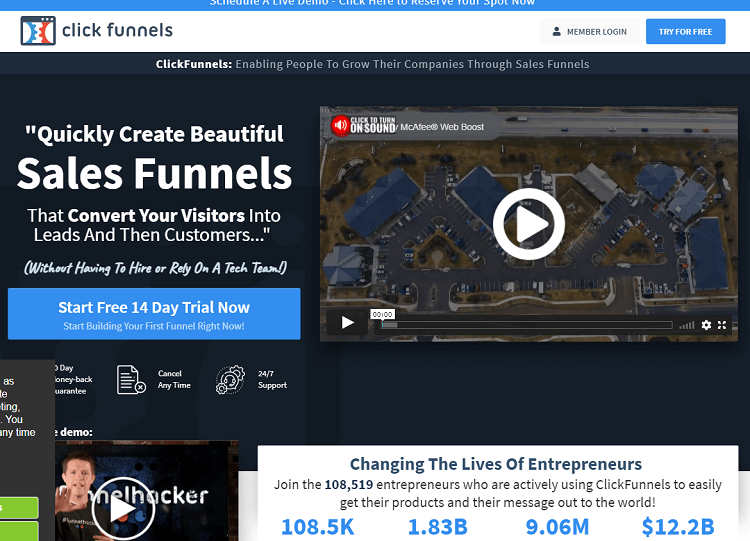 ClickFunnels is essentially a sales funnel builder, but it also has features that allow you to create landing pages for lead generation.
If you want, you can also use it for selling products online.
With this software, you can pick the best sales to funnel for your product type, choose the best design, and upload some custom elements for a personalized site.
This tool is not at the top of the list because it's more of a full website plus marketing channel in one that also offers landing page creation as an option.
The highest-priced package also helps you start your affiliate program.
Key Features
Stellar customer support
Publish pages quickly using the drag-and-drop page builder
Effectively convert leads to customers using the funnel features
Built-in features allow you to automate your marketing campaign
Sell more products with one-click upsells
Pros
Allows you to create sales funnels effortlessly
The drag-and-drop function is very responsive
Website-in-a-box solution
Cons
Available email functionality is limited
Beginners could find the software a little challenging
You may find the marketing and affiliate program rather annoying
Pricing
You can try out ClickFunnels for 14 days at no cost.
If you like what's offered, there are three plans to choose from:
ClickFunnels Basic: $97 per month
ClickFunnels Platinum: $297 per month
TwoCommaClubX: $2,497 per month
KickoffLabs – The Best Landing Page Builder for Viral Campaigns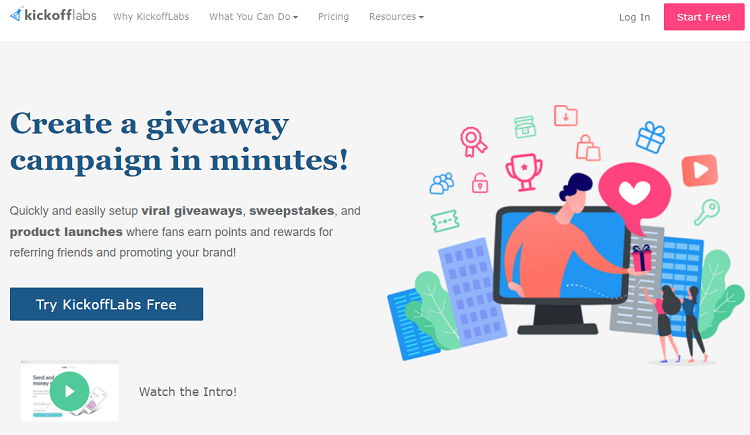 KickoffLabs is a tool aimed at marketers who want to further their landing page creation and launch viral marketing contests.
Using the software, you can set up a campaign with a viral loop.
The viral loop could be Bonus Referrals, Coupons, Leaderboards, Waitlists, and more.
You also have the option to run your campaign in various ways, synch as a Slide-in Bar, Popup, Landing Page, or Custom HTML.
Key Features
40+ customizable templates
Access to widgets you won't find anywhere else
Designing specifically with contests and product launches in mind
Easy and intuitive editor
Pros
Comprehensive platform
Fully customizable pages for higher conversions
Intelligent real-time A/B testing
Cons
Very narrow usage
The hobby plan has a 2,000 visitor/month limit
Some valuable features only available in higher-tier plans
Pricing
With the free plan, you can run a mini-campaign to 500 uniques a month. If you want more, there are four plans to choose from.
Pay annually for these, and you save 30%.
Hobby plan: $19 per month, billed once a year
Premium plan: $49 per month, billed once a year
Business plan: $99 per month, billed once a year
Enterprise plan: $199 per month, billed once a year
Carrd – The Best Landing Page Builder for Photographers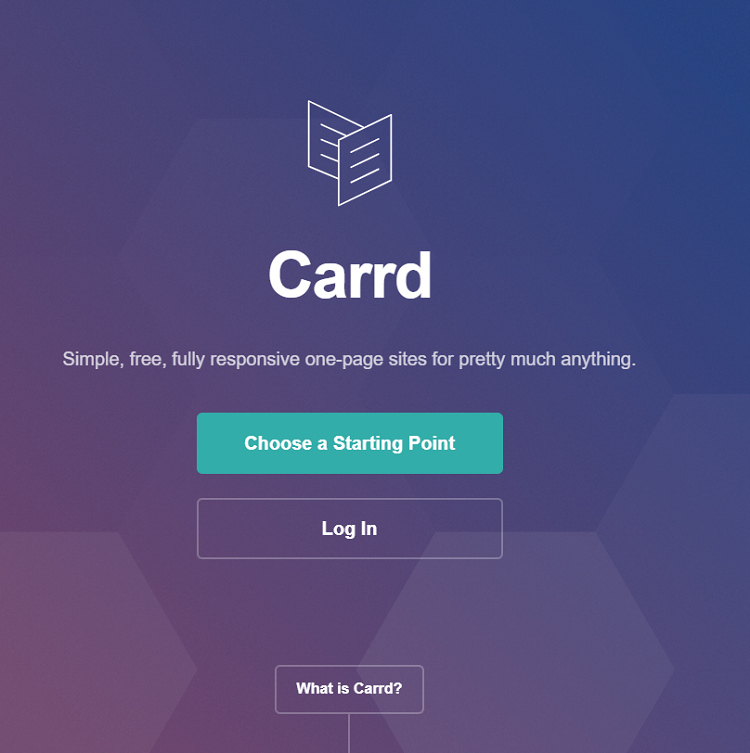 If you're looking for something that has all the bells and whistles, Carrd could be what you need.
This single landing page creation tool is very pared-down and has minimal input and maximum style.
The user interface is super easy to use. 75 templates have been divided into five categories, one of which is Portfolio.
This is a fantastic option for photographers who want to show off their pictures.
Key Features
Allows you to use large images, videos, and high-quality images
Excellent uptime and fast speed
Content can be animated
Complete library of icons
The user interface is clear and simple
Pros
Clean user-interface
Fast and reliable
Inexpensive price plans
Cons
Doesn't have a built-in eCommerce system
Limited design options
Limited to one page
Pricing
If you don't want to pay anything, you can build up to three sites per account and use all of Carrd's core features for free.
If you want to upgrade your Carrd experience, you can Go Pro at the cost of $19 per year.
Subscribe to the Go Pro option, and you get access to features such as:
Custom domains
More sites
Forms
Widgets and embeds
Google Analytics, and no branding
You can try Go Pro for seven days at no cost.
Makeswift – The Best Upcoming Landing Page Builder Tool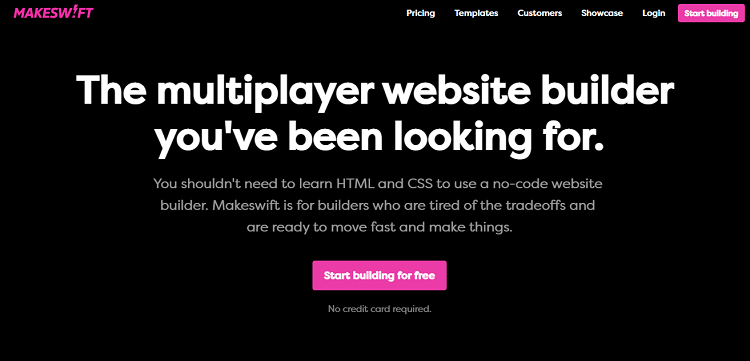 Makeswift used to go by the name of Landing Lion.
However, this incarnation is just as good as the original, if not more so.
It's a multiplayer website builder that doesn't require HTML and CSS skills to work.
Instead, you can quickly build landing pages using the fully customizable builder and design them just how you want them.
If you've got a team of people working on your online presence, multiple users can edit the landing pages in real time without any fear of getting locked out.
Key Features
You can design your landing pages exactly how you want them
Multiple users can create and edit pages at the same time
No code is required when building pages
Pages are mobile-responsive
Easy pricing
Pros
It's free in early access mode
You can use custom domains
Subscription includes SSL encryption
Cons
Access has to be requested
Lacks some features
You can't import existing code to create pages
Pricing
Makeswift is free to use while you're building.
But then, when you're ready to go live, you pay $15 per month per live site.
The $15 per month payment allows you to add unlimited users and build unlimited, responsive pages.
Systeme.Io – The Best Landing Page Builder for Online Course Creators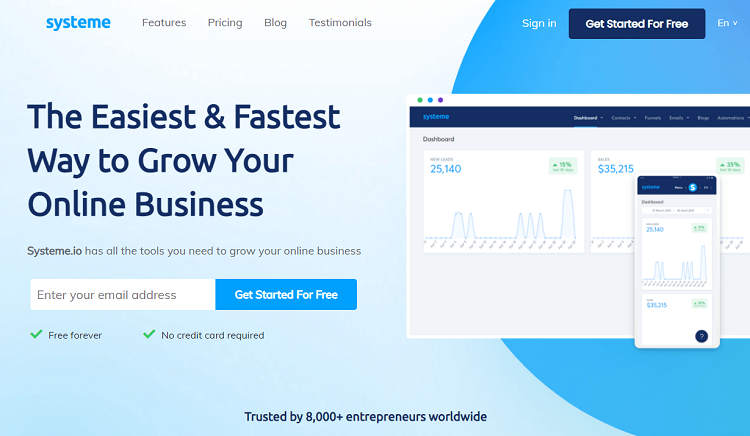 Any entrepreneurs looking to scale and automate their marketing activities might find what they need in Systeme.io.
It's a one-stop shop for marketing and includes everything you might need if you want to launch an online business, create a blog, sell online courses, create sales funnels, build a mailing list, and lots more.
In addition, it allows you to run affiliate programs, sell products, and send emails to customers.
It suits businesses of all shapes and sizes, from small to large.
Key Features
Allows you to build sales funnels
Personalized email automation
Quickly and easily build membership sites
Increase sales with 1 click upsells
Pros
Helps you reach a wider audience
Allows you to be a more effective teacher
Marketing automation features allow you to automate your tasks
Cons
Limited design flexibility
Integration with external services and tools isn't possible
Takes a while to understand all the features and be able to use them effectively
Pricing
Systeme.io is an affordable landing page builder, especially when you factor in all the other available features.
You can start with a 14-day free trial, plus there's a free option. Other than that, you can choose from one of three plans.
Also, if you choose to pay 12 months in advance, you'll save 30%.
Here are the prices for an annual payment:
Startup paid plan: $27 monthly, billed annually
Webinar plan: $47 monthly, billed annually
Enterprise plan: $97 monthly, billed annually
Wix – The Best Landing Page Builder for Online Stores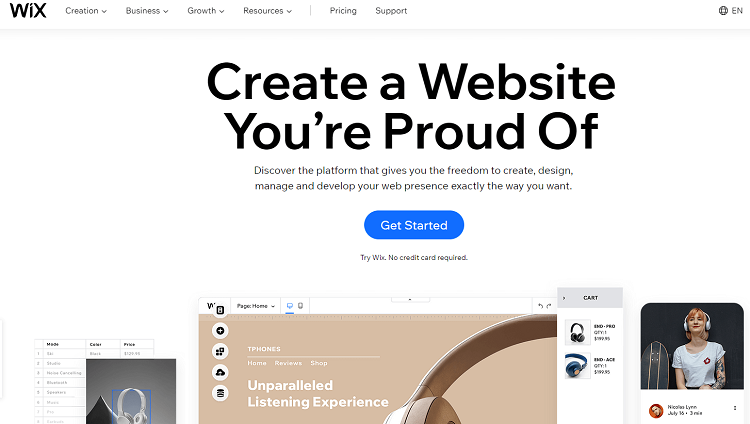 Wix is a platform that's best known for website building, but landing page solutions are also on offer, albeit for limited use cases.
Unfortunately, when you first visit the website, it's not immediately apparent that the landing page builder is a key product.
Instead, it's billed more like a natural addition to the website software.
That being said, there is a basic package available, so it's definitely worth a look.
Key Features
Drag-and-drop editor for design flexibility
Add advanced functionality by adding your own code and connecting to third-party APIs
Connect Wix analytics and other marketing and analytics tools such as Google doc Analytics
Able to build dedicated eCommerce custom landing pages for online stores
Choose from 50+ leading payment partners
Pros
More than 30 templates to choose from
Allows you to manage various sites, from eCommerce sites to portfolios
Easy to launch
Cons
Landing page building software is not the focus of Wix
Storage and bandwidth is limited, depending on the plan
Fewer features and options than other tools
Pricing
Wix offers a range of plans, including a completely free one.
Aside from that, prices start at just $4.50 per month for the most basic package.
Other options include:
Business basic plan: from $17 per month
Business Unlimited plan: from $26 per month
Business VIP plan: from $35 per month
GetResponse – The Best Value for Money Landing Page Builder
You'll get the most bang for your buck with the GetResponse landing page builder.
However, one of its best features is the ability to set your target list size and factor that into how much you pay.
What this means for you is that you only pay for what you need.
Most of the features you're likely to need are already in the basic plan, so potentially, you could save yourself a considerable amount.
For example, you get unlimited automation templates, landing pages, and lead funnels.
These features would cost a lot with any other platform.
Key Features
User-friendly drag-and-drop editor for building pages
To automate part of your campaign rollout, you can create a workflow
Landing page templates are responsive
For stock photos, you can use Shutterstock
GetResponse has great analytics
Pros
Quickly respond to leads using the Campaign Builder feature
List building option is available
A good range of templates is accessible
Cons
Issues with some landing pages viewed on mobile devices
The drag-and-drop feature needs tweaking
The user interface has some minor issues
Pricing
You can try any of the four available plans for 30 days without providing your credit card details.
Pay 24 months in advance, and you receive a 30% discount.
For 12 months, you'll pay 18% less than the prices below.
Basic plan: from $15 per month
Plus plan: from $50 per month
Professional plan: from $100 per month
Max plan: this is a customized opinion, so you have to contact GetResponse for a personalized quote
Wishpond – The Best Landing Page Builder for Growing Your Business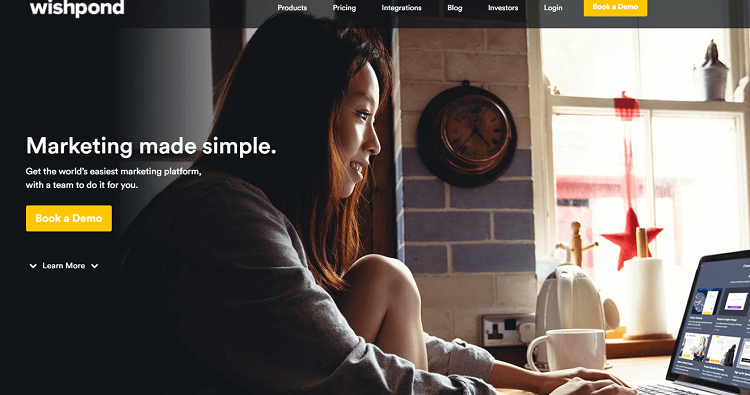 Some massive businesses use Wishpond, which has to tell you something.
Names such as Walmart, Sony, UNICEF, Panasonic, and CBS have all used this landing page builder with great success.
Wishpond's dedicated landing page builder allows you to create popups, forms, and landing pages.
It's also handy if you want to do promos and contests.
While doing all of this, Wishpond will keep itself busy collecting leads for you to nurture.
Non-coders will find this software straightforward to use, but it also supports CSS coding and HTML.
All you have to do is pick a template and then drag-and-drop the info you want to include on your landing page.
If you get stuck at any point, Live Chat support is available, or there's an extensive list of resources you can refer to.
These include e-books, articles, and webinars.
Key Features
Integrations with some of the best marketing platforms
Varied template library to suit various needs
Additional marketing automation tools
A/B testing and easy-to-understand analytics
Live Chat support
Pros
Makes tracking leads easy
Easy to navigate the site
Option to automate some email processes
Cons
Reporting capabilities are limited
The drag-and-drop feature is temperamental
Needs more templates
Pricing
Wishpond gives you the option to make an appointment to speak with a specialist to learn about its flexible pricing options and start your free account.
However, for those who would like an idea of the pricing structure, here are your options.
Starting Out plan: For a maximum of 1500 leads, you pay $49 per month
Everything You Need plan: For a maximum of 2500 leads, you pay $99 per month
Rapid Groth Plan Tier-1 plan: You pay $199 per month, and your leads are capped at 10,000
There's a 14-day no-commitment free trial available on annual plans if you want to give it a test run first.
TARS – The Best Landing Page Builder for Customer Service Teams

TARS is a leading chatbot platform but has found its way to this list because of its fresh approach to landing pages.
Rather than forms, it uses chatbots so you can create Conversational Landing Pages.
The pages you create aren't static.
Instead, TARS allows you to engage your visitors in personalized conversations.
Potentially, this could mean twice as many leads.
In the template library, there are more than 450 lead generation and qualification templates.
There's bound to be one for your business, whether it's legal, insurance, real estate, healthcare, travel, and much more.
Key Features
Drag-and-drop feature for customizing templates
Build a new landing page from the ground up with no need for coding
An innovative way of creating landing pages
Useful step-by-step pop-ups guide you through the process
Good optimization for mobile users
Pros
Increases potential for fewer drop-offs and more conversations
Excellent for use as part of an ad campaign
The option to build customized chatbots is available
Cons
Needs more integration options
Issues have been reported with performance
The design of the site is a little outdated
Pricing
No payment information is required if you want to start with a 14-day free trial.
After that, you have three options:
Business plan: $499 per month
Premium plan: $899 per month
Enterprise plan: You have to contact the company for a custom price
If you decide you want to pay annually, you get two months for free.
Pagewiz – The Best Landing Page Builder that Focuses on Conversion Optimization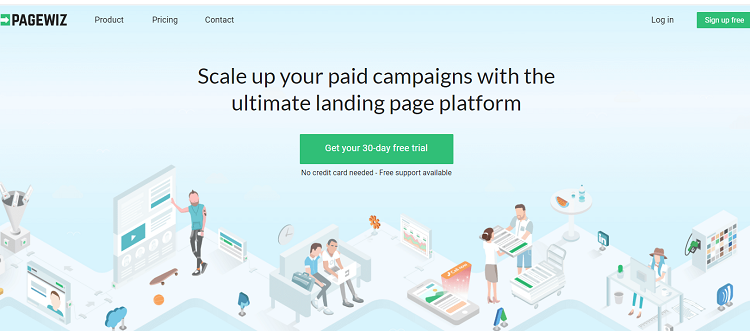 Pagewiz is a platform that focuses strongly on conversion optimization and modern design.
More than 100 templates are available to choose from, all of which incorporate current best practices and lots of custom fonts.
The drag-and-drop editor allows you to tailor the templates so that they better align with your business brand and needs.
Integration with leading email services and CRMs is possible, plus there is access to its API if you want to make custom integrations.
Key Features
A/B testing
Clear analytics
Secure cloud hosting
Round-the-clock support
Pros
Allows you to scale up your paid campaigns
30-day free trial available
Integrates with CRMs such as PayPal, Salesforce, Google AdWords, and Mailchimp
Cons
Not enough templates
Restrictive design layout
Requires a little practice
Pricing
You can try Pagewiz free for 30 days without giving any payment details.
After that, if you like the Pagewiz experience, there are four plans to choose from, all of which are 15% cheaper if you pay annually.
The basic plan with two domains: $29 per month
Standard plan with five custom domains: $49 per month
Plus plan with ten custom domains: $99 per month
Pro plan with 25 custom domains: $199 per month
ConvertKit – The Best Landing Page Builder for Social Media Campaigns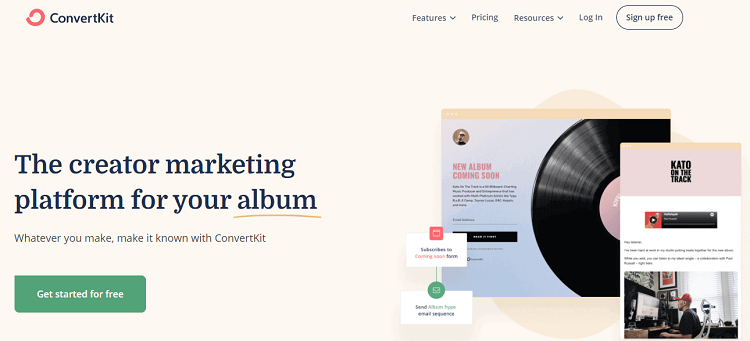 ConvertKit started life as an email marketing service, but it now includes a landing page building as well.
This brings the benefit of being able to combine your landing page with your email marketing campaigns.
The software's advanced features are not as extensive as other landing page builder tools, but the basic features are pretty good, plus you're saving money.
Key Features
Mobile-optimized pages
No coding required
Integration with Unsplash
Custom data collection
Convenient for social media campaigns
Pros
Simple and easy to use
Fantastic user experience
You can use it to sell products and subscriptions
Cons
Lacking advanced features
Can be complex to deal with
Reporting lacks depth
Pricing
You can get started with ConvertKit for free, but the options are limited.
If you need more features, there are two plans to choose from.
Creator: $29 per month
Creator Pro: $59 per month
If you decide to pay annually, you get two months free.
Ucraft – The Best Website Builder Interface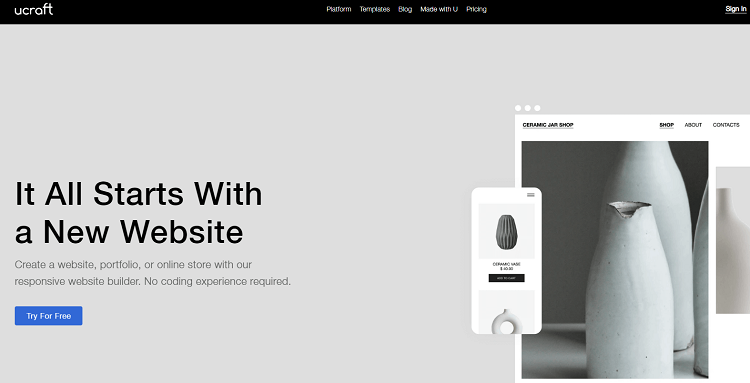 Many of the available landing page builders include drag-and-drop, but Ucraft offers a little more.
You have the option to change colors, for example, add effects, and design logos, making your landing page unique.
There are also built-in blogging and e-commerce tools, should you need to add more functionality.
It's altogether a very affordable option if you plan to make good use of all the extra features such as the vast library of stock photos and vectors, analytics, design, SEO, and marketing tools, and free SSL certification.
Key Features
Live chat support around the clock
Improve page optimization with SEO tools
You can publish in a range of different languages
Build pages quickly with the drag-and-drop function
Pros
Security features are built-in
No special skills needed to use it
Customer support is available when you need it
Cons
Customer feedback and other interactive features are missing
Third-party integrations are minimal
Not as many features as some other builder tools
Pricing
Ucraft offers a 14-day trial, plus you're able to create a personal multi-page website for free.
Other than that, there are three plans to choose from:
Pro Website plan: $10 per month when you pay annually
Pro Shop plan: $21 per month when you pay annually
Unlimited plan: $69 per month when you pay annually
Add 15% if you'd rather pay monthly.
ShortStack – The Best Landing Page Builder if You Want to Host Content or Events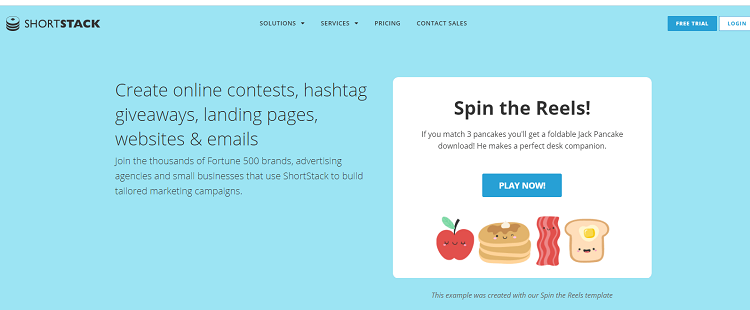 ShortStack will help you create beautiful landing pages for quizzes, giveaways, and contests.
The editor is easy to use, and email marketing tools are available to help you keep track of leads and conversion rates.
You can use the builder with other platforms such as Vimeo, Google Analytics, MailChimp, Squarespace, Shopify, and more.
Create landing pages for hosting Facebook Contests, Instagram Contests, and Twitter Contests.
Key Features
Mobile responsive templates
Easy to use drag-and-drop editor and real-time editing
Simple client management
Tracks conversion rates, website visitors, and more
Robust ROI tracking and analytics
Pros
A free 10-day trial is available
Complete design flexibility with tons of templates
Perfect for creating contests
Cons
Complete beginners might find it a bit complicated
More of a niche solution
Lacking in bells and whistles
Pricing
You can try ShortStack before you buy with a no-commitment, 10-day free trial.
Then, if you like the experience, there are four plans to choose from:
Business plan: $99 per month
Agency plan: $249 per month
Brand plan: $499 per month
Enterprise plan: Contact sales for a customized quote
If you choose to pay annually, you can save 20% on the above prices.
Video Landing Page Builders
Landing pages have an amazingly high conversion rate of 23%, but if you choose a video landing page, you can increase the average amount of time visitors spend on your page.
If you'd like to include videos on your landing page, here are the top video landing page builders that will help you do it.
WaveVideo: Features a fully customizable player and no ads. You can measure results with Google Analytics and share videos via direct links.
Ucraft: Includes location visibility, custom thumbnail selection, visibility, and alignment settings, and the option to add video as a block background.
Bitrix24: Offers free hosting and unlimited bandwidth, SSL encryption, and is fully responsive.
RenderForest: Includes any time, anywhere re-edit functionality and built-in HTML editor.
ReadyMag: No credit card details are required for the free version, and you can add collaborators for shared projects.
WordPress Landing Page Builders
Landing pages are very beneficial if you sell a service or product.
Potential customers arrive at these pages either via search engines or paid ad campaigns.
If you're familiar with WordPress and use it for your website, you can use several WordPress landing page plugins to make creating landing pages quick and easy.
SeedProd: Comes with an easy-to-use drag-and-drop page builder, a beautiful template library, and pre-designed sections.
Beaver Builder: Includes dozens of ready-made templates that make an excellent starting point.
Divi: You get hundreds of ready-to-use templates, or you can create your own and resume them later.
OptimizePress: You can use this landing and sales page plug-in as a theme with an integrated builder or a separate plug-in that works with any WordPress theme.
Thrive Architect: Provides more than 250 templates, a drag-and-drop builder with a click-to-edit function, and several essential conversion elements.
Mobile Landing Page Builder
Mobile has now officially overtaken computers as a way to access the internet, which means your landing page should be designed specifically with mobile usage and responsiveness in mind.
Some landing page builders do this better than others, so here's a list of the top five.
PageWiz: This is an integrated service that helps marketing and design agencies manage client campaigns. It's easy to use and flexible.
Unbounce: An easy-to-use landing page builder for mobile that also allows you to create other marketing tools such as sticky bars and custom pop-ups.
KickoffLabs: The focus of this builder is giveaways and contests, including referrals and coupons.
InstaPage: This builder makes it incredibly easy to create mobile-responsive pages.
Lander: More of an entry-level and user-friendly product which makes it more accessible for small businesses and personal blogs.
FAQ
In this final section, you'll find the answers to some of the common questions business owners ask when they're considering building a landing page.
Are landing pages free?
There are several landing page builders to choose from, some of which are free.
Generally, you can expect the features and functions of a free landing page builder to be fewer.
However, if it's only a basic landing page you want to build and run a small business, the free option may be enough.
What is the difference between a landing page and a website?
A landing page is customized to a specific campaign or offer.
Its purpose is to guide visitors toward a single call to action.
They are designed specifically for conversion.
A website, on the other hand, is designed for exploration and should provide visitors with more general information.
Do you need a website to have a landing page?
The simple answer is no.
It can be part of a website but is not a necessity.
How many landing pages can I have with WordPress?
You can create as many landing pages as you want for different campaigns.
How many landing pages should a website have?
There is no limit to the number of landing pages your website can have.
However, studies have shown that business websites with 10-15 landing pages tend to increase conversions by 55% over those with less than ten landing pages.
Those with more than 40 landing pages increase conversions by over 50%.
What makes a good landing page for Google ads?
Relevance is critical when you're making a landing page for Google ads.
It should be relevant to your Google ad and include relevant ad text.
How long should a landing page be?
It really depends on why you're creating a landing page.
If, for example, you want a custom email address in exchange for a free ebook, your landing page doesn't need to be too long.
On the other hand, if you're asking someone to make a $1500 purchase from your website, a long landing page will be more appropriate.
What is a good conversion rate for a landing page?
The average conversion rate is around 2.35%.
The top-performing sites, on the other hand, convert between 5.30% and 11.45%.
Can you create a landing page in Canva?
Yes, you can, but Canva doesn't have any landing page templates, so you'd have to build your own from a blank canvas.
Do you need hosting for a landing page?
You do need hosting for a landing page, but the hosting will be provided as part of your plan if you use a landing page builder.
What factors affect landing page quality?
There are several essential features that your landing page should contain.
The quality of your landing page is affected by:
Readability: Your landing page must be readable or "spiderable" so that Google can give it a Quality Score and rank it.
Relevance: Landing pages should be relevant to your ad copy.
Transparency: The promotion displayed on your landing page should be the same as your ad copy.
Safety: Consumers' computers shouldn't be harmed when accessing your landing page.
Navigation: The usability of your landing page is enhanced by using navigational elements such as navigational bars.
Do video landing pages convert better?
Statistically, video landing pages do convert better, sometimes by as much as 130% or more.
What are the three main factors that determine ad quality?
The three main factors that determine ad quality are:
Expected clickthrough rate or how often an ad will be clicked on when its shown
Landing page experience or how well the landing page helps users find what they're looking for
Ad relevance or how well an ad matches what the user is searching for
What's the single biggest landing page mistake?
There are several common mistakes making it difficult to pick out the biggest one.
So, here are four examples instead:
Driving all traffic to one generic landing page
Pushing monster-size lead generation forms
Trying to close on cold audiences
Too many visuals
Best Landing Page Builders according to Reddit:
ActiveCampaign's Plus plan is recommended. Elementor, Getresponse.com, and CloudFunnels are convenient, feature-rich, and affordable options. Consider Weebly or Squarespace. WordPress with a template and Unbounce are also intuitive choices.
You might be interested to check those related posts as well:
Conclusion
Now you've got a selection of the best landing page builders to choose from, you're in a much better position to find the right one.
Which one you choose depends on your business and preferences.
Here's hoping you'll find the best one, and it helps to increase traffic and unlimited conversions.