During the last few years, many businesses and educational institutions moved online because of the pandemic. Consequently, the demand for top-tier solutions that help people share knowledge over the Internet has appeared. It forced the fast-paced growth of LMS platforms. In the post below, you will find the selection of the best LMSs worth paying attention to.
What are the Main Reasons for Using LMS?
Organization of learning content
Limitless access to learning materials
Progress and performance tracking
Fast and simple employee training and onboarding
On-demand online training
Best LMS this 2023
These days, there are tons of great learning management software solutions available. Therefore, it might be a tough task to pick the best. Explore the list of LMSs below to find one that will meet all your needs.
1. Docebo – Best Customizable Learning Management System
The Docebo Learning Suite is ideal for use in corporate training. It works well for employee onboarding and re-skilling. It is also good for customer and partner training. Docebo is powered by Artificial Intelligence that helps enhance the learning experience by making it personalized.
Key Features:
Helps connect learning with different workflows
Provides access to ready-made learning content
Comes with good analytics for education progress tracking
Has an inbuilt gamification feature
Pros:
A fully integrated learning suite for enterprises
Shortens the amount of time necessary to create and deliver educational content
Artificial Intelligence determines the personalized needs of employees
Ability to publish and access learning materials using a mobile application
Cons:
No record feature for live training
Poor customer care

Prices and Packages:
A free trial is provided
Users need to reach the company's managers to get personalized quotes
Goals are good for setting a direction, but systems are best for making progress. – James Clear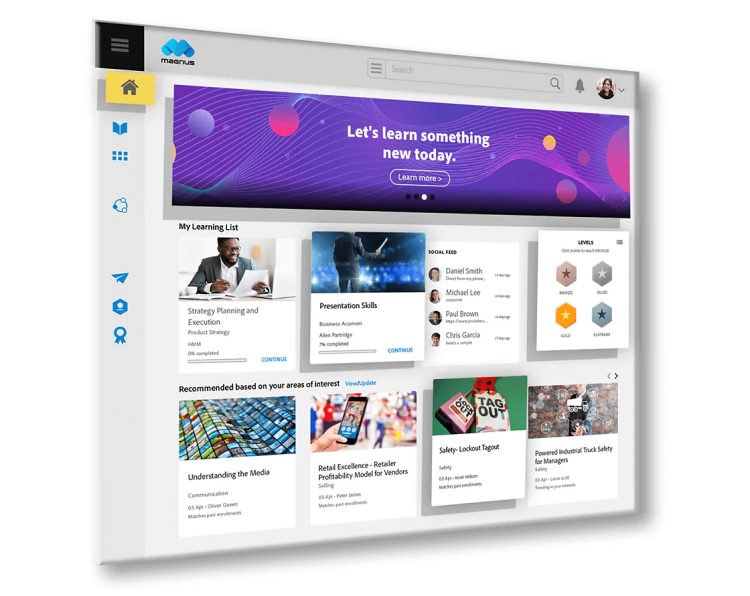 Adobe Captivate Prime is an enterprise learning management system (LMS) focused on delivering a personalized learning experience. It is ideal for use by small, mid-size, and big enterprises. Entrepreneurs find it useful for employee, partner, and customer training. Moreover, thanks to a large number of integrations, it can be easily embedded into different platforms.
Key Features:
Gamification feature to keep learners motivated
Advanced integrations with third-party services
Social learning feature
AI-powered learning personalization and recommendations
Pros:
It is a very mobile-friendly LMS
Hassle-free onboarding process
Offers the ability to choose various learning patterns
Cons:
This LMS is not the best solution for small enterprises
The interface is not users friendly
The company accepts only annual payments
Prices and Packages:
A free trial is available
Sales managers provide quotes
3. TalentLMS – Best Learning Content Management Systems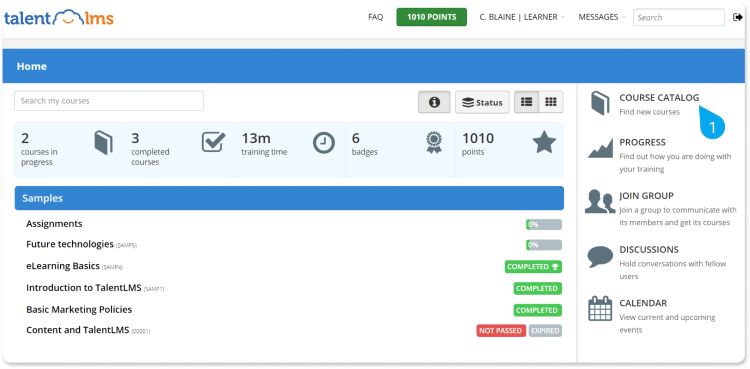 Talent LMS is a unique eLearning management system that is suitable for use by enterprises in all industries. It can be deployed in employee onboarding, continuous training, and re-skilling of workers. It can also be used in remote partner training. It is a simple and powerful cloud-based learning management system software. It offers a large number of great features and supports different languages, which is great for localization.
Key Features:
Support for all eLearning standards
Assessments engine
Well-structured file repositories
A large number of ready-to-use courses
Pros:
Simple onboarding process
Foresees the ability to host live sessions and create courses
Over 30 languages are supported
The interface is fully customizable
Cons:
The gamification is not developed well
Lack of analytics to measure learning success
Prices and Packages:
Free: $0 per month
Starter: $59 per month
Basic: $129 per month
Plus: $249 per month
Premium: $429 per month
4. Moodle – Best Learning Management System for Universities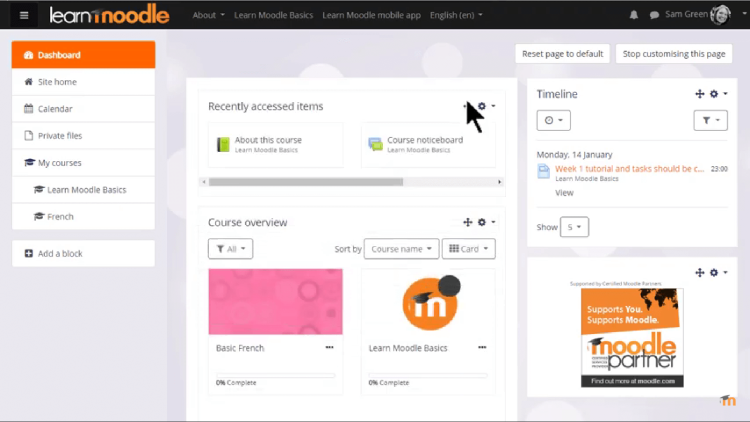 It is an open-source LMS that is available for use free of charge. It is ideal for use in creating online learning sites. Moodle is similar to content management systems. Users need to upload and install it on web servers. After that, they can use it to run online learning sites for free. It brings the ability to tweak the system according to the needs of different educational institutions.
Key Features:
Personalized dashboard
All open eLearning standards are supported
User-friendly content editor
Mobile learning is supported
Pros:
Great modification latitude
Many plugins are available to extend the LMS's capabilities
Multilingual support
Mass enrollments support
All in one calendar
Cons:
It may be hard to set Moodle up on some servers
Hard to export and share test results
Prices and Packages:
Open-source version: Free to use
Moodle Cloud – Starter: $120 per year
Moodle Cloud – Mini: $210 per year
Moodle Cloud – Small: $370 per year
Moodle Cloud – Medium: $840 per year
Moodle Cloud – Large: $1,480 per year
Get TalentLMS
5. Chamilo – Best Learning Management System for Nonprofits

Chamilo is a free blended learning management system designed to be as easy to use as possible. It is one of those learning management systems best suited for use by higher education institutions, small enterprises, and public organizations. The LMS is provided for free. Moreover, there are no hidden fees or monthly subscriptions, making it a good pick for personal use.
Key Features:
Automated certificates generation
Social learning support
Compatibility with many eLearning standards (including SCORM)
Pros:
It is very easy-to-use and makes new courses
The onboarding process is fast and doesn't require technical expertise
Learner progress tracking
Timed exams
Cons:
Lack of features for large enterprises
Lack of documentation in English
The number of plugins available for it is modest
Prices and Packages:
The LMS is shared at no charge
6. Open edX – Best Learning Management System for Government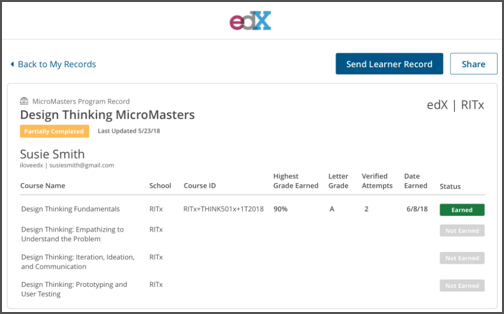 Open edX is a powerful, open-source learning management system. It can be used by educational institutions, governments, and companies because the system foresees the ability to host small guides and comprehensive courses. It has a rich assortment of tools to keep learners engaged and track their progress. The LMS offers a lot of helpful tools for course creation. Also, there are a lot of quizzes and tests to examine the skills learned by users.
Key Features:
Salesforce compatibility
Can be deployed on the cloud or on-premises
Multi-device support
Pros:
Live video conferencing
Interactive boards
User-friendly interface
Quizzes and tests
Different working environments for teachers and learners
Cons:
The installation is not rapid and smooth
Course completion certificates are paid
Prices and Packages:
A free trial is provided
Basic package: $45
Additional features are required to be paid separately
7. SAP Litmos – Best Learning Management System for Healthcare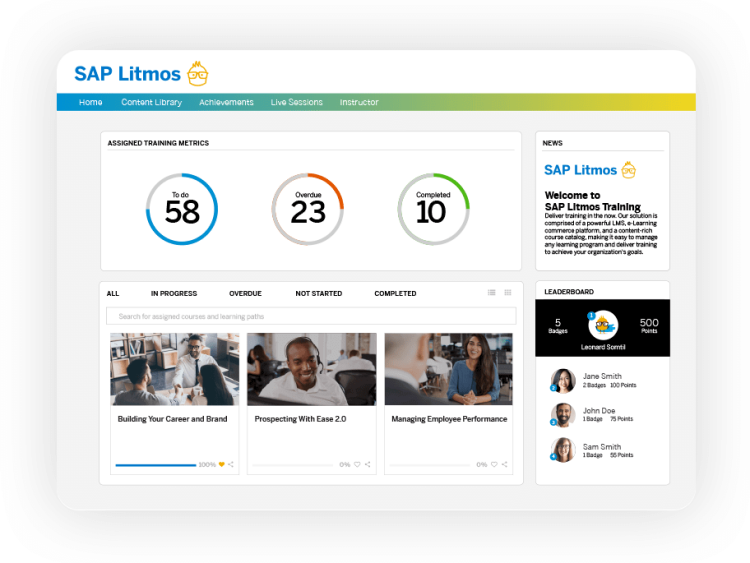 SAP Litmos is a learning management system that is designed to offer an effective virtual learning environment. Business owners can seamlessly embed it into other third-party tools, create content, and track learners' progress. The top feature appreciated by managers is the dedication to security. Using the LMS, they can share courses that contain internal and sensitive information.
Key Features:
Universal accessibility
SCORM content creation capability
Access to ready-made course content
Pros:
It has a decent API
Uploading courses is easy and fast
The interface is user-friendly
Strong data security
Comprehensive reporting feature
Cons:
First-time setup may take a considerable amount of time
It is not a good solution for educational institutions
Prices and Packages:
Free 14-day trial
Users need to reach sales managers to get a quote
Ready-made courses are offered for an additional price
8. Eduflow – Best Corporate Learning Management System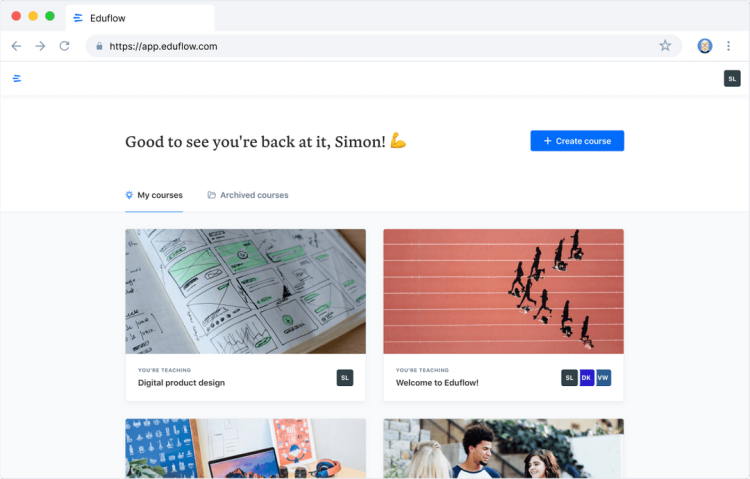 Eduflow is a flexible and powerful learning management system. It is designed with a focus on ease and interactivity. Both corporates and educational institutions can benefit from Eduflow's considerable power. The tool has a great user interface and offers a large number of great features. Thanks to the intuitive navigation, the onboarding process is fast and simple. Also, the LMS has great analytics to monitor the learning success of employees.
Key Features:
Powerful authoring tool
Advanced peer review feature
Multi-device support
Pros:
The setup process is easy and takes very little time
Flexible solution with a large number of tools
Advanced security
Unlimited scalability
Cons:
No ability to filter activities on the dashboard
The API is not feature-rich
VAT is not included in the price
Prices and Packages:
The free package: $0 per month
Lite package: $100 per month
Pro package: $400 per month
Premium package: quotes need to be requested
9. Absorb LMS – Best Online Learning Management System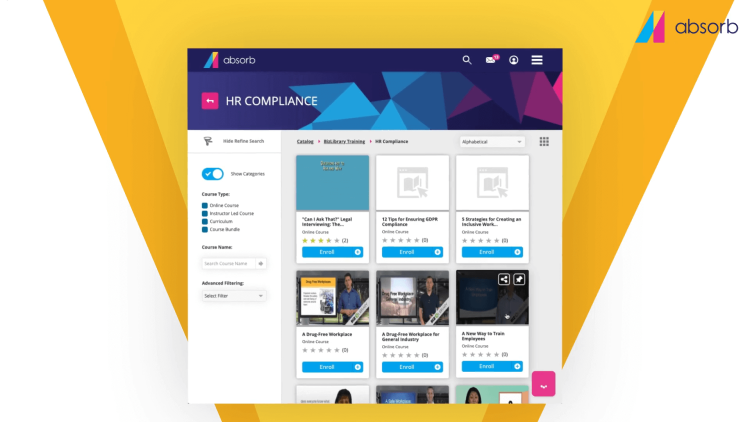 Absorb LMS is a cloud LMS that is designed to expedite the learning of new employees. It boasts of having exceptional power at facilitating performance-driven online learning. The platform is designed to match the needs of businesses to train their staff constantly. Large organizations often use it to help their employees grasp new skills and keep their knowledge up-to-date. Also, it offers great solutions for partner training and for sharing guides with customers.
Key Features:
Rich content libraries
Advanced reporting and analytics
Smart administration
Pros:
The LMS is easy-to-use without any training
Supports mobile devices
All the content is protected securely
Easy content creation and delivery
Cons:
The unresponsive customer care team
No search bar
Poor functionality for assessing learners' success
Prices and Packages:
Users need to submit the questionnaire to get personalized quotes
10. LearnDash – Best WordPress Plugin Course Management System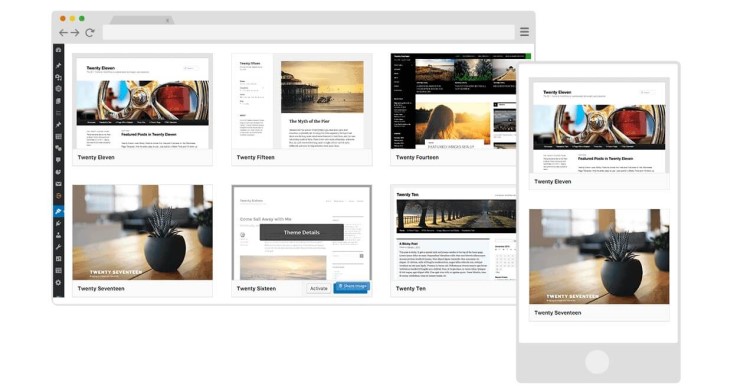 LearnDash is a WordPress learning management system plugin. Users can easily set up a full-featured online course on any WordPress website. In a nutshell, it needs users to install a WordPress website first. Then, they can install the LearnDash plugin to turn a default website into a top-grade platform for sharing video courses online. It brings the ability to batch courses by small lessons for structured content delivery. It is ideal for individuals who sell video courses online or small enterprises that need to train their staff.
Key Features:
Drag and drop course and certificate builder
Advanced quizzing capabilities
Pros:
It is easy to install the plugin
Offers the ability to award certificates
Group chats and private messaging option
It doesn't require too much computing power to use
Cons:
Works in the WordPress ecosystem only
Course structure options are limited
Prices and Packages:
Basic package: $159 per year
Plus package: $189 per year
Pro package: $329 per year
11. Schoology LMS – Best Academic Content Management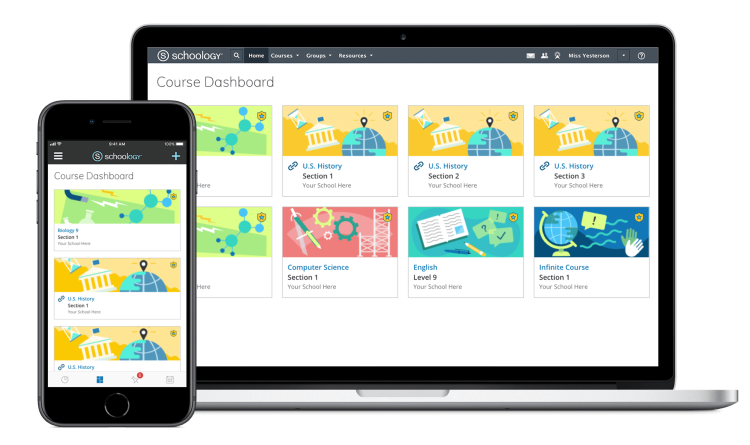 Schoology is a general-purpose LMS site. Higher education institutions and companies can create, share and manage content using the platform. The number of users reached 7.5 million in 60,000 schools in 200 countries registered since November 2014. Schoology simplifies content creation and monitoring of the learners' progress. Also, the platform has a large number of helpful integrations.
Key Features:
Schoology offers teaching tools for each subject
Instructors can invite students into a course by providing a one-time code
The eLearning platform can be accessed using smartphones
Parents can monitor the success of their children
Pros:
This online learning program has web page creation tools
Schoology integrates LMS with social media
A comprehensive tool for conducting assessments
Users can be organized into groups
Cons:
The main menu is not interactive
Notifications are so subtle they are difficult to notice
Prices and Packages:
Free trial
Educational institutions are required to sign contracts
12. AcademyOcean – Best Cloud-Based Learning Management System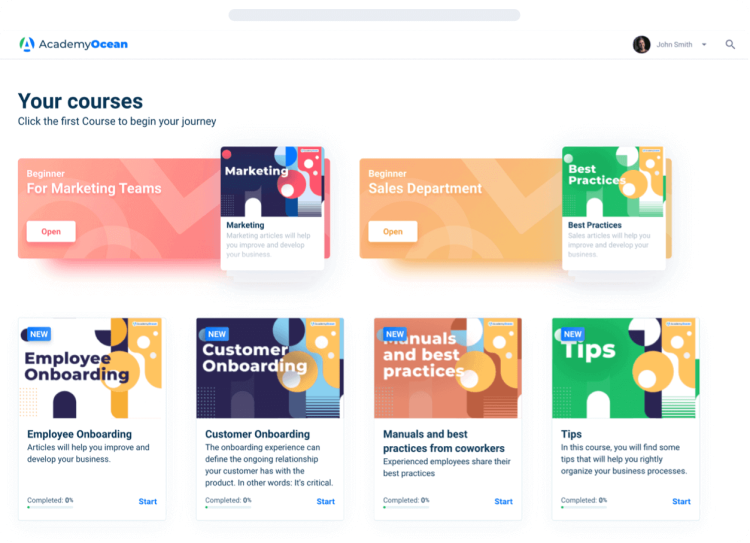 AcademyOcean is a well-known cloud LMS. It's the best tool for examining the knowledge of employees or clients. Using this learning management system software, people create a lot of different lessons, quizzes, and tests. With the help of AcademyOcean, teachers can issue certificates to students based on the completion of courses. Also, it has advanced security that helps prevent unauthorized content copying.
Key Features:
This service is optimized for large enterprises
The dashboard section to check the progress of learners is presented
Dedication to security and copyright protection
Pros:
This LMS software has a user-friendly interface
Provides statistics on students and their progress in grasping course material
The user interface is fully customizable
A lot of different languages are supported
Cons:
The limit for video storage and the number of students
Lack of integration with customer relationship management systems
Prices and Packages:
Standard: $225 per month
Pro: $600 per month
Premium: $2,100 per month
13. uQualio – Best Marketing Learning Management System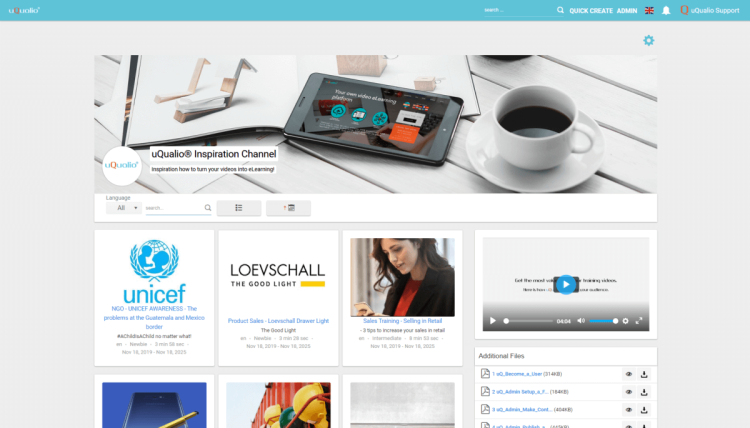 Team leaders can create eLearning courses for their employees, business partners, and potential customers using this platform. In addition, each registered manager can track and analyze the progress of their employees using customizable dashboards. This is one of the reasons this collaborative learning platform is so popular among managers and business owners.
Key Features:
The uQualio LMS offers a white label solution
Digital learning can be tailored to any company's strategy
This learning service is focused on video broadcasting
Pros:
Create a virtual classroom in a few clicks using this service
With the uQualio LMS, users can create a library of custom courses
This LMS software offers the ability to award certificates
Real-time tracking and analysis
Cons:
Only web-based solution
VAT is not included in the prices
Prices and Packages:
Starter: $89 per month
Basic: $269 per month
Professional: $449 per month
Business: $629 per month
Enterprise: $899 per month
14. LearnUpon LMS – Best Learning Management System for Enterprises and Training Companies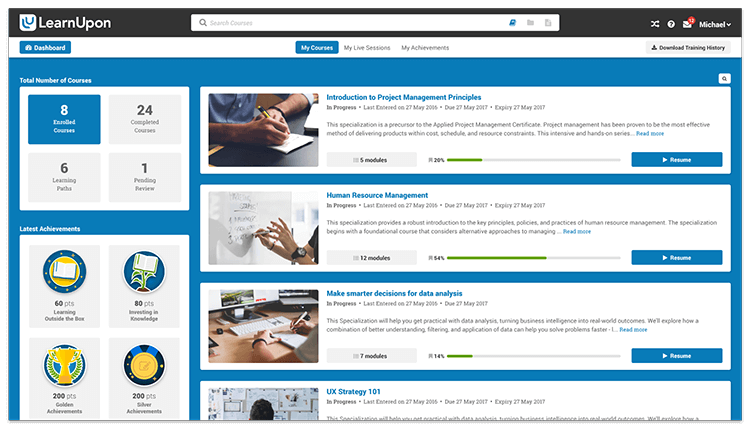 The LearnUpon LMS unifies, coordinates, and optimizes any learning program, making education a top competitive advantage. With the help of this tool, managers can keep employees informed of the necessary changes in any online course. Moreover, the company offers 24/7 support globally.
Key Features:
Users can create a unique learning environment
Gamification feature and leaderboard for increased engagement of learners
Pros:
An integrated store where visitors can read course descriptions and reviews before purchasing
This platform supports the value-focused type of online learning program
Courses, users, groups can be searched using the search bar
Cons:
Lack of functionality for tracking sales
Notifications can be easily missed
Prices and Packages:
A free trial version is available
Basic: $699 per month
Essential: $1249 per month
Premium: $1249 per month
Enterprise: quotes are provided by sales managers
15. Inquisiq LMS eLearning – Best Learning Management System for Business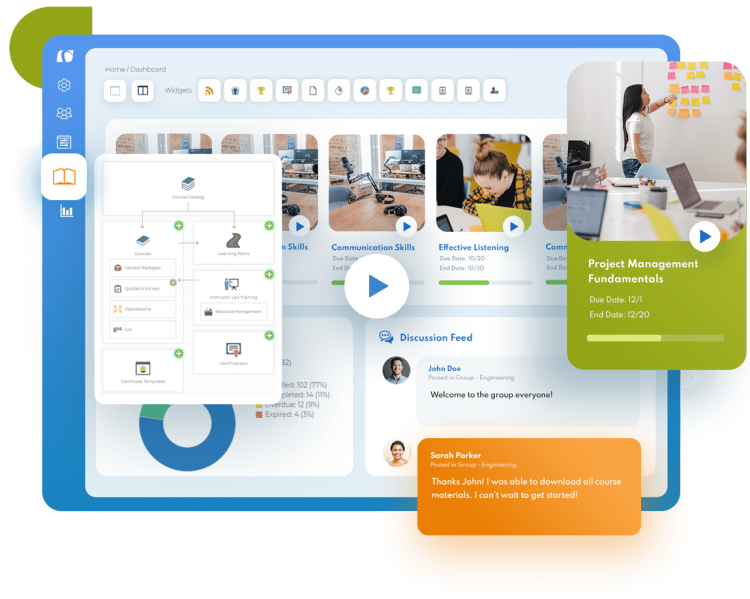 An integrated shopping cart, payment gateways, open-source eLearning course catalogs are features that sets this product apart from other brands' platforms. This corporate training tool offers assistance in implementing, managing educational programs. It offers great features to make progress tracking smooth and simple. In addition, the platform's dashboard is fully customizable to offer a personalized learning experience.
Key Features:
SCORM compatibility with all third-party management system software and course libraries
This LMS software is localized for up to 14 languages
Pros:
Inquisiq reporting features make it easy to track collaborative learning progress
This product is compatible with PPT and PDF files
Creation and distribution of discount codes is possible with this LMS solution
Cons:
Only basic e-commerce features are available
A free trial is not available
The users' interface is confusing
Prices and Packages:
Inquisiq LE: $350 per month
Inquisiq Pro: $690 per month
16. Stream LXP from Learning Pool – Best AI-Powered Solution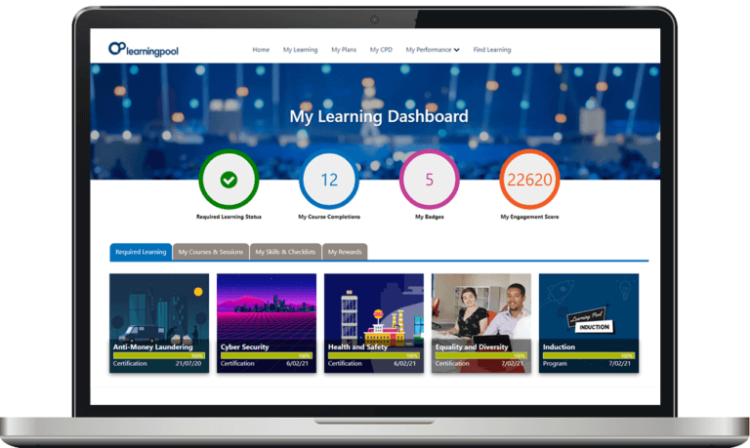 Stream LXP is a smart and social LMS platform created to reduce the hassle of accessing quality content. LXP stands for the learning experience platform. It is a fast, secure, and flexible AI-based service for employee training and knowledge sharing. This system personalizes the learning process for each user and creates a data-rich environment.
Key Features:
The personalized training chatbot Flo is integrated into this LMS software
Managers can engage audiences in blended learning by encouraging discussion and creating user-generated open source content
Stream LXP is fully xAPI compliant and includes training data storing
Pros:
Ease of using formal learning tools on Linux, Windows, Mac
Individual recommendations for employee training courses
24/7 customer support
Cons:
Free trial not available
No smartphone support
Prices and Packages:
Sales managers should be contacted to get quotes
17. Mindflash – Best Learning Management System for Education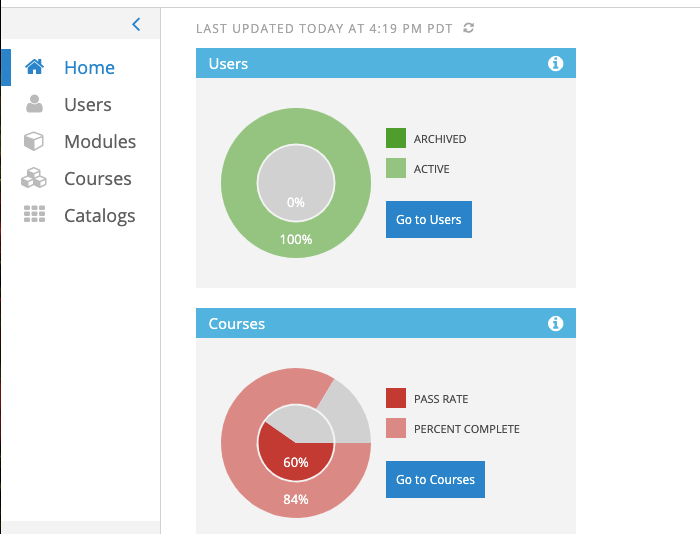 Mindflash is an online service best suited for creating courses, quizzes, and tracking students' progress. Additionally, it is possible to upload PowerPoint, PDF, Word documents, and video files. The management system software foresees the ability to open them with no hassle. This product is useful for large and fast-growing enterprises to provide training on business-critical topics. Mindflash brings revolutionary innovations in content creation and learning program management.
Key Features:
Personalization of courses
Automated data sorting and multiple filters for learning content
The company offers LMS software for public administration
Pros:
Team leaders can invite multiple instructors with different access levels
This digital learning tool offers integration with Salesforce
Ability to set reminders for employees
Cons:
No video conferencing feature
No gamification
Prices and Packages:
A free trial period is available
Users need to schedule a phone call with sales managers to get a quote
18. Looop – Best Learning Management System for Small Enterprises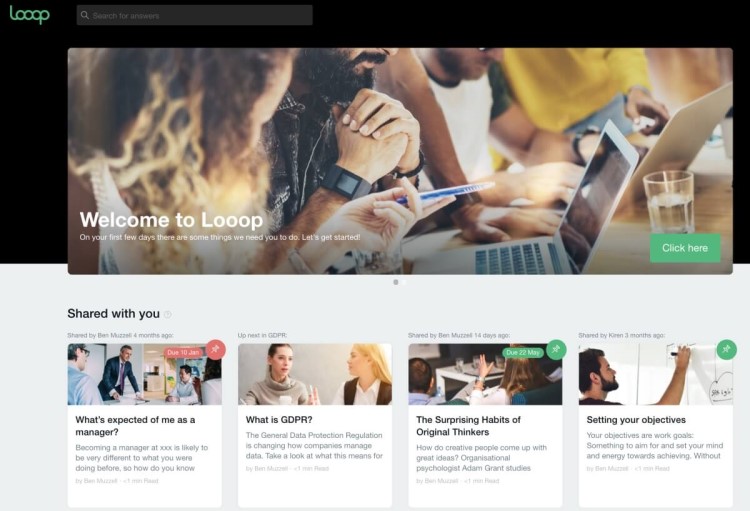 The Looop LMS is an enterprise eLearning management system that helps modernize a lot of workflows. This tool makes it easy to communicate directly to employees and partners via email, chat, app, or SMS. After creating the virtual classroom, users can track student engagement from the first click to the end of the campaign. The LMS has a large number of integrations.
Key Features:
Business ROI dashboards
Real-time analytics monitoring
Versatile opportunities for branding
Pros:
The authorization is processed via third-party services such as SalesForce, Google, and Microsoft
Customization is established in the drag-and-drop mode
All corporate training reports can be exported to Excel
Cons:
This system is designed exclusively for business
Cross-platform issues: may not work correctly on some devices
Prices and Packages:
Small Business: $299 per month
Mid Size Business: $699 per month
Enterprise: $1199 per month
Enterprise Plus: sales managers need to be contacted to get quotes
19. SkyPrep – Best Personalized Learning Management System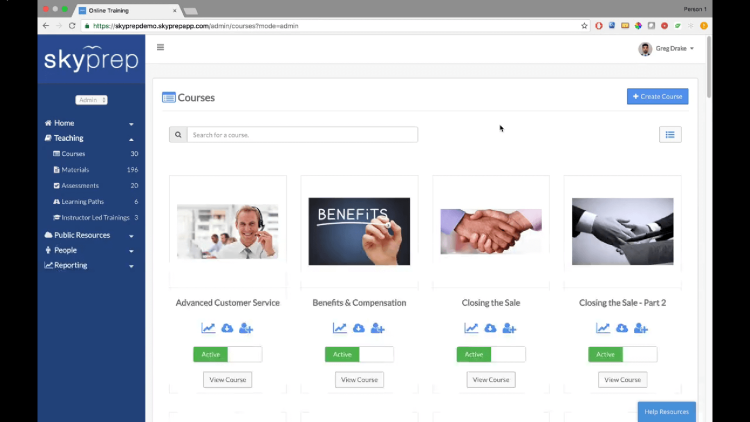 SkyPrep is a tool for automating and transferring all aspects of training to an online service simply and safely. With this platform, people can create personalized environments. In addition, thanks to the white label solution, companies can customize domain names and logos. The service also offers the opportunity to set users' permissions and keep a company's sensitive information safe.
Key Features:
Users can publish presentations, videos, or any other training material
Real-time performance dashboards and analytics
Pros:
Spreadsheets or charts can be created in a few clicks
Online courses with automatic grading
Users can create quizzes and tests with different question formats
Cons:
Only large groups of students can be created
The classification of materials sometimes confuses users
Prices and Packages:
Lite: $299 per month
Professional: $599 per month
Enterprise: custom pricing
20. ProProfs LMS – Best Multipurpose Learning Management System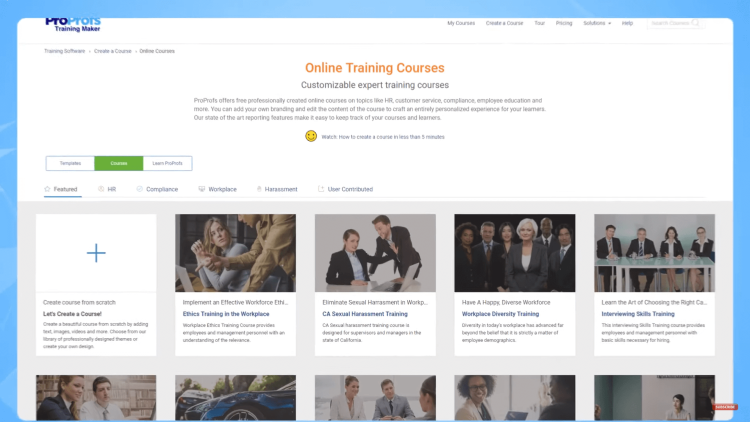 ProProfs is a versatile LMS system software that is popular because of its large set of tools. For example, this platform includes an assessment creator to examine the learning achievements of students and employees. In addition, the developers have provided the ability to conduct surveys. As a result, this open-source LMS is preferred by many large companies.
Key Features:
The best solution for teachers, educational institutions, and enterprises
All tests are optimized for mobile learning
The user interface is easy to configure
Pros:
Teachers can use ready-made tests on different subjects
White-label solution
This digital learning platform offers detailed reports and analytics
A large number of collaboration tools
Cons:
Poor customer care
No certificates and badges
No connection with virtual classrooms
Prices and Packages:
A free version is available
Essential: $2 per learner per month
Premium: $4 per learner per month
Enterprise: sales managers should be contacted
21. 360Learning – Best Learning Management System for Individual Entrepreneurs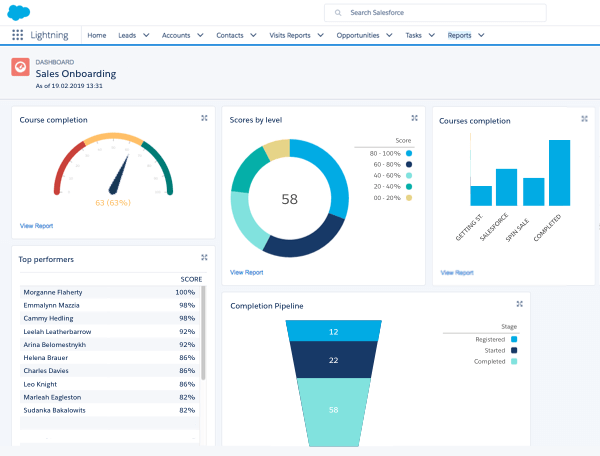 The software offered by the company is quickly gaining popularity. It aims to erase most of the problems that LMSs users face. It has a smooth and intuitive interface that foresees the ability to create a course quickly and easily. Thanks to many pre-built tools, creators can arrange them in a particular order to get a course created rapidly. There is also a well-thought-out UX that keeps learners engaged and increases their performance as students.
Key Features:
Ability to import the content from different sources
Access to a collaborative environment
Supports mobile learning
Pros:
Smooth and intuitive interface
Offline mode to learn new skills anywhere
A large number of integrations with third-party tools
Course and user management dashboard
Ability to award certificates
Cons:
No gamification scenarios
Program updates are not scheduled and make it impossible to use the LMS while upgrades are taking place
Prices and Packages:
Team: $8 per user per month
Business and Enterprise: sales managers need to be contacted
22. Cornerstone OnDemand – Best Learning Management System for Online Companies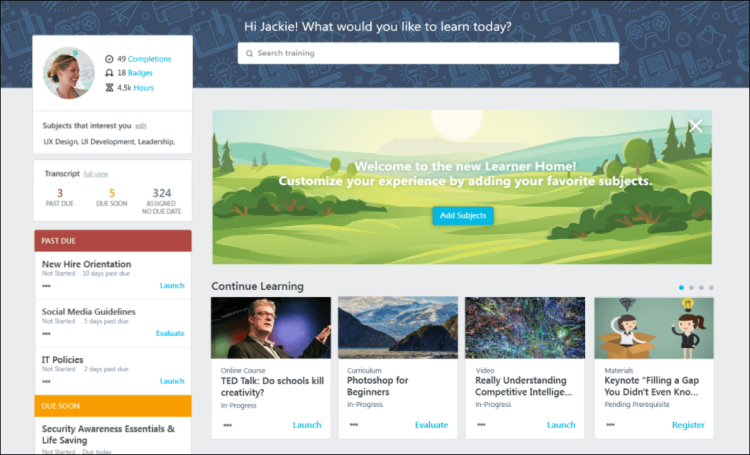 This comprehensive learning platform is ideal for companies that need to hire a lot of new employees. The LMS offers various tools that make the hiring and onboarding process simple. Business owners can manage candidates, interview them, share courses with selected applicants, and examine their skills using the software solution. In addition, it offers a vast number of tools to help new employees grasp the required skills fast. Besides, the platform creates and publishes new courses regularly.
Key Features:
A large number of helpful tools for companies
Comprehensive management of learners
Detailed analytics
Pros:
Integration with payment gateways, social media, and other platforms
Android and iOS applications are available
Personalized learning approach
Cons:
Slow customer support
No ability to customize the dashboard
Poorly developed certification functionality
Prices and Packages:
A one-on-one session with a sales manager should be scheduled to get a quote
23. Brightspace – Best Learning Management System for Rich Multimedia Course Content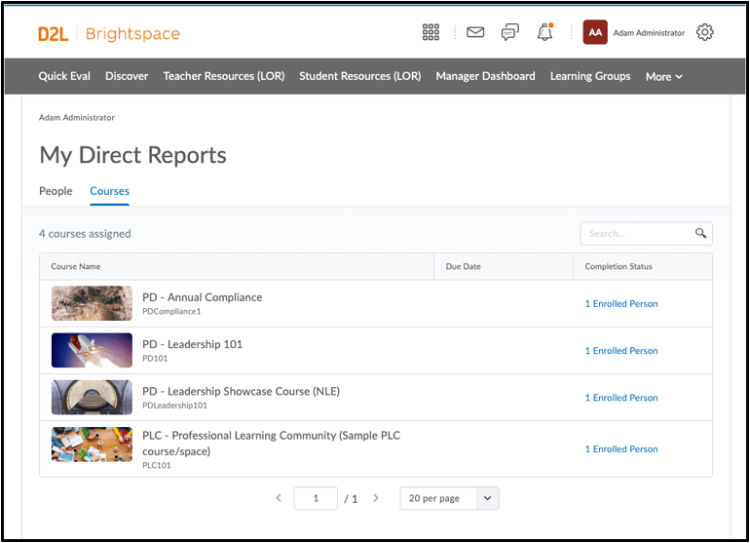 This LMS offers many learning tools for businesses, colleges, and schools. In a nutshell, it is a learning platform that brings the ability to create courses and share them with employees or students. No technical expertise is required. Also, creators can assess the skills users learned and track their progress in grasping new knowledge.
Key Features:
Multiple devices support
Option to gather learners into groups
Ability to connect external databases
Pros:
Ability to track the progress of learners and share personalized feedback
Well-developed gamification to keep students engaged
Scheduled and automated content publishing
Text recognition to detect matched content
Drag and drop course builder
Cons:
Lack of customization ability
Confusing user interface
Prices and Packages:
A free 30-day trial is available
Users should get personal quotes from sales managers
24. iSpring Learn – Best Learning Management System for New Hires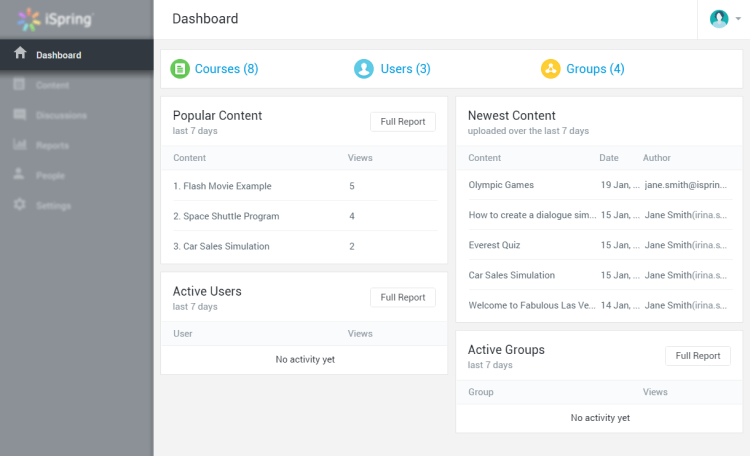 The onboarding process can be fast and hassle-free when using iSpring Learn. The system foresees the ability to invite new users and assign particular courses, depending on their job responsibilities. It helps new hires learn all the required information about products, services, company rules, and other crucial information fast. Managers can monitor the activity of users, check their achievements and award certificates. It keeps all the courses secured and prevents content copying, which is a selling point for most companies.
Key Features:
The system is focused on staff training and re-skilling
Fast and intuitive user interface
Unique course creation tool
Pros:
Comprehensive analytics
Notifications to keep managers updated about the learning progress
Ability to create new courses or upload existing education materials
White label solution for the desktop and mobile app
Ability to offer certificates upon course completion
Great customization and localization
Cons:
No option to filter courses by departments
The design of default certificates is outdated
No possibility to customize report templates
Prices and Packages:
Free trial is available
100 users: $3.39 per user per month
300 users: $2.80 per user per month
500 users: $2.60 per user per month
Custom: sales managers should be contacted
25. Totara Learn – Best LMS for Up-Skilling Employees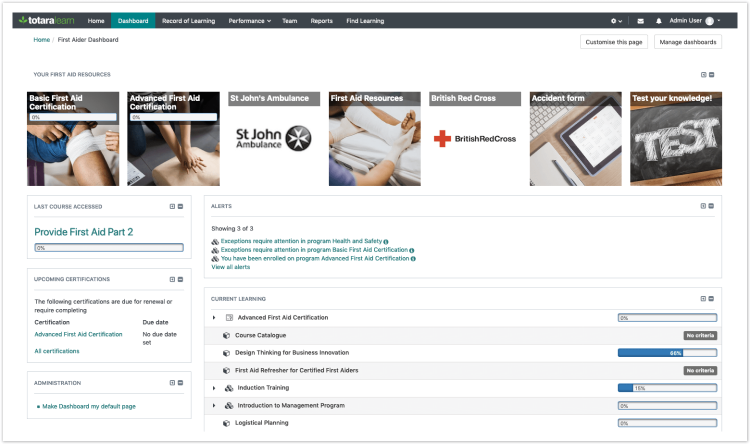 Indeed, all business owners want their employees to keep their knowledge up-to-date to offer a competitive advantage. The Totara Learn LMS is a unique solution that helps managers share courses to keep their team members learning new skills with no stress. As a result, it helps save time on up-skilling or re-skilling the workforce. Also, it foresees the ability to keep all the data in one place.
Key Features:
Detailed team management
Blended learning support for online and offline events
Integrations with Google, Microsoft, and Facebook
Pros:
Learners' productivity analysis
Scheduled content delivery for constant up-skilling
More than 35 different languages are supported
Inbuilt assessment and certification features
Option to re-skill employees to transfer to another department
Cons:
No graphic reports
Poorly developed user interface
Admin users should have the good technical expertise
Prices and Packages:
Users need to find a Totara LMS vendor to purchase a product
26. Canvas – Best Learning Management System for Schools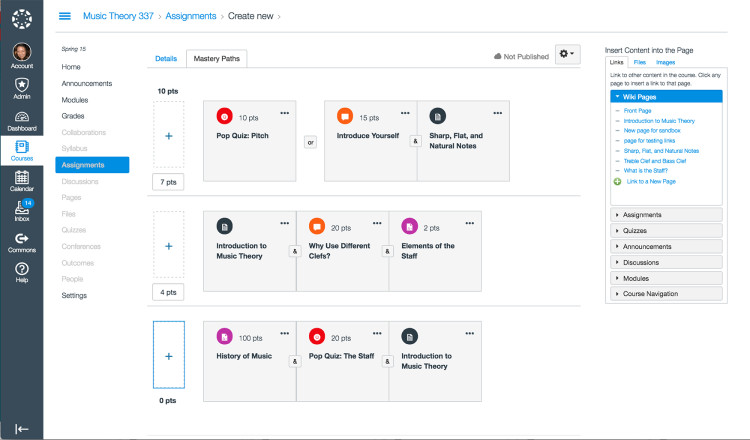 Canvas is a top-tier LMS that gathers everything school and college students need to study online in one place. Thanks to the cloud-based platform's ability to support mobile learning, students can log in to their accounts and obtain new knowledge from anywhere. Furthermore, tutors can create and share educational content using Canvas. They can create quizzes, examine students' answers, and share grades using the LMS. Nevertheless, there is also a solution for businesses to train their staff provided by the company.
Key Features:
All-in-one learning platform for students
The grading system for tutors
Thousands of tools are available
Pros:
Easy high-school and college student learning management
Progress tracking system
No limits on the size of educational materials
Ability to conduct one-on-one sessions with students
Cons:
The LMS's interface is confusing for new users
No auto-save feature to avoid failing of tests due to unexpected issues, like a computer crash, system failure, or electricity outage.
Poor customer service
Prices and Packages:
Sales managers quote prices for users, depending on their needs
27. Edmodo – Best Kids Learning Management System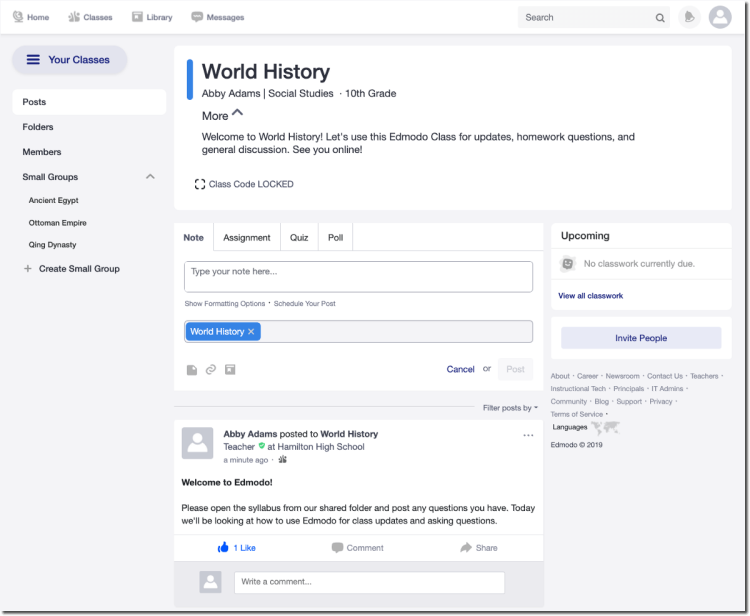 Thanks to this tool, tutors, and learners can communicate online seamlessly. The LMS makes the eLearning process hassle-free for both parties. Students can easily access shared educational materials, pass tests, and stay in touch with everyone from their virtual community. Likewise, teachers can upload courses, set deadlines, and check learners' academic success.
Key Features:
Collaborative learning environment
Helpful assessment tools for teachers
Parents get involved in education and receive notifications
Pros:
Homework planner for students
Group and private chats
Mindfulness tools and study games for kids
Helpful resources for teachers
Mobile learning is supported
Students can be invited using a code
Parents can stay in touch with teachers
Cons:
Lack of control over students discussions
The user interface is overcrowded and confusing
Poor multi-language support
Prices and Packages:
Free trial is available
Freemium: $0 per school per year
Premium: $2,500 per school per year
28. Quizlet – Best Affordable Learning Management System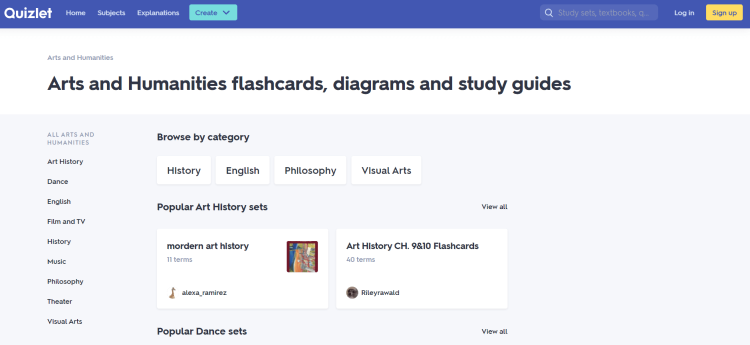 This unique tool stands out from the crowd of our learning management software solutions. Quizlet is designed to help learners learn new skills and gain their knowledge in particular topics. The LMS aims to keep students engaged and grasping new topics. It offers access to step-by-step explanations to the foremost problems that get learners stuck. Nevertheless, the primary feature is flashcards that are very helpful in grasping new knowledge.
Key Features:
Ability to create and share flashcards with learners
Step-by-step explanations
A large number of pre-built study guides
Pros:
Multi-language support
Well-optimized Android and iOS applications
Student progress tracking
Teachers can create quizzes and tests
Ability to compose eLearning material
Cons:
Annoying ads in the free plan
Anyone can create flashcard sets, so some of them contain irrelevant information
Prices and Packages:
Free 30-day trial
Students package: $0 per year
Teacher package: $47.88 per year
29. Blackboard – Most Used LMS System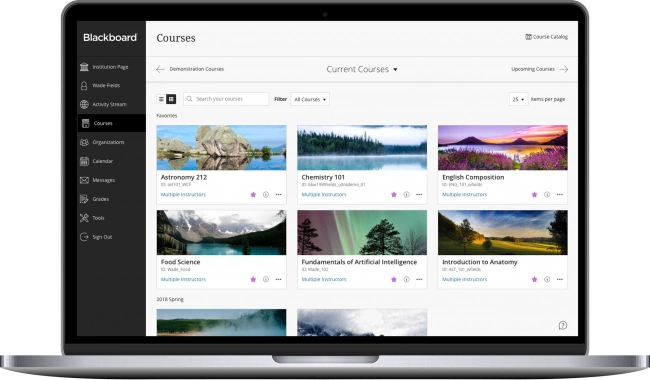 Blackboard is the best learning management system due to the large number of features offered to users. The Blackboard Learn creates a unique educational environment that helps students and teachers eliminate the most obstacles they face. It is suitable for teaching students and employees. The interface is fully responsive that makes this LMS easy-to-use on different devices. The service offers a large number of various solutions for different industries, helping it to be a leading LMS.
Key Features:
Integrations with useful platforms
Option students to submit assignments and get them graded
The user interface is easy-to-navigate
Detailed progress tracking
Pros:
Almost all types of files are supported
Tutors can communicate with students
Deleted documents can be retrieved
Tutors can easily customize courses
It helps keep grades and assignments organized
Cons:
The design of the interface looks outdated
Poor functionality of the chat feature
Prices and Packages:
Free 30-day trial
Users have to talk to an expert to get a quote
30. Tovuti – Best New Learning Management System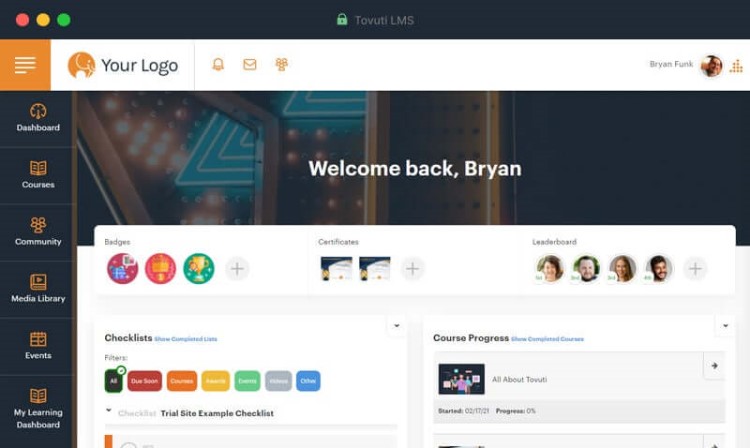 Tovuti is a powerful tool for helping new clients grasp new skills fast. It is a perfect LMS for businesses that need to train new employees quickly to join a team. Even though it is a new platform that was launched in 2019, it has become quite popular. It takes the stress out of creating courses and training employees. Also, the LMS delivers detailed statistics to track progress. Since Tovuti is white-labeled, companies use it as their branded solution for building courses, checking learners' progress, and gathering groups.
Key Features:
Simple content-creation tool
Gamification with leaderboard and badges
Virtual classrooms
Pros:
Ability to import any type of content
Mobile learning supported
Managers can set users' permissions
Rich customization features
Open API
Cons:
The backend needs a lot of practice to get familiar with
No option to embed custom HTML code
Prices and Packages:
0-50 users: $700 per month
50-3,000 users: from $700 to $2,750 per month
3,000-25,000 users: from $2,750 to $10,000 per month
25,000-100,000 users: from $10,000 to $30,000 per month
100,000+ users: sales managers should be reached
31. Matrix LMS – Best Learning Management System for Banks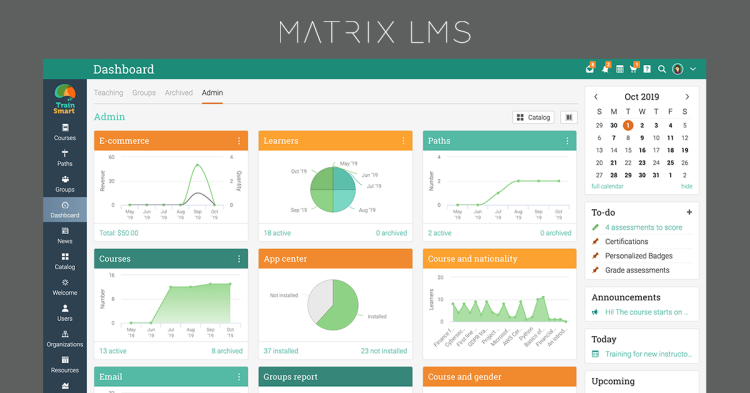 This one is a professional LMS tailored to help businesses keep the skills of their teams on a high level. The system is feature-rich and foresees the ability to share knowledge, make quizzes, assess learners' skills, and monitor their progress. Moreover, it offers access to a collaborative environment that helps different teams brainstorm and develop ideas together.
Key Features:
Technical expertise is not required
An adaptive and personalized learning approach
Native Android and iOS applications
Multi-language support
Pros:
Option to lock/unlock courses for particular users
Powerful content authoring tool
Customizable backend
Gamification and scoring tools
eCommerce integrations
Cons:
Poor documentation for developers
The configuration process is not intuitive
Videos can be embedded by using the HTML editor only
Prices and Packages:
The free 14-day trial is offered
Silver: $499 per month
Gold: $999 per month
PLatinum: $1,499 per month
Ruby: $1,999 per month
Sapphire: $2,999 per month
Quartz: $4,299 per month
32. Academy of Mine – Best Small Business Learning Management System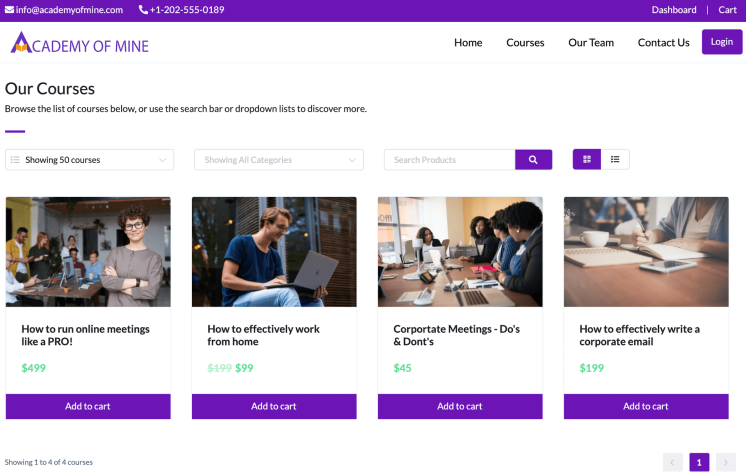 Small organizations choose this LMS because of its perfect blend of features and pricing. Managers can create or import courses to the platform with no hassle. It has great functionality that offers the opportunity to monitor the way people learn new skills. They can set permissions, set expiration dates for courses, and monitor all the actions made by learners. Managers can also assess the skills learned by employees and award certificates.
Key Features:
White-labeled solution
A large number of software integrations
Detailed analytics and reports
Comprehensive users' permission settings
Pros:
Course expiration to motivate users to learn at a high pace
Scheduled source publishing
eCommerce functionality
Drag and drop course builder
Ability to award certificates
Cons:
Inability to upload files in bulk
Hard to configure
Lack of gamification elements
Prices and Packages:
A free trial can be requested
Essentials: $599 per month
Professional: $899 per month
Enterprise: custom pricing
33. Curricula – Best Design Learning Management System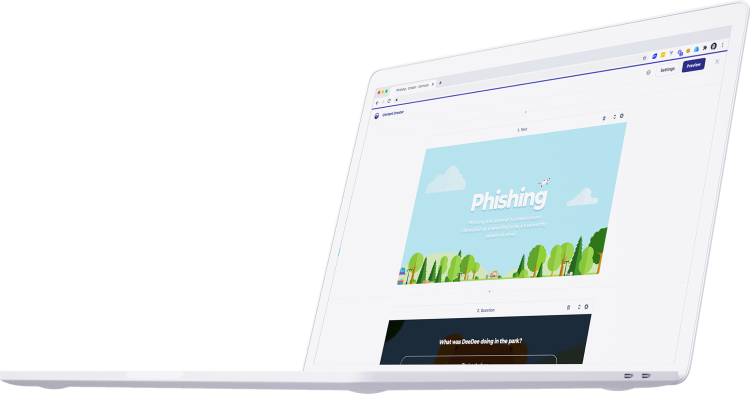 Unlike most LMSs, this one is not designed to deliver large or customized courses. On the contrary, it aims to help efficiently deliver small pieces of knowledge. It brings the opportunity to create short courses that look fun. It helps draw the attention of learners and keep them engaged in remembering as much as possible. There is no need to be a skilled designer to create fun courses, thanks to pre-built content. It is a secure solution that has all the tools to manage eLearning processes.
Key Features:
Courses are delivered in the form of short and fun stories
Integrations with popular platforms
Dedication to security
Pros:
Custom branding
Easy-to-use content builder with fun presets
Detailed reports on learners' performance
Quizzes
Cons:
Only web-version is available
No option to launch live training
Prices and Packages:
Professional: $1.40 – $2 per learner per month
Enterprise: $1.90 – $3 per learner per month
34. Continu – Best Enterprise Learning Management System

Continu is a modern learning platform built for enterprise organizations to save time and money by automating repetitive onboarding tasks, ramping up new hires much quicker, improving training ROI, and boosting learner engagement. Through deep integrations with the tools your business already uses, Continu makes it a breeze to import or author content directly within our platform, meaning less time creating content and more time empowering your learners.
Key Features:
Create entire training courses using powerful eLearning authoring tools
Host virtual instructor-led training workshops
Generate insightful reports on learner behavior
Deliver critical training materials to internal and external users
Pros:
Centralized employee training
Deep integrations with popular business tools
Automated workflows for onboarding and training
Easy-to-use, user-friendly platform
SCORM, Rise, and CMI5 alternative
Cons:
Web-based, no mobile application
Not ideal for small businesses
Prices and Packages:
No free trial, demo requests only
Custom quotes are based on number of user seats
Pricing is based on a custom quote broken down by the number of user seats. Tiers include "Starter" at 150+ user seats, "Professional" from 1,000+ user seats, and "Enterprise" for anything over 5,000 user seats.
Best LMS according to Reddit:
LearnDash LMS and GrassBlade xAPI Companion plugin for handling xAPI, SCORM, and video content reporting.
You might be interested to check those related posts as well:
FAQ
Where is LMS used?
LMS software solutions are widely used in different niches. Company owners, higher education institutions, and government organizations use them to manage learning processes. The systems help make the eLearning processes more centralized, which makes learning more effective for both new hires and existing employees.
What is the most popular course management system?
In mere words, a course management system is a simplified version of an LMS. It doesn't have rich functionality and is focused on hosting educational courses online. LearnDash is the most popular course management system. It helps create or upload any courses with ease, having a WordPress website. In addition, users can manage and categorize educational materials having zero technical expertise thanks to the intuitive interface.
Is Zoom a learning management system?
No, Zoom is not a learning management system. In a nutshell, it is one of the most popular tools for launching one-on-one sessions online or virtual meetings for many users. Nevertheless, Zoom can be integrated with Canvas to enhance the learning experience.
What LMS is most popular?
These days, Blackboard is the most used LMS due to the large number of solutions offered by the program. As a result, tutors, managers, and students are not forced to compromise on functionality regardless of their needs. It has a comprehensive scoring system and accepts almost all types of files.
Is Moodle an LMS?
Yes, Moodle is an open-source learning management system that offers a large number of features for free. It foresees the ability to create eLearning sites with no hassle. Thanks to the easy-to-use interface, users can launch a learning platform online without editing even a line of code.
Conclusion
There are a lot of learning management system software programs available on the market. The huge demand for top-grade solutions to share knowledge online sped up the niche development significantly. In a nutshell, an LMS helps publish educational materials online, monitor how users grasp knowledge and assess their skills. However, most of them have a large number of additional features.
A lot of companies offer great LMSs that aim to become multipurpose solutions for all users. However, some of the LMSs from the post above are tailored to different industries that help attract more specific clients. Take a look at the strengths and weaknesses of all of them before choosing one to facilitate knowledge sharing and learners' success.