Over the last few years, Instagram has been one of the most popular social media platforms for business promotion. As specified in the latest report on social media marketing, 80% of marketers use Instagram actively, 56% of them plan to increase organic activity on the platform, and it's still the top network marketers want to learn more about.
With a potential audience of over two billion, 90% of whom follow at least one business profile on the platform, Instagram has great potential for brands to go from a handful of followers to thousands overnight 🤠
Obviously, you're not the only one who hopes for the attention of potential customers on Instagram. With paid ad campaigns, it's easier to achieve business goals. Even if you have a limited marketing budget for social media ads and haven't run Instagram ads, this is your time to start.
In this step-by-step guide, you will read about Instagram ads in brief, review some key reasons to invest in Instagram ads, learn more about popular ad types as well as walk through nine steps on how to create Instagram ads that convert.
Ready? Let's dive in! ⤵️
What Are Instagram Ads?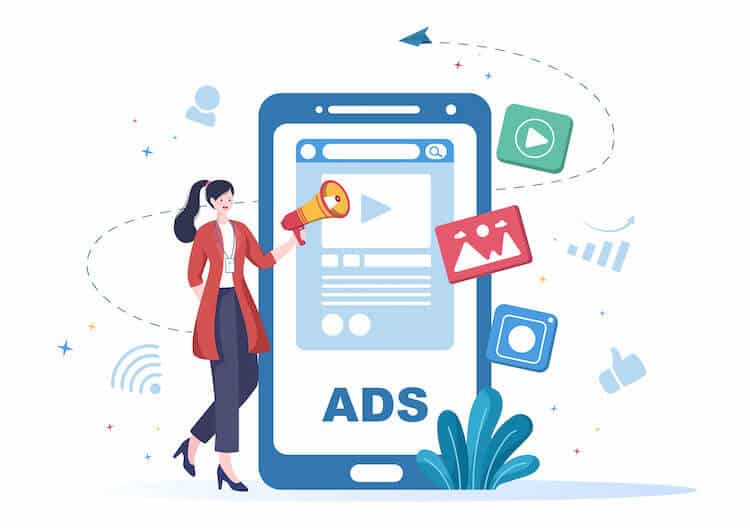 Instagram ads are posts created to cut through the noise, reach your target audience, and promote a business or creator account's products and services. You can also use ads to give your post a boost and put it in front of users beyond your existing followers.
Instagram ads are designed to look a lot like organic posts. The main thing that sets it apart is the Sponsored label, located on the upper lefthand corner of the post. It is likely to also include a call-to-action (CTA) button, depending on the objective you select before running your Instagram ad campaigns.
Here's how it looks in action: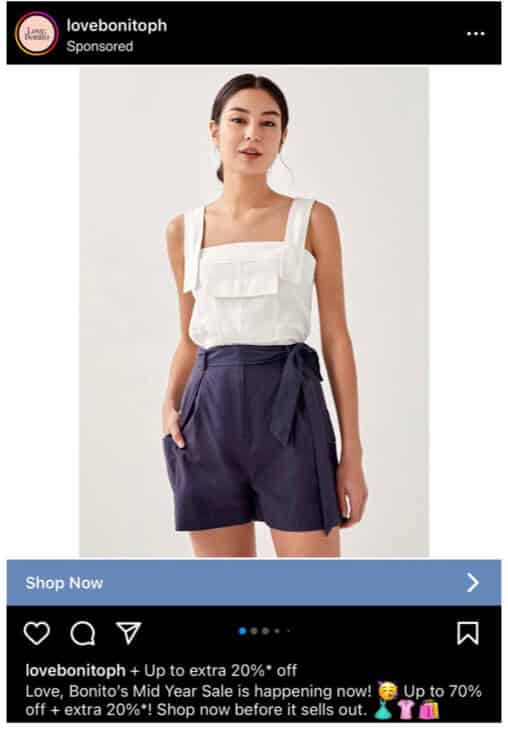 In short, Instagram ads can help you reach your target audience with the help of flexible targeting options, which are informed byMeta's wealth of data about its users. You also have the option to run a multi-platform campaign across Instagram, Facebook, and the rest of the Meta Ad Network.
Why Should You Invest in Instagram Ads?
Instagram's massive user base won't be so accessible to you if you rely only on organic posts and existing followers. The Instagram newsfeed algorithm prioritizes content from those you've interacted with previously. By taking advantage of Instagram advertising, you can:
Reach your target audience in-app.

Thanks to Instagram's vast user base, ads can help you connect with audiences from all over the world, or you can start small and reach specific people within your area. What's best is Instagram users are already interested in shopping, with

70% of users

specifically using the app for product discovery.

Achieve your business goals.

Instagram ads can help you achieve specific business goals, which you can indicate when setting up your campaigns. Whether you want to boost brand awareness, increase conversions, attract

business leads

, or drive sales, it's easier with Instagram ads!

Beat the Instagram algorithm​.

Since posts no longer appear chronologically, there's no guarantee that your content will appear in your followers' feeds. Posting ads, however, ensures that your content gets to the right audiences, whether they follow you or not.
Compared to other forms of advertising, Instagram also has relatively high conversion rates, which comes as no surprise, as over a hundred million users tap on shopping posts every month. Plus, with so many users at your fingertips, you can easily reach your awareness goals and grow your following after a quick boost.
If you use a business account on Instagram, you can always turn your posts into paid ads to boost them and reach a wider audience of potential customers. Here's how it looks in action: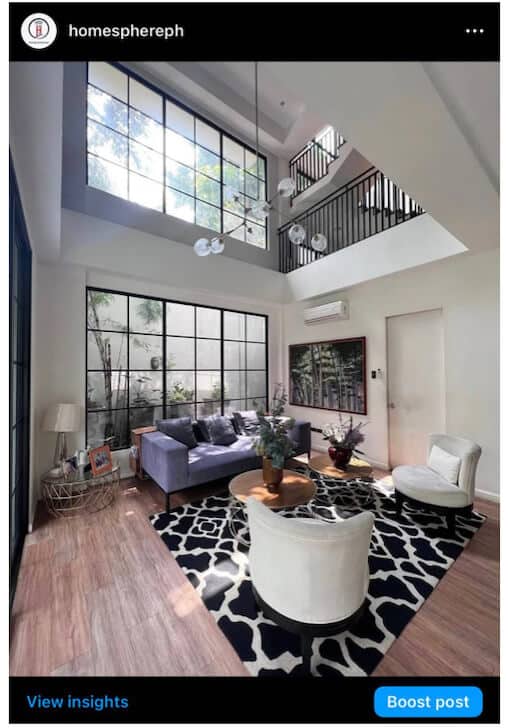 At the same time, Instagram constantly adds features, formats and advertising opportunities, so it makes it easier for marketers and brands to test new strategies and improve their campaign performance.
About Popular Types of Instagram Ads in Brief
No matter what business goals you want to achieve, Instagram offers a wide range of options for profiles that invest in paid ad campaigns. The platform constantly rolls out new ad types that can meet any needs.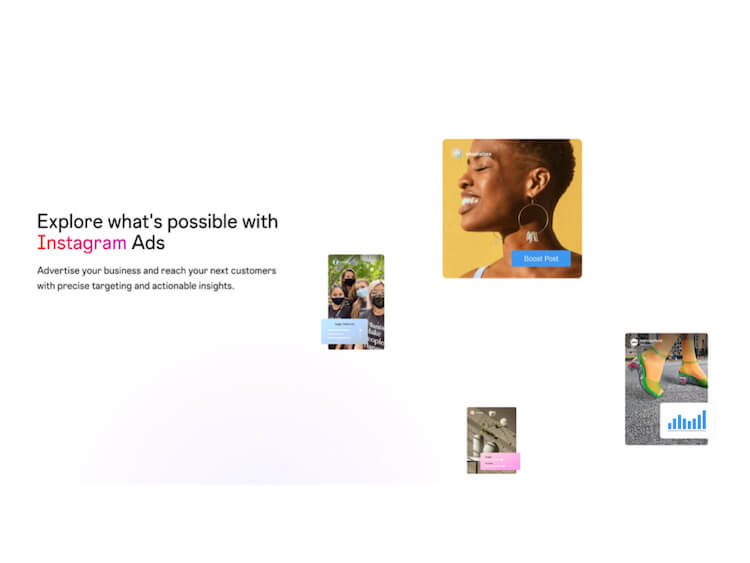 Instagram currently has seven ad formats available:
Photo ads (in-feed)

. Single-photo ads that appear in your target audience's feed. It should include an eye-catching visual and a CTA button, depending on your objective.

Stories ads

. A vertical video or photo ad that appears as your audience views

Instagram Stories

from users they follow. It can include a swipe-up feature that opens up an external landing page. Stories ads can also include interactive stickers and GIFs, which are available within Instagram Stories.

Video/Reel ads

. All videos below 15 minutes are now classified as Reels. Considered the platform's fastest-growing feature, Reels ads can appear in-feed, in Stories, in the Reels tab, or on the Explore page. The maximum time limit for boosted Reels is 60 seconds.

Shopping ads

. Also known as shoppable ads, Instagram's shopping ads include clickable tags for products in your Instagram Store. The standard CTA for shopping ads is the Shop Now button.

Carousel ads

. Instagram's carousel ads allow you to add multiple photos or videos (up to 10) that your target audience can swipe through like a slideshow.

Collection ads.

Made for e-commerce businesses, collection ads allow you to showcase multiple products in a single ad, similar to a carousel. Those who click on the ad will be redirected to your Instagram storefront.

Explore ads.

Explore ads appear in the Explore tab, where people discover new brands and content from accounts they don't follow. Explore ads can either be a photo or a Reel.
Now that you know the basics about Instagram ads, it's time to understand which steps you need to take when creating paid ad campaigns.
9 steps to creating Instagram Ads that convert
Here's the step-by-step guide to help you create eye-catching ads that convert. Go through each step to create wonderful Instagram ads that convert. Let's get it started!
1. Select Your Main Ad Objective​
When you create an Instagram ad, you must know what you want your audience to do when they see your paid ad campaign. That's why each ad has an advertising objective.
For instance, if you want to turn Instagrammers into website visitors, you can choose 'visit your website' as an ad objective and this ad will have a clickable button that redirects interested viewers into web visitors.
There are many ad objectives for any business to accomplish its goals. But before selecting the main ad objective for your ad campaign, let's understand how ad campaigns appear.
Currently, there are two ways to createInstagram ads: boost an existing post or create a new ad campaign from scratch in the Meta Ads Manager.
If you're boosting a post directly from Instagram, you can only choose between three goals:
More profile visits

More website visits

More messages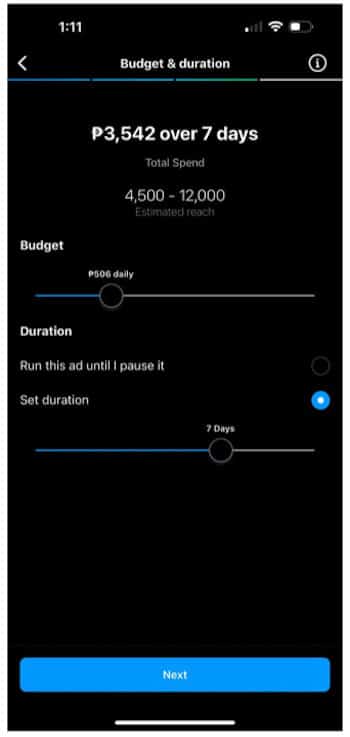 However, if you run a campaign through Ads Manager, you can select from any of the six campaign objectives:
Awareness

. It's perfect if you want to reach a large number of people. Great for new businesses looking to reach more customers, rebranding, or introducing a new product.

Traffic

. For those who want to convert followers into website visitors. It's ideal for redirecting people to your website, Instagram store, blog, or any other external page.

Engagement

. This ad objective helps you connect with more people likely to be interested in your content. It can get you more views,

comments

, messages, or conversions.

Leads

. It's used for opt-in campaigns and collecting more information about your audience. Also an excellent option for getting more people to sign up for your newsletter or SMS alerts.

App Promotion

. This ad objective allows you

to get more people to download your app, reengage existing users to try a new feature, or make a purchase through your app.

Sales

. It helps you reach users who are likely to purchase your products. Sales ads can either redirect your audience to an e-commerce landing page or can be optimized for specific actions like adding items to cart.
Before setting up your campaign on Instagram, you have to decide what your marketing goals are. Aside from making it easier for you to select your objective, it will also help you accurately monitor your campaign performance and determine its success.
2. Create an Ad Audience
Instagram collects around 70% of all available data, so it's easy to reach the right people who matter most to your business with Instagram ads – just create an ad audience who represent your target customers.
Whether you want to create a buyer persona profile or reach people who have already interacted with your company in the past, advanced Instagram ad settings allow you to create an ad audience that resonates with your goal.
When setting up an ad through the Instagram app, defining your audience is limited to their location, interests, age, and gender.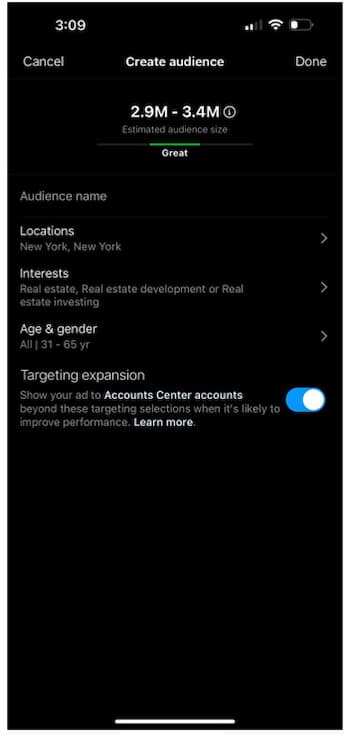 When using Meta Ads Manager, you can create a custom audience based on their behaviors, demographics, age, gender, location, and languages spoken.
As you run more campaigns, having saved audiences based on past ad performance can help ensure the consistency of your targeting.
Of course, you shouldn't be defining your audience on the fly. Before setting up your campaign, you should already have a clear idea of your target audience. If you don't have an existing customer base to refer to, it will help to analyze competitors and create detailed customer personas to help you understand who exactly you're trying to sell to.
3. Make an Eye-Catching Ad Visual
Your audience is bombarded with all kinds of content, all day long. When it comes to the platform with a strong focus on visuals, your visuals have to work harder than ever.
On top of using high-quality photos and videos, you need to unleash your creativity and make an eye-catching ad visual that grabs the audience's attention.
With the number of graphic design tools on the market, it's easy for marketers with no design skills to choose from a library of ready-to-use templates, customize them for your needs, and therefore create stunning visuals on the go.
Do you want to make great ads for Reels? No problem! Rely on a video editing tool like Videoleap by Lightricks that helps users connect with creative creators and use their video templates. You can also mix images and videos, add various video or sound effects, and create eye-catching transitions, moving text overlays and AI elements .
Check out the example below: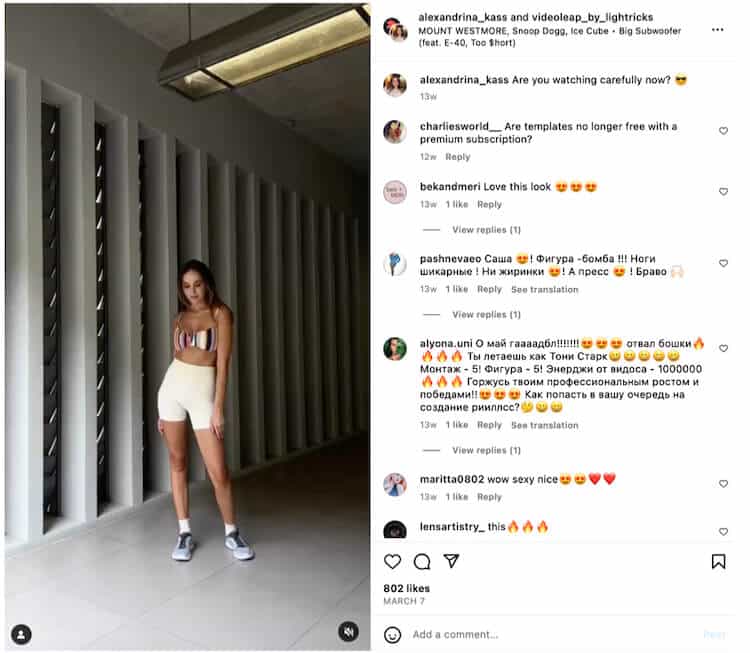 Here are more things you can do to create eye-catching content:
Use motions.

Despite its beginnings as an image-only platform, video is considered the most popular type of content on Instagram today. Adding motion to your content also has better thumb-stopping ability than static content, as users are likely to engage with videos.

Partner with Instagram influencers

. If you're just starting out, seeing your brand name or products won't mean anything to your target audience. However, using a familiar face can. Influencers won't just capture your audience's attention, they can also help you build trust and credibility.

Utilize user-generated content

. Using clips or images of your customers is an excellent way to engage with your audience immediately. In fact,

84% of millennials

engage with UGC more than any other type of content.
4. Write a Compelling Ad Copy
Your caption or ad copy is just as important as your visuals — don't take it for granted. While your visuals work to get your audience to stop scrolling, your ad copy is what gets them to stay and engage.
A compelling ad copy is a short message that appears within your ad and helps your viewers understand the basics about the importance of your product for their needs and wants.
Here are several things that make your ad copy compelling:
No grammar or stylistic mistakes

Clear idea

Short sentences

Readable text

Unique offers
Take a look at this caption by Airbnb (@airbnb). To promote one of its stays in Australia, Airbnb used the caption space to tell a story and describe what guests can expect when they book one of their countryside locations.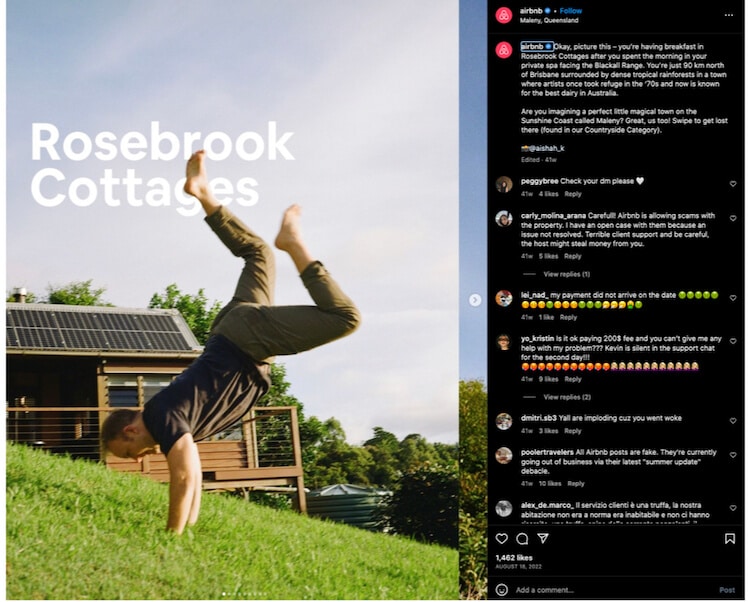 5. Offer Something Unique and Useful
With the great sales potential of Instagram, it's no wonder that over 2 million advertisers and marketers run paid ad campaigns to cut through the noise and reach their target audience fast on the platform.
For users, this means a great number of ads that bombard them from all the sides. When people see nearly the same content as paid ads, they are reluctant to make a purchase decision.

While running an ad will expose your brand to more people, you still have to offer something unique and valuable before your exposure will start paying off.
Your ad should communicate what sets you apart from competitors and how you can solve a specific problem your audience experiences in order to reach more customers.
To promote its new lipstick shades, YSL Beauty highlighted three unique selling points in its ads: Weightless Comfort, Lasting Wear, and Ultra-Precise.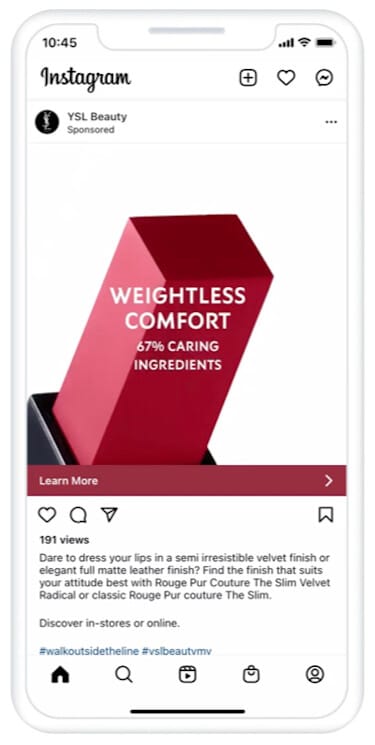 Value propositions may include:
Free trial

Free shipping

Discount

Branded freebie

Premium access to info products
6. Include a Strong CTA
While action buttons are good enough to tell your audience what action they should take upon seeing your ad, a strong CTA in your caption or creatives can help drive the point forward. Always remember: If you don't ask, you won't receive.
Take a look at this Instagram Story ad by Baltic Born. Even though the Story already had a Shop Now swipe-up CTA, the brand still included an in-image "Shop Now" CTA that's visible throughout the video.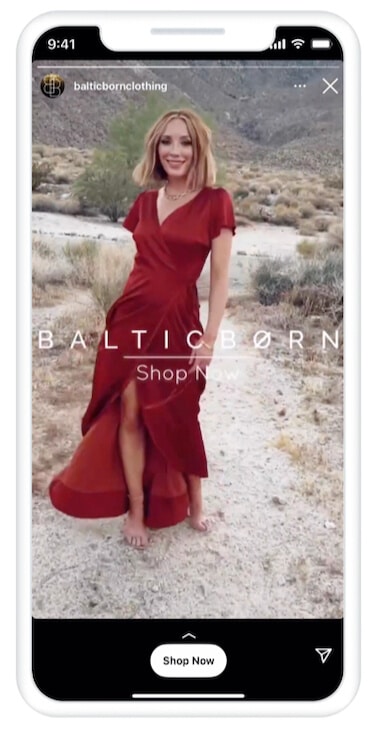 A strong CTA in your Instagram ad campaign is a graphic element that grabs the attention of your audience and guides them on what steps you expect viewers to take. It should be eye-catching and clear to achieve your ad objective.
7. Define Your Ad Budget
The more you spend on Instagram ads, the more you can achieve.

Although this idea makes sense, just a few marketers, advertisers, and business owners have no limits in their marketing budgets.
When setting up Instagram ads that convert, you need to understand the amount of money you are ready to spend on your advertising. That's why you need to define your Instagram ad budget.
Setting your budget might be one of the first things you decide on when planning for marketing, but it's one of the last steps when setting up a campaign or boosting a post. After selecting your goal and defining your audience, the next step is to set your daily budget.
This is how it looks like if you're boosting a post using the app: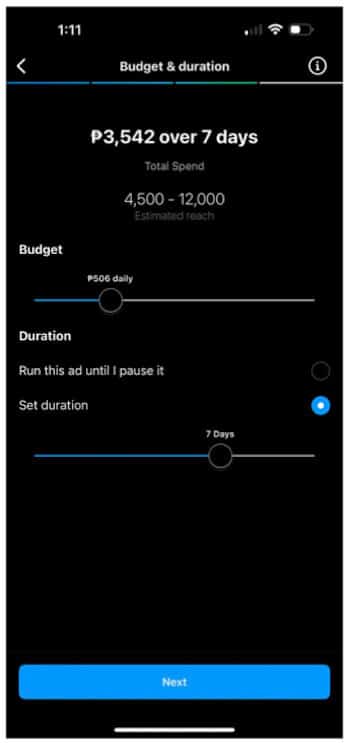 You can either set a duration or run the ad indefinitely until you reach your target.
If you're setting up your campaign through Ads Manager, you can set a lifetime budget, the maximum spend for your entire campaign, or a daily budget, the maximum spend per day throughout your campaign.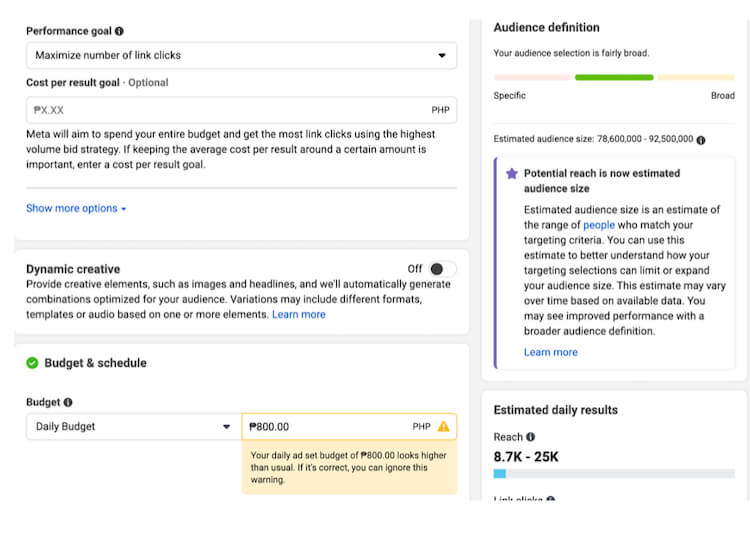 Both Instagram and Ads Manager will give you an estimated reach according to the budget you set. And the good news is that you can change your budget and increase your ad spent if your ad campaign delivers great results.
8. Experiment with an Ad Placement
Boosting your post within Instagram means your placement will depend on the format you choose.

But if you set up your campaign through Ads Manager, you can opt to show your ad in any of Meta's family of apps, including Facebook, Messenger, and Whatsapp. It gives you more options to achieve your business goals outside of Instagram.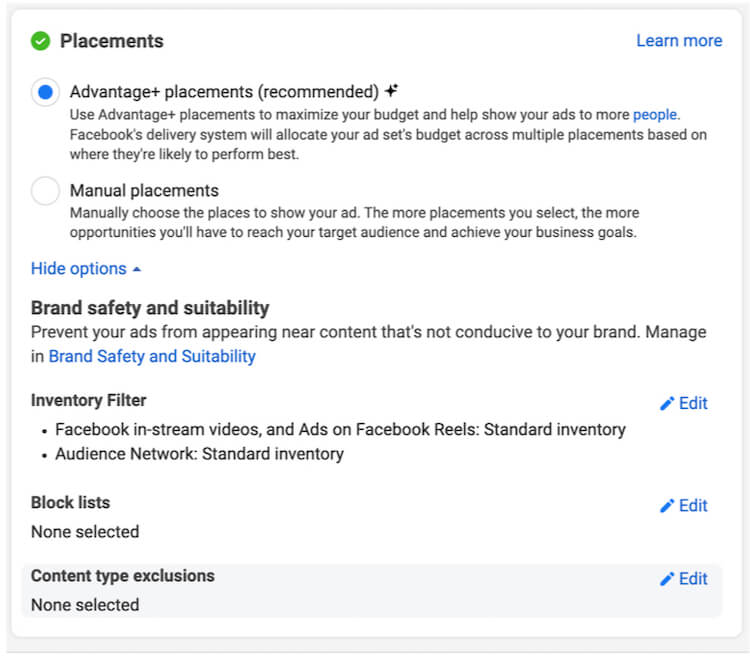 Ads manager gives you the option to select Advantage+ placements, which automatically places your ads based on where the algorithm thinks they will perform best. You can also manually choose the placements.
And if you experiment with the ad placement, it's a good idea to find the right Instagram ad templates that fit any placement. It will allow you to make good use of your winning ad set.
9. Analyze Your Ad Performance
One of the most crucial steps in creating ads that convert is analyzing their performance.
It's not enough to create an eye-catching Instagram ad to make it effective for your target audience. You should also analyze whether your ad creative resonates with your audience and here's where ad performance analysis comes in handy.
Obviously, Instagram and Ads Manager has native tools that allow you to measure and track your campaign with metrics like clicks, views, comments, like count, and saves.
When you tap on your Instagram ad, you get access to ad insights and here's how it looks like: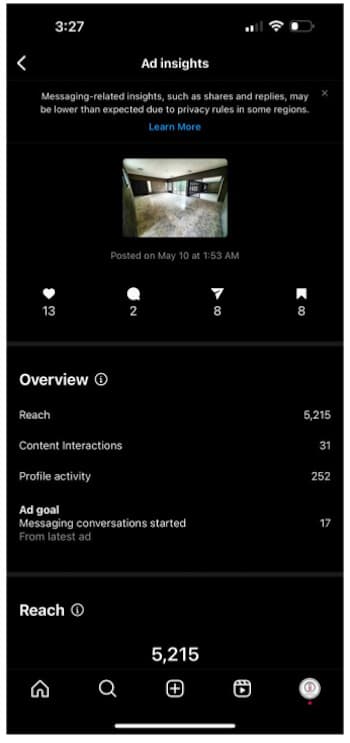 This information allows advertisers to see the total reach, content interactions, profile activity, and overall stats on ad goal performance.
Use your results to find out what type of content performs best and keep this in mind as you plan for future campaigns. However, you can also rely on third-party Instagram analytics tools that can give you a deeper understanding of your ad performance as well as offer reports to share with other team members or clients.
How​ M​uch ​Do ​Instagram ​A​ds ​Co​st​?​
At first blush, Instagram ads can be an expensive marketing tool to reach your potential customers. However, the great thing about Instagram ads is that how much you spend per campaign is entirely up to you.
For reference, however, WebFX says that on average, Instagram ads cost between $0.020 to $2.00 per click, $6.70 per 1,000 impressions, and between $0.01 to $0.05 per engagement. What is more, it's you who sets the budget, so you can always find the right ad spent that meets your budget.
Conclusion​
So, are Instagram ads worth it? Definitely.
Instagram users are ready to shop. They're just waiting to discover the next great brand on the platform. With these tips, you'll be ready to launch eye-catching ads that get more than just a double-tap.