In recent years, videos have become a preferred type of content on the web.
Businesses, people, and organizations use videos for promoting, educating, learning, and much more!
Use video content for your business, and you open up countless opportunities for building trust with your customers, gaining their loyalty, spreading the word about your products or services, piquing interest, and catching the attention of a new target audience.
To help you appreciate the importance of video marketing, we've gathered some appropriate statistics.
By the time you get to the end of this video marketing stats list, you'll have a clearer picture of the state of the industry and how videos will benefit your business and lead to success.
General Video Marketing Stats
Include a digital marketing video, whether it's a live or an animated video, on your business landing page, and conversions will increase by up to 80%.
When asked whether they preferred to watch short video content to learn about a product or service, 66% of people said they did. However, only 18% prefer to read a post, website, or text-based articles such as infographics.
One-third of all online activity is watching videos.
You can expect 68% of people to watch a full video if it lasts one minute or less.
The most popular types of videos are social videos, webinars, and demos.
When people watch a video, 33% tend to lose attention after 30 seconds, 45% after one minute, and by the time two minutes have elapsed, you've lost the attention of 60%.
ROI Video Marketing Stats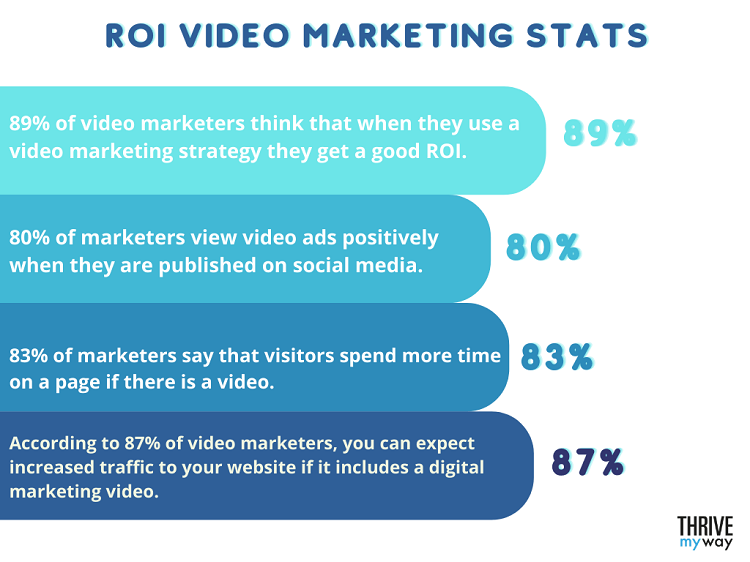 89% of video marketers think that when they use a video marketing strategy they get a good ROI.
80% of marketers view video ads positively when they are published on social media.
Just over one-half of marketing professionals worldwide say video marketing efforts are the type of content that gives the best ROI.
83% of marketers say that visitors spend more time on a page if there is a video.
According to 87% of video marketers, you can expect increased traffic to your website if it includes a digital marketing video.
Video Consumption Stats
On average, people watch 16 hours of online video content in a week, an increase of 52% compared to two years ago.
When watching videos, the audience absorbs 95% of the video's message.
Compared with other content, video content is 1200% more successful.
After watching an explainer video, 84% of the audience will make a purchase.
Google users are more likely to click on video search results than any other content.
Video Marketing Engagement Stats
On Instagram, video generates more engagement than other types of content.
During a study of more than 777 million Facebook posts, it was found that video content marketing managed 59% more engagement than other types of posts.
The optimum length for a video is a maximum of two minutes because audience engagement drops significantly after two minutes.
Live stream videos on Facebook get double the engagement of those that are pre-recorded.
Include videos in your promoted tweets and you'll save more than 50% on cost-per-engagement.
Live Video Marketing Stats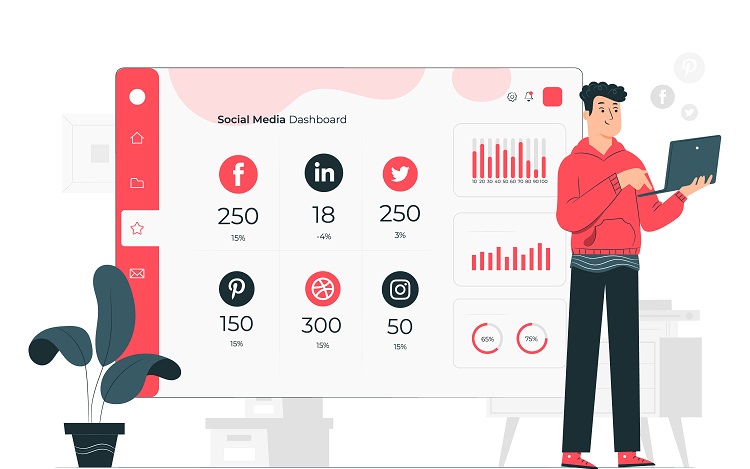 45% of consumers are asking for more live videos from brands on their social media feeds.
Live video is set to become more important in the coming twelve months, according to 60% of video marketing strategy professionals.
17% of companies use live video as an important part of their social media marketing strategy.
During the spring of 2020, Facebook Live viewers increased by 50%.
12% of Facebook video posts consist of live streams.
B2B & B2C Video Marketing Stats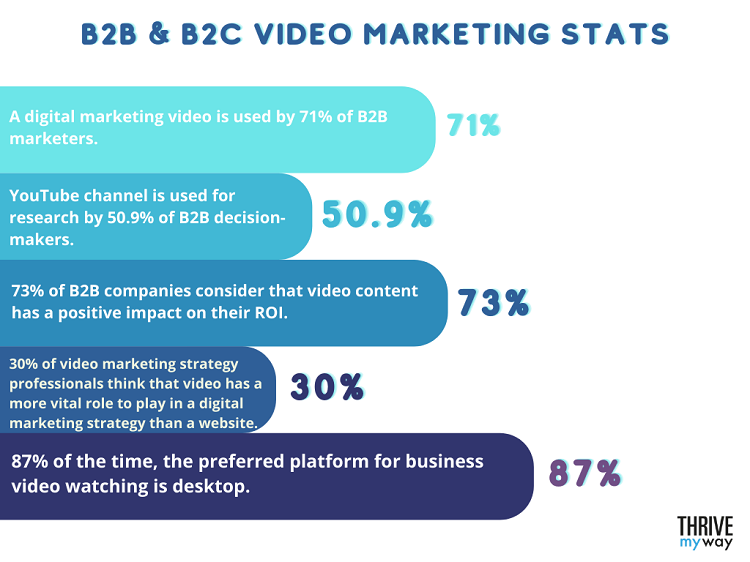 A digital marketing video is used by 71% of B2B marketers and 66% of B2C marketers.
YouTube channel is used for research by 50.9% of B2B decision-makers.
73% of B2B companies consider that video content has a positive impact on their ROI.
30% of video marketing strategy professionals think that video has a more vital role to play in a digital marketing strategy than a website.
87% of the time, the preferred platform for business video watching is a desktop.
Mobile Video Stats
93% of videos viewed on the microblogging platform take place on a mobile device.
4.18 million people are mobile internet users.
92% of people who watch videos on their mobile will share them with others.
On a global scale, YouTube videos engage more 18 and 19-year-olds than television networks.
90% of Twitter video views are by mobile users.
Video Email Stats
Include the word "video" in your email subject line, and open rates could increase by 6%.
If you include video in your emails, your open rates will increase by 19% and click rates by 65%.
Unsubscribe rates could reduce by 26% if you include videos.
Click-through rates could increase by up to 300% if you use video content in emails.
A video ad will be remembered by eight out of ten people for the next 30 days.
Video Marketing Statistics for Social Media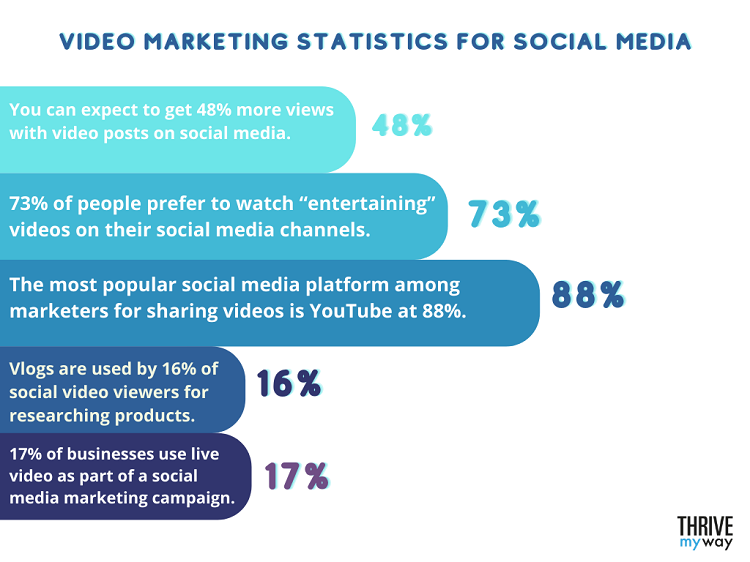 You can expect to get 48% more views with video posts on social media.
73% of people prefer to watch "entertaining" videos on their social media channels.
The most popular social media platform among marketers for sharing videos is YouTube at 88%.
Vlogs are used by 16% of social video viewers for researching products.
17% of businesses use live video as part of a social media marketing campaign.
YouTube Video Marketing Stats
YouTube viewers spend an average of 17 minutes and 31 seconds watching videos every day.
In 2020, YouTube lives streams increased by 45%.
There are 38 million active channels and 15 million content creators on YouTube, of which 22,000 have more than 1 million subscribers.
As of 2019, people upload 500 hours of video content every minute.
Netflix is second to YouTube as the most preferred content for millennials to consume online video content.
Facebook Video Marketing Stats
Every day, more than 8 billion video views are recorded by Facebook.
71% of Facebook's video content comes from accounts with more than 100,000 followers.
3 times more Facebook users watch live videos rather than uploaded ones.
Facebook Watch, Facebook's video platform, is visited by 75 million people every day, and on average, they spend 20 minutes watching videos.
People watch 85% of Facebook videos without sound.
LinkedIn Video Marketing Stats
Viewers of LinkedIn video posts share them 20 times more than other content.
The video length that works best on LinkedIn is between 30 and 90 seconds long.
Compared to published videos, LinkedIn live streams get 7 times more reactions and 24 times more comments.
80% of LinkedIn videos are viewed without sound.
70% of LinkedIn videos are designed to be watched without the sound on, as they include text or captions.
Instagram Video Marketing Stats
Since June 2017, the number of people watching videos on Instagram has increased by 80%.
60% of people watching Instagram videos on Instagram Stories have the sound on.
You can expect twice as much engagement from Instagram video posts than from other post types.
You can increase viewership by 83% if you use stickers on Instagram Stories.
Business profiles account for one-third of the most-watched Instagram Stories.
Twitter Video Marketing Stats
Every day, 2 billion video views take place on Twitter.
People use their mobile devices to watch 90% of Twitter videos.
On a cost-per-engagement basis, promoted tweets with videos save more than 50%.
There is a 2x higher clickthrough rate with Video Website Cards on Twitter videos than standard video ads.
Video Website Cards on Twitter boost user retention by more than 60%.
TikTok Video Marketing Stats
In the US, people spend 46 minutes 10 times a day on TikTok.
There are more than 800 million TikTok users worldwide.
During 2018, more than 1 billion videos were viewed daily.
55% of people use TikTok for uploading their own videos, while 68% watch videos uploaded by someone else.
66% of marketers who have tried a TikTok video marketing campaign report being successful.
Video Marketing Statistics and Trends by Industry
Real Estate Video Marketing Statistics
73% of homeowners wanting to sell a property say they are more likely to choose a realtor who uses listing videos.
Agent reputation and personality are among the top five most important factors buyers look for and videos are a great way to convey that.
Only 9% of real estate agents create listing videos.
Almost 50% of internet users look for videos related to a service or product video before deciding to buy.
When you feature a video on your website, it increases your chance of appearing on the first page of Google by 53%.
Healthcare Video Marketing Statistics
5% of all Google searches are related to health.
When consumers look for information about nursing homes, therapists, and optometrists, they are more likely to use search engines.
When it comes to evaluating healthcare providers, 94% of healthcare patients prefer to use online reviews, and 84% of consumers trust these reviews as much as they would a personal recommendation.
Global advertising expenditure for healthcare companies is expected to increase by 4.3% in 2021.
Potential healthcare patients form an opinion after reading one to six online reviews.
E-commerce Video Marketing Statistics
46% of users will act after viewing a video ad.
When comparison shopping, 93% of consumers find video ads helpful.
Video ads are one of the top 3 content marketing priorities for 47% of retail executives.
12% of eCommerce web page viewers will watch a video ad when one is available.
Almost three-quarters of consumers say they are more likely to purchase after watching a video that explains a service or product.
Travel Video Marketing Statistics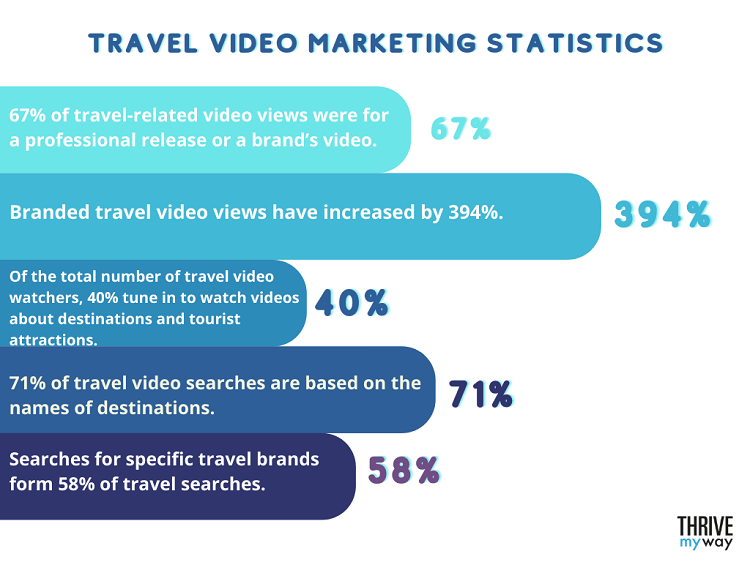 67% of travel-related video views were for a professional release or a brand's video.
Branded travel video views have increased by 394%.
Of the total number of travel video watchers, 40% tune in to watch videos about destinations and tourist attractions.
71% of travel video searches are based on the names of destinations.
Searches for specific travel brands form 58% of travel searches.
SaaS Video Marketing Statistics
More than three-quarters of people watch online videos every week.
75% of all videos are watched on mobile devices.
One-third of the time spent online is spent viewing videos.
Social videos generate 1200% more shares than images and text combined.
Video marketers get 66% more qualified leads each year.
Education Video Marketing Statistics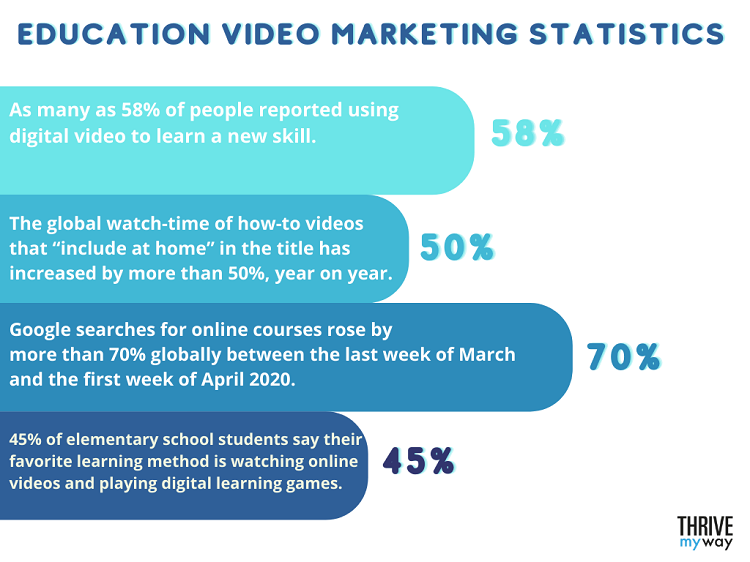 As many as 58% of people reported using digital video to learn a new skill.
The global watch time of how-to videos that "include at home" in the title has increased by more than 50%, year on year.
Google searches for online courses rose by more than 70% globally between the last week of March and the first week of April 2020.
In K-12 classrooms, most online learning materials are online educational videos. 45% of elementary school students say their favorite learning method is watching online videos and playing digital learning games.
Finance Video Marketing Statistics
Brands spent $1.8 billion on video in the financial services industry in 2018, which increased 13.1% from the year before.
55% of people watch online videos every day.
65% of viewers watch more than three-quarters of any given video clip.
Video Marketing Statistics by Country
Video Marketing Stats for Canada
73% of content marketing agencies in Canada were frequently using online video as part of their marketing strategy.
62% of marketers in Canada were doing the same.
Almost 26.1 million people watch a digital video in Canada at least monthly.
More than two-thirds of video viewers in Canada watch videos on their smartphones.
YouTube is the leading digital video platform in Canada.
Video Marketing Stats for the US
By 2023, 82% of all consumer internet traffic will come from online videos.
By 2023, the number of videos crossing the internet per second will be close to 1 million.
Video consumption via mobile devices increases 100% every year.
Six out of ten people prefer watching online videos rather than television.
85% of adults use multiple devices at the same time.
Video Marketing Stats for the UK
In 2016, only 61% of businesses considered using video as a content marketing tool, but in 2021, that percentage rose to 92%.
93% of marketers have reported an increase in sales because of their use of video.
The most popular duration for social media video ads is 15 seconds and accounts for 32% of all ads.
41% of B2B marketers are looking into B2B videos as a way to increase revenue.
57% of video marketers report using live video, 34% of which use Facebook, and 13% use Instagram.
Interesting Facts about Video Marketing
As you can see, many interesting statistics revolve around video marketing and indicate how important it is now and for many years to come.
We've picked out five of the most interesting ones to highlight here:
Users watch more than a billion hours of video on YouTube every day, and 70% of them watch on a mobile device.
Videos generate 300 times more traffic to a website than any other type of content.
93% of marketing professionals say that videos are an essential marketing tool.
50% of 18-35 years say they would interrupt their activities to watch a video from a favorite creator.
Millennials between the ages of 25 and 34 watch the most online videos.
You might be interested to check those related posts as well:
Final Thoughts
As you can tell from the list of interesting statistics, the benefits of including videos as part of your marketing strategies are countless.
As a marketing tool, they can help your business build long-term relationships with your customers, creatively promote your services or products, and serve as product demo videos.
They are also a great way to educate your customers, increase brand awareness, and engage users on social media channels.
We used several different resources when compiling the list of video marketing statistics.
They included:
VideoMaking.org
Invoca
PPC Protect
PageTraffic
PayProGlobal
YumYumVideos
eMarketer
WebsiteBuilder
Explain Ninja
Invideo
InfluencerMarketingHub
WordStream
Wyzowl