Content is power. And it's also a powerful marketing tool for business owners. Why? Because it helps draw more traffic and promote your products and services online.
Content marketing refers to promoting your business through content. In contrast to more traditional types of advertising, businesses using content marketing capture the interest of their target demographics by creating content—on their websites, blogs, and social media—that appeals to the audience's desires and interests.
Content marketing also boosts conversion rates that are six times higher than other advertising methods. When it comes to blogging, businesses publishing upwards of 16 posts per month get almost 3.5 times the amount of traffic than businesses publishing only four or fewer blogs.
It's clear that content marketing is an important—if not essential—investment for your brand.
But no matter what stage of business you're currently at, creating content can be a challenging task. Luckily for you, there are many tools that can help you create better content.
Content marketing tools make it easier for your business to deliver great content to your audience and customers at a lower cost than hiring a team of content professionals.
Here is a list of 33 content marketing tools to help you create winning content.
Top 34 Content Marketing Tools for Smart Marketers 2023
Content marketers are in luck. Many tools are available to help you create, publish, promote, and analyze content. In this guide, we've rounded up a list of the top 33 content marketing tools that will help you boost your content. Let's dive into it.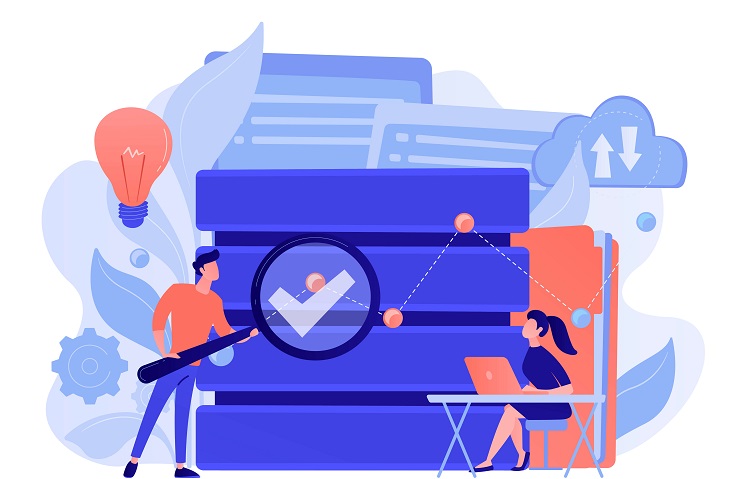 1. Google Analytics – Best Tool for Measuring Advertising Results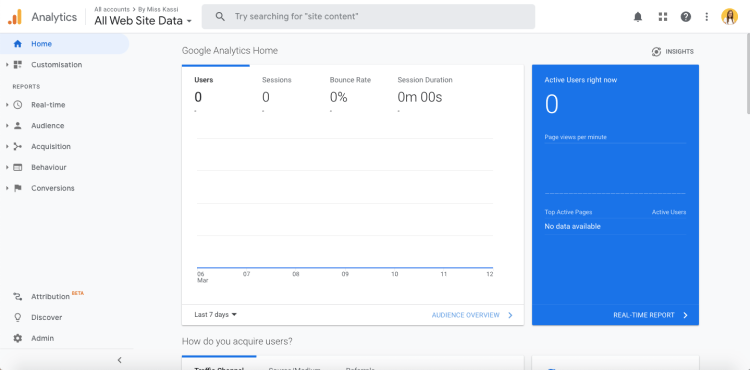 Source: Analytics.google.com
If you don't already use Google Analytics as a business owner, you're missing out on one of the best tools for measuring and improving advertising campaign results.
Google Analytics is the perfect tool if you're running a few ads and want to track how they're working. It's easy to use, it integrates with Adwords, and it's free.
Google Analytics provides you with a ton of information about how many people view your website, what country they're from, what browser they're using, and much more. You can use this data to improve your website or app and increase your conversion rate.
Pricing Plans:
Free
2. WordPress – Best Tool for Publishing Content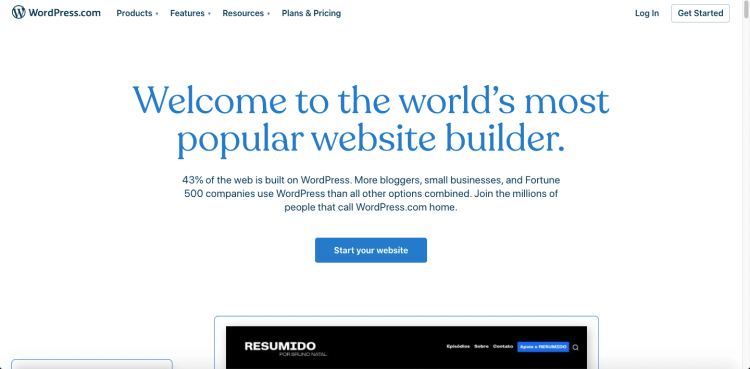 Source: WordPress.com
WordPress is a free content management system for creating blogs, business websites, portfolios, and eCommerce sites.
WordPress is the most popular platform for building websites in the world. It's used by over 30% of all websites (455 million to be specific), and many experts recommend it as the best platform for publishing content online.
WordPress is so popular because it offers unparalleled flexibility in terms of theme and plugin options, as well as support from an active community of developers and users.
WordPress is also a highly flexible CMS, making it easy to adapt your site to future needs. WordPress themes are highly customizable, giving you the power to transform your website into anything you want it to be.
Pricing Plans:
Free
3. Grammarly – Best Tool for Editing Content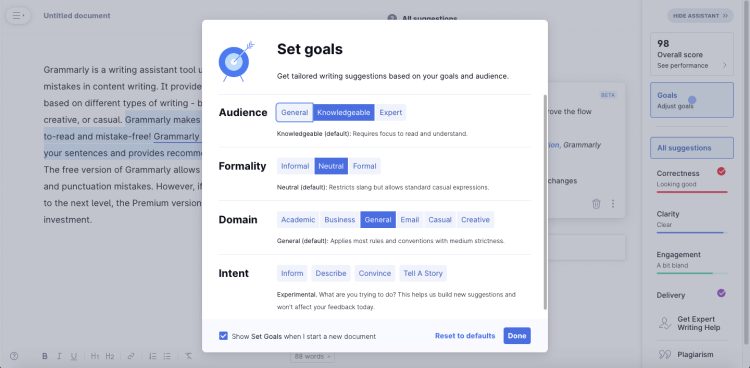 Source: App.grammarly.com
Grammarly is a writing assistant tool used to correct grammatical mistakes in content writing. It provides context-specific suggestions based on different types of writing – business, academic, technical, creative, or casual.
Grammarly makes sure everything you type is easy-to-read and mistake-free! Grammarly automatically detects mistakes in your sentences and provides recommendations for improvement.
The free version of Grammarly allows you to correct grammar, spelling, and punctuation mistakes. However, if you're looking to take your writing to the next level, the Premium version of Grammarly is a smart investment.
Grammarly Premium offers advanced suggestions about vocabulary, length of sentences, and context of the words. It suggests synonyms, helps you restructure your sentences to make them more readable, and enables you to refine your writing in general.
Pricing Plans:
Grammarly Premium monthly plan at $30 per month, billed monthly
Grammarly Premium quarterly plan at $20 per month, billed quarterly as one payment of $60
Grammarly Premium annual plan at $12 per month, billed annually as one payment of $144
4. Slack – Best Tool for Content Team Collaboration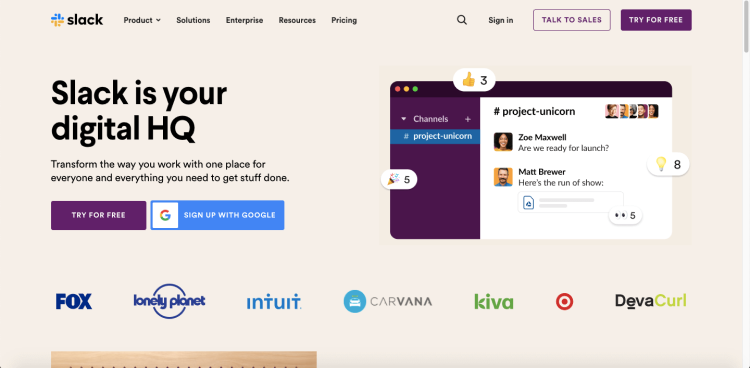 Source: Slack.com
From content ideation to distribution, there are many ways that Slack can help your content team collaborate more effectively. The primary function of Slack is to provide a single platform where team members can chat and share documents, images, videos, and other forms of content.
It's easy to use and integrates with several popular applications, including Google Drive, Google Calendar, and Dropbox.
Slack can be used on desktop or mobile devices and syncs across them all. Users can customize notifications to be alerted when they are mentioned in a chat or when specific keywords are used. They can also set different alerts for each channel within the account.
Pricing Plans:
Pro Plan at $6.67 per month, billed annually as one payment of $80
Business+ Plan at $12.50 per month, billed annually as one payment of $$150
Enterprise Grid Plan with custom pricing
5. Screencast-O-Matic – Best Tool for Creating Video Presentations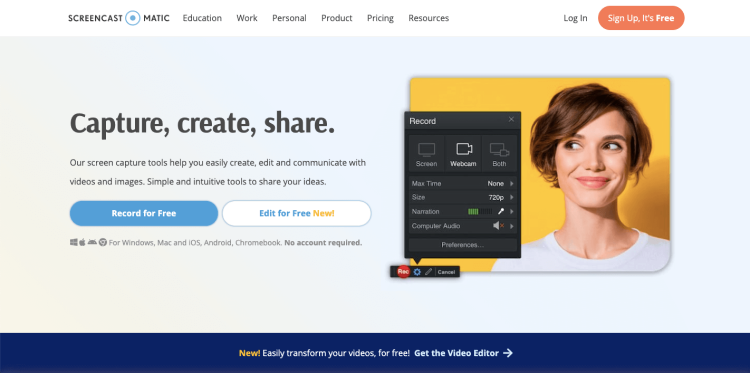 Source: Screencast-o-matic.com
Screencast-O-Matic is a powerful video creation platform that allows you to record your screen, record yourself via webcam, add voiceover narration, and even edit videos with an easy-to-use online editor.
Screencast-o-Matic is an excellent tool for recording PowerPoint presentations with a voiceover or tutorials for YouTube and online courses. For example, you could record a PowerPoint presentation from your computer screen, but add yourself via webcam to talk about it as you go through the slides.
To make your videos more interesting, you can also import images, music files, and other multimedia elements. Screencast-O-Matic also allows you to share your video recordings directly to social media platforms like Facebook or YouTube.
Screencast-O-Matic offers free and paid plans. The free version puts a watermark on your videos and limits recordings to 15 minutes. The Deluxe version removes the watermark and sets no limit on the length of your recordings.
Pricing Plans:
Solo Deluxe Plan at $4 per month, billed annually as one payment of $48
Solo Premiere Plan at $5.75 per month, billed annually as one payment of $69
Business Team Plan at $15 per month, billed annually as one payment of $180 (3+ users)
6. Ahrefs – Best Tool for Outranking Competitors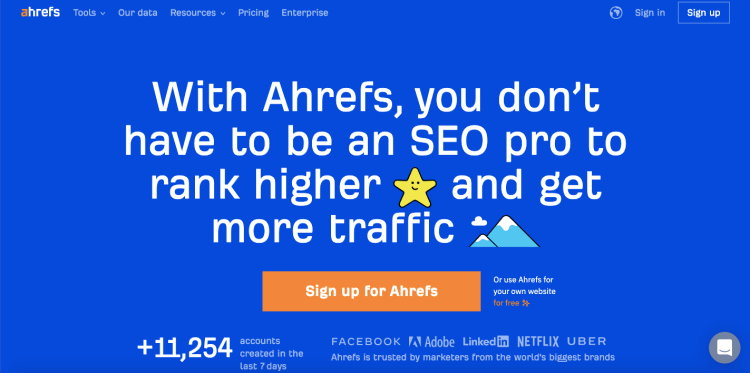 Source: Ahrefs.com
Ahrefs is a complete SEO toolset that will help you rank higher in search engines and get more traffic from organic searches. Ahrefs allows you to quickly find out which websites are linking to your competitor's website.
Ahrefs is the perfect tool for any kind of SEO work, such as link-building or keyword research. It helps you identify opportunities in the marketplace and allows you to scale your efforts quickly by providing reliable data and metrics.
Here's what Ahrefs can help you with:
Content promotion and outreach (find link-building opportunities)
Monitoring your backlinks (referring domains, anchor texts, etc.)
Competitor research (see what your competitors are already ranking for)
Keyword research (find topics you can rank for and find the right keywords to target)
The only drawback of this excellent SEO tool is that it doesn't offer a free version or trial, and its pricing plans are pretty expensive.
Pricing Plans:
Lite Plan at $99 per month
Standard Plan at $179 per month
Advanced Plan at $399 per month
Agency Plan at $999 per month
If you are trying to grow your qualified search traffic, you have to combine your content marketing with your SEO efforts. – Neil Patel
7. SEMrush – Best Tool for Keyword Research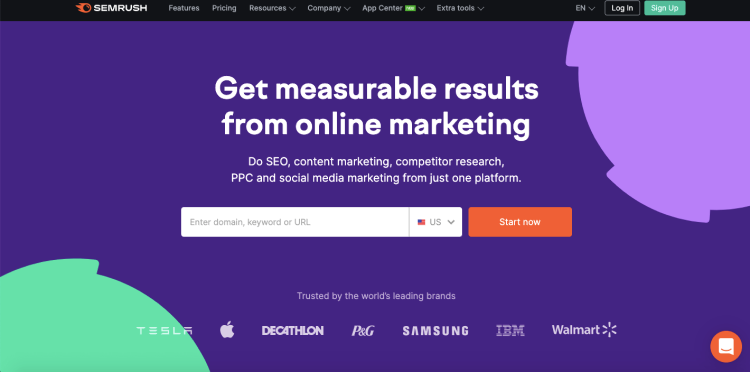 Source: Semrush.com
SEMrush is a complete SEO toolkit that helps you get top rankings in Google. It helps you with a complete SEO audit of your website, backlink analysis, competitor research, keyword analysis, and much more.
In other words, SEMrush allows you to see what keywords your competitors are ranking for and gain insights into the strategies they're using to reach their audience. It also shows you where your site is currently ranking for its keywords.
Apart from that, SEMrush is also a PPC and social media marketing tool that allows you to create and track PPC campaigns and draft, schedule, and post content on social media.
SEMrush offers a limited free plan.
Pricing Plans:
Pro Plan at $119.95 per month, billed monthly
Guru Plan at $229.95 per month, billed monthly
Business Plan at $449.95 per month, billed monthly
8. Sway – Best Tool for Creating Presentations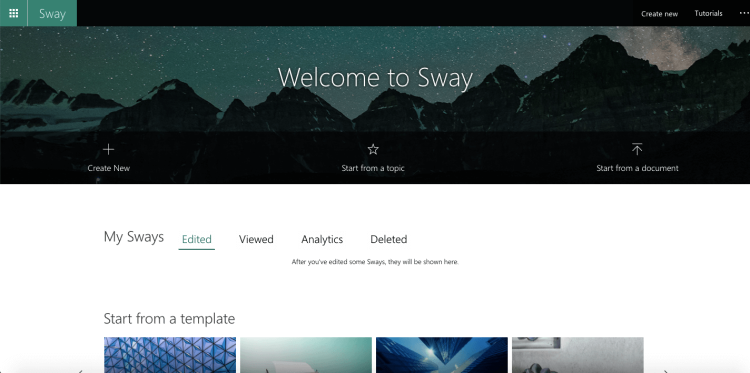 Source: Sway.office.com
Sway allows you to create interactive, beautiful, and unique presentations with engaging media, including images, GIFs, YouTube videos, and more.
Sway was designed for on-the-go professionals who need to easily and quickly create presentations, newsletters, reports, and more. It's great for collaborating with coworkers to create content that's polished and professional-looking.
Sway can be used in a variety of ways, including:
Create interactive presentations, reports, and documents
Create striking newsletters with embedded videos and tweets
Build a travel itinerary with maps and images
Easily add content from your device or the web
Use the Sway on desktop, and mobile
Sway is part of the Microsoft 365 Suite. Sway is completely free for anyone who has a Microsoft account. You don't need an active Microsoft 365 subscription to use it. However, a Microsoft 365 subscription will allow you to get the full experience of Sway and access more advanced features.
Pricing Plans:
Free or as part of the Microsoft 365 subscription (personal plan costs $69.99 per year).
9. Apollo – Best Prospect Engagement Platform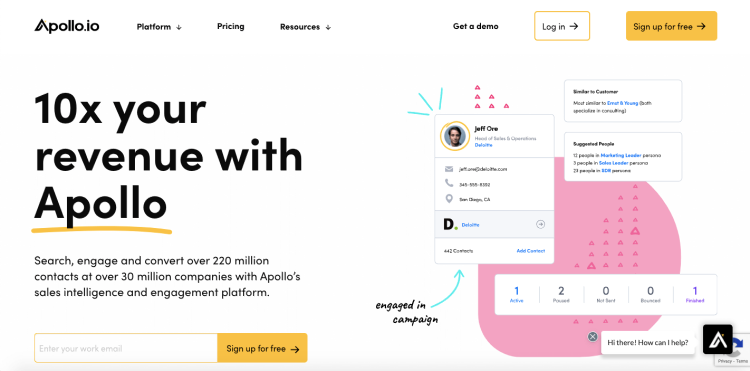 Source: Apollo.io
Apollo is the best engagement platform for launching sales and marketing campaigns across email, social media, websites, mobile apps, and more. Apollo helps automate workflow and improve every customer interaction by integrating with CRM and other applications.
The Apollo engagement platform allows you to grow your business by engaging with the right prospects at the right time, using intelligent automation and real-time sales insights.
Apollo allows you to:
Find people, accounts, and opportunities with Apollo's powerful search engine
Engage potential prospects with automated sales automated workflows
Make data-based prospecting decisions based on split tests and sales analytics
Automatically update your CRM and marketing automation system in real time with data gathered by Apollo
Apollo offers a free version of the platform limited to 50 credits per month. It also provides a free 14-day trial of the Basic and Professional plans.
Pricing Plans:
Basic Plan at $49 per month, billed monthly
Professional Plan at $99 per month, billed monthly
Custom plan
10. Canva – Best Tool for Designing Social Media Graphics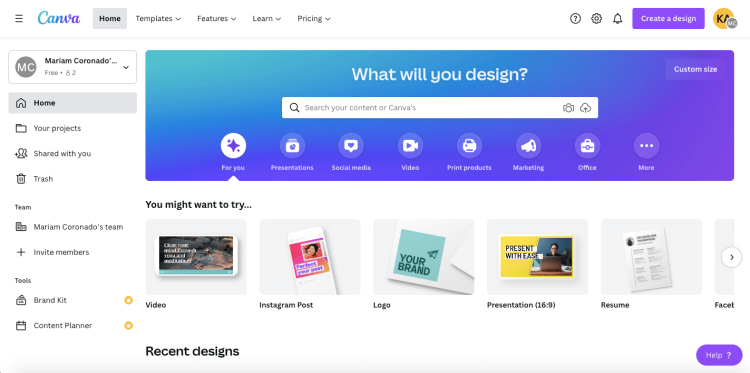 Source: Canva.com
Canva is a web-based online graphic design tool that allows you to create and design beautiful social media content. You can also use Canva for designing brochures, flyers, posters, invitations, and more.
Canva makes it easy to create beautiful, professional-looking graphics. It provides an easy drag-and-drop interface with millions of photos, illustrations, icons, and fonts to choose from. Canva offers an extensive library of fully customizable templates for creating social media posts, invitations, flyers, CVs, and other types of graphics.
Canva is free to use. However, the paid plans offer more advanced editing options and a more extensive library of templates, images, and graphic elements you can use. It also provides a free 30-day trial of the Pro plan.
Pricing Plans:
Pro Plan at $12.99 per month, for up to 5 people, billed monthly
Enterprise Plan at $30 per month, per person for a minimum of 25 people, billed monthly
11. Google Docs – Best Tool for Editing and Collaborating with Content Writers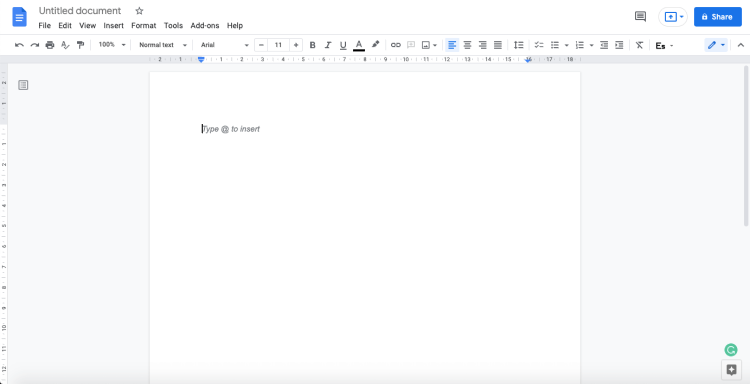 Source: Docs.google.com
Google Docs makes it easy to share documents, add comments, and track changes with your writing team. It's an excellent tool for collaborating with multiple writers.
Google Docs is a part of Google Drive, which is the most popular cloud storage solution available. Google Drive offers integration with Gmail, making it easy to share documents and files with others. The service also supports offline editing capabilities.
Here's what you can do with Google Docs:
Access and edit from any device
Share documents with others and edit collaboratively
Add comments on the go or respond to comments from others
Control the privacy settings for each document
Pricing Plans:
Free
12. Hunter.io – Best Tool for Content Outreach

Source: Hunter.io
Hunter.io is mainly used for outreaching people for content distribution or promotion. For example, if you have written an article and want to distribute it on specific websites, you need to contact the web admins of these websites and ask them if they would be interested in using your content. Hunter.io helps you find the right email addresses efficiently.
Here are some of its features:
Search for an email address using a company domain or person's name and job title.
Find the names of people working at a company using their domain.
Get the email pattern for thousands of companies in seconds (for example, [email protected]).
Verify email addresses with just one click.
Hunter.io offers a free plan limited to 25 searches per month.
Pricing Plans:
Starter Plan at $34 per month, billed annually
Growth Plan at $69 per month, billed annually
Pro Plan at $139 per month, billed annually
Business Plan at $279 per month, billed annually
13. InVideo – Best Tool for Video Creation & Editing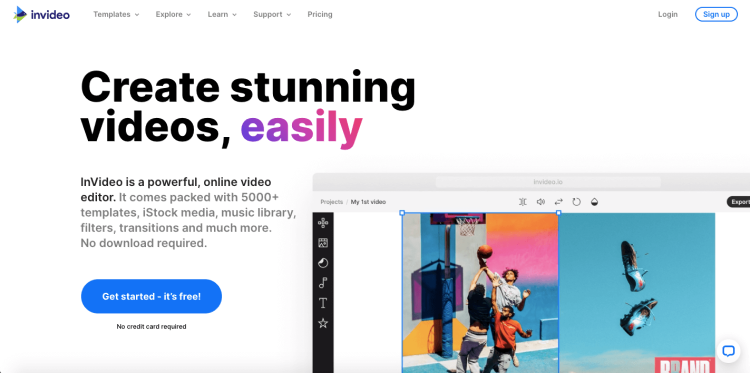 Source: Iinvideo.io
InVideo is an online video maker for creating marketing and explainer videos in minutes. Although the video editor requires a bit of time to learn its functions and options, it is straightforward in its overall design and layout.
With InVideo, you can add text, animate text, insert images and shapes, and even insert animated objects into your video projects. There are also many options for audio tracks and music clips. What's more, InVideo has a built-in royalty-free image library for users to choose from.
InVideo offers a free plan, but the videos will be exported with a watermark.
Pricing Plans:
Business Plan at $12 per month, billed annually
Unlimited Plan at $25 per month, billed annually
14. iMeme – Best Tool for Creating Memes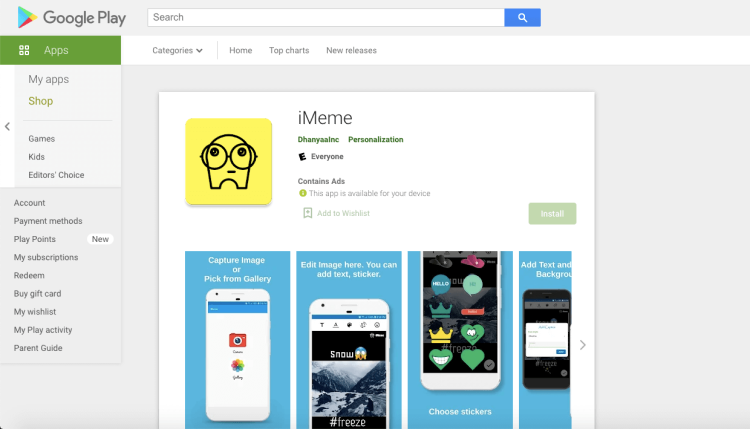 Source: Play.google.com
iMeme is a meme-generating mobile app that enables you to create, share and save your memes on your phone. iMeme lets you create memes by using an extensive library of images. However, you can also upload your own images and turn them into memes by editing them.
Here's what you can do with iMeme:
Create high-quality memes
Choose memes from a vast collection of the most popular ones
Easily share your creations with friends via Facebook, WhatsApp, and more
Create custom memes with your own images or from a camera
Customize your meme text in any font you like
Save memes to your device
Pricing Plans:
Free
15. Google Charts – Best Tool for Visualizing Data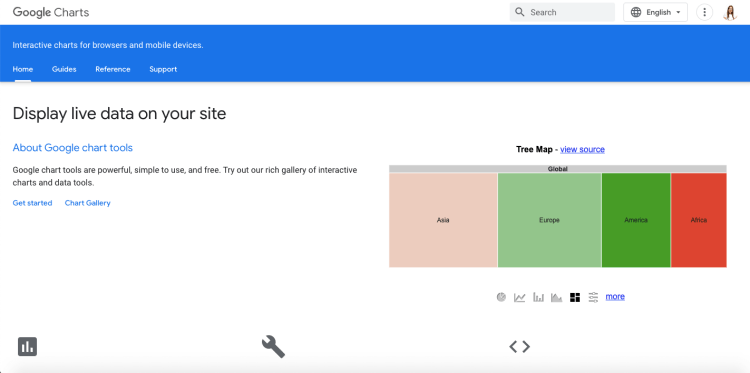 Source: Developers.google.com
Google Charts is a powerful tool that lets you create beautiful and useful charts with just a few lines of code. It creates interactive bar graphs, line graphs, pie charts, and other types of charts from user-supplied data.
Google Charts is a web-based platform that's entirely free and easy to use. All you need to do to create a stunning chart for your website is to input the correct data into Google Charts, generate the graph, copy and paste the code into your website and that's it!
Pricing Plans:
Free
16. BuzzSumo – Best Tool for Identifying Influencers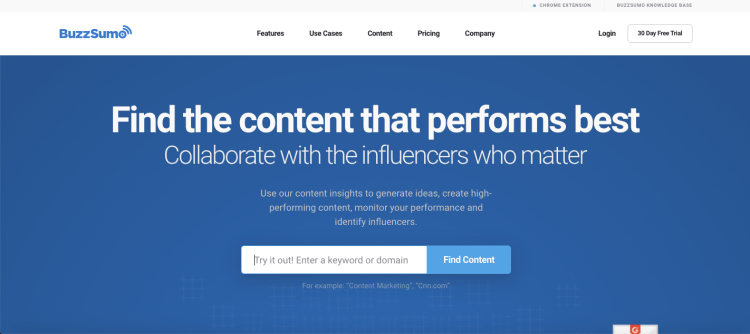 Source: Buzzsumo.com
BuzzSumo is the best tool for finding influencers and building rapport with them. It allows you to search for the most shared content on any topic. You can also see which influencers have shared the content and reach out to them.
BuzzSumo can also be used to identify top-performing content by keyword so that you can use it as a research tool. Still, it's particularly useful for finding influencers sharing that content.
Apart from that, BuzzSumo measures the performance of your content and provides excellent insights into how your competitors are doing. With these features, BuzzSumo makes it easy to see how much engagement your content is getting compared to similar pieces of content published by other brands in your industry.
BuzzSumo offers a free plan limited to 10 searches per month.
Pricing Plans:
Pro Plan at $99 per month, billed monthly
Plus Plan at $179 per month, billed monthly
Large Plan at $299 per month, billed monthly
17. Buffer – Best Tool for Social Media Scheduling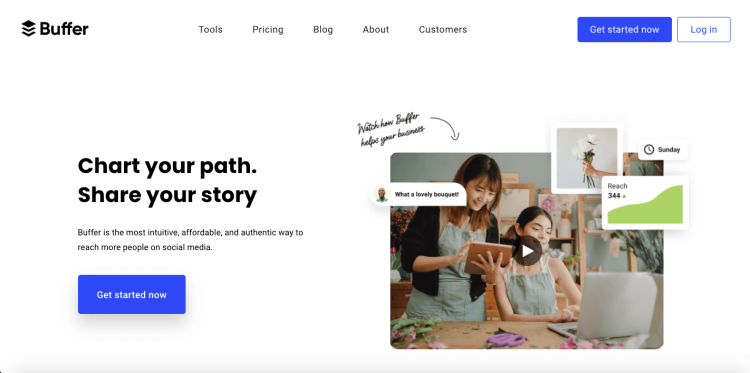 Source: Buffer.com
Buffer is a social media management platform that allows you to schedule posts for multiple accounts on multiple platforms. Buffer also allows you to analyze the performance of your posts and see how they compare with other posts in the same industry.
All of the features that come with Buffer are organized in a simple, easy-to-navigate platform. These features include:
Posting to multiple social networks at once
Scheduling posts for future times
Analytics on how your content is performing
Collaboration with teammates
Buffer offers a free plan that allows you to manage up to 3 channels.
Pricing Plans:
Essential Plan at $5 per month, billed annually
Team Plan at $10 per month, billed annually
Agency Plan at $100 per month, billed annually
18. Survey Monkey – Best Tool for Creating Surveys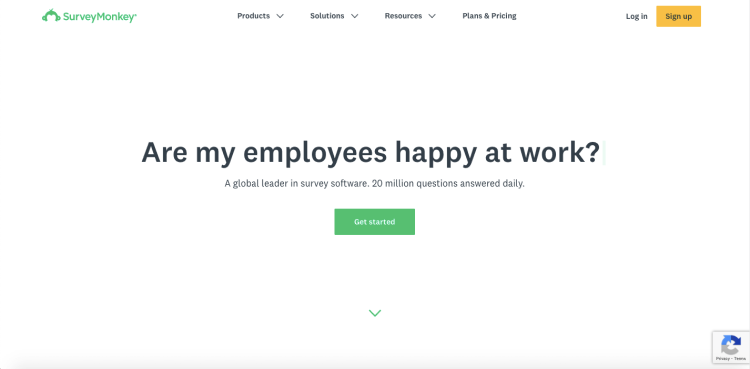 Source: Surveymonkey.com
SurveyMonkey is a leading provider of web-based survey solutions, with 3 million users worldwide. It provides powerful, easy-to-use tools that allow you to create surveys, forms, and quizzes.
SurveyMonkey is most frequently used to create customer satisfaction surveys, but it's also great for employee feedback and other business uses. The platform also offers a wide array of survey types, from product feedback to market research and more.
SurveyMonkey is mainly free to use, although it also has paid subscription plans with more advanced features.
Pricing Plans:
Individual plans start at $16 per month, billed annually
The team plans starting at $25 per month per user, billed annually
Enterprise plans with custom pricing
19. Google Search Console – Best Tool for Monitoring Website Performance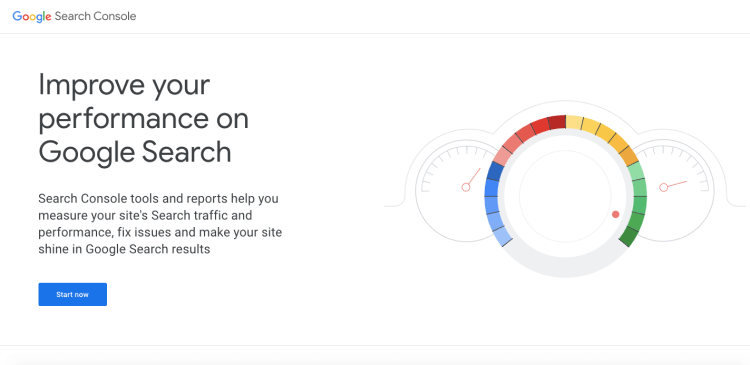 Source: Search.google.com
Google Search Console is a free tool that helps you monitor your website's performance in Google search. It provides a wealth of information, such as what keywords bring you traffic and how many backlinks link to your site.
The tool also provides performance metrics, including impressions, clicks, average click-through rate, average position, and the number of users who visit your website.
Google Search Console is easy to use and does not require technical knowledge. You can easily connect it with Google Analytics for additional insights into your user base and browsing habits.
Pricing Plans:
Free
20. HubSpot – Best Tool for Inbound Marketing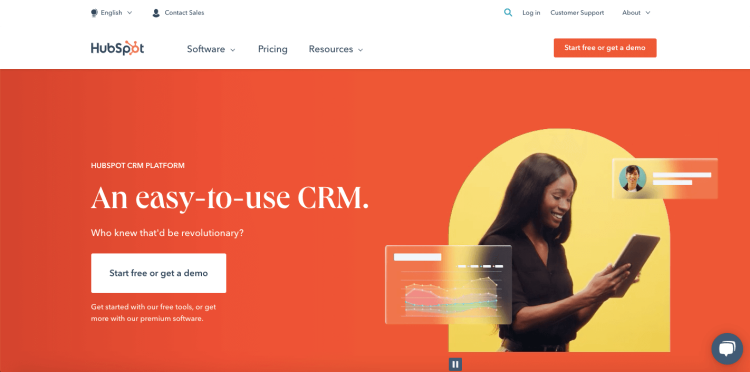 Source: Hubspot.com
HubSpot is a marketing software platform that helps small businesses drive traffic, convert leads, and close customers. HubSpot provides email, social media, analytics, and SEO tools, allowing all marketing tasks to be performed from one platform. This helps save time and resources.
HubSpot provides all the tools and training needed to design, optimize, implement, and maintain inbound marketing campaigns to attract new customers. The platform includes everything from keyword research tools to content creation wizards that enable marketers to quickly build effective pages on their websites optimized for search engines.
HubSpot offers a wide range of free CRM, marketing, sales, and customer service tools to choose from.
Pricing Plans:
Starter Plan at $45 per month, billed annually
Professional Plan at $300 per month, billed annually
Enterprise Plan at $1200 per month, billed annually
21. Mutiny – Best Tool for Personalized B2B Marketing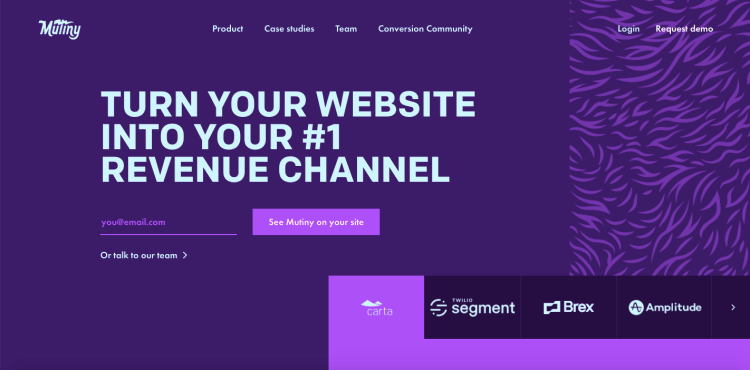 Source: Mutinyhq.com
Mutiny is a B2B marketing software that allows you to personalize your website and email campaigns based on the firmographics of your visitors.
Mutiny's predictive content optimization software streamlines the process of personalizing your website and other marketing content based on individual visitor attributes. The end result is more conversions, less work, and happier visitors.
Mutiny helps you:
Create content variations for each persona in your target account.
Customize your ads, emails, and landing pages for each account you want to engage with.
Personalize website experiences for each account visiting your website.
Gain insights into how different visitors are interacting with your site, so you can be sure you're making the right changes for the right people.
Make changes in seconds using Mutiny's visual editor without touching code.
Mutiny doesn't offer a free plan.
Pricing Plans:
Find out by contacting Mutiny's team.
22. Monday.com – Best Project Management Tool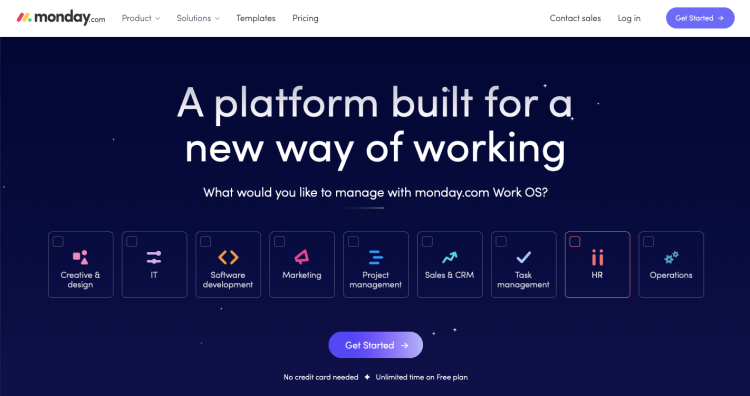 Source: Monday.com
Monday.com is a collaborative project management tool that allows you to plan, organize and share your work with others. You can create custom workflows based on how you run your business and track your content as it moves through the workflow.
One of the main features of Monday.com is the visual board which gives you a real-time snapshot of your content calendar with all changes made instantly visible to all team members.
Other features include:
A calendar view so you can see the due dates for each project
A timeline view that shows your progress over time
Dynamic automation allows you to automate routine processes
Multiple integrations that connect Monday.com with other tools such as Zapier
Real-time notifications that let you know when something changes on your board
Monday.com offers a free plan for individual user who wants to keep track of their work.
Pricing Plans:
Basic Plan at $6 per user per month, billed annually
Standard Plan at $10 per user per month, billed annually
Pro Plan at $22 per user per month, billed annually
23. Moz – Best Tool for Monitoring Website Rankings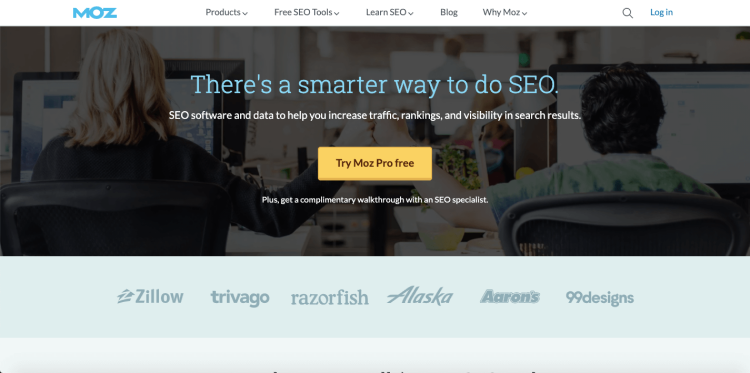 Source: Moz.com
Moz is one of the most popular SEO platforms with a wide range of tools available to help you improve your website ranking in search engines. From keyword research to link analysis, rank tracking, and technical site audits, Moz is the Swiss Army knife of SEO tools.
Moz allows you to:
Monitor your website rankings on search engines, such as Google
Find keywords with the best potential for your site
Analyze the backlink profile of your site and improve it
Find out what keywords your competitors are ranking for
Generate custom SEO reports for yourself and your clients
Some of Moz's tools are free. However, they are limited in the number of queries and data rows available. Moz also offers a free 30-day trial of their Pro plan.
Pricing Plans:
Standard Plan at $79 per month, billed annually
Medium Plan at $143 per month, billed annually
Large Plan at $239 per month, billed annually
Premium Plan at $479 per month, billed annually
24. Zoom – Best Tool for Organizing Webinars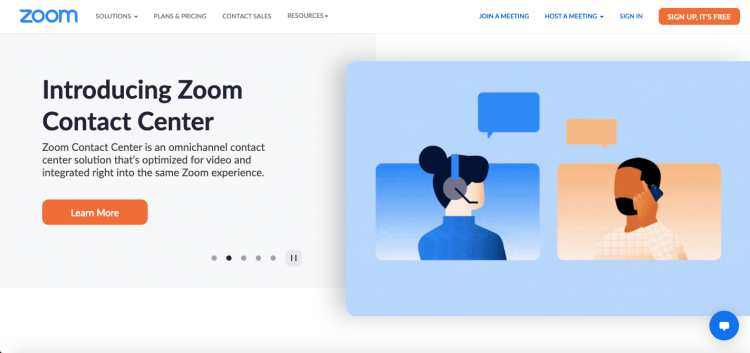 Source: Zoom.us
Zoom is a versatile video conferencing tool for various business, personal, and educational purposes. It offers an easy way to schedule and organize video meetings on any device.
The purpose of Zoom is to let you connect with people through video calls, audio calls, or online meetings. It is an excellent tool for communicating and collaborating with colleagues, customers, and clients.
Zoom is also one of the best tools for organizing webinars and videoconferences. With this service, you can easily host classes, meetings, virtual workshops, or webinars.
Zoom offers a free version that lets you host meetings with up to 100 participants, unlimited group meetings for up to 40 minutes, and unlimited one-on-one meetings for up to 30 minutes. If you need more than that, Zoom has various pro plans available.
Pricing Plans:
Pro Plan at $149.90 per year, billed annually
Business Plan at $199.90 per year, billed annually
Enterprise Plan at $240 per year, billed annually
25. Jasper – Best Tool for Creating AI-generated Content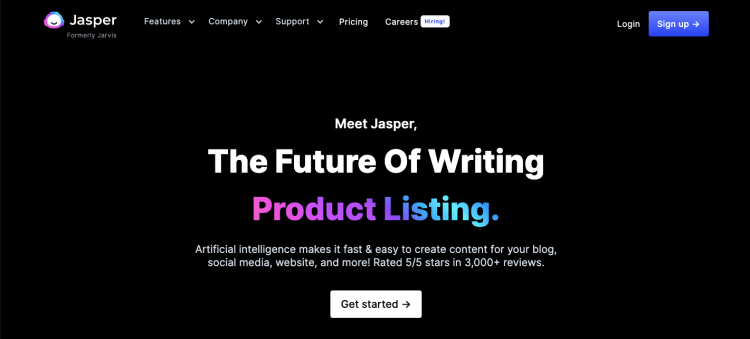 Source: Jasper.ai
Jasper, formerly Jarvis, is an AI-based writing assistant for content creators. This tool allows users to create text articles, summaries, and even video scripts by using Artificial Intelligence. It can help you generate killer headlines, write SEO-friendly blog posts, and create compelling social media captions.
Jarvis can create thousands of words of content in seconds. It can help you come up with ideas for your content and overcome writer's block.
You can use Jasper to:
Write AI-generated blog posts and articles on trending topics
Generate product descriptions for eCommerce stores
Generate SEO-friendly headlines and subject lines
Generate ad copy
Create social media captions
Jasper offers per-word-based pricing. The more words you need to write per month, the higher the price. It doesn't offer a free version, but it does offer a 5-day money-back guarantee.
Pricing Plans:
Starter Plan starts at $24 per month for 20,000 words, billed yearly
BossMode Plan starts at $49 per month for 50,000 words, billed yearly
26. Content Marketing Institute – Best Content Marketing Newsletter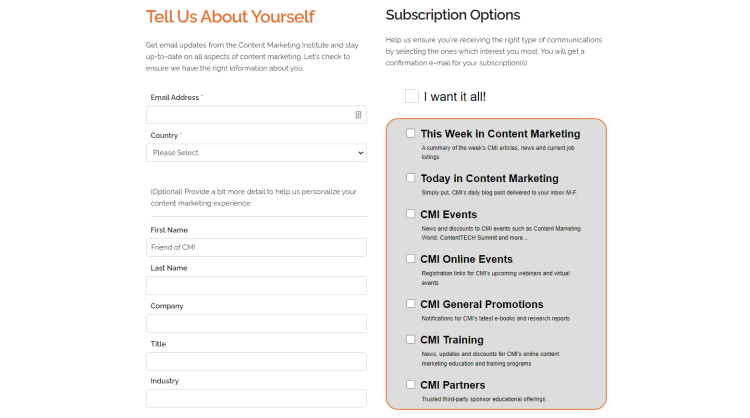 Source: Contentmarketinginstitute.com
Content Marketing Institute (CMI) is a content marketing education platform that aims to teach brands and businesses how to use content effectively (and profitably) to attract and retain customers. To achieve that goal, CMI offers digital and in-person events, educational content, and consulting.
CMI offers tons of resources on its site to help you make the most of your content marketing efforts. Some of the most popular is the Content Marketing World conference and the Chief Content Officer magazine:
Content Marketing World: This conference is the largest event for content marketers featuring over 130 sessions from the biggest names in the industry.
Chief Content Officer: The CCO magazine has everything a modern marketer could ever want to know about content marketing trends, industry insights, and best practices for success.
To find out the pricing for different events, consulting packages, and training that CMI offers, visit their website.
27. Digimind – Best Content Analytics Tool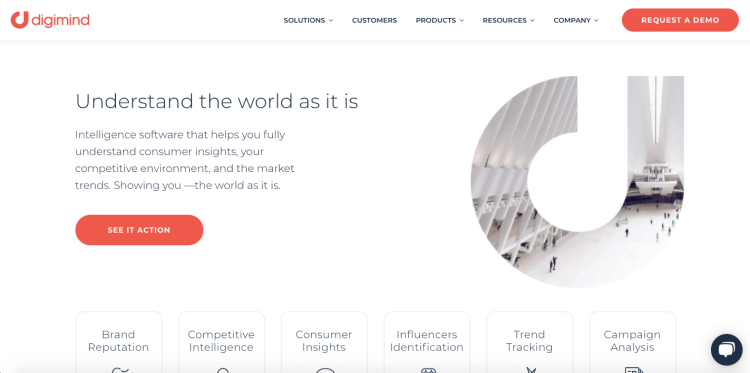 Source: Digimind.com
Digimind is a social listening and marketing intelligence platform that helps you understand your market, customers, and competitors using web data. In other words, Digimind allows you to listen to what your customers, competitors, and prospects are saying about you on the Internet.
Digimind mines the internet for content related to your product or service and displays it in a user-friendly manner so that you can easily see what is being said about your brand, products, and services.
Digimind's tools allow you to filter the information using a wide range of keywords and search terms. For example, you could use Digimind to track mentions of your brand across various social media sites or keep tabs on your competition.
Digimind does not offer a free version. Neither does it provide pricing on its website. To find out the pricing plans available, book a demo or get in touch with Digimind's team.
28. AnswerThePublic – Best Tool for Search Insights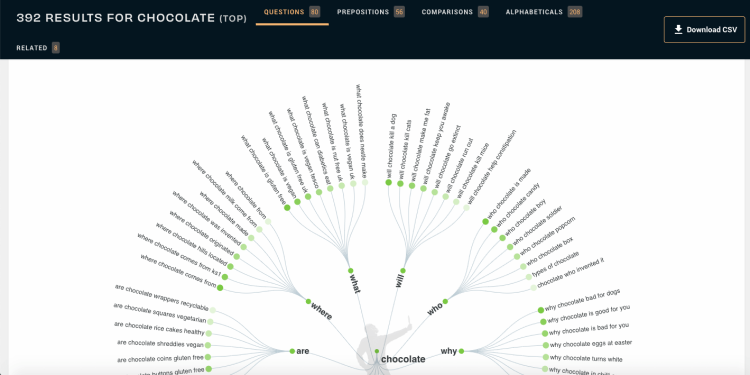 Source: Answerthepublic.com
AnswerThePublic provides one of the most comprehensive databases available for content marketers to improve their content strategy using well-researched insights from their target audience.
This tool allows you to easily find the questions people are asking online, so you can then answer these questions in your content. The tool uses Google autocomplete and related searches to generate a report with thousands of questions.
The results are presented in different forms. The most helpful feature is the visual map because it gives you a good overview of all the questions collected by the tool and lets you quickly see which ones you should answer in your content.
AnswerThePublic is free to use for up to 500,000 searches per month! To access more searches and more advanced features, you need a Pro account.
Pricing Plans:
Monthly Plan at $99 per month, billed monthly
Annual Plan at $79 per month, billed annually
Expert Plan at $199 per month, billed monthly
29. Keyword Sheeter – Best Free Keyword Finder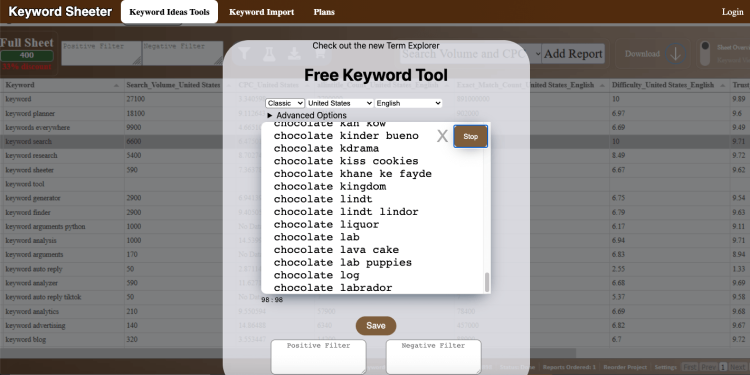 Source: Keywordsheeter.com
Keyword Sheeter is the best free keyword finder you can use to create hundreds of keyword ideas in seconds. All you have to do is enter the main term, and it will generate relevant keywords based on Google, YouTube, Wikipedia, Amazon, and other search engines. Once you get the list of keyword ideas, you can export them in CSV format or copy-paste them wherever you need.
With Keyword Sheeter, you can:
Discover thousands of keywords in seconds
Generate new keywords by adding words or phrases
Create hundreds of keyword combinations with a few clicks
Generate detailed keyword reports
Keyword Sheeter is free and does not have any limits when it comes to keyword research. However, to generate and export reports, you need either a certain amount of "Sheet Coins" (which is how Keyword Sheeter named their credits) or a monthly subscription.
Pricing Plans:
Basic Storage Email Your Lists Plan at $9 per month
Starter Search Volume at $49 per month
Scale Search Volume Plan at $90 per month
30. ZeroBounce – Best Tool for Email Marketing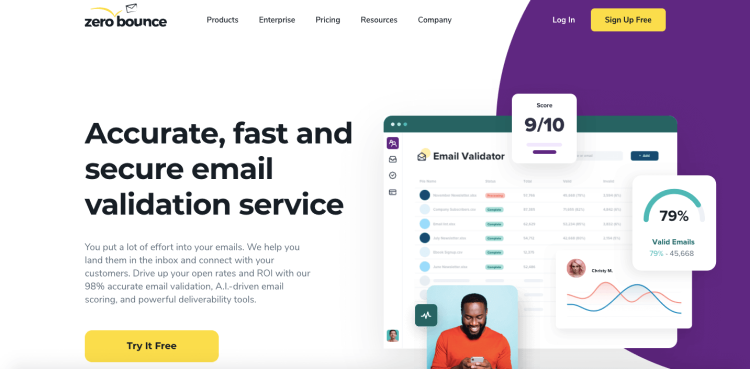 Source: Zerobounce.net
ZeroBounce ensures that your email marketing campaigns reach your customer's inbox instead of the spam folder.
ZeroBounce checks and verifies an email address through a series of tests, including syntax checking, domain information, and mail server validation. ZeroBounce can verify an email address immediately after it has been captured by your website or app. It also provides helpful insights about your contacts, such as their IP address, gender, and geographical location.
Here's what ZeroBounce lets you do:
Validate your email list to reduce the bounce rate
Score the email addresses on your list to determine who is the most likely to engage with your email campaigns
Test whether your mailing server is set up correctly
Monitor whether you're on any blacklists
ZeroBounce offers a free plan limited to 100 free credits per month.
Pricing Plans:
Pay-as-You-Go Plan starts at $16 for 2,000 emails
Monthly Plan starts at $15 per month for 2,000 emails
31. Google Ads – Best Tool for Generating Leads and Getting More Customers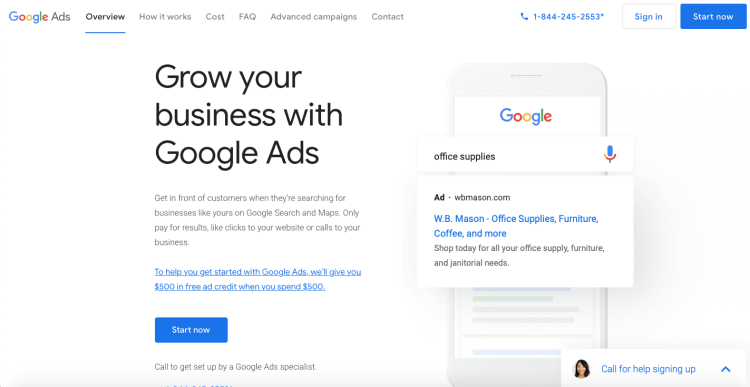 Source: Ads.google.com
Google Ads is an online advertising platform that allows you to create and display ads in Google. You can use it to reach potential customers who are already searching for products and services similar to yours online. Ads are displayed on the first page of Google or on sites that are somehow relevant to your ad.
Advertising through Google Ads is quick and easy to set up but takes a lot of knowledge, skill, testing, and optimization to get right.
Google Ads is free to set up, and you pay only when someone clicks on your ad. That's why it's called "pay-per-click" advertising or PPC for short.
Pricing Plans:
PPC pricing model.
32. Freepik – Best High-Quality Graphics and Stock Photos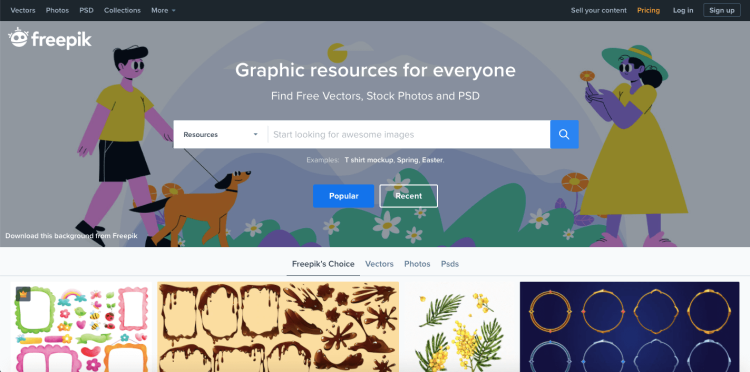 Source: Freepik.com
Freepik is a search engine that helps graphic and web designers to locate high-quality photos, vectors, illustrations, and PSD mockups for their creative projects.
Freepik allows you to download different types of designs and graphics for free, available in AI, EPS, SVG, PSD, and PNG formats. This tool has proved to be very useful to thousands of designers and business owners all over the world.
Freepik gives you the right to download and use their images and graphics for free for personal and commercial purposes as long as you attribute the author. If you don't want to attribute the author or you want to gain access to their premium graphics, you'll need a subscription plan.
Pricing Plans:
Monthly subscription plan at $14.99 per month
12 months subscription plan at $10 per month, billed annually
33. Yoast – Best WordPress SEO Optimization Tool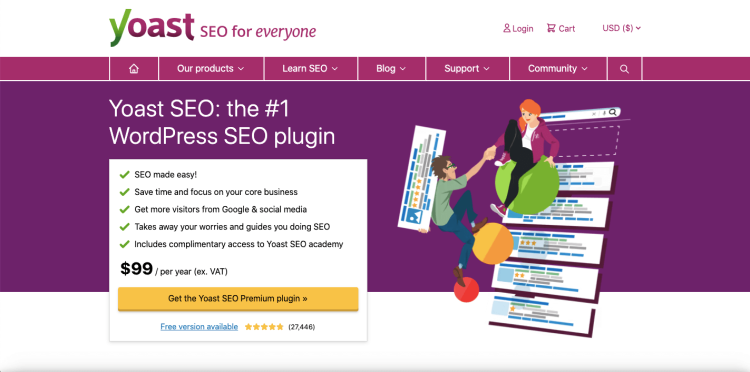 Source: Yoast.com
Yoast SEO is a WordPress plugin that helps you optimize your posts and pages for the most effective SEO strategy. It helps with technical SEO, content optimization, and usability. Its two main functions are:
Analyzing your text and suggesting how to improve it to rank higher in Google.
Making sure your site has no technical problems that may prevent Google from finding it
Yoast SEO is an excellent tool for beginners and experts alike. It's free and easy to use, but it also offers a premium version with more advanced options.
Pricing Plans:
Yoast SEO Premium plan at $99 per year
Your all-in-one PDF editor: PDFLiner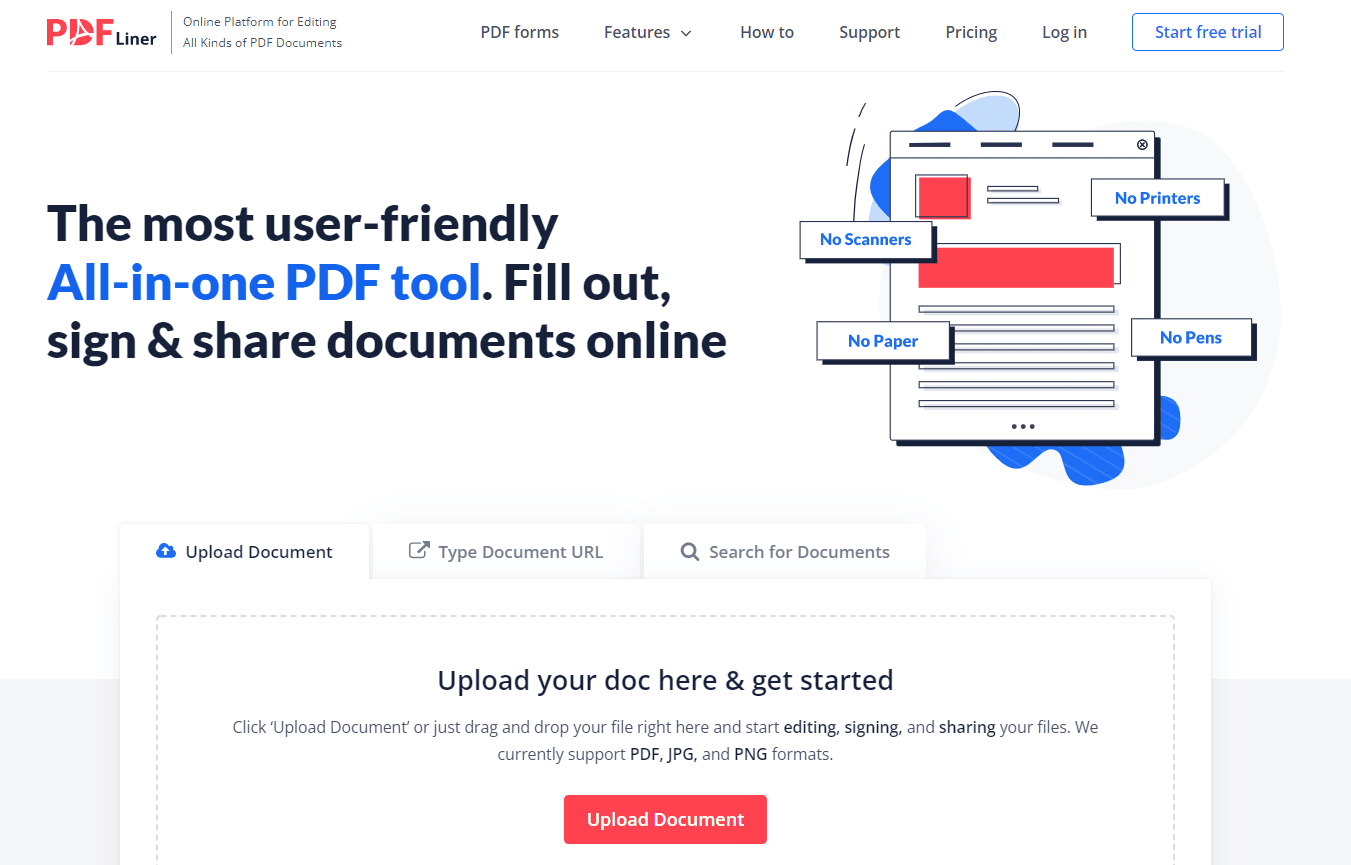 PDFLiner is the all-in-one online platform to fill out, e-sign & share documents online. It's a perfect solution for those who're looking for a complex online PDF editor.
The platform has all the needed tools to edit a PDF and manage documents to use on any desktop or mobile device: create, edit, and convert PDFs, collaborate, sign, and fax files, as well as store your documents on the secure servers.
Pricing Plans:
The monthly subscription plan started at $9 per month.
You might be interested to check those related posts as well:
FAQs
What are some content writing tools to consider?
There are many content writing tools available on the market today. Choosing the right one for you will depend on your needs. However, some of the most popular content writing tools you should consider are Grammarly, Google Docs, and Jasper.
Which content curation tools should you try?
Depending on what type of content you want to create, there are different content curation tools you should try. Canva is the best tool for creating graphics for social media, while InVideo is the best video editing tool. If you're creating memes, you might want to check out iMeme.
What are some different content marketing calendars?
When it comes to content marketing calendars, there are a few tools worth checking out. Monday.com can be used for general content, while Buffer is an excellent tool for social media scheduling.
Conclusion
We hope that this list of the best content marketing tools has provided the insight and inspiration you were looking for. There are a lot of tools out there, so it can feel like an overwhelming process to pick just a few and put them to use.
We have done our best to help you narrow it down, but we also recommend doing further research based on your unique set of goals and needs as a marketer.
The most important thing is to choose tools that complement your current strategy. Your marketing plan will be much more effective if you find the right balance between old-school tactics and the latest digital tools. Eventually, the right tools will emerge through testing, but only if you take a risk and try new things.