When you want to grow your business and get the most out of your Pinterest account, you need to know your analytics. With so many different opinions, hints, and tips out there it can be hard to know where to look. That's why we've created the ultimate guide to all things Pinterest analytics so you can come to one place whenever you need to know more.
How to Set Up Pinterest Analytics 2023
Setting up your Pinterest analytics is the first step, and the good news is that it's really not as tricky as you might think. This is a platform known for usability and audience interaction after all.
Step 1: Claim your website in the profile
The first thing you want to do before you look at any Pinterest analytics tool is to link your website to your Pinterest business account. Take a look at the images and you'll see that all you have to do is click "claim" in the relevant section.
Why would you want to do this? Because then you can redirect your Pinterest followers to your site and really start getting traffic.
Step 2: Add a save button to your site
The next step you need to do to get your Pinterest profile up to scratch is to add a save button to your website. There's a variety of different supported widgets within Pinterest that will work with the various major website platforms. With this one little adjustment, you can make it easy to roll out a lucrative new content strategy.
Now that we've set you up with the basics, we need to guide you through how to really get started with your Pinterest analytics…
How to Check Your Pinterest Analytics on Desktop
Step 1: Log in
Create a secure username and password for the peace of mind that makes all the difference and you'll be accessing your campaign with ease.
Step 2: Click analytics
Take a look at the image to see where the Pinterest analytics submenu is hidden away and you'll be redirected to your personal analytics dashboard.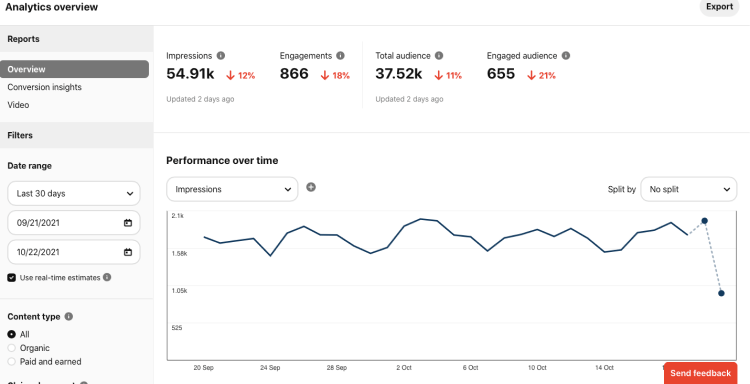 Step 3: Select the overview
This is where you can look at things like your total audience, Pinterest traffic, and other key social media metrics.

Step 4: Use the dropdown menu
Most of what you're going to do are navigated via handy dropdown menus, so take a minute to familiarize yourself with where they are, and what they look like.
Step 5: Select see more stats
This is where your Pinterest analytics dashboard really comes into its own. Here you'll find all of the key Pinterest analytics metrics that will take your content strategy in an exciting new direction.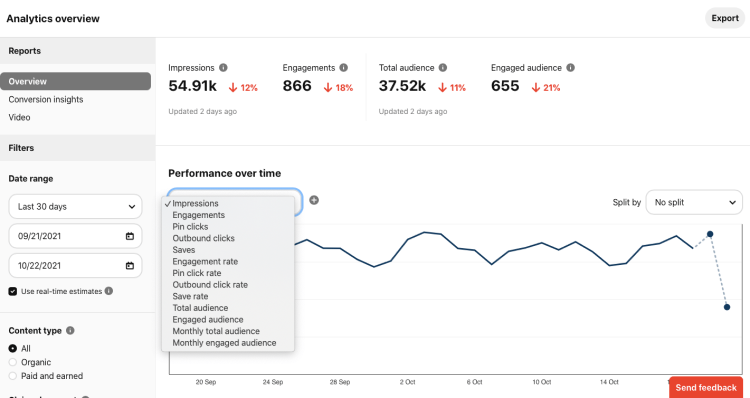 How to Check Your Pinterest Analytics on Mobile
Your Pinterest profile is also instantly accessible via a great app that's nothing but intuitive and easy-to-use. Ideal if you want to see how your latest story pin or video pin is doing when you have a couple of minutes to use up.
Step 1: Open the Pinterest app
This step is quick and easy for those of you who already have the app. If you've not got it yet, it'll be essential to your Pinterest marketing efforts, so get it from the App Store or the Play Store.
Step 2: Tap your profile photo in the bottom right
A quick tap on the screen is all it takes to connect with every key audience insight and Pinterest metric you'll need.
Step 3: Scroll down to Your analytics section and tap See more
You're now looking at a key part of your Pinterest dashboard that will allow you to run your campaigns the right way. Just what you want to hear when it's time to boost your engagement rate and website traffic with a little help from social media.

Step 4: Tap Business Hub
Take the final step to getting your business account up and running and you'll be able to take your Pinterest marketing strategy to the next level before you know it. Ideal when you want to increase your impressions the smart way.
Now we've got you set up on desktop and mobile, it's time to get a little more detailed about the tools at your disposal. Each one allows you to build a Pinterest strategy that puts engagement first, so let's dive right in and take a closer look.
Pinterest Analytics Tools
Pinterest comes with a range of tools that allow you to capture every single outbound click, pin click, and more. To get to grips with what's on offer, take a quick look at our simple list of definitions.
General Pinterest analytics
Impressions tell you about how many people hovered over one of your pins, or how often they appeared in a list of suggested search results. Maximizing your impressions will help you boost your engagement and potentially take your most popular Pinterest board viral.
The total audience shows you how many people are coming to your boards, seeing your pins, and engaging with your content. It's a quick overview of how well your account is doing and a number you're sure to have committed to memory before long.
Saves tell you how many times your pins have been saved to other users' boards. They're a great way to see in an instant how your content is performing and what your audience thinks of it.
Save Rate is similar to Saves, and you can think of it as a form of conversion rate. If you've got a promoted pin that's being saved at twice the rate of all your others, you know you're homing in on a proven way to make optimal use of your traffic.
Engagements are the metric to look at when you want to know how well your pins and boards are actually connecting. They allow you to focus on the people who really love what you're doing; versus the ones who have a quick look and aren't seen for some time.
An engaged audience tells you about the size of the audience you're able to pull back on a regular basis. These are your active followers who check back regularly and are most likely to repin and save your content.
A monthly engaged audience gives you a month-by-month breakdown of how your account is growing and what your audience is doing. As you add in seasonal content and quarterly promotions, this will be a great insight to have.
Pin clicks (formerly Close-ups) help you find your most popular pin, content type, and so much more. They're a great way to get specific when it comes to engagement so that you can leave the guesswork to one side.
The pin clicks rate tells you how successful your pins are at converting browsers into traffic that actually wants to connect. The higher the rate the more efficiently you're drawing people in to take a closer look.
Outbound clicks (formerly Link clicks) tell you how effective your Pinterest marketing campaign is at redirecting browsers to where you want them to go. The more clicks mean the more people you're sending to the right final destination.
Outbound click rate is a measure of how efficiently you're redirecting your followers and getting them to take action. The higher the number, the more likely you are to start making money thanks to your social media presence.
Pinterest Click Tracking gives you a better idea of what your followers are doing, why they're doing it, and what you can do to keep them engaged.
Followers-driven is all about giving back to your followers through engaging content and content they want to find. Get it higher than last month and you'll have a growing number of Pinterest impressions on your hand too.
Source: Other Pins is all about getting the basics right so you can see what you might be missing. By finding out the source of your pins, you can make sure nothing is left to chance.
Top boards highlight your best-performing Pinterest boards so you can hone in on what's really working. Got a seasonal board that's on fire right now? This is the place to come so you can put some numbers on it.
Top pins allow you to see your most popular pin, as well as those that are not too far behind. This is a handy little metric when you want to spot new trends and interests emerging amongst your followers.
All-time stats are ideal when you want to see everything in the analytics tab with a quick glance. It's the simplest way to get an overview of how your account has been performing to date, and the insights it gives you will prove invaluable.
Now we've covered the basic definitions and functionality, we can get much more specific about quantifying your engagement. Let's take a look at the key tools that will allow you to become the most engaging Pinterest user your followers could wish for…
Pinterest audience analytics
Getting to know your audience is the key to really targeting your content the right way. It's the tried, tested, and proven way to make sure what you have to say is of interest to your followers. The only problem is knowing how to do it.
To make life easy, Pinterest comes with several key metrics that allow you to really dig deep into the makeup of your audience. Take a look at the images to see how to find them, and take a moment to familiarize yourself with the definitions below. Once you do that, there'll be no stopping you.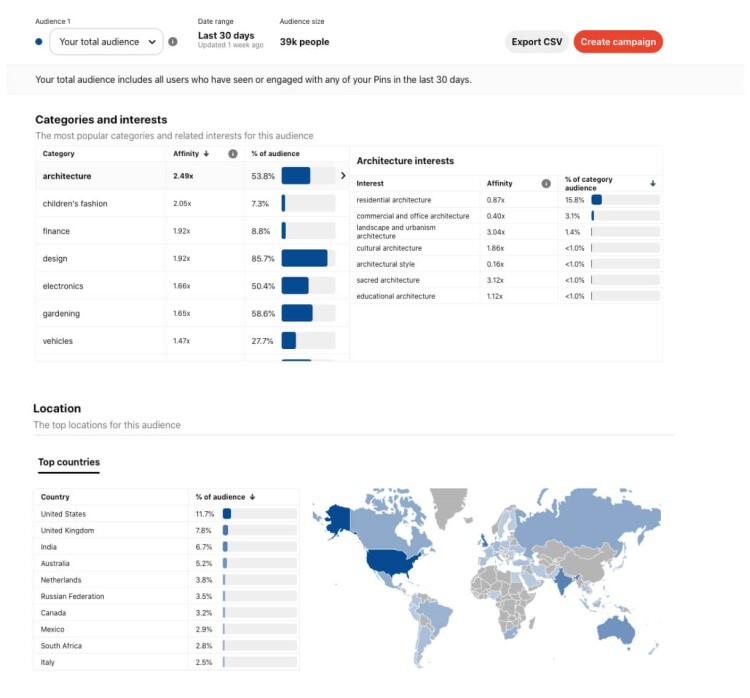 Affinity is all about what other things your followers like. Are they enthralled by a promoted pin on another profile? Do they consistently gravitate towards a specific content type? This is the place to come when you want to be able to answer these questions with a quick glance.
Demographics tell you about who your followers are and what kind of categories they might fit into. Everyone is a unique individual, yes, but you can still learn an awful lot about your audience by getting a better idea of who they are. Just what you want to hear when it's time to take engagement to the next level.
Pinterest conversion insights
Now that you know how to learn more about your audience, you can start to really focus on the key conversion insights available via the analytics tab. Take a look at the images below to see how to access everything you need to know, and then have a quick look at the definitions which follow so you know exactly what you're looking at.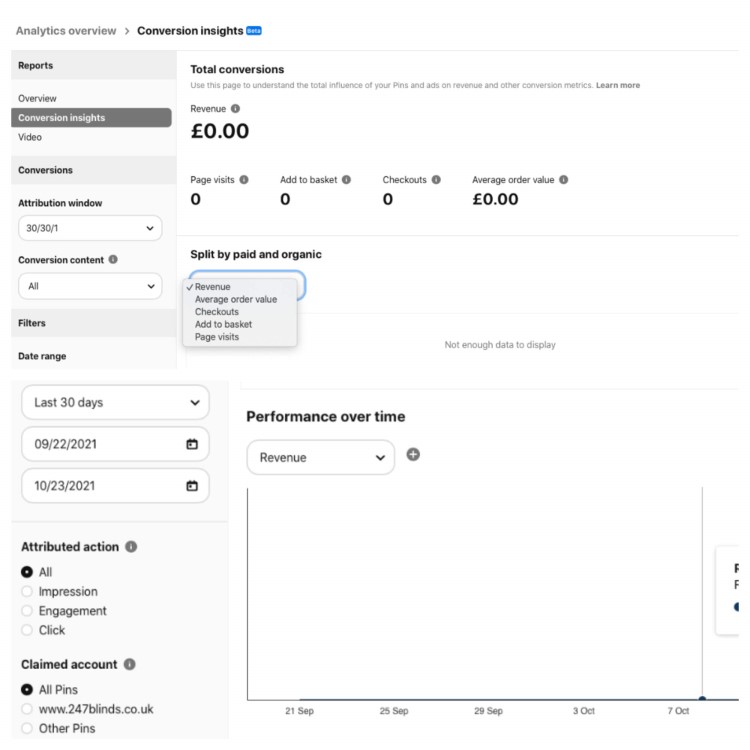 Top converting Pins tells you where you can find a rich pin hidden amongst all the others, and whether it's a promoted pin or not. This is really important when you want to make sure your strategy is delivering real value for money.
Page visits are all about how many people are coming to your board, how long they stay, and how often they come back. If you know all of these things then you can continuously assess the performance of your Pinterest marketing campaign as you make tweaks and adjustments.
Add to cart and Checkouts is the key place to take a look when you want to see how your social media efforts are driving conversions. If you're using social media to make money then the content is one thing, but content that drives real-world sales soon becomes everything.
This might sound like you now have everything you need to know, but Pinterest actually offers a whole lot more. To make sure you don't miss out, keep reading so we can guide you through the basics in just a couple of minutes.
Pinterest Analytics for Video
When you're looking for the most engaging content type, look no further than video. It's easy to consume, fun to share, and followers love to interact with it at all times of the day. Take a look at the image to find the dropdown menu, and then take a look at the quick list of definitions below so you know exactly what you need to boost your engagement.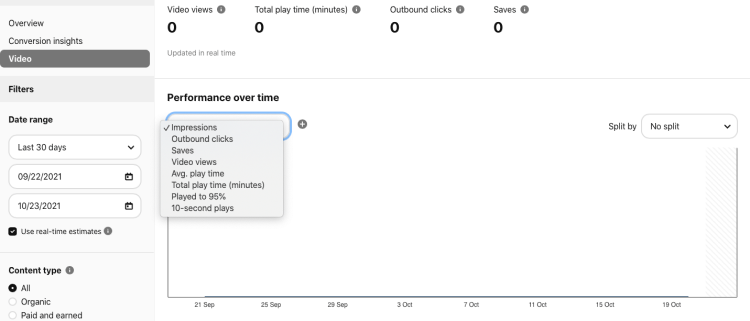 Video views are a simple way to see how many times the video on a specific pin has been watched. By maximizing your views you'll be able to zero in on a specific style of video that gets you the most engagement.
Average watch time is a great way to see how long people are watching your videos. Are they clicking on and then clicking off a second later? Or are they watching to the end more often than not? This is the only way to find out.
Saves tell you how often your videos are added to a follower's Pinterest board, which gives you a great idea about how your strategy is going.
Total watch time gives a snapshot of how long your followers sit and watch your content. The higher it is, the chances are the higher the rest of your metrics will trend as well.
Pinterest analytics for trends
This is the place to be when you want to get insights into what the world is watching right now. You'll get personal recommendations put together based on the kinds of content you've been putting out, and the type of following you're building. This makes it a great way to get fresh ideas for your Pinterest marketing strategy so your content stays fresh and never gets tired.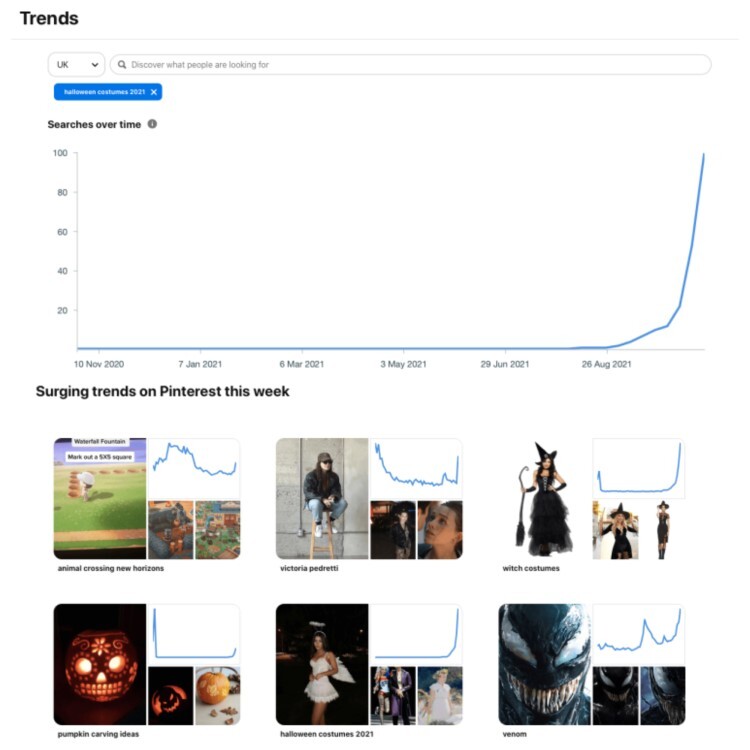 How to Find Pinterest Business Analytics
Heading to the right place is important, so here's how you do it as easily as 1,2,3…
Step 1: Tap your business' profile picture
Your logo will stand out to you on any page, so give it a quick tap without delay.
Step 2: Tap the bar graph icon in the top-right corner of the screen
Head to the top right and you'll be just one click away from where you need to be.
Step 3: Tap "Analytics"
Once you do that, you'll be in, and you'll be ready to grow your following and engagement faster than ever before.
Pinterest Business Analytics Tools
Want to know what your ad spend is really producing, and how it measures up to your organic results? This is the section you need to take a close look at.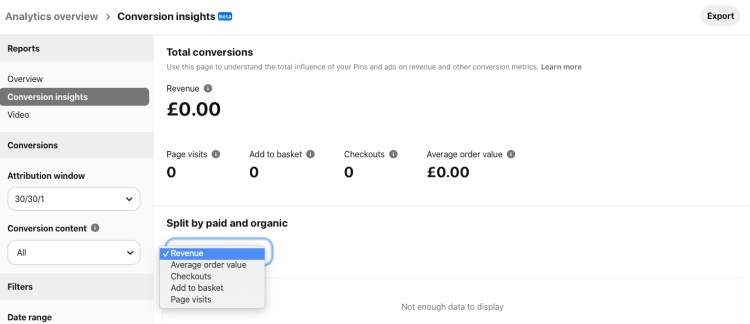 Organic Pinterest metrics
Finding out how much of your income is being generated by organic Pinterest activity is a great way to see the strength of your brand. The more you're getting organically, the less you might need to spend on ads and promotions going forward.
Paid Pinterest metrics
Figuring out your ROI is essential when you want to make sure your promoted pins are more than just a line on your monthly spending.
Pinterest Marketing Analytics Tools
There's a range of Pinterest marketing tools out there for those of you who want to dig a little deeper. Here are seven of the best for you to consider:
Hootsuite Impact
This is great when you want to combine scheduling with analytics so you're always two steps ahead of the crowd.
Google Analytics
The masters of online search have plenty of ideas when it comes to boosting your social media following.
Mentionlytics
This a great choice for those of you who want to know what the world's saying about your content, and how it's driving up your followers.
Tailwind
A simple, straightforward way to get insights into how your Pins are performing relative to your competition.
ViralWoot
This is a handy little application for those looking to make sure you never miss out on the chance to go viral.
Olapic
A new entrant to the world of analytics that's making a lot of noise recently. Worth a look for those in need of a fresh approach and new ideas.
Cyfe
The final entry on this list, and one that's sure to offer you insights that many other tools are unable to come up with.
You might be interested to check those related posts as well:
FAQ
What are the key Pinterest analytics to start on?
This really depends on how much you're spending, the size of your audience, and what you're trying to achieve. In general, the key ones to concentrate on are saved pins, pin clicks, and engagements. Get these trending higher week on week and everything else normally follows.
How can you see your monthly viewers on Pinterest?
Head to monthly engagement and you'll get a month-by-month snapshot of what your followers are doing and how your content is performing. This is a great way to see how the changes you're making are impacting the end result and bottom line.
How much time should you spend on Pinterest analytics?
You can spend as much or as little time as you want. Start with 15 minutes a day to get yourself familiar with everything that's on offer. Over time you'll know exactly what you want and be able to get it in just a handful of clicks.
Do you really need to look at Pinterest metrics?
Yes, if you want to make money, you need to be paying attention to what the numbers are trying to tell you. Of course, you don't want to concentrate on the metrics at the expense of your content, but if you don't look at them, how will you really know how well your content is performing?
Conclusion
We've now covered the basics of Pinterest analytics, which means you're ready to click around on the dashboard and start getting to grips with it.
Take your time, make smart choices, and always keep one eye on the quality and frequency of your content. If you combine this kind of approach with a smart overview of the numbers, there's no limit to what you can achieve.