Vimeo is an all-in-one video software tool that empowers creators to edit, embed, and upload video or live-streaming content to share with the world.
Since the company was founded in 2004, it has quickly become one of the biggest platforms for video sharing (along with social media giant YouTube).
These Vimeo stats will show you just how much this platform has grown over the last 17 years.
Key Vimeo Stats 2023
As of 2021, Vimeo has over 230 million registered users around the world.
Out of Vimeo's 230 million users, only 1.6 million are paying members. In 2014, there were only half a million video subscribers.
The Vimeo OTT platform for video monetization has roughly 5 million active users.
There are over 60 million content creators producing videos or live streaming on the platform.
The Vimeo app has been downloaded over 9 million times in the Google Play store alone. The release of the app increased online video viewing by 130%.
In 2020, over 90 million videos were uploaded to Vimeo's social platform.
Vimeo vs. YouTube Statistics
While many people think of YouTube as being the first video-sharing platform, Vimeo was actually the first. Vimeo was founded in 2004, while YouTube started in 2005.
A side-by-side review of both platforms showed that video quality on Vimeo was better than it was on YouTube.
However, YouTube is considerably larger in terms of users. While Vimeo has 200 million users, YouTube has over 2 billion.
YouTube Analytics also boasts a more granular view than analytics on Vimeo. For example, it can measure shared videos, revenue sources, and even the age, gender, or retention of your viewers.
Compared to YouTube, Vimeo has a more extensive feature set to help creators. They can brand their web player, add password protection to content, and choose which domain can display an embedded video.
While YouTube users need at least 10,000 views on their YouTube channel to start monetizing, Vimeo users can sell their video content to subscribers whenever they'd like.
One significant benefit of using Vimeo is the ability to post videos without ads. If a user wants to watch a YouTube video without ads, they will need to pay for an upgraded membership.
Vimeo Usage Statistics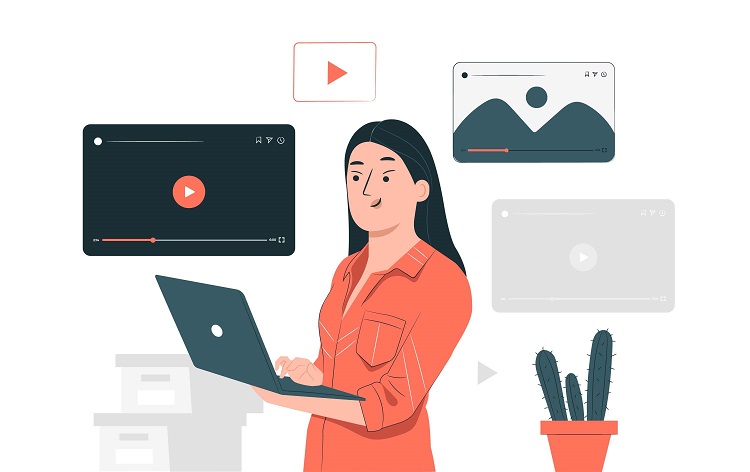 Find out more information about the usage of Vimeo.
Demographic Statistics
33% of Vimeo's traffic comes from the US. This is followed by the UK, Canada, Germany, and France.
73.1% of users are between the age of 20 and 35.
While Vimeo is also popular with teenagers (13.5%) and the 35 to 60-year age group (12.9%), they have a very small user base over the age of 60. Only 0.4% of users are 60 years or older.
Vimeo's Referring Sites Statistics
Referral sites make up 11.4% of Vimeo's traffic.
Patreon is one of Vimeo's largest referral traffic sources, sending 8.34% of users to the platform. Vimeo's second-largest referral site, Github, is responsible for 3.08% of traffic.
50.3% of traffic comes from viewers directly typing in the Vimeo URL. 26.37% of traffic is from search (90.3% organic search and 9.7% paid search).
Social media sites like Facebook, YouTube, and Reddit are responsible for 9% of user traffic.
Vimeo Viewership Statistics
In total, there have been over 100 billion views across the entire Vimeo platform.
Vimeo is available in over 190 countries worldwide. However, the entire platform is blocked in China as of March 2021.
The average time users spend watching Vimeo video content is 3 minutes and 22 seconds.
Vimeo Financial Statistics
Vimeo has over 1,100 employees working for the company.
In Q2 of 2021, Vimeo saw its highest revenue by a quarter since the site was founded. They made over $96 million, which is a 42% increase from the previous year.
However, they also experienced their highest operating income loss in Q2 2021 ($20.3 million).
As of 2020, Vimeo had a monetary valuation of $5.7 billion.
For every dollar spent on marketing, Vimeo makes a profit of $5.
25% of Vimeo revenue comes from their 3,500 paid enterprise members. They also earn money from their Vimeo on Demand and Vimeo Stock services, as well as paid Vimeo OTT memberships.
Vimeo Growth Statistics
Roughly 350,000 unique videos are uploaded to the site every single day.
Vimeo saw its largest period of growth from December 2019 to December 2020, which they say was due to the Covid-19 pandemic. During this time, Vimeo's revenue increased by 57%.
In January 2021, Vimeo raised over $300 million from a two-part investment.
Vimeo went public on May 25, 2021, under the Nasdaq symbol VMEO. At the end of their first day, shares were $52.08 each, up from their $45.39 opening price.
You might be interested to check those related posts as well:
FAQ
What are the different Vimeo account plans?
Content creators can sign up for one of six different Vimeo membership plans – Basic, Plus, Pro, Pro Unlimited, Business, and Premium. In addition to uploading videos, all paid accounts allow users to create content that can be shared online with their target audience. They also provide an in-depth analytics tool and an ad-free viewing experience.
Do I have to pay to watch videos on Vimeo?
While Vimeo charges members to upload content to the video platform, viewers can watch videos free of charge.
How long can videos be on Vimeo?
There is no limit on how long a video can be on Vimeo. However, there are caps on how much data you can upload as a video creator. Basic, Plus, and Pro accounts have weekly quotas, while Pro Unlimited, Business, and Premium allow unlimited uploads (although there is a total storage limit).
As a popular tool for both viewers and content creators, Vimeo has become one of the biggest video hosting platforms in the world.
With a successful business model and an ever-growing base of users, it's likely that Vimeo will continue to thrive for the foreseeable future.