There are lots of ways you can market your business and increase sales. There's paid search, organic traffic, search engine optimization, video marketing, social media marketing, and many more.
But have you heard of word-of-mouth marketing? It might surprise you to learn that it drives $6 trillion of annual consumer spending globally and is estimated to account for 13% of consumer sales. These are pretty impressive word-of-mouth marketing statistics, and we're about to share some more.
In many cases, word-of-mouth marketing is a free form of advertising and a way of utilizing loyal customers to spread the word about your products or services.
Word of mouth marketing is a near cousin of online viral marketing, and it happens in two ways:
Organic word-of-mouth: Organic WOM occurs naturally when people become brand advocates because they've had a good experience with a product, are happy customers, and naturally want to share their enthusiasm and show their support.
Amplified word-of-mouth marketing strategy: With amplified WOM, a brand will launch a campaign that's designed to encourage or accelerate WOM and attract new customers.
Keep reading for some WOM marketing stats that show you just how powerful it is and why many consider it to be the bee's knees of marketing.
LEARN HOW TO MAKE $10K PER MONTH
Get My Book For FREE (Worth $15 on AMAZON)

Take Advantage Of This Special Offer Only For Today! Get my $15 book for FREE when you subscribe to my newsletter and I will show you the way to your first $10k month in less than one year.
Key Word of Mouth Statistics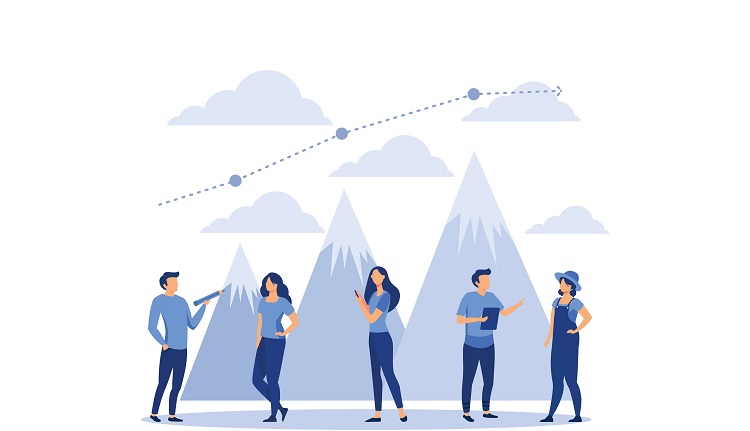 When it comes to talking about our favorite products with family and friends, 23% of us do it every day.
78% of us rave about our favorite experiences to people we know at least once a week.
88% of people are more likely to trust a brand when a friend or family member has recommended it.
The top five popular ways for recommending a business are word-of-mouth (#1), followed by Facebook, Google, and Twitter.
WOM (word-of-mouth) can be good and bad, and 21% of people lose trust in a brand, regardless of whether they've been a customer, because of negative word-of-mouth.
61% of people have recommended a local business to some they know by word-of-mouth.
Consumers discuss specific brands casually at least ninety times a week.
70% of people trust consumer online reviews.
On social media, 58% of consumers share their positive experiences with a company and ask family, colleagues, and friends for their opinions about brands.
Brands that inspire a higher emotional intensity receive 3x as much WOM as less emotionally connected brands.
43% of social media users report buying a product after sharing or favoriting it on Facebook, Pinterest, or Twitter.
49% of people say they rely on influencer recommendations when making purchasing decisions.
More than half of purchases inspired by social media sharing occur within one week of sharing or favoriting.
80% of purchases resulting from social media shares occur within three weeks of sharing.
85% of website visitors find visual user-generated content more influential than brand photos or videos.
83% of Americans have made a word-of-mouth recommendation.
55% of Americans make personal recommendations at least once a month, and 30% make recommendations at least once a week.
41% of Americans value WOM recommendations from friends and family more than social media recommendations.
66% of Americans trust an anonymous online review more than a recommendation from an ex-boyfriend or ex-girlfriend.
61% of consumers use search engines to read product reviews before making a purchase.
50% of consumers are more likely to participate in a referral program and recommend a product when they're offered an incentive or social recognition.
71% of people will make a recommendation because something was "a great experience."
65% of businesses use word-of-mouth recommendations to recruit for open positions.
Word of Mouth Marketing Effectiveness Statistics
On average, electronic word-of-mouth drives $6 trillion in annual global spending and is responsible for 13% of all sales.
64% of marketers agree that word-of-mouth is the most effective form of marketing.
83% of marketers use WOM marketing because it increases brand awareness and the number of referred customers.
The most valued source of information is from personal experience.
Marketers rated the quality of a word-of-mouth lead to be 4.28 on the five-point scale.
Almost half of the marketers believe that 20% to 40% of leads come from referrals.
Millennials ranked word-of-mouth as the number 1 influencer in their purchasing decisions about clothes, big-ticket items (like travel and electronics), packaged goods, and financial products.
Baby Boomers ranked WOM as being most influential in their purchasing decisions about financial products and big-ticket items.
77% of brand conversations on social media are people looking for help, information, or advice.
Friend referrals make potential customers four times more likely to make the purchasing move.
80% of furniture retailers consider word-of-mouth as their best marketing strategy.
WOM marketing improves overall marketing effectiveness by 54%.
Word-of-mouth results in five times more sales than a paid advertisement.
Word-of-mouth counts as one of the top traffic sources for small businesses that do affiliate marketing.
8% of B2B marketers find WOM marketing effective in promoting live events for marketing purposes.
Most businesses first become aware of new artificial intelligence technologies from colleagues, networking, and seeing other companies use them.
In 2019, 23% of Singaporean shoppers bought something in a physical store based on the recommendation of a friend.
20% of North Americans who were made aware of a product through word-of-mouth made the purchase instantly.
More than 50% of UK craft beer drinkers said they would buy a beer they've never tried if friends recommended it.
When Chinese guests choose a luxury hotel to stay in, 17% of them agree that word-of-mouth is one of the top factors in their decision-making.
In 2109, 28% of people considered visiting a particular convenience store after it was mentioned by someone they knew.
23% of Christmas gift shoppers consider word-of-mouth recommendations when choosing what to buy.
23% of people are influenced by recommendations when looking for Valentine's Day gifts.
In Romania, WOM is the least popular way to discover new products, with only 28% of the population finding products this way.
42% of people in Australia discover new brands through search engines and 38% through word-of-mouth recommendations.
20% of people find out about Smartphone apps through word-of-mouth recommendations.
32% of people discover new podcasts from word-of-mouth recommendations, with 29% of those specifically from friend's recommendations.
In Mexico and Colombia, 39% of people hear about products for the first time from word-of-mouth recommendations.
LEARN HOW TO MAKE $10K PER MONTH
Get My Book For FREE (Worth $15 on AMAZON)

Take Advantage Of This Special Offer Only For Today! Get my $15 book for FREE when you subscribe to my newsletter and I will show you the way to your first $10k month in less than one year.
Word of Mouth Marketing Stats: Positive and Negative Impact
Word of mouth is directly responsible for 90% of all purchases.
When some specific case studies were analyzed, researchers found that a 10% increase in word-of-mouth (on and offline) translated into a sales lift of between 0.2% and 1.5%.
28% of consumers say word of mouth is influential in strengthening or eroding brand affinity.
Among millennials, WOM emerged as the leading purchase influencer in each category.
Word-of-mouth is the top influencer for big-ticket purchases and financial products among baby boomers.
85% of small businesses agree that word-of-mouth recommendations brought them the most consumers.
32% of consumers trust online reviews only if there are multiple customer reviews.
The average value of a Facebook fan in certain consumer categories is $174.
79% of people say their primary reason for "liking" a company's Facebook page is to get discounts.
39% of respondents are likely to give a referral if offered a direct incentive, social recognition, or access to an exclusive brand loyalty program.
39% of respondents say monetary or material incentives such as free swag, gift cards, or discounts significantly increase their chances of recommending a brand to others.
Positive word-of-mouth reviews about a business make 91% of consumers more likely to use it.
A 10% increase in WOM referrals can increase sales by 1.5%.
The average customer who has a bad experience will tell between 8 and 16 people about it.
Customers who have a second bad experience with a business will tell more than 20 people.
On average, a satisfied customer who has had their problem resolved by a business will tell four to six people about their positive experience.
If a customer is satisfied with their interaction with your business, 96% of them will return, and they'll be more likely to share their experience with people around them.
Only 33% of businesses are actively seeking out and collecting reviews.
Word of Mouth Marketing vs. Advertising Statistics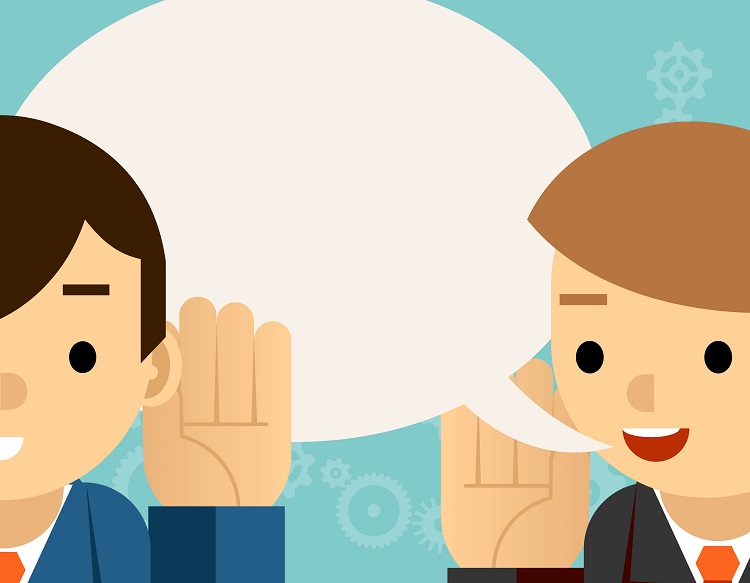 Word-of-mouth is more effective than paid ads and results in five times more sales.
92% of global consumers trust user-generated content and online word-of-mouth more than advertising.
Millennials are 115% more influenced by WOM than traditional advertising.
When planning a wedding, word-of-mouth from family and friends relies on 331% more than regular advertising.
64% of Word of Mouth Marketing Association survey respondents mostly or completely agree that word-of-mouth advertising is more effective than traditional marketing.
50% of marketers have incorporated word-of-mouth advertising into their traditional marketing campaigns.
75% of consumers don't trust advertisements and consider them untrue.
Advertising is the 7th most influential source of information for American voters.
Trust in Word of Mouth Statistics
More than one-quarter of people say that word-of-mouth increases affinity with a brand.
Beyond family and friends, 88% of people trust online reviews written by other consumers as much as they trust recommendations from personal contacts.
People are 90% more likely to trust and buy from a brand recommended by a friend.
41% of people trust a recommendation from someone they know more than a social media recommendation.
68% of people trust online opinions from other consumers, which places online opinions as the third most trusted source of product information.
72% of consumers say reading positive customer reviews increases their trust in a business.
On average, it takes two to six reviews to get 56% of consumers to the point of trusting a business.
92% of users will use a local business if it has a 4-star rating.
72% of consumers will use a local business if it's got a three-star rating.
61% of IT buyers say that colleague recommendation is the most crucial factor when making a purchase decision.
Millennials are 99% more likely to trust a social media recommendation than other groups when choosing a restaurant.
An average consumer reads ten reviews before trusting a local business.
Out of all the consumers who read reviews before making a purchase, 97% read the business' response to reviews.
Results From Word of Mouth Statistics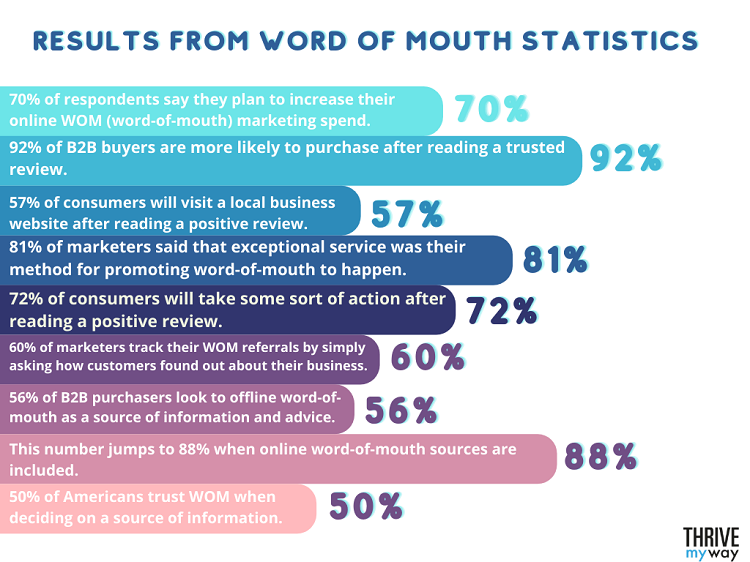 70% of respondents say they plan to increase their online WOM (word-of-mouth) marketing spend, while 29% will increase their offline WOM marketing spend.
92% of B2B buyers are more likely to purchase after reading a trusted review.
57% of consumers will visit a local business website after reading a positive review.
81% of marketers said that exceptional service was their method for promoting word-of-mouth to happen.
72% of consumers will take some sort of action after reading a positive review.
60% of marketers track their word-of-mouth referrals by simply asking how customers found out about their business.
56% of B2B purchasers look to offline word-of-mouth as a source of information and advice.
This number jumps to 88% when online word-of-mouth sources are included.
50% of Americans trust word-of-mouth when deciding on a source of information.
LEARN HOW TO MAKE $10K PER MONTH
Get My Book For FREE (Worth $15 on AMAZON)

Take Advantage Of This Special Offer Only For Today! Get my $15 book for FREE when you subscribe to my newsletter and I will show you the way to your first $10k month in less than one year.
Conclusion
A word-of-mouth marketing campaign is a powerful marketing channel that works exceptionally well for all types of companies. It doesn't matter what industry you're in, WOM will always help you.
The advantages of word of mouth and influencer marketing are as follows:
You can grow your sales without ad spending: Many different brands now use word-of-mouth advertising rather than spending money on advertising when they want to grow their fanbase and increase sales.
It builds a community rather than a commodity: Word-of-mouth is a very effective way of engaging with your customers. Customers who are more engaged will purchase more often and recommend your brand to family and friends.
More funding, more freedom: High levels of customer loyalty and repeat purchases make your business more attractive to angel and venture funding.
When compiling this list of word-of-mouth marketing statistics, we found the following resources very helpful: