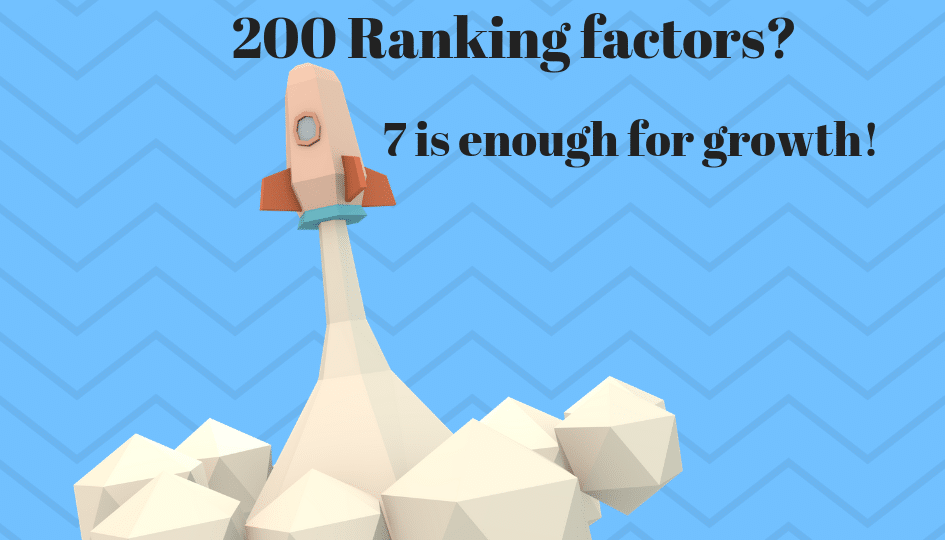 "Infographic Design By Easelly"
Don't you get tired of all these 200 point lists with Google factors?
Let's be honest. If you're not a multimillion-dollar company you can't cover all ranking factors. It's pointless to even try, you'll waste your time.
If you focus only on 3 ranking factors, you will see an enormous effect. The 80/20 rule is valid 100% here. I'd even call it the 95/5 rule.
Many online business owners, bloggers, and marketers get obsessed with doing something for each of these 200 points so they can rank their site higher. But they end up seeing just a small boost in SEO after doing a ton of work or realize they've invested too much time in unimportant things and have left the factors that really matter behind.
If you have the best content, quality backlinks and users stay on your page and don't need another source to find more information, there is nobody who can outrank you, even if they're beating you on the rest 197 factors.
Even the experts at Moz confirmed a long time ago that the 200 point list is a myth, most of the factors are correlation instead of causal, and are often presented just so the final number can look impressive.
Now, what should you focus your SEO efforts on in 2020? Here are the ranking factors that really matter and can do wonders for your website and business.
The 3 Crucial SEO Ranking Factors That Really Matter
1. Optimized & Superior Content
If there's one aspect of a website, brand and company that matters online today more than anything else it's content. That also means content marketing gives the best ROI. It produces 3 times more leads than paid search and more than 70% of online users prefer to learn about a product from an article instead of an ad. In fact, more and more people are using ad blockers and your advertising campaigns might not even reach them.
Your content needs to give the user what they're looking for. If they're looking further after seeing your page, it means your content is missing something. Superior content is detailed content, and once optimized well (basic on-page SEO is usually enough), it can rank high and bring you tens of thousands of visitors some time from now.
"Epic content is something that is a priority over anything else when it comes to ranking if the content is good and unlike anything else out there on the given topic: the links, publicity and rankings will come. Focus on the content first, then work on links and promotion," says Gaetano DiNardi from Nextiva a VOIP company which knows a thing or two about epic content.
Your content is the foundation of your online presence and is closely related to outperforming your competitors, getting new leads and increasing revenue.
Too many people hire social media managers, web designers to change the look of their site and brand, or else, but fail to understand that if there's a budget for outsourcing, it should be invested in creating and distributing superior content.
Content marketing is changing and every next year it becomes more and more important. The very first thing you'd want to do differently in 2020 to make Google love you, to increase your traffic and engage people with your brand, and rank your site higher in the search results, is to create the best content you can.
The type of content you should create can vary. In 2020, blog posts won't cut it anymore. To reach as many people as you can, give them great information but in different formats.
That means:
Writing long-form content;
Publishing case studies;
Distributing content to all platforms users spend time on;
Creating the ultimate guide on a certain topic related to your niche;
Optimizing content for voice search.
2. Backlinks
The second one of the 3 crucial SEO factors that will continue to play a key role in 2020 is the number and quality of your backlinks.
Relevant and authoritative backlinks can be earned in multiple ways as long as it's naturally, and if you start doing that early on, you're boosting the time it takes for SEO to work.
The types of backlinks you should be looking for include:
Links from articles, preferably not in the bio but within the articles;
Links from many different domains;
Links from old authority sites;
Links from relevant sites;
Different link types;
Links from competitors.
Finding opportunities for backlinks can happen with SEO tools like Ahrefs or Semrush. These help you analyze the links your competitors have built so you can replicate the process.
Investing in content creation is another thing that can earn you backlinks from authoritative sites. That's yet another reason to focus more on that in 2020 and create longer, more informative and practical content than your competitors. In fact, well-delivered content has a far greater chance to attract links, especially if you plan to utilize email outreach in your link building strategy.
There's another aspect of link building that helps you create the perfect site structure and rank higher – internal linking.
Some experts call internal links the sauce of link building. It's true because making changes in site architecture through proper link building techniques can do wonders for your rankings and the results are often immediate.
For that, you need to rethink your internal link building strategy, start updating old content, reducing page depth so Google bots can crawl your pages faster, giving a boost from pages performing well to those that can't earn quality backlinks and more.
Internal links are also what can help your pillar content get indexed quickly. Don't forget these help Google and tell search engines what the content is about and bring the spiders to other relevant pages, but they also exist to navigate users through your site and show them relevant content that they would otherwise fail to find.
3. User Experience
User experience is another aspect that's critical for SEO. In a nutshell, this is the combination of actions that aim to keep the user on your website and thus show Google you're making your visitors happy. In return, people stay on your site longer and search engines send you more traffic.
In 2015, Google confirmed using an algorithm called RankBrain to provide the most relevant results to users. That's when webmasters realized it's more important to write for people rather than stuff their content with keywords with the hope that Google will rank them on top for these phrases.
When UX and SEO are done together, your site will grow and you'll see a massive return on investment.
Here are some of the best practices:
Consider searcher intent and language when choosing keywords;
Easy navigation and site structure;
Making your website as fast as possible (it's proven that a 1-second delay in page load time means 7% reduction in conversions and 11% loss of page views. In addition, 79% of your customers will buy from another business next time if they aren't satisfied with your site's performance.);
Make your content visual and engaging, include links to additional resources or other pages on your site the reader might want to check out;
Get more clicks with catchy titles and calls to action;
Get in touch with visitors to get feedback;
Optimize your visuals by compressing their sizes using tools like TinyImage so that they load quickly and improve your page loading speed;
Use a heat map to see what elements on your pages don't get enough clicks so you can remove them.
Other Important SEO Factors in 2020
4. Website Architecture
Understanding how website architecture works will be beneficial to ranking higher in 2020 as it affects all the other SEO factors. When done right, you can create a site structure that drives traffic, lets users navigate easily through your site and allow spiders to crawl it fast and frequently.
If you're launching a new site, make sure to plan your site hierarchy in advance. If your site already exists, you can rethink the structure and make changes to optimize it.
5. Mobile Friendliness
Google now penalizes websites that aren't optimized for mobile devices and instead works in favour of those that are responsive. If you want to take into consideration this one of the top-ranking factors in 2021, make sure you consider the following for the mobile version of your website:
Have large buttons; Check this icon bundle here
Use high-resolution images;
Don't make readers zoom or scroll to find what they're looking for;
Don't use flash;
Use a large font size;
Make opt-in forms and images full width.
6. Domain Age, URL and Authority
The age of your domain and how long ago the top pages were published also play a role in increasing your rankings. Google favours sites that have been around for a while and new ones need some time to show they are valuable and appear on the first page.
In fact, a study by Ahrefs concluded that the domains ranking at position #1 in the search results are 3 years old. Follow the other best practices for SEO and know that the older your site gets, the more authoritative it will become and the more trustworthy it will look to search engines and people.
7. Social Signals
Last but not least, social media still matters for SEO. Social signals are all the shares and likes a web page has received. The higher the number, the better the overall social media visibility, which in turn shows Google that people like your content.
Maybe you've been neglecting social media so far or maybe you haven't given all big social networking sites a chance. In 2020, test different platforms and follow the best practices for it to see if you can build a following, improve your online presence and get traffic.
SEO isn't about reading long lists of factors and realizing how left behind you are or that you need a budget to rank your site higher. Instead, it's about providing value on a regular basis with your content and making it interesting and easy to read, thus letting this earn you backlinks, trust and traffic.
Follow the advice above and create a better SEO strategy for 2020.