Did you know Insurance, Loans, Mortgage, Attorney, Credit, and Lawyer are the most expensive keywords in Google AdWords?
Lawyers and Attorneys are among the most competitive industries for Pay Per Click (PPC) and Search Engine Optimisation (SEO).
PPC is great because you see the result right after you deposit your cash for advertising, but a well-constructed law firm search engine optimization strategy brings a much better Return On Investment (ROI) in the long term.
You may have great content, but is it enough?
What does it take to rank on the first page on Google in a highly competitive industry?
The answer is Backlinks.
Backlinks from Relevant Sites.
Backlinks from Authority Sites.
As many as possible high-quality Backlinks
Look at the first page ranks on Google. Do you see how many backlinks these pages have pointed to them? It's nearly impossible to compete with them if you do not have a good action link-building strategy.
1. Everything begins with having great content.
Have a problem, or need a lawyer? Where would most people look? Online that's where. Content marketing is the way forward in a competitive market. 93% of B2B companies are now using content marketing. You need to answer your audience's questions before they are asked, and show yourself as a leader in your field.
Case studies, and eBooks on 'How To', all add relevance and impact to your website content. SEO for Law firms is essential to be on top of the rankings. Building the links to your site through outreach via other informative websites and blogs is a great way of extending your visibility.
*Fact: Building/Acquiring links is cheaper if you have great content that people would love to link to.
Building links with useful content is easier and cheaper. If you're guest posting an article on someone's blog you can link to a useful resource on your website and this won't be seen as a sponsored link (in most cases). Otherwise, bloggers tend to ask for a few hundred dollars just for a single link.
So, you choose- to invest time and efforts to build great content or thousands of dollars to bribe blog owners and webmasters for a backlink to your website.
Must Does, To Maintain Your SEO for Lawyers!
Check the content on the first page… Then create better content than them (much better)
Update your article often. Google likes fresh content. If you add something to your article every month and update it, this will be of great help.
Do not be stingy, give links to other resources about the topic you're writing. Obviously, you do not link to your competitors but to informative pages that are probably in the same niche but not your direct competitors.
2. Building social media links is fundamental
Do you think there is a website that has many backlinks pointing to it but zero shares/likes/tweets on social media?
You should back your link-building strategy with social media links first because it makes look natural. So initially building up your social media profile is necessary. Start with social media pages. Find communities in your niche, for example, Facebook groups, join them, and answer legal questions.
Respond to questions that people ask, establish yourself as an authority, and when you publish a new article on your blog, share it with these communities. Considering your internet presence, utilizing any opportunity to incorporate legal SEO should be a constant.
Consider paid advertising as a good option to get exposure to your targeted audience but be selective. Resist the temptation to buy social signals from places like Fiverr. These gigs might be blacklisted, even if not blacklisted the accounts that will share your content are so abused that you do not want to have anything with them.
And the only thing you do is send spam signals to your website.
Consider using these sites which I would recommend for promoting your content. Click here to get them for Free.
Why would you create something, if not to promote it? – Larry Kim
3. Contribute to Wikipedia Pages
By citing your content on relevant Wikipedia pages, you can get a link under the "References" tab. It's no-follow, but it's very trustworthy & can send a lot of highly relevant traffic.
When doing this, make sure you don't sign up with a company email address. Otherwise, editors will disregard any edits you make with a link to you, as spam. Also, if the link doesn't make sense (you're just adding it for the sake of getting a link), then it's a waste of time & will be taken out.
Once your foundation of resourced content is present on your website and you are receiving regular social signals it is time to get building some great links!
4. Lawyer-specific directories
Lawyer-specific directories are great industry-specific links for your site and certainly will act as a great resource boosting the SEO for attorneys and law firms. You'll find both paid and free versions of these all over the internet.
Be careful of submitting your site to just any directory. Do your homework and make sure the site is reputable.
Here is a list of the best Lawyer directories:
Avvo
Justia
Lawyers
Lawinfo
LawGuru
USLegal
ILRG
National Organization of Social Security Claimants Representatives
Lawyercentral
LawQA
Riabiz
Law Fuel
Lawyer Ratingz
MoreLaw
Nalpdirectory
Nolo
eLocal Lawyer
LawLink
LawFirmDirectory
My Attorney Home
Attorneys
5. Link Building with HARO
HARO (an acronym for Help A Reporter Out) is a free service in the North American market. It helps reporters get content and leads for stories and helps users get publicity. HARO, owned by Vocus, the content sourced by the service is used by AP, Gannet, FOX, and other major names in the news arena.
Use HARO for search engine optimization for lawyers, both for building links and authority online. News pieces submitted through HARO get distributed all over the web helping attorneys get lots of exposure for their firm or private practice. They can also include links in content back to their site.
Here is the process:
Sign up for a free HARO account: There are paid plans, but the free one is good to start out with. If you find that it is super beneficial for you, there are always more options.
Look for opportunities: The way it works is you get emailed PR opportunities to your inbox, and you can choose to follow up with them or not. Look for PR opportunities you think may be beneficial for your attorney brand and links and go for those.
You can start to segment your opportunities based on where you want to get exposure.
The big benefit here is that one news piece can get picked up and spread across multiple websites. That may not happen the very first time you respond to an opportunity, but if you stick with it, HARO can be a valuable SEO for law firms resource.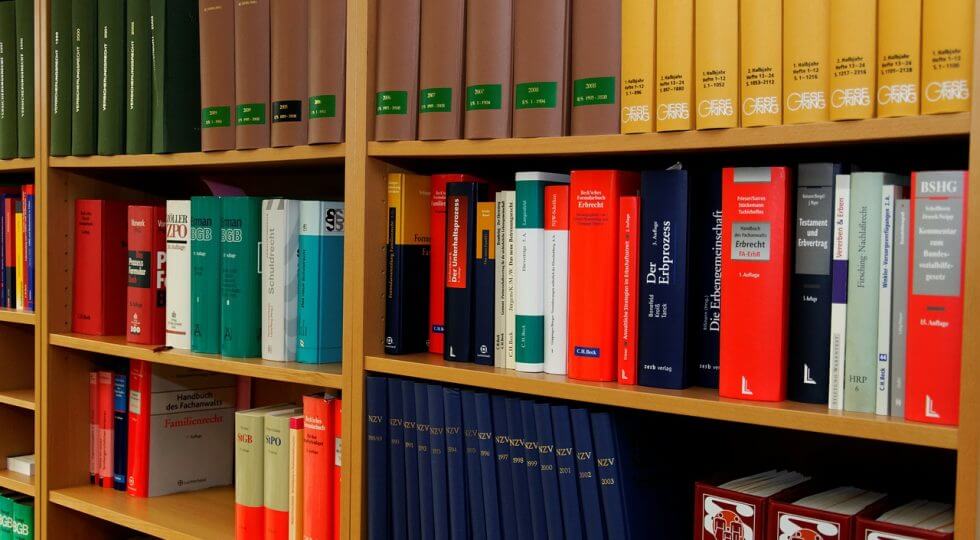 6. Testimonial Link Building
Do you ever use the professional services of other companies? For example, marketing companies, office supply companies, temp services, IT services, etc.
If any of these services have testimonial pages on their sites, (or even if they do not), reach out to them and offer to give a testimonial of their services. Ask for a link back to your website during the process.
7. Local Directories
While this can appear small and limited local directories are important sources of local links. Since attorneys often target local markets, these are good links to have.
You can search for local associations that are for attorneys and see if they have directories. Local chambers of commerce will often have directories of local businesses. I would recommend submitting it to Moz Local and Yext as well.
8. Scholarships from Local Universities
Universities and colleges offer many valuable ways to get links for your law firm indirectly. Providing a scholarship is one of these methods and is relatively simple in the grand scheme of things.
This step obviously requires an initial investment which can be as low as a few hundred dollars up to thousands, depending on your budget.
The benefit of having your law firm scholarship promoted on the university's website is that links on .edu sites are considered more authoritative in the eyes of search engines which could give you a nice boost in your ranking.
9. Intern/Job Postings
If you have any job or internship opportunities, you can get a few easy .edu links. There are plenty of job boards where you can publish your job ad. Also, do not forget the job boards of the universities.
They are probably your best shot because universities have websites that Google trust, backlinks from them are more precious than gold and not easy to acquire. This potentially means that your competitors do not have these links, which puts you one step ahead. Most of the students graduating with a Law degree need an internship.
Probably you're already getting interns to work at your law firm and if not why not? It's a win-win situation for both sides. If you do not see the benefits for your business besides getting a few high-quality backlinks, please do not do it. It would be not ethical to release a job/intern ad to get a few backlinks.
10. Attorney-Specific Forums
In my opinion, Forum marketing is perfect for lawyers and attorneys, and getting backlinks and traffic from the forums is an additional benefit.
Answering people's questions and helping them with their legal issues will:
1) Position yourself as an authority in your field.
2) Probably get you a few new requests.
3) Improve your Online reputation if you stay behind your real name, you'll be easily found on Google.
4) Give you the chance to build a link to your website while answering people's questions.
5) Direct well-targeted traffic to your website.
11. Infographics
People love data, but sometimes it's hard to digest. Creating an infographic on your area of expertise is a popular way to change that. Not only will it naturally attract links, but you'll also get other bloggers embedding it, which means, even more, links! Not to mention you have control over the anchor text of the embed code.
You will need to put in the time to promote your infographic before it starts paying back with backlinks. Unfortunately, just creating an infographic and seeing it go viral on the Internet does not happen overnight; nothing works that way, but these do bring results for all your hard work.
12. Glossary of Industry Terms
Outsiders to your industry probably don't know all the jargon you and other bloggers use. Do them a favor and create a glossary of industry terms and acronyms. This is a long-term strategy that will pay off.
Creating a glossary will make you attractive to 99% of the people who do not understand the professional jargon, facilitating them to reference your glossary. You can also check the CM Tooltip plugin for WordPress.
13. Guest posting
Legal blogs are relatively exclusive and can be hard to find, especially due to the legal content. These queries on Google will bring you greater success:
Law + intitle:"Submit blog post"
Lawyer + intitle:"Submit blog post"
Attorney + intitle:"Submit blog post"
Lawyer + intitle:""Guest bloggers wanted."
Legal help + "Contribute to our site" or intitle:"Become a contributor."
Legal advice + intitle:"write for us"
Using the different combinations will lead to far more opportunities. Here you can learn more about guest posting.
14. Become a contributor to communities of attorneys
Have you found any websites to publish guest posts? Here are a few contributor communities of attorneys you can get started with:
Lawyerist.com
Attorneyatwork.com
Lawyernomics.Avvo.com
Lawtechnologytoday.org
Thelawinsider.com
Law.com
Legaltechnews.com
15. Research competitors
You can use Ahrefs to see your competitor's backlinks and see if you can build/acquire backlinks from these websites. Bear in mind that there will be plenty of low-quality and unrelated websites that you do not want to waste time getting a backlink from.
Of course, there's no free ride, and you must pay Ahrefs for using their features. The cheapest package is $99 a month, and it will give you the chance to track your competitor's backlinks.
16. Contacting People who use Your Images
If you already have a well-established website with some presence on the Internet, it's possible that somebody has used your images. Most webmasters use images they do not own, and they do not give credit to the owner.
If they receive an email from a lawyer kindly asking them to put a backlink to the source of the image I am sure they will do so promptly!
How to find out if somebody has stolen your images?
By using Google's reverse image search tool, TinEye, or Image Raider.
17. Release a press release
When you have something newsworthy to announce, the press release distribution will post your content and links on hundreds of authority news sites around the country. It appears Google approves of press releases.
Important: Always use your brand name as an anchor. Choose PR sites that are in Google News. Publish PR that is newsworthy. Your goal is to announce something interesting and newsworthy that will be picked up by media websites.
Your goal is not to build links through the PR sites. They are a way to get media attention.
You might be interested to check those related posts as well: