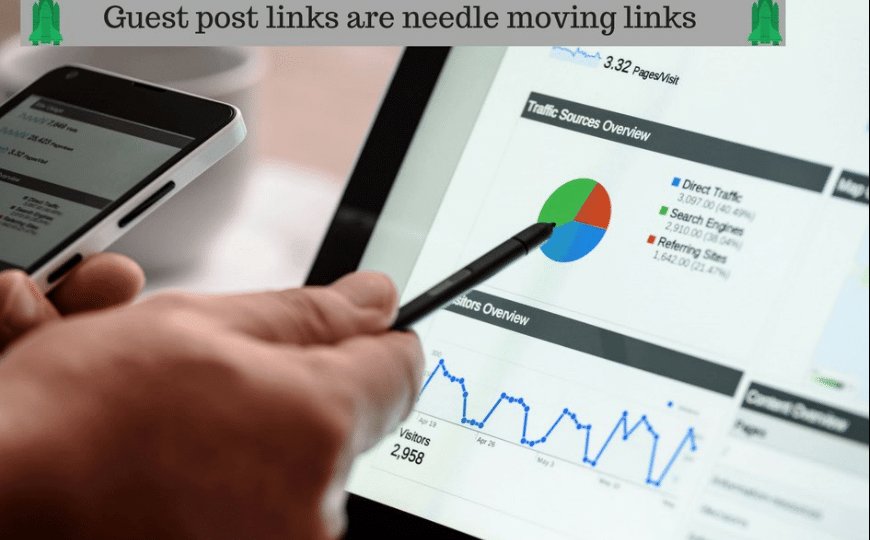 Guest blogging has two main benefits. First, you get free exposure in front of a new audience, which can lead to many positive consequences, such as new partners, new followers, subscribers, and of course new clients.
Second, you get a link or two to your website. Many people use guest blogging to get backlinks. Guess why? Because backlinks from guest blogging work incredibly well. But there is a downside, too. Guest blogging is a link-building method that requires lots of time, effort, and resources.
1) Spend time researching and finding blogs to reach out to.
2) Find the contact person and their contact details.
3) Reach out to them and propose to write a guest post for their site.
4) Discuss, back and forth, what post topic is okay before agreeing.
5) Write the article, which costs time, or pay your writer to write it, which costs money. If you're like me, hire a native speaker to edit it.
6) Send them the article and wait.
[convertkit form=5149034]
You should always focus on sites that don't just look good, but are worth it. So, what should you check for in a site before considering publishing a guest post? If you read my mini guide and follow the 9 steps in it, I promise you that you will focus only on the best blogs.
1) Domain Authority of your guest blogging targets
As you may have already guessed, DA (domain authority) measures the authority of the complete domain. PA (page authority) shows the authority that a certain page of your site has. DA uses 40 different metrics to measure this, including both the number of links to your site, and the number of root domains that link to your site. This particular metric is essentially the total number of other sites with links to yours.
DA is a metric from 1 to 100. When you're just getting started with a new site it will be with DA 1 because it is still just a baby. The most authoritative sites in the world have the highest DA. Sites like HuffPost, Forbes, and NYTimes are sites that we know well, and such sites have the highest authority.
huffingtonpost.com – 98 DA
forbes.com – 96 DA
nytimes.com – 100 DA
DA is very important. I've seen in my experience how a new page ranks well just because it is from a website with high domain authority. This means that if you publish a guest post at a site with high DA, it will have good chances to rank higher in Google.
You want your backlinks to come from sites with high authority because this will help your authority and ranking as well.
You can install the MOZ bar on your browser, which will show you the DA of the site you're browsing at the moment. Or you can check at Open Site Explorer.
However, the DA is not the only metric you should check. Why?
A perfect example of sites with high DA but low moderation. Links from them are not that precious at all.
First, because there are many sites with high authority that have no moderation and literately everybody can publish an article. This devalues the power of the backlink you will get. Even though it is easier to publish an article, with no moderation it is not worth the effort.
Second, there are sites with extremely high DA above 60, but they do not get any traffic and are heavily abused with spammy 350 words articles and guest posts for $10, and it is just a matter of time until they get penalized. Usually, people buy expired domains with high DA and then build a new site on it. Then they publish a bunch of crappy posts and sell links until the site gets penalized. Do not bother publishing posts at such sites.
2) Trust Flow & Citation Flow
Citation Flow uses the number of sites linked to a URL to predict its potential influence. Trust Flow uses the number of sites considered trustworthy that link to a URL to predict its potential trustworthiness, based on the idea that a confirmed trustworthy site will generally link to another trustworthy site.
A good ratio of TF to CF is 0.50. High ratios indicate very trustworthy sites, while sites with a much higher CF than TF are most likely to host many low-quality links.
Focus on sites with high TF and a good ratio between TF and CF. Sites with high CF but low TF are not worth the effort; skip them and go on.
3) Alexa Ranking
Go to Alexa and check the site's world ranking.
This website ranks at 374,417 in the world and 160,139 in the US. Everything with a World Alexa ranking below 600,000 is worth checking further. You can have a quick look on any website's Alexa ranking if you use SEOquake. It's a free nifty plugin that shows you data about the website you're browsing at the moment.
4) Check where the traffic comes from
Think about it: If your targeted audience is people from North America, should you publish a guest post at a blog whose traffic comes from South East Asia? Well, the link from this guest post will still be valuable, but if you do not publish many guest posts, you had better focus on what is best for you. As you can see on this photo, 47% of traffic comes from the US, which is a pretty good number if your target is people from the US.
5) Do they rank well in search engines?
You want blogs that rank well in search engines. But sometimes it's difficult to guess their targeted keywords.
Check the title tag, h1, check alt tags, and the blog post titles. You can get some clarity about the keywords they're trying to rank for. Then, just search in Google for these keywords and see if they appear on the search results.
Another option is to try different tools that show you what blogs rank for and how much traffic they get from search engines.
6) Check their backlinks
Check their backlink profile. Do they have any spammy backlinks? Or do the links to their sites come from reputable and authoritative sites? Do they have any top notch links and brand mentions from big sites?
7) Check how strict they are with giving backlinks
[convertkit form=5149034]
Do they allow only author bio links? Do they put nofollow tags?
First, very carefully read their guest posting guidelines page. Then, think if you're happy with what they allow. In most cases you can get a very good idea if you're okay with their requirements or not just by reading the guidelines.
But sometimes site owners are unethical and they will publish your post with your link. After a few weeks or months, they will remove the links or will nofollow them. This happened to me a few times.
I published a guest post a few weeks ago. DA of the site is above 70, they get tons of traffic, I like the site and I put time and efforts in creating an article for them. Today I noticed that they removed the backlink.#GuestPost #unethical #FeelsBadMan

— Georgi Todorov (@GeorgiTodorovBG) February 1, 2018
That's why I suggest you check older guest posts (from 6 months ago and older) to see if the site is playing smart and removing links or adding the nofollow tag later (sometimes it happens).
8) Check the engagement the website receives
First, check how many Facebook shares, tweets, Linkedin shares, G+ shares, and any other social signals the latest blog posts are getting. You should share your guest post with your audience, but I think that the host should have their own audience as well.
Second, check if the website is getting comments. Who are the people that are commenting? Are they influencers? If they commented on your post, you have a pretty good chance to start a conversation with them and eventually build a relationship. At the image above you can see that I gave an example with my guest post at Jeff Bullas. Besides the fact that it has 1.5K social shares, it was also noticed by Dona Merril and Ryan Biddulph, both influential bloggers.
Sometimes, you will get positively surprised by blogs that are not huge but have their own true audience. For example, a few weeks ago I published a guest post at Growmap. I was happy to see that people are interested in what I am saying and they find it useful. As you can see up to 2 February 2018, the post has 41 comments. I think that Gail Gardner is doing well leading her tribe at GrowMap.
9) Check the website's social media pages
Find out if the website has social media pages, at least on the biggest social sites like Twitter, Facebook, and Linkedin. Even this is not the most important thing for me. I prefer that the website has a decent following. This will bring some added value for you.
For instance, I am an author at SEMrush. They have a huge following – and every time they share my posts at their platform, they tag me. That's how their followers sometimes end up engaging with me.
$1000 for Influencer Marketing: Top Guns Tell You How to Spend the Money by @GeorgiTodorovBG https://t.co/WfN8d9yIUg pic.twitter.com/QPTRApl2E1

— Semrush (@semrush) October 21, 2017
Also, every time someone reads any of my posts and shares it, my name automatically displays and I am mentioned in the tweet.
$1000 for #InfluencerMarketing: Top Guns Tell You How to Spend the Money https://t.co/crEvIEeMoN @semrush @GeorgiTodorovBG pic.twitter.com/EZ6vgDOuh4

— Shane Barker (@shane_barker) October 12, 2017
Conclusion
These are the basic things I'm looking for when searching for guest posting opportunities. By using my tips, you will be sure to target only blogs that are worth the effort of creating a guest post for.
Do you have any more ideas? I'd like to update this post on a regular basis by adding more information. If you think that I've missed something, tweet me your idea @GeorgiTodorovBG.
P.S. Are you freelancing? Check my detailed Upwork guide.