If you think things like: "I want to travel around the world" or "I want to travel the world and get paid" then this is the article for you.
Why Travel the World?
Travel provides enrichment for the soul. It allows you to make connections, see new things, and try new foods. You build character and confidence. So with that question answered, we're brought to:
How to Travel the World?
Make no mistake, travel is expensive. However, with appropriate planning, you can absolutely make it work.
Assessing Your Desire to Travel
Some questions you will want to ask yourself are:
Where do you want to travel to?

How long do you want to be gone?

How much do you want to spend?

Is it about the journey, or the destination?

Do you have pets or children at home? And, can they travel with you?
Understanding the Lifestyle of Travelers and Nomads
Nomadic travelers are people who turn traveling into their way of life. They do not adhere to conventional routines, but in return they have the opportunity to broaden their horizons and create unforgettable memories.
There is a lot of financial planning and budgeting going into being a nomad, as well as skills to learn. To become a nomad means to determine what the essential items are, and how to pack them efficiently and sustainably, but also how to balance that minimalism with having enough to be prepared for anything.
There are different ways of being a traveling nomad: everything from living in a van or an RV, to camping, to renting in different places, to doing home exchanges. Within all of these options, it is important to be able to personalize your living space to make yourself happy.
Other important considerations are how to stay connected with friends and family, or how to get away from it all. For those who do remote work while traveling, however, mobile and internet connectivity is a must.
Plus, there is how to stay healthy and fit while traveling. This includes adapting to new cuisines you've never tried before and biomes you may never have experienced previously.
Maintaining a balanced diet and staying hydrated are key to enjoying this chosen life. Plus there are exercise routines and self-care strategies to consider.
Nevertheless, travel in this manner is a great way to volunteer outside your home and promote cultural exchange.
Financial Preparation
Depending on food and accommodation needs and desires, as well as the locations you are intending on traveling to, the costs of travel vary greatly. Plus, how you plan on traveling will factor into costs.
Calculating Travel Funds
There are many resources online to help you calculate how much you will need to get from point A to point B, and how much you will spend once you are at your destination. The more places you plan on visiting, the more money you will spend. Sites like budgetyourtrip.com can be an invaluable resource.
Assessing Savings and Budget
Comparing your budget to your savings is a crucial step. For those intending on traveling and not working, you'll want to have more in your savings than you've budgeted to spend on the trip, just in case there are unexpected emergencies.
For those intending on working remote while traveling, there's some more flexibility, but you still do not want to be caught unaware without enough funds.
Factoring in Outstanding Debts
Additionally, while looking through your bank account, now is the time to make a list of any outstanding debts like car payments, mortgages, and balances on credit cards.
Any debt you have before traveling will still need to be paid off while traveling if not settled before you leave. You'll want to factor these expenses into your budget.
Setting Up a Safety or Emergency Fund
Ideally, you want to have at least three months of living expenses in your emergency fund. Living expenses while traveling differ from living expenses at home, so be sure to factor that in.
For extra preparedness, having six months of expenses gives you more of a buffer. Additionally, you will want to have enough money to buy last-minute tickets home if need be.
Acquiring Necessary Gear
It is important to get the right kinds of baggage, clothing, and travel accessories for any sort of long-term travel. This is also one of the situations where you will get better mileage from items that tend to be more expensive because they are of better quality.
Identifying Travel Essentials
Generally speaking, you will want to pack light. Be prepared to do laundry repeatedly. Also, buying clothes that can be washed in sinks and hung up to dry makes luggage simpler. Plan to have about a week's worth of clothing, but also have items that allow you to be flexible when the weather changes.
Buying travel-sized toiletries gets expensive, but you can budget for it. Buying reusable bottles that can be refilled can be cheaper in the long run, however you must factor in where you are refilling them. Another option is to buy regular-sized toiletries, and allot space for them.
You will also want to pack laundry soap as well as consider a travel clothesline and a universal sink stopper.
Prescription medicine can get tricky depending on how long you are traveling. Talk with your doctor and insurance about filling prescriptions outside of your home pharmacy. Additionally, some countries have differing rules on what counts as a controlled or banned substance.
Again, depending on where you are going, you may have differing needs on medicines that are over-the-counter. You can buy a lot of them at your destination in the event you need them. Or you can carry small bottles with you if that fits within your desired traveling style.
Electronics will depend a lot on what your travel goals are. If your goals are to remain relatively electronic-free, then sticking with a simple mobile phone, power cord, and travel power adapter will be all that is on your list.
But if you are planning on taking a lot of pictures, you'll want to consider cameras, batteries, extra storage cards, and proper power adapters.
Deciding on Work Equipment
Those intending on working will also need to think about laptops, tablets, more robust phones, back up hard drives, and power strips. You may also need to consider mobile hotspots for connectivity. One great tip to minimize the amount of universal power adapters is to utilize power strips.
Seeking Insights from Online Communities
There are countless websites, blogs, and forums that have information about traveling in all forms. Looking at how other people have done it can give you insights for how you want to do it. Or how you don't want to do it.
Planning and Execution
With all that in mind, it's time to form the travel plan, and then execute it.
Formulating a Travel Plan
We'll list out some questions for you to answer to guide you into getting this plan onto paper. You can adjust these as necessary depending on who all might be going with you.
Choosing Destinations and Itineraries
Where do you want to go?

What do you want to do when you get there?

How long do you want to stay there?

What kind of weather do you want to anticipate?
Planning for Accommodation
What kind of place do you want to be sleeping in?

How much money are you prepared to spend?

What sorts of foods do you want to try?

Do you already know people in the destination?
Securing Travel Insurance
Have you purchased travel insurance in the past?

What are the reviews for different carriers?

What does the travel insurance cover?

How much does it cost?

Does your credit card already offer travel insurance?
Saving and Budgeting
Here, we'll go over some ways to save and budget while you're on the trip.
Consistently Saving from Income
Working while traveling means you have a steady stream of income coming in to help with expenses

Having passive income back home also helps
Selling or Renting Possessions
If you are planning on traveling for a long period of time, or transitioning to traveling all the time, what possessions can you sell?

You don't necessarily need to have gear for every activity you are planning on doing while traveling, you can also rent gear for a day or two while you are at your destination
Reducing Unnecessary Costs and Debts
Consider cooking for yourself rather than spending money eating out

Instead of renting a car, look up public transportation

Downgrade your phone to something that isn't the newest and most high-end device

Look into travel credit cards that offer bonuses

Have a reusable water bottle – they make them with built-in filters
Taking the Leap
Much of this will depend on your plans, so we'll give you some things to consider.
Booking Tickets or Hitting the Road
If you are traveling somewhere you can drive to, do you want to put the wear and tear on your car?

Alternatively, is it cheaper to take your car than to buy plane or train tickets?

What does transportation look like at your destination?
Embracing the Journey with Positivity
It is important to consider travel as an opportunity for new life experiences

How can you minimize your stress while traveling?
Staying Safe and Street Smart
Consider the healthcare needs for those who are traveling

Look into VPNs to maximize digital security when using unfamiliar internet connections

What are the local laws and customs where you are traveling?
Embracing the Travel Lifestyle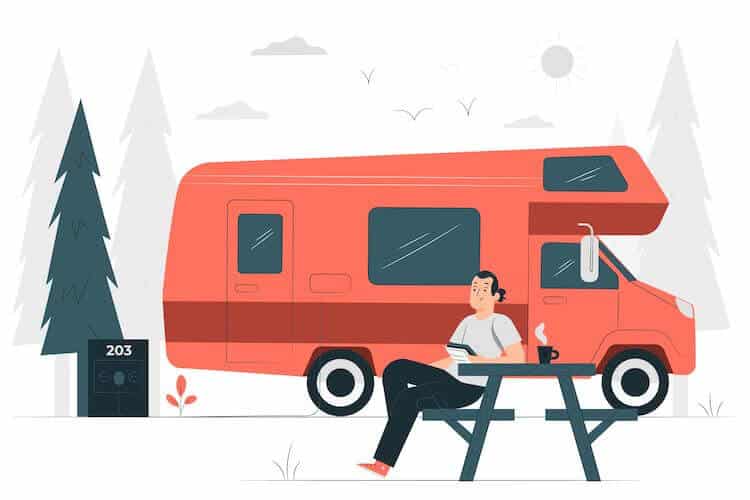 Becoming a long-term traveler is a lifestyle. Even traveling regularly is its own lifestyle. If you want to travel the world, let yourself embrace the lifestyle of a traveler.
Dealing with Challenges and Emotions
Coping with Unexpected Situations
If you get lost and you cannot use your GPS for whatever reason, remember to stay calm. Find a local person and ask for directions, most strangers will be willing to help out.

If you find yourself a victim of theft, report the theft to the police and handle it with your travel insurance.

Before you even have the chance to lose your phone, make sure you know all your account details and can access a backup email address from another device.
Embracing Loneliness and Change
Not speaking the local language can make loneliness worse, but you can always utilize translation apps on your phone, or study the language before you travel. Locals are happy to help you learn more of the language if they see you know some of the basics.

Still, loneliness can set in anyway and it is important to come to terms with the emotions you are feeling. Try to find someone to talk to in order to help you through it.
Learning and Growing through Travel
There are a lot of changes that happen with travel and it is important to embrace the changes as they come and let them help you grow as a person.

Embrace the joy of stepping out of your comfort zone into the unknown because this is where you will learn new things.

Don't set too many expectations and let yourself be open to new experiences and enriching possibilities.
Making Connections and Experiencing Cultures
Making Friends and Networking
Even if you are traveling with a group, consider reaching outside of the group on occasion to make new friends.

Consider creating a network of people who are all traveling at similar times and keeping each other updated on your experiences.

Try to make one new friend everywhere you go, whether it be a waiter at a restaurant, a flight attendant, or another tourist.
Embracing New Experiences
You will get the most out of your travels if you go with a sense of wonder.

Learn about the area from the locals because they know it best.

The world is beautiful everywhere, you only need to look.
Showing Understanding and Respect
Culture shock can be overwhelming, but the best way to work through it is to slow down and take things a little bit at a time.

Having an open mind and some curiosity will help overcome culture shock, which is a normal part of traveling for many people.

Be respectful and courteous of others.
FAQs
How To Travel The World With No Money
Look into apps and websites that help you save money and lower expenses while traveling. Some will even help you make money on your travels. There are options for free accommodation and transportation as well.
How To Travel The World For A Living
Consider jobs like hostel worker, tour guide, or cruise ship worker to help you travel without going into debt. If you are a native English speaker, many places look for English teachers too.
What Is It Called When A Person Travels The World?
The most common term for this is traveler. Nomad is another word that is used, but that is reserved specifically for someone who is constantly traveling and living on the move.
Conclusion
As you can see, there are many benefits to traveling the world. There are even ways to do it without breaking the bank. Hopefully these tips will help you take the leap and get out there!