Gone are the days of taking photos using film.
Nowadays, everything is digital.
As a result, modern photographers can take hundreds, even thousands of shots rather than being limited to the number of shots on a reel of film.
According to research, a staggering 1.12 trillion digital photos were taken in 2020.
Rise Above Research is also predicting a 25% increase in photos taken globally in 2021.
While digital photography might be very convenient, it does raise the issue of what to do with all those photos and how to manage them effectively.
Technology, as always, comes to the rescue with photographers choosing to manage, organize, and store their digital assets in the cloud.
As well as being able to shoot many more pictures, the quality of digital photographs is also much higher, which means there's a need for more storage.
Thanks to photo management software programs, it's now possible to quickly and easily manage your image library.
In this review, we will look at 16 of the best photo management programs currently available.
Why Use Photo Management Software?
If you've got the best photo organizing software program, you'll be able to sort and display your images based on various criteria, such as location, category, and EXIF data.
Some of the more sophisticated programs also come with AI, making the process even easier and quicker.
So, what can you actually do with image management software?
You can:
Save and organize all your photos.
Locate specific image files quickly.
Edit, resize, and export your photos.
Locate RAW files and sync them with any graphic design software you might use.
Integrate your image library with other types of photo editing tools, such as InDesign and Adobe Photoshop.
Store video files and integrate them with various video editing tools
Best Photo Management Software 2023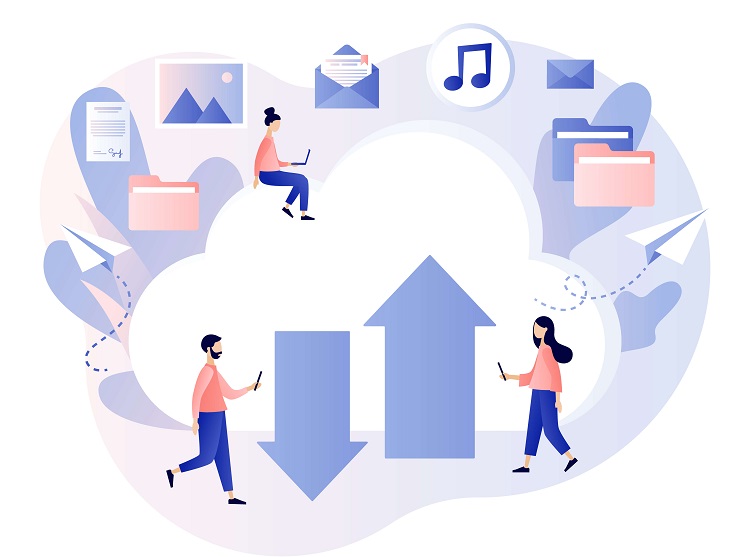 To help you choose the best photo management for your needs, we've created a list of the top 16 currently available.
These reviews are based on key features, such as ease of use, organization capabilities, integrations, storage, support, pricing, and much more.
ACDSee – Best Professional All-in-One Software with Facial Recognition Features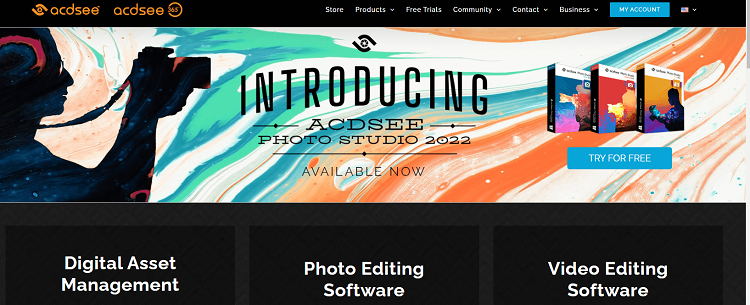 You can use ACDSee to organize your photos in various ways, for example, by date, keyword, location, category, rating, and color labels.
You can also organize photos with facial recognition, which is very useful.
If you've got an extensive collection of photos, ratings allow you to find them easily.
ACDSee is a straightforward photo organizer to understand.
It's even possible to find and delete any duplicate images.
The software includes several photo editing functions such as red-eye removal, cropping, color correction, and resizing.
The good thing about this software is that there's no deterioration of the quality of the image when you've finished editing.
To help increase your productivity, it's possible to edit more than one image at a time.
There's also the option to create an online gallery, but this feature costs extra.
There's one major downside if you're a Mac user.
It's not compatible.
Key Features
Location data: The Map pane displays geotags that mark the location where the photograph was taken and can be used to isolate images. You can also drag and drop images for geotagging.
RAW support: RAW support is provided for more than 550 types of digital cameras.
Facial recognition: The software can identify faces, allowing you to name individuals and search for specific images easily.
Pros
You can view photos inside ZIPs, and there's no need to extract them.
Images can be imported from Lightroom and Picasa, plus you can sync the software to your mobile phone and share photos and videos directly from your device.
The search function allows you to locate and delete duplicate image files.
Free updates, photography tips, tutorials, and workshops make this an excellent choice for the beginner.
Cons
Pricing
You can try the full version of this software free for up to 30 days.
If you like what you find, there are different plans to choose from.
ACDSee Photo Studio Ultimate costs $149.99 for a lifetime license. In addition, a subscription plan is available whereby you pay $8.90/month or $89/year.
ACDSee Photo Studio Professional costs $99.99.
ACDSee Photo Studio Home 2022 costs $59.99.
ACDSee Photo Editor 11 costs $29.95.
ACDSee Photo Studio for Mac 7 costs $39.95.
Video editing software is also available, with prices starting from $19.95.
There is also a free video editor called Luxea Video Editor 6 and several downloadable apps for iOS and other devices.
Compatibility
Microsoft OneDrive seamlessly integrates with ACDSee.
As a result, you benefit from brilliant editing capabilities for all your cloud-based photos.
Any edits you make are automatically synced with OneDrive and vice versa.
FastStone – Best for Varied Editing and Photo Management Options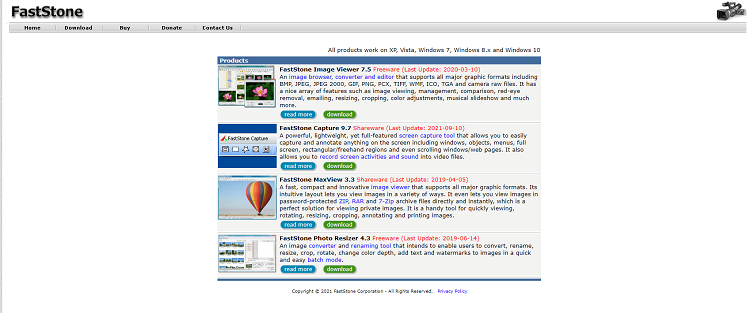 FastStone is a dual-purpose photo software program because you can use it to edit and organize your images.
However, the editing tools are rather basic.
When it comes to organization, there is a range of sorting options, including using tags.
If your images don't have tags, you can use the program to create and add them.
It's also possible to convert your images into PNG, GIF, JPEG, or PDF format, depending on which you prefer.
Resizing your images is a simple process because there are various preset sizes available.
The complete program is made up of four sub-products:
FastStone Image Viewer: This is an image browser and includes functions such as image viewing, resizing, cropping, red-eye removal, color adjustments, and management. You can also use it to create slideshows.
FastStone Screen Capture: Use this feature to capture and annotate anything on the screen.
FastStone MaxView: This feature allows you to view and manage your images, whatever the format.
FastStone Photo Resizer: Use this function to crop, rotate, convert, and rename your images, add a watermark, text, and change the depth of color.
All of the above tools can be purchased separately or as a complete package.
Key Features
Drag and drop feature.
Dual monitor support.
You can process multiple photos simultaneously.
The program is compatible with almost all file formats.
You can import images from cameras, scanners, and other devices.
Pros
Image management is easy thanks to the full-screen viewer.
The program includes easy-to-navigate printing features.
Most file formats are accepted.
The basic viewer is free, and there are optional upgrades.
Cons
The editing functions are very basic.
Pricing
You can use the image viewer and photo resizer for free if you're using them for personal or educational purposes.
If you're going to use the software commercially, you have to pay for a license.
Prices are as follows:
FastStone Image Viewer: $34.95 for a lifetime license.
FastStone Capture: $19.95, or $49.95 for a family license that covers up to 5 computers.
FastStone Maxview: $19.95 for a lifetime license.
FastStone Photo Resizer: $19.95 for a lifetime license.
Discounts are available if more than one user will be using the license.
Compatibility
FastStone works on XP, Vista, Windows 7, Windows 8, and Windows 10. It also supports all major graphic formats and camera RAW files.
Amazon Photos – Best for Amazon Prime Users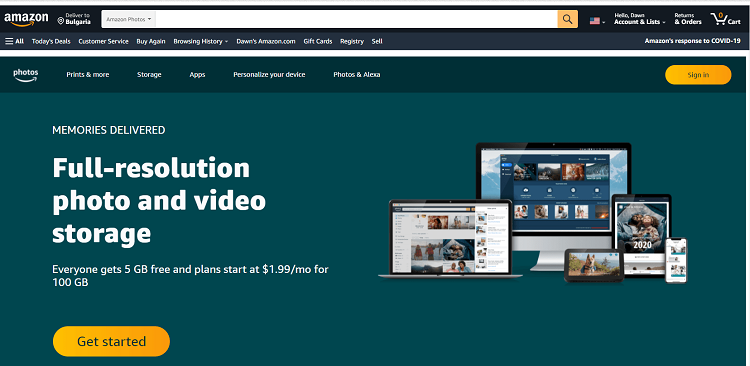 Amazon Photos is the image management software to use if you're already an Amazon Prime member and want to make your product photos meet Amazon image requirements..
It gives you unlimited access to a full-resolution photo storage service.
If you're not a Prime member, you can still purchase this cloud photo storage facility via Amazon.
This budget-friendly cloud storage program lacks many of the features you'll get with other providers, but it does allow you to sync photos from other devices, schedule uploads from a desktop, and share them between users and devices.
Another downside is that you can only store photos.
You will have to purchase additional storage from Amazon if you want to store videos, documents, or sound clips.
It does, however, allow you to store an unlimited number of full-quality photos, as long as they are for non-commercial purposes.
Key Features
Unlimited cloud storage space allows you to free up space on your devices.
You can access your photos from any device, including your desktop.
You can automatically sync photos.
Pros
This an excellent option for backing up your photos if you're already an Amazon Prime member.
Unlimited cloud storage space for your photos if you're an Amazon Prime member.
The software automatically syncs photos.
An app is available for Android and iOS devices.
Cons
It's designed for personal use only.
Not worth joining Amazon Prime to benefit from this feature or using the software without becoming a Prime member first.
Pricing
If you're already an Amazon Prime member, the cost of Amazon Photos is part of the package.
Amazon Photos costs $1.99/month or $19.99/year for 100GB of storage for those of you who are members.
If you pay $6.99/month or $59.99/year, you'll get an even better 1TB of storage.
If you're interested in signing up for Amazon Prime, the cost is $12.99.
Whether you choose this option depends on your needs.
Amazon Prime, however, does include several other benefits, such as access to Amazon Prime video and free two-day shipping.
Compatibility
Not all photo and video types are supported by Amazon Photos, but the list does include JPEG, BMP, PNG, GIF, most TIFF, and several others.
A range of RAW files is also supported, such as Nikon NEF files and Canon CR2 files.
MAGIX Photo Manager – Best Photo Management Tool for Making Slideshows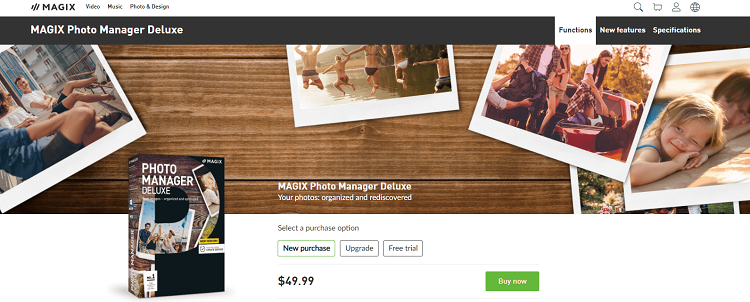 You can use the MAGIX Photo Manager software for editing, sorting, and organizing your photos and videos.
The best news of all is that you can try it free for 30 days.
Thanks to the optimized user interface, editing is quick.
You can easily develop shareable slideshows and import pictures directly from your camera.
When you're looking for videos and photos in your library, the task is made easier thanks to the custom albums and adjustable view modes.
In addition, to improve the management of your library, it's possible to categorize and rate your images.
A dark-colored background is available, which helps to highlight your photos correctly.
In addition, via the MAGIX dashboard, you can share your photos directly to various media channels such as YouTube.
Key Features
The facial recognition feature means the software can detect faces, making finding photos of a particular person much easier. If you use the free version, you can save a maximum of 10 faces.
You can use WiFi when you want to upload photos and videos directly from your smartphone.
Import your images directly from various cloud storage services, and you can effortlessly merge your photo libraries.
Pros
With just a few clicks, you can optimize sharpness, color, contrast, and image brightness.
Back up all your media to your hard drive, CD, or DVD and burn your slideshows straight onto a CD or DVD as well.
There's the option to include commentary, sound, and music in your slideshows.
For the program installation, MAGIX provides 600 MB of free disk space.
Cons
Some users might find the user interface frustrating to start with.
Pricing
MAGIX Photo Manager Deluxe is available free for 30 days, after which you'll have to pay a one-time purchase price of $49.99.
Compatibility
MAGIX Photo Manager Deluxe is compatible with Windows Vista, Windows 7, Windows 8, and Windows 10.
It accepts a wide range of image, video, and audio formats including BMP, JPG, MPEG, MXW, and MP3.
Movavi Photo Manager – Best for Organizations That Need to Sort Images with Various Formats
If you're looking for photo management software that supports all major image formats, Movavi Photo Manager could be the one for you.
The software also includes a facial recognition feature that can compile similar faces into an album or delete them, depending on your needs.
To further help the organization, you can add tags to your photos, making it easier to find specific images and find your way around your gallery.
A backup is made of your photos, tags, places, and albums, so you don't have to stress about losing any of your data.
This program has plenty of the usual editing functions such as cropping, sharpening, flipping, rotating, straightening horizons, and much more.
Plus, you can edit one or more images simultaneously.
Key Features
All your images are sorted, and albums are automatically created based on date and GPS coordinates.
After a scan of your PC's hard drive, the software will remove any duplicate photos.
Photo albums can be automatically sorted based on where the photo was taken. Another filter you can use is city locations.
Pros
You can easily organize images with the help of facial recognition.
Duplicate files are automatically detected and then deleted.
Your images are safe, thanks to the backup feature.
You can edit multiple images at the same time, add text, tags, and graphics.
Cons
The free trial offer is only for three days.
Pricing
Movavi Photo Manager is available for personal and business use.
The prices vary accordingly.
Here are your options:
Personal Photo Manager: $39.95
Personal Photo Manager + Photo Editor: $59.95
Personal Manager + Photo Editor + Slideshow Maker: $79.95
Business Photo Manager: $99.95
Business Photo Manager + Photo Editor: $149.95
Business Photo Manager + Photo Editor + Slideshow Maker: $199.95
Personal and business versions of the program usually have the same functionality.
The difference is that the personal one is for non-commercial purposes at home, whereas the business license is designed for commercial use in a business environment.
Compatibility
Movavi is compatible with Windows XP, Vista, Windows 7, 8, and 10.
Corel Aftershot 3 – The Most Budget-Friendly Photo Management Software Program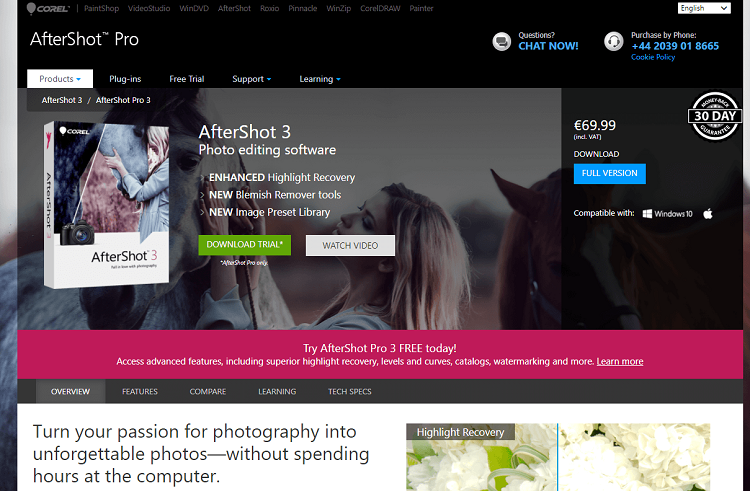 You can purchase Corel Aftershot 3 for a very low one-time price.
But if you want to try before you buy, there's a 30-day free trial to take advantage of.
For the price, you get some solid, albeit basic, photo organization capabilities.
Images you've taken can be automatically sorted in various ways, such as name, tags, or date.
If you prefer, you also have the option of organizing them manually according to different camera data, such as shutter speed or ISO.
When you're visually grouping your images, there is a similar range of options.
For example, you might group them according to your favorites, colors, flags, or ratings.
If you find yourself tagging large numbers of images or bunches of images, some excellent sets of prepared keywords make the job quicker and easier.
For such a low price, you're going to expect some limitations.
For example, there is no face recognition or geotagging.
Key Features
Automatically sorts by date, name, tags, and other visual features such as themes or favorites.
Very easy to use for the beginner.
Includes several standard editing tools.
Pros
Supports Mac and Windows.
Very low price.
Includes basic photo organization capabilities.
Cons
No facial recognition.
No geotagging.
Pricing
The pricing is very simple for this product.
You simply pay $79.99 for the license that allows you to use the software.
Compatibility
Corel Aftershot 3 is compatible with Windows 10, Windows 8.1, Windows 8, and Windows 7.
It also works with Mac OS, and Linux and supports JPG, TIFF, and RAW images.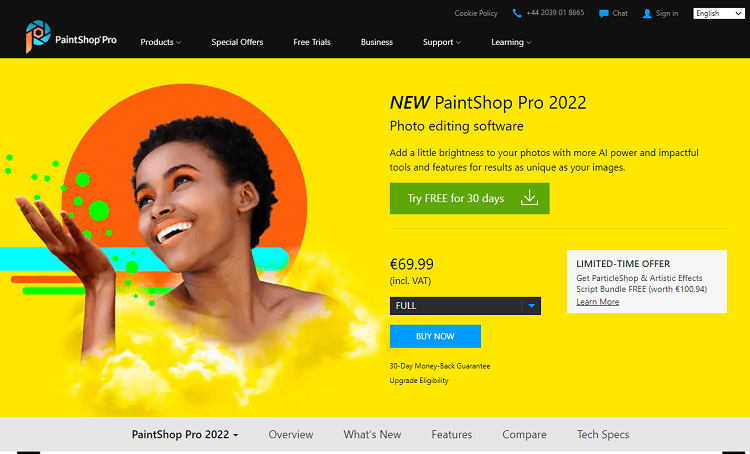 Corel PaintShop Pro is a powerful editing program that includes a wide selection of integrated tutorials and guides if you want to become more creative and skillful with your photography.
However, it's not just for novices as it also offers a good depth of quality tools and features that a more experienced user will find helpful.
A few updates have happened since its release, and now it's touch-screen friendly and has a new streamlined workspace option.
The tools include a one-click photo fix, basic exposure and color correction, a crop tool, and a small collection of attractive filters.
PaintShop Pro has a content-aware cloning tool called SmartClone.
It expands on the program's content-aware Magic Fill.
It looks very similar to other cloning tools, but this one is very different.
It can automatically pick up textures, shadows, and highlights to create a flawless edit.
It's also possible to save the source material for future SmartCloning in other photos.
Key Features
You can organize pictures using keywords, categories, ratings, and calendar dates.
The program is easy to understand for beginners but includes advanced features for professionals.
Editing features include blemish remover, content-aware fill, paintbrushes, pencils, and much more.
You can also remove unwanted objects from images and fill the space flawlessly.
Pros
Includes a great help system with integrated learning tools.
For advanced users, there are some creative tools and powerful features.
Touch-screen compatible.
Cons
Only compatible with Windows.
Pricing
After the trial period, there are three packages to choose from.
PaintShop Pro 2022 for $69.99.
PaintShop Pro 2022 Ultimate for $89.99.
Photo Video Bundle Ultimate for $159.99.
From time to time, there are also additional bundles that come free with your program.
Currently, you can get ParticleShop & Artistic Effect Script Bundle free.
Compatibility
PaintShop Pro 2022 works only on Windows 10.
Mac users will have to look for an alternative.
Zoner Photo Studio X – Best Complete Photo-Editing Toolkit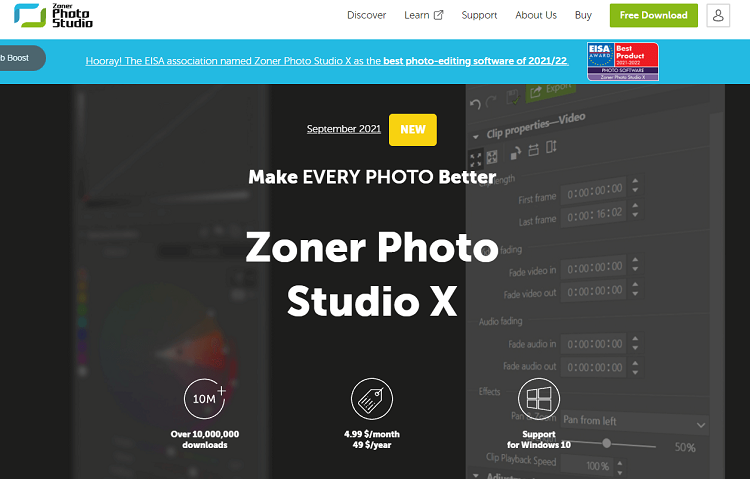 Zoner is a photo management software program that you'll find help with from the very beginning.
For example, you can copy images instantly from your camera to your computer, and the software will help sort them into different folders.
Your complete package comes with four sections: Manager, Develop, Editor, and Create, with standard features that include layer support, RAW processing, cataloging and presets.
Once the software has categorized your images, you can then organize them even further using tags, rename the photos, add keywords and descriptions, and take quick backups, all at once.
The photo-editor part of the software allows you to enhance your photos with additional color, radial filters, magical atmospheres, and much more.
In addition, your edited images can be shared directly on social channels such as Twitter, Facebook, and Messenger.
Key Features
You can access photos from corrupted and disconnected hard disks.
All your photos are kept safe in cloud storage.
Your photo management products are delivered to you for a very reasonable price.
Pros
Use the photo editor to edit photos with layers and mask support.
You can add colored labels and star ratings.
Presets for all moods are available.
The basic plan includes 20 GB of storage space.
Cons
It's a subscription service, rather than a one-time payment that covers the cost of a license.
Pricing
You can explore the many features of Zoner for free for 30 days.
Then, if you like what you find, you can buy a new Zoner Photo Studio X license for $49/year or $4.99/month.
Compatibility
Zoner Photo Studio runs on 64-bit Windows 8.1 and Windows 10.
Skylum Luminar 4 – Best for AI Enhancements and Creativity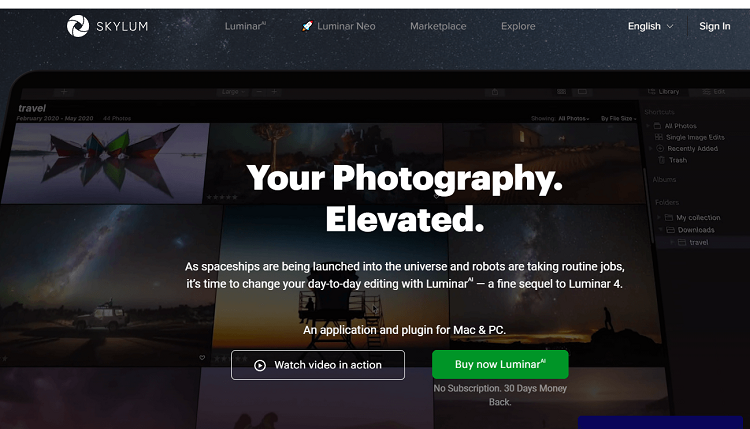 Luminar 4 from Skylum is a photo editing program that uses AI to streamline image editing adjustments and make complicated techniques achievable.
You have the option to use it as a stand-alone image library or as a plugin alongside Photoshop and Adobe Lightroom.
If you don't want to sit back and let AI do the work, you can make any adjustments manually with the help of a dedicated slider.
The tools included in this editing software include everything you might need, such as exposure and color adjustments.
However, Skylum Luminar 4 takes editing one step further with additional adjustments such as AI sky replacements, glow effects, matte looks, film grain, sunrays, and fog.
Key Features
All adjustments can be found between 6 individual tabs, including layers, canvas, essentials, creative, portrait, and professional.
AI sky replacement.
AI skin enhancer and portrait enhancer.
Smart contrast is more selective with its adjustments.
Pros
A wide array of looks come with the software for all genres of photography.
Seamless editing between Luminar and Lightroom.
New search options have been added to speed up the navigation process.
Compatible with Windows and Mac.
Cons
Virtual copies are not yet available.
Pricing
There are different prices for the Luminar software, depending on how many computers you want to use.
For one computer, the price is $47 for a lifetime license.
There is a 30-day money-back guarantee and 24/7 technical support.
If you want to use the software on more than one computer, the price is $59.
Compatibility
Skylum Luminar 4 is compatible with MacOS and Windows applications.
Plus, there are plugins for Adobe Photoshop, Adobe Lightroom, and Apple Photos.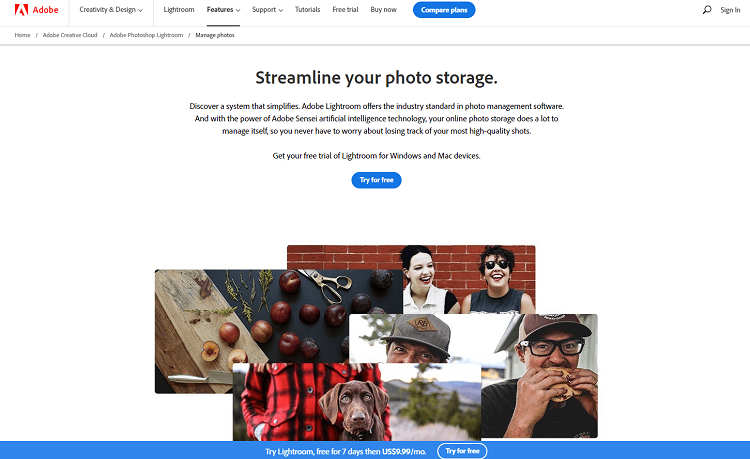 Adobe Lightroom allows you to edit, organize, store, and share your photos across all devices with its cloud-based storage.
In addition, the software includes AI technology that automatically manages numerous pictures and saves them on your smartphone.
The machine learning feature means it can recognize people and themes and create albums without any interaction from you.
You get one terabyte of cloud storage for free, but if you need more, you can purchase it whenever you need it.
Non-destructive edits are leveraged, so there's no need to keep multiple copies of a photo.
Ultimately, this means you can save editing adjustments, but at the same time, original images and changes can be preserved.
Key Features
You can label your images to make navigation easier, using flags, ratings, or picture marks.
Create your albums effortlessly with one click.
Adobe Sensei is the software's machine learning feature that automatically recognizes not only faces but themes, colors, locations, and objects.
iPad integration means you can send your images directly from your Lightroom library to Adobe Photoshop on your iPad.
Pros
Step-by-step how-to guides and tutorials will help you get started.
You can access all your picture files and manage your image library from any device.
Still the industry standard for photo organization.
1TB of storage space free
Cons
You have to import your images.
The free trial is only for seven days.
Pricing
Adobe Lightroom is available with 1TB of storage space for the price of $12.39 per month.
You're also given the option to add Adobe Stock on a 30-day free trial basis.
If you want to pay annually, the prepaid price is $147.91/year.
As well as the 1TB of storage space, you also get Adobe Portfolio, Adobe Fonts, Adobe Spark, and access to the latest features and updates as soon as they're released.
If you want to purchase Adobe Lightroom for your business, the price is $29.99/month for a single app or $69.99/month for all 20+ creative desktop and mobile Adobe apps.
Compatibility
Adobe Lightroom is compatible with Windows, Mac, Android, iOS, and tvOS.
GIMP – Best Free Open Source Software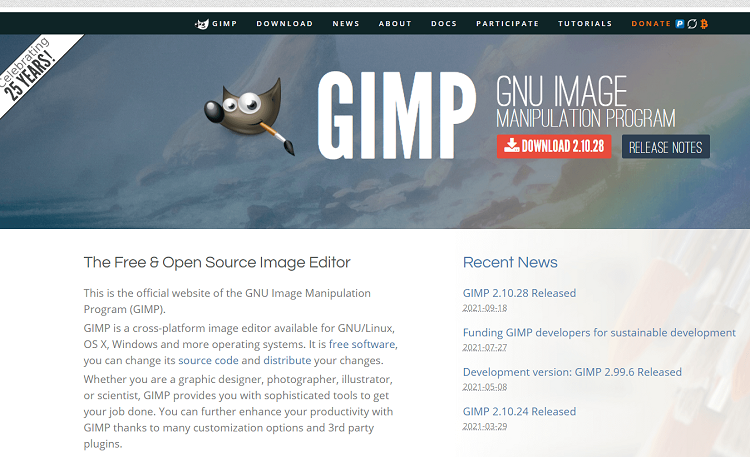 GIMP stands for GNU Image Manipulation Program.
It is a free, open-source image editing platform.
The program includes an impressive array of professional-quality features that make it a genuine rival for Adobe's Photoshop.
Using the array of features, you can easily fine-tune your photos and create artwork from scratch.
The features include cropping, noise reduction, color adjustment tools, automatic image enhancement tools, customizable brushes, gradients, and much more.
The more advanced user won't feel left out either.
GIMP's more advanced features include layer masks, Bezier curves, filters, and even an animation package.
Key Features
Support for a huge number of plugins, some pre-installed and others available to download separately.
The active community of contributors means the software is in constant development.
Includes an impressive selection and montage of features for novice and more advanced users.
Pros
Easily expandable.
Packed with features and tools.
Opens almost any image file.
The software is free.
Cons
The interface is a little cluttered.
Pricing
GIMP is completely free, but you get the opportunity to make a donation to the GIMP project to help the project's sustainability.
Compatibility
GIMP is compatible with Microsoft Windows, GNU/Linux, and MacOS.
Adobe Bridge – Best Free Photo Organizer Software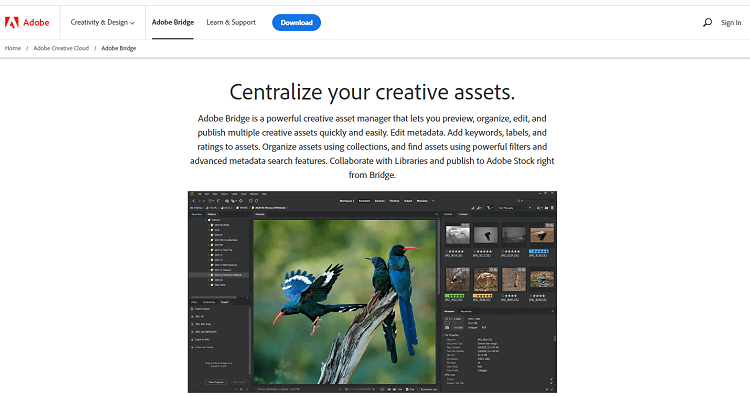 Adobe Bridge is a free tool you can use for managing all your digital files, including photos.
Using the software, you can preview, edit, organize, and publish multiple photographs quickly.
You can also edit metadata, and add labels, ratings, or keywords to help you keep your images organized.
However, when it comes to finding and managing your images in order, the filter options and metadata search make the process much easier.
To help you publish your photos directly to Adobe Stock, the app also collaborates with multiple libraries.
Bold thumbnails and rich previews mean you can visualize your images, and when you want to make edits, you can open them directly inside Adobe Creative Cloud apps.
Recent upgrades to the software include the option to export your images in bulk formats, resize them based on the short edge, and toggle thumbnail transparency on and off.
Key Features
Import your digital images through Photo Downloader and convert them into DNG files.
Adobe Camera Raw allows you to open images directly from the Bridge for editing.
You can build a professional portfolio of your images, illustrations, or InDesign through PDF contact sheets.
Pros
Not a standalone tool as it comes with the complete Creative Cloud Package.
Batch processing, exporting, and renaming images with size and multiple scale options.
Works across multiple apps.
Powerful metadata search features and advanced filters.
Cons
There is no mobile support.
Pricing
Adobe Bridge is a free Adobe photo management software program, so there is nothing to pay.
Compatibility
Adobe Bridge is compatible with all other Adobe apps.
The recommended operating system is Microsoft Windows 10 (64-bit) version 1903 or later.
Google Photos – Best for Small Businesses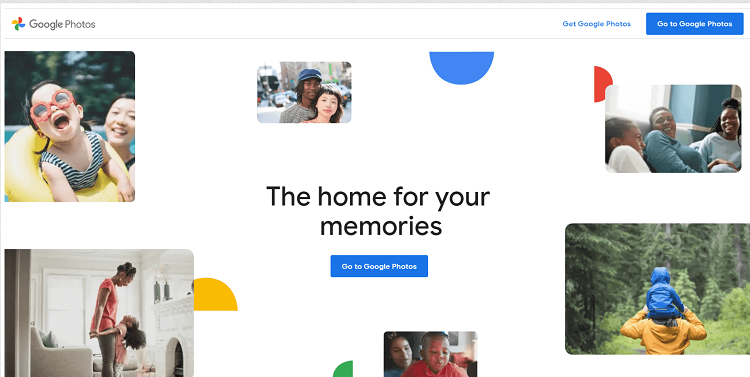 Google Photos is another free app, but this time, it's aimed at people with Google accounts.
If you're already an avid user of Google, using Google Photos for sorting images makes a lot of sense.
Minimal setup is required, especially if you've already got a Google account.
The photo organizer software lets you back up and accesses your videos and photos from any device.
You can click the "upload" button or simply drag and drop.
As soon as you've uploaded your images into Google's cloud storage, they will be automatically organized and made searchable.
To find the image you want, you must enter relevant keywords in the search bar.
Then, search for your images based on different factors such as people, locations, and events.
Sharing your photos with family and friends is also very easy.
Just select the media files you want to share or let the software create a link you can post.
Various editing tools and filters are available to edit and save your images and then sync your files to any device.
Key Features
Select individual photos or libraries and get them printed in an album, canvas prints, or photo books.
The AI engine automatically shows pages with the photo together with the albums you create.
It's easy and quick to share your entire photo collection.
Pros
Free photo organizer software with affordable cloud storage options.
Includes a wide range of editing tools and filters for enhancing your images.
Cross-platform availability.
Cons
You need to have a Google account.
Pricing
You get up to 15GB of storage with the free Google Photos program.
If you need more, the prices are as follows:
Basic: 100GB of storage for $1.59/month or prepay $15.99/year and save 16%.
Standard: 200 GB of storage for $2.49/month or prepay $24.99/year and save 16%.
Premium: 2TB of storage for $7.99/month or prepay $79.99/year and save 16%.
Compatibility
Google Photos is compatible with Android accessibility features, including the TalkBack screen reader, screen magnification, and other accessibility services.
You can use it on Android, Mac, and iOS devices.
digiKam Photo Manager – Best Free Tool for Large Image Libraries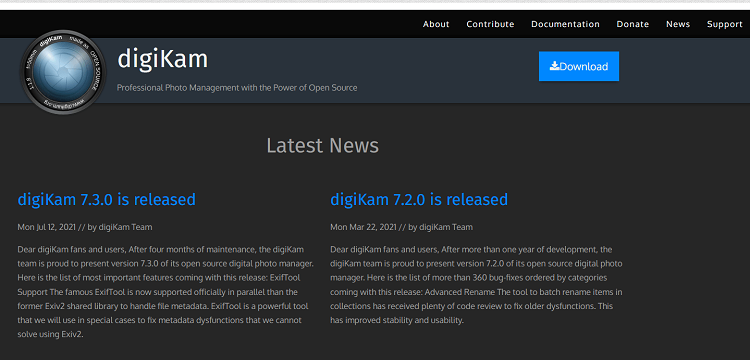 With the digiKam open-source photo management system, you'll be able to organize more than 100,000 images.
You can use it to import, manage, edit, and share photos or RAW files.
You can also directly import videos, RAW files, and pictures from digital cameras or external storage devices.
Your uploaded photos will be organized into albums you can sort by custom collections, folder layout, or chronologically.
To help you sort and find images, you can add comments, metadata, and tags.
Photos can also be grouped by date, time-lapse, and file name.
Basic editing functions are included along with more advanced options such as noise reduction, color management, and adding special effects.
The platform behind this photo organizer software has a highly active community that consistently comes up with new suggestions, features, and bug fixes.
Key Features
Built for extensive collections and handles them very well.
Powerful filter and search options make navigating massive image files extremely easy.
The Light Table feature allows you to edit particular parts of an image separately.
Pros
You can write plugins to export and import images to third-party web services, add new editing features, and batch-process photos.
Store your data on a local or remote server.
The similarity feature lets you find duplicate images.
This open-source tool is completely free to use.
Cons
When you delete a file from the app, it is deleted from the drive.
Pricing
You can download and use digiKam Photo Manager for free.
Compatibility
digiKam is compatible with macOS, Linus, and Windows.
Phototheca X – Best Picture Organizing Software for PC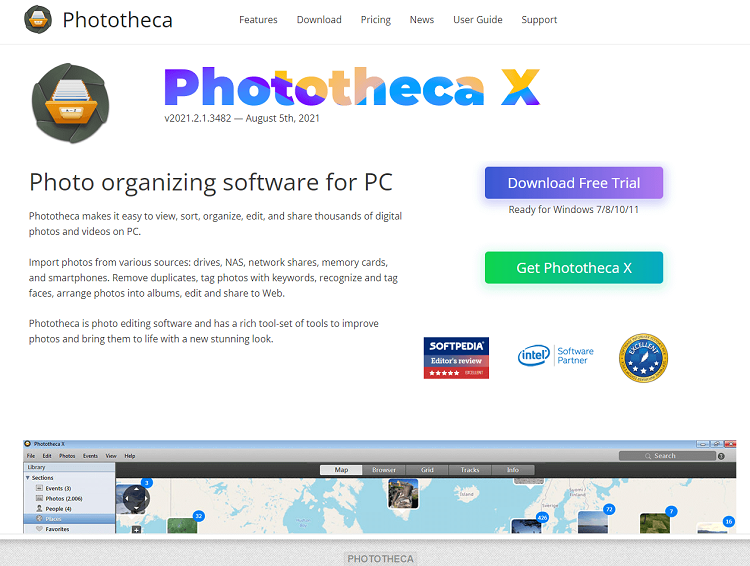 Phototheca X makes it easy for you to sort, view, edit, organize, and share thousands of digital photos and videos on your PC.
A trial version is available that lets you evaluate whether Phototheca X is right for you for up to 15 days.
You can import photos from various sources, including drives, network shares, smartphones, memory cards, and NAS.
The software also removes duplicates, allows you to tag photos with keywords, recognize and tag faces, edit, arrange photos into albums, and share directly to Google Photos, Flickr, and Twitter.
The software program includes a rich set of tools you can use to improve your photos and bring them to life with a new stunning look.
Editing features include dehazing, sharpening, noise reduction, lighting, white balancing, and much more.
Key Features
Smart Albums mean you can gather all the photos that meet specific criteria.
Viewing capabilities include zoom-in and zoom-out, plus you can switch to a full-screen mode or run a slideshow.
Tag your photos, and the AI technology recognizes the same person in your collection and then groups them.
Pros
Supports multiple RAW camera formats.
The Premium plan works with up to 5 PCs and can manage unlimited photos.
Selected photos can be hidden in password-protected albums.
Duplicate photos are detected and removed.
Cons
Not available for Mac OS or Linux devices.
Pricing
Phototheca X costs $64.95/year and includes free updates, unlimited photos, work on five devices, all editing features, and imports from iOS devices.
Compatibility
Phototheca X is only available for Windows 7/8/10/11.
PicaJet FX – Best for Multi-User Access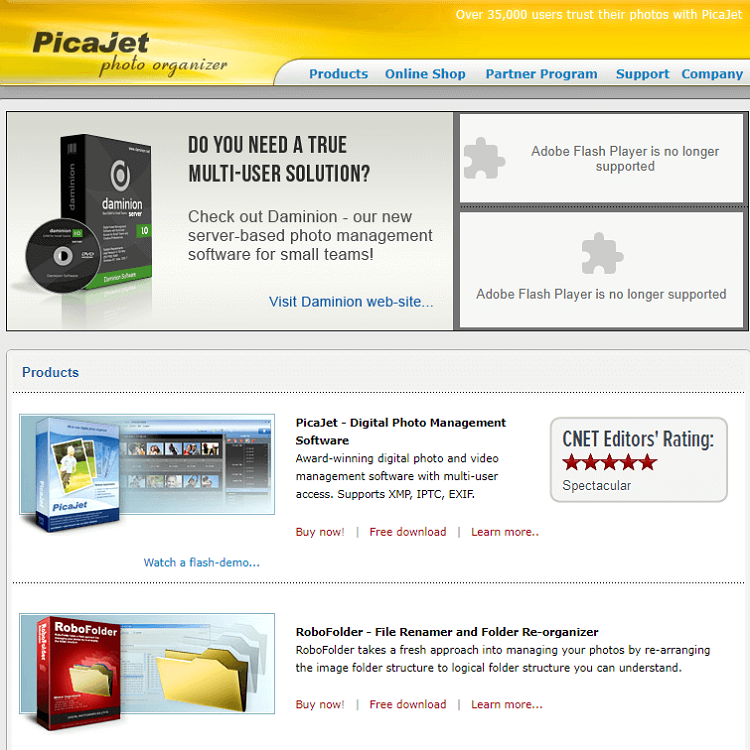 With PicaJet FX photo management and image database software, multiple users can access photos simultaneously using their servers.
However, only one user can modify the content at a time.
Using the software, you can edit, organize, and sort your digital collection.
Photos can be classified into unlimited category nesting levels, and it's down to you to decide whether to use simple category structures or more complex ones.
To help save your PC's storage, you can store pictures in your local storage while retaining smaller thumbnails on your PC's hard disk.
In addition, to help you find specific photos in your collection, you can use different icons to categorize your images.
More than 60 image files and image formats are supported, including BMP, JPEG, GIF, PNG, and TIFF.
All camera RAW file formats are also supported.
In addition, you can play, manage, and import videos of all major formats such as MPEG2, MPEG4, AVI, and more.
Using the in-built photo editor, you can enjoy features such as cropping, sharpening, transformation, sepia, and red-eye removal.
Key Features
Use the in-built slideshow software to create slideshows with a variety of transition effects.
The software automatically backs up your photos and videos, and these can be restored with just a click should your hard disk get corrupted or fail.
OpenGL provides fast photo mechanic indexing by importing metadata information. You can also use it to zoom images in and out with one click.
Pros
You can export data in XML format.
The PicaJet's interface can be customized.
More than 20 languages are supported.
Upload your images to Flickr and Fotki for free.
Cons
It is a little old-fashioned in the way it looks, compared to other modern photo-organizing software.
Pricing
PicaJet FX comes with a 30-day money-back guarantee.
There is a free version of the software, but you'll find several features missing.
If you want the complete package, the cost is $59.95 for a single license.
For a family license, the price is $99.95. However, it is for home usage only and can be installed on up to five computers owned by the user and/or his family members.
Volume licenses are also available, which are priced on a per-computer basis.
Prices start from $49.95.
Compatibility
PicaJet FX is compatible with Windows 7 and upwards as well as XP and Vista.
FAQ
A number of common questions are asked by people looking for the best photo management software programs.
So let's see if we can answer them here.
What photo management software can handle the biggest database?
Many of the photo management software programs in the list can handle large volumes of digital images. digiKAM, however, is capable of handling a library that contains more than 100,000 images.
Can you back up your photos with photo management software?
There are many ways you can back up your photos, such as using recordable material, an external drive, multiple software libraries, or saving your photos to a cloud.
And yes, it is also possible to back up your photos using many of the photo management software options in the list above.
Is Microsoft Photos free?
Microsoft Photos is a free photo viewer and editor that's included with Windows 10.
It offers competent image editing and photo enhancements along with tools for editing and organizing videos.
Where are Microsoft photos stored?
Microsoft photos are stored in your "Pictures" folder.
You also get the option to save your photos somewhere else if you want to, for example, by synchronizing them with your OneDrive.
Is Microsoft Photos safe?
Yes, Microsoft Photo is a safe place for storing your photos.
In addition, it's regularly backed up by Microsoft itself.
Suggested Photo Management Software according to Reddit:
Photos, Images: Sketch Podcasts & Audiobooks: Typestudio Comic Books: Adobe Illustrator
You might be interested to check those related posts as well:
Conclusion
The management of digital images is an area that's constantly evolving.
As a result, digital photo management software is available in many different formats, from minimalist and free to premium tools.
All you have to do is find one that meets your needs, and it will help you manage your digital photos and a lot more.
You can use it to streamline the process of importing, presenting, and sharing images, sharing, backup, and editing photographs through mobile apps.
Thanks to the AI technology that many have built in, the software will also help you sort and manage your many images more efficiently.