If you're looking for the best auto-editing software for your music projects, you will find an enormous choice. But the challenge is finding an app with the tools you need for the music you compose, record, or edit. Your required features and your available budget are also essential, so let's see what's available to suit your needs.
Best Audio Editing Software Tools 2023
We've chosen the 23 best audio editing software tools, including Acoustica 6, Audacity, FL Studio, Logic Pro, and Magix Sound Forge. To help simplify your choice, we've listed some of their key features, the most significant pros and cons, and pricing information.
Cubase – Best Audio Mixing and Mastering Software
Cubase is one of the best digital audio workstation (DAW) apps in the industry. Originally released in 1989 for the Atari ST platform, the audio software has been updated and improved many times since then. It is used by composers, musicians, and professional audio editing producers and offers tools suitable for all music genres. Film and TV music composers love it because it works across the board for writing, recording, and mixing sound.
Key Features:
Musical Instrument Digital Interface (MIDI) Polyphonic Expression (MPE) support for controllers and MPE-enabled presets
Virtual Reality production suite with professional tools to produce content for video and VR games
Audio manipulation, mixing, recording, and collaboration tools
Virtual instruments that offer more than 6,800 presets and more than 100GB of top-quality sound
Video editing software and a score editor
VST plugins can be sorted by vendors and categories (e.g., EQs or delays)
Pros:
Works equally well for Apple and Windows platforms
A powerful and versatile DAW for all music genres
Studio-grade audio quality sound and effective sound editor
Basic controls are easy to use
Working and editing MIDI is a streamlined process
Great for mixing music
Flexible and stable
Suitable for live performances
The full versions of Cubase all come with the USB-eLicenser, which is a copy protection device
Cons:
Workflow can be challenging to navigate
Shortcuts are tricky to learn

Prices & Packages:
30-day free trial – You need a USB-eLicenser for the trial version of Pro 11 (about $27)
Elements 11 $121.38
Artist 11 $403.30
Pro 11 $706.52
Hindenburg Journalist Pro – Best Audio Editing Software for Podcasts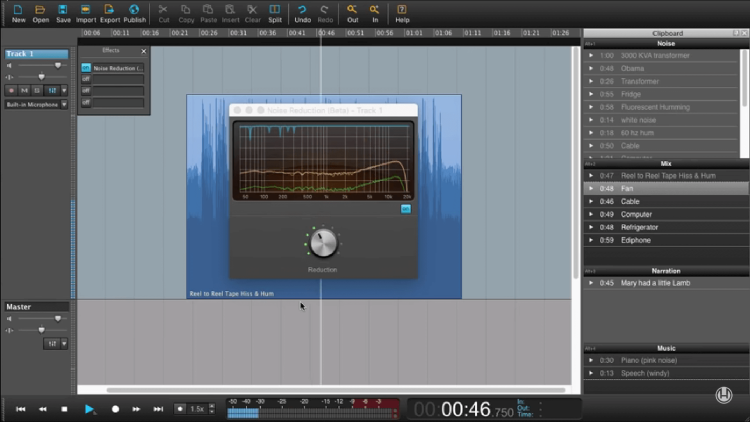 Hindenburg Journalist Pro is a versatile multitrack audio editing tool that is ideal for audio producers on the move. It's perfect for podcast editing and audio effects, though not great for music. Intended for professional independent radio and podcast producers, it incorporates a wide range of excellent tools that will suit audio journalists and podcasters.
Key Features:
Magic Levels balance audio recordings and fix mixing problems automatically and enable elaborate mixing
Noise Reduction automatically identifies unwanted hums and hissing and works out how to reduce the unwanted sounds
Automatic leveling tools use advanced, up-to-date loudness standards to set levels
Unique clipboard that provides a bird's eye view of all your audio material and makes organizing the audio files a breeze
The Voice Profiler enables you to set the EQ with one click
Pros:
The license may be installed on Mac and Windows operating systems
It works equally well for both the above platforms
Incorporates custom-built tools that are tops for vocal audio editing
Record or edit multiple tracks at the same time
Easy to import and merge files for editing
All your audio editing tools in one place
Live online training and webinars
Cons:
One of the more expensive audio editing software packages
Not great for music production
Registered for use by a single user only
Prices & Packages:
30-day free trial
$375 one-time payment
Hindenburg Journalist (with fewer features) costs $95
MAGIX Music Maker – Best Free Audio Editing Software to Make Beats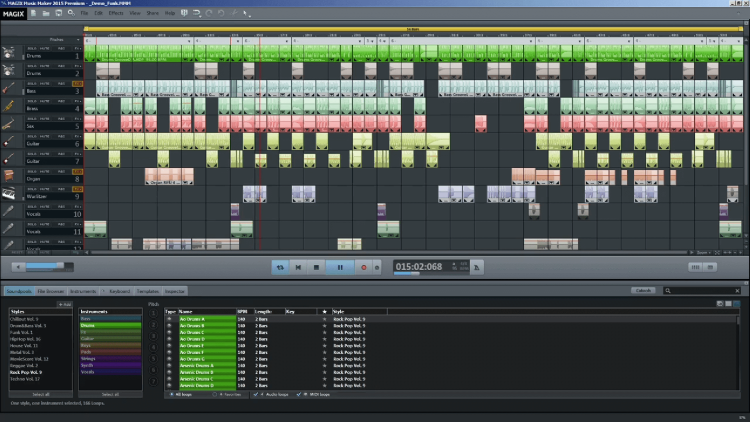 Developed for beginners, MAGIX Music Maker for Windows is one of the most widely used software tools for making music. It has many customization options and is brilliant for music production. Even though it is ideal for beginners, it isn't oversimplified. But if you think you might be overwhelmed, relax. This is the music of the future with artificial intelligence (AI) to help you.
Key Features:
Beatbox Pro (Plus and Premium editions) offers a built-in drum machine that produces fresh, authentic drum-beat sound
Mix and match loops by dragging and dropping sounds into your music mix
Song Maker AI (Premium edition only) uses 49 song templates and up to 8 Soundpools to enable you to create unique music
Virtual instruments include acoustic concert guitars, drums, and orchestral music
Voice tracks are easy to add from vocal samples or your voice
Pros:
The clear, easy-to-use interface comes with all editions
Even the free edition includes all basic functions and bug fixes
Special editions, including the 80s and Hip Hop, enable users to create music in their favorite genre
More than 400 loops and sounds are available
Works with MIDI
Powerful DAW for quality electronic music
Automatic pitch and tempo matching
Cons:
Only available for Windows
Not suitable for truly professional music producers
Prices & Packages:
Free edition $0.00
Plus edition $59.99
Premium edition $99.99
Special editions $19.99-$29.99
MAGIX SOUND FORGE – Best Simple Audio Editing & Mastering Software Tool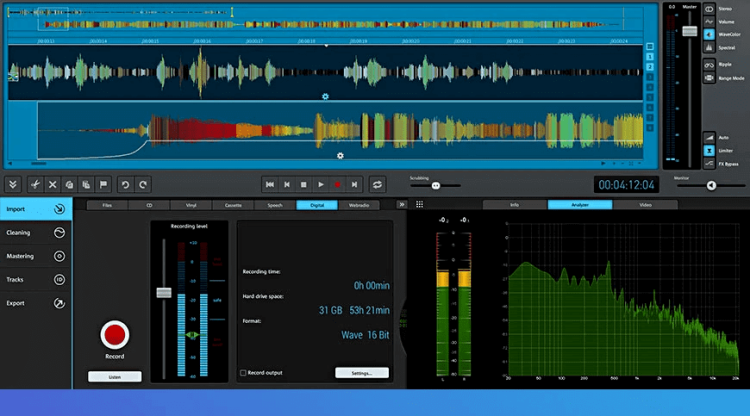 A pioneer in audio editing and mastering software, SOUND FORGE has been around for more than three decades. It's been part of the MAGIX stable since 2016. Whether you are working with vocals and/or instruments or podcasts, it is ideal for multichannel sound recording, precise audio editing, and advanced mastering. Lots of tools are available for mastering and cleaning effects.
Key Features:
The Remote Recording window has all the essential options for recording in one place with just one touch
ACX Export WIzard automatically makes it music industry compatible for use in streaming services like iTunes and Audible
Steinberg SpectralLayers (Pro Suite) shows sounds as visual objects, empowering and simplifying the audio editing process
VST2/3 engine that improves communication between the host and plugins used
Pros:
Available for Windows and Mac
Reliable tool for easy recording, cleaning up audio, and handling and converting files automatically and manually
Great looping and audio processing capabilities
Graphic user interface with clearly identifiable icons
Wide choice of effects and plugins for cleaning audio files
Professional recording workflow lets you capture as many as 32 audio channels and monitor them in a customizable working environment
Export to digital stream digital and master top-quality audio CDs
Cons:
Relatively expensive, and the Pro 365 editions are only available on subscription
The SOUND FORGE Mac version is very expensive
Prices & Packages:
10 to a 30-day free trial of Pro 15
Pro 15 $279.00
Pro 15 Suite $399.00
Pro 365 is $21.99 for one month, $14.99 per month for a year
Pro Suite 365 is $32.99 for one month, $26.99 per month for a year
Pro Mac 3 $3,999-$7,767 (new users)
Audio Studio 15 $49.99-$59.99 (new users)
Audacity – Best Free Audio Editing Software That is Easy-to-Use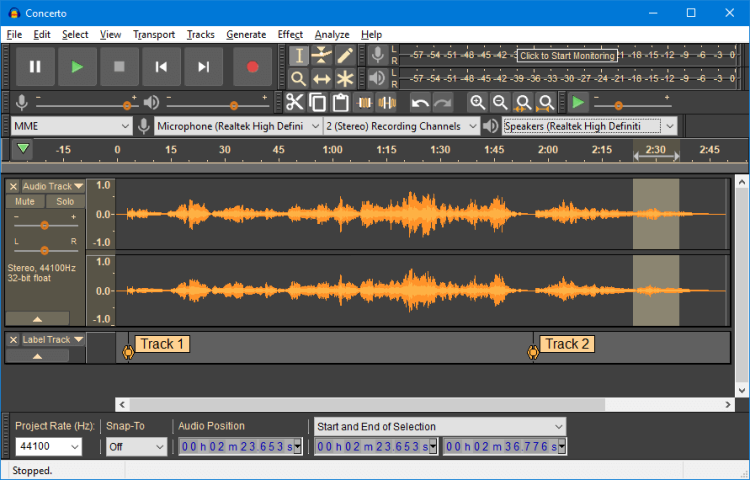 A free, open-source digital audio editor, Audacity is available for Mac, Windows, Linux, and other Unix-like operating systems. It is a full-featured software with professional audio editing options and multi-track editing features. Best of all, Audacity is 100% free and will fit the needs of any audio editor, whether professional or beginner. We rank it the best free audio editing software and add that it is also easy to use.
Key Features:
Audacity features the main window with major controls
Separate suite for advanced editing
Works with an audio interface or USB microphone
Pros:
Audacity works with all the main computer operating systems
Ideal for audio recording and editing beginners
Great for podcast editing
Easy audio editing using simple cut, copy, paste, and delete options
Supports a wide range of plugins, so you customize projects
Easy-to-manipulate selections and tracks using your computer keyboard
Allows destructive editing for noise reduction
Cons:
Doesn't support instrument plugins
Doesn't support MIDI
Not as polished as most paid audio editing software
Prices & Packages:
Podcastle – AI-Powered Collaborative Audio Creation Platform
Podcastle is an AI-powered collaborative audio creation platform that democratizes access to broadcast storytelling through easy-to-use yet professional tools. It is used by podcasters, audio creators, and educators and is the perfect tool for anyone who enjoys trouble-free audio creation. The Podcastle experience was initially available on the web platform only. Now, it has expanded, offering users the ultimate audio studio regardless of time, place, and device.
Key Features:
Extremely intuitive and simple UI enabling effortless recording and editing
The multitrack interview recording feature
AI-powered tools, including background noise and silence removal
Allows you to easily translate any text into audio and vice versa
You can convert web pages into podcasts via the Podcastle extension
Pros:
Available both on the web and on iOS devices
Allows to conduct group interviews with up to 10 participants, recording separate, high-quality audio tracks for each
19 human-like voice skins for converting text to speech
All features are available online and for free
MP3 audio cutter that makes it easy to cut, trim and split audio tracks
Royalty-free music and sound effects library
Mp3 to Wav converter that works both ways
Podcastle constantly updates their toolset
Cons:
Not suitable for music production
Track automation isn't available
Not available for Android devices yet
Prices & Packages:
Free
Storyteller plan for $14.99 per month
Podcastle Pro for $29.99 per month
Enterprise Custom plans are also available
Ocenaudio – Best Free Cross-Platform Audio Editing Software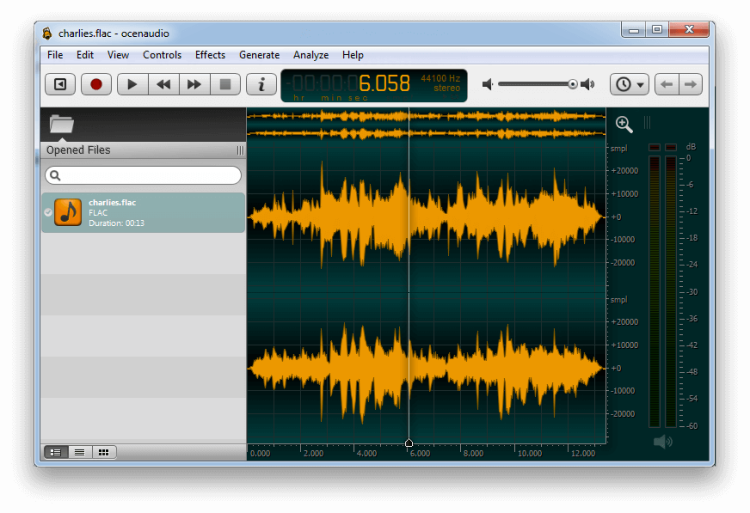 Ocenaudio is a cross-platform audio editor that works with Windows, Mac, and Linux. Even though it doesn't have as many features as Audacity (above), Ocenaudio is also an excellent free audio editor. It's uncomplicated software, but it does have some powerful features to suit more advanced users.
Key Features:
Cross-platform support is a winner that makes Ocenaudio suitable for everyone
Real-time effects preview is much simpler than EQ, gain, and filtering, but it's quick and effective
VST plugins support gives users immediate access to many different effects
Multi-selection tool for editing complex audio files
Pros:
It incorporates a powerful set of audio editing, analysis, and manipulation tools
The multi-selection tool lets you select different parts of audio files simultaneously so you can list, edit, and apply effects to them
Enables efficient editing of large files without wasting computer memory
The spectrogram tool is awesome, allowing analysis of the spectral content of your audio signal with maximum clarity
Cons:
Doesn't enable multi-track editing
No MIDI support
Not suitable for serious music producers
Prices & Packages:
Adobe Audition – Best Live Music Mixing Software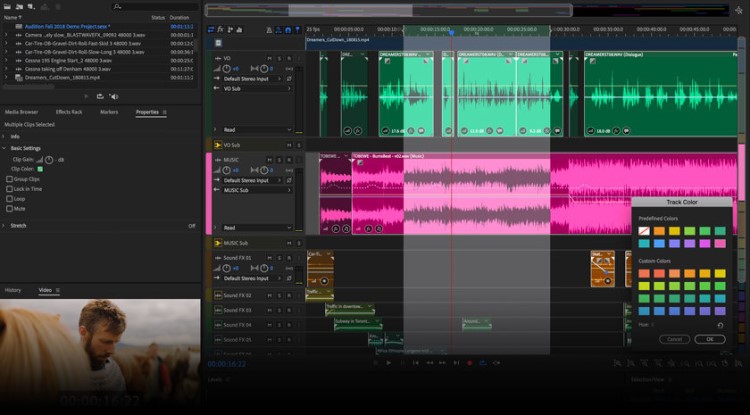 Top-quality, professional-grade audio editing software from the leading media production company, Adobe, Adobe Audition is widely used throughout the radio, television, and movie industries. It's also great for adding audio effects to podcasts. It offers a professional solution for multi-track editing including recording an audio track and adding music elements, as well as customization.
Key Features:
A comprehensive toolset that includes everything you need to create, restore, mix, and edit audio content
Integrate music clips and record and adjust multitrack sessions seamlessly
An essential Sound panel is a pro tool for music editing that lets you reduce the volume of your music and adjust the clarity of sound across an entire track
DeReverb & DeNoise effects enable you to remove background sound easily and quickly
The visual keyboard shortcut editor displays all the shortcuts that need modification
Pros:
Advanced EQ presets
Sophisticated adaptive noise reduction and music-mixing tools
A huge selection of motion graphics templates is available
Superior audio editing features that enable users to apply effects quickly and easily
Handles multiple audio formats
Destructive editing for effective noise reduction
Cons:
Relatively expensive subscription rates
It might be challenging for a novice audio editor to use
Prices & Packages:
30-day free trial
$20.99 per month
$52.99 per month as part of the Adobe Creative Cloud Suite (Photoshop, After Effects, Premiere Pro, etc.)
Students and teachers pay $19.99 per month
Creative Cloud plans available for business
REAPER – Best Audio Editing Software for Live Stage Performance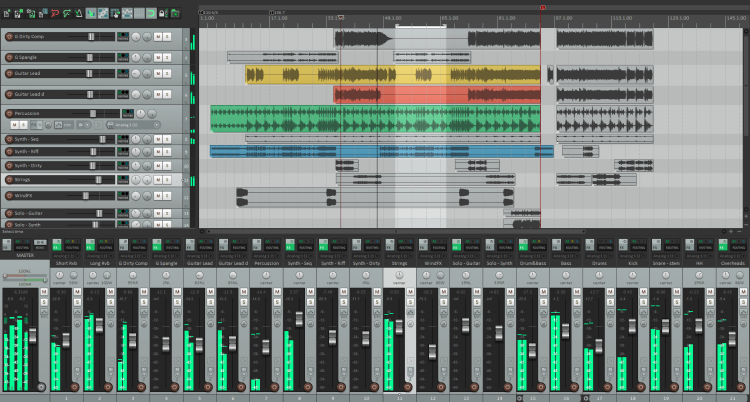 A cross-platform DAW and MIDI sequencer software, REAPER is an acronym for Rapid Environment for Audio Production, Engineering, and Recording. Developed by Cockos, it enables live audio and the recording of virtual instruments. You can't record them at the same time, but you can record separate tracks and add these together. It also allows real notation editing along with a full mixing console. It is suitable for all digital audio applications from commercial and home studios, broadcast, and education, to sound design and development of games.
Key Features:
Records multiple audio channels of audio instruments simultaneously
Tiny download footprint
Full automation capabilities
Pros:
Windows, Mac, and Linux versions
Inexpensive
Unlimited free updates, often weekly
Cross-platform and a host to most industry-standard plug-in formats
Very fast and easy to customize
Multi-channel audio recording, mixing, and mastering
MIDI-friendly with MIDI hardware and software support
Cons:
Even though you can install license keys on multiple computers, you can only use the software on one computer at a time
No built-in loops or instruments
Lacks an intuitive interface, so it can be difficult to master
Suitable for all digital audio applications: commercial and home studios
No free trial version
Prices & Packages:
Free download
Discounted license for individual, personal users $60
Commercial license $225
Audiotool – Best Free DAW & Audio Editing Software for Music Production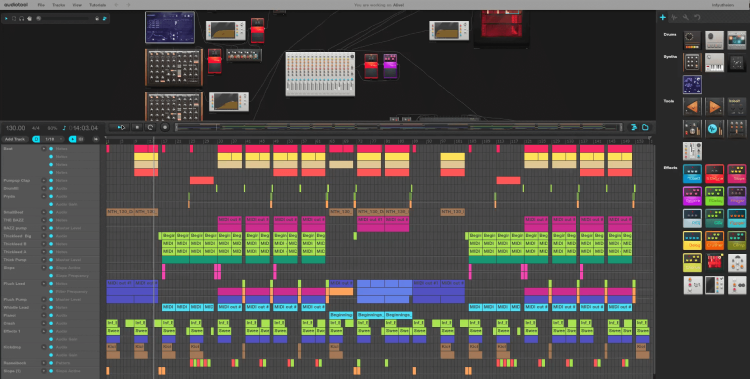 Audiotool is a powerful, free, online, browser-based software tool that can be used to produce music and distribute it. Users can remix and collaborate in real time, creating and publishing tracks using Creative Commons licenses.
Key Features:
The modular structure enables users to add everything they need to the app's desktop
Cloud production means you can access your work from anywhere in the world
Superb instrument tools, including Heisenberg for sounds, the modular polyphonic synthesizer Pulverisateur, and classic Bassline and Beatbox composers
Superior mixing and routing tools, including Audiotrack and Centroid, a consistent mixer tool
Numerous effects, from the effect device Rasselbock and Graphical EQ to Autofilter, Stereo Enhancer, and Exciter, are designed to help you beef up your music
Pros:
Friendly interface for creating, mixing, and modulating the music
International collaborations are enabled because of across-the-board compatibility
Cloud-based library with more than 250,000 samples and more than 50,000 devices presets
Works with MIDI
Cons:
2D musical instrument controls
You need top-speed internet to avoid any lag
It can be confusing to amateurs
Prices & Packages:
FL Studio – Best DJ Audio Editing Software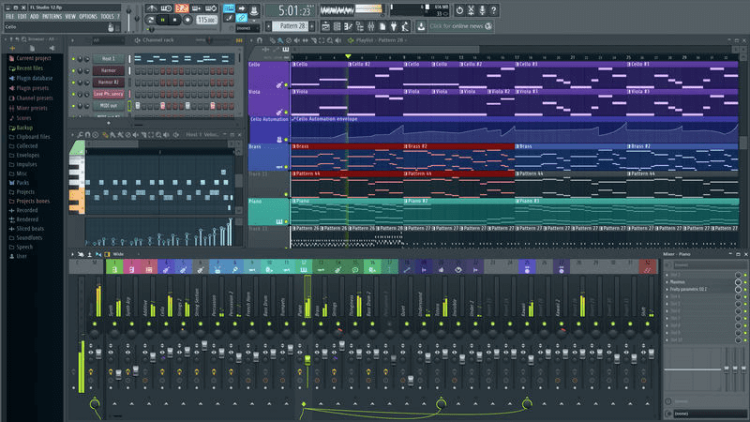 Originally called FruityLoops, FL Studio is a DAW that is great for producing all kinds of music. It's available for Windows and Mac and is very popular with top DJs and music producers. It's designed for users to mix and master music to high professional standards. You will find all the features you need to produce complex, effective results. These include advanced automation, audio sends, and effects chains.
Key Features:
Audio editors are included with all but the Fruity, an entry-level music studio
Instruments and effects come with all packages
Instrument Tuner is built-in
Track Consolidation is great for creating a more efficient workflow and is useful for plug-ins
VFX Level Scaler is a plug-in that lets you scale the properties of notes in real-time
Pros:
It offers a huge number of features, plugins, presets, and samples
It supports MIDI
Offers great audio mixing and music creation tools
Audio processing and VST instruments are good
Whichever FL Studio edition you buy, you get all future updates for free
The content offered is all copyright cleared
Wrapper support for MIDI
Cons:
Quite a steep learning curve for beginners
All prices are for one license only
The entry-level Fruity package doesn't include audio editors
Prices & Packages:
Fruity $99.00
Producer $199.00
Signature $299.00
All Plugins Edition $499.00
GarageBand – Best Free Audio Editing Software for Mac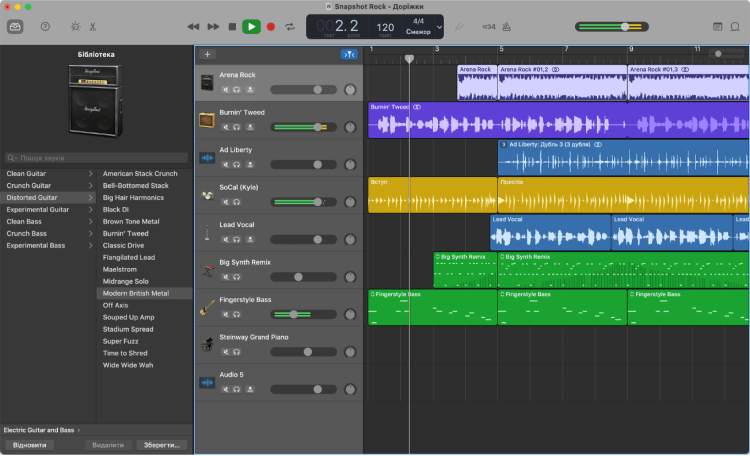 Perfect for beginners, GarageBand has remarkably advanced abilities and music compatibility too, unlike Audacity (discussed earlier), which is also great for beginners. While Audacity does have professional audio editing options, it's a digital audio editor rather than a DAW. The design of the GarageBand software is modern and intuitive, and incredibly easy to learn and use successfully. It suits a wide audience, from musicians undertaking multi-layer audio projects to podcasters without any audio experience.
Key Features:
Sound library with presets for voice and guitar, as well as session drummers and percussionists from a range of genres, so you can create without an instrument if you wish
Transform Pad Smart Control for synth sound effects that you can tweak
Logic Remote, a companion app for Apple's Logic Pro digital audio workstation, comes with GarageBand
Pros:
Works well for voice audio and songs
Compatible with MIDI
Supports instrument plug-ins
Lots of useful recording and editing features add power to your performance
Touch Bar features for MacBook Pro
Add tracks using your iPhone or iPad
Cons:
Only available for Mac
Doesn't have more advanced options that other software options have
Prices & Packages:
Ableton Live – Best Audio Editing Software for New Music Producers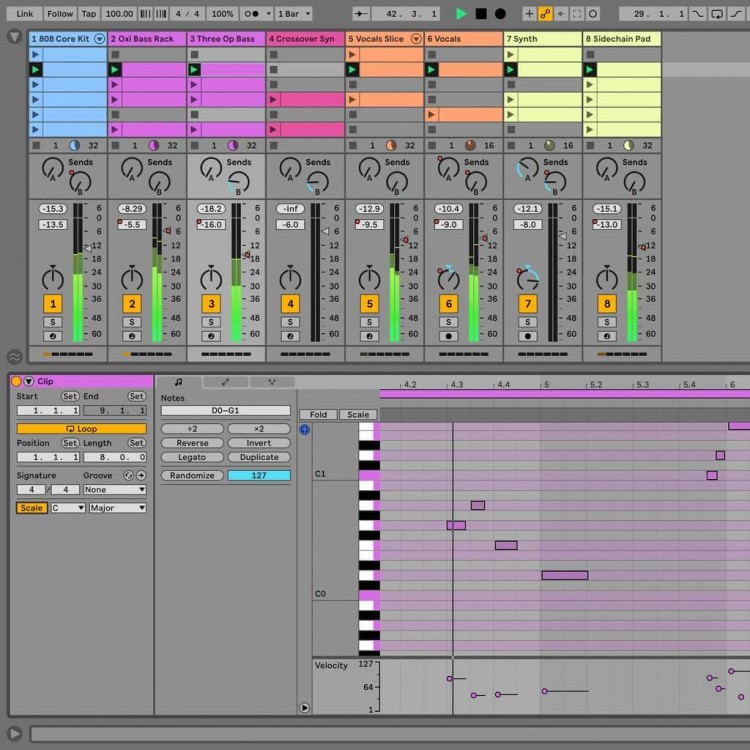 Ideal for recording vocals, Ableton Live is an excellent choice for electronic dance music production. It appeals to singers and songwriters who want software that offers multi-track recording opportunities. And DJs and creative bands choose it for its professional audio production tools. It works as well for studio productions as it does for live performance recording.
Key Features:
Linked track editing keeps everything in time across tracks, even when two or more are linked and edited simultaneously
MIDI Polyphonic Expression (MPE) capability allows users to control multiple parameters of every single note in a chord
An exciting range of devices enables the music editor to transform sound, create musical effects, and produce recordings in a wide range of genres
Three instrument packs, upright piano, brass quartet, and string quartet, are designed to capture musical threads
Pros:
Pro tool for audio editing
Brilliant graphical user interface
MIDI production and editing features and effects
Professional audio editing software
A wide range of instruments, sounds, and effects enables creative experimentation
Create your own music in the studio or record live
Certified training is available in 39 languages in 56 countries
Cons:
Cost – it's one of the most expensive digital audio workstation offerings in the audio editing software market
Lacks automation capabilities for previously recorded tracks
Not as intuitive as it could be
Prices & Packages:
90-day free trial
Lightweight Intro version $99
Standard version $449
Suite version $749
Pro Tools – Best Professional Audio Editing Software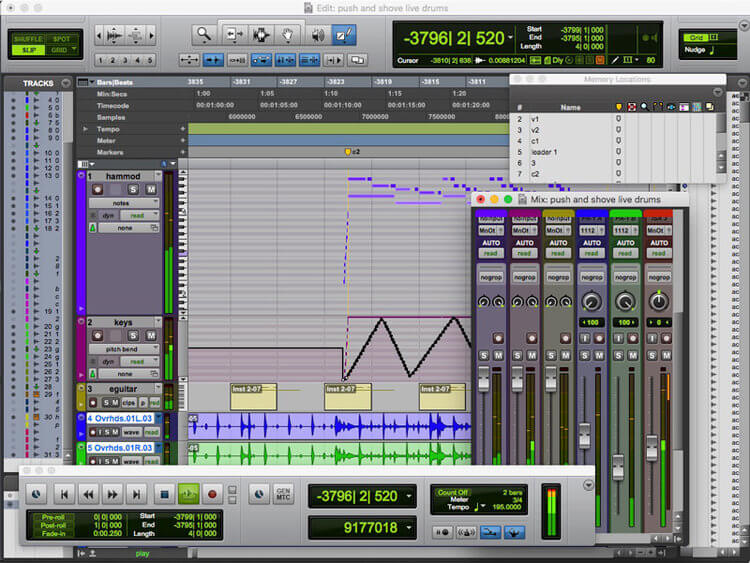 Designed for professionals, Pro Tools is perfect for extensive editing and the very best for high-quality sound. It's fantastic for film and television, as well as studios and soundstages. But it's also an ideal audio editing solution for anyone wanting to create, edit, mix, or produce music of any genre. It doesn't matter if you aren't a pro, even beginners and intermediate users can give the free version a try and get started.
Key Features:
Audio post-production tools that enable synchronization take your music to a new level.
Advanced audio editing tools enable the manipulation of sound during music production.
Multi-track recordings even in the free version
Support for multiple video files in a single timeline
Pros:
Works equally well for Apple and Windows platforms
Pro plugins at all levels – the more you pay the more you get
Supports MIDI and allows audio to MIDI in the paid packages
Quickstart templates that make song production a breeze
Updated features are released often to anyone with an active plan
Integrated hardware options work with the editing software, accelerating your workflow
Cons:
Only subscriptions are available, making it costly
The free and lower-priced version is limited in features
Prices & Packages:
First version $0.00
Regular version $29.99 per month
Ultimate version $79.99 per month
Logic Pro X – Best Apple Audio Editing Software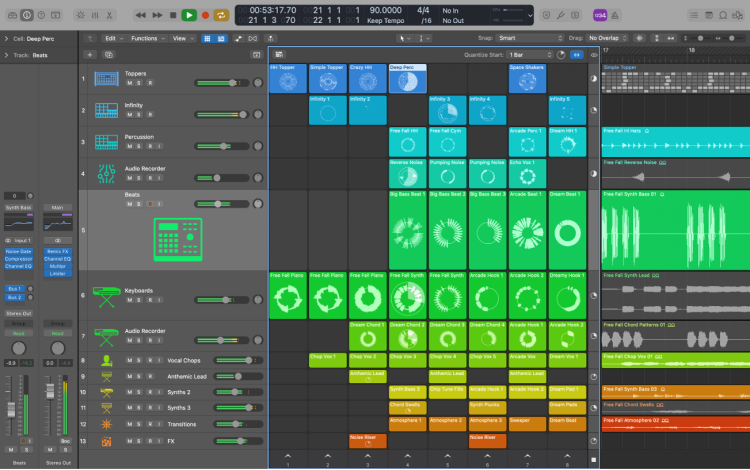 Anyone with an Apple device will welcome Logic Pro X, a digital audio workstation and MIDI sequencer software application for the Mac operating system. Suitable for a range of users from intermediate to expert, it is incredibly powerful and enables mind-bending creativity. It isn't free, like Audacity, but its audio editor is considerably better than Audacity's free audio editor.
Key Features:
Live Loops offers recording software that enables users to create and arrange music in a dynamic way
Remix FX lets you introduce DJ-style effects to individual tracks or entire mixes
Logic Remote allows you to use your iPad or iPhone to control Logic Pro on your Mac using Multi-Touch signals from anywhere in the room
Novation Launchpad is supported by Live Loops
Pros:
One of the highest-quality audio editing Mac experiences
Offers straightforward but powerful editing tools
Seamless integration with the Mac operating system
Huge library of sounds, effects, and plugins
Sophisticated DAW that enables everything from simple edit audio functions to specialized effects including 24 instruments
Audio editing software that supports MIDI editing
Cons:
There isn't a free version and the price tag is quite high
It is only available in the Mac file format
Prices & Packages:
90-day free trial
$199.99
AudioLab – Best Amateur Audio Editing Software for Android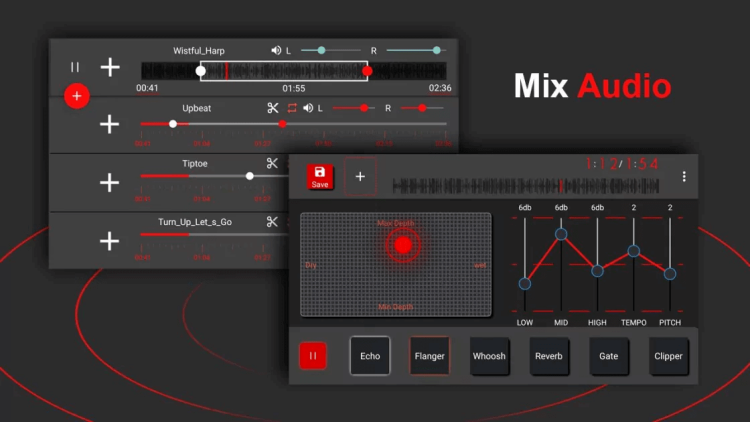 Designed for beginners, AudioLab is an audio editor recorder that enables basic audio file editing for Android devices. It can also be used for making ringtones. According to the folks at HitroLab, where the audio editing software was developed, it was inspired by Audacity, which is a totally free audio editor.
Key Features:
Audio Trimming enables all the basic functions including cutting, cropping, copy-and-pasting, adding silence, fade, and undo and redo
Audio Mixing that includes all the usual DJ-effect options and filters as well as Mix Four Audio, and Change SPeed & Pitch
Detailed features including Tag Editing, Audio Recorder, Audio Merging, Audio Converter, and Music Player
Instant Preview that lets you monitor your editing process every step of the way
Pros:
Includes all the audio editing features you will need to create great audio tracks
Includes numerous high-end audio tools and lots of useful audio data
Top features include an equalizer and multichannel editing
Their paid package is a pay-for-what-you-want model that costs from $1.49 to $14.99
Cons:
Only available for Android devices
Lots of ads in the free version
Mixed reviews report lots of negative audio recording and editing issues
Not very powerful and not suitable for pro use
Prices & Packages:
Free version
Maximum $14.99 for paid versions
PreSonus Studio One – Best Innovative Pro Audio Editing Software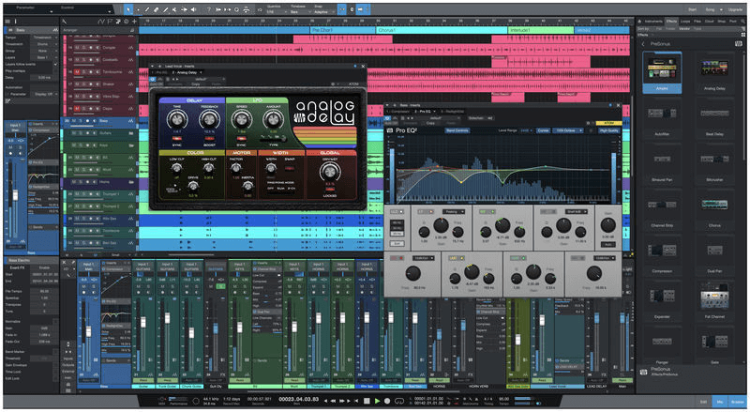 PreSonus Studio One is a sophisticated DAW that offers harmonic editing for MIDI and audio. The aim is to help users effortlessly create perfect harmony. The audio editing software incorporates 5 integrated tools that allow you to create music without boundaries. Easy-to-use, it is intuitive and allows you to drag and drop everything. You can even drag-and-drop MIDI to audio or audio to MIDI.
Key Features:
Harmonic Editing enabled for audio and MIDI
Instrument Track lets you extract chord notes directly from audio and drag them to an instrument track
Chord Track lets you change chord progressions and mix them in any way
ScratchPads let you test arrangements with a simple click of your mouse
Arranger Track lets you move sections of songs instantly and effortlessly
Splitter plug-in allows you to run multiple plugins parallel on one single channel
Pros:
Well-priced
Compatible with Windows and Mac
Fully developed Score Editor based on Notion
You can drag and drop everything including virtual instruments, plugin effects, audio loops, and presets
Supplied with a complete suite of plugins
Studio One has a collection of virtual instruments that you can combine to create your own unique sound library
No uninstalling or reinstalling when you buy a license after your free trial
Cons:
Console view and user interface can be confusing for beginners
Limited instruments available
Prices & Packages:
Studio One 5 Prime $0.00 for a 30-day free trial
Studio One 5 Artist $99.95
Studio One 5 Professional $399.95
Crossgrades and Upgrades are also available
Collaborative and networking tools for a monthly or annual fee
Descript – Best Audio/Video Editing Software for Podcasters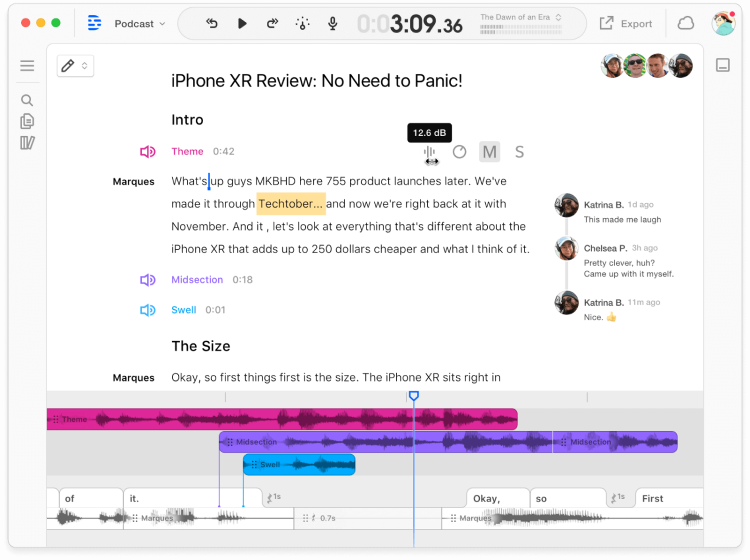 Descript is an all-in-one audio and video-editing application that the makers call the world's first audio word processor. Described by some reviewers as the holy grail of podcasters, Descript allows users to record, edit, mix and transcribe audio and video. It offers a web-based and desktop application, both of which include a remote recording option, filler word removal, and overdub.
Key Features:
Transcription is automatic and human-powered, with almost instant turnaround
Cloud sync provides instant access for you and your collaborators, from anywhere
Full-featured video editing that is fast and fun
Overdub for voiceover using your voice or stock voices
Pros:
Affordable
Overdub lets users create text-to-speech models of their own voices
Easy-to-use
Users' data is kept super-safe and secure
Super-simple podcasting and video editing
Correcting recording using Overdub is as simple as typing
Cons:
The free version doesn't include Overdub
Transcription from speech to text isn't 100% accurate
Prices & Packages:
Free version for screen recording
Creator $12 per month (-20% per year)
Pro $24 per month (-20% per year)
Enterprise Custom for 20+ user teams
WavePad – Best Free Music & Audio Editing Software for Beginners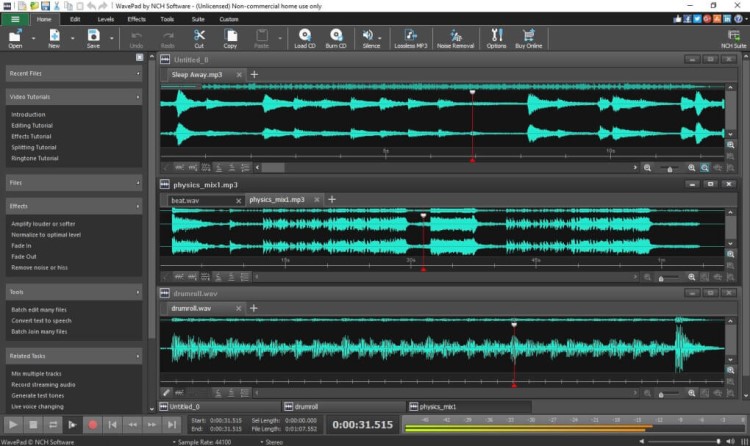 WavePad is a full-featured professional audio and music editor that enables you to record and edit voice, music, and audio recordings. It has a highly intuitive interface that lets you cut, copy, and paste recordings and add all kinds of effects. It is popular with a wide range of users, from music producers, teachers, and students, to voice actors and podcasters. Use it online or offline.
Key Features:
Effects and editings include 20 filters for voice recording
Mixing and splitting tools include a frequency analysis, pop/click repair, text-to-speech generator, and a tone generator
Voice Over tools enable users to create their own voice-overs for videos
Effects include echo, reverb, and normalize
Fast editing tools for compression and cut, copy and paste, and auto-trim
Pros:
Available for Mac and Windows
iPhone/iPad, Android, and Chromebook versions
Affordable pricing
Easy-to-add effects like amplification, echo, and noise reduction to clean up audio clips
Powerful tools for batch processing, scrub and search audio, and spectral analysis
Professional editing features include reducing vocals from a music track and trimming sound bites from longer audio files
Cons:
If you choose not to buy license upgrades after the free trial, you can continue to use it, but the advanced features will be disabled
The software only works with single audio tracks
Prices & Packages:
Free Standard edition for non-commercial use
Master's Edition free 14-day trial
Sound Editor Master's Edition $49.99 (discounted) $99.00 (normal price)
Sound Editor Standard $29.99 (discounted) $60.00 (normal price)
Sound Editor Master's Edition – quarterly plan $3.88 per month
Ashampoo Music Studio – Best Free Audio Editing Software for Windows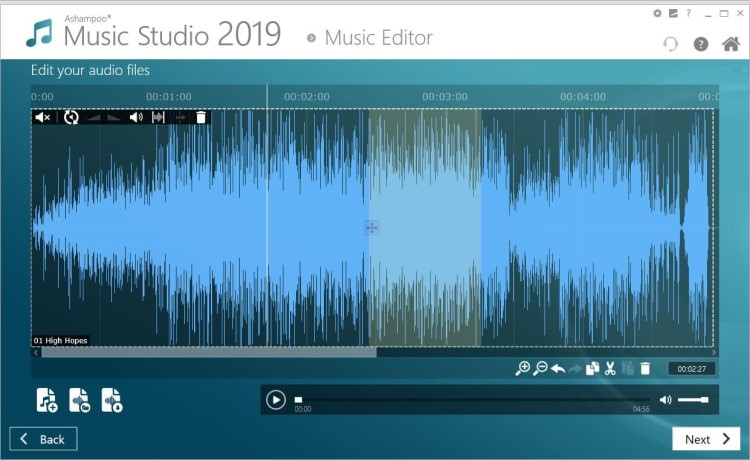 Ashampoo Music Studio is music management software designed for Windows operating systems. The makers call it a Swiss army knife for music! It offers easy music production, editing, trimming, mixing, and straightforward organization of audio files. A top feature is the outstanding DJ Mix Tape tool that analyzes and harmonizes track speeds for the perfect mix.
Key Features:
DJ Mix Tape uses the latest technologies to help users create professional song mixes
Quick Rip lets you extract audio from discs extraordinarily fast
Splitter that removes momentary gaps in live recordings
Advanced editing options to maintain constant levels and change volume levels globally
Pros:
Allows you to rip and burn songs very quickly
Remarkably easy to turn recordings into songs
New formats include APE and CUE are bundled with ingenious device presets
Device presets include Android, Microsoft, and Apple, set new standards in device compatibility
Lots of shortcuts let users work faster
Extract audio tracks from videos
Drag and drop to move tracks
Allows you to burn to CD or hard drive
Cons:
Only available for Windows
Prices & Packages:
Music Studio 2020 free full version
Music Studio 8 – 10-day trial version
Music Studio 8 $29.99
Acoustica 7 – Best Audio Editing Software for Audio-Restoration & Post Production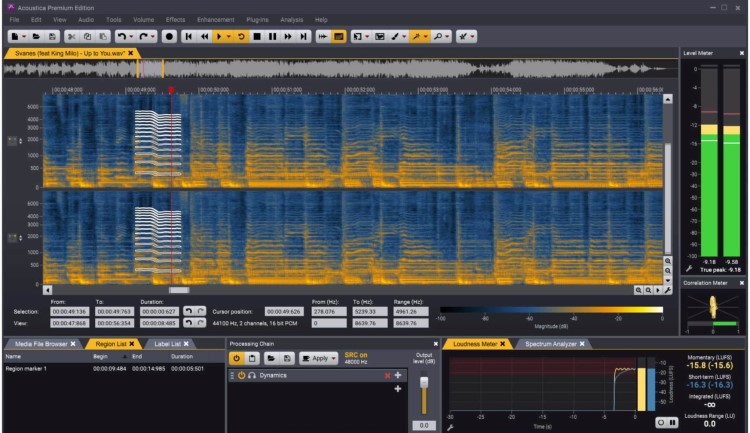 Acoustica 7 from Acon Digital is a great product for audio editing, the creation of podcasts, mastering, and audio restoration. Available for Mac and personal computers, there are two versions, both of which incorporate a powerful, sample-accurate clip editor. The Premium Edition is more expensive, but it has many more features.
Key Features:
High-quality audio quality that maintains a high-quality recording
Analysis tools, including spectrum, spectrogram, and wavelet, are available
Spectral editing with powerful retouch algorithms available in the Premium Edition
Multi-channel audio recording supported by the Premium Edition
Pros:
Real-time preview audio processors
Available for Mac and Windows
Single and multi-track functionality
Cons:
Audio Units (AU) are for Mac only
Prices & Packages:
Free 30-day trial
Standard Edition $59.90
Premium Edition $199.90
Premium Edition 7 + DeVerberate + DeFilter $299.90
Zortam Mp3 Media Studio – Best Audio Editing Software to Manage Mp3 Files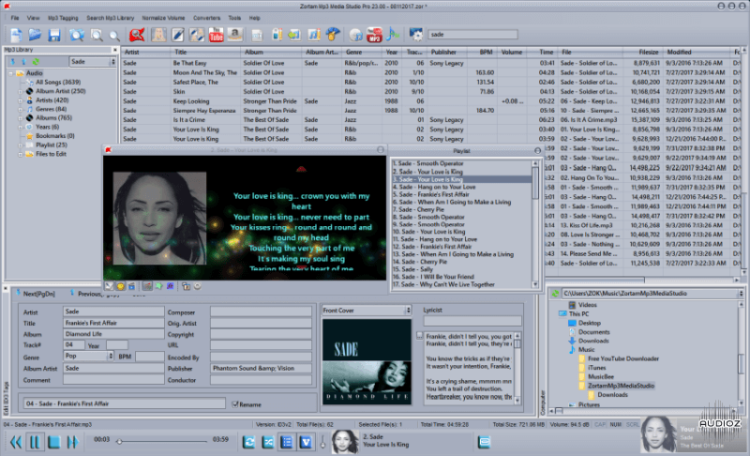 Zortam Mp3 Media Studio enables you to batch auto-tag Mp3 files with the Zortam database. It is an all-in-one application with several modules including those we have listed in the Key Features below. It's a particularly good tool for organizing karaoke collections. It's in a niche market and is currently the only application that can auto-tag Mp3 music collections via its internet database.
Key Features:
Zortam Mp3 Auto Tagger to tag (or name) your music files so you can search for them
Mp3 Organizer & ID3 Tag Editor that let you catalog your music files
Mp3 Player so you can listen to the music
Mp3 Normalizer to adjust volume levels
BPM Analyzer that analyzes the beats per minute of your music
CD and DVD Ripper with lyric and album cover support
Mp3 to Mav Converter that works both ways
Pros:
The software recognizes millions of music tracks
Its database is good for organizing Mp3 files
Zortam releases regular updates to the software
Cons:
Only available for Windows
There is free software with similar specifications
Prices & Packages:
Mp3 Media Studio Pro $15.95
Mp3 Media Studio Pro (with a lifetime license) $24.95
DRmare – Best Audio & Media Converting Software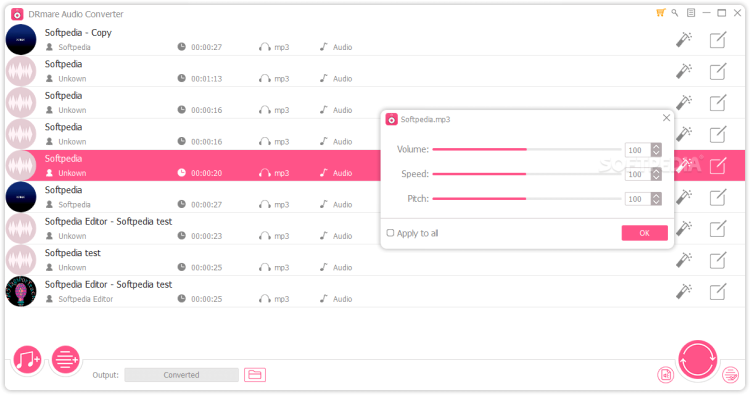 DRmare software enables users to bypass digital rights management (DRM) limitations on a wide range of files. So, for instance, if you want to play songs from iTunes but don't have an Apple device, you can convert the software so that you can use it on whatever device you own. There are several DRmare software packages available to suit various needs
Key Features:
Highly advanced decryption technology
Reliable audio ripper feature
Music Converter downloads and converts OGG Vorbis to MP3, AAC, and so on without losing quality
TidiKit Music Converter enables users to download and convert HiFi/MQA music to MP3 and similar and to download music at 5X conversion speed
Audio Converter enables users to convert M4P songs, M4A and M4B audiobooks, and AA/AAX audiobooks to MP3 with up to 30X faster conversion speed
Audio Capture lets users record multiple music tracks from streaming websites and services on a desktop and trim and edit them
M4V Converter converts and unlocks M4V videos for Android and other devices
Pros:
Available for Mac and Windows
Easy to use with a clutter-free interface that maximizes usability
Access to lots of advanced options for output formats
It can be used as a standalone audio player
Customizable option for ID3 tags that include track titles, album year, artists, and other details
Cons:
A legality issue rather than a con: you cannot distribute media content that has had its DRM removed
Prices & Packages:
Music Converter $14.95 (discounted) $19.95 (normal price)
TidiKit Music Converter $14.95 (discounted) $19.95 (normal price)
Audio Converter $14.95 (discounted) $19.95 (normal price)
Audio Capture $29.95 (discounted) $34.95 (normal price)
M4V Converter $29.95 (discounted) $34.95 (normal price)
Soundation – Best Audio Editing Software to Develop Soundtracks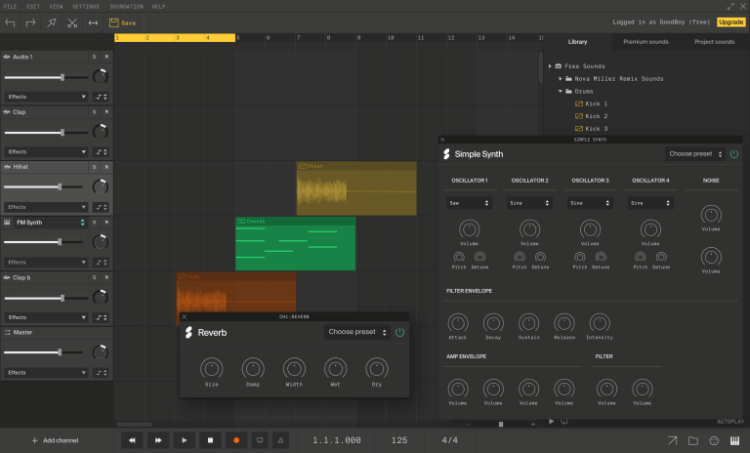 Soundation provides an excellent introduction to DAWs and helps to show beginners how to work with loops and edit audio and music files. You can make your own beats, record and edit audio and MIDI, mix, and collaborate using the software.
Key Features:
Automate the knobs and sliders to add life and movement to your music mix
Pro music tools to create your own beats
Audio effects to shape your sound and make it special
Control sound using MIDI
Pros:
East to navigate
More than 12,000 royalty-free loops
All plans include instruments and effects, including easy-to-use drum machines and synthesizers.
Cons:
Changes to the interface in updates can be confusing
Prices & Packages:
Starter $4.99 per month (10 projects)
Creator $9.99 per month (unlimited projects)
Pro $29.99 per month
Best Audio Editing Software Tools according to Reddit:
Audacity (free) for raw audio recording, Craig Bot for backup audio on Discord meetings, and Davinci Resolve (free) for editing with lots of online tutorials available.
You might be interested to check those related posts as well:
FAQ
Should you have audio production hardware before investing in software?
You only need audio production hardware if you are producing professional audio files. In most cases, you can use a reliable Mac or Windows computer for audio editing. But the stability of your computer is critical. If you don't have the basics, then don't spend a lot on software.
What makes a great audio editor?
Auto editing software provides you with the digital tools you need to record, edit, and produce audio files. But there are so many different elements to being an audio editor. You need to assess which one meets your needs the best. Ideally, you want a user-friendly interface with lots of tools and effects.
Can you edit audio in the Windows Media Player?
Yes, you can edit audio files in the Windows Media Player. There is a Windows Media plugin that you can use. You may, though, need an auto editor to trim your audio files. But you can certainly edit the media info in all songs.
What do professionals use to edit songs?
We have included software that professionals use to edit songs. But, like everything in life, preferences vary. FL Studio is a popular choice. Other top audio editing software choices include, in alphabetical order, Adobe Audition, Ableton Live, Logic Pro X, GarageBand, Descript, Audacity, Sound Forge, and Studio One.
Does Windows 10 have an audio editor?
There are several audio editors available for Windows 10. One popular example is the Lexis Audio editor, which has a very simple interface. You can create new audio files using this editor and edit existing files. Its black background is a bonus during long editing sessions.
Most audio editing software is either functional online or offline. But, WavePad is a great audio editing software program that we have included in our choice of the best audio editing software. You can use it online and offline.
Conclusion
If you are in the market for audio editing software, you have a vast and varied array of choices. Our 23 chosen software options will surely help you decide which one is best suited for your music or media projects.