Whiteboard animation videos are impressively popular these days, and it's easy to see why.
They let you illustrate concepts just like you would see in a classroom.
Whiteboard animation software, though, can be a bit tricky to find.
So, how do you find good software for this style of video?
What are The Advantages of Using Whiteboard Animation Video Software in 2023?
Whiteboard animation video software is incredibly versatile, especially when it comes to creating corporate videos.
There are tons of perks to whiteboard video creation, including these major upsides below:
It makes sketching out concepts easier, especially when you're explaining things. They often say "a picture is worth 1,000 words." Whiteboard animation videos give your viewers a visual way to understand what you're explaining—much like how a teacher uses a chalkboard.
People are receptive to the "doodle" style that most whiteboard animation videos have. It's simple, it's clean, and it looks good in action. That makes it marketable when compared to a YouTube video of someone using a real whiteboard.
Most of the software kits for this genre of animation are easy to use. It used to be that an animated video would require a professional animation team to create. This is not the case anymore. Even people who are totally new to it can make it work for their needs.
Since whiteboard videos are pretty versatile, they also tend to work with almost any kind of industry. You can find whiteboard animations used in finance videos, educational tutorials, psychology-based videos, and more. If you have a concept that you really, truly want to use, then this is going to be a good choice for you.
This style of video is easy to make with most platforms. If you want to have a full Disney-style video for your HR company, you'll probably cry when you see the sheer amount of work that it requires. Whiteboard animation software is easier to use and can often make your video within a matter of minutes.
Whiteboard videos are scientifically proven to increase sales. People genuinely like watching videos. Marketers who use them get a higher CTR and better conversion rates. What could be better than that?
The Best Whiteboard Animation Software 2023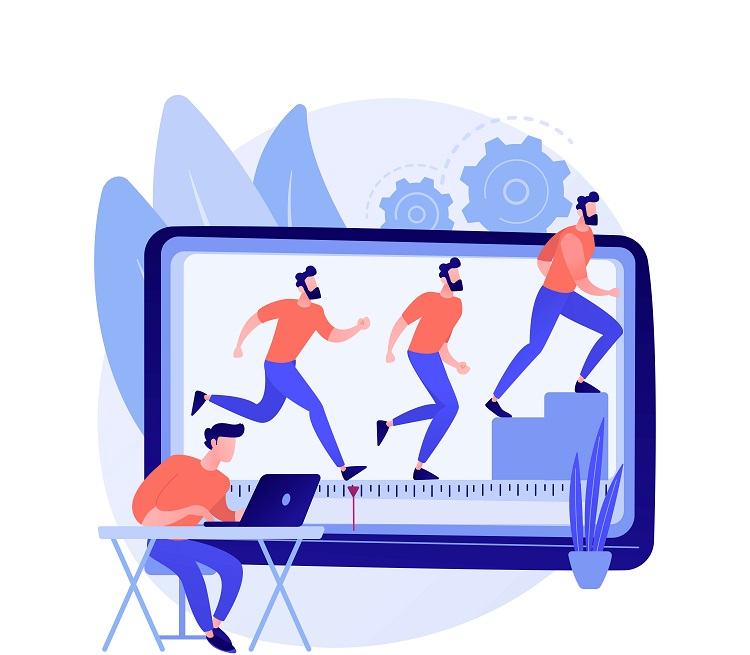 Now that we've explained a little bit about the perks of this type of video software, it's time to take a look at our top picks for the best animation-ready software kits on the market.
Are you ready?
Blender – Best Free Whiteboard Animation Software Without Watermark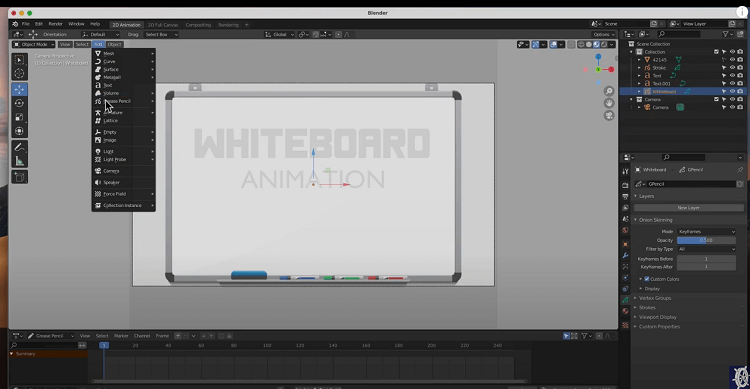 Blender is one of the best free animation software kits that you can find on the net, and that's saying something.
While it's mostly used in 3D animation, the truth is that you can also make whiteboard animation videos with it if you're skilled enough.
This software kit is ideal for people who have some experience in animation and want to have something that's more than just 2D animation software.
It also works in 3D too. Most people who want to make professional videos will want to get their hands on this simply because the possibilities are endless.
To a point, it feels like a cheat to add this in because it does so much more than a typical whiteboard software kit.
Even so, it's still important to remember that it is an option for the skilled animator.
Features
No watermark
3D animation possible, 2D animation common
Knowledge base included
Open-source
VFX
Modeling capabilities
Pricing
Free. That's the beauty of open-source software!
Camtasia – Best Whiteboard Animation Software For Interactive Videos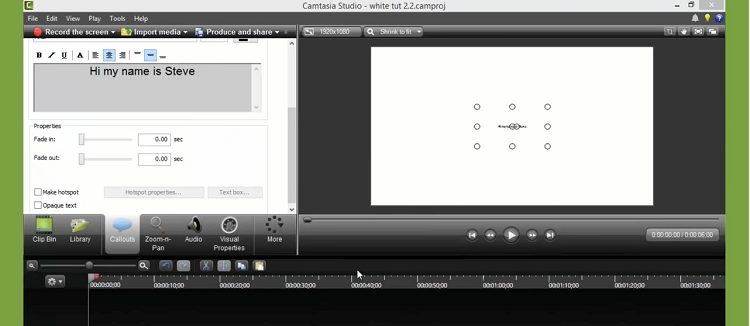 Camtasia is one of those whiteboard animation kits that would make most marketers drool.
A favorite among people who develop their own online classes, this goes beyond a typical "sketch video" to create stunning videos that look like they were made by a pro.
The cool thing about Camtasia is that it's mostly "drag and drop," and it also works with common sound files like MP4s.
You get a full library of stock images and photos, a slick preview playback, and an easy interface for recording your own voice-over.
That's all great, and all, but what really sells this as a great piece of software is the interactive quizzes you can add.
That takes it beyond your typical educational videos and places it into its own category as an amazing animation tool.
Features
Interactive quizzes
Easy voice-over recordings
Over 500,000 audio clips, video recordings, and stock images to choose from
Upload to YouTube or Vimeo
Excellent customer service
Pricing
It's $249 per user, plus $99.50 for upgrades.
Not sure if you want to give this a go? It's also free for 30 days.
RenderForest – Best Free Whiteboard Animation Software For Windows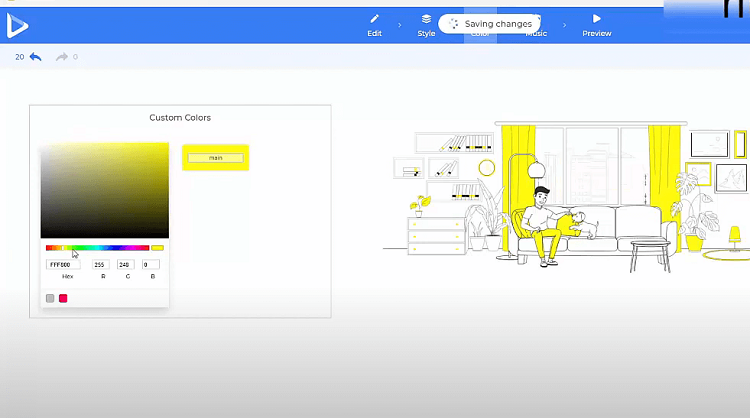 RenderForest sounds like the type of animation software you would expect to see make fantasy shorts, but that is only the tip of the iceberg.
This gives you a way to bring your doodles to life alongside tons of different stock photos.
This goes beyond the call of a whiteboard animation maker and starts to broach the territory of an easy animation studio.
You can make whiteboard videos in a pinch, sure, but you can also make cute corporate videos and also make your own logos.
If you're looking for an all-over option, it's worth noting that this also has a site builder and music visualizer.
RenderForest is made to be one of the easier platforms to hit this list.
If you're looking for something to bring whiteboard drawings to life, then this is a great pick.
With that said, this is freemium.
You can make free videos up to 3 minutes long without paying a dime.
Features
Royalty-free video library with thousands of clips
Easy voiceover storage
Expandable video storage options
Excellent knowledge base
Stock gallery of commercials to edit
Excellent customer service and knowledge base.
Pricing
There are five tiers:
Free
Amateur: $59 per month
Pro: $89 per month
Business: $119 per month
Enterprise: $299 per month
Animaker – Best Free Whiteboard Animation Software For Android
Much like RenderForest, Animaker is a "freemium" software platform that starts off free but quickly ends up being pricey if you want to invest more into your animation software.
The company behind it has both a web app and an Android-based program that you can use.
(Note: The Android app is not available on the actual marketplace, but has many online download routes. However, this was the only truly decent "freemium" service we found for people who want to animate via their phones.)
It's hard to begin to explain how many features this software has available to people who want to start making their own videos.
Do we talk about the live customer service and knowledge base?
What about two-factor authentication for added security?
Oh!
Or how about their 1000-plus templates?
No matter how you slice it, this is one whiteboard animation option that is absolutely worth it.
Features
Over 100 million video clips
Over 1,000 templates
Drag and drop interface
Highly evolved character builder
Excellent sound recording quality
Instant resizing
Pricing
It's free, to begin with, but as you add more features, you'll start to incur charges.
Depending on the plan you choose, it can be anywhere from $10 to $49 per month if billed annually.
If you have an exceptionally large-scale operation, then you may need to get a custom quote.
VideoScribe – Best Whiteboard Animation Software For An Easy-To-Use Interface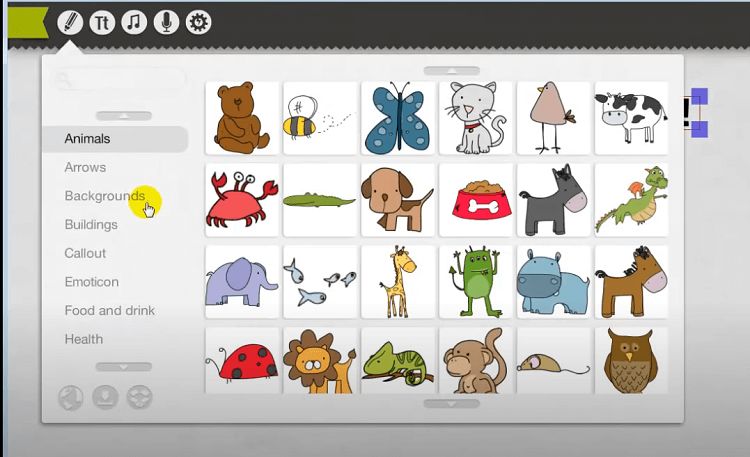 Most of the whiteboard animation software that we've shown so far will involve a little bit of skill on your end.
You may need to have a background in animation for some, while others may just require you to do some drag and drop motions.
Even so, there's still some work to do.
VideoScribe is one of the best, if not the best when it comes to making animation easier than ever before.
This is an app that does all the heavy lifting for you.
All you have to do is add a voiceover, add the text, and put together the graphics or clips you want to use.
Much like Animaker, they have both an app and an online interface option you can use.
While it's not free, it's absolutely a great pick for people who are okay with investing a small amount of money into the quality of their video work.
Features
Drag and drop interface
Multi-format downloads (MP4, SVG, etc)
Pre-built, pre-designed templates for fast movie making
Massive video and sticker library
Fully customizable videos
Pricing
How much you should expect to pay for this software depends on your billing frequency.
If you want to go annually, then it can be as low as $8 per month. If you want to get a bill every month, then it will be around $18 per month.
Either way, it's remarkably affordable.
FilmoraPro – Best Whiteboard Animation Software for Macs
If you have worked in the field of animation before, you probably are already well aware of FilmoraPro.
This software platform is available on both Mac and PCs and has been a darling of the animation world for ages.
Why?
Because you can do almost anything on it.
While most people tend to remember FilmoraPro for 3D animation, it also can make a whiteboard animation in a pinch.
All you have to do to make this happen is set the background to white and start animating.
This tends to be a more advanced animation platform, so we don't recommend it for beginners.
On the other hand, people who are professional animators who want to have something that does it all will find it to be a great platform.
Does it make animated explainer videos?
Yep.
But, it's just so, so much more!
Features
Auto-correcting animation guide
Massive knowledge base with online tutorials
Seamless quality in 4K
Built-in screen recorder
Stabilizing technology
Adjust shadows, mid-tones, and highlights.
Pricing
So far, we've seen two major types of pricing here.
The annual price for FilmoraPro is $89.99 per year.
However, most people tend to prefer getting a lifetime license, which is $149.99 as a flat-rate fee.
Adobe Animate CC – Best Whiteboard Animation Software for Desktops
It comes as no surprise to anyone that Adobe remains the top choice among people who are professional video editors.
The brand itself has been the backbone of the movie industry, which means that you can rely on it to make professional-quality videos.
As a result, we have to tip our hats to it.
Adobe Animate CC is made for people who want to make serious whiteboard animations—and then some!
Like other animation software kits on this list, it's meant to do both 3D and 2D animation.
The more learned you are in animation, the more powerful this software becomes, too.
Surprisingly, it has a somewhat fast learning curve.
Though you can learn to use it for things like Augmented Reality and interactive exhibits, most of us will simply enjoy the multi-format publications and other similar perks.
Features
Asset panels + layers for exceptional scene control
Fast sharing to social media
2D animation that's fast and simple
Plenty of online tutorials!
Pricing
Though Adobe is known for price-jacking at times, this is not one of those times.
Surprisingly, Adobe Animate CC is $29.99 per month if you do month-to-month.
Annually, the subscription is going to run for $19.99 per month.
MySimpleShow -Best Whiteboard Video Explainer Software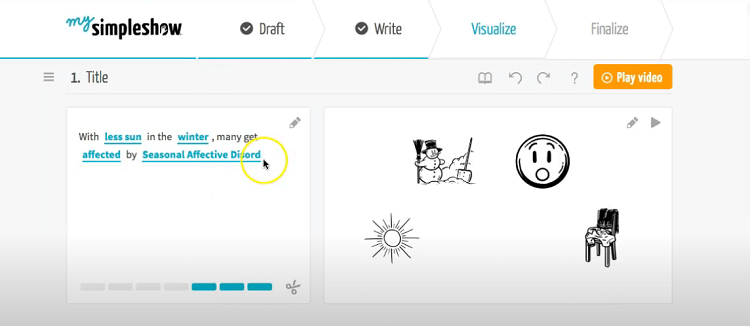 A lot of these animation software platforms are made to do more than just one type of video, but not MySimpleShow.
As the name suggests, they keep it simple.
This is a software platform that is meant to make it easy to make corporate explainer videos and not much else.
This is a very "paint by number" type of software.
You get to pick from one of several storylines, have minor tweaks you can do, and then can add your own sound.
It's about as simple as it comes, though some might find the storylines to be a bit limited.
This is a great choice for people who want to have a quickly-made explainer video for corporate use, educational purposes, or a GoFundMe.
The pricing and features, like others here, shift based on usage.
Features
Automated technology
Multiple scribble colors
Easy to include sound
Add subtitles/commercial rights/personalization
*For business-grade only
Pricing
This has one of the most expansive pricing models we've seen among content-making software.
You technically can use the free version to make unlimited videos.
If you want to have slight upgrades, you can get it for $6 per month or so.
Businesses may need to pay anywhere between $149 to $299 or more, depending on what they want the software to do. Overall, there were more than half a dozen different payment options to choose from, so one will definitely suit your needs.
RawShorts – Best Video Explainer Software For Social Media Mavens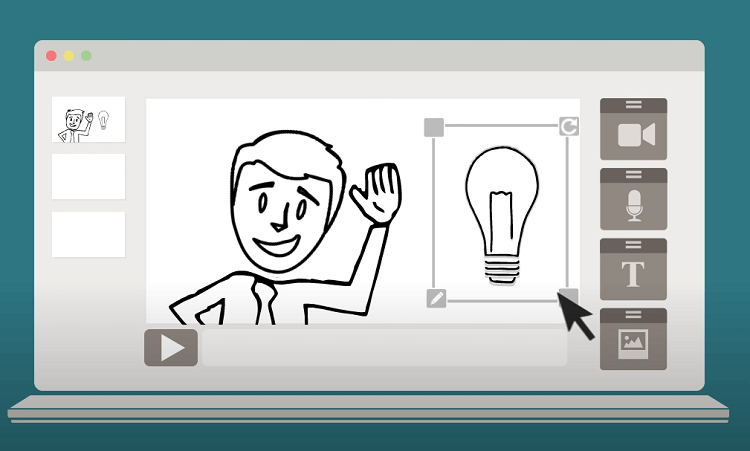 RawShorts has a lot in common with MySimpleShow when it comes to the way it works.
You get a lot of functionality via "drag and drop" styling, and get to choose graphics from a fairly large library of royalty-free images.
There are a lot of explainer video samples RawShorts offers that are good examples of what to expect.
They're generic, but they get the job done.
That's pretty much it, and that makes it a good pick for people who want to have a quick fix.
One thing beginners will like about RawShorts is that it starts free and is meant to be easy to use.
This is why we suggest it for high school students that want to make the most of their presentation time.
We also strongly suggest it for influencers because of the work it can do on social media.
Features
Simple "drag and drop" interface
Thousands of graphics, characters, and templates to choose from and add
Animated charts
Uploads to social media platforms like Facebook and Twitter
Spreadsheet to video capabilities.
Pricing
This is a software kit that has a brief introductory period where it's all free.
However, most people will end up paying between $39 to $59 per month.
Vyond – Best Video Animation Software For Professional Firms
Vyond is a software platform that clearly understands the need for good whiteboard animation software.
This is one of the only platforms we've seen that actually makes a point of gearing its amenities toward businesses and enterprises.
How does this software kit differ from the norm, you ask?
Well, the answer is pretty simple: it comes with a library of resources and also makes it easier to import your new MP4 videos into your learning system software.
So, if you need training videos for your clients, this is the go-to you're looking for.
The platform here has a ton of graphics and resources geared toward corporate video creation.
For example, you'll see stock pictures of office workers, coffee mugs, and other similar stuff.
Oh, and if you work in an industry that requires security features, this is a good choice.
Vyond is quite possibly the most secure option when it comes to matters of hacking.
They are ISO-certified and also are good for third-party vendors.
Finance companies adore this platform!
Features
Industry-centered templates
Lip syncs + voiceovers
ISO security protocols and e-verify
Quick edits
Fast model customization with lifelike animations
Custom logos and text implementation
Pricing
There's no way to mince words here.
Vyond is the most expensive software suite we have on this list by a long shot.
The cheapest plan is $299 per year, and the most expensive standardized plan is approximately $999 per year.
This does not include taxes.
Believe it or not, you won't always have a standard plan, either.
If you have a massive enterprise that does these videos by default, you may have custom pricing.
Doodly – Best Animation and Doodling Software For Mimicking Blackboards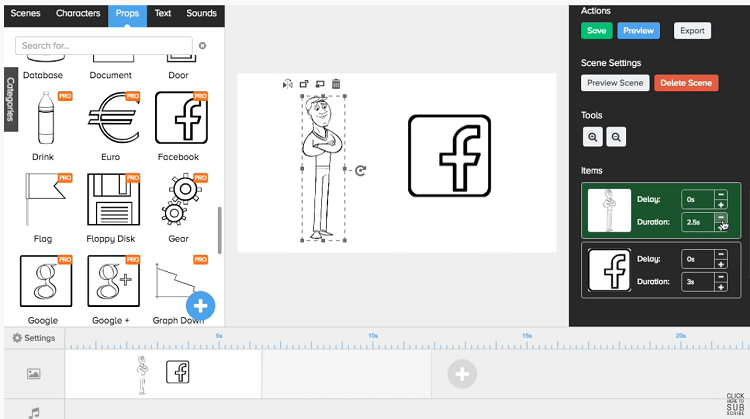 Do you remember the days of Powerpoint presentations in classes?
Most of us remember those days, especially if you're a Millennial.
In a lot of ways, Doodly channels that same "classroom" ambiance in the way it delivers video animation.
With this platform, you have three basic backgrounds and styles that you can choose: whiteboard, blackboard, and glass board.
Doodly then lets you drag images onto the "board" of your choice.
From there, they use a "Smart Draw" feature to automatically draw the item of your choosing.
The videos produced by this platform are pretty much like having a live drawing on a chalkboard.
You also get to choose the hand of the person who "draws" the doodle on your board.
It's a neat little program.
Features
Smart Draw to create the doodles of your choice
Fast upload to social media
Made for educational and corporate usage
Royalty-free imagery
Multiple resolution options
Pricing
This is yet another option where annual billing will save you a bunch of money.
It's around 50 percent off of the monthly bill.
Annually, you can pay $20 or $40 for the platform, depending on the level you choose.
PowToon – Best Whiteboard Animation Software For People Who Want A Community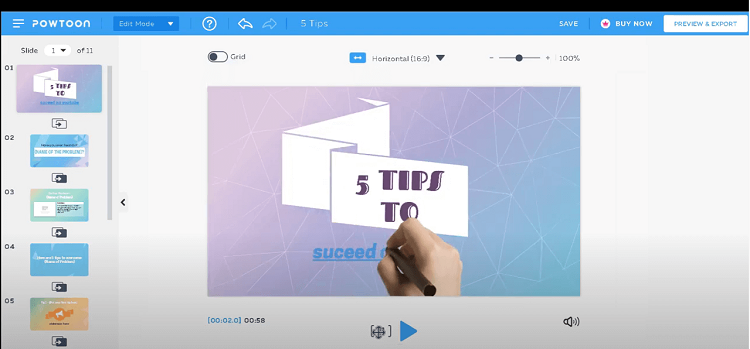 PowToon is one of the more unique software services when it comes to what it offers.
This animation tool is meant for corporate and educational groups, but it comes with a twist.
It's compatible with another platform on this list: Adobe Animate CC!
If you love the idea of easier animation than Adobe with the same professional results, you might like PowToon.
That's precisely what they deliver, especially when it comes to the look of an explainer video.
Like many others on this list, PowToon is meant for convenience.
This means you can upload your videos to Vimeo, YouTube, and Facebook with just a single click.
Maybe that's why marketers seem to love this software…
Features
Integrations with Adobe Animate CC and social media
Fast uploads to social
Easy-to-use interface with team collaboration
Massive knowledge base
The active community surrounding it100 GB of storage
Pricing
PowToon starts out free, like most others on this list.
However, most people want to get the full scope of the features that it offers, which means that you might want to pay $19 per month.
If you want to get even more features, they offer bigger packages for business pros as well as enterprises.
Those cost $39 per month and $99 monthly, respectively.
Easy Sketch Pro – Best Whiteboard Animation Software For Artists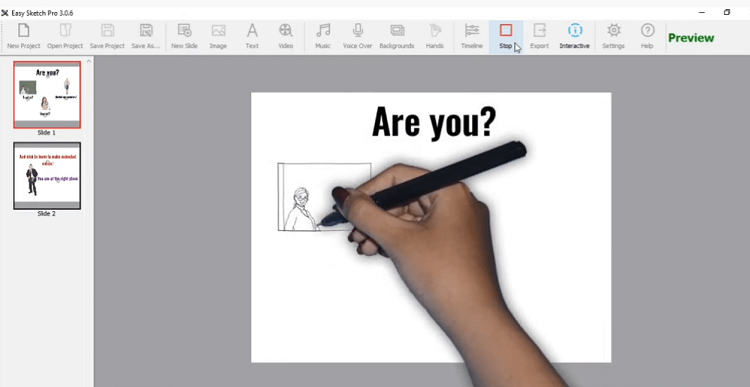 So far, we've seen a lot of programs that geared themselves towards people who either have no background in animation whatsoever or people who are used to digital design.
There seems to be no in-between, doesn't there?
Easy Sketch Pro might be one of the better choices for people who want to go from traditional artwork to digital animation.
Easy Sketch Pro has a nice array of different images and features that you can use via a "drag and drop" type of interface.
So if you aren't exactly an artist, you can still use this.
However, there is one reason why artists love this software: it's compatible with most digital drawing tablets.
As people who love to doodle often know, there's something particularly magical about watching something you drew by hand come to life.
If you're a fan of doing super-customized animations that pop, this is worth a look.
Features
Draw tablet compatible
Massive library of graphics, videos, and sound effects
Easy voiceovers
Excellent storage
Pricing
There is no free version of this.
The lowest that you can expect to pay is $37 for a one-time fee, for its basic.
The price can swell up to $99 for the "professional grade" option that has all the bells and whistles of a top-tier program.
Either way, most people like the basic program too.
Explaindio – Best Whiteboard Animation Software For People Who Aren't Sure If They Need Double Duty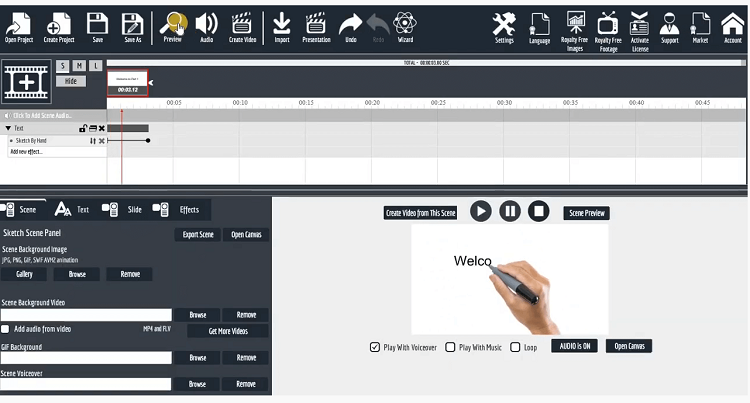 If you are new to the world of animation and marketing, there's a good chance that you don't really know what you need for the future.
It's a common issue that makes many people hesitant to buy any type of kit for their work setup.
You may not be sure whether you want to stick to explainer videos (like whiteboard videos) or if you want to have commercial-style videos.
You may not even be sure what OS you're going to use in 2 years.
That's why it's a good idea to get stuff that's steep in versatility.
Explaindio fits the bill.
Explaindio is a program that is made for versatility.
Yes, it's easy to use, but that's not all.
It's usable for both Mac and Windows computers, and also happens to work well with both 2D and 3D animations.
You can use 3D models, animate multiple items at the same time, and get a full sound.
Features
Both 2D and 3D models are available
Import and export videos in multiple formats (AVI, WMV, MP4…)
Both Mac and Windows-compatible
Multiple animations are possible at the same time
Pixabay integration
Built-in transitions
Motion graphics ready
Pricing
For something along these lines, it's going to get a little pricey.
If you want to get the monthly rate, you have to pay $37 per month.
Most people choose to go annually for $67 per year.
People who want to avoid recurring fees at all costs, though, can opt for a one-time payment of $497.
Biteable – Best Animation Software With No Learning Curve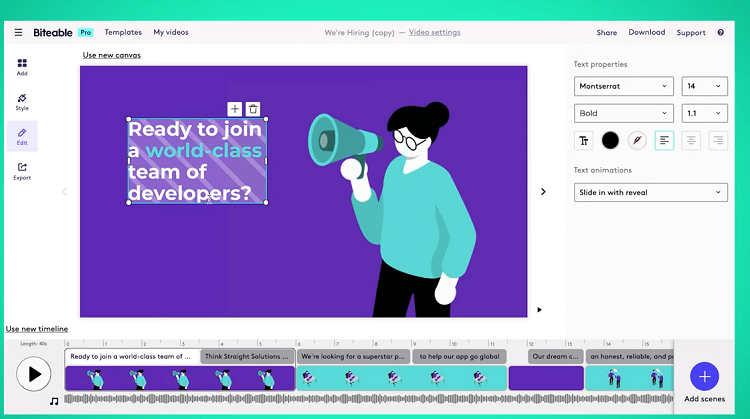 Even if you are used to having super-simplified programs, there's still going to be some kind of learning curve to most of them.
With Biteable, the learning curve is almost zero.
This paid animation software is all about being used intuitively.
That's why we wanted to include it in this article.
Biteable is meant to be easy as pie to use, and for turning the process of making your own animations into a matter of minutes.
This animation platform is known for playful and cute characters, excellent sound inclusion, and a great "drag and drop" interface.
With clients as big as Disney under Biteable's roster, it's clear that they know how to make a great bit of software.
It's surprisingly intuitive, gives you all the resources you need to compile a video, and also lets you choose the background music that you need.
Over 7 million marketers can't be wrong.
Features
Background music and niche-specific templates
Instant loading and storage
Drag and drop interface
Share your finished video anywhere and any way you want
Pricing
You can sign up and tinker with the program for free.
However, if you want the watermark removed and to access the full extent of the program's goods, you will have to pay $19 per month.
Large companies that have more demanding needs may have as much as $49 per month to pay.
Note:
The full $49 monthly fee of Biteable also comes with access to Shutterstock's vault of over 17 million photos and videos.
In our opinion, that's pretty worth the price tag.
Mango Animate – Best Animation Software For Simple Vector Commercials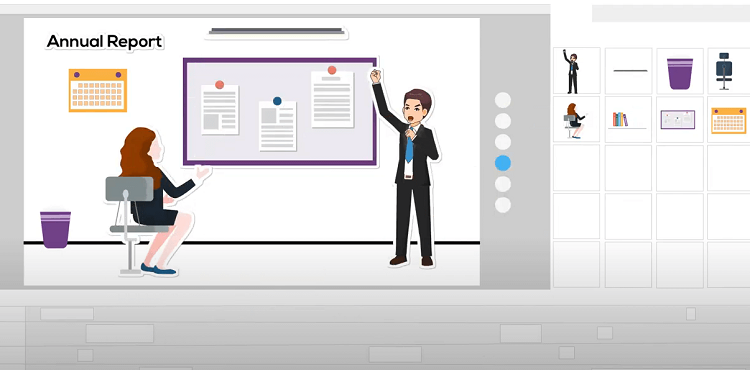 You don't have to be a fan of fruit to find this software to be pretty sweet.
Mango Animate is a software platform that's mostly geared towards animating whiteboard explainer videos as well as simple commercials that are fit for YouTube.
In other words, it's great for people who need animation in a pinch.
In a lot of ways, Mango Animate acts like a lot of the others on this list.
It comes complete with templates that move the story along for you, tons of different graphics, as well as options to include your own soundtrack, and more.
Oh, and like others on this list, it also comes with hand types that let you create a "real-life draw" effect on the screen.
You don't have to use the hands, though, and their media library is mostly vector-based.
This makes Mango a great pick for folks who want professional-quality videos that can add to an educational presentation as well as people who just need quick commercials.
They are exclusive to Windows OS.
Features
Hand selection
Multiple libraries with animation elements that work for all industries
Easy voiceover and background music coordination
6 different formats to export to
Easy upload to social media
Pricing
To get the full features of Mango Animate, you have to pay for the pro version $39.
It's money well spent if you ask us.
Animiz – Best Free Animation Software For High School Kids

Let's face the facts: the days when high schoolers could wow teachers with Powerpoint presentations are gone.
Like, forever.
If you are currently a high schooler who wants to wow your classmates and teacher, it's good to have animation software to help you out.
Animiz is a good choice for that.
Animiz is one of the best free software platforms for Windows to focus on animation.
While you can use it to make professional items, most people wouldn't.
The reason is simple: the picture library leaves a bit to be desired, even if you are pretty lax about what you need in your presentation.
Though the picture library only has 500 images, there are a lot of perks that make this a good pick.
This is a free program that offers a ton of storage, unlimited video creation, and also keeps watermarks to a minimal level.
It seems like Animiz is on the way to being professional grade.
Until then, it's best to assume it's a good tool for school kids.
Note: Mango Animate is owned by Animiz. Animiz is generally the free version.
Features
Unlimited video numbers or length
Drag and drop interface
A small library of features
Good customer support and can transfer to Mango Animate
Pricing
Animiz itself acquired Mango Animate.
But you can still find the free version online.
We really felt like it was important to mention this minor difference.
Moovly – Best Animation Software For Bloggers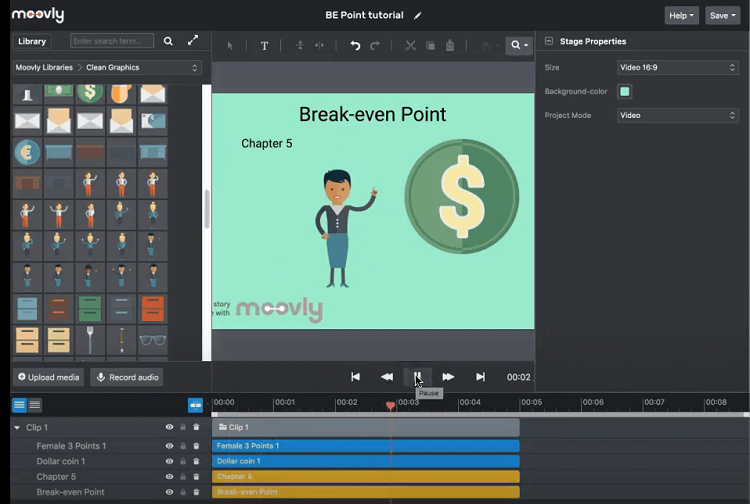 Moovly has a name that feels like it belongs in the startup world, so it shouldn't come as a shock that it does.
This platform is mostly famous for being a beautifully made animation platform equipped with tons of easy-to-use features.
It's also got automated animation capabilities too.
Moovly has a web browser-based interface that comes with industry-specific templates as well as tons of cute images to enhance your video.
If you use multiple computers and want to have your project accessible across the entire span of your armada, this makes Moovly a smart choice.
If you don't want to use a template, that's totally fine.
This is one of the few platforms that lets you grow your skills as you see fit—and that includes doing so through the options the tech gives you, too.
Bloggers tend to like this platform because it's one of the only to have WordPress plugins.
Adding video to your blog posts has never been easier.
Features
WordPress plugins
Over 1.3 million graphics and videos to add
Templates galore
Industry and niche-specific items
Special amenities for educational boards
Pricing
The one major drawback of Moovly is that it has multiple pricing scales, and we aren't just talking about the difference between annual and monthly payments, either.
They have studio pricing, educational pricing, as well as enterprise pricing.
There are a lot of little subtleties that make talking to a customer service rep worth your while.
Even then, it's good to understand what to expect.
So, we're going to try to give a basic run-through of each type of pricing model in bullet points:
Anyone can try the Moovly platform for free. It'll have limited features, but it's a viable option for people on a budget.
If you want to create your own videos with a studio rate, then you will need to pay between $49 to $99 per month for monthly billing. How much you pay depends on the perks you want to have.
Annual billing for typical studio users will be between $299 to $599 billed annually. This equates to about $25 to $50 per month, with all the same features as the regular studio equivalent.
Student accounts can range from free to $25 per month, billed monthly. They also have an $8.25 per month option that you can try if you need to use your studio for a small school.
If you need something specific to your needs, then you can also get a custom quote that has all the features that you need. This is often pricier than the $99 per month for enterprise accounts.
Best Whiteboard Animation Software according to Reddit:
Powtoon, Vyond and Doodly. They all seem the same. Doodly has some limited time offer sale.
You might be interested to check those related posts as well:
FAQ
How long does it take to make a whiteboard explainer video?
It depends on the platform that you use and the length of the video.
If you use a platform made for quick video creation, it's possible to make a short explainer video in as little as 10 to 15 minutes.
However, if you want a more involved platform or a long video, it can take 1 to 2 hours or more.
What do people use whiteboard animation software for?
Whiteboard animation software is great for making simple, quick videos that explain difficult concepts or creating tutorials for your company.
However, people have also started to use them as a way to make commercials on a budget in recent years.
What coding program is used in Videoscribe whiteboard animation software?
Sparkol, which makes the Videoscribe animation software, keeps the coding program they use under wraps.
As a result, it's not fully certain what they used to make the software.
However, we do know that it's available for both Windows and Mac operating systems.
Conclusion
If you want to get a whiteboard video for your business or for your own personal needs, then there are plenty of different programs you can use to make your own.
Each one has its own perks worth examining.
Some are for beginners, others are for people who have years in the animation industry.
When choosing a whiteboard animation program for your needs, make sure to take a look at all the features you can get from each package.
With a little research, you should be good to go.