3d character animation programs are a massive part of the software world these days.
They appeal to amateur and professional TV and animated movie makers, web admins, animators, and designers.
Anyone interested in animation can dabble with it through a suitable animation tool software program.
Best Animation Software 2023
Animation software deals with either 2-dimensional, often called 2D, characters or 3-dimensional [3D] modeling creations.
Some programs share standard features, while others are less common.
Here we outline the best animation software for particular tasks or target audiences to help you make the best choice.
Autodesk Maya – Best Computer Animation Software for Professionals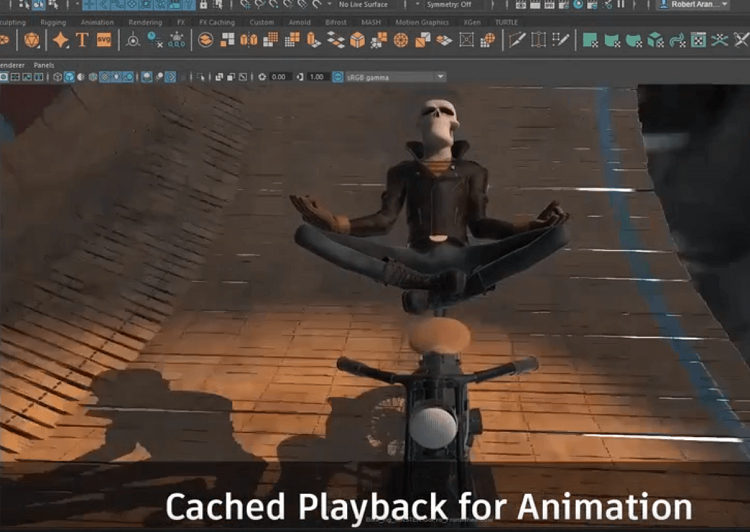 This is professional-level 3D software with a variety of tools for animation and much more.
Key Features
Creates 3D modeling interactive animation apps
Good for TV shows and animated movies
Rendering feature
Available in English, Japanese, and Chinese
Capable of creating an entire 3D project
Used by movie studios such as Blue Sky Studios, Framestore, and Moving Picture Company
Pros
Easy to learn
User friendly
A range of payment options/finance plans are available
Comes in 2 versions – Standard and Lite
30-day free animation software trial
Can be customized
Cons
The cost, it's pretty expensive for some purses
The program does sometimes crash
Who is it ideal for?
Autodesk Maya is ideal for visual effects professionals in all creative industries, such as animated video gaming, advertising, and movie animators.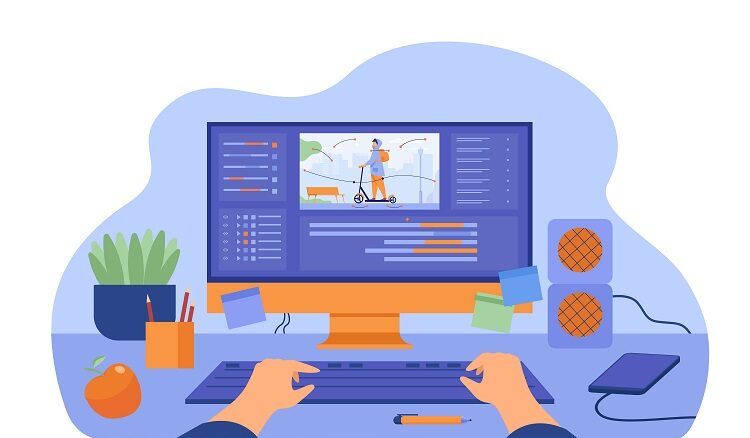 Platforms
This program runs on these platforms:
Windows 7 or later
MacOS 10.13 or later
Linux
RHEL/CentOS 7.3 or later
User reviews
On average, user feedback is 8-9/10.
Things users liked:
Maya offers everything from modeling and simulation to lights, motion capture animation, and rendering, making it a one-stop program
It offers plenty of rendering software integrations for flexibility
The software is really powerful
How easy the tools and interface are to use for those new to this
The range of free animation software tutorials available online
The option to add plugins
Prices & Packages
There are two options, paying for an entire access plan or a per token system.
In USD:
Fixed plan
$4,590 for a three-year plan [This is the best value choice]
$1,700 for a year [33% cheaper than monthly option]
$215 per month
Flexible plan
500 tokens [$3 per token] for $1500
1000 tokens [$3 per token] for $3000
5,000 tokens [$2.93 per token] for £$14,625
10,000 tokens [£2.85 per token] for $28,500
Adobe Animate – Best Computer Animation Software for Cartoons
Adobe Animate is all about bitmap and vector graphics interactive animations.
This software offers lots of opportunities, including designing games, TV shows, websites, and commercials.
Key Features
Excellent tool to make cartoons and banner ads
Can brighten up presentations, tutorials, and information-dense visuals
Works very well with other Adobe products, like Photoshop Fonts, Sparks, and Illustrator for hand-drawn animation
Provides 100 GB of cloud storage
Great for creating e-learning resources
Pros
Appeals to creative workers in all mediums
A free animation software trial is available
You can code inside the app
Adobe Fresco live brushes are available for improved character animation, such as facial expression
Can export to various platforms, across web, TV, and mobile systems
Regular additional features made available
Offers advanced rigging option
Beginners can access tutorial support
Plenty of opportunities to customize your toolbar
Easy to share on social media platforms
Cons
Overload of updates which can interfere with project work
The number of toolbars needed cuts down the available screen space on smaller monitors
Who is it ideal for?
Adobe Animate has a broad audience and suits beginners to mid-level social influencers, bloggers, movie makers, hobbyists, animators, or similar.
Platforms
Available on Windows and Mac OS.
User Reviews
The average user feedback score was 9/10.
Users liked:
Ease of use for small and speedy animations
User-friendly design with tools that can be learned on the job
Smooth file compression means uploading mobile content is very fast
The excellent variety of design features, including cartoons, GIFs, and movie animations
Prices & Packages
A free trial version may be available via a Creative Cloud membership.
Various paid packages are available, priced here in USD.
$20.99 per month for the solo app (yearly plan paid in installments)
$52.99 per month for access to all 20+ Creative Cloud apps
$19.99 per month for students & teachers. Offers full Creative Cloud access
$33.99 per month for business users. Includes all Creative Cloud apps plus exclusive business extras
Crazy Talk – Best Computer Animation Software for Facial Effects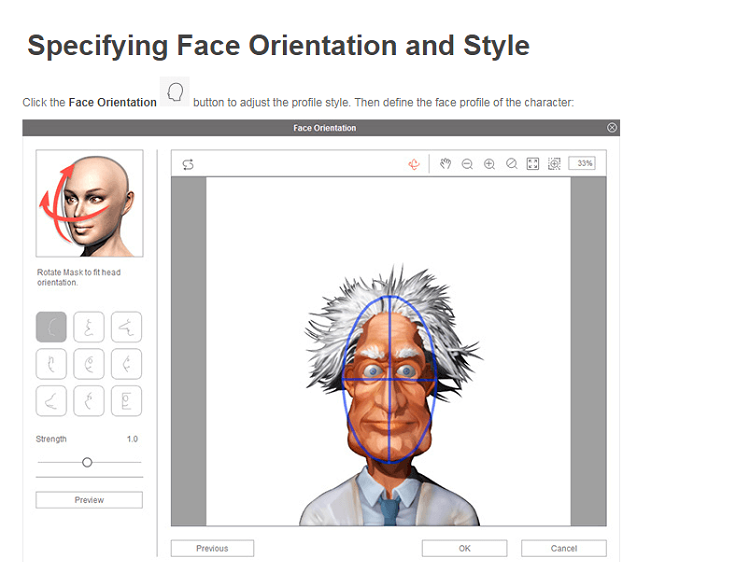 This popular 2D animation software program is all about facial features and speech.
[This review is of the basic animator software.]
Key Features
Makes excellent 2D animated cartoons
Operates in real-time
Good rendering
Adds a voice to animations
Multiple layer character creation
Auto motion feature
Pros
Includes templates for props, scripts, characters, etc., for instant animation
Most content can be customized
Used by some networks
Projects exportable to social media platforms and some devices
Regular updates
Tutorial and real-person support
Cons
Not as many written resources as some software programs
Who is it ideal for?
Beginners, mid-level animators, character animators, 2D animators, and keen hobbyists
Platforms
To run correctly, this program needs users to have either of these operating systems installed on their device:
Windows 7, 8, 10, or above
MacOS
User Reviews
Reviews are generally positive.
Users liked:
That no previous animation or drawing skills are required
Easy to learn and to use
The price – considered very reasonable
Fast results
Prices & Packages
Crazy Talk prices start at a one-time payment of $29.95 per user.
There is also a free trial option available.
TVPaint – Best Computer Animation Software for Artistic Shorts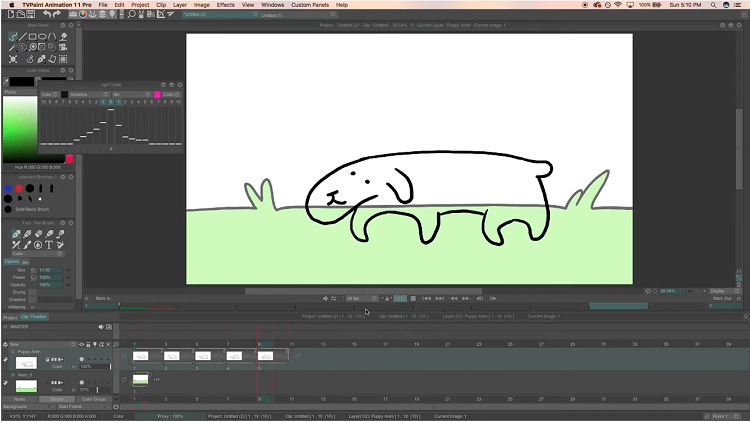 TVPaint is a useful 2D animation software tool that can cleverly recreate digital versions of traditional animation creative media.
Key Features
2D animation software program
Popular with both small scale and studio animators
Well known for having top-class bitmap drawing tools
Can import sounds via MP3 or WAV files
All drawing tools are provided
Special effects option includes a particle generator & a warping grid
Pros
Easy to learn with some self-study
A good substitute for Photoshop or Procreate
Can produce hand-drawn images
Lip sync features are easily added
Can incorporate footage like videos, photos, and pictures
Much of the content can be customized
Cons
Not an intuitive program, you must actively learn it
Need some level of animation skill
No rigging features.
Who is it ideal for?
TVPaint is great for artists, graphic designers, hobbyists, 2D animators, or anybody serious about the animation industry.
This software is sometimes used by professional animators working in studios.
Platforms
TVPaint is compatible with the following platforms:
Microsoft Windows
Mac OS
Linux
AmigaOS (from v1.0 to 3.59)
User Reviews
TVPaint has plenty of great reviews from users.
Here are some of the things they like about it:
It's an excellent tool for animators with some experience
It's worth tackling the learning curve
Allows for natural creativity
Can be used for many tasks, including storyboarding, effects, and illustration
No 3rd party plugins required
The support forum community is invaluable
Prices & Packages
TV Paint is a one-time buy software, available in both a standard and a professional version.
The prices below are for a 1-user license.
591.5 USD for the Standard Edition
1478.75 USD for the Professional Edition
The Pro Edition brings you blending and warping tools, faster coloring, and other valuable features ideal for character animators.
Users can upgrade from standard to professional editions for a further fee.
Educational and network fees are available on request.
Cinema 4D – Best Computer Animation Software for Motion Designers

Cinema 4D is a popular 3D computer animation program software with simulation, modeling, and rendering features.
Key Features
Scene Nodes and Scene Manager systems, with plugin options
Intuitive program
Suitable for solo or team projects
Includes access to an 'object library'
Well respected in the animation field
Pros
Easy both to learn and to use
Access to dedicated tutorials, tips, and regular live webinars
Free trial package available
Fast and powerful
Available in a range of languages
Cons
The cost; is pretty expensive.
Fewer tools than some competitors
No option to create games
Interactive animation isn't possible
Who is it ideal for?
Cinema 4D is popular with artists and animators of all abilities who design detailed 3D graphic design models, for fun or commercial purposes.
Platforms
To run this program, you need:
Windows 10 with 64-bit CPU
MacOS 10.14 or higher, (preferably 10.15) with 64-bit CPU. [Check the official website for future Mac requirements)
Linux – CentOS 7, 64bit / Ubuntu 18.04 LTS, 64bit
User Reviews
Users scored Cinema 4D around 9/10 on average.
Here are some snippets of what people liked about the program:
It's easy to use
It's multi-functional
Excellent at rendering
Great texturing tools
A good all-round kind of program
Fast production speed
High-quality product
Useful tutorials
There's lots of choice and flexibility
Prices & Packages
There are two packages on offer for Cinema 4D, both with yearly and monthly payment options [billed in USD].
$94.00 per month [paid per month]
$59.91 per month equivalent if paid upfront
Toon Boom Harmony – Best Computer Animation Software for Studio Quality Results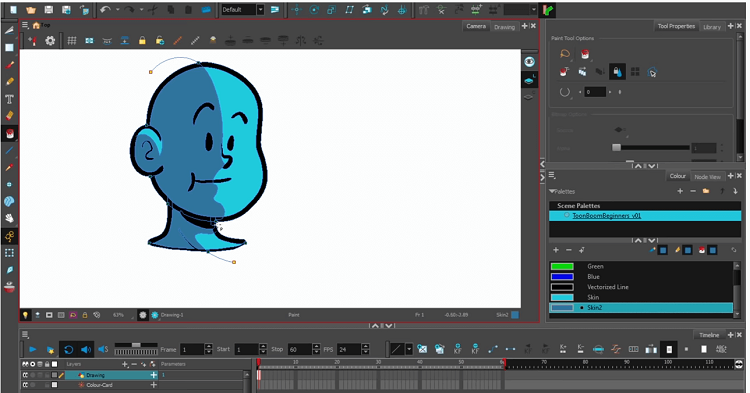 This program is a good option for serious animators or hobbyists with big dreams and high standards.
Key Features
Boasts both animation and storyboarding software
Used by big companies like Pixar and Disney
Can be used for traditional or innovative animation techniques
Pros
Great camera angles
Vector drawing
Good range of tools
Can add special effects
Very responsive
Cons
Could be too specialized for beginners
Expensive for some pockets
Who is it ideal for?
Anyone can access it, but the original/primary target audience is professionals.
This program would be great in an anime studio.
Platforms
Toon Boom Harmony is compatible with Windows and MacOS systems.
Below are the specs your machine needs to meet to make this work.
Windows 10 (64 bit)
MacOS 10.13
User Reviews
Customers left largely positive reviews, with an average score of around 9.5/10.
Here are a few things that Toon Boom Harmony users liked about it:
The excellent range of colors, brushes, effects, and other tools available to them
That it's an excellent program for professionals, with great brush tools.
They appreciated the support for both traditional, frame-based, and cut-out animation.
The 8k resolution video export capacity
The effects provided by OpenFX
Prices & Packages
Now available in 3 versions, providing access with appropriate feature options and support for character animators of all skill levels.
Essentials
Introductory Level
The target audience here is students or amateurs. This version includes all the essential tools needed for creating drawings, paintings, and animations to a high standard.
25.50 USD per month
209.00 USD per year
Free trial available
Advanced Level
The target audience for this level is freelance animators and small-medium studios. This version offers both advanced and straightforward animation styles.
64.50 USD per month
500.00 USD per year
Free trial available
Premium Level
This is the professional version, designed for businesses, schools, or anybody working on a large-scale, high-level project.
117.50 USD per month
954.00 USD per year
Free trial available
Moho – Best All-in-One Computer Animation Software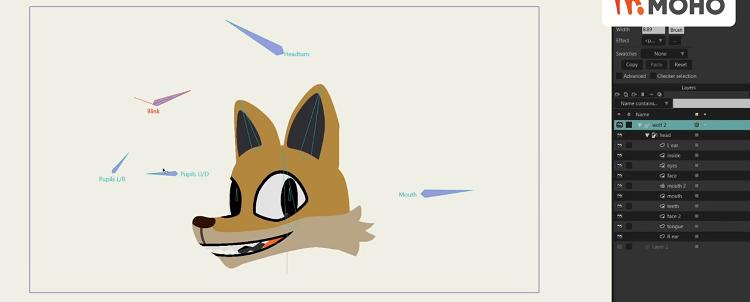 Enjoy creating animation for everything from video games to TV shows with this handy software.
Key Features
Professional tools for drawing, animation, and rigging
Can easily import images or create them in the program
Has a Moho Pro version for professionals to use
Support is available in 8 languages
Pros
Moho helps users produce quality animation and rigging
The vector tools provide special brushes and effects
Every single feature can be animated; go wild!
It has a very popular rigging system with a lot of cool features
Cons
Moho Debut isn't able to automatically lip-sync
Moho Pro requires non-professional animators to focus and learn a lot
Who is it ideal for?
The Moho Debut version is an excellent choice for those new to animation, hobby animators, or people into digital art creation.
Moho Pro can be used in the workplace, too, whether that's in a company or by someone self-employed. Version 13.5 has lots of exciting new features.
Platforms
Using Moho programs requires at a minimum:
Windows 10
MacOS X 10.15, 10.16 or higher
User Reviews
Overall, the user reviews for both versions of Moho are very positive.
Here are some of the things they have to say about the program:
It's very intuitive
Great for cartoon animator work
Great range of tutorials
It's good to have the option of custom presets
The layering feature makes it easy to work at a good pace
Prices & Packages
Users can try Moho Pro for free with a special 30-day trial.
Most features are included, so it's worth a try.
Moho Debut costs $59.99 [one-time fee]
Moho Pro costs $399.99 [one-time fee]
Houdini – Best Computer Animation Software for Youtubers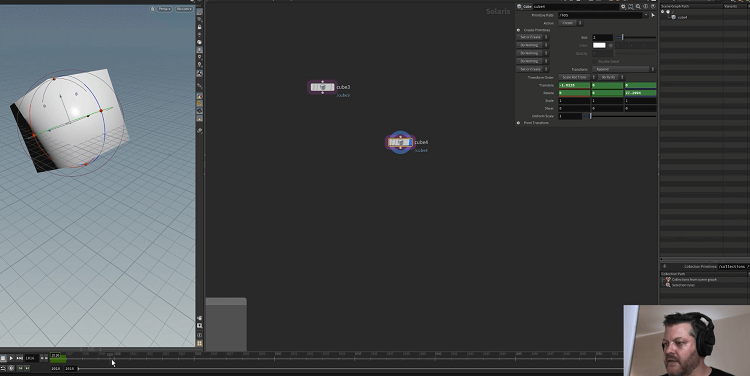 Key Features
3D animation software with lots of extra effects
Create animations, or try modeling, rendering, and composting
Useful knowledge base available
Customer support via email and help desk
Forum for peer support
Good choice for Vloggers
Pros
Provides the opportunity for in-build revisions
Opportunity to create object blueprints, which offers fantastic flexibility to create
No plugins are needed to create outstanding special effects
You can even design your unique plugin
Has a built-in renderer
Cons
The learning curve can be steeper than for the average software
Performs best with large scale or intricate tasks
Who is it ideal for?
Houdini was designed for professionals.
That explains why it's used by big-name companies like Sony Pictures, Pixar, Walt Disney Animation Studios, Imageworks, and DreamWorks Animation.
Platforms
Houdini works on all three major operating systems, so long as they are current versions.
User Reviews
The average rating for Houdini is around 8/10.
Some users were disappointed as it's a pretty technical/professional animation software program.
Here are a few snippets of user feedback:
Houdini needs a commitment to get the most from it. Devote the time and effort to learn and practice this program, and you'll reap the reward
Knowledge of C++ or Vex will make using Houdini easier
It can be tricky to learn some things, but it is worth it
Excellent rendering quality
There are plenty of ways to do things quickly without compromising your work
An excellent 3D animation software program
Prices & Packages
Houdini Apprentice is a free [for non-commercial use] version.
It is limited compared to the paid version but worth a look.
The full version costs around [USD] $269 a year, with some reductions if you pay for a longer term.
K-3D – Best Open-Source Computer Animation Software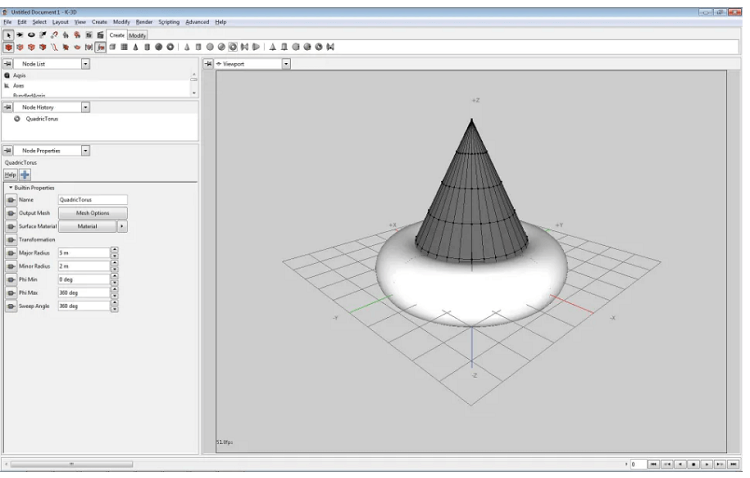 K-3D is a free [open source] 3D modeling and animation software program.
Key Features
It's versatile
Easy to use once the user is comfortable
User-friendly interface
Flexible plugins
Features a node-based visualization pipeline
Templates can be customized
Sounds, music, and visuals can be added
A good user support system is available
Pros
Intuitive system
Appeals to all artists, from beginners through to professionals
Users can control the privacy level
Cons
Inexperienced animators may find it tricky to use
Who is it ideal for?
K-3D has a broad appeal.
It may be free, but it's still popular with new or smaller businesses, as well as individuals.
Platforms
K-3D is designed to work across Microsoft Windows, MacOS, and Linux systems.
User Reviews
When a program is free, the reviews are generally more mixed.
However, the majority still considered K-3D to be worth their time.
Here are some comments users have left on review sites:
It's beneficial and easy to get on with
Fast program
Would be better with a user manual
Prices & Packages
K-3D is entirely free to use.
After Effects – Best Computer Animation Software for Adobe Fans or Users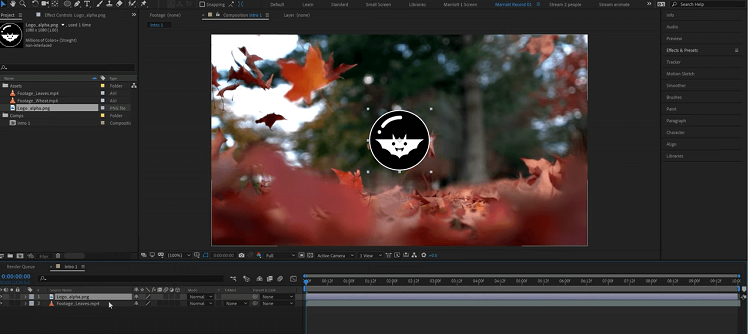 Adobe After Effects is a high-end [industry standard] program for compositing.
Key Features
Offers advanced compositing features
Links up with some other Adobe programs
Bursting with features, including 3D text and camera tracking
Pros
Gives animators access to unusual features like animated titles
Lots of pre-loaded features if you want a quick start
Add and remove people and things as you like
Virtual reality option is available
Cons
Has a hefty learning curve – be prepared to make an effort
Only limited features can be used offline
Who is it ideal for?
Adobe After Effects is popular with video editors and producers.
Those who make commercials and online informational videos also find good use for it.
Platforms
Adobe After Effects can be used on either Microsoft Windows or Mac operating systems.
User Reviews
Adobe After Effects is a popular program, averaging a user satisfaction score of around 95%.
Here's a sample of the comments that have been noted:
Offers fantastic hi-tech effects
Top-flight editing functions
Adds lots of value to animated work produced
Turns the ordinary into something special
Works well with sister Adobe software
Creates excellent motion computer graphics and animated effects
Gives your work a very modern look
Prices & Packages
There are several options for users to choose between, depending on their particular needs.
Individual Users/Adobe After Effects only
Pay $20.99 per month for a 12-month contract
Pay $239.88 as a yearly, one-time fee
Pay $31.49 per month for no fixed term plan
Business Users
Pay $33.99 per month for one Adobe After Effects license only
Pay $79.99 per month for access to all 20+ Creative Cloud apps – single license only
Students & Teachers
Pay $19.99 per month for the first year, [rising to $29.99 a month in the second] for full Creative Cloud access
Schools & Universities
There are several options offered here.
Contact the company for current costs and quotes.
The cheapest option is for a single, named user. They pay $14.99 a month to use just one app or $34.99 per month for the full package.
Dragonframe – Best Computer Animation Software for Time Lapse Animators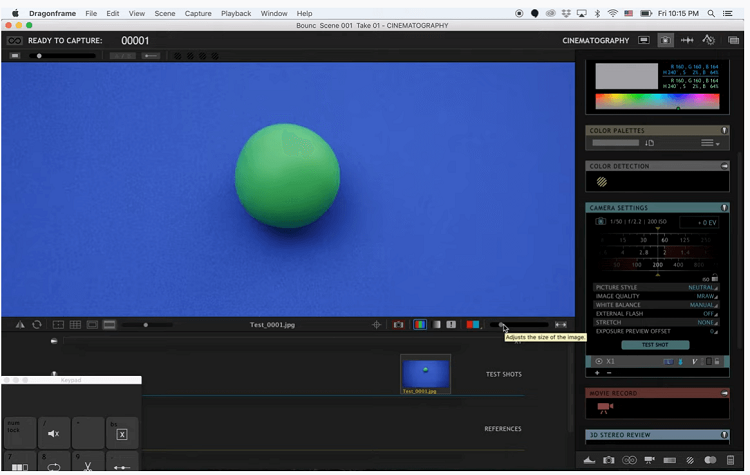 This program is all about capturing moments and transforming them into high-quality animations.
Key Features
Lots of handy features for quality time-lapse and stop motion graphic animations
Works well with high-resolution camera images
Can be tethered to mobile devices for more flexibility
Pros
Great for clay animators and stop-motion fans of all levels
Offers users access to a comprehensive tutorial base
Excellent in-house support team
Cons
Dragonframe has a useful, but the very narrow scope, so potential buyers need to do their research
It's pretty technical, so not a good choice for complete beginners
Who is it ideal for?
Dragonframe is capable of producing outstanding animations for any user group interested in its topic area.
Professional photographers will get as much value from this program as hobby stop-motion or any kind of motion graphics creator.
Platforms
To successfully run this software, users require a computer or device with an operating system listed below.
A macOS 10.13+
A Windows 7/8.1/10 (64-bit only)
Use an Android [7.0+] or iOS [10.0+] via Dragonframe Tether, a handy stop-motion app. It's available free of charge
User Reviews
Dragonframe has a lot of fans, and this program regularly scores full marks from user reviews.
Here is a selection of what verified users shared about their experiences with it:
Dragonframe is designed logically, so it's really easy to get started
It's the best motion software around
Users have lots of control; there's even an option to work in your own rigs.
Well worth buying if you are serious about animation
You can tell actual animators created this
Prices & Packages
There is a 30-day free trial option but keep in mind that it is limited.
It is meant for checking if your camera works well with it, and of course, you get the chance to try Dragonframe out for yourself.
Any images produced will carry a watermark, which is removed in the paid version.
Here are the details of the paid program:
For individual students and teachers, it costs US$205 for Dragonframe 5 + a Bluetooth/USB Keypad
Or US$195 for the software alone
Reduced rates are possible:
Buy two software/keyboard combos for US$135 each, saving $40
Or buy two software-only packages for US$125/each, saving $140
This is a discounted price and covers non-commercial use only.
Although individuals buy licenses, students can only buy one via their school's education account.
This pricing does not cover sales taxes and other potential add-ons.
Standard pricing
$295 for the software
$95 for an upgrade package
$305 for the software & Bluetooth controller
Best Animation Software according to Reddit:
For 2D animation, use Adobe Animate for $20/month. For 3D animation, get the fully functional student version of Autodesk Maya. Find free animation courses on the Animation Career Pro site and YouTube (check the playlists). Visit animcareerpro.com for more details.
You might be interested to check those related posts as well:
FAQ
What is the most popular computer animation software?
Measuring overall, all-around popularity, Autodesk Maya and Adobe Animate are consistently top of the most popular software lists.
These software programs offer a good range of features, are considered user-friendly, and have a free trial period.
What kind of computer would be best for animation software?
Creating animation is a magical process where separate elements like movement, sound, and color come together.
The best Windows computer for 2D and 3D animation software is the Acer Aspire 5 A515 15.6 Inch Laptop.
It has the power, resolution, memory, and speed needed to deliver.
Which Mac is best for animation?
The Apple MacBook Pro is a strong contender for the title of best Mac for animation.
It's designed to suit all users, including professionals in creative fields.
It features a 15-inch screen, 16 GB RAM, and I7 Quad-Core processor, and it's fast.
What animation software does Disney use?
Disney animators use a combination of software programs, depending on the tasks they happen to be working on.
For example, Autodesk Maya is a popular option for modeling and rigging work.
At the same time, something like Houdini is popular for special effects.
With its Fresco brushes, Adobe Animate is also a go-to for Disney animators and wannabes learning the ropes.
What software do huge animation studios like Pixar or DreamWorks use?
Pixar often uses its own animation software program called Presto.
This is an exclusive product, but there's a very similar program Pixar has made available to the public.
Look for RenderMan, which is free to use on a limited license.
Dreamworks have recently developed and used Moonray, their top-class rendering tool.
Conclusion
There's a wide range of high-quality free and licensed computer animation software out there.
This kind of choice means it's worth looking around for the package that best suits you.
Don't settle for just any old animation software package, instead grab the one that's perfect for you.