With so many editing tools available, it's tough to choose the right one for you.
Here, we look at the best photo editing software and features, both paid and free, and help you decide which is best for you.
What Should You Look for in Photo Editing Software in 2023?
Editing Features
Asking yourself what you need the software for can help.
Some have different features; such as changing the color of the sky, correcting poorly taken pictures, removing elements from the photos, enhancing the quality, or adding layers.
Others have more complex functions, which can include anything from relying on AI to spot and fix mistakes to improve your images, or drawing from scratch and editing your hand-drawn creations.
If you want software that matches your needs, making the following three lists might help:
Features you need to have
Those you would like but can manage without
What don't you want or need?
It's easy to get caught up in the new versions and additions, but these are wasted if you won't use them.
Online Resources
For some, especially those new to photo editing, it can be important to access help.
This might be in the form of a detailed FAQ section, live chat, or guided tutorials.
Otherwise, it may be daunting to see all the functions and not know where to start.
More experienced users won't need as much guidance but might want to access their creations online or keep different versions of the edits in case they change their minds.
Workflow
If you intend to do image editing for your own personal use, you probably won't use the editing software or its features as much as someone using it for work.
Also, if you're on the go a lot, you should consider installing an editing app to make the best use of your time when away from your desk.
Having the option to store your results in different easy-to-find folders for each project, means less wasted time and higher productivity.
If your software doesn't include storage, your files will take up a lot of space on your computer.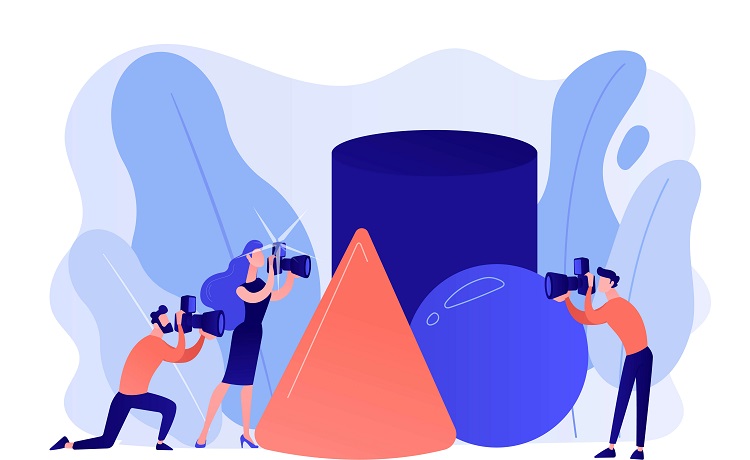 Organization Tools
Looking at the organizational tools with the software you're considering can help you make your choice.
Some questions to ask include:
Do you need to edit and store photos in more than one place? (laptop, computer, tablet, etc)
Does the software work with Windows, Mac, or both, and does this match your needs?
Can you access and organize your photos if you're unable to connect to the internet? This could be important if you lose connection but have a tight deadline.
Accessing files across different devices means you can work on the go.
If you have to travel a lot, this would be the best option.
Additionally, if you work on Windows and Mac, choose software that lets you edit on both.
If your travels sometimes take you to places with no or limited internet connection, consider software that won't lose your latest work if you're disconnected.
Comparing Photo Editing Software
To help you decide, we have compared software, such as pros/cons, cost, and features/extras.
So, no matter what you're looking for, you will find it.
Adobe Photoshop Lightroom Classic/CC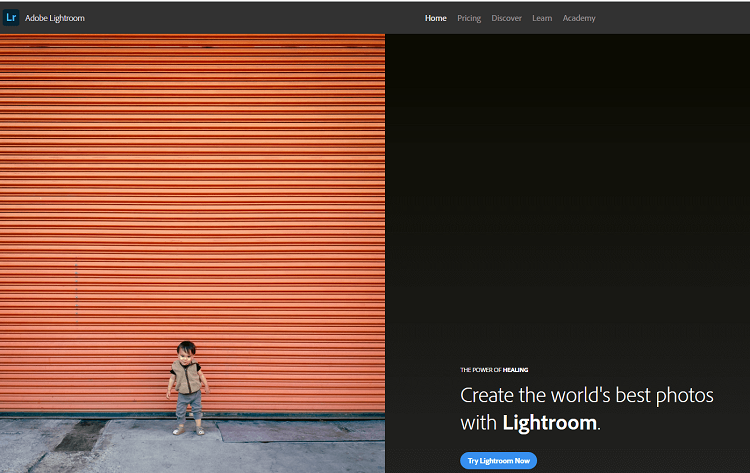 You can pay monthly for this software, starting at $9.99 per month, so you'll barely notice the expense.
While it can run slowly on some devices and types of computers, there is a wide range of support for RAW files.
You'll also have cloud storage for your creations, without taking up much-needed memory on your computer.
Lightbox Photo Editor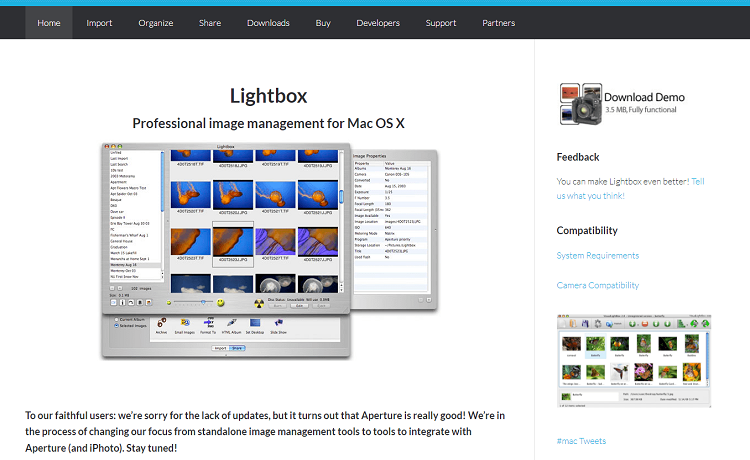 Lightbox is a free image editor.
It's great if you need to perform more basic functions such as removing red-eye, fixing lighting issues, or removing undesirable additions to your photos.
However, it is no longer updated, so wouldn't suit anyone who prefers having access to the latest photo editing features.
Darkroom Photo Editor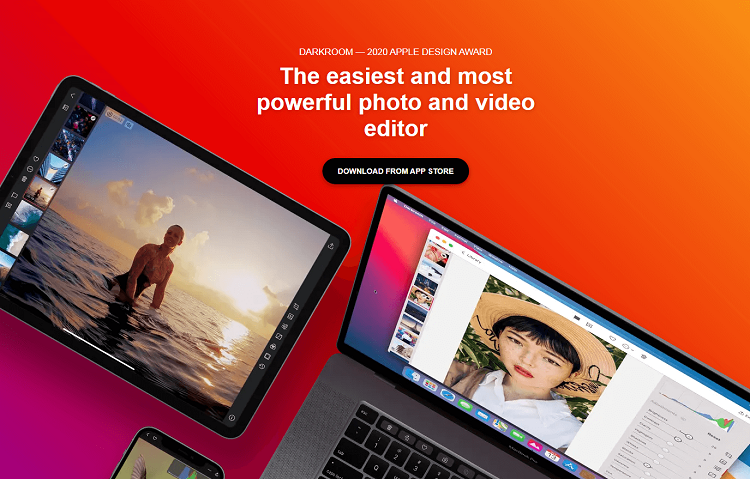 Darkroom works on Mac, iPhone, and iPad.
It's quick and easy to use with little or no technical skills, and the Mac app is free to get started with.
Full membership is $3.99 per month or $19.99 for a year, or you can purchase it for $49.99.
The paid version is rather basic, and the free option is more of an enticement to sign up, but this software doesn't take up as much storage space as many others.
Adobe Photoshop CC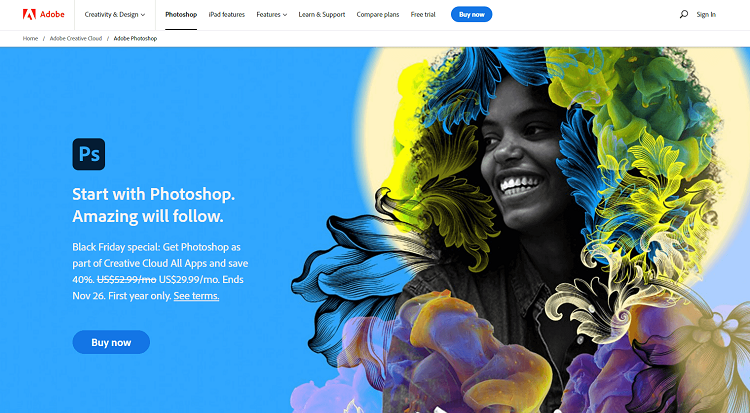 This software isn't available as a physical copy, so you'll have to subscribe, although a free trial is available.
The monthly costs are more expensive than the alternatives, but you gain access to a range of editing features and functions, as well as cloud storage.
If you're unsure how to use any of these, there are tutorials available to help you.
Affinity Photo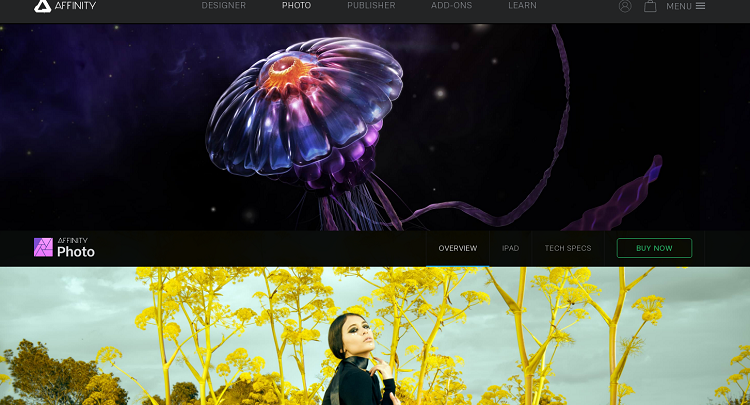 This is compatible with macOS, iOS, and Windows.
The price of $49.99 makes it more affordable than other options, and layer editing is one of the attractive features offered.
The software also works with raster or vector images and supports RAW files, but if you need software with design templates, this doesn't have any.
PhotoDirector 365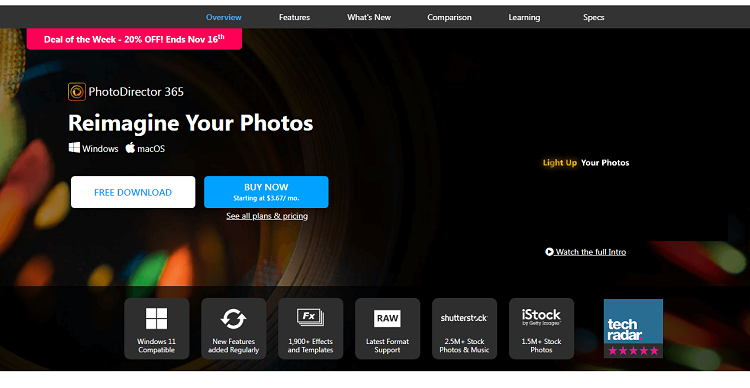 This allows you to create an animation as well as photo editing and has low monthly or yearly subscriptions to choose from.
It's easy to use, and the features include a body shaper and a variety of smart editing tools.
Some users have reported glitches in the software.
Capture One Pro 21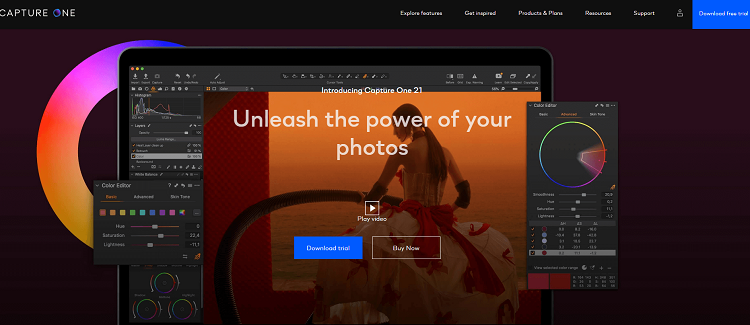 The subscription cost is pricey and the single-user license can only be accessed by one user from two computers.
It's also worth noting, there is no cloud storage, but it has fantastic high-quality raw processing, produces professional-looking results, and is aimed more towards users with previous photo editing experience.
DxO Nik Collection 4

A free trial is available and the buy outright price is reasonable.
However, the software has several applications, and this can be tricky for less experienced users to navigate, with edits not saving when used in different applications, and it takes up a lot of storage space.
The upside is, there are so many adjustments and presets to choose from.
CyberLink PhotoDirector 365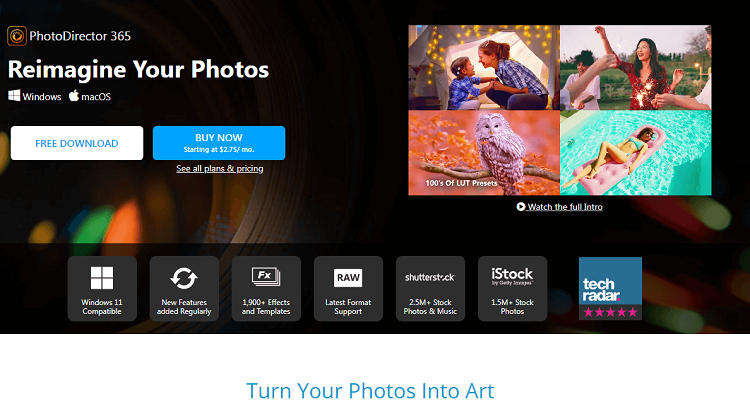 This has a cheap monthly subscription, plenty of AI tools, plugins, and features, and is easy to use, particularly for anyone familiar with Photoshop, as there are similarities.
However, if you struggle, there are useful guides you can learn from.
You also get a range of sound effects to accompany your images or video, although some of the more complex effects don't always work so well.
Luminar AI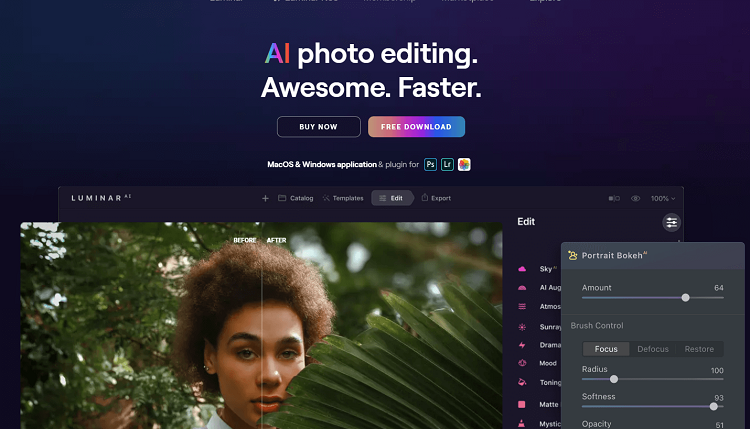 This software is fully powered by AI, which means it is easier to improve your images and fix problems without extensive knowledge of editing.
While the names of the effects don't give away much about their uses, it will take some experimenting to figure out.
The templates available include those suited for Instagram, and the cost is competitive.
GIMP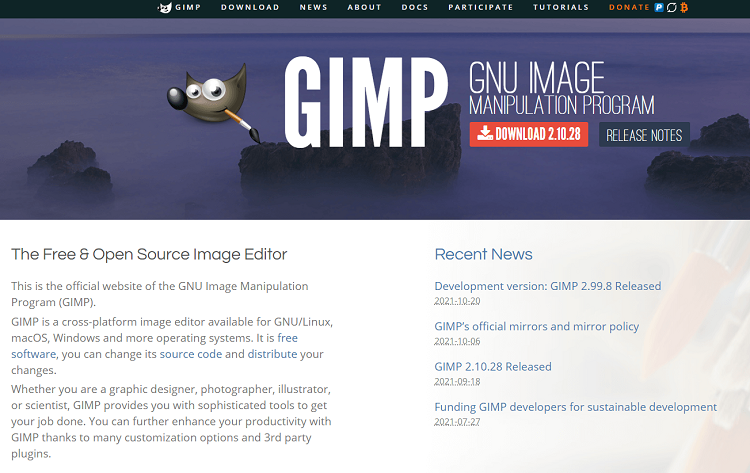 With GIMP, you can create original artwork, enhance photos, access different elements of graphic design, and perform digital retouching.
It lacks many of the features of Photoshop, but it's free, and a good place to start testing out editing software.
There aren't as many tutorials though, so it helps to have some pre-existing knowledge.
Skylum Luminar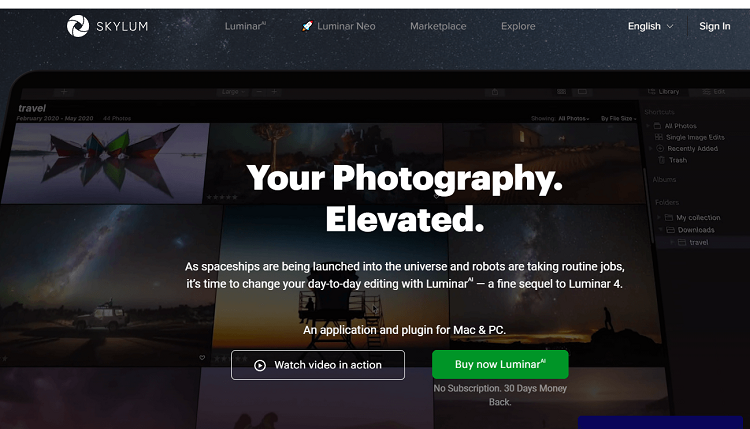 You can get this for under $100, and it can be used on its own, or as a plugin.
When you buy the current version, you'll receive any updates for free, until the next version is released.
One downside is if you already use version 3, and switch to version 4, it is significantly different and will take some time to get used to.
Corel PaintShop Pro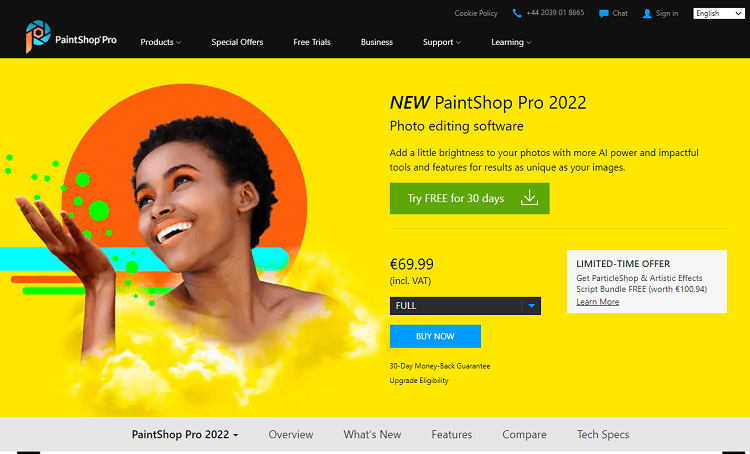 Although it depends on the version you choose, this is another software you can buy for under $100.
You'll have access to many features which are similar to those in Photoshop, over 100 royalty-free backgrounds, and some AI features.
Although some of these aren't as good as Luminar AI's features, and Corel PaintShop Pro 2022 doesn't have as many additional features as 2021 did compare to its previous version.
Skylum Aurora HDR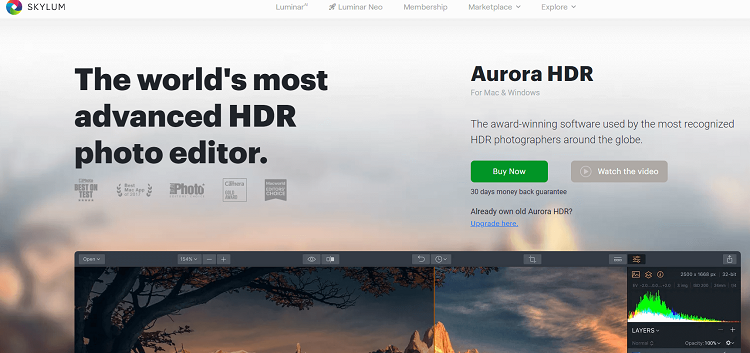 This is another reasonable price software; you can pick up the 2018 version for $89.
The 2019 version has over 20 tools including; HDR Denoise, dodge and burn, Enhancer, LUT mapping, and polarizing filter.
Although, it may not be suitable for anyone looking for the most advanced tools available.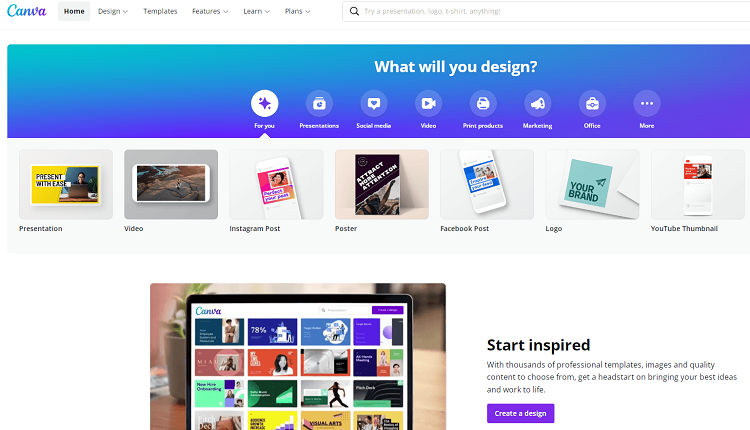 Canva has both free and paid options ($12.95 a month) and is possibly the easiest photo editing software to use.
Unless you're looking for background removal (which you can find elsewhere for free) or more graphics, images, and templates, the free version does everything you need it to.
This includes designing book covers, creating social media posts, and using filters to change the color scheme or distort images.
Paint Net

This isn't sophisticated enough to replace software like Photoshop, but it is free, supports plugins, and is suitable for small edits.
It's best for casual users, not professionals.
If you plan to create designs with images and text, it's worth noting text can't be corrected after you've added other effects, so remember to add your text last.
InPixio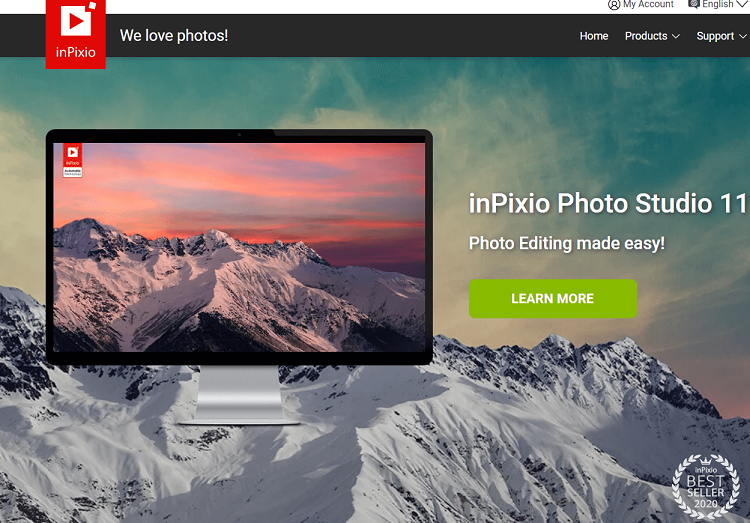 InPixio starts at $60 depending on the version you need; Eclipse, HDR, or the Pro version, which is $150.
There is a trial version, but this adds watermarks to your finished creations, although you may find other free software which removes this.
There are lots of selective retouching tools, and this software supports RAW file types.
Lunapic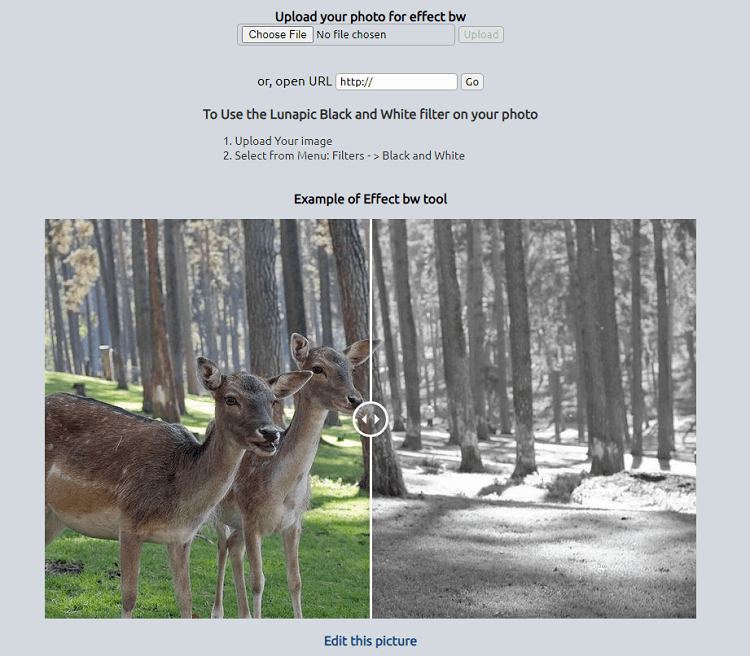 Lunapic is free to use, and there is no download required.
It's easy to use the features; from editing and adjusting (such as skin smoother, resizing images, or creating a transparent background) to borders, filters, effects, and animation.
There is a help section if you get stuck, or you can just explore the simple-to-use effects and see for yourself how they look.
Colorcinch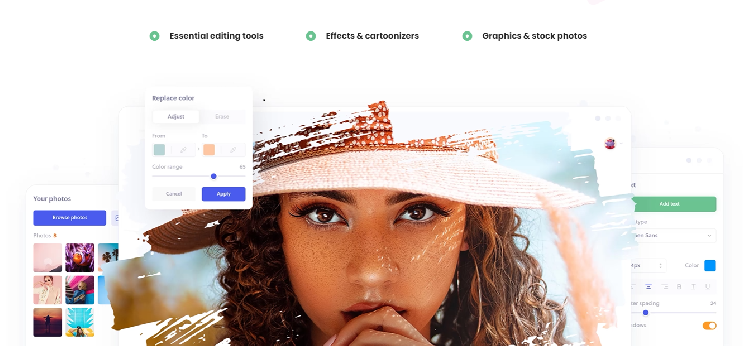 Colorcinch – a powerful photo editor that enables hobbyists, photographers and designers to create stunning artwork and enhance photos in minutes.
With its simple and clean UI, and a vast arsenal of tools, everyone—including non-techies—can effortlessly create professional-level graphics and photo enhancements.
Go all-in with Colorcinch Plus and experience creative editing with ease and virtually no learning curve. All features – one low price. Pay by month (8,99$) or the year (59,88$).
Best Photo Editing Software for Beginners 2023
Canva is a great editing software for beginners.
If you're just starting out, then their templates are the perfect place to begin.
You don't have to worry about dimensions and layouts because they are already set up for you.
You can edit these to make them unique, otherwise, you'll find yourself with similar creations to others who have made little or no alterations to them.
If you're feeling more creative, you can use the blank templates for different social media platforms, experiment with your own photos, change the colors and how they look, and try out different styles of text.
You can also save time by using the graphics available rather than drawing yourself as you might with other software.
GIMP is another software you might consider as a beginner.
Although we mentioned earlier, there are fewer tutorials and guides, you can find useful videos on YouTube.
If you're not sure about spending money on software like Photoshop, GIMP lets you try out some typical features, albeit less developed, to learn by trial and error.
If you're a beginner just looking for basic functions like photo retouching, Paint Net is a viable option.
It has enough features for small photo projects, is well-designed, and is easy to learn.
The Best Professional Photo Editing Software 2023
Adobe Lightroom is a great software for professional photographers.
It's not always possible to get the best shot at the moment, but Lightroom allows you to correct any flaws, remove people or objects you don't want in the photo, and use your photos to either sell your photography or if you work in another industry you can use your photography to sell your products or services.
Then it can be considered an investment, as people like to see what they are paying for, so it's important to make it look better than your competitors.
If you're working on a big project or multiple projects, Adobe Lightroom makes it easy to store your work and the different stages of editing.
So, if you or your client change their mind, it will be easy to find and you won't have to do the work again.
If you're a professional artist who creates your work from scratch, then CorelDRAW might be the best option.
You can still use it to edit photos, but you can design your own illustrations to stand out from other artists too.
Whether you're working with colleagues or creating work for a client, it's easy to use the app to collaborate or get real-time feedback.
There are templates for you to use if you're lacking in inspiration or need to jumpstart your creativity.
Best Offline Photo Editing Software for PC 2023
GIMP, which has been mentioned before, works well on PC and you access your files when offline.
It is an open-source photo editor.
So, if you notice any bugs, you can fix these, and if you need any tools which aren't available, you can download these, when you are back online.
Although a beginner might struggle with this, again, the information and video guides are easy to find online.
Canva, again, is good for use on a PC.
You don't have to download it, just use the features directly for the website.
Providing you have adequate storage space for your creations, it's a great option to consider.
While you're limited to what you can do with your photos, it's good for using them in your designs.
While it can't be used offline, if you are mid-creation and lose your connection, you can leave your work open and save it when your PC reconnects.
Photopea can be used while offline, whether you're working on a simple or more complex photo editing project.
You can still make adjustments, use filters, and make use of all the other features.
Best Photo Editing Software with Special Effects 2023
BeFunky – If you don't mind all advertisements, this is a great option for adding special effects to your images, from Android or iOS devices. It's free, or you can unlock all the features for $4.95 a month.
Adobe Photoshop CC – The chances are, whatever effects you want to add, you'll find them on Adobe Photoshop CC.
Affinity Photo – This lets you add eye-catching special effects in just a few clicks
Best Photo Editing Software to Remove Unwanted Objects 2023
Adobe Photoshop Fix can remove not just objects, but the light from targeted areas of your photographs and if you want part of your image to stand out, you can change some of it to black and white with the area you want to draw attention to to to remain in color.
Alternatively, you can blur the least attractive areas, without removing them.
Clip Studio Paint Pro is a useful tool, particularly for beginners who want to remove something from an image.
If this is the key thing you need for photo editing software, it's an affordable option.
Of course, there are other features, but it lacks many of those found in Photoshop.
You could also try Inpaint.
You can use the desktop version on Windows or Mac, and there is the option to test it out on their website without downloading.
As well as removing objects, you can improve the appearance of your skin in the photo, remove watermarks or date stamps, and use it to repair old photos.
No technical know-how is required.
You need a steady hand to shade in the exact part of the photo you want to be removed.
Otherwise, it won't look right.
Best Photo Editing Software for Social Media (Facebook, Instagram) 2023
Wondershare PixStudio has templates for Facebook and other social media platforms.
Although it doesn't have direct sharing abilities, it's free and you can save and share your creations yourself.
The best thing is you don't need design skills to use it.
Canva has templates for most social media, including Facebook, Twitter, TikTok, Instagram, Pinterest, and more.
It's up to you how much you rely on the designs and images available.
It's possible to use blank templates to create new designs or mix and match the pre-made designs to add your own touches to them.
Pic Collage is a free photo editing app with in-app purchases available.
You can create designs to share directly on social media platforms, including Facebook, Twitter, Instagram, and Snapchat.
With all the stickers and backgrounds to choose from, you can create unique images to go with your social media posts.
SnapSeed is another free app.
It can be used on iOS or Android.
There are 29 tools and filters for you to use in your Instagram images.
If you're new to photo editing apps, you can use the tutorial card to learn.
The app also lets you remove parts of the photograph you don't want to share with your followers.
Using a software app allows you to use your phone or tablet to edit and create images when away from your desk.
So, you can be more productive.
Best Photo Editing Software Without a Subscription 2023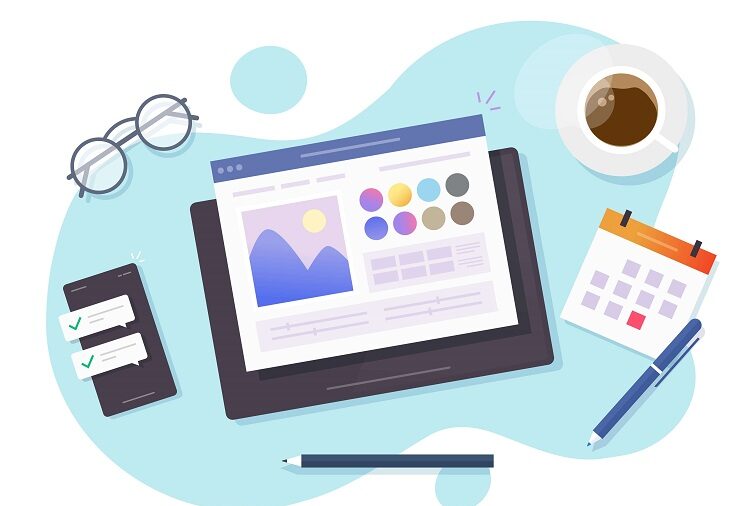 Lunapic lets you upload images, then edit and use the features to achieve your desired effect.
These include a variety of borders, filters, special effects, and art effects.
Some resemble professional drawings, while others are a little more obvious.
As this is all done from their website, without downloading software, no subscription is needed.
Canva can also be accessed without a subscription unless you decide to sign up for the paid version.
You need to create an account and be signed in, though.
You can buy Capture One Pro, avoiding the need for a subscription.
This gives you free upgrades each time a newer version is released.
So you have to pay for the initial cost of the software, but technically, it's free (and subscription-free), for as long as you want afterward.
Xposure X4 is another software you can avoid getting a subscription for by buying outright.
Once you've paid the $119, it won't take long to save money on what you could be paying for a monthly subscription for other editing software.
Best High-Quality Photo Editing Software 2023
Affinity Photo is an affordable alternative to Photoshop and is high-quality software.
With this, you can increase the image resolution of even the lowest-quality images.
The results look professional.
So, whether you want to create mock-ups, t-shirt designs, or illustrations, the quality will be high.
If you're a professional photographer, Dx0 Photolab can provide the high-quality results you need.
With its U Point technology, you can use the tools to make precise changes.
So, the level of detail will be eye-catching.
Although it's crucial to have impeccable photography skills, Photolab gives your images that extra touch of quality, so you can stand out from your competitors.
Adobe Photoshop is the obvious choice for a lot of professionals.
It's familiar and straightforward to use for anyone with experience.
The name alone is one professional's trust for the high-quality results they are familiar with.
Many beginners prefer to learn design and editing while using Photoshop, because of its reputation and range of tools, from the simple to the more advanced.
These include layers, simple corrections (additions or removals, etc), and 3D modeling and drawing.
There is something for everyone and the results don't disappoint.
Best Photo Editing Software according to Reddit:
Affinity offers excellent and affordable options. Primarily use Affinity Photo on iPad for editing, but Pixelmator Photo is also reliable. You may explore other choices like GIMP and DXO Photo Lab, and try Lightroom too, as it's widely recommended.
You might be interested to check those related posts as well:
FAQ
What is Photo Editing Software?
Photo editing software is used to alter images and has a variety of functions, including:
Enhancing the quality of a photograph
Deleting parts of a photo
Adding different elements to an image
Changing the color scheme
Both hobbyists and professionals use photo editing software, for personal and work projects.
Which Photo Editing Software is Right for You?
If you're a beginner with little to no experience in editing images, you might find it easier to use:
Gimp
Corel Paintshop Pro
Adobe Lightroom
Canva
If you're looking for something to get started while you figure out the basics, Canva has a free option and more than enough free features to do most things.
What is the Best Free Video Editing Software?
Canva has plenty of free templates, photos, and graphics, as well as tools to alter the color scheme and distort or alter your images.
Gimp is a great free option for anyone looking for image editing, or if you prefer to create your own designs.
What is the Best Photo Editing Software you can Buy?
Adobe Photoshop Lightroom Classic CC has all the tools you need to edit your photos, create images and keep them safe with cloud storage.
Affinity Photo has a one-off payment and professional-looking results.
It also offers many of the same features as Photoshop.
What is the Best Photo Editing Software for PC?
Photoshop CC – This is best for PC if you're looking for downloaded software with a subscription and a wide range of features.
Affinity Photo – This is a more affordable option for PC owners on a budget.
Luminar AI – If you have little experience or are intrigued by using AI to improve your photos, we recommend this for your PC.
What is the Best Photo Editing Software for Mac?
Darktable 2021 is a free, easy photo editor and is available for use on Mac.
Adobe Photoshop is always going to be a top choice for Mac users. It's difficult to find a single replacement that ticks all the boxes.
Pixelmator – You can choose from two versions for Mac; Classic or Pro.
What is the Easiest Photo Editing Software?
Skylum Luminar – The AI slider and filters mean adjustments are quick and simple to make.
Canva – Although this can be a learning curve for more complex creations, it's easy to figure out
Pic Monkey – This serves as more than just a simple photo editor but makes creating your designs easier. With its range of templates and resizing options, you'll soon be creating like a pro.
What is the Difference Between Photoshop and Lightroom?
Lightroom was specifically created for professionals who have a large workflow.
Files in Lightroom aren't changed.
The original remains the same, and new versions are created.
Photoshop's editing tools have better precision, while Lightroom's tools could be described as simplistic in comparison.
Does Microsoft Have a Photo Editor?
Yes.
A free photo editor comes pre-installed on Windows 10 devices.
This allows users to create and save photo or video projects.
It also makes creating videos much easier.
You can crop and make minor adjustments to photos, or drag and drop individual videos to create a longer project.
Does Mac Have a Photo Editor?
Yes, Mac has a built-in photo editor.
'Photos' has an impressive range of functions.
It may be hard to find if you didn't know about it.
While this doesn't match the more advanced software most professionals prefer, it may be enough for beginners and hobbyists.
What's the Best Photo Editing Software for Photographers?
Adobe Lightroom, while still having some of the benefits of Photoshop, is a less complex photo editor.
So, it's a great software for photographers who want to get the best results for their images.
There's also an introduction to when you first use the software to help you get started.
Conclusion
Whether you are a beginner, a professional with decades of experience, or somewhere in between, there is software to suit you.
You can choose from a range of paid or free options, which cater to all levels of experience and requirements.