The latest online shopping statistics show that brick-and-mortar purchases still make up the majority of consumer spending, but online shopping is catching up.
The COVID-19 pandemic has put an added strain on in-store shopping and has left many brick-and-mortar chains struggling.
At the same time, a crop of new small businesses is popping up, with eCommerce startups and direct-to-consumer retailers also gaining popularity among shoppers.
If you've already got an online retail store or are interested in building one, the following online shopping stats will guide you in the right direction.
Interesting Shopping Trends, Facts, and Statistics 2023
In 2020, the size of the global online shopping market hit 4 trillion.
Currently, 69% of Americans have shopped online, with 25% of Americans shopping online at least once per month.
In 2018, the worldwide digital buyers' penetration rate was 47.3%.
In 2021, an estimated 2.14 billion people worldwide were expected to purchase goods online.
It's also expected that global digital commerce sales will reach $4,891 trillion in 2021.
63% of shopping occasions begin online.
In 2019, the biggest online marketplace worldwide was the Chinese platform Taobao, with an annual third-party gross merchandise value (GMV) of 515 billion US dollars.
Tmall and Amazon ranked second and third with $432 and $344 billion, respectively.
The average per-visit spend of an online shopper worldwide is $2.91.
60% of online shoppers cite direct home delivery as a good reason to buy an item online.
Other reasons include cheaper prices, a more extensive product range, and round-the-clock availability.
35% of online consumers cited easy returns policies and reviews from other customers.
Cart Abandonment Statistics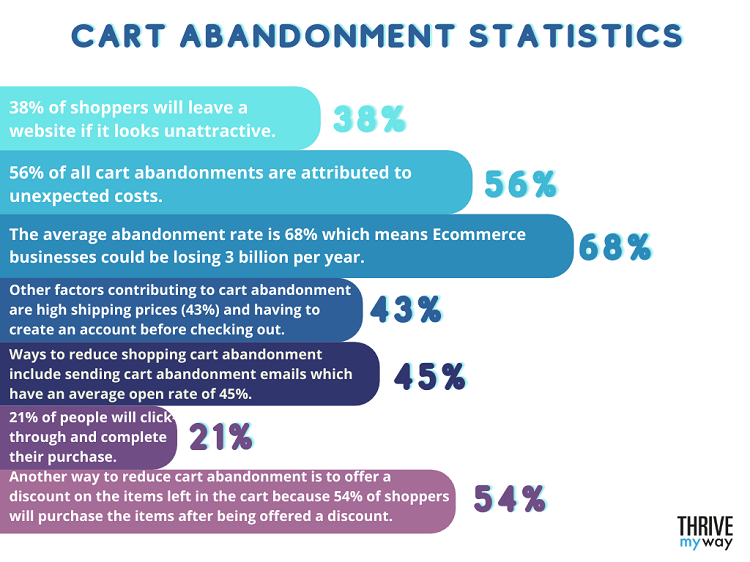 38% of shoppers will leave a website if it looks unattractive.
56% of all cart abandonments are attributed to unexpected costs.
The average abandonment rate is 68% which means eCommerce businesses could be losing 3 billion per year.
Other factors contributing to cart abandonment are high shipping prices (43%) and having to create an account before checking out (23%).
Ways to reduce shopping cart abandonment include sending cart abandonment emails which have an average open rate of 45%.
Once the email has been opened, 21% of people will click through and complete their purchase.
Another way to reduce cart abandonment is to offer a discount on the items left in the cart because 54% of shoppers will purchase the items after being offered a discount.
Around half of all online shoppers have failed to complete a purchase online. The most common reason was that there were too many options to choose from.
Online Shopping Returns Statistics
80% of online shoppers find an inconvenient return policy a deterrent.
41.2% of online shoppers say they care most about free shipping on their returns.
28.1% of shoppers care most about how easy a return is processed.
Social Commerce Statistics
39% of US adults aged 18 to 34 say they have purchased through social media, and 15% do it regularly.
Almost one-third of consumers use Facebook and other social media platforms to discover products in the US.
Seven out of ten shoppers say they are influenced by their friends' social media reviews and posts.
Between 2019 and 2025, the number of social buyers in the US is expected to increase from 60.6 million to 108 million, which is an increase of more than 75%.
At the end of 2020, more than half of internet users between the ages of 18 and 35 had used Facebook and other social media channels to make a purchase.
60% of consumers over the age of 55 say they have no interest in shopping via social media.
55% of respondents say they have purchased a product online after discovering it on social media. Of those, 11% bought it immediately, while 44% waited until later.
Facebook and Instagram are the most popular social media platforms for purchasing online.
Mobile Ecommerce Stats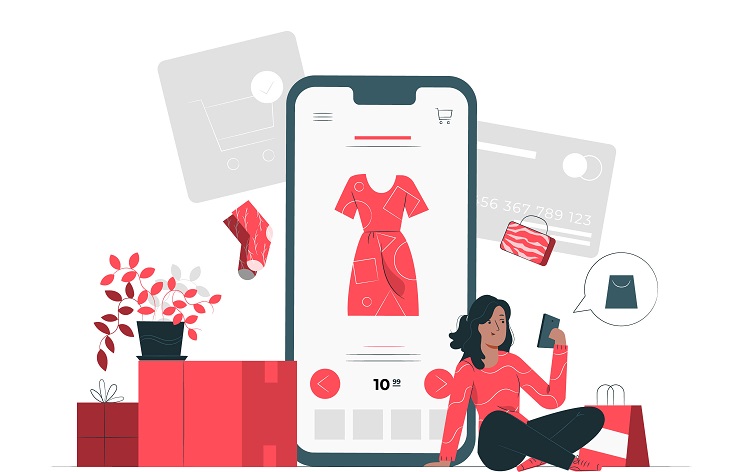 67% of smartphone users admit to window shopping for fun.
77% of digital window shoppers make impulse purchases.
70% of digital window shoppers will come back and purchase from their device within the first hour of seeing a product.
49% of people exclusively use their phones for shopping.
By the end of 2021, it is predicted that mobile will dominate online retail sales and be the driver behind 54% of all retail sales.
65% of people use their smartphones for price comparisons when physically shopping in a store.
Online price comparisons have influenced 51% of shoppers to purchase from a company other than the one they originally intended to.
As of Q4 in 2018, desktop PCs accounted for roughly the same amount of global e-retail orders as smartphones.
In the same period, in terms of retail website visits, smartphones took the lead and were the number one device people were using to visit retail websites.
The average order value on a desktop is 42% higher than on a mobile.
Nine out of ten digital shoppers believe the mobile shopping experience could be improved. They consider the following to be impediments to the mobile shopping experience: pages and links that are too small (67%), concerns about security (42%), interruptions from messages, apps, and other programs (36%), difficulty finding what they're looking for (36%).
61% of consumers prefer retailers with augmented reality capabilities.
According to eMarketer, online shopping through mobile devices grew 41.4% in 2020 and another 15.2% in 2021 to reach $359.3 billion in the US.
Online Shopping Customer Statistics
Demographics
According to Invesp, the countries with the leading average E-commerce revenue per shopper are: the USA ($1,804), UK ($1,629), Sweden ($1,446), France ($1,228), Germany ($1,064), Japan ($968), Spain ($849), China ($626), Russia ($396), and Brazil ($350).
When it comes to the gender of online shoppers, 72% are women, while 68% are men.
Currently, 93% of parents say their Gen Z child influences household spending.
85% of Gen Z go on social media to learn about new products.
In the US, millennials are the largest group of online shoppers (20.2%) as of February 2020.
35 to 44-year-olds were the second-largest group of online shoppers and accounted for 17.2% of US digital buyers.
87% of younger consumers want financing options for online purchases, such as monthly payment plans and buy now and pay later methods such as Klarna, Splitit, Affirm, and Sezzle.
Free shipping is essential for 60% of both male and female online shoppers.
Almost 77% of women buy products that have the best bargains.
67% of millennials are online shoppers in the US.
56% of Gen-X are online shoppers in the US.
41% of baby boomers are online shoppers in the US.
28% of seniors are online shoppers in the US.
Gshopper and Everymarket are two big online stores that gained 100% of the trust of their customers.
Shopping Habits
47% of online shoppers in the US bought their first item on Amazon.
The major difference between male and female online shoppers is what they shop for. Men tend to go for heavy-duty items such as computers and furniture, while women prefer to shop online for things like clothing and groceries.
60% of consumers used chatbots to find answers in the past 12 months.
Millennials much prefer to use chatbots as a support channel.
While shopping online, the most popular payment method is a digital/mobile wallet.
Almost 44.5% of online shoppers say they prefer this method.
In second place are credit cards, with debit cards coming in third place.
62% of online buyers say they shop online at least once a month.
26% of online shoppers shop online once a week, while 3% say they shop online once a day.
Free delivery could increase the likelihood of an online purchase for 53% of consumers.
74% of shoppers search online before they visit a store.
63% of online shoppers visit Amazon for product searches.
70% of online shoppers read between one and six product reviews before purchasing.
61% of online shoppers prioritize good search and navigation.
55% of consumers research products online when planning a significant purchase.
70% of consumers shop using local small business websites.
Of those consumers, 57% buy locally to keep money in the community, 38% like to support local creators, 28% buy from small businesses because customer support is better, and 19% like to support local nonprofits.
30% of US internet users have used a voice assistant when shopping online.
60% of consumers say they would be more likely to buy from a brand if they enjoyed playing a game with it.
67% of American consumers choose paper and cardboard-based packaging over other packaging materials.
Shipping and Fulfillment Stats for Online Stores
More than 90% of online shoppers say they find click-and-collect very convenient.
In 2020, click-and-collect sales exceeded $58 billion in the US.
46.2% of online shoppers say they want two- to three-day shipping options.
15.1% say they want same or next-day delivery.
40.5% of consumers say they prefer stores that offer free shipping.
One in four online shoppers says they would only purchase if free shipping were offered.
15.2% say they would change the eCommerce store for one that offers free shipping.
34% of online merchants report not giving consumers an option regarding shipping times.
Fewer than 20% of shoppers don't care about the cost of shipping.
Only 33% of online retailers always offer free shipping.
Online Shopping Statistics by Industry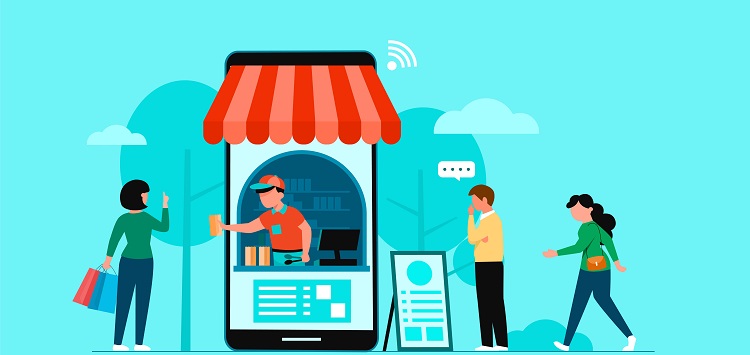 The most popular shipping categories in the US are fashion, media, and electronics.
For insightful information on the importance of comparison shopping, visit this article and discover how it can enhance your online shopping experience and help you make more informed purchasing decisions.
Financial services
47% of online shoppers buy financial services online.
More than half of financial services buyers prefer to get their services online.
In-store sales for financial services were just 20% in 2019, which is 50% less than online financial purchases in the same year.
Fashion
59% of American online shoppers have bought clothing items.
The global fashion eCommerce market is forecast to reach $759,466 million by 2025.
By 2025, the number of consumers in the apparel segment will reach 3,705.5 million.
Electronics and Media
In 2019, 46% of online shoppers in the US shopped for TV and video devices.
The forecast for online shopping in the electronics and media category is $542.4 billion.
60% of consumers prefer purchasing books, movies, video games, and music online than in-store
In 2019, 30% of computer and electronics sales worldwide came from an online purchase.
Toys, Hobby and DIY
The projection for online shopping in this category will be $590.7 billion by the end of 2021.
Furniture and Appliances
The projection for furniture and appliances will be $362.9 billion in 2021.
Food and Personal Care
The online retail grocery industry is expected to grow the most in Asia, and by the end of 2021, it is anticipated to reach $4,084 billion.
In South Korea, 20% of shoppers buy their groceries online.
Online Shopping Challenges Statistics
In 2018, an online shopping report revealed that 56% of consumers still prefer the in-store shopping experience over digital shopping.
The number of online shoppers has been rising for several years, but only 2.86% of eCommerce website visits get converted.
Consumers prefer brick-and-mortar stores for many reasons: because they want to see the item first (56%), they want to try on the item (55%), they want to check if the product looks different (41%).
34% of consumers who prefer physical stores say they are concerned with long delivery times, 25% are worried about high shipping costs, and 24% worry about the fragility of the item they want to purchase.
47% of online shoppers expect web pages to load in less than 2 seconds.
79% of shoppers that experience issues with web performance are less likely to get converted.
Users who don't have a pleasant mobile browsing experience are 62% less likely to purchase from a brand.
Online Shopping Holiday Statistics
In 2020, US holiday retail eCommerce sales peaked at $188.2 billion.
61% of holiday shoppers make their online purchases using a desktop rather than a mobile device.
Black Friday and Cyber Monday Online Shopping Statistics
In terms of spending money, Black Friday and Cyber Monday are the busiest time of the year.
In 2018, 174 million Americans shopped on this holiday, and they each spent an average of $335 per person.
During the same year, 93% of the biggest spenders were millennials aged 24-35, and on average, they spent $419.52 per person.
Most Black Friday and Cyber Monday purchases happen online (58 million), compared to 51 million offline.
50% of people choose to stay at home and browse using their devices.
On Cyber Monday in 2018, 53% of online sales came from a mobile device.
Christmas Online Shopping Statistics
91% of US consumers buy their Christmas gifts from Amazon.
The second and third most popular online stores are Walmart.com and Target.com, with 52% and 38%, respectively.
Amazon Online Shopping Stats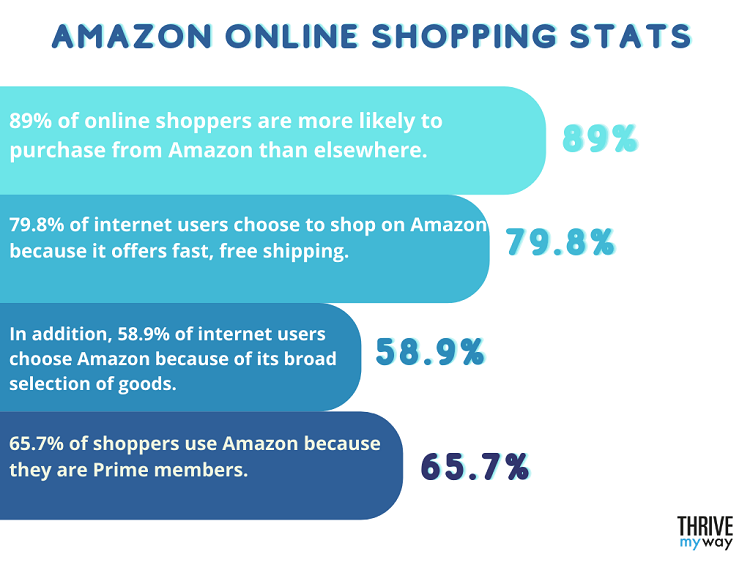 In 2020, Amazon's average monthly traffic was 3.68 billion, which is three times the number of visitors that eBay gets.
Amazon's market cap is more than $1.5 trillion.
Around half of the consumers visit Amazon at least a few times a week.
89% of online shoppers are more likely to purchase from Amazon than elsewhere.
79.8% of internet users choose to shop on Amazon because it offers fast, free shipping. But now, there are many other transportation companies, but before choosing, users need to do full research to ensure that they can find safe and fast shipping. For example, when shipping from China to US.
In addition, 58.9% of internet users choose Amazon because of its broad selection of goods.
65.7% of shoppers use Amazon because they are Prime members.
In 2019, Amazon was the most popular online mobile shopping app.
Online Shopping Fraud Statistics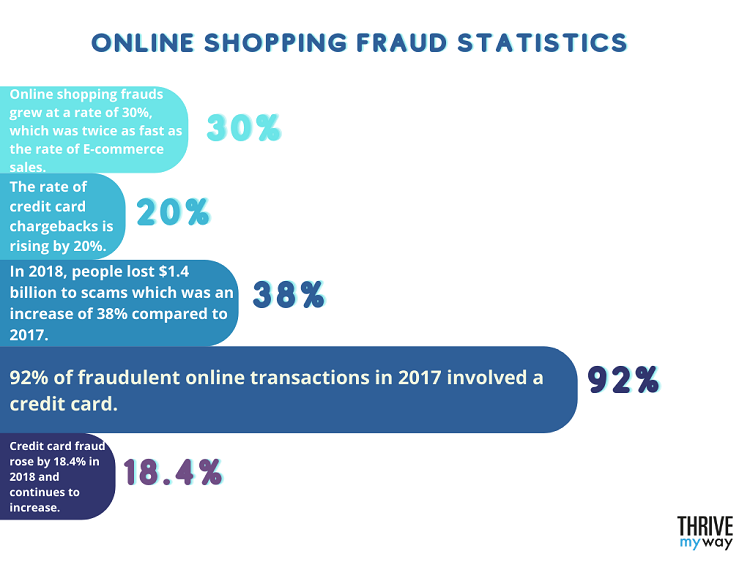 In 2017, online shopping fraud grew at a rate of 30%, which was twice as fast as the rate of E-commerce sales.
The rate of credit card chargebacks is rising by 20% every year.
In 2017, 16.7 million US consumers were victims of identity theft.
In 2016, ID theft cost 15.4 million consumers, a total of $16 billion.
In 2018, people lost $1.4 billion to scams which was an increase of 38% compared to 2017.
In 2016, chargeback scams accounted for $6.7 billion in losses. This amount includes fees, revenue, and merchandise losses.
92% of fraudulent online transactions in 2017 involved a credit card.
Credit card fraud rose by 18.4% in 2018 and continues to increase year on year.
Between January and March 2019, there were 5,305 Ecommerce fraud reports in the US.
In 2018, the FTC registered 1.4 million fraud reports.
Statistics indicate that people aged between 25 and 34 are the most likely victims of eCommerce fraud.
The COVID-19 Pandemic's Impact on Online Shopping
Because of the coronavirus, 42% of the US population bought groceries online in March 2020, nearly double the 22% in 2018.
Over half of online grocery shoppers say they're now more likely to continue to shop online even after the pandemic.
Six out of ten online grocery shoppers have been using Amazon for their online grocery shopping during the pandemic.
During the pandemic, orders for groceries on Amazon have increased by as much as 50 times.
In the first ten weeks of 2020, online sales of products such as gloves, masks, and hand sanitizers increased by more than 800%.
During the same period, sales of over-the-counter drugs for flu, cold, and pain along with toilet paper jumped by 217% and 213%, respectively.
In the first two weeks of March 2020, the demand for fitness equipment increased by 55%.
In early March, online sales of home improvement products increased by 13% compared to the previous year in the US.
In 2020, 31% of customers deliberately switched to buying foods from restaurants online.
9% of consumers in the US experience buying online for the first time because of the pandemic, whereas 59% said they had already done so pre-pandemic.
One-third of men said that the pandemic affected how much they spent on products, compared to 25% of women.
The number of face-mask sellers on Etsy grew 5x in the span of two weeks as demand for the product went up.
The Future of Online Shopping Statistics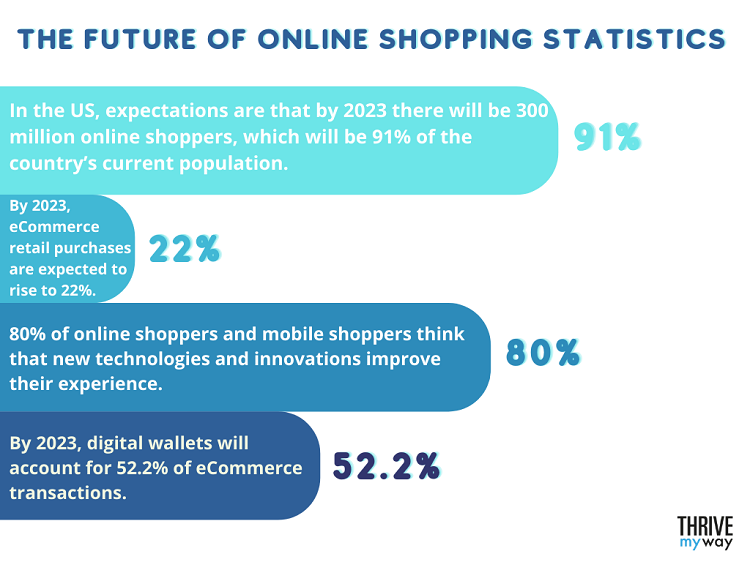 In the US, expectations are that by 2023 there will be 300 million online shoppers, which will be 91% of the country's current population.
By 2023, E-commerce retail purchases are expected to rise from 14.1% to 22%.
It's predicted that Generation Z, born after 1998, will have $44 billion in buying power.
Predictions are that eCommerce sales worldwide will grow to $6.4 trillion by 2024.
It is predicted that click-and-collect sales in the US will reach $74.24 billion by 2022.
80% of online shoppers and 63% of mobile shoppers think that new technologies and innovations improve their experience.
By 2023, digital wallets will account for 52.2% of eCommerce transactions.
Recent E-commerce growth in China means that it is now the number one country when it comes to its share of eCommerce retail sales for 2021.
You might be interested to check those related posts as well:
FAQs
What percent of shopping will be done online in 2021?
In the third quarter of 2021, E-commerce sales accounted for 13% of total sales.
How many people bought online?
Expectations are that over 2.14 billion people worldwide will buy services and goods online.
Final Thoughts
Online shopping statistics prove how crucial a digital presence is if you want a successful retail business. But it's more than just a platform for selling your products.
Consumers use retail websites and social media when they want to discover products, compare pricing, and read reviews before making a purchase offline or online.
COVID-19 has meant the eCommerce industry is experiencing a surge, but it looks like the end of the pandemic won't make much of a difference to its popularity.
We used the following resources to compile this list of online shopping statistics: