Social Champ is an automation tool for social media management and content scheduling.
It can be used by just about anyone who wants to streamline their social media operations.
Everything from scheduling posts across a multitude of social channels, to creating performance reports can be accomplished through the comprehensive platform dashboard.
Social Champ is ideal for anyone looking to manage a social media strategy without spending all their time on it.
If you need a single platform for managing LinkedIn, Instagram, Facebook, and Pinterest all in one place, look no further than Social Champ.
Social Champ Features 2023
While some social media schedulers have limited features, there is an abundance of unique and helpful tools on the Social Champ platform.
Below is our Social Champ product review, our favorite features, and what each can do for you.
Content Suggestions
Better content is outweighing more content. – Rand Fishkin
No matter how good you are at scheduling content for different channels, there will still come a time when you are stuck in the process of coming up with ideas.
This is where Social Champ's Suggestion tab comes in.
The Suggestions section can provide a little inspiration when you find yourself in a rut. This particular feature sets the platform apart from tools such as Hootsuite or its other alternatives.
You can set up your own content sources, or use those suggested by the tool to find the most recent and relevant articles for your topic.
You can also choose the country the content should be sourced from to improve the specificity and quality of the sources.
If you have competitors who share similar content or know other sites you'd like to source similar content ideas from, you can add them with the '+Add RSS Link' button.
It's worth mentioning that although the Suggestion section is great for inspiration, you'll need to narrow down your search options to get the most relevant content to share or use as inspiration.
Content Composer & Social Media Scheduling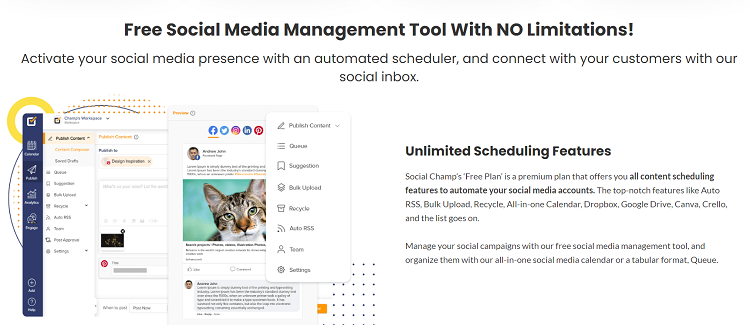 The Content Composer is where you create content for each channel.
The dashboard is super easy to navigate and gives you the option to publish as many as 25 profiles with one click.
As we all know, LinkedIn content will have a different tone of voice than content published to Instagram, so by clicking 'Customize for each network', Social Champ splits your composer into multiple windows so you can change the text or images to fit each channel.
In the calendar view, you can see where and when all your posts will be published. You can also integrate your different clients into a single dashboard so you can monitor everything you've scheduled for each business or brand you own or work for.
Unfortunately, in order to schedule posts for personal Instagram accounts, you need to download the Social Champ app and turn on push notifications so you can receive their reminders for when it is time to post.
This is one downside to the tool, as there are now several platforms that can automatically schedule uploads to Instagram, without requiring you to post manually.
This can be a bit annoying for social media managers who need content published in the evenings or weekends, because, although you're not at work, you'll still be responsible for logging into the app and uploading content.
To save even more time, Social Champ offers a 'bulk upload' option, where you can upload a stream of posts in one fell swoop using a .csv file.
Recycle Content

If you have a collection of content that you want to share multiple times, the 'Recycle Content' section can be a very useful tool.
You can create collections of the content you'd like to reuse and schedule these to be published as a campaign with just a few clicks.
This is ideal for those trying to improve their clickthrough rates or engagement on certain posts or blogs.
Auto-post RSS Feeds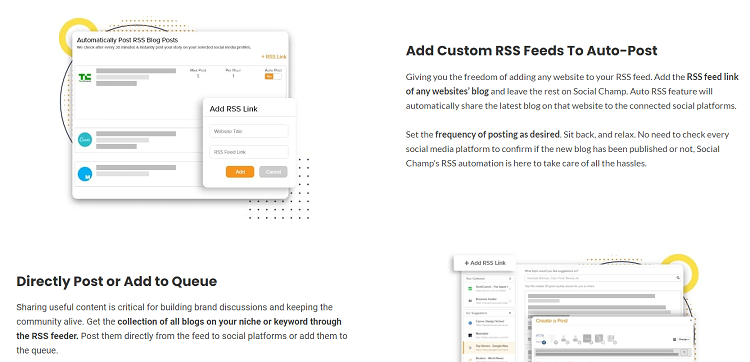 The Auto-post RSS Feed allows you to automatically post content from relevant sites, whenever there's something new available.
This is particularly helpful if you're managing the social feeds of a blog or website that publishes vast amounts of content every day.
You can choose how frequently new content will post across specific durations of time, and even choose whether to include the original images or not.
Alternatively, you could add the RSS link for a popular news website or other relevant sites that you don't own, to work as a filler between your own original content.
Team Collaboration
SocialChamp also allows multiple team members to work on campaigns, collections, and calendars together.
Managers can assign different roles to different team members, such as 'editor' and 'author' so that everyone can keep track of their role within the group.
You also have the option for certain posts to require approval before publishing – making it ideal to use as a training tool for new staff.
Monitoring Analytics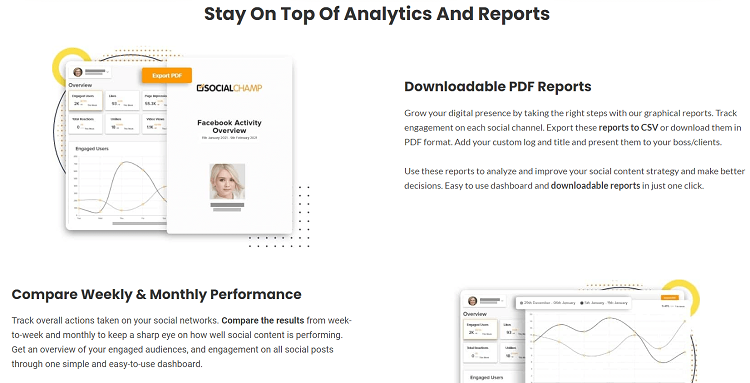 In addition to publishing and scheduling content to a variety of social media channels, Social Champ also provides an analytics section to give you an overview of your recent posts and engagement, as well as reports on your follower count.
There is also more in-depth analytics available, including sentiment analysis.
Within the tool, you can monitor how your content is coming across – whether it's positive or negative – and even download reports on how your followers perceive your account. By tracking your reputation, you can make changes to your social media strategy and create more meaningful and positive interactions with your clients.
While the tool offers several analytical reports, there is no option to customize or create your own reports, which means data mining can only go so far.
It's also worth mentioning that due to API restrictions, analytics aren't available for LinkedIn profiles or private Instagram accounts.
Engage

Social Champ is currently in the Beta phase of launching a new feature called Engage.
Here you'll be able to manage DMs and comments from your social accounts in a single dashboard – once again potentially saving you a tremendous amount of time and energy.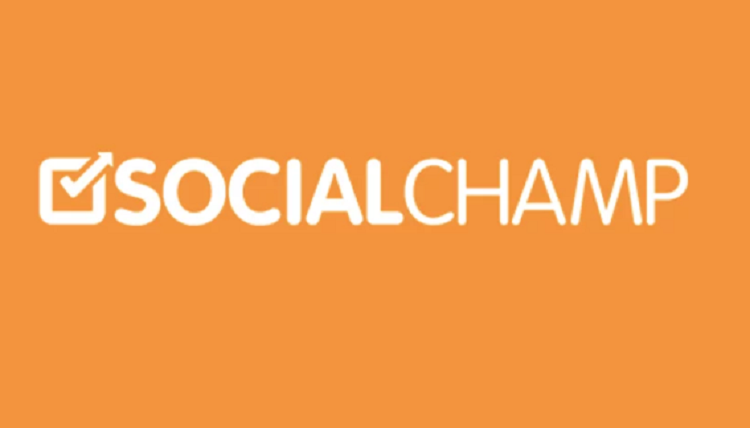 Pros
Perfect for a Streamlined, Efficient Workload
Social Champ puts all your social media management tasks into one streamlined tool.
Rather than having to work in each individual social media channel, all your posts, data, and scheduling can be found within a single dashboard. With this, the tool will save time and make it easier to keep track of each element.
You can Add a Huge Number of Social Media Profiles
What we found particularly appealing about Social Champ is the number of profiles you can add to a single account.
Even with the free trial, you have the option to add up to 25 different profiles and manage all of them within the tool.
The option to add channels for different purposes is also really helpful. For example, you can add a LinkedIn profile and a business page, or a Facebook page as well as Facebook groups.
This variety of options makes managing viral content super easy and serves as a helpful reminder to make sure you are posting across every possible channel.
Repeat Content
One feature that's unique to Social Champ is the Repeat Content feature.
You might want to ensure specific posts are reaching as many people as possible and instead of going onto the website and copying the same tweet or sharing the same Facebook post, you can actually use the tool to do all of this for you.
The platform is a great example of a 'one click and done' approach to engagement – giving you plenty of time to focus on other projects.
Content Suggestions
We really like the Content Suggestion feature, which helps ensure you're up to date with the latest news in your niche.
Filling social media channels with relevant content can be pretty difficult at times, and rather than having to simply rely on yourself and a quick Google search, Social Champ will filter content and show you what is most relevant to you.
Teamwork Makes the Dreamwork

Social Champ's tools are great for training new staff. A single account allows you to add different members to your team so that everyone can work together.
As we all become more flexible and open to remote working, this can help save time and keep everyone on the same page, even when not in the office together.
Cons
Features aren't Available for all Social Channels
One thing that would make the tool significantly better is the availability of features for every channel.
Analytics aren't available for LinkedIn, while there are several features that don't work for personal Instagram profiles.
If Social Champ were able to make all the features available for every channel, it would without a doubt be the perfect social media management tool.
At present, you'll still need to go into several social media channels for analytics in order to fill in the gaps that Social Champ is missing.
No Access to Stories or IGTV
While social media channels have been updated with new features, Social Champ hasn't necessarily kept up with the changes.
There's no option to schedule or upload Instagram stories or IGTV videos within the app. This would be a welcome addition to any new software updates.
More Suggestions
While the Content Suggestion feature really sets the tool apart from its competitors, they could take it a step further and offer relevant hashtag suggestions, as well as more advanced timing suggestions.
As a social media manager, you'll likely know the best and worst times to post, but as a beginner, it's nice to have reminders with expert advice.
And, as hashtag popularity is always changing, if the app could provide suggestions on the best ones to use at the time, this would help managers optimize their content for the ever-changing online audience.
Very Little Room for Customization
Social Champ is a one-size-fits-all, straight-off-the-shelf tool that offers very few customization options.
You cannot create deeper and more specific analytical reports, meaning you'll likely need an additional tool to gain the insights you need.
Similarly, there is no option to create a personalized dashboard with widgets showing the most important data and content. This would help social media managers get a quick overview of their results without having to click on different tabs.
Social Champ Pricing Plans
One final benefit of the Social Champ tool is that it's actually pretty affordable.
Whether you're a small agency or a large business, there's a package to fit all budgets and requirements.
Subscriptions are slightly cheaper when billed annually, but if you want to pay on a monthly basis, this option is also available.
You might be interested to check those related posts as well:
Would we Try Social Champ Again?
Although there are a few features we would like to see, with how many profiles can be added, and the huge number of helpful tools, we would definitely consider investing in Social Champ for a social media management team.
Some of the features are too cool and unique to miss out on and will save a tremendous amount of time in the long run.