According to Loss Prevention Magazine, consumers spent over $550 billion online with US merchants, which amounts to 14% of all US retail sales.
That's quite an impressive number until you look at the percentage of those sales that were returned.
Not everyone who buys things online is happy with their purchases.
For example, between 2019 and 2020, eCommerce returns more than doubled.
A staggering $102 billion of items people had bought online were returned.
What happens to all that returned merchandise? A tiny percentage is returned to physical stores.
However, for major online retailers such as Amazon, inspecting, repacking, and relisting those returns is not cost-effective.
So, typically, returned products are liquidated.
The good news for you is that many Amazon returns aren't faulty or damaged.
People return items for many different reasons, which means that many are new and in unopened condition.
Amazon, and other large online retailers, sell pallets of customer returns to liquidators.
You can access those items through online liquidation marketplaces.
If you want to know more, keep reading.
What is Amazon Return Pallets?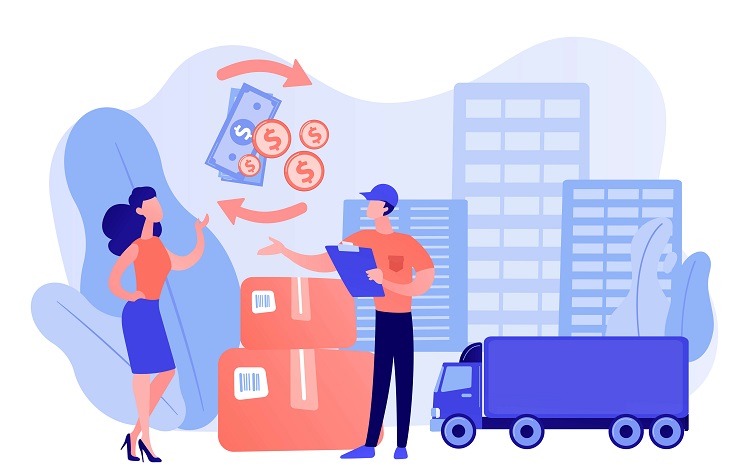 Amazon return pallets are pallets of goods that have been returned to Amazon.
They are sold unseen at vastly discounted prices to anyone willing to take the risk.
The potential for making a lot of money is substantial, simply by refurbishing and reselling the items.
The more you can afford to buy, the cheaper the price.
Returned items (liquidated items) from Amazon are typically sold by the pallet or truckload.
Get more money-making tips when you sign up for my FREE email list!
Why Buy Amazon Customer Return Pallets?
There are some excellent reasons you might want to consider the Amazon Return Pallets experience.
First, you don't need to make a considerable investment. A few hundred dollars will do to get started.
You could even begin with a line of credit instead.
The reselling avenues are numerous, for example, flea markets, resale platforms such as Thredup, Poshmark, OfferUp, eBay, and many more.
If you already own or are starting a business, purchasing return pallets is an excellent way to build up your inventory.
The pallets are sold in bulk and typically contain various products, from clothing and electronics to beauty products.
If you want to, you can specialize in a specific category.
Alternatively, if you sell in multiple categories, it will be an opportunity to see what your customers prefer.
8 Best Ways to Buy Amazon Return Pallets
In general, Amazon customer returns are sold on liquidation company websites.
So first, visit the websites, and you'll find a list of all the vendors selling their liquidation stock.
Then, simply select "Amazon" under the "Marketplaces" or "By Seller" category.
Let's take a look at some of the different liquidation companies.
Buying Returns Pallets from Amazon Liquidation Auctions (US)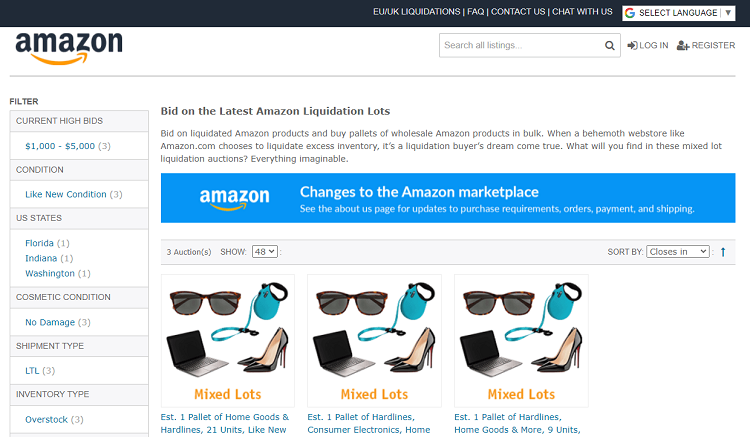 If you prefer to purchase a wide variety of items for your business, Amazon Liquidation Auctions (US) is a good choice.
Anyone with a registered US business can buy direct liquidation pallets from this website.
US-based buyers place bids on LTLs (Less Thank Truckloads) of overstock merchandise that might include:
Home goods
Books
Apparel
Groceries
Electronic goods
Accessories
Footwear
You have to register and be approved by Amazon, but once that's out of the way, you can bid and buy bulk lots of overstock inventory.
Buying Returns Pallets from Liquidation with B-Stock (UK)
Amazon decided to partner with B-Stock to sell its return products in the UK.
B-Stock runs liquidation auctions in several countries but only sells Amazon products to the US and Europe.
The condition of the items on each pallet varies.
In some cases, they can vary from brand new to salvage.
Criteria vary for each marketplace, so you have to apply to each marketplace individually.
Shipping options and rates also vary, depending on the seller.
Some calculate shipping costs per pallet, while others offer free or flat-rate shipping.
Buying Amazon Customer Returns Pallets from Other Websites
Several other websites sell return pallets from Amazon and other online retailers.
Liquidation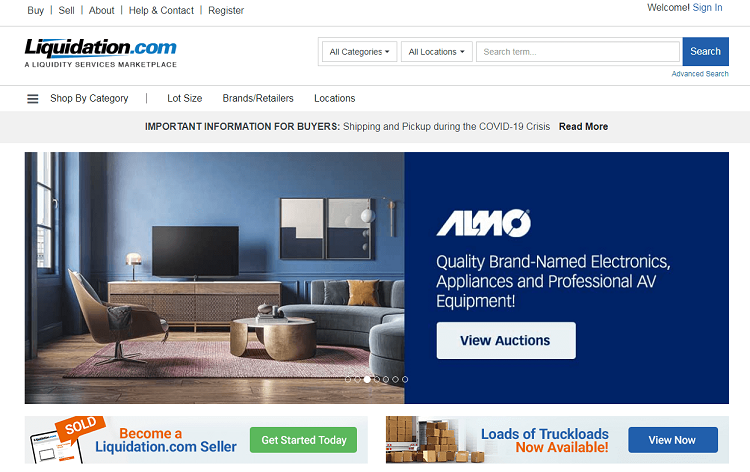 Liquidation.com is a company that sells clearance lots from Amazon and various other companies.
Lots are sold by truckload, pallet, or box. The merchandise sold varies in condition but is mainly electronics, houseware, apparel, industrial, computer, and vehicle categories.
Lots are sold by auction, and bidding usually starts at $100.
In addition, some lots are available for immediate purchase.
To place a bid or make a purchase, you first register with liquidation.com.
Non-US customers have to make wire transfer payments. It is also a requirement for any purchases over $5,000.
BULQ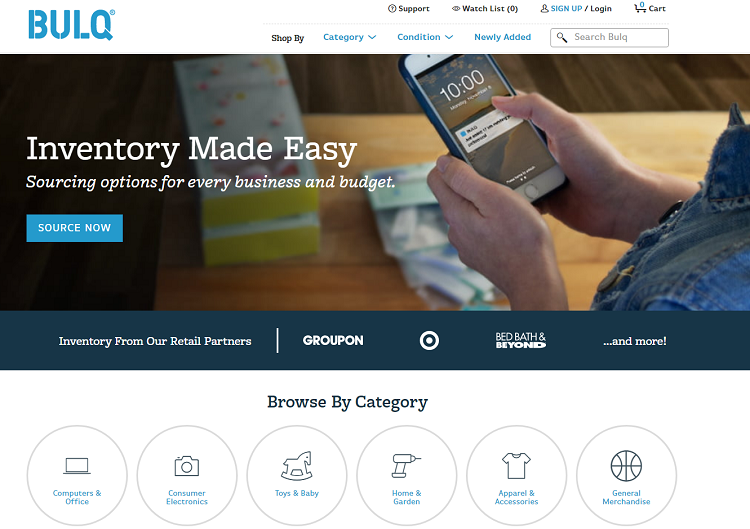 BULQ is another US-based liquidation company that deals directly with retailers and sellers. One of those is Amazon.
New items for sale are listed three times every day.
Prices vary depending on the seller. Some prices are fixed, while others run via a 48-hour auction.
Registration is not essential if all you want is to browse the clearance section.
However, if you find something you'd like to purchase, you must register. Resale certificates are also part of the deal for all customers.
Returns or exchanges are not possible on pallets or lots.
Shipping is to US addresses only, and for cases, there is a $30 flat shipping fee to pay.
The cost to ship a pallet depends on the weight, dimension, and distance from the warehouse to your address.
DirectLiquidation
A lot of DirectLiquidation's business is with Amazon, but they also work with other well-known box stores like Walmart, Home Depot, and Target.
When you visit the website, you can perform searches by brand or store.
All sales are conducted by auction, but you have to register for an account before bidding on a pallet.
888 Lots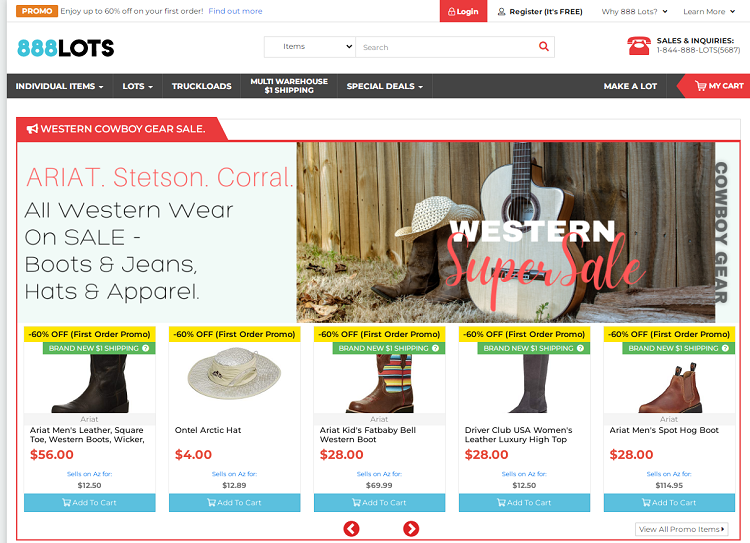 888 Lots only has Amazon pallets for sale that contain brand new merchandise.
The details they provide on their website include the Amazon sales rank, product images, item descriptions, condition, ASIN, and Amazon reviews rank.
You'll also be able to see estimated profits for each item.
They sell both small, individual Amazon pallets and oversized bulk pallets.
There is no minimum order, no maximum amount you're allowed to spend, but you must purchase the full pallet or SKU.
888 Lots requires a valid resale certificate for customers based in the US. For non-US customers, valid business registration is required.
Shipping costs are $12.00 per box for lots. Pallet shipping costs vary depending on size and weight.
You're also given the option to arrange your own shipping if you prefer.
BlueLots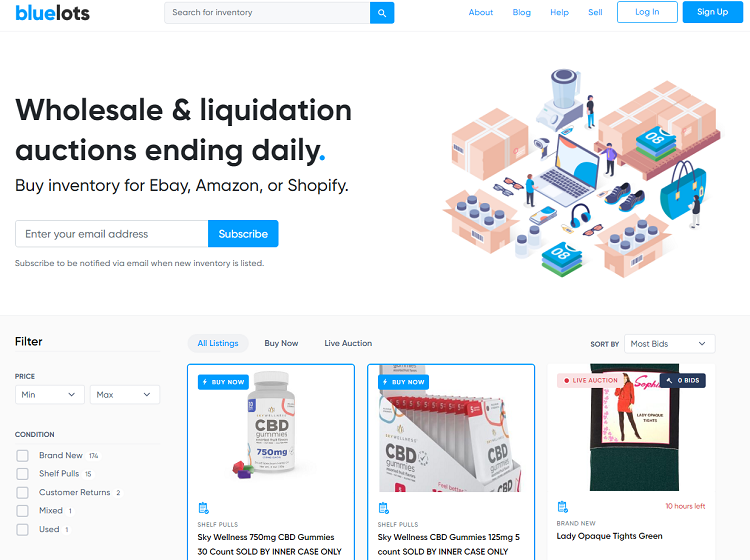 BlueLots is another US-based company that sells returns from some of the largest brands, including Amazon.
BlueLots doesn't add a markup to their inventory. Instead, they make their profit by charging the retailers directly.
You can browse the clearance without making an account. However, you'll need to register to the website for the entire inventory.
Shipping options include UPS, FedEx, and USPS. The cost of shipping depends on the size and weight of each pallet.
You can expect to pay between $300 and $400 per pallet.
BoxFox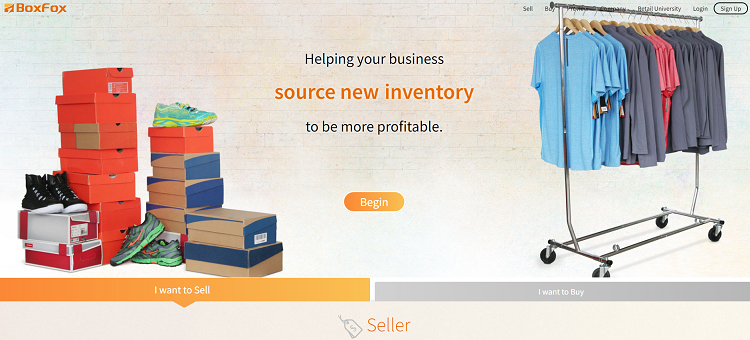 BoxFox is a company that sells Amazon and other branded pallets by auction directly from their retailers, for example, the Amazon warehouse.
Registration is free, and you can download an app to keep track of live auctions.
BoxFox only sells Amazon overstock, not returns. Their selling policy is only to sell merchandise that's brand new.
Appraisal values are set for each product, but buyers can bid above or below the specified amount.
Tips on Buying Amazon Returns For Sale
Purchasing the returns pallet is the easy part.
Now you've got to think about how you can maximize your potential profits and upscale the contents as much as possible.
The products you purchase in an Amazon pallet are typically untested.
What this means for you is that the items will be in various conditions.
Some will be ready for you to sell right away, while some will need repairs.
Let's give you some tips on how you can squeeze as much profit from your Amazon Returns pallet purchase.
Sort and Bundle
Before you can do anything, you first have to sort through your pallet to see what it is you've purchased.
It's a good idea to sort the items into two piles.
One pile for things that you can sell straight out of the box and the second pile for items that might need some kind of attention.
While you're looking at the items, consider whether some might be more attractive when sold as a bundle.
Repair
Some of the items on the pallet may need to be repaired or refurbished. For example, this is often the case with electronics.
Ideally, you want to try and repair and refurbish yourself, as this will save money.
The repairs needed will often be minor, quick, and easy to fix.
Once you've done this, the products will be back up to factory specifications and have a higher sale value.
If your pallets contain several similar faulty items, you might be able to take components from one model and use it to repair another and bring them up to spec.
Keep hold of any broken products that you can't repair or refurbish as these could be very useful for spares and repairs.
Pick Needed Accessories
A common reason for products to be returned is that certain vital accessories are missing, such as headphones or chargers.
Accessories like these are often easy and cheap to replace.
If you can sell a product with all its accessories, it will add value and allow you to sell it for a higher price.
Repack
You may need to repackage some of the items as the packaging a product is sold in is often damaged.
If possible, try to get hold of the original replacement packaging or repackage the product.
The way a product is packaged can affect its value.
Did you know, for example, that 67% of American consumers say paper and cardboard-based packaging makes a product more attractive than other packaging materials?
You should try to make the packaging original if possible, but if you can't get the original packaging, make sure what you use is good quality, pristine, plain packaging.
Inspect
You should inspect all your products carefully. Items for reselling also have to be advertised with a grade.
Your items should fit into one of the following categories:
New factory-sealed: The item is brand-new and still in its original packaging. The item has never been opened, is still in the factory plastic wrapping, and pristine condition.
New open-box: The item is new and in perfect condition. However, the packaging has been opened.
Refurbished: A refurbished item will be inspected, repaired if necessary, accessorized, and repackaged.
Used: A used item is functional, but it will have signs of wear and tear that might include dents or scratches.
One final tip is to remove any original manufacturer's warrant from any products you resell.
The warranties are no longer valid, so the cards included with the products should be removed and discarded.
Get more money-making tips when you sign up for my FREE email list!
Can You Make Money by Buying and Selling Amazon Return Pallets?
Well, that's a million-dollar question if ever there was one.
But, yes, you can make money, but how much depends on the amount of effort you want to put in.
If you are meticulous and spend time refurbishing, accessorizing, bundling, and repackaging items, you should be able to make a decent enough profit.
However, you should research every Amazon return pallet you purchase.
Then, look up every item (if that information is available) on eBay and Amazon to calculate your potential profit.
Evaluate the cost of each piece in the pallet and its potential selling price.
Remember to include a weighing factor that accounts for broken merchandise.
Conclusion
Buying and selling Amazon returns can be exhilarating and fun.
Best of all, you don't need to have a considerable amount of storage space.
You can send most of the products in the pallet back to Amazon's warehouses for resale.
Alternatively, you can list them on eBay. You don't need to make a massive investment or have any technical skills to start.
Now you know where to buy Amazon liquidation pallets, you're already off to a good start.