Online shopping is a personal thing for every single customer. For some, price matters more than anything else. Others are looking for specific deals, free shipping, or free products.
And then there are those who don't even care about a specific brand but instead look for universal components – quality products at great prices.
If you're looking to acquire products from well-known brands at affordable prices, then Gshopper and EveryMarket might be the right choice for you.
Gshopper and EveryMarket are two huge eCommerce shopping platforms that provide a similar service to their customers.
While both platforms offer extremely low prices for their products and ship to many destinations around the world, it's important to understand how they work and how they compare before deciding to go shopping on either one of them.
Both Gshopper and EveryMarket are two well-known shopping platforms offering discounted goods on their websites. However, many consumers continue to ask questions about both platforms, including which one is better and how reliable they are.
In this article, we look at the services provided by Gshopper and EveryMarket, as well as their customer reviews, to establish the differences between the two shopping sites.
In the end, Gshopper or EveryMarket may or may not win you over, but this review will help you make the right choice.
Gshopper vs Everymarket: Definition
Both Gshopper and EveryMarket are popular online stores in the US. But what exactly are they? What do they specialize in, and what are the differences between them? Let's answer these questions.
What Is Gshopper?
Gshopper is an online store in the US that specializes in selling electronics, although they also sell appliances and clothing. Gshopper's product catalog contains electronic products from well-known brands, such as Lenovo, JBL, and Xiaomi.
Its extremely affordable prices make Gshopper different from most online electronics stores. But these low prices are also the reason why many people wonder if Gshopper's products are of good quality and whether it's reliable to buy from this store.
What Is EveryMarket?
EveryMarket is another popular online store in the US. It is a big discount store that offers many great deals on various products, from clothing to electronics. Founded in New York City with a vision to change the eCommerce space, the site has been around since 2014 and has gained a lot of trust over time.
EveryMarket is an excellent option for those who want to shop at an affordable price without having to compromise on their quality standards.
Gshopper vs. EveryMarket: Detailed Comparison 2023
Let's take a look at a detailed comparison between two online store platforms: Gshopper vs EveryMarket. In this comparison, we'll be looking at the three critical points for determining the quality and reliability of each platform:
Product catalog
Affordability
Customer reviews
How do you make people buy in? You don't. I speak only to the converted, and you should do the same. – Gary Vaynerchuk
Product Catalog
Gshopper offers a wide selection of different types of electronic products: mobile phones, audio speakers, wireless earphones, and more. The company also sells other types of products, such as home and kitchen appliances, clothing, and exercise and fitness equipment.
In addition, Gshopper provides services such as free shipping and free returns within 14 days of purchase.
On the other hand, since EveryMarket doesn't specialize in one single category of products, their product catalog is much larger.
They sell products in many different categories, such as animal and pet supplies, apparel and accessories, electronics, luggage and bags, baby and toddler, and office supplies, among many others.
Affordability
Both Gshopper and Everymarket offer affordable prices for their products. In addition to that, both platforms offer discounts for their customers. You can receive Gshopper coupon codes and EveryMarket discount codes by subscribing to their newsletters.
These low prices raise many suspicions among consumers, who wonder if low prices mean low-quality products or unreliable service.
However, both of these platforms sell products from high-quality brands such as Sony, Xiaomi, and others. This significantly increases the reliability and trustworthiness of both Gshopper and EveryMarket.
Customer Reviews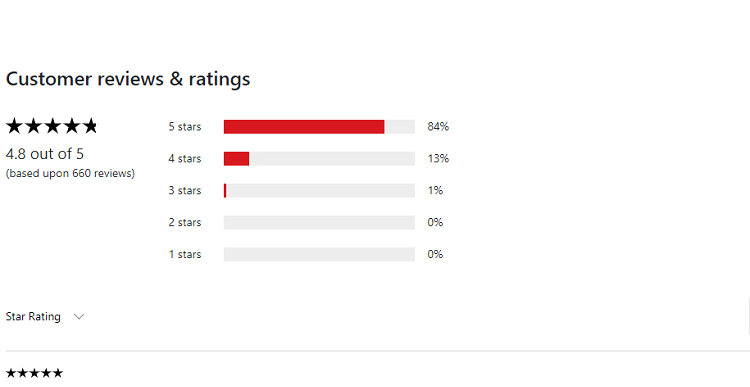 Positive customer reviews are an important factor when it comes to making a decision about buying products from a specific brand or platform.
After some research on the popular reviews platforms, such as TrustPilot and ReviewsBird, in terms of customer reviews, both Gshopper and EveryMarket received positive feedback from customers who had purchased their products before.
There were a few complaints about the quality of some items and the shipping time but overall both companies seemed to be providing good service.
What's more, according to ScamAdviser, both Gshopper and Everymarket have a 100% trust score.
Customer Service
Both Gshopper and EveryMarket seem to provide excellent quality customer service.
Gshopper is dedicated to providing its customers with the best shopping experience possible. Its goal is to make it easy for customers to find what they want at the most affordable prices.
They seem to reply to every complaint and try to make up for any negative experiences of their customers may have had.
Similarly, EveryMarket strives to provide its customers with a one-of-a-kind buying experience. Should you have any issues, you can contact their customer service team easily via the contact form on their website.
You might be interested to check those related posts as well:
Conclusion
As you can see from our comprehensive Gshopper vs. EveryMarket comparison, there are many similarities between these two online stores.
Both platforms offer a similar service to their customers, selling a wide variety of products from both well-known and small brands at affordable prices.
Regarding differences, EveryMarket seems to have a larger catalog selling products in more categories than Gshopper.
The verdict? If you're looking to purchase quality electronic products, Gshopper might be a better choice. And if you're looking to browse through a variety of products across many categories, EveryMarket might be a better option.
In the end, both platforms are quite similar, so the choice depends entirely on your personal preferences.